This is for those of you who love Lake Martin, but cannot imagine  jumping off of ANY Lake Martin rock, this one's for you.  Click on the video below and you can struggle up the rope, enjoy the view from atop Chicken Rock, and even experience the plunge to the water below – from the safety of your phone, iPad, or computer screen.
If you're asking, "What is Chicken Rock?"  – it's the lower of the two rocks that adventurous Lake Martin folk like to jump.  The higher one in technically Acapulco Rock, but most people call it Chimney Rock.  (Click here for the full rock-name explanation).
I bought my GoPro camera for this very video, and it does not disappoint.  See what you think: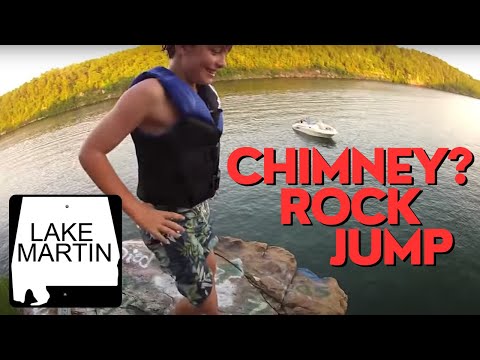 I'm sure I'm supposed to have some kind of disclosure, like, "Lake Martin Voice Realty does not advocate jumping off rocks or any activity that might cause bodily harm," so there you go.  I certainly want everyone to be safe on the lake.
I also fully disclose that I am a hard working real estate broker who would love your business.  Give me a call at (334) 221-5862, or email me at [email protected], and let's get started.  I'm a member of the Lake Martin MLS, and can help you with any listing, regardless of who has it listed.
Lynn said at August 30th, 2012 at 1:55 pm

BAHAHAHAHA! That was AWESOME! Your kids are brave. We always ride around looking for rope swings when we're up there, and about 3 years ago we found 2 good ones near the DARE Power Park. The Stillwaters/Bama Park side where we've stayed for 2 years seems to lack exciting spots, but we'll have to try Chicken Rock next year. Nice video quality, BTW – I didn't know they'd go underwater.

johncoley said at August 31st, 2012 at 8:10 am

Thanks, Lynn! It was a lot of fun to make this one. If you go to the bottom right side of the YouTube player you can change the quality of the video to its highest, and it looks the best. Yes, those GoPro videos make amazing video, even underwater. We have done others this summer, and look to do more in the fall!
Leave a Reply