We all know that the kitchen is the heart of the home and that applies to kitchens at Lake Martin too. The kitchen in this condo at Sunset Point in Stillwaters needed some updating. The existing white cabinet doors and drawer fronts were replaced with new white ones and the color of the walls were kept the same "lemon drops" yellow. The cabinet hardware was replaced which made a big difference.
All of the countertops were replaced and included a redesign of the peninsula counter containing the sink. A new tile backsplash was also installed and plug outlets were moved and updated which made a big difference in the overall look of the kitchen.
See for yourself – small changes can make a big difference!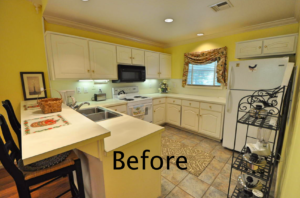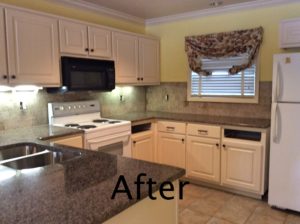 If you're a buyer who is looking for a Lake Martin home let me know.  My name is John Coley and I'll help you find a property that makes sense for your vision and your budget.  Give me a call or text me at the number at the top of this screen or email me here.