Archive for the 'Market Statistics' Category
Lake Martin had its best year ever for waterfront real estate sales in 2014. This year's real estate market report reflects record numbers of waterfront homes sold and waterfront lots sold.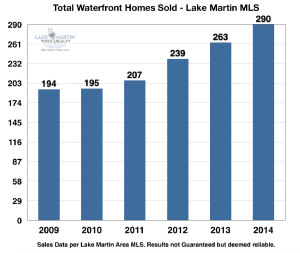 Close readers of my prior market reports for Lake Martin will note that the previous record year for home sales was 2005. In that year, 285 waterfront homes, townhomes, and condos were sold in the Lake Martin MLS(*). It remained the high water mark as sales started to slide the very next year, bottoming with a miserable 137 waterfront homes  sold in 2008.
Do you remember 2008? I do. In 2007 we had no rain. In 2008 we saw few home sales.
Thankfully, the Lord God provided rain and lack of supply combined for the Lake Martin market to bounce back in 2009. As you can see on the above chart, the lake had 194 sales in 2009, a full 42% spike in one year.
Why do I go over these old numbers when I am supposed to be talking about 2014?
Because I think it is worthy to remember how everyone – ( well – almost everyone, see my point #3 to buyers in this report from 2008) – back then said "things will NEVER get back to the old days. We will NEVER see Lake Martin sell like 2005 again." Wrongo. Incorrect. I heard the naysayers back then and I still hear someone say that at least once a month now.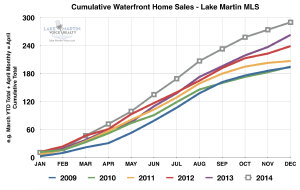 Here is proof positive that you should never say never.  Seriously. Go back to my Lake Martin market reports in 2008 here and look at it.
Lake Martin Waterfront Lot Sales
You also might remember that 2013 was a huge year for waterfront lot sales here on Lake Martin. Did we repeat that feat in 2014? Yes.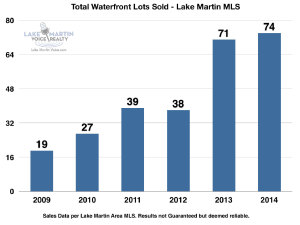 Unbelievably, waterfront lot sales were higher in 2014 on Lake Martin than 2013. One might be tempted to conclude that this is only because Alabama Power Company, a private utility and major waterfront landowner, decided to sell a bunch of lots in both years. However, even if you remove the 23 lots Alabama Power sold in 2014 through the MLS, it would still leave 51 lots sold, which is way better than 2012. Similarly, in 2013 only 17 of these waterfront lots sold were from Alabama Power. Remove those, and the record still stands.
FAQ About My 2014 Lake Martin Real Estate Market Report
1.) What prices do in 2014 on waterfront homes? I will cover Lake Martin's pricing trends in a later post. But my quick answer is that I did not see a huge price jump. I will detail this in the future.  Please stay tuned.
2.) If we beat 2005 for the best year ever, I guess that means now we will start sliding again? Not necessarily. I calls them as I sees them. When sales start slumping and losing to the prior year, I will be the first to say it. But not before then. Mark my words, in a free market, everything has a cycle. Yes, Lake Martin will experience another contraction some time in the future, just not now. Right now we are booming. Also, since I strongly believe that price follows sales, I don't think we can call a peak until we see upward price movement.
3.) What do you do in real life? I am not a blogger or writer by trade. I am a humble real estate agent here at Lake Martin. I write these market reports and other items to try and be helpful. If I may help you buy or sell something here at Lake Martin, please contact me by clicking here. I would love to be of assistance.
Related Posts About Lake Martin Real Estate Market Reports:
Lake Martin 2012 Waterfront Market Report
Lake Martin 2013 Waterfront Market Report
All Lake Martin Waterfront Market Reports
Copyright notice – the above, and every other post on this blog, is the property of John Coley, Broker, Lake Martin Voice Realty. Appraisers may use my information in their appraisals without charge or asking, but please give me credit by citing me, my company name and title, and website address of http://lakemartinvoice.com.  If anyone else would like to use this information, please contact me here and ask. I probably will let you do it, just please ask!
(*)Disclaimers: All of the above info was taken from the Lake Martin Area Association of Realtors Multiple Listing Service. Accuracy is not guaranteed but deemed reliable. The above does not include sales by   FSBOs or developers that sell privately and not through the MLS. But, I do think that the above represents a very large majority of all waterfront sales on Lake Martin, Alabama.
I originally wrote this article about Lake Martin waterfront real estate sales for LAKE Magazine's August 24th edition. As summer winds down, we have a chance to look at the Lake Martin MLS sales numbers and try and get a picture of what has happened with waterfront sales so far this year . . .
If this month's real estate market report was a Dukes of Hazzard episode, this would be the moment when Bo and Luke, driving furiously in the General Lee, round a curve and spot a "Bridge Out" sign that spans a muddy river. The camera would freeze on their expressions of "uh oh." Waylon would say something witty, and the network would cut to commercial.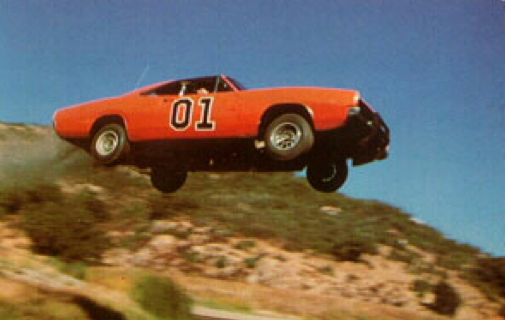 The question in the viewer's mind: Will this be great? Or mind blowing?
With Roscoe in hot pursuit, there is little doubt that the Dukes would jump the creek and escape.  But, there's a slim chance that the car might roll three times while Luke shoots a dynamite-laden arrow at a falling tree, saving some innocent bystanders in its path. Incredible!
We would still be amazed if they merely jumped the creek.
We find ourselves in a similar spot this month as we review the Lake Martin real estate market reports.
I examined the Lake Martin Multiple Listings Service (MLS) waterfront home sales for Jan. 1, 2014, through July 31, 2014. These results include all agents in the area but none from private sales between individuals or developers.
After reviewing the numbers, I have no doubt that the Lake Martin area is going to have a great year. But will it be incredible? Will we see the most homes sold since the record year of 2005?
The careful reader will recall that last year, in 2013, we were asking the same questions ("Lake Martin Lots Selling Hot in 2013").  Through the end of July in 2013 there were 138 homes sold. That year did not end up beating the record of 2005, but it came close while trouncing the second place effort of 2006.  If we fast forward to the present, we see that through July 31, 2014, 168 homes have been sold, or 22 percent above 2013. We are tracking above last year, which was the second best year on record. Not bad.
But what if we look at how many waterfront homes were sold at this same point in 2005? Through July 31, all agents, all brokerages in 2005 sold 178 homes on the MLS, which is about 6 percent greater than this year.  We are not on a winning pace, but we are close. We are stalking the leader and coming down the stretch.
What about waterfront lots?
The year 2013 was a record breaker for waterfront lots sold on the Lake Martin MLS. For the entire year, area agents combined sold 71 lots, whipping the previous record of 55 in 2005 and almost doubling the prior year of 38 in 2012.
Are Lake Martin waterfront lot sales still hot in 2014?  In a word, yes.
The year 2014 is tracking just behind 2013. Through July 31 last year, we had sold 37 waterfront lots in the Lake Martin MLS. At the same date this year, 34 had been sold. I think that a difference of only three is not much to worry about, statistically, so it's safe to say we are on pace with last year.  At any rate, we have all but guaranteed that 2014's lot sales total will best 2012 and 2011.  I also think it is safe to say that this year will beat 2005.
So we return to the original question: Will 2014 be great, or will it be incredible?  We will know in a few months. My guess is that, on the home sales front, we will come really close to 284 waterfront homes sold but will not beat it.  There are 60 homes under contract at this writing, but not enough inventory, I think, to beat the record. Similarly, I think Lake Martin will see very close to 71 lot sales, but not materially more.
Don't be disappointed if Luke doesn't fire a dynamite-tipped arrow, we still will have had a great year if sales approach those numbers.
The Lake Martin waterfront real estate market is a unique animal. I try hard to provide meaningful market reports, built on math and not assumptions. I recently sent out my 2013 Year End Review via email. In it, I asked for suggestions on how to improve my report.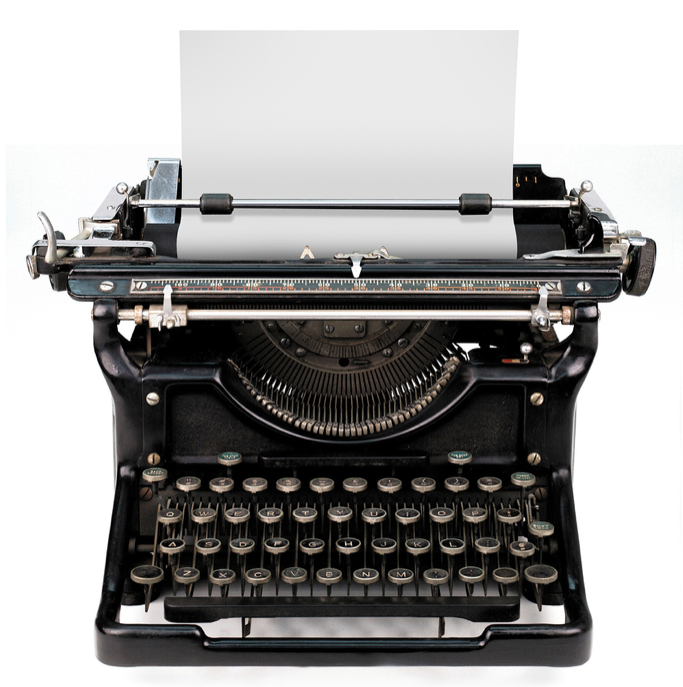 I received two very interesting emails, and thought I would publish them here. I would like to once again thank these readers for their input, and continue to ask for suggestions, and challenges, to my published numbers and analysis. With such a small number of homes sold each year, it's critical to have good information. You won't ever hurt my feelings if you think I am wrong or looking at something the wrong way. On the contrary, I would love to hear from you.
Here is the first email:
On Feb, 2014,  "Paul" wrote:
Just read though your email – great to see sales and construction activity continue to climb. You mentioned that you do not necessarily see price appreciation…..yet. Presumably you have the aggregate of sales dollars per annum. Does that not evidence any increase in avg sale/property?
Just curious because I was wondering how much the rate environment (which is still very favorable) could have an impact on discretionary/second home real estate purchases.
And my response:
Begin forwarded message:
From: John Coley
Subject: Re: sales data
Date: March, 2014
To: "Paul"
Hey "Paul," thanks for your email. I don't really look at aggregate sales dollar figures because I am not sure it is representative. For instance, the aggregate sales data in 2013 is going to be about double of 2008. But – 263 homes were sold in 2013 compared to 137 homes in 2008. If you looked at aggregate sales data you would be tempted to conclude that values have doubled since 2008, which certainly does not meet the smell test. I don't know of any market anywhere that has doubled since 2008. In fact, I think values dropped slightly in 09 and have been steady since then. My bell curve chart and real world examples (homes bought in 08 that are for sale now) confirm that. But it is certainly interesting to consider.
As to interest rates – I don't think rates mean a hill of beans to the average buyer. I think their interest rate sensitivity is zero. I have never run the numbers, but now that I know how to do so (I plan to do it like I did for WF footage and lot size) – I might try it. Stay tuned to my blog in the next few weeks, I am publishing the math behind my studies of price per WF foot.
Great to hear from you!
And the second email:
Dear John:
You asked for input on your charts, so being a CPA I couldn't resist giving some! The chart you are using to determine whether prices are increasing I don't think is accurate for that purpose. For example, let's say in 2014 a lot of people in the $700,000 price range bought a lot of houses, let's say 25% of all 2014 sales – the chart would of course spike at the $700,000 level indicating only that more people are buying houses at that level than they did in previous years. If the $700,000 buyers were buying houses that were previously sold for significantly less (i.e. a big price increase had occurred), the chart would not indicate that.
I don't know if you have the data, but I believe a very meaningful chart re: price fluctuations would be to calculate the dollar sales per square foot, by subdivision, by year. That would certainly capture any price fluctuations. Since the subdivisions are all in different categories (i.e. comparing the Ridge to Trillium, or Blount's Point area to Willow Point) cannot be meaningfully done.
I would love to see a chart that lists sales dollars per square foot, by subdivision, by year. Can you get your hands on that kind of data?
Many thanks for your very valuable research.
– "C.E."
My response:
From: John Coley
Subject: Re: Lake Martin – February 2014
Date: March, 2014
To: "C.E."
Hey "C.E.", thanks for your email. I appreciate a fellow numbers guy giving me input. I am always on the lookout to build a better mousetrap and to similarly test assumptions of my own.
Re: per square foot – I think this stat is extremely misleading at the lake. The reason is that so much of a home's value is tied up in the lot. PSF analysis works well in things like condos where everything is the same, but lake property is way too diverse and has too high a percentage of overall value tied up in the lot. See a post I did on my blog, way back in 2007:
5 Mistakes When Buying Real Estate on Lake Martin
There is zero correlation between sales price and square footage of home.
In that post I also mention the price per waterfront foot of a lot and its deceptive nature. Coincidentally, I just ran the numbers on that using 2013 sales. I will be posting the results on my blog. I did a scatter plot, and a correlation coefficient calculation. Where +1 is a perfectly direct relationship, 0 is no relationship, and -1 is a perfect indirect relationship, I found that waterfront footage only has about a 0.47 correlation, or classified as a secondary correlation by statisticians. Interestingly, the size of the lot (overall acreage) has a zero correlation. This math confirmed for me that when I am valuing lots, and therefore valuing homes, the most accurate method is to start with a comparable sales method, looking at similar location, view, privacy, and water quality. I secondarily adjust for WF footage, and do not adjust at all for acreage.
I will take a look at your suggestion of analysis by neighborhood. I am doing that already for a neighborhood report, but looking at PSF data on homes in a neighborhood will vary even more greatly because of our small sample pool. That's why I only do price analysis once a year – in Willow Point there were only 8 homes sold in the last 12 months, from 600k to 2.2 million. When your sample pool is that small, it won't normalize easily, and one home sale can thrown the whole thing in a wreck and make year to year comparisons inaccurate at worst. But all this does make for interesting discussion!!!
Regarding your example of the 700,000 category – if you look at the most recent example, in 2011 there was a spike in the over 1 million range. You can see the hump up there. Spikes like this are the prime reason I broke it all down to price strata, and also to look a year's worth of sales. I am trying to normalize out the outliers. But again, great food for thought! Thanks!
Thanks for your email!!
It is so humbling that people read my market reports, much less take the time to comment on them and get me to really think about the conclusions I draw.  It helps more than you know.  A huge thanks for your feedback, and please keep it coming!
C.E., in a later email, suggested that I look at the percentage of and direction of change in per square foot pricing on Lake Martin waterfront home sales. His point was that while the raw number might not be useful, the direction thereof might be, kind of like the DJI in the stock market. I think this is a cool idea and worth some further study!
Welcome to Lake Martin and welcome to LakeMartinVoice.com!  If you're researching a waterfront real estate purchase, I hope this website will become your favorite tool, and, let me be honest – I hope one day you'll give me a call and hire me as your realtor.  I realize that the last thing buyers and sellers want to do is call a cheesy realtor, so this website is my attempt to gain your trust by putting the best real estate info into your hands and letting you take the lead.
So what's the deal with my company's name, Lake Martin Voice Realty?  Am I am radio station? No.  Am I a boutique ( a trendy word for small) real estate company that deals exclusively with Lake Martin real estate? Yes!
LakeMartinVoice.com exists to put all of the most accurate and most current Lake Martin real estate information in one location.
1)  Search the Lake Martin MLS – without a doubt, the most accurate and timely source of listing information. All realtors, all brokerages.   Sites like Realtor.com, Zillow, and Trulia are chronically inaccurate and out of date, so go straight to the local source, our MLS.
2)  Read Market Reports – I break down the statistics – finally, my accounting degree put to good use.  It's hard to argue with the numbers.
3)  Learn about Neighborhoods and geographic areas on the lake – Maps, video tours, histories each area, PLUS a live feed from the MLS with homes currently for sale in each neighborhood.  A handy way to get super hyper local.
4)  Connect to my YouTube Channel – Watch hundreds of videos including home tours, community event videos, and client testimonials.
5)  Request Best Buy and Foreclosure Lists – Choose your price range and I'll send you a hand picked list of homes with good value (IMO).  Request a list of foreclosed properties as well.
6)  Explore local news, events and issues – Read hundreds of current and past blog posts covering life at Lake Martin.
If you have more questions about Lake Martin real estate, and you can't find the answers here, please let me know – I'd love to do the research and even post the answers right here.  You can  call me at 334  221 5862, email me at john (at) lakemartinvoice (dot) com, or click here to contact me.
How do we know the value of a Lake Martin waterfront lot?  Have you ever seen two that are exactly alike?  Do appraisers base their finding based on a feeling, or is there a formula?
Yes, there are several formulas, but only one that works at Lake Martin:  Comparable Sales.
Every now and then, out-of-town appraisers come to Lake Martin and are paid to make decisions about property value on our lake.  And they often bring their city-style pricing methods with them.  I've seen it enough, and have had to have this conversation with buyers often enough that I felt a real study of lot pricing methods was due.  I wanted to combine our MLS sales data with the anecdotal evidence I've been collecting for years.
I've been saying for a few weeks now (Part 1 and Part 2 of this series) that Lake Martin waterfront lots are best valued by the Comparable Sales method.  I've walked you through two other methods that don't cut it in our Lake Martin market:  Price Per Waterfront Foot and Price Per Square Foot/Acre.  The time has come address the most accurate valuation tool, the Comparable Sales Method aka the Sales Comparison Approach.
The Comparable Sales Method at Work on Lake Martin
"The Comparable Sales Method uses data from the sales of similar properties to estimate the market value of a piece of real estate.  This is a common method of assessing the value of real estate . . .  In most cases, several similar properties are used in the analysis." (About.com)  So what I do when helping a potential seller determine a list price for their lake property is look at other similar sales.  A perfect comparable sale would be one that is geographically close,  with a similar view, privacy, water depth, and waterfront footage, etc.  Properties that have already sold are called "comparables," and the lot you are trying to value is called the "subject."
When the Sales Comparison Approach is used, choosing the most comparable sales is a critical part of the equation. To make things simple, let's think about deed restricted developments on Lake Martin first.  The old real estate cliché of "location, location, location" does apply at Lake Martin.  Over the years, buyers have shown a preference to select lots that are inside deed restricted neighborhoods with covenants and homeowners associations.
One takeaway from this study is that the Comparable Sales method is labor intensive.  It requires a working knowledge of the area – otherwise how to know which sales are most comparable?  It also supposes an understanding of what buyers value in a Lake Martin lot.  Like most real estate pricing, it is not an exact science, but I think you can get pretty close.  There is no getting around it, no shortcuts, no magic formula. One simply has to buckle down and find the most comparable sales and then adjust to match the subject. For instance, if a comparable lot sells for $185,000, and I think that its view contributes 10% more value than the subject's, then I would subtract 10% or $18,500 from the sales price to arrive at an estimation of the subject of $166,500. I try to get two of three more comparables, and average their adjusted sales prices, and presto, I have my estimation of value.
Obviously it gets a little more tricky to find comparable sales for properties that are not in formal neighborhoods at the lake, and there are some that are not.  But it can be done, and done well with the proper research.  The same goes for properties with homes.
The Sales Comparison Approach is also the preferred method by residential appraisers, so we shouldn't be surprised that is the most accurate here at Lake Martin.
That is not to say that waterfront footage should be ignored – not at all. When using the sales comparison approach, if two lots are ceteris paribus except for waterfront footage, consideration should be given to the lot with more feet at lakeside. 

There is a place for adjustment for waterfront footage, but only as a secondary, fine tuning after first selecting good comparable sales. Much like a set of scales at the doctor's office has two weights  –  a large one to get you close, and a small to get you exact:
Hopefully this study dispels the impulse of using waterfront footage as a starting point, or as the primary driver of estimated sales price.  The numbers just don't work. I also hope that using a price per acreage or per square foot will not be used at all.
And now, having read all three parts of this math heavy series on lot pricing, I declare you to be a graduate of the Lake Martin Voice School of Graphs and Charts!  Congratulations!
Caveat:  If you call me to list your waterfront home or lot, and you tell me you have a "feeling" your Lake Martin lot should sell for X because Lake Martin lots generally sell for X per square foot, I'm going to make you go back to Part 1 and retake the course.
Links to Related Material:
Lake Martin Waterfront Lot Pricing: An In-Depth Study Part 1
Lake Martin Waterfront Lot Pricing: An In-Depth Study Part 2
What do you know about Lake Martin waterfront lot pricing?  In the city, it can be feasible to value a lot using multiple pricing methods, but at Lake Martin, it's a whole different ball game.  I've been telling buyers this for years based on anecdotal evidence, but now I have studied the Lake Martin MLS sales numbers and can back up my claim that the Comparable Sales method is the Lake Martin way to go.
Clichés are so… well ….. cliché. Part of the reason I started my real estate blog way back in 2007 was to examine, and publicize, what is really going on with Lake Martin real estate. I don't claim to be the only voice for Lake Martin real estate, but I do hope to be a clear voice of the truth, looking past clichés, assumptions, agent puffery, and hocus pocus. Pretty is as pretty does around here. One of the biggest clichés or assumptions I constantly address with my buyers and sellers is how to accurately value a Lake Martin lot. Hence the need for this in-depth study.
In the first post I introduced three possible methods for valuing a lot:  Comparable Sales, Price Per Waterfront Foot, and Price Per Foot/Acre.  Hopefully I've already persuaded you that the Price Per Waterfront Foot method does not work as a primary method in the Lake Martin market.  If not, click here to read Part I.  Now I move to the Price Per Foot or Acre method . . .
Method 2:  Price Per Square Foot / Acre
Most consumers do not start their price valuation method with the size of a lot, but I do hear it as a way to justify one lot over another. Curious, I used the same tests of the scatter plot and correlation coefficient to test the relationship of the size of lots to eventual sales price. The result was pretty telling:
Once again, the scatter plot reveals how unrelated the two variables are. If they were dependent, we would expect to see results tightly formulated in a line pattern.  Instead, it is loose.

 Similarly, the correlation coefficient is telling. For square footage or acreage to sales price, it is -0.02. That's right, it is almost zero. That tells us that the overall area of a lot is even less of a primary driver in sales price as is waterfront footage.  In fact, to return to another cliché, we can say that the size of a lot on Lake Martin has about as much to do with its sales price as the price of tea in China.
Price per acre or square foot is so unrelated, I can't even recommend it as a secondary adjustment.
In the third (and final) post in this series, I'm going to walk you through the more accurate Comparable Sales method of valuing a waterfront lot.  It, too, will be heavy on the nerd factor, but somebody's got to crunch the numbers in order to speak real estate truth.  Thanks for hanging in with me – I hope this is time well spent.
If you want to talk Lake Martin real estate – any topic, not just lot values – I'd love for you to give me a call 334 221 5862, or click here to contact me.
Links to Related Material:
Lake Martin Waterfront Lot Pricing: An In-Depth Study Part 1
Lake Martin Waterfront Lot Pricing: An In-Depth Study Part 3
2013 was a remarkable year for lot sales at Lake Martin.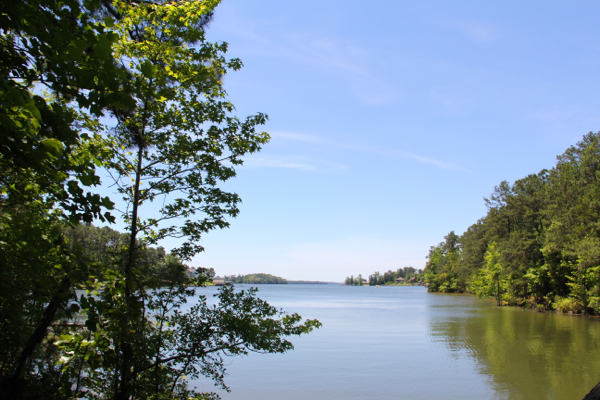 I want my readers to be the savviest Lake Martin real estate audience around.  That's why I don't hesitate to throw numbers and charts and graphs at you, and I'm about to get really geeky on you in this three part series about waterfront lot pricing. I also am a firm believer in NOT HORDING my information. Some agents think I am crazy for publicizing my analysis of the Lake Martin market, saying that I should use it to "force" people to call me directly. But, I think, gone are the days when real estate agents hold all of the cards when it comes to information. Say nothing, and the public flocks to irresponsibly incorrect sites like Zillow and Trulia. Much better to put the real, hyper local Lake Martin real estate information out there and try and earn the trust of people that way. Sure, I risk people using my analysis without ever calling me, but that's the breaks, kiddo.
The following is the result of three months of research that I did for a seller client. I feel it's so useful, I can't help but share it here on my blog.
So I ask, "How much do you know about pricing Lake Martin waterfront lots?"  You are about to know more.
Sixty-five waterfront lots sold from January 1, 2013 to December 2, 2013.1  This is a remarkable number, considering that in all of 2012, only thirty-eight lots were sold. Similarly, in 2011, all of the agents in the Lake Martin MLS combined to sell thirty-nine waterfront lots.
In 2013, this brokerage, Lake Martin Voice Realty, was blessed to be listing agency for many of these lots.  I had hours of conversation with potential buyers about Lake Martin waterfront lots in general, and heard many theories about how lots should be priced.  The method I've always promoted is the comparable sales method because lots at the lake can vary wildly, by many different factors – view, water depth, feet of shoreline, steeply sloping, flat, in a neighborhood, outside a development, etc.
There are two other valuation methods that I often hear referenced in conversations with buyers – Price Per Waterfront Foot and Price Per Square Foot or Acre.   While these methods might prove helpful in other markets, for other reasons, I don't think they're reliable here.
So am I right, or am I just blowing hot air?  The best way I know to find out is to crunch the numbers, and with a very large pool of comparable sales from which to draw in 2013, it was a great time to dig deep into our MLS sales data and find out.
Where Did I Get My Data?
I took a look at the waterfront lots in the Lake Martin Multiple Listing Service that had sold from January 1, 2013 to December 2, 2013. Sixty-five lots had sold. I deemed this to be a large enough sample pool as it is about double the lots sold in each of 2012 and 2011.  I looked up each lot's sales price, waterfront footage, and overall acreage.  In the cases where the listing agent did not disclose the waterfront footage, I looked it up on the respective County Tax Assessors' databases online. I disclose my sources not to claim that the measurements of waterfront footage will be perfect, but to let you know I think they will be close enough for this calculation.  Then I charted this information on scatter plots to see if I could find any clear associations.
Three Ways to Price Lake Martin Waterfront Lots
I'm breaking the findings of this study into three blog posts.  I want to walk you through all three methods in order to debunk the Price Per Waterfront Foot and Price Per Square Foot or Acre as useful on Lake Martin.  Understanding what doesn't work can help us understand the market as a whole.  The first method we're going to look at is the Price Per Waterfront Foot.
Price Per Waterfront Foot – Price Per Waterfront Foot is a statistic that is frequently thrown around as rule of thumb. When talking to people about lot valuations, quite often it is quoted as a lead in to another point, such as, "I know that lake lots sell for about $1,000 a waterfront foot, but…" What's curious is that people almost always say $1,000 a foot. Sometimes you hear $2,000 a foot, but not often. It is also curious that this number hasn't changed in about ten years. One would think that if it had any merit, the baseline would fluctuate with the different market phases that we have experienced since then.
A glance at this plot shows no clear association with any price per waterfront foot:
OK.  That was pretty easy.  Now I'm going to get more nerdy.
In addition to the eyeball test above, I also looked at the correlation coefficient. A correlation coefficient is "a statistical measure of the degree to which changes to the value of one variable predict change to the value of another." In our case, it is a measure of the degree of how much a change in the amount of feet at the waterfront will affect the change in a lot's sales price.  In other words, this will put a number on how reliable a predictor a lot's waterfront footage is for its sales price.

 A perfect correlation coefficient in a direct relationship is +1. Conversely, a perfect correlation coefficient in an inverse relationship is -1. No relationship would result in zero.  Therefore, the closer the number is to zero, the more useless it will be to help us price lots, in this case.
Since we are measuring waterfront footage to sales price, we would expect a +1 since the hypothesis is that as a lot's waterfront footage increases, so does its sales price. 

The result was as ambiguous as the scatter plot. The correlation coefficient of waterfront footage to sales price is 0.47 which is judged to be only a moderate correlation, not worthy of the first step in a valuation method.
I think it's safe to say – based on the actual MLS sales numbers – that the Price Per Waterfront Footage method is not a reliable primary method for valuing a Lake Martin waterfront lot.  So what about Price Per Square Foot/Acre?  Could that method work reliably at the lake?  Stay tuned for Part 2 of this study and I'll discuss just that.
And if you're interested in seeing the actual MLS data – the appendices, if you will – for my study, contact me here or give me a call and I'll send you a copy.  334  221 5862.
Links to More Lake Martin Market Reports:
Lake Martin Waterfront Lot Pricing: An In-Depth Study Part 2
Lake Martin Waterfront Lot Pricing: An In-Depth Study Part 3
Every year I do a market report for the Lake Martin area waterfront real estate sales. It's a comprehensive look at all of the property that is sold through the Lake Martin, Alabama, Area MLS*.  This year, the Lake Martin year end review of home sales looks quite bright. I will cover the basics below, and then in future posts I am going to go really in depth with the waterfront lot sales at Lake Martin. I took some time to really dig down into the details of Lake Martin's lot market to see if we can glean some trends.
The last time we looked at the waterfront real estate sales on Lake Martin was back in August. We studied the market results through July 31, 2013, and found that sales were going really well. Now that 2013 is over, I thought we would take a look at the year in review.
The Lake Martin Multiple Listings Service, as always, is the database from which I draw all of these numbers. I filter out all of the non-waterfront sales, just to get to the nitty gritty, which is why these results might differ from the overall market report that you might see elsewhere, such as in the ACRE reports at AL.com, the Alex City Outlook, and Lake Magazine.
So, back to waterfront properties – how was the market at Lake Martin? How were waterfront home sales in 2013?
Lake Martin Waterfront Home Sales 2013
Blistering, in a word. If you recall from July's sales totals, the year was going well for waterfront home sales, and especially well for lot sales. That trend continued through the year's end.
In the twelve calendar months of 2013, an eye popping 263 waterfront homes were sold in the Lake Martin MLS. Once again, the current year beat the prior year in terms of number of homes sold. Many of us in the real estate industry feel that beating the prior year is per se evidence of an improving market. Lake Martin is so very blessed to have done that every year since 2008. This year beat 2012 by a whopping twenty-four homes, as 2012's waterfront sales total was 239 homes. Before you are tempted to think, "Big deal, John, it's only two more a month," I ask you to consider the percentages. Twenty-four more homes represents an increase of about ten percent over 2012. 2012's sales total of 239 homes was itself a 15% increase over 2011. When you step back and look at these increases, it even surprises me that in the last two years our market has increased homes sold by twenty-five percent. What business would scoff at that?
How does this year measure up to posterity? Great question. A close look at the Lake Martin 2013 market's total of 263 homes sold is the best on record other than the 281 homes sold in 2005. That means that we were only about seven percent from the best sales year ever in terms of numbers of waterfront homes sold. If the sales trend of the past two years continues, we project to sell about 294 homes on the lake in 2014.
Lake Martin Waterfront Lot Sales 2013
If waterfront home sales were blistering in 2013, then I guess waterfront lot sales were surface-of-the-sun hot.
This past year saw 71 waterfront lots sold by agents at Lake Martin. Consider that 71 is almost double of what was sold in 2012 – and 2012 was a great year. Plus, it dwarfs years like 2009 when only 19 were sold in twelve months. It is truly remarkable to see the leap our market took for waterfront lots. Another business that lot sales has really affected is construction. Anecdotal evidence shows me that general contractors and subcontractors are busy again. I ate lunch on a random chilly Tuesday at Oskar's – and the place was packed with people in the building trade.
I have no idea how many of the lot sales in 2013 were made by buyers that intend to build spec homes to sell. I guess we will see when July or so rolls around. I would not be surprised if twenty or so fit that category. If so, any increase in supply of homes for sale could affect lake home prices, which is the next thing I would like to address.
Lake Martin Waterfront Home Price Trends 2013
With this uptick in Lake Martin waterfront home and lot sales in 2013, a natural question is, "has this boom affected prices?" My answer is – I don't think so.
That might not be good news for Lake Martin property owners that are hoping for a price increase. But, I really can't call an increase until I see it. As I am a full time agent working here, I do have my gut feelings on these things. 2013, to my gut, did not feel like a year of rising prices. Then again, it's been at least five years since a price increase so I may have forgotten what it feels like!
The above chart shows my attempt to graphically represent pricing trends here on Lake Martin, with all of the waterfront home sales recorded in our MLS. A shift forward of the entire bell curve would show me that prices have increased. I don't see that yet. While 2013 looks like it is beginning to round out a little bit, I can't really say it is a true price increase. Not yet, at least.
Fear not, when I see an increase or decrease, I will call it. But for 2013 my gut and the numbers line up. There was no change in pricing. If, however, my gut tells me something different than the chart, I guess I will have to go back to the drawing board to make sure this is an accurate way to consider price trends. For now, it feels and looks right.  One way that I have thought of trying to get more accurate is to break the above chart down into more increments. For instance, maybe up to $1 million I should break it into $50,000 increments instead of $100,000. At any rate, if any reader has a suggestion, please contact me and let me know.
Please stay tuned! Over the next couple of weeks I will continue to dig more deeply into the numbers of Lake Martin real estate sales for 2013.
My Call To Action
I can't resist ending without a call to action. Are you considering buying a waterfront home, lot, or condo on Lake Martin? Do you need help breaking down the lake's market trends to see how it affects you? Please contact us and we can help. We are full time real estate agents here at Lake Martin.
Do you own property at Lake Martin? We can help you, too. Contact us and put us to work helping you get the right price, and create the correct custom marketing plan.
Related Posts About Lake Martin Real Estate Market Reports:
Lake Martin 2012 Waterfront Market Report
All Lake Martin Waterfront Market Reports
Copyright notice – the above, and every other post on this blog, is the property of John Coley, Broker, Lake Martin Voice Realty. Appraisers may use my information in their appraisals without charge or asking, but please give me credit by citing me, my company name and title, and website address of http://lakemartinvoice.com.  If anyone else would like to use this information, please contact me here and ask. I probably will let you do it, just please ask!
(*)Disclaimers: All of the above info was taken from the Lake Martin Area Association of Realtors Multiple Listing Service. Accuracy is not guaranteed but deemed reliable. The above does not include sales by   FSBOs or developers that sell privately and not through the MLS. But, I do think that the above represents a very large majority of all waterfront sales on Lake Martin, Alabama.
We at Lake Martin Voice Realty were very flattered to learn that the Alabama Center for Real Estate cited this blog as a good resource for market reports focused on Lake Martin waterfront properties only. They linked us in this article on AL.com.
Wow!  Thanks, ACRE!
If you have seen any sort of real estate statistics about Alabama quoted anywhere, chances are that you were reading a report from ACRE. They do a great job assimilating all of the relevant numbers, from all over the state. ACRE is based out of the University of Alabama, and, according to their website, it:
"collects, maintains and analyzes the state's real estate statistics, and is a trusted resource for Alabama real estate research, forecasting, and professional development.."
If you read the article I linked above, you can read how they analyzed the Lake Martin Area as a whole. Those statistics encompass everything sold in our area, waterfront or not. At the end of the article, they say,"For lakefront only figures, here is good resource." They link directly in to our Market Statistics category.
We are super excited to be considered a good resource by ACRE! Thanks again!
We humans, especially Southerners, like the art of storytelling, don't we?
We like legends. We like to talk about the way things were back then.
For Lake Martin, 2007 will always be "The Year of the Drought." Similarly, 2009 will be thought of as "The Year of Alan Jackson at Aquapalooza." I have no doubt that 2013 will become "The Year of FERC Relicensing" because the potential changes in the water level rule curve will impact the next forty years.
As I study real estate trends in the waterfront market for Lake Martin in 2013, I have a hard time separating market reports from the mammoth issue of relicensing the dam. Usually, when people ask, "what's going on at Lake Martin?" I give them a ten second market report. This year, however, I have talked about FERC.
But, if we can all forget about that for a moment, and focus solely on what's happening in the real estate market per se, I think we find something very interesting. There is a notable trend at Lake Martin that, in my judgement, is yet another sign pointing to the overall health of our market.
The big story at Lake Martin in 2013 is waterfront lot sales.
Yes, lot sales.
Do you remember 2008? You might know it as "The Year of The Bank Crash." For those who don't, I can tell you that getting a loan to buy a lot in 2008, and even in subsequent years, was dang near impossible. If a bank or mortgage lender smelled, perchance even suspected that you wanted a loan on a lot, they ran the other way. If that lot was located in a subdivision that was lightly populated, well, they called Father Merrin for an exorcism.
Please take a look at the Waterfront Lot Sales chart. Sales are blistering. Through the end of July, there have been 37 waterfront lots sold through the Lake Martin MLS. That is only one fewer sold in all of 2012 and only two fewer sold in the 12 months of 2011. In other words, this year it only took seven months to sell as many lots that were sold in twelve in each of the two prior years. That's growth, neighbors.
Lot sales mean construction. Construction helps the overall economy and it points to more confidence for the future. If no other lots were sold in 2013, the lake would have a good year. If 2013 lot sales continue on pace with prior years, it will be a great one.
Lake Martin Home Sales in 2013
Don't let all this talk about lots obscure the good news about homes. Waterfront home sales on Lake Martin are once again strong in 2013. One can see from the cumulative graph attached, that as of the end of July, 2013 is running on pace with 2012. As I am sure we all remember, 2012 was the second best waterfront home sales market on record. When we look at the entire lake real estate market, with all agents, all brokerages that participate and report to the Lake Martin MLS, we see that at July 31, 2013, 139 waterfront homes have been sold. This is statistically significant to 2012. By the end of July in 2012, 140 homes have been sold. I don't consider the one home difference to be a big deal.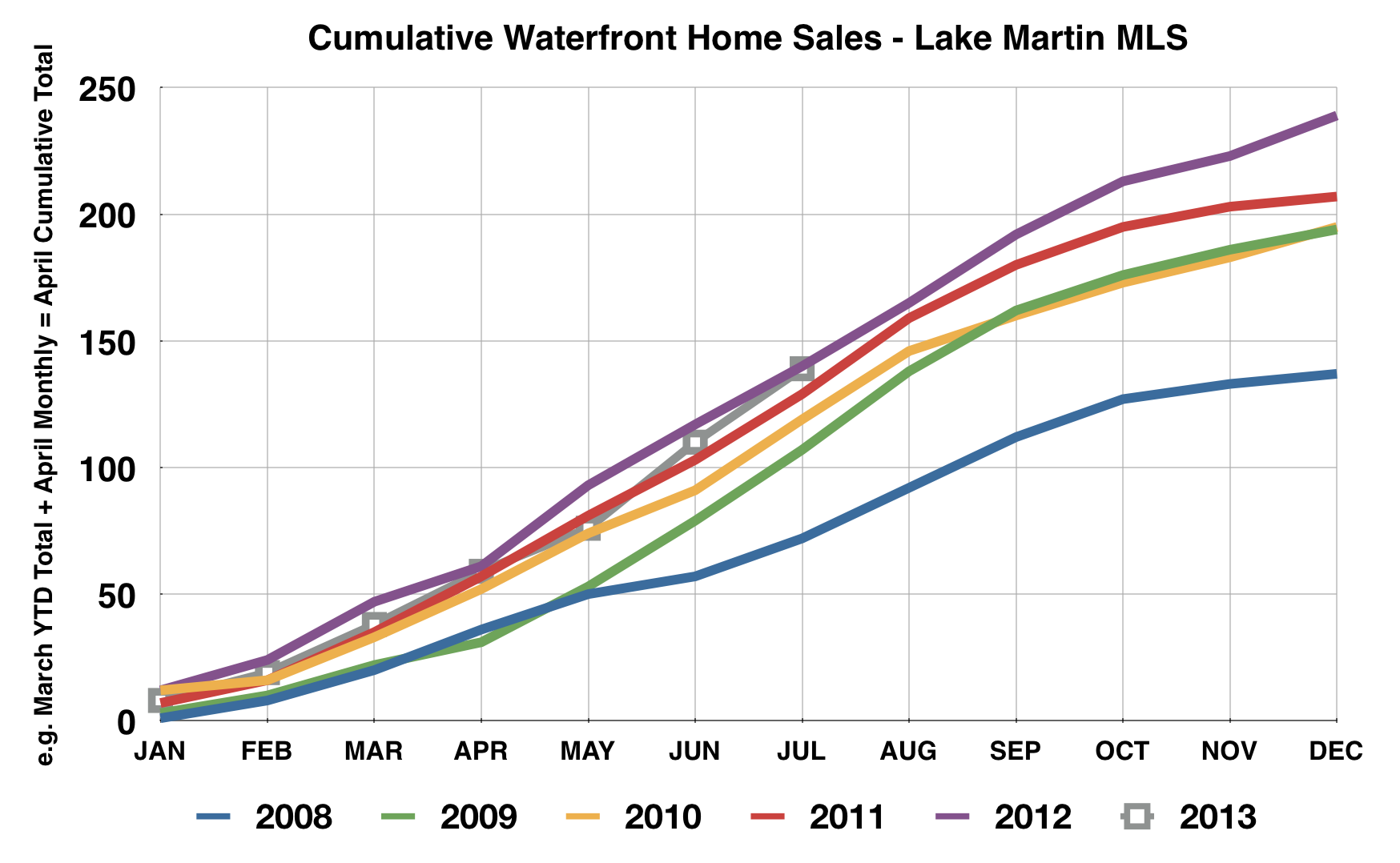 The bottom line is, 2013 is another great year for Lake Martin home sales. The more interesting thing for me to consider is that such great years are becoming routine once again. Remember, 2008 was the last year of decreasing numbers of homes sold on Lake Martin. Every year since 2008, the current year has beaten the prior year's numbers of homes sold. The market has improved.
Lake Martin Home Prices
Whenever anyone hears the words "improved market' – it' s natural to wonder if prices have risen along with the home sales figures. Prices, however, have remained steady. Have prices in 2013 risen? I don't know yet. Because Lake Martin has such a small sample pool, I only calculate price trends once a year.
However, if Lake Martin continues to beat the prior year in numbers of home sold, and supply does not out strip demand, one of these days we will see price increases. When that happens, we can call it "The Year That Prices Finally Rose."
Note:
This article is going to appear in the September, 2013, issue of Lake Magazine. I am honored to write a monthly column on Lake Martin real estate for Lake.