Archive for the 'Lake Martin Area Info' Category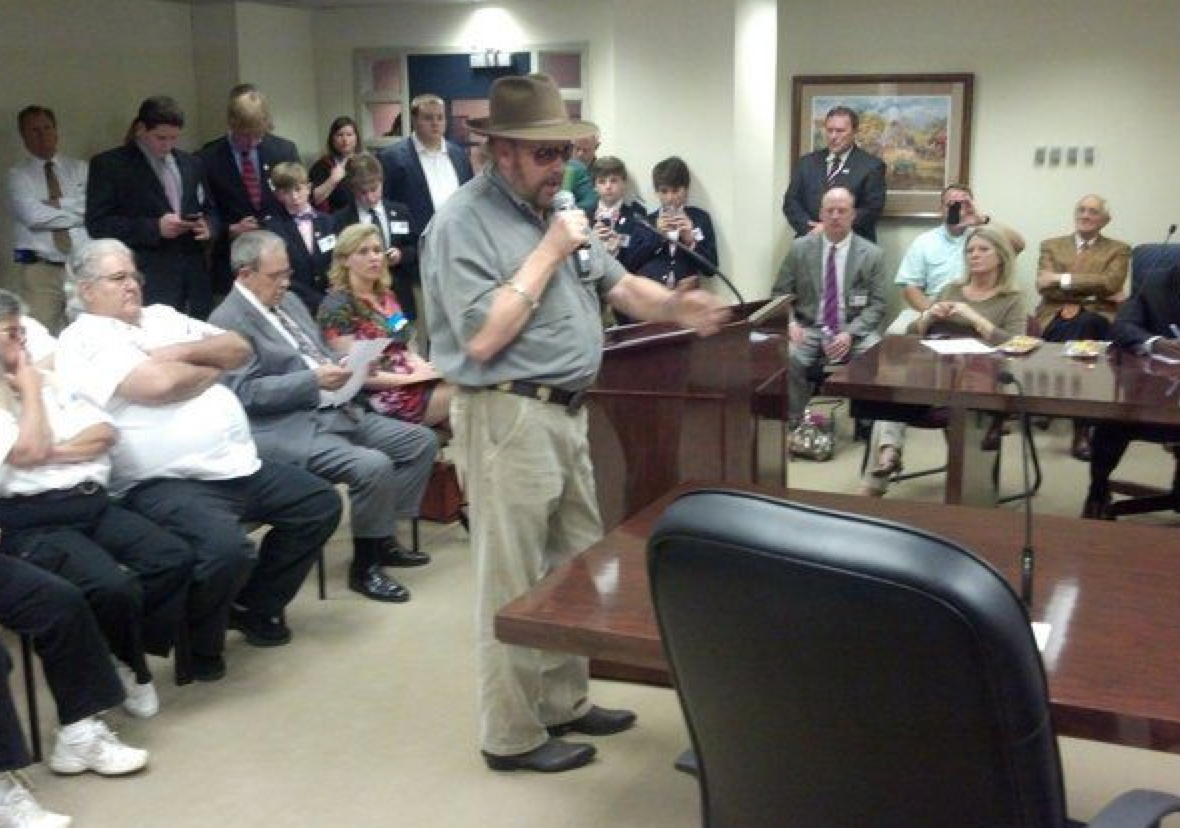 I know some people don't call Hank Junior Junior anymore, but he was in Montgomery recently lobbying for a new bill concerning deer hunting. Hank Junior's an avid hunter and land owner in LA (aka Lower Alabama).
I thought it was interesting that he made reference to the Lake Martin legend of Kowaliga while he was speaking. That's right, the same Kowaliga that inspired Hank Senior to write the song, and it was the same Kowaliga that named a restaurant, bridge, marina, and burgeoning downtown scene in the Lake Martin area.
Here's a link to the article about the bill Hank Junior supports.
What are the major towns or cities around Lake Martin, Alabama? I get this question from time to time when I am talking to buyers on the phone about Lake Martin real estate.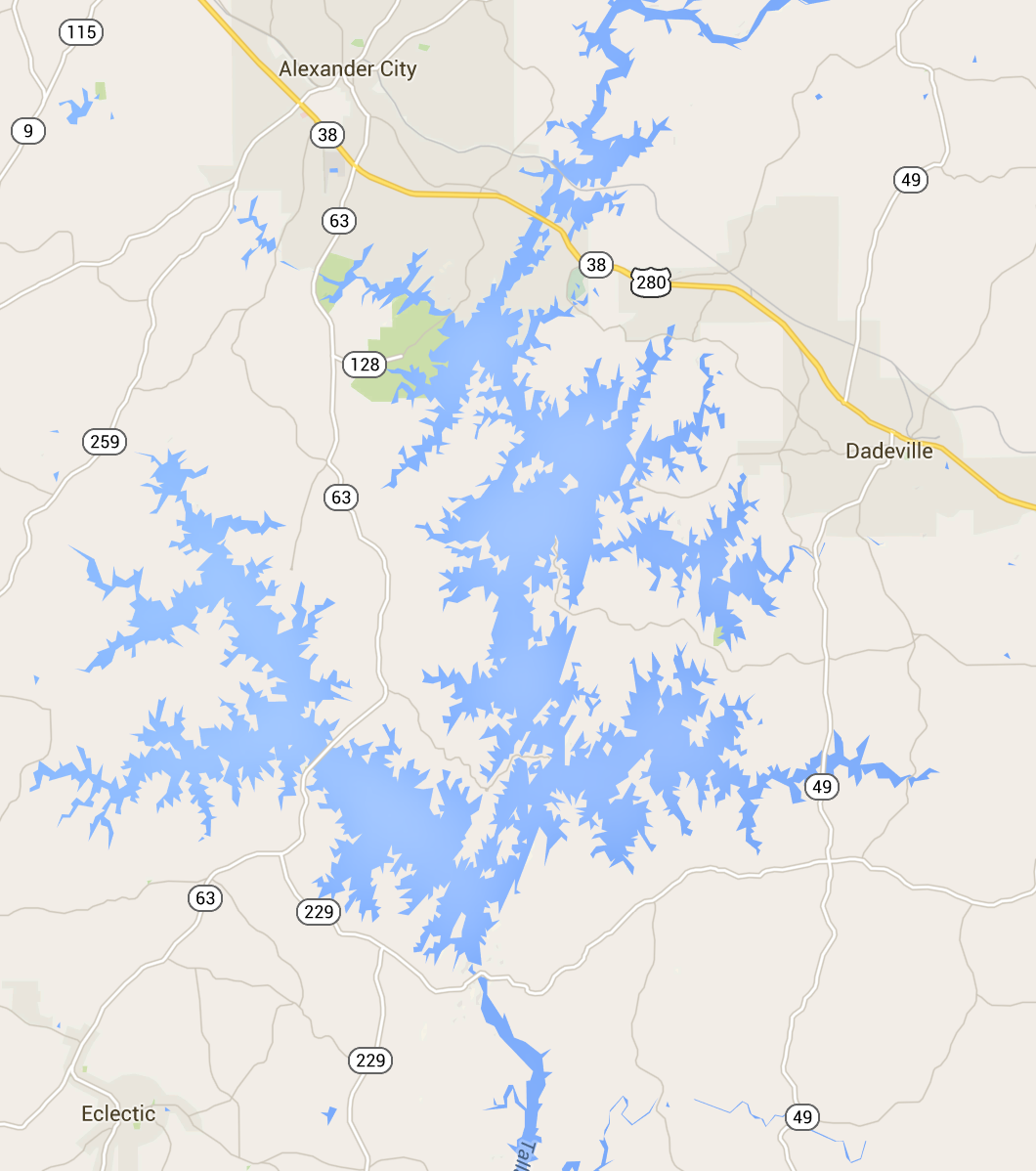 I have written here before that I usually get my best and most effective blog post ideas from my buyers. When one of my buyers asked me this question today, I realized I have never written about it here.
I am biased because I grew up in Alexander City, and sell on the lake now, but I think it would be a wonderful community for anyone.  The three major towns closest to Lake Martin are:
1. Alexander City (aka Alex City) (1 hour 10 min from Birmingham, 45 min from Auburn, 1 hour from Montgomery)
2. Dadeville  (1 hour 30 min from Birmingham, 30 min from Auburn, 1 hour from Montgomery)
3. Eclectic  (1 hour 30 min from Birmingham, 45 min from Auburn, 25 minutes from Montgomery)
If you are a researcher and would like to know more beyond the Wikipedia articles I linked above, here are some great resources for the area:
Lake Magazine and Lake Martin Living are lifestyle magazines, Alex City Outlook is a paper, the Dadeville Record is a paper, here's a link to their viewer:  http://boone.newspaperdirect.com/epaper/viewer.aspx
or their sites:
http://www.alexcityoutlook.com/
http://lake.lakemartinmagazine.com/
http://living.lakemartinmagazine.com/
Yes.  Lake Martin is now bigger AND smaller.
When I talk to people about Lake Martin waterfront real estate, they are usually amazed by the size of our lake – 770 MILES of shoreline is the number I've told people for as long as I can remember.  That's a huge lake, especially when you consider only 30% of the shoreline is developed.
But a new measurement is showing we have even more shoreline than that!  880 miles to be exact.  According to an article in the Alexander City Outlook, Alabama Power's new measurements show the lake has MORE shoreline but LESS water (measured in acres) than previous estimates revealed. I was once a pre-engineering major, and among the many reasons I washed out was the fact that I can't grasp how you can have more shoreline but less acreage. Nevertheless, this is interesting news!
Everyone adjust your Lake Martin trivia accordingly.
Here's the Outlook article:  New figures show Lake Martin has more shoreline 
Also – according to this article, we may not know whether FERC has approved the new winter water level request until next summer.  So don't expect an answer anytime soon.  These. things.  just. take. a. long. time.  To read more about the relicensing of Martin Dam, check out the links below:
Update on Lake Martin's FERC Relicensing
FERC Lake Martin Meeting Recap
If you're considering a Lake Martin real estate purchase at Lake Martin, give me a call.  I'd love to share my knowledge, my experience, my trials, and my errors, with a good bit of Lake Martin trivia thrown in on the side. No extra charge!  John Coley  334221 5862, or click here to contact me.
The Lake Martin waterfront real estate market is a unique animal. I try hard to provide meaningful market reports, built on math and not assumptions. I recently sent out my 2013 Year End Review via email. In it, I asked for suggestions on how to improve my report.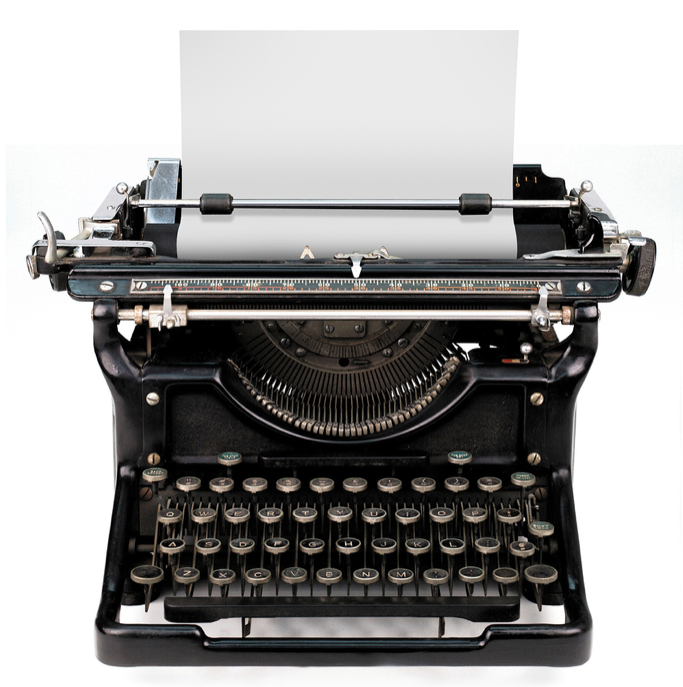 I received two very interesting emails, and thought I would publish them here. I would like to once again thank these readers for their input, and continue to ask for suggestions, and challenges, to my published numbers and analysis. With such a small number of homes sold each year, it's critical to have good information. You won't ever hurt my feelings if you think I am wrong or looking at something the wrong way. On the contrary, I would love to hear from you.
Here is the first email:
On Feb, 2014,  "Paul" wrote:
Just read though your email – great to see sales and construction activity continue to climb. You mentioned that you do not necessarily see price appreciation…..yet. Presumably you have the aggregate of sales dollars per annum. Does that not evidence any increase in avg sale/property?
Just curious because I was wondering how much the rate environment (which is still very favorable) could have an impact on discretionary/second home real estate purchases.
And my response:
Begin forwarded message:
From: John Coley
Subject: Re: sales data
Date: March, 2014
To: "Paul"
Hey "Paul," thanks for your email. I don't really look at aggregate sales dollar figures because I am not sure it is representative. For instance, the aggregate sales data in 2013 is going to be about double of 2008. But – 263 homes were sold in 2013 compared to 137 homes in 2008. If you looked at aggregate sales data you would be tempted to conclude that values have doubled since 2008, which certainly does not meet the smell test. I don't know of any market anywhere that has doubled since 2008. In fact, I think values dropped slightly in 09 and have been steady since then. My bell curve chart and real world examples (homes bought in 08 that are for sale now) confirm that. But it is certainly interesting to consider.
As to interest rates – I don't think rates mean a hill of beans to the average buyer. I think their interest rate sensitivity is zero. I have never run the numbers, but now that I know how to do so (I plan to do it like I did for WF footage and lot size) – I might try it. Stay tuned to my blog in the next few weeks, I am publishing the math behind my studies of price per WF foot.
Great to hear from you!
And the second email:
Dear John:
You asked for input on your charts, so being a CPA I couldn't resist giving some! The chart you are using to determine whether prices are increasing I don't think is accurate for that purpose. For example, let's say in 2014 a lot of people in the $700,000 price range bought a lot of houses, let's say 25% of all 2014 sales – the chart would of course spike at the $700,000 level indicating only that more people are buying houses at that level than they did in previous years. If the $700,000 buyers were buying houses that were previously sold for significantly less (i.e. a big price increase had occurred), the chart would not indicate that.
I don't know if you have the data, but I believe a very meaningful chart re: price fluctuations would be to calculate the dollar sales per square foot, by subdivision, by year. That would certainly capture any price fluctuations. Since the subdivisions are all in different categories (i.e. comparing the Ridge to Trillium, or Blount's Point area to Willow Point) cannot be meaningfully done.
I would love to see a chart that lists sales dollars per square foot, by subdivision, by year. Can you get your hands on that kind of data?
Many thanks for your very valuable research.
– "C.E."
My response:
From: John Coley
Subject: Re: Lake Martin – February 2014
Date: March, 2014
To: "C.E."
Hey "C.E.", thanks for your email. I appreciate a fellow numbers guy giving me input. I am always on the lookout to build a better mousetrap and to similarly test assumptions of my own.
Re: per square foot – I think this stat is extremely misleading at the lake. The reason is that so much of a home's value is tied up in the lot. PSF analysis works well in things like condos where everything is the same, but lake property is way too diverse and has too high a percentage of overall value tied up in the lot. See a post I did on my blog, way back in 2007:
5 Mistakes When Buying Real Estate on Lake Martin
There is zero correlation between sales price and square footage of home.
In that post I also mention the price per waterfront foot of a lot and its deceptive nature. Coincidentally, I just ran the numbers on that using 2013 sales. I will be posting the results on my blog. I did a scatter plot, and a correlation coefficient calculation. Where +1 is a perfectly direct relationship, 0 is no relationship, and -1 is a perfect indirect relationship, I found that waterfront footage only has about a 0.47 correlation, or classified as a secondary correlation by statisticians. Interestingly, the size of the lot (overall acreage) has a zero correlation. This math confirmed for me that when I am valuing lots, and therefore valuing homes, the most accurate method is to start with a comparable sales method, looking at similar location, view, privacy, and water quality. I secondarily adjust for WF footage, and do not adjust at all for acreage.
I will take a look at your suggestion of analysis by neighborhood. I am doing that already for a neighborhood report, but looking at PSF data on homes in a neighborhood will vary even more greatly because of our small sample pool. That's why I only do price analysis once a year – in Willow Point there were only 8 homes sold in the last 12 months, from 600k to 2.2 million. When your sample pool is that small, it won't normalize easily, and one home sale can thrown the whole thing in a wreck and make year to year comparisons inaccurate at worst. But all this does make for interesting discussion!!!
Regarding your example of the 700,000 category – if you look at the most recent example, in 2011 there was a spike in the over 1 million range. You can see the hump up there. Spikes like this are the prime reason I broke it all down to price strata, and also to look a year's worth of sales. I am trying to normalize out the outliers. But again, great food for thought! Thanks!
Thanks for your email!!
It is so humbling that people read my market reports, much less take the time to comment on them and get me to really think about the conclusions I draw.  It helps more than you know.  A huge thanks for your feedback, and please keep it coming!
C.E., in a later email, suggested that I look at the percentage of and direction of change in per square foot pricing on Lake Martin waterfront home sales. His point was that while the raw number might not be useful, the direction thereof might be, kind of like the DJI in the stock market. I think this is a cool idea and worth some further study!
Welcome to Lake Martin and welcome to LakeMartinVoice.com!  If you're researching a waterfront real estate purchase, I hope this website will become your favorite tool, and, let me be honest – I hope one day you'll give me a call and hire me as your realtor.  I realize that the last thing buyers and sellers want to do is call a cheesy realtor, so this website is my attempt to gain your trust by putting the best real estate info into your hands and letting you take the lead.
So what's the deal with my company's name, Lake Martin Voice Realty?  Am I am radio station? No.  Am I a boutique ( a trendy word for small) real estate company that deals exclusively with Lake Martin real estate? Yes!
LakeMartinVoice.com exists to put all of the most accurate and most current Lake Martin real estate information in one location.
1)  Search the Lake Martin MLS – without a doubt, the most accurate and timely source of listing information. All realtors, all brokerages.   Sites like Realtor.com, Zillow, and Trulia are chronically inaccurate and out of date, so go straight to the local source, our MLS.
2)  Read Market Reports – I break down the statistics – finally, my accounting degree put to good use.  It's hard to argue with the numbers.
3)  Learn about Neighborhoods and geographic areas on the lake – Maps, video tours, histories each area, PLUS a live feed from the MLS with homes currently for sale in each neighborhood.  A handy way to get super hyper local.
4)  Connect to my YouTube Channel – Watch hundreds of videos including home tours, community event videos, and client testimonials.
5)  Request Best Buy and Foreclosure Lists – Choose your price range and I'll send you a hand picked list of homes with good value (IMO).  Request a list of foreclosed properties as well.
6)  Explore local news, events and issues – Read hundreds of current and past blog posts covering life at Lake Martin.
If you have more questions about Lake Martin real estate, and you can't find the answers here, please let me know – I'd love to do the research and even post the answers right here.  You can  call me at 334  221 5862, email me at john (at) lakemartinvoice (dot) com, or click here to contact me.
I have a new waterfront Lake Martin home for sale on the east side of the lake, 108 Leisure Lane, and every time I think about it, I want to head there with my paddle board and spend a few hours exploring.
This Manoy Creek home has 3 beds and 2 baths on a great, flat lot.  Best of all, its neighbor to the east is a 68 acre parcel of Alabama Power Project Land.  That means the area will not be developed, and that makes for privacy, super paddle boarding, fishing and skiing.  I imagine loading my fishing gear on my board, paddling along the woodsy shoreline, maybe making my way across the slough to visit a neighbor. . .
By the way, I've had several clients buy in this area of Lake Martin specifically for the great skiing and wake boarding spots.
If you're interested in this home, or any property in the Lake Martin MLS, give me a call at 334 221 5862, email me at john (at) lakemartinvoice (dot) com, or click here to contact me.  I sell real estate exclusively on Lake Martin full time, and I'd love to help you with your search!
It's a YouTube channel devoted to Lake Martin and Lake Martin waterfront real estate.  And I promise it's not about me!
I know you are bombarded by cheesy ads asking you to "Like" this on Facebook or "Follow Me" on Twitter.  I see them too, and I always think, "Why?  Why would I do that?" A lot of times there isn't a good reason or incentive.  You can already view my Lake Martin YouTube Channel without subscribing, but if you do subscribe, you'll be notified as soon as I upload new videos.  That means you won't miss a thing going on at the lake.
Also, if you have the YouTube app, it will make it easy for you to keep up that way.  That's how I watch most videos on YouTube.  I go to the app and scroll down my subscriptions, and anything with a red number on it means it has videos that I have not seen.  It's pretty convenient.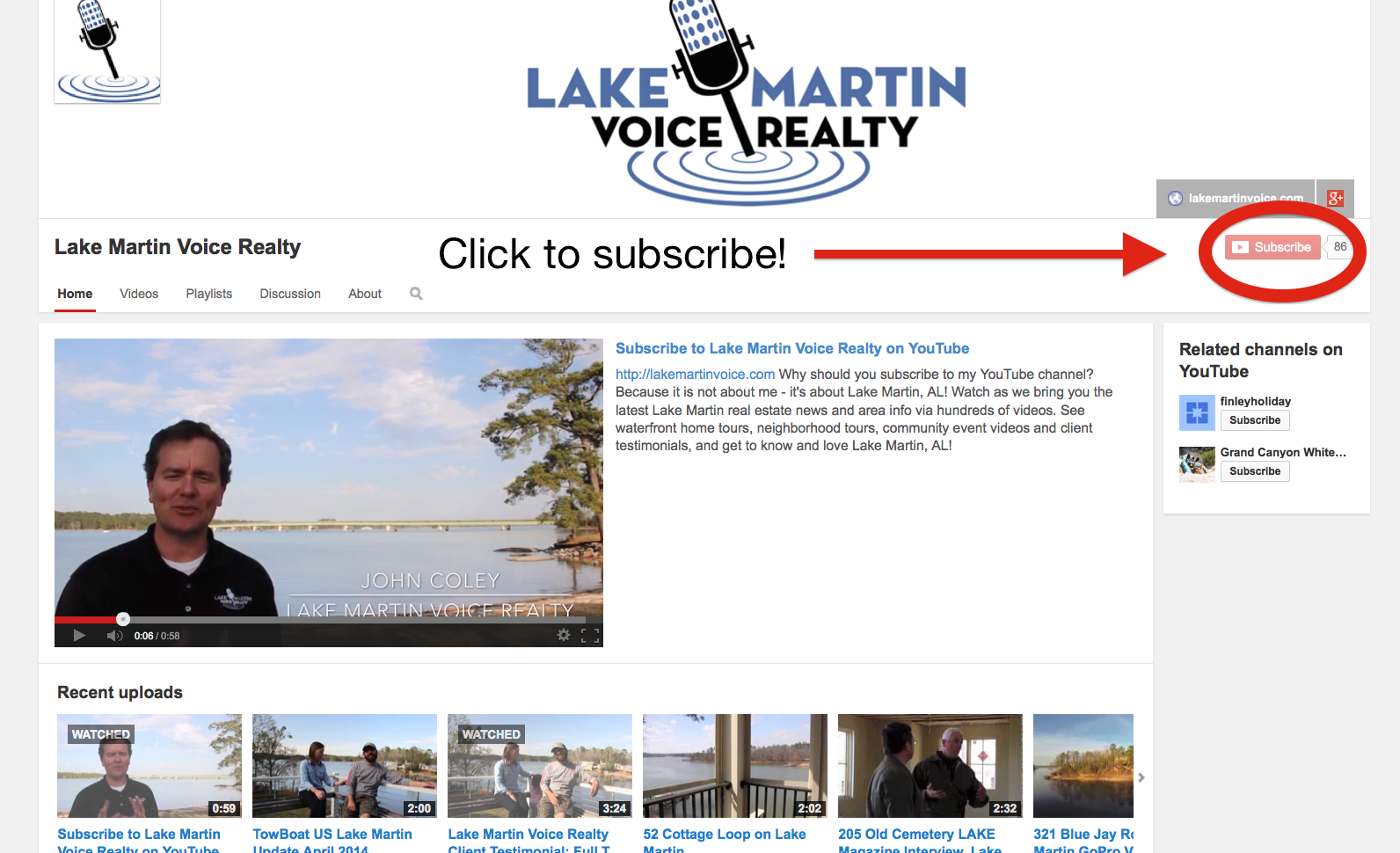 My goal is to be your #1 resource for all things Lake Martin real estate.  I want to have the savviest clients and readers around, so my YouTube channel is another way to get great information on homes, neighborhoods, and community events at Lake Martin.  As of today, I have uploaded 344 videos to the Lake Martin Voice channel, and 281 of them are viewable by the public.  (See private tour video info at the end of this post to learn why all videos are not public.) These videos are organized into Playlists:  How to Search the MLS, Client Testimonials, Community Info Videos, Lake Martin Neighborhood Tours, and Waterfront Home Tours.
YouTube lets you make a plug for your channel that pops up at the top of the page, and here's mine below. Am I convincing?  Are you signing up?
YouTube is also where I upload Private Tours for clients who want more info on a particular home for sale, but it's another company's listing.  I go to the property, film a walk through tour of the home and lot, and then give the client a private YouTube link to view the video.  It's a service a lot of my customers use to help narrow down properties to see and therefore make their trips to the lake more efficient and productive.
If you're interested in Lake Martin real estate, I'd love to be your Realtor.  Call me at 334 221  5862, email me at john at lakemartinvoice dot com, or click here to contact me, and let's talk Lake Martin.
The Lake Martin community extends beyond the shoreline of Lake Martin, and I love all the history that is a part of our location in central Alabama.  My kids and my wife think I am goofy about this, but I am among the many hundreds if not thousands of people that are excited about the 200th anniversary of the Battle of Horseshoe Bend.
Alabama artist,Tommy Moorehead thinks it's worthy subject matter as well:
Now through April 5th, Henry Foy's Gallery 128 at Emporium Wine,  is displaying Mr. Moorehead's art to commemorate The Bicentennial of The Battle of Horseshoe Bend. Check it out on Facebook. Even my wife, an artist herself, was interested.
Suddenly I am not so nerdy, eh?
The official anniversary proceedings are happening on March 27, 28, and 29th, 2014 at Horseshoe Bend National Military Park (on Highway 49, a couple of miles north of Highway 280 in Dadeville, AL).  For more information, see the Park's website here.  If you are unfamiliar with the Battle of Horseshoe Bend, it's only (arguably) the most important early American vs. Native American battle east of the Mississippi. It was the launching pad of many famous Americans like Andrew Jackson, Davy Crockett, Menewa, and Sam Houston, and it's right in our backyard at Lake Martin.
I sent a letter to my kids' school last month to make sure they knew about this event, and to offer my services as possible guide.  The principal sent my letter out school wide, and then informed me that (lucky us!) it is happening during our Spring Break week.  So now, as part of our Spring Break 2014 celebration, we are bringing another fortunate family (or two) to hear the canon, see the encampments, and soak up the history. My kids are not yet convinced that this will be as fun as the beach, but I'm betting I can change their minds a little, or at least have a seed planted of love for our local history.  See you there!
It's time for the final reveal.  Much like an Extreme Makeover Home episode, Henderson and Coker Contractors have resurrected a Lake Martin seawall that was a complete fail.  This was no minor seawall fail.  This was a seawall that had fallen over into the lake and taken a lot of earth with it – and dirt is dollars in waterfront real estate.  They allowed me to tag along and film the stages of construction, and now that the water is down for the winter months, I can show you the new seawall from the ground on up.
This time of year is great for inspecting and repairing Lake Martin sea walls.  As you can see from the video below, there's a lot more to a seawall than the few feet that are exposed during the summer months.  This is a project for the pros.  The dirt beneath your lake home is the most valuable part of your lake investment, so make sure you protect it with a strong, well built sea wall.
Did you know that sea wall inspections are not typically part of the home buying inspection process?  Buyers should contact a sea wall professional and have a separate inspection completed if they are concerned about the condition of a lake home's seawall.
I can't inspect your seawall, but I can help you with Lake Martin real estate. If you're thinking about buying or selling a Lake Martin home, give me a call and let's talk about all the factors to consider when buying or selling.  I'd love to be your realtor. (334) 221-5862
For Parts 1 and 2 of this series, click on the links below:
Extreme Seawall Failure on Lake Martin: Part 1
Extreme Seawall Failure on Lake Martin Part 2: Rebuilding
As you probably know, Alabama Power is in the middle of the process to relicense Martin Dam.  If you're unfamiliar with this event, click here for more information.  For those of you who have been following this process, you might be wondering what's going on?
When we last left this subject, FERC held a meeting to say they had not approved a new water level rule curve (to determine what months they raise and lower the Lake Martin's water level, and by how many feet they lower the winter water level).  Alabama Power has appealed this decision to FERC and has asked FERC to reconsider the matter.  If you'd like to read a copy of Alabama Power's appeal, click here.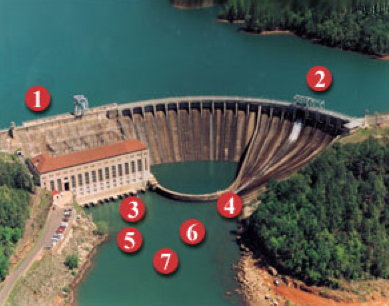 Basically, regarding water levels at Lake Martin, Alabama Power has appealed to FERC with two considerations:
1) Potential for downstream damage is small.
2) Potential for positive economic impact is large.
The way I understand it, FERC is not operating on any set timetable. I could be wrong on this, but I think we could hear back from them in two weeks or six months.  We will hear about it when we hear about it.
My personal hope is that they grant Alabama Power's request for a new rule curve.  The new rule curve would only drop the winter level seven feet instead of ten feet, and allow for an optional full pool period extending into the fall.  I think Alabama Power has done a great job in proving that there is no additional risk of flooding with a seven foot winter drop.  They've also done a great job proving that our entire area's economic potential would be greatly enhanced by having more water in Lake Martin.  I remain optimistic that FERC will hear the appeal and make the right decision for the Lake Martin area.
For further reading, LakeMartin.org has assembled links to original documents relating to the FERC relicensing in a helpful way. Click here to see these.
As soon as I hear anything, I'll let you know.