Archive for the 'Lake Martin Area Info' Category
It's time for the final reveal.  Much like an Extreme Makeover Home episode, Henderson and Coker Contractors have resurrected a Lake Martin seawall that was a complete fail.  This was no minor seawall fail.  This was a seawall that had fallen over into the lake and taken a lot of earth with it – and dirt is dollars in waterfront real estate.  They allowed me to tag along and film the stages of construction, and now that the water is down for the winter months, I can show you the new seawall from the ground on up.
This time of year is great for inspecting and repairing Lake Martin sea walls.  As you can see from the video below, there's a lot more to a seawall than the few feet that are exposed during the summer months.  This is a project for the pros.  The dirt beneath your lake home is the most valuable part of your lake investment, so make sure you protect it with a strong, well built sea wall.
Did you know that sea wall inspections are not typically part of the home buying inspection process?  Buyers should contact a sea wall professional and have a separate inspection completed if they are concerned about the condition of a lake home's seawall.
I can't inspect your seawall, but I can help you with Lake Martin real estate. If you're thinking about buying or selling a Lake Martin home, give me a call and let's talk about all the factors to consider when buying or selling.  I'd love to be your realtor. (334) 221-5862
For Parts 1 and 2 of this series, click on the links below:
Extreme Seawall Failure on Lake Martin: Part 1
Extreme Seawall Failure on Lake Martin Part 2: Rebuilding
As you probably know, Alabama Power is in the middle of the process to relicense Martin Dam.  If you're unfamiliar with this event, click here for more information.  For those of you who have been following this process, you might be wondering what's going on?
When we last left this subject, FERC held a meeting to say they had not approved a new water level rule curve (to determine what months they raise and lower the Lake Martin's water level, and by how many feet they lower the winter water level).  Alabama Power has appealed this decision to FERC and has asked FERC to reconsider the matter.  If you'd like to read a copy of Alabama Power's appeal, click here.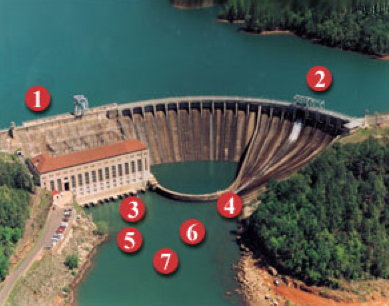 Basically, regarding water levels at Lake Martin, Alabama Power has appealed to FERC with two considerations:
1) Potential for downstream damage is small.
2) Potential for positive economic impact is large.
The way I understand it, FERC is not operating on any set timetable. I could be wrong on this, but I think we could hear back from them in two weeks or six months.  We will hear about it when we hear about it.
My personal hope is that they grant Alabama Power's request for a new rule curve.  The new rule curve would only drop the winter level seven feet instead of ten feet, and allow for an optional full pool period extending into the fall.  I think Alabama Power has done a great job in proving that there is no additional risk of flooding with a seven foot winter drop.  They've also done a great job proving that our entire area's economic potential would be greatly enhanced by having more water in Lake Martin.  I remain optimistic that FERC will hear the appeal and make the right decision for the Lake Martin area.
For further reading, LakeMartin.org has assembled links to original documents relating to the FERC relicensing in a helpful way. Click here to see these.
As soon as I hear anything, I'll let you know.
The Lake Martin community has a once in every 40 year chance to influence our lake's water levels. Alabama Power is in the final days of getting their "rule curve" and license from FERC. A couple of weeks ago FERC had a public meeting in which to hear discussion about their recent proposed response to AL power. In short, Alabama Power asked to bring the lake down only seven feet in the winter instead of the current ten. They also asked for the discretion, weather permitting, to have an optional full pool period into October, instead of starting to draw it down after Labor Day.
If all of this is news to you and you have no idea what I am talking about, read this post first and its related links. If you are up on the news, and have been waiting on my summary, sorry I am so late in posting it. The meeting was very eventful.
Let me try and boil down a lot of information into a few key points:
1)  Great turnout!
The Lake Martin community made its presence known.  I saw people from all over.  Well done, stakeholders!! Many groups and businesses put out the call for attendance and the response was awesome. I am not taking credit in any way, this response was way bigger than anything I could orchestrate, but I would like to personally thank the people that came because of my email. I know some folks came from as far away as Atlanta! According to the folks at CACC, the capacity in the main room was 600. They had so many people show up that they created an overflow room. I was in the main room so I have no idea how many were in the overflow, but I think that 700 total people is a pretty good estimate. The meeting started at 6:30 and by 5:30 people were already getting there. Check out the packed house below:
2)  Lots of people had to chance to speak.
From regular folks to company executives, Lake Martin stakeholders were able to address FERC's representatives.  First, they started with elected representatives, so this consisted mainly of Alabama State Representatives and Senators. They did a pretty good job, and of course, the they were all in favor of Alabama Power's suggestion of a 7 foot draw down in the winter and the optional fall full pool in autumn. They all touched on the huge economic potential of such a change.  I thought that Mark Tuggle did the best job of combining the facts with persuasion. After the elected representatives spoke, then a person from Alabama Power spoke. I thought this would have been Jim Crew, who is in charge of re licensing.  Instead it was another fellow whose name escapes me, sorry. He did a nice job. Then they threw it open to anyone else in the public, and we had four minutes each. In order to speak, you had to fill out a form with your name and topic. I was surprised when they called my name to speak first in this section. I guess I was the first one to fill out a form since I got there an hour early. I had some remarks prepared. I had just written "An Open Letter To FERC" – my article submission for Lake Magazine's August Issue. I decided to read it as my speech. But while I was waiting around, I felt like it was too long for that forum, so I edited it back pretty viciously. You can see my speech as made at the end of this post.
Some folks from LMRA and the Lake Martin HOBOs also spoke in favor. Then Steve Forehand, Secretary and General Counsel with Russell Lands, got up and spoke. Steve did an awesome job. Of course, as Lake Martin's largest private landowner, Russell Lands stands to gain when property values increase. That's obvious and it surprised no one that they are in favor of Alabama Power's proposed EIS. But what was interesting to me was how Steve reminded everyone of the intense study that has happened for the last six years, and how all of the diverse stakeholders (upstream, downstream, and all around) were taken into account. He laid out, in sober detail, the solid math that supports the environmental and economic reasons for Alabama Power's requests.
One of the best speakers of the evening was the manager of Winn Dixie in Alexander City.  He talked about the huge disparity between the amount of merchandise sold in the summer and the winter.  He said that the gross sales difference in his store between summer and winter is $70,000 per week. Wow. He said at $2.30 per item, that's 30,000 items that are not getting stocked by his employees or outside vendors coming to the community. If stock is not moving, he can't retain his stock guys year round.  These are real people who struggle financially in the off season and could really benefit by extending the lake season.  I know he was just one example of the hundreds of businesses in Elmore, Tallapoosa and Coosa counties and beyond.
Another home run hitter was Kenneth Boone. He owns the Alexander City Outlook and the Dadeville Record, as well as Lake Magazine and Lake Martin Living Magazine, et al. He talked about the potential positive impact that a higher winter pool and a longer full pool season would have for him. He pointed out that, while he does not live on the lake, his businesses literally circle it.  Kenneth also put out hard numbers if the differences in summer and winter time revenue.
Here are a few pictures of various Lake Martin stakeholders I took during their speeches to FERC:
3)  Alabama Power is still working with FERC
Apparently there is more info that needs to be shared, and Alabama Power is working to provide this info.  At the very end of the nearly three hours of listening, the FERC folks finally spoke up. Someone from the crowd asked, cannily, "what do you need to give us 7 feet and optional full pool to October?" FERC responded by saying that everything they base their decisions on must be in Alabama Power's application. And, they added, based on what's in there now, we don't see the evidence that a 7 foot winter drop will be OK. We would need more evidence. This was a ray of sunshine to me, because when I talked to each of the FERC folks separately before the meeting, they sort of acted like it would be a rarity for them to change their minds. That comment opened the door a bit for me mentally. After FERC said that, Jim Crew from Alabama Power finally stood up to talk. I suppose Mr. Crew remained silent during the meeting to give everyone else a chance to talk, even though he is clearly the expert. I also suppose there is a bit of strategy involved in letting other people make your points for you. At any rate, when he did stand up to talk, he said, in effect, "hey, we thought we addressed these points, but I am hearing we didn't do enough. We will do whatever we can, supply whatever we can, to get the 7 foot winter drop and the optional fall full pool." This was met with resounding applause.
4)  There is no resolution or ruling yet, so we'll all have to stay tuned.
I wish I could say we know the fate of this re-licensing process, but we don't.  There were a lot of great points made in favor of raising the winter water level and extending the full pool season by three months. But it was clear to me that this public meeting was just another thing FERC had to check off in the relicensing process. Ostensibly, they were there to listing in case any "new data" was presented. I judged from their tone and response at the end of the meeting that they felt none was. However, since they did talk about the possibility of Alabama Power giving enough new information that would help. FERC gave no time frame. We will just have to wait and see.
5)  597 to 3
Yes, there were some speakers that were against a seven foot winter pool. Three, exactly. Since I don't know ho many were in the overflow room, I score the night 597 pro and 3 against. I won't give them equal ink since they were so entirely outnumbered. One said he was a regular dude, a teacher, that owned land downstream of Lake Martin. He said he wanted to "put a face" with people that "y'all are trying to flood out." I was surprised that an academic would make such a statement in light of the facts presented in Alabama Power's application. The math on such a remote possibility should ease his fears.
Also, Trey Taylor spoke. He is an Elmore County Commissioner for District 2. He also identified himself as a cotton farmer whose crops might be affected by higher winter pools. Put aside the fact that no Alabama cotton farmer worth one bole would have cotton in the ground in October. Has he read the studies that show the slightly higher pools on Lake Martin would have no affect on him? I don't think he has. I was flabbergasted that an Elmore County politician would be against this. Surely he realizes the huge economic impact to his county. Surely he realizes that a huge portion of Elmore County's property tax comes from Lake Martin? Maybe not. If you are an Elmore County resident whose livelihood even remotely is helped by Lake Martin, click on his link above and contact him. My office is in Elmore County and I plan to let him know I do not support his reelection.  A person stood up after him and said that Mr. Taylor owns a lot of acreage and that was his motivation. I don't know that to be a fact, but I do know that Mr. Taylor's family is quite vested in the cotton business. One drive down 229 south of Tallassee confirms that.  Mr. Taylor gets the "cutting the nose off despite the face" award of the night in my book.
The last opponent that spoke was Robert Morris, a self described "lawyer from Slapout." Mr. Morris was easily the longest and least tolerated speaker of the evening. He launched into a review of his unsuccessful attempt to sue Alabama Power in 2005 on behalf of landowners that felt the power company's water control hurt the landowners' interests. The suit was dismissed by summary judgement, which I think means the judge rules that you don't have enough evidence to go to trial. Anyhoo, Mr. Morris went on at length. So much length, in fact, that FERC asked him to wrap it up (the only time all night they were forced to do so). He went on for another five minutes.  He started to receive some scattered booing.  I think his entire speech was a grand ruse to troll for new clients. He was applauded, though, when he said "In closing……." – the place erupted in cheers, he cut his sentence off, and mercifully left the podium. If he expected the crowd to be a rich till of Alabama Power haters, he miscalculated astronomically.
6)  What Can You Do? Act before August 13, 2013!
Lots of people who could not make the meeting are wondering what they can do to show their support of Alabama Power's attempt to drop the lake only 7 feet in the winter, and have an optional full pool to October. You can go to FERC's website and use their eComment or eFiling tool to let them know. You will be asked what project you are commenting on, and it's the Martin Dam Hydroelectric Project, its number is P-349-173. It must be typed exactly like: P-349-173
YOU MUST DO THIS BY AUGUST 13 or IT WON'T MATTER.
If you are wondering what to write, see the LMRA site – they make the point that we would be well advised to be a unified vote. Just say that you support Alabama Power's proposed 7 foot winter pool and the optional fall full pool. The cutoff from FERC is August 13, 2013.
And if you're interested, here's what I had to say:
Like I said, I edited my August article for Lake Magazine. In the magazine, it will be fuller and (hopefully) less choppy. I didn't want to risk boring the FERC folks and other listeners with too many examples and too many sidebars, so I cut it way down. Here's my speech exactly as I read it:
**************************
An Open Letter to FERC:
I have two points to cover in respectful disagreement with your Draft EIS for the Martin Dam Relicensing Project.
First, I think that you are severely limiting the scope of what you define as stakeholders. For instance, the statement that the optional full pool period in the fall would only benefit property owners is tantamount to saying that three extra home games played by the Washington Redskins would only benefit the season ticket holders.
Sure, the season ticket holders would love an extra Redskins game. But they would only represent the tip of the iceberg. Think about the business that sells hotdogs; the folks that work the parking lots; the people selling souvenirs. Beyond that, hotels, restaurants, taxis and convenience stores surrounding FedEx Field would love the extra games. More importantly, what if those three extra games provided enough income that the businesses could hire three extra people each? Or make their part time employees full time? Or allow a worker to finally save enough money to retire with dignity, go to school or start another business?
Extending the fall full pool season is like giving us three extra home games. The community can be transformed into a year round economy. Please don't think the benefits are limited to property owners only. Can someone be a Wolverine outside of Michigan? Or pull for the Fighting Illini from D.C.? Or cheer The Dawgs from the Southwest? Of course.
Another thing that I think you need to reconsider is limiting the winter pool to 10 feet. Your Draft EIS claims that 10 feet is needed to allow for flood control.   I would like to question why you think, after about 40 years of dropping the lake 10 feet, that it still needs such a huge margin of error to help mitigate the danger of downstream flooding? In short, it doesn't, because technology has increased quite a bit since 1973 when the current license was written.
I am old enough to remember watching the weatherman on TV as he gave the daily prediction on a chalkboard. Yes, the weatherman stood at a chalkboard and drew clouds or pictures of the sun in various emotional states, along with pictures of wind, rain and occasionally snow. If he was good enough, he drew the cloud actually puffing and blowing the wind. Needless to say, we were not able to zoom in on his chalk scribblings at a neighborhood level to see where it would rain. Again, that was 40 years ago. Computers that we now consider feeble took up entire rooms. Today, even the iPhone in my pocket can provide weather prediction at the street level.
Common sense tells us that the long lead times for weather prediction 40 years ago are no longer needed. 
Please don't let an entire lake and its people be held hostage by 1973 technology. Dump the chalkboard. Check your favorite weather app and let us lower the lake only 7 feet in the winter.
Respectfully,
John Coley
***************************
Further links:
Alex City Outlook Coverage:
Ala Power: The Voices Were Heard
Coverage from WSFA Channel 12 in Montgomery:  Hundreds pack hearing on future of Lake Martin water levels
also:
WTVM.com-Columbus, GA News Weather
If you own a home or lot on Lake Martin, or like to boat or fish or play on or around Lake Martin, or live in a hundred mile radius, or; if you ever hope to own a home or lot on Lake Martin, if you ever hope to fish or boat or play on or around there, or if you ever hope to live within a hundred miles, or if you love or know someone who does or hopes to do these things, then you must attend this FERC meeting.
Huh?
By now, I hope you have heard about the water level meeting with FERC on Wednesday, July 17, 2013, at CACC. FERC is about to make a decision that impacts Lake Martin for the next 40 years.
If not, here are the details:
When: Wednesday, July 17, 2013, 6:30 PM – 9:30 PM
Where:
Central Alabama Community College, Betty Carol Graham Technology Center
1675 Cherokee Road
Alexander City, AL 35010
Why:
FERC has denied Alabama Power's request to keep Lake Martin's winter water level higher (three feet higher to be exact). FERC has also denied Alabama Power's request for a conditional longer full pool season, into October.
WEDNESDAY'S MEETING WILL BE THE ONLY CHANCE FOR THE PUBLIC TO GO TO A MEETING on this subject.
The relicensing process only happens once every 35 or 40 years. This is huge. If you need more opinions on the meeting, see below for more reading.  But let me cover a few objections you might have about going to the meeting:
1. "The fatcats and corporate bigwigs control everything anyway. People like me don't matter." Incorrect. I would disagree with that assumption altogether, but consider for a minute – even if "they" control everything else, they obviously don't control FERC on this issue. It should be obvious, because every person, rich or poor, and every business, from this humble 2 person real estate brokerage to AL Power itself, have lobbied for the higher winter water level and extended full pool season – and have been denied. If this mysterious "they" of which you speak controlled everything there would not be a need for this meeting.
2. "I'm not going to speak at the meeting, so why should I come?" A valid point, but we don't need you there to make a rousing, Jimmy Stewert-esque public speech. WE NEED YOUR BODY there to show FERC that there are many, many stakeholders, many people that care about this issues and its possible impact over the next half century on our community. In FERC's response, the Draft EIS, they were quoted as saying  that some if these issues would only benefit shoreline property owners. Even as an agent who sells waterfront real estate, I think this is a tremendously "tip of the iceberg" approach to see the lake's impact on the community's economic life. Seeing people there, looking them in the face, should make an impact.
3. "Someone else will go. I don't need to go." Really? You may have a classic case of apathy. Can you imagine if everyone shared this thought? The place would empty. FERC would look around and ask justly, "so…… where are all these stakeholders, again?" They have been reading (and ignoring) the reams of data in AL Power's application that talk about the huge amount of people, businesses, and environment that Lake Martin impacts. If we all have the "someone else" mentality – then we don't deserve this potentially positive seismic change to our area.
4. "I have church on Wednesday nights." This is actually a pretty good excuse on its face. I am certainly no theologian, but if you look closely in the Bible, I don't think you will find any scripture that says your or your family's salvation hinges on not going to church on July 17, 2013. Read the book of Romans and know that it will be OK if you skip this Wednesday.
5. "I live out of town."  I hear you. But consider this – let's say you have just arrived at home from a vacation at Lake Martin. Just as your tires hit the driveway, you realize that you left the iron on – or the kitchen sink running – or the gas grill running – and you couldn't call a friend to go by and fix it. Wouldn't you turn right around and go back? Wouldn't you immediately handle this emergency, even though it inconvenienced you?  THIS IS AN EMERGENCY. FERC is making a decision that will affect everyone for the next 40 years. Yes, the meeting will run to 9:30. If you have a lake place, just go sleep there. Would spending a random Wednesday night at the lake be so terrible? Just get up early and drive to work Thursday morning. Buck up.
Now that we have that covered, I will see you there!!
Further Reading On Lake Martin Relicensing and FERC's Refusal
For more reading on the subject, and why it's so important to show up to this meeting, see these resources:
Alabama Power  – this is a link to their official website about the relicensing process.
Our Lake At Stake – an article in July's Lake Magazine that interviews various people (me included) about the potential impact of a higher winter level and an extended full pool season.
LMRA Responds To Regulatory Concerns – Steve Forehand lays out the issues, and then highlights the economic impact of Lake Martin. A must read – especially when he says things like: "This creates the appearance that the Corps has determined that Atlanta's needs are more important than downstream users' needs and that the Corps is willing to sacrifice Lake Martin to protect Atlanta."  I know Steve to be in possession of a very rational, well studied, and bright legal mind. Sure, that is strong language on his part. But read his article and decide for yourself if he was exaggerating. I for one do not think so.
Lake Martin HOBOs this is the Lake Martin Homeowners and Boat Owners association. They are a great resource, and have tons of links to PDF copies of the original FERC documents, etc. If you are a person that likes to read original sources, this site is for you.
LMRA stands for the Lake Martin Resource Association – the oldest advocacy group on Lake Martin, I think.
Stakeholders Mobilize For FERC – Another very good article from the Alexander City Outlook. It lays out the issues again and the potential impact.
Lake Stakeholders oppose FERC's Refusal – this is an older article from the Outlook, written back in June.
Must be a loose director.
Apply at downtown Kowaliga, better known as 8424 Kowaliga Road, Suite A, Eclectic, Alabama.
I was inspired to make this crucial hire after I read the hilarious post entitled "Lake Cabin Fever" over at Finding Home – the blog of McAlpine Tankersley Architecture.
It's the story of the construction of Bobby McAlpine's first Lake Martin home. It's a funny tale, which, at its heart, is an expression of love for Lake Martin.
I am tempted to make a real estate lesson out of this post, about how things have changed from not-so-long-ago, or how I wish I had a mobile real estate van, or even a sassy, brassy secretary that everyone had to endure, or gush even more about their company, one of my favorite in a very short list of favorite architecture firms, but I won't.
Instead I will follow the advice of Stephen King when he wrote the forward to Lord of The Flies, that, when in the presence of a masterpiece:  "just inhale first, analyze later."
If you've never browsed through their blog, go forth and enjoy. It's a Pinterest play land. They (read: Greg) do a great job with social media.
It's hot now and summer at Lake Martin is on.  But back in the spring I took these pictures, so I'm winding back the clock for a minute to share them with you.   Before my gig as a Lake Martin realtor, I rarely got in the boat before the middle of May.  Since I'm blessed to get to see it year round, now, I thought I'd share a little bit of April on the water with you.
I was passing by Chimney Rock to do some filming near Shady Bay on the eastern side of the lake.  I wish these pictures had turned out better, but I had never noticed what I think are wild azaleas blooming on the cliffs south of Acapulco and Chimney Rocks.  They're gone before Memorial Day, and I had always missed them.  It's humbling to be surprised by the beauty of nature: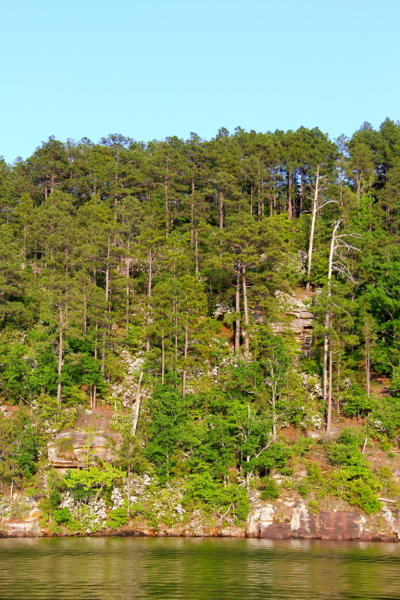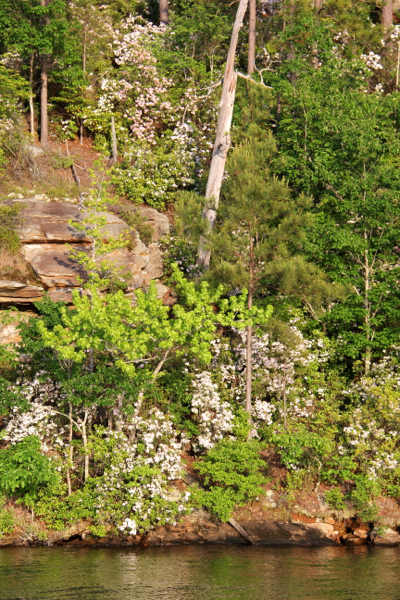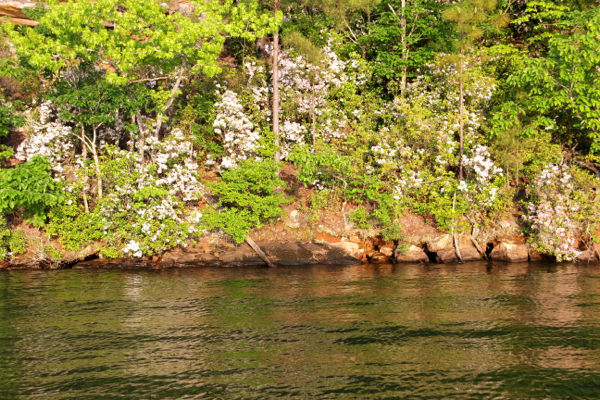 Lake Martin is definitely evolving from a summer-only to a year round vacation destination.  Businesses, restaurants, and other service providers are stepping up to meet the demand of a market that is moving from a 4 month season to a 12 month season.  I predict that many homeowners (or future homeowners) will begin to take in these off season sights with me in the future.
If you're looking for a waterfront home, townhouse, condo, or lot at Lake Martin, give me a call at (334) 221-5862, or click here to email me.  I sell Lake Martin all day, year round, and I'd love to be your realtor.

One of the best times I've had with my kids at Lake Martin was the Slingshot Wakeboard Demo at Blue Creek Marina back in 2011.  If you're on the east side of Lake Martin, Blue Creek Marina is a great resource for boats, service, storage, a ship's store, plus cool boating and wakeboard gear.
Last summer we made a special trip over there to buy the kids a wakeboard, new rope, and yes, helmets (my nickname is "Safety John" around the house).  My teenage nephew was mortified by the helmet, and ok, at our skill level we can do without them.  But I do love to be prepared. Plus, I convinced them to wear the helmet by convincing them it was the best way to put a GoPro camera on while you wakeboard.
They have fun demos every summer, so check out their events calendar for the latest updates. If you are trying to reach Blue Creek Marina, call 256-825-8888. Ask for Justin or Kevin in boat sales, they will treat you right.
Here's a quick Blue Creek Marina tour:
and here's the wakeboard demo video we made back in 2011:
If you're interested in waterfront real estate on the eastern side of Lake Martin – or any side of Lake Martin – give me a call at (334) 221-5862 or click here to contact me via email.
Wildlife diversity, for sure!
Every time I head to StillWaters to show a home or condo for sale, my "web staff" knows I'm coming back with new wildlife photos.  To date, I've captured lots of deer, ducks, and herons.  In fact, I have a wildlife photo file on my computer just for StillWaters.
I was in StillWaters twice last week, and both times I saw turkeys on the golf course.  The first time, it was this crowd below:  two jakes (immature males), and one mature long beard.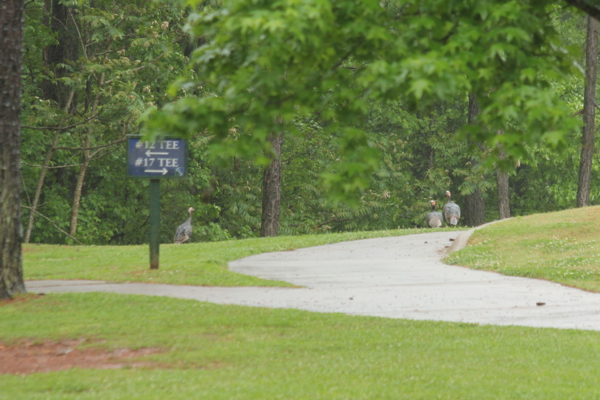 This guy was definitely the boss. He was standing by the road, and let his minions above walk ahead of him to clear the way and make sure there were no dangerous golfers around. For those of you unfamiliar with turkeys, I will let you know, the length of his beard (that straw looking hair poking out of his chest) is pretty impressive. I tried to get a little closer, but this was the best I could do from 100 yards with a 300 mm lens: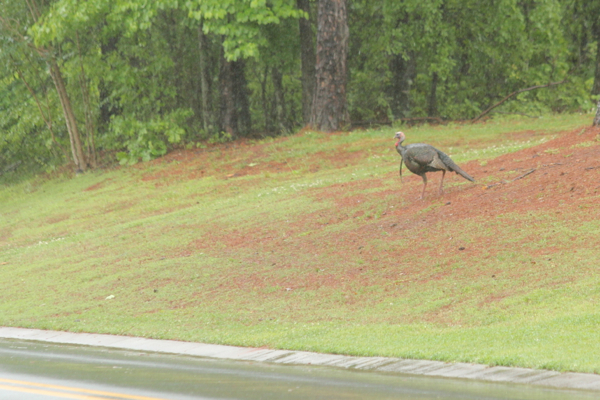 A week later I was leaving a listing appointment in StillWaters. I got to almost the same bend in the road and noticed another turkey was standing with one foot in the road, gobbling his head off. A car passed him, he took three steps back, then stepped back out and double gobbled. As an avid turkey hunter, I was amazed. This was a week into May, and turkey season was over on April 30. It just goes to show you that, even in the wilds of StillWaters, the primal procreative drive of nature does not hew to man's law. I eased my car up to him, and he walked back into the woods. This was the best shot I got of him, below. Maybe he was the same boss I saw a week earlier: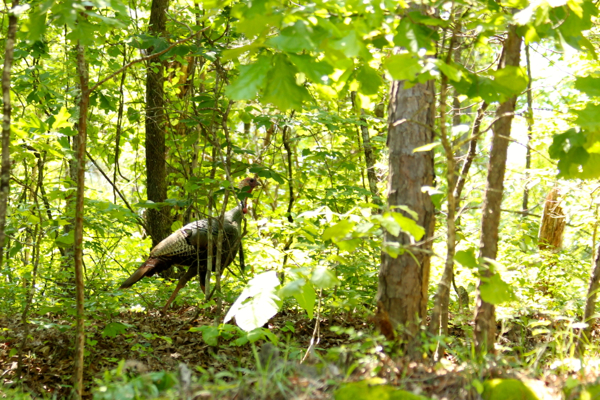 So many people come to Lake Martin because of its natural setting; wildlife sightings are just a normal part of the day.  It's different than some other popular getaways in the South – it's a place to slow down and enjoy people, the water, wildlife, and the peace and quiet.  You can bring your kids and they may actually hang out with you!
That reminds me of a favorite Lake Martin testimonial I shot while at a school function a few years ago that sort of goes along with this theme.  See if you don't agree . . .
If this is the kind of vacation spot you've been looking for, check us out at Lake Martin!  I'd love for you to use this website to explore the neighborhoods, the people, the events, and the waterfront properties.  Check out my Lake Martin Voice Realty YouTube Channel where I have over 300 Lake Martin videos divided into five playlists (Community Info, Neighborhoods, How to Use the MLS, Home Tours, and Client Testimonials).
And if you'd like to talk Lake Martin real estate, give me a call at (334) 221-5862 or click here to email me.  I'd love to be your realtor!
Sometimes a Lake Martin waterfront purchase is all about the lot.  Sometimes it's all about the home.  In this case, for my buyers, it was all about where to put their three teenage boys plus their friends.  Two summers ago, Kent and Andrea found a cabin with a large wooded lot and a great view of Parker Creek near Parker Creek Marina.  The cabin was cute, but they really needed a little more room . . .
If you're looking for a home on the west side of Lake Martin (Kowaliga Bay, Little Kowaliga / Real Island, Parker Creek), you'll find a good number of older cabins that are dated or don't have a modern, open flow.  Some of these cabins have been added onto over the years and are a little wonky.  But if you like the lot and the view, I urge buyers to be open minded about the home – that is the one factor you can change.  Sometimes buyers have a hard time visualizing a remodeled home while standing in the midst of fake paneling and little choppy rooms, hence my recent efforts to share some recent renovations and give buyers inspiration.
I drove by Kent and Andrea's house in my boat last week and took a few pictures.  They graciously said I could share them with you, to give you a taste for what a remodel or facelift can do for an older lake home.  They expanded the home, adding living and sleeping space, but did not stray far from the original footprint.  The result is a fun home with modern conveniences and room for all the guys:
Pre Renovation View from the Water: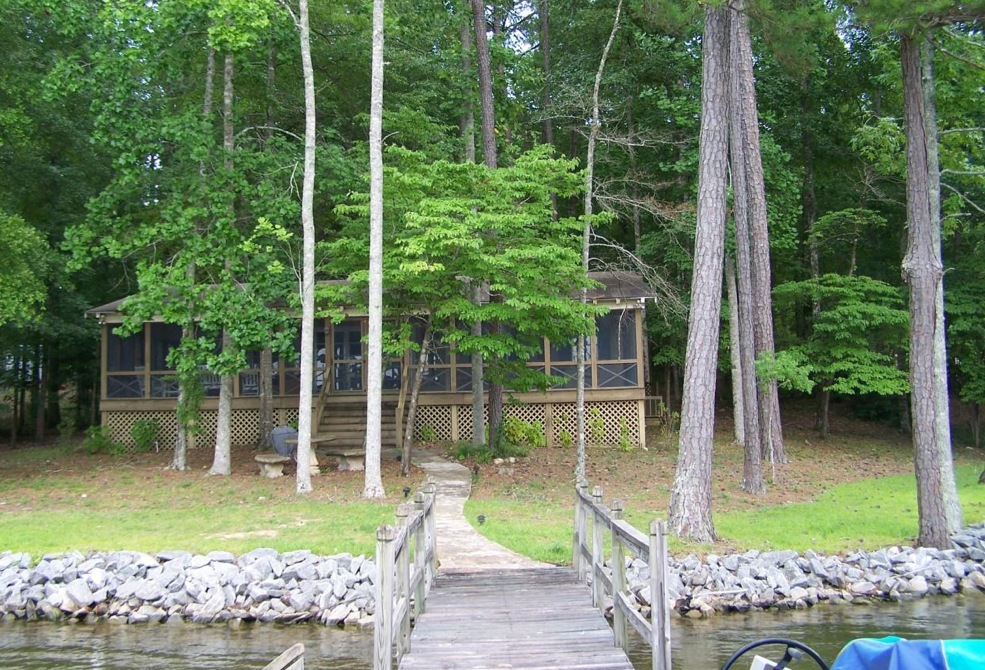 Post Renovation Water View: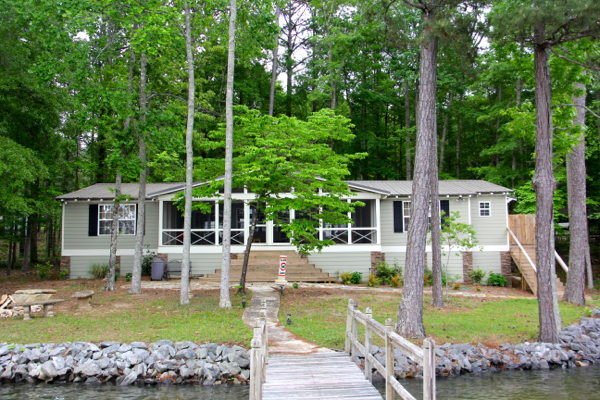 Pre Renovation Street Side of the Home: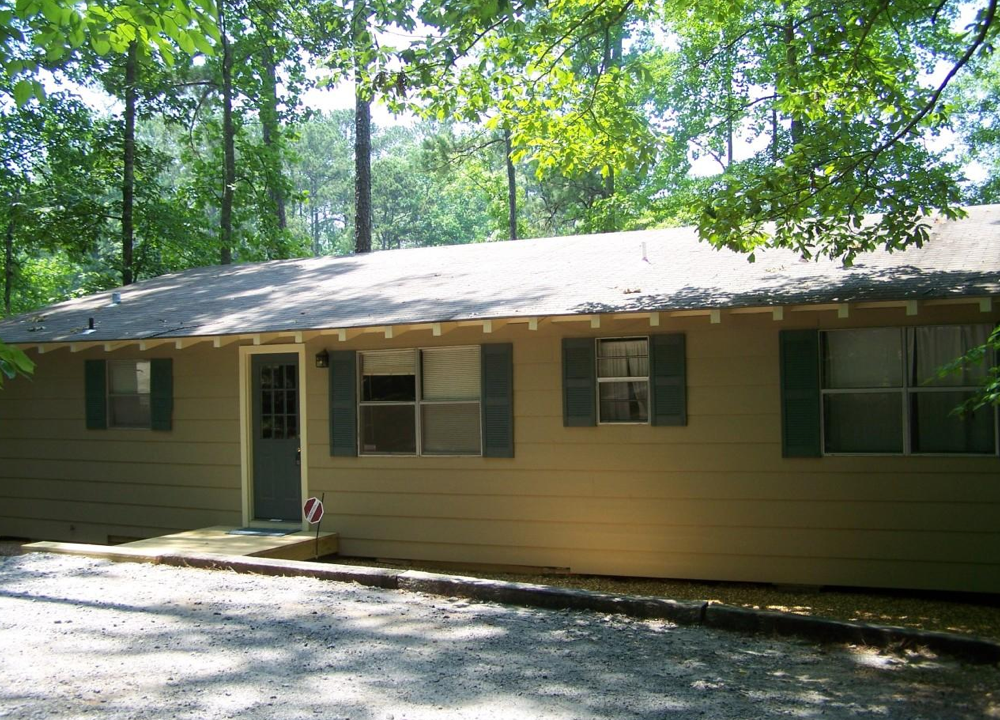 Post Renovation Street Side of the Home: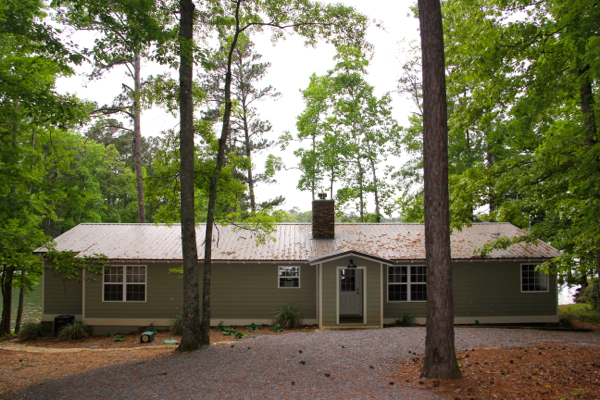 So how do you know how much money to put into a Lake Martin renovation?
Think about the LOT first.  You don't want to overbuild, so consider things like water depth, view, privacy, etc.  On a lot like this, with a view like theirs, Kent and Andrea could not really overbuild.  It's an awesome lot.  In the back of a tight slough without year round water, however, buyers need to be conservative.
If you're looking for a home in the Parker Creek area, check out my Parker Creek Neighborhood Page.  Here you'll find all kinds of info on this part of Lake Martin, and most importantly, you'll find a live MLS listing all the homes that are currently for sale in Parker Creek.  I have Neighborhood Pages for most of the neighborhoods on Lake Martin, and they're a great resource to utilize when house hunting.
If you've been searching the MLS and are feeling frustrated with the homes you see, give me a call.  I can help you pinpoint the homes in your price range with most potential.  That's my job.  My number is (334) 221-5862, or you can click here to email me.  I'd love to be your realtor.
Related Posts:
Lake Martin Dream Renovation in Parker Creek
Real Island Renovation Part Two: Peeling Off the 1980's
I will bet you didn't know that there is a home on Lake Martin that is a full 13 feet under the water's surface.
I didn't know about it either until my friend and fellow realtor Gordon Pickler at RealtySouth told me about it. I don't know why the sellers are selling it, but Gordon has it under contract and is assisting the buyers. During the course of getting it closed, they found out that our good friends at FEMA have it listed as 13 feet below the flood plain line.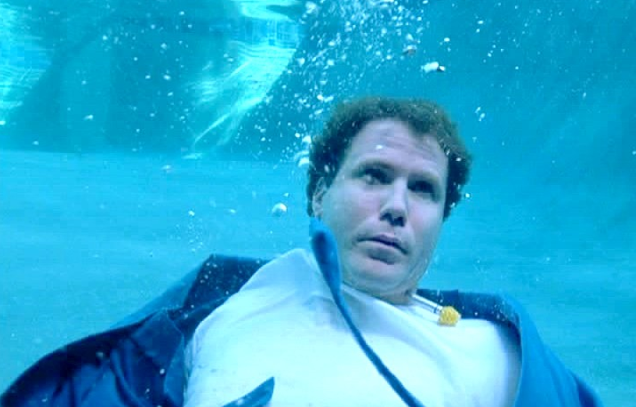 (Just so you know, FEMA is the sole agency that is the judge and jury of whether or not you need flood insurance at Lake Martin.  They are also the only entity that sells flood insurance.  And the obvious question is how can a home sitting up above the elevation of the top of the dam be flooded?)
Anyway . . . FEMA gave Gordon's prospective home buyers a quote of $7,218 per year for flood insurance. That sounded a little steep to the buyers so they called FEMA to appeal. No dice. FEMA was firm. They had received the surveyor's Elevation Report – where he shot the lowest elevation of the home. FEMA insisted they read these reports all day and have used it to come up with the quote of $7,218 per year.
Undeterred, Gordon convinced the engineer that did the report to call FEMA himself and beg their case. It worked. The engineer was able to help FEMA read the report correctly – the home is 13 feet above the flood plain. Not below.
Thanks, FEMA, for another day of serving the taxpayers.  True, they didn't get any flood insurance money out of the deal, but they were able to waste a full day's worth of time for a realtor, an engineer, and a buyer.  Score another for Big Brother.
For more information on this topic, see the posts below:
Buying at Lake Martin?  Bet You Haven't Thought About This!
FEMA Speaks to Lake Martin Realtors About Flood Insurance Changes