Archive for the 'Lake Martin Area Info' Category
I have a client who has narrowed his search down to two Lake Martin waterfront homes his family likes.  This is great!  But because this is Lake Martin real estate, deciding between the two homes is proving to be tough.  A quick MLS property search in any price range will confirm that shopping for Lake Martin homes is not like comparing apples to apples.  There are so many variables to consider, that even 2 homes next door to each other can have radically different qualities (water depth, house condition, waterfront footage, view, etc.)
It boils down to the simple question: "Why do you want a lake house?"  That sounds obvious, but really thinking about their expectations for a lake home forces buyers to make choices:  Where is the best location for them?  How will they use it?  What do they like to do at the lake? Why are they even buying one in the first place?
The video below is of Lake Martin Voice Realty clients, John and Wendy, who have just closed on their home, and had to make similar decisions.  I think they offer some great advice:
Back to my current client with a choice to make.  Our conversation goes something like this, and it is:
Buyer:  "John, what do you think?  House A or House B?"
John:  "I have been selling long enough to realize that different people have different priorities. I think House A is a good choice if you prioritize newer home construction and the location in the west side of the lake.  I like House B if you prioritize size of waterfront and length of view, or a North Lake / close to Highway 280 location.
If you are undecided about location, my advice is to ask yourself where you would like to be closer by water? Whereas House A might cost you 12 more minutes to drive from Birmingham, it might be only 7 minutes by boat from friends.  Or House B might be 15 minutes faster drive from Birmingham, but 30 minutes from friends by water, but 10 minutes to shopping and restaurants in Alex City.  You just have to ask yourself what you will be doing and how you will be spending your time."
What about you?  What are your priorities?  Why do you want to buy a Lake Martin home?  I'd love to be your realtor and help you think about these question – whether your time frame to purchase is two months or two years.  Give me a call at (334) 221-5862 or click here to contact me. 
Young's Island is a major landmark on the east side of Lake Martin.  I always look for it when I'm in my boat heading north from Pleasure Point toward the main river channel, and when I'm headed south from Highway 280 and Jackson's Gap toward Chimney Rock.
There used to be a ferry – Young's Ferry – that would take people back and forth across this channel.  That's why there are two Young's Ferry Roads on Lake Martin: a Young's Ferry Road on the west side in Alex City, and one on the opposite side in Dadeville.

Having two Young's Ferry Roads on one lake is not unusual for Lake Martin.  Since this one lake covers 3 counties, and (depending on your definition of a "city") 0 – 5 cities, having the same name for multiple roads in very common.  For example, there are several "Lakeviews," "Lakewoods," "Hilltops," "Dogwoods," and even two "Easy" streets.  This can make searching for homes a little tricky, so be sure you understand the address you're seeing on the Lake Martin MLS.
Or just call me.  I make it my business to know trivia like this –  that of the two homes for sale today on "Easy" streets, the one in Eclectic is on a leased lot, and the one in Alex City is deeded.   I'd love to help you find the Lake Martin property you're searching for.  As a member of the lake MLS, I can help you with any property, regardless of the listing agent.  Give me a call (334) 221-5862, or shoot me an email at [email protected]
This is for those of you who love Lake Martin, but cannot imagine  jumping off of ANY Lake Martin rock, this one's for you.  Click on the video below and you can struggle up the rope, enjoy the view from atop Chicken Rock, and even experience the plunge to the water below – from the safety of your phone, iPad, or computer screen.
If you're asking, "What is Chicken Rock?"  – it's the lower of the two rocks that adventurous Lake Martin folk like to jump.  The higher one in technically Acapulco Rock, but most people call it Chimney Rock.  (Click here for the full rock-name explanation).
I bought my GoPro camera for this very video, and it does not disappoint.  See what you think:
I'm sure I'm supposed to have some kind of disclosure, like, "Lake Martin Voice Realty does not advocate jumping off rocks or any activity that might cause bodily harm," so there you go.  I certainly want everyone to be safe on the lake.
I also fully disclose that I am a hard working real estate broker who would love your business.  Give me a call at (334) 221-5862, or email me at [email protected], and let's get started.  I'm a member of the Lake Martin MLS, and can help you with any listing, regardless of who has it listed.
Any reader of this real estate blog knows that I am way into the recent trend of paddle boarding that has hit Lake Martin. I am a proud fan of the Paddle Lake Martin fan page on Facebook and enjoyed putting on a paddle board race in June.
But I am blown away by, and supremely jealous of, Harold Banks of Dadeville.  Harold is the original Lake Martin paddler in my book. I have been reading his day by day account of paddling from Fort Toulouse (the confluence of the Tallapoosa and Coosa Rivers, aka The Alabama River) to Mobile Bay.  If you have not read this account, give yourself a treat and read these links on The Alexander City Outlook and his account in Lake Martin Living Magazine.
This amazing adventure reminded me that Mr. Banks became the first person to canoe the entire Tallapoosa River a few years ago.  The Tallapoosa is what feeds Lake Martin, and it has its origins as a humble creek in Georgia. Banks took a few weeks in 2009 and started at its Georgia headwaters, paddled through the state line into Alabama, through a few lakes including Lake Martin, all the way to Fort Toulouse near Wetumpka.  You can google "harold banks tallapoosa" for more info.  He is mentioned on the Alabama Scenic River Trail site, but if you want to read his amazing travel journal from the trip, click here.
He has really inspired me. I have been wanting for years to do that, but per his advice I will take it in chunks. I am shouting out to my fellow Paddle Lake Martin folks, let's take down the Lake Martin leg this fall! We could start at the shoals at Jaybird Landing, then end up at the dam.  If we do it over two days, we could even camp one night!
One of these days I promise we're going to go from Lake Wedowee to Jaybird to soak in the scenery and wildlife. But in the meantime, here's a good article in Lake Magazine with some shorter trips!
I'm getting a lot of calls and emails these days from folks wanting to rent a vacation home on Lake Martin.  Well, my company doesn't do rentals, only sales, so I send callers to VRBO.com and lakemartin.com.  There are also a few real estate companies around the lake that manage rentals.
Lake Martin Voice Realty friend, Wayne, and his family have gone through the Lake Martin rental process a number of times, successfully.  I thought I'd let them share their advice with you, so check out their video below . . .
If you're not very familiar with Lake Martin and want a better feel for the different parts of the lake, and the lifestyle you're after, renting is great idea.  After you've rented a home, and you've fallen in love with Lake Martin, give me a call and I'll help find you something permanent: (334) 221-5862.
Buyers – remember that I can show you any home in the Lake Martin MLS, no matter who has it listed.  The seller pays my commission, so it costs you nothing to let me help!
When searching for waterfront homes in the Lake Martin MLS, you are bound to come across one of the areas on Lake Martin called Parker Creek.  Parker Creek is not a formal neighborhood – it describes a very large area located on the northwest side of Lake Martin.  It is in Coosa County, Alabama, and accessed by Coosa County roads.  It gets its name from, you guessed it, Parker Creek, that once flowed into Big Kowaliga Creek before Martin Dam was constructed.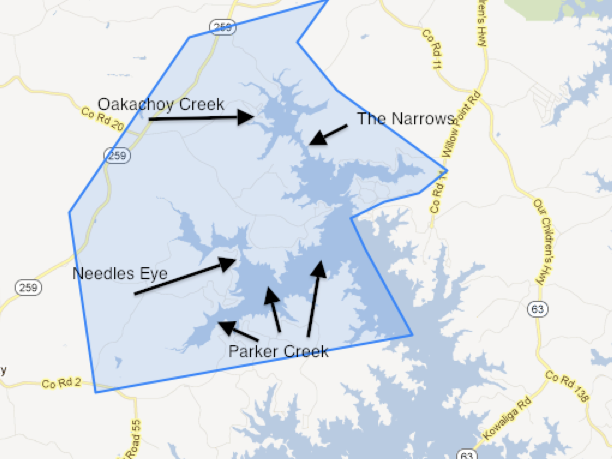 If you would like to see waterfront homes and lots for sale right now in the Parker Creek area, CLICK HERE to go to my Parker Creek Neighborhood page. I have a report that shows every waterfront home and lot for sale – by all agents, all brokerages, on Lake Martin. It pulls from the Lake Martin MLS so it will be current no matter when you visit the page.
Now, what you see in the map above includes a lot more than Parker Creek.  When you use my website to search the MLS for current homes for sale in Parker Creek, you'll notice I've also included Oakachoy Creek past the Narrows, The Needles Eye, and Pitchford Hollow. My fellow locals, especially, will call me crazy for including these micro-areas in a Parker Creek search. I agree, they are not technically on Parker Creek, but they are close enough. And I can't break these searches into every tiny slough and hollow or I would have a million Neighborhood Pages for Lake Martin. Basically this search catches every waterfront home and lot that is north of Sand Island and not in Willow Point. If you are relatively new to Lake Martin, you won't care about this trivia. Sticklers, please forgive me and see the above map.
As one of the older areas that were developed on Lake Martin, you'll see large homes with character, and smaller homes built with fun on the lake in mind. This is because most of this land was once owned by Alabama Power who leased the land to homeowners who then built their own improvements.  This program lasted from the 1950s to 1970s and resulted in a lot of little fish camp, rustic style homes. Then Alabama Power, over the course of many years, started selling each homeowner the lots underneath their waterfront homes. The Parker Creek area saw a renaissance of building as more people invested more heavily into their homes.
Parker Creek  has slowly populated over time to include tiny cabins that are next to million dollar homes. There are no official neighborhoods here, but there are lots of small, winding county roads, both paved and dirt. Generally speaking, the lots in this area are a little bigger, more wooded, and less sloping, and the feel is more rural. (Of course I can always find the exception to that statement.)
Parker Creek Marina is located on the south side of the Parker Creek and has a gas dock, dry boat storage, ship's store, and service facility. It's independently owned, and is perfect for boat owners and their needs. Many people from the Little Kowaliga / Real Island area also use Parker Creek Marina since it's so close to them by car.
Just like any waterfront home, lot, or condo on Lake Martin, I can help you with it, regardless of who has it listed. I would love to be your real estate agent. CLICK HERE to contact me, or you can email me (info @ lakemartinvoice . com), or you can call me at (334) 221-5862.
Ok, so the Little Kowaliga area is not technically a neighborhood; rather it is a geographic area of waterfront homes on Lake Martin.  It's a way to talk about that branch of Lake Martin on the west side of the lake, north of Kowaliga Bridge, and around the corner west of Sinclair's and Kowaliga Marina.  Some people that grew up here or have had cabins on Lake Martin for 40 years may even argue with me for calling it Little Kowaliga.  Lots of people refer to this area as the Real Island area, because Real Island Marina is the oldest marina in this area.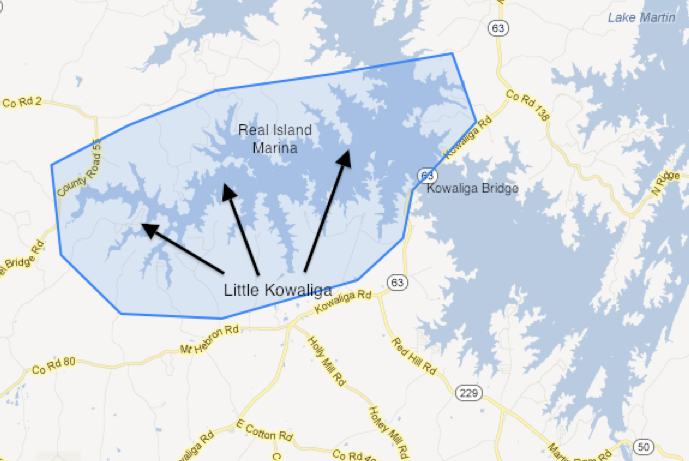 If you would like to see waterfront homes and lots for sale right now in the Little Kowaliga area, CLICK HERE to go to my Little Kowaliga Neighborhood page. I have a report that shows every waterfront home and lot for sale – by all agents, all brokerages, on Lake Martin. It pulls from the Lake Martin MLS so it will be current no matter when you visit the page.

The reason it's called Little Kowaliga is because Little Kowaliga Creek once ran here before the lake was created by Martin Dam.  It is close to Montgomery, and traditionally a lot of Montgomery families have had cabins in this area.
There aren't really any formal neighborhoods in Little Kowaliga – no gated entrances with formal signs, no neighborhood pools, etc.  Most waterfront homes in this area are located off of county roads.  This is a section of Lake Martin where you can have a trailer next to a two million dollar home.  It is similar to Parker Creek in that there are really no undeveloped lots left.  When you see new construction on a waterfront lot in Little Kowaliga, odds are that person has torn down an old cabin or mobile home.
Driving directions and addresses can be wacky in this area.  The county line separating Elmore and Coosa counties runs through Little Kowaliga, so you can have homes in the town of Equality that can be in either Elmore or Coosa County.  As you drive the road on the north side of Little Kowaliga, road signs can switch from Elmore County to Coosa County, and then back again.  Google Maps and GPS's still haven't figured out many of the streets, so it pays to combine them with a good physical map of Lake Martin, and good directions from a homeowner.  Hancel Road, for example, is a road that runs in and out of both counties, and is spelled 3 or 4 different ways by street signs, Google, the MLS, and GPS's.
If you're looking for the "lake cabin at the end of the dirt road" experience, the Little Kowaliga area might be a good fit.  To see homes currently for sale in the Little Kowaliga area, CLICK HERE.  I'd love to help you find your Lake Martin home – in Little Kowaliga or anywhere on Lake Martin. Remember, I can help you with any property in the Lake Martin MLS, and it doesn't cost the buyer a dime to have a realtor help you with your research and purchase.  The sellers pay my commission. 
If I can help, give me a call at (334) 221-5862, or email me by CLICKING HERE.
Kowaliga Bay is one of the biggest water areas on Lake Martin.
It runs west to east, from the confluence of the old Little Kowaliga and Big Kowaliga Creeks, all the way to Martin Dam. If that doesn't help you, think about the area where Sand Island's water (that's Big Kowaliga) meets Real Island's water (that's Little Kowaliga).  From there, going east under Kowaliga Bridge, all the way to the dam is Kowaliga Bay.
If you would like to see waterfront homes and lots for sale right now in the Kowaliga Bay area, CLICK HERE to go to my Kowaliga Bay Neighborhood page. I have a report that shows every waterfront home and lot for sale – by all agents, all brokerages, on Lake Martin. It pulls from the Lake Martin MLS so it will be current no matter when you visit the page.
Kowaliga Bay a large area that has been developed over time, so there is a huge variety of homes, lots, and property values here.  Kowaliga Bay is also home to a lot of the original Russell rental cabins – those old school green cabins you see on the great lots.  Ever heard the Hank Williams song, "Kaw-Liga?"  Yep – written in a cabin on this part of Lake Martin.
Landmarks in/near this area of Lake Martin include Church in the Pines and Sinclairs at the Lake (restaurant) to the north, Children's Harbor (the lighthouse), the Lake Martin Amphitheater, Anchor Bay Marina, the Dixie Sailing Club, and, of course, Kowaliga Bridge.  If you're coming from the west side of the lake by boat, you drive through it to get to Chimney Rock.  If you're coming from the east side of the lake headed to Aquapalooza, you pass through it as well.
If you'd like to know more about the Kowaliga Bay area, or have questions about a specific home for sale in this area, give me a call.  I can show you any home in the Lake Martin MLS, regardless of who has it listed, and I would love to be your Lake Martin realtor.
For almost 40 years I've enjoyed the pleasures of Lake Martin, but I've never given much thought to the reason for all the fun: Martin Dam.  These days, as the dam goes, so goes my livelihood, so it's now important to me on many levels.  Plus, I'm the Science Olympiad guy who likes tours and turbines and rooms with lights and switches. Throw in a little history it's a home run.  It was time to go.
Before 9/11, you could just show up and get a tour, but these days you have to schedule it in advance.  We had no luck finding a direct Martin Dam phone number, so we contacted Alabama Power through the "Contact Us" tab at the top of their website and typed out our message in the email contact box.  Two or so days later we got a response, and the next week we were at the east gate, ready to get started.  Lesson – plan your tour about a week in advance.  If you want to schedule a dam tour, contact Alabama Power by CLICKING HERE.
The guard who gave us our tour was very nice. He was extremely patient with our large crowd of kids and answered all of our questions expertly.
Like I say above, I'm just a Realtor, so I can't help you book a tour. 
I can help you BUY or SELL your Lake Martin home, though, so give me a call at (334) 221-5862 and let's talk.
[Edited: Sept. 11, 2012 – if you're looking for my video, sorry! I took it down. Apparently I was not supposed to be filming while we toured. My bad! I must have missed that in the pre-tour briefing. However, don't let my goof up keep you from your own tour! My kids still talk about it five months later, and it was a real treat for me as an Alex City native to finally check it out. It truly was a highlight of our Spring Break and I plan to do it again soon.]
I wrote the following article for the March 2012 edition of LAKE Magazine:
"Nearly all the wisdom we possess, that is to say, true and sound wisdom, consists of two parts: the knowledge of God and of ourselves." John Calvin, 1559.
"Buyers are liars." – Worn out real estate agents' cliché.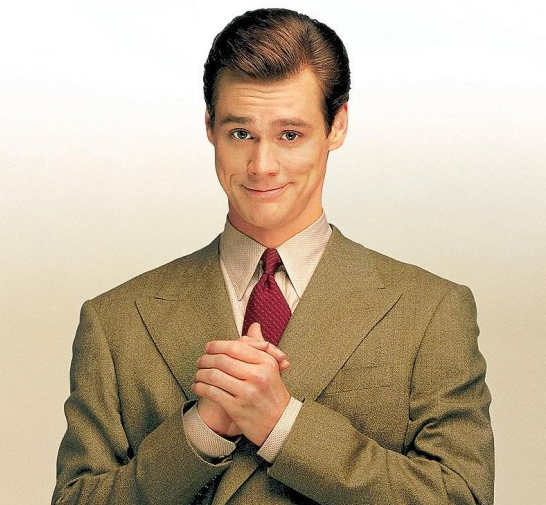 Is that true? Are buyers liars that tell you they want one thing and then choose another? Or are they simpletons, to be led around by the nose like a bullock, and told what they want by an all-knowing agent?
Obviously, neither is true. So why then, in most buying experiences on Lake Martin, do home buyers end up not buying the first home they visit? Why do they have to look around and weigh their options?
I think it's because each buyer must "know thyself." Buyers need to research the market as much as possible and, during that process, they need to look inside themselves to discover what they really want in a lake home. If you have an unlimited budget, you can totally disregard this article. Most people do have a budget; most people have limits. Limitations mean tradeoffs.
I guess the concept of tradeoffs exists in any real estate market. Maybe in some markets, for example, if you want a new home and you want to be in a certain school district, you have to accept a tradeoff. At Lake Martin, the decision I see many buyers struggle to make is the home versus the lot.
Many times buyers must decide: do I want a bigger or newer home on a smaller lot with less privacy or waterfront, or do I want an older or smaller home on a bigger or more private lot? The difficulty comes in defining the adjectives. One person's big is another person's small. Some buyers can find privacy in the most cramped condominiums and others need to feel like they are the only ones on the lake.
I call this the "Home / Lot Continuum." Imagine a line graph like we drew in high school. On one extreme is the person that loves the house and does not care one whit about the lot. The other extreme is a person who values the lot above all else and totally disregards what is built on it. Most people don't fit in the extremes, instead finding themselves somewhere along the line. What about you? If you are pretty fairly balanced, which way do you lean?
These are the sorts of questions you need to ask yourself in the home buying process. The more you know about yourself and your preference on the home versus lot issue, the more easily you will be able to decide between two homes with the same price yet varying degrees of home and lot quality.
So how should you go about increasing the knowledge of thyself? Here are three ways:
Research online
Most of us Lake Martin realtors have websites with access to the Lake Martin MLS. Go to one and search in your price range, paying careful attention to viewing all available pictures and videos of the properties. Also, our MLS has a mapping feature that allows you to go to a Google Map showing you the location of the home or lot. Click on the satellite view and zoom in as tight as possible to check it thoroughly. This will allow you to get past the sometimes-fuzzy agent descriptions of "cute house" that is "recently updated" on a "private lot." You can see for yourself how cute is cute, how private is private. Do they define "recent" as the disco decade? Judge for yourself.
Look In Person
I realize that most of the time this will involve talking to a realtor, which is the last thing most buyers want to do. I regret to break the news to you, at some point it is unavoidable. There is no substitute for being there yourself. I have walked down to the water on many lots that were described as "gently sloping" in the MLS, only to find myself huffing and puffing on the way back up. What did they mean by gently? What would they call steep? Sometimes the only way to know whether you want a short walk to the lake is to go and try it out.
Rent For The Weekend
If you are not ready to look with an agent, you should come spend some time at the lake. You can call it market research, but it is really just hanging out and having fun. Impose on one of your friends for a weekend vacation. If you don't have a friend with a lake house, get better friends. Seriously, you can rent a home here and that will give you an idea about how you plan to experience the lake. You might find that your favorite lake moments are the quiet hours in the morning with a cup of coffee. Or, you might realize that boating is your thing. Does each of your family members need their own bedroom, or can you pile them in like alligators? While you probably won't be able to test out a home that is for sale, your renting experience will give you a good idea of how you plan to use a lake house, and therefore shape your priorities.
Follow these suggestions and know thyself well to find your perfect lake home.
Or, maybe you will know it when you see it. I didn't know I wanted a white miniature poodle until a stray one ambled up in my yard.