Archive for the 'Dining' Category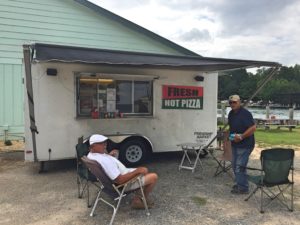 Have you tried Fresh Hot Pizza? Owner, David Reaves, has a food truck located at Anchor Bay Marina and he is offering some delicious, fresh, hot and ready to go pizza and sandwiches and hot dogs and more. Stop by and check it out!
Location? On the beach at 2001 Castaway Island Road Google Maps Link.
Phone Number? Call ahead for pickup 334-224-5434
Parking? Boat or Auto
Find Fresh Hot Pizza on Facebook!
Hours?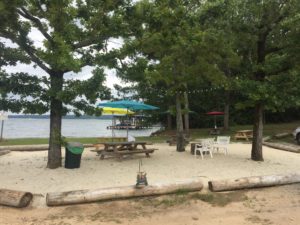 Summer officially starts June 20 but at Lake Martin we all know summer starts MEMORIAL DAY WEEKEND. And boy there are so many events to choose from here at the Lake you are going to wish you could clone yourself to enjoy them all.
Here is a list of events in no particular order:
RXR FEST – three nights of great music at Russell Crossroads – featuring Airside, Mose Wilson and The Delta Twang, The Bank Walkers, Raquel Lily, Jordy Searcy and The Jonathan Bloom Band. Bring your chairs and coolers and enjoy a weekend with family and friends. 6-10pm
Art on the Lake at Children's Harbor – Saturday from 9-5 and Sunday from 9-2 this free art festival features art and jewelry from over 40 artisans with a portion of art purchases helping support Children's Harbor.
Bezlo's Cafe – Opened earlier this year in Eclectic. Avondale Brewing Company Tasting Party from 5-8pm on Friday. Live music from Mark Kelley from 8:30-10pm Friday and Saturday.
Chuck's Marina – Your home all summer long. Live music all weekend – Friday at 7:30pm, Rachel Wilson, Saturday at 7:30pm, Blane Rudd and Sunday from 6-9pm River Dan!
Copper's Grill at Stillwaters – Great food, live music, outside venue! Friday 7-10pm music from Blackberry Breeze, Saturday 7-10pm music from Winston Ramble and Sunday 7-10pm the Sid Phelps Band.
McFadden Cup Club Race – Dixie Sailing Club – Racing open to all members. Saturday from 11-5. Not a member? If interested in crewing see their website.
Eagles at Naturalist Cabin in Russell Crossroads – Saturday at 12pm and 1pm. Come visit two of Auburn's popular eagles!
The Landing at Parker Creek – Saturday starting at 6pm, live music from the M-80s and Jenni Foreman Mote.
Interested in knowing what is happening at Lake Martin? Or check the weather? See the water level? Discover new restaurants or shops? Contact one of the area Marinas? Keep up to date with new property listings? Then download the free Lake Martin Voice App! You will be glad you did!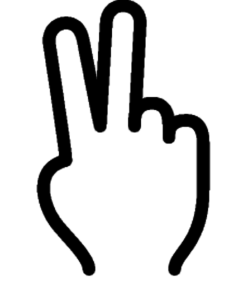 Have you heard the news? We are excited to hear that two cool businesses are coming to downtown Alexander City.
You are already familiar with one of them – Lake Martin Pizza. Its current location in Dadeville will remain open. They have signed a lease on a Broad Street location in downtown Alex City for their second location. We can't wait!

Lake Martin Pizza is known for their New York style pizza, fresh local ingredients and great service! One of my favorite pizzas at Lake Martin Pizza is named Kira's Favorite.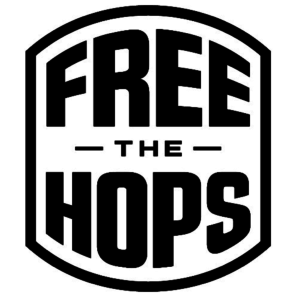 If you love craft brew beer like I do then the second new business to downtown Alex City will be one you will be excited about! Fermenter's Market on the Green will be opening soon.
Sylacauga is the home to Fermenter's Market at the Rex. So if you have been lucky enough to have visited that location you will have an idea of what to expect in Alex City – an excellent selection of craft beer, great wine and your favorite cocktails.
Click here to read the article from the Alex City Outlook for more information.
To stay in the loop about all things Lake Martin be sure to download the free Lake Martin Voice app!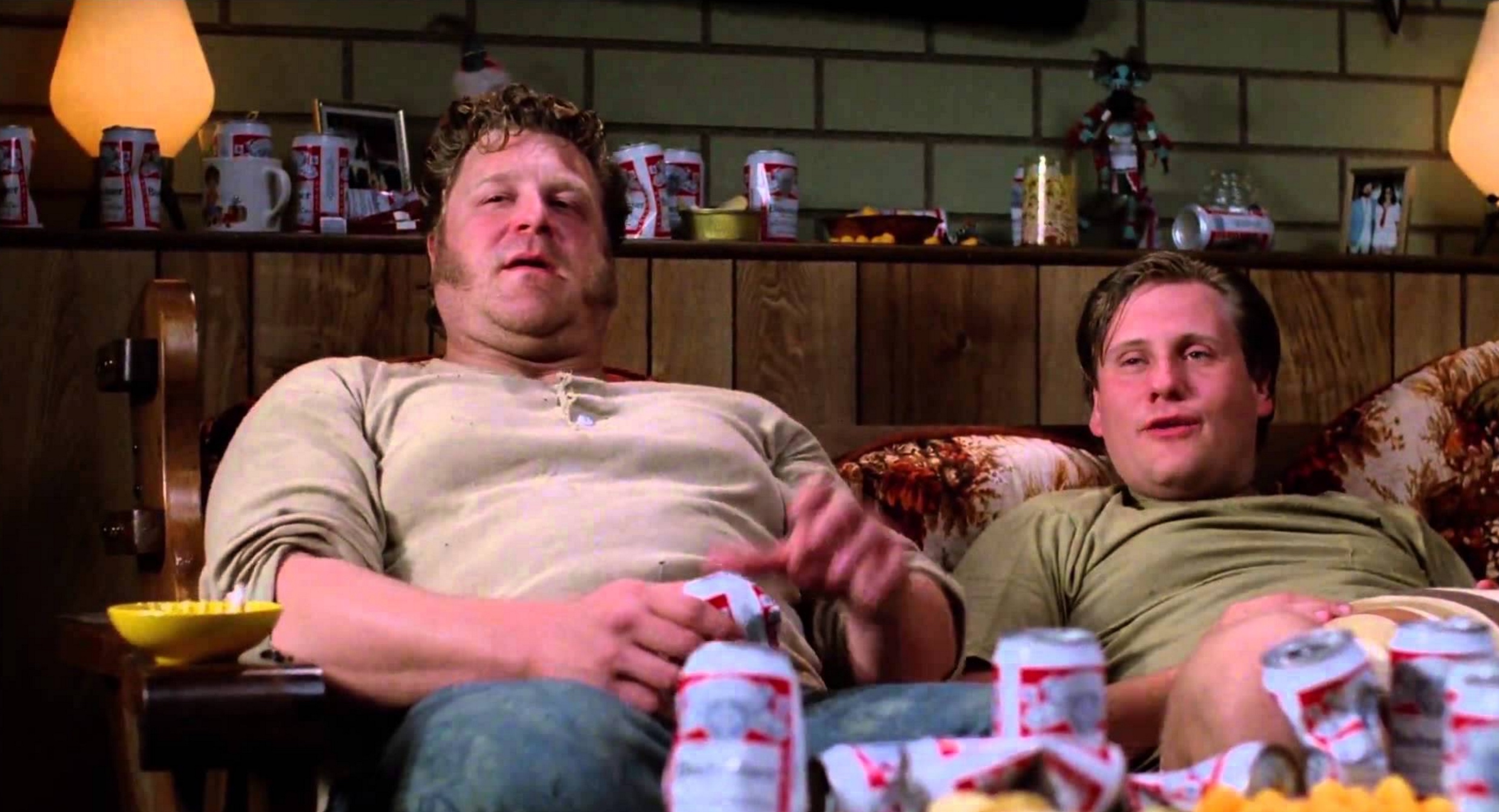 The Lake Martin area got a huge boost, in my opinion, in yesterday's election, when voters in Tallapoosa County approved the sale of alcohol on Sundays. Alexander City and Dadeville are Tallapoosa County's two largest cities by far, and those two had already approved the issue in August's municipal elections.
Now alcohol sales will be legal in the stores and restaurants for the rest of the unincorporated areas of Tallapoosa County.
I think there were a couple of other things on the ballot yesterday, but I can't remember. To read about the results, see this article by the Alex City Outlook.
The missing piece of what puzzle you may ask?  The Coffee Corner located at 107 Main Street in historic downtown Alex City was the winner of the first ever MainStreet Alexander City Missing Piece Business Competition. The contest,  sponsored by the downtown merchants organization was awarded to The Coffee Corner in summer 2015.  To read more about this new restaurant and the Missing Piece competition check out these links.
I shot the video (above) in December, hence our reference to Christmas, but this is a good idea for a gift card any time of the year.
I like this spot and decided that the Cafe' Au Lait is my favorite.  They are fully open now and serving breakfast and lunch too.  Please go by and enjoy coffee, a sandwich or salad.
Located at the corner of Main Street and Alabama Street in historic downtown Alex City – for a map click here.
To keep up with their latest events, daily brew or new additions to the menu  (the Oreo Delight frappe' looks soooo good) check out their Facebook page or call them at 256-392-4999.
If you want to keep up with new restaurants in the area, or just find a new place to grab a bite to eat, check out our "Eats" tab on the Lake Martin Voice Realty App.
The Lake Martin Voice app is available in the Apple App Store and on Google Play for Androids.
Click here for more information about our app!
Happy Plug Day 2016 Lake Martin!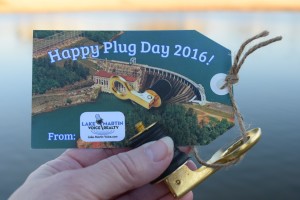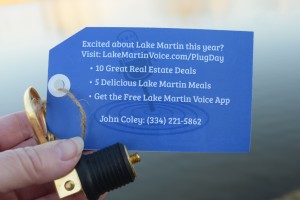 Plug Day on Lake Martin is when we celebrate the annual rising of the water towards full pool. In 2016, that day is March 1.
Question from John Q. Cynic: Is it a tad silly to celebrate when the water starts coming up? I mean, given all of the important issues in the world today, should we really take time out to cheer the annual, repetitive raising of one lake in central Alabama?
To the inquisitor, I respond, "Lighten up, Francis."
Sure, the water comes up every year, and, with one extreme drought exception, stays up until well into the fall. And sure, we fans of Lake Martin have no real control over it. But it's still fun to celebrate.
And to all the Eeyores out there that can't have a little fun, that can't be happy at witnessing one of the first signs of the spring, I say, I am sad for you on the inside. Have you tasted not the joy of warm water and warm weather? Is your heart so encrusted with malaise,  your eyes so jaded that you see not the spark of renewal that is Spring?
For the vast majority rest of us who give three cheers on Plug Day, we say a collective "Yee-Haw!" We are happy that Lake Martin is on the way up to full pool.
Looking around nationally, some real estate blogs and the agents who who write them are so serious they sound like a Warren Buffet annual report. Other agents are so in-your-face aggressive that I'd be scared to ride in the same car with them. Still other realtors come across as so dippy, fluffy, and bland that I'd wonder if they have any thoughts beyond how awesome their latest glamor shot looks.
Since I sell real estate in a second home market here at Lake Martin, I try to be informative, but I also realize that Lake Martin is mostly about fun. Pretty much all about spending time with your family and friends. S'mores. Cannonballs. Preacher's Seats. Escaping the occasional horse fly. Barbecuing ribs. The smearing of sunblock. Sunset selfies. Ribbon sandwiches. Falling asleep on the boat.  Smacking each other with those foam noodles. Falling asleep in the hammock and burning the hamburgers.
My role as a real estate agent here is to help people find their happy place, or help people sell it when the time is (regretfully) right. That's it. It's that simple.
Happy Plug Day, Lake Martin!
The new restaurant here on Lake Martin, The Landing at Parker Creek, just opened! I decided to go down and video the area, take a look in the video below. PLEASE NOTE: The Landing's # is (205)410-6190!! Please don't call me unless you want me to try and sell you some real estate!!
The restaurant has a unique, casual setup with areas to eat, drink, and even play yard games like cornhole, ring toss, and ladder toss. There are 21 new boat slips, so visitors can come by boat or car to enjoy the food and fun atmosphere.
To see more about this new restaurant: check out their website at www.thelandingatparkercreek.com and their Facebook page HERE. 
Located at 486 Parker Creek Marina Road, Equality, AL 36026
Phone: (205)410-6190
As you might guess from its address, The Landing at Parker Creek is located next to Parker Creek Marina. It is already a great addition to the Parker Creek area and Lake Martin as a whole. I am excited about eating there for years to come!
If you would like to see waterfront lots and homes for sale in Parker Creek, CLICK HERE for my Parker Creek Neighborhood page. It has a live MLS feed so it's always up to date!
If you want to keep up with new restaurants in the area, or just find a new place to grab a bite to eat, check out our "Eats" tab on the Lake Martin Voice Realty App.
The Lake Martin Voice app is available in the Apple App Store and on Google Play for Androids.
Click here for more information about our app!
Pizza and milkshake lovers, beware.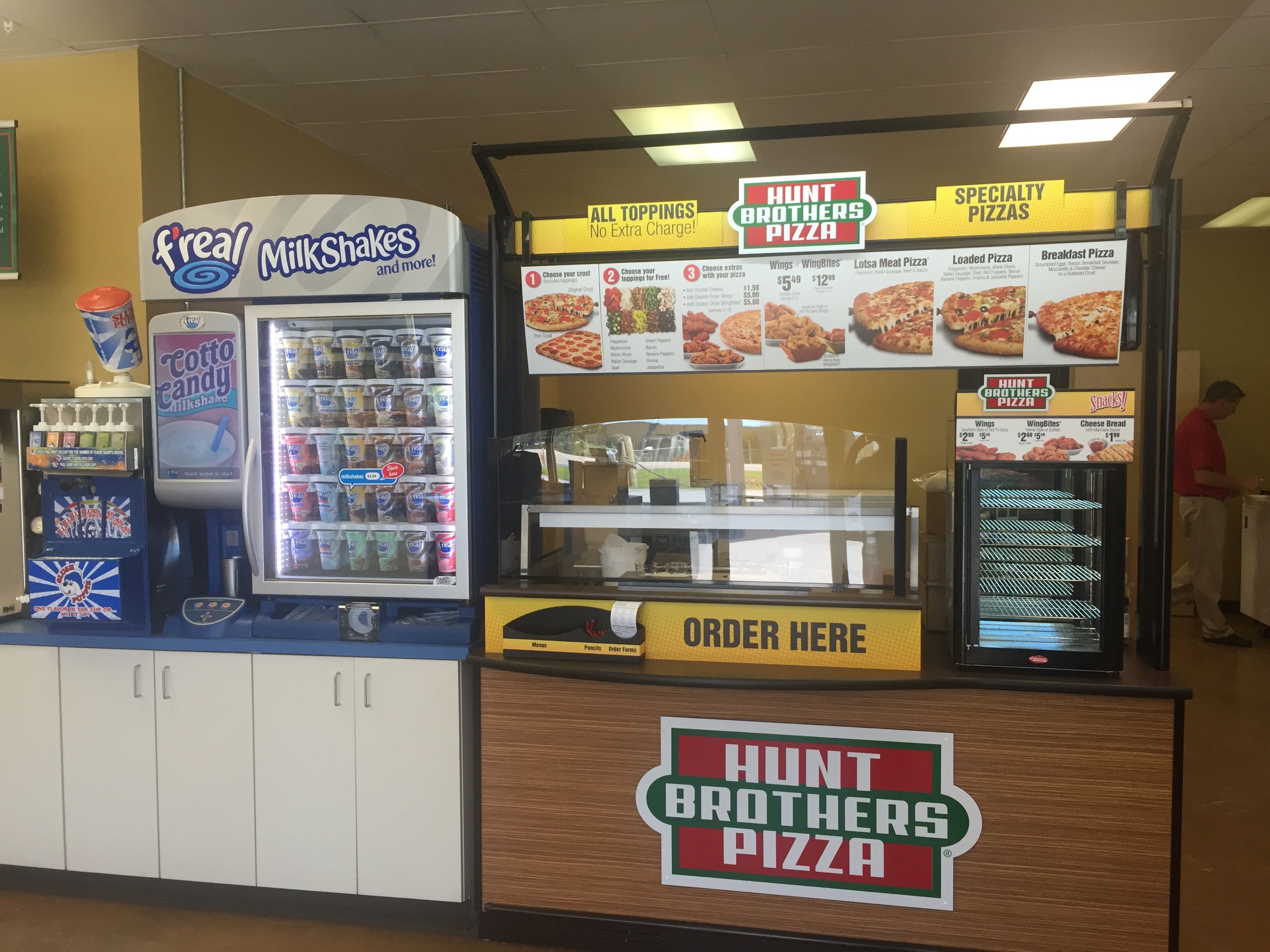 If you are ever around the Kowaliga area of Lake Martin, Nail's Convenience Store has just given us all yet another reason to stop by. My friends and clients know that Nail's is my favorite C store in the area. It's a clean, neat store that sells lots of good brands. The folks that own it and run it are great, too. Yes, I could be biased, I rent office space from them. But why don't you go in and judge for yourself?
Anyway, Nail's has recently added two exciting elements. They now sell Hunt Brothers' pizza. This is a bonus for me as there are times I am craving something a little more substantial, and don't want to drive "all the way" into town. There is also a f'real milkshake machine.
Maybe you have seen these before, but this country boy had not. Basically there are two parts: 1.) a freezer that contains an assortment of pre-made milkshake concentrate. and 2.) a mixer.  You open up the freezer and choose your poison, I mean flavor. They range from fruit smoothies to regular milkshakes (vanilla, chocolate) to Blizzard like mixtures (think chocolate + Reese's cups, etc).  The screen shows a video on what to do, but the cups have a foil top on them. You take off the foil top and place it on the chrome stand. It pushes the cup up into the mixer, where I suppose more milk is fired in there. You can select your consistency (smooth, regular, thick). The mixer does its thing, and then voila. You are in business.
After I posted a video on my Instagram account, my kids have been pestering me for a trip to Nail's.
Are you curious about Nail's or the other shops, restaurants, and activities around Lake Martin? Then you might like to download my free Lake Martin Voice app. Along with the best phone based home search around, it has the low down on what you might like to do or see while at Lake Martin. See: Lake Martin Voice App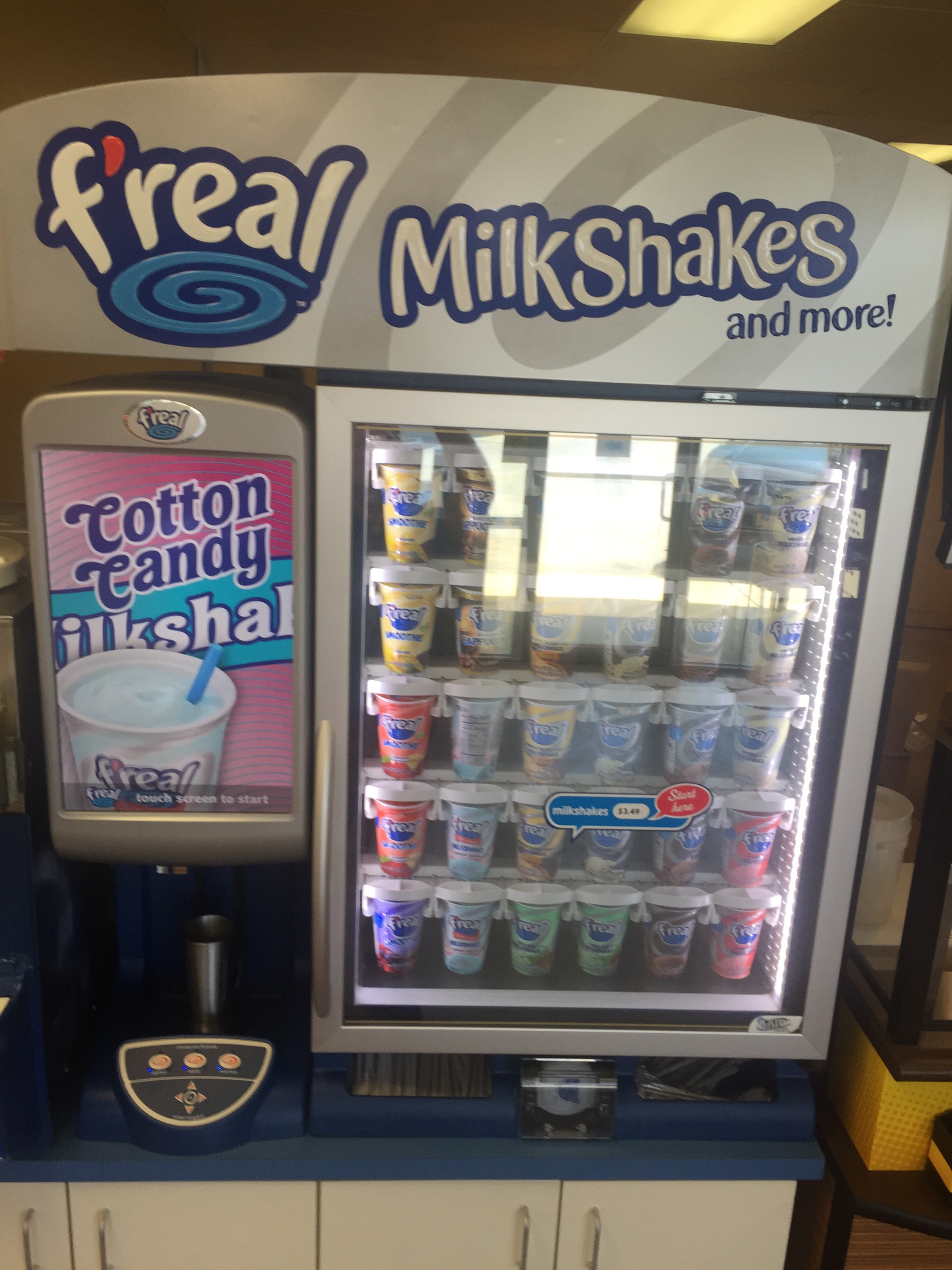 We are pleased to announce a brand new free app for the Lake Martin area!   The Lake Martin Voice app is your mobile guide to the Lake Martin, Alabama, area. We offer mobile waterfront real estate search and events, mapped guides to restaurants (with menus), shops, weather, and much more!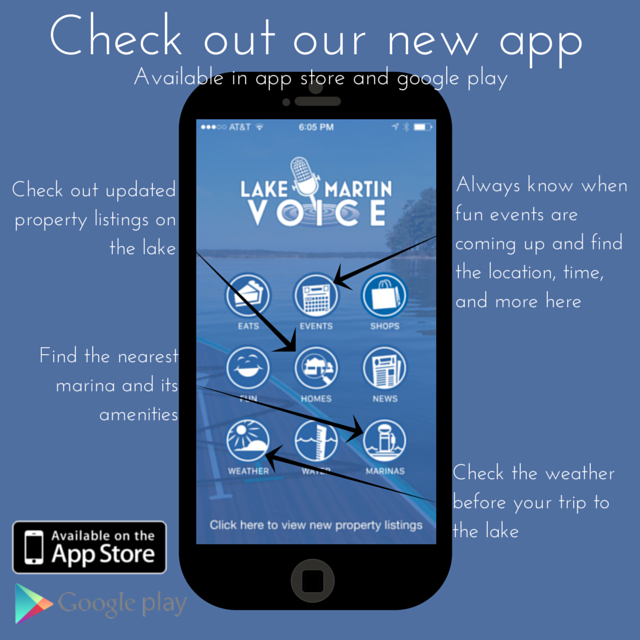 As you can see above, the different tabs you can click through to navigate and learn more about what's near you or happening at the lake are:
Homes – every single home & lot for sale in the Lake Martin MLS, at your fingertips. Use our fast searches like "New Listings" or "Price Drops" or create your own custom search. Cruise by boat and see what's for sale around you if you share your location with the app.
Eats – Restaurants on and off the water around Lake Martin, mapped, with menus
Events – what's going on this week? Next month? Click and scroll to find out.
Fun – Other things to do like where to hike, where to bike, boat ramps, golf courses, churches, and more.
Weather & Water – conditions right now at Lake Martin.
Marinas – mapped locations of all Marinas, plus contact info. Share your location with the app and see where you are, too!
Shops – retail therapy locations on and off water
News – the skinny on Lake Martin stuff
For example, here's what the "Eats" section looks like. If you share your location, you can see where you are in relation to the restaurants. I snapped this screen shot when I was over on the east side of Lake Martin. If you want to browse around the map, you can. Or, if you want to scroll through the list at the bottom, you can do that to. Your call!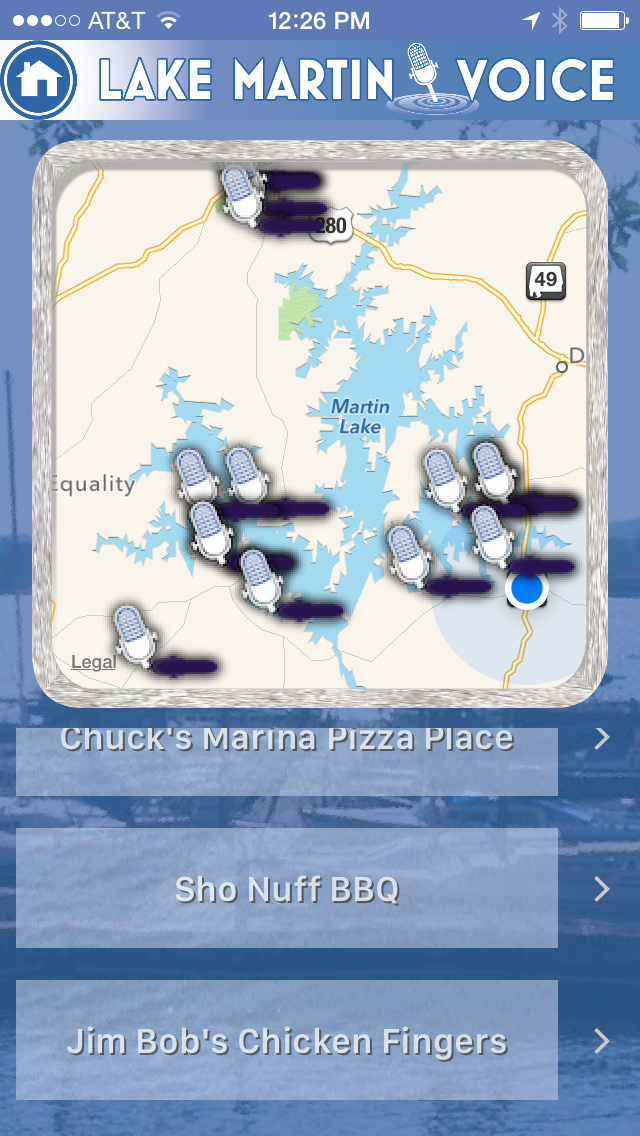 The Shops, Eats, and Marinas sections all work similarly, in that you can browse by map or by list. Every single Lake Martin marina is listed, but you will notice not every restaurant and store are. We purposely left out big chains like Wal-Mart or McDonalds. Nothing against them, but there are plenty of maps and apps that can help you find them easily. Our goal here is to make a special point to mention the locally owned businesses that are so frequently overlooked by visitors. For that matter, there are Alex City folks that are unfamiliar with the Dadeville side, and vice versa, so hopefully it helps them, too!
The Lake Martin Voice app is available in the Apple App Store and on Google Play for Androids.
For more information, please see our FAQ page at: Lake Martin Voice app FAQ 
If you want to request to have an event, restaurant, or shop listed in the app, you can fill out request forms below.
CLICK HERE to request for a shop be added.
CLICK HERE to request for an event to be added.
CLICK HERE to request for a restaurant to be added.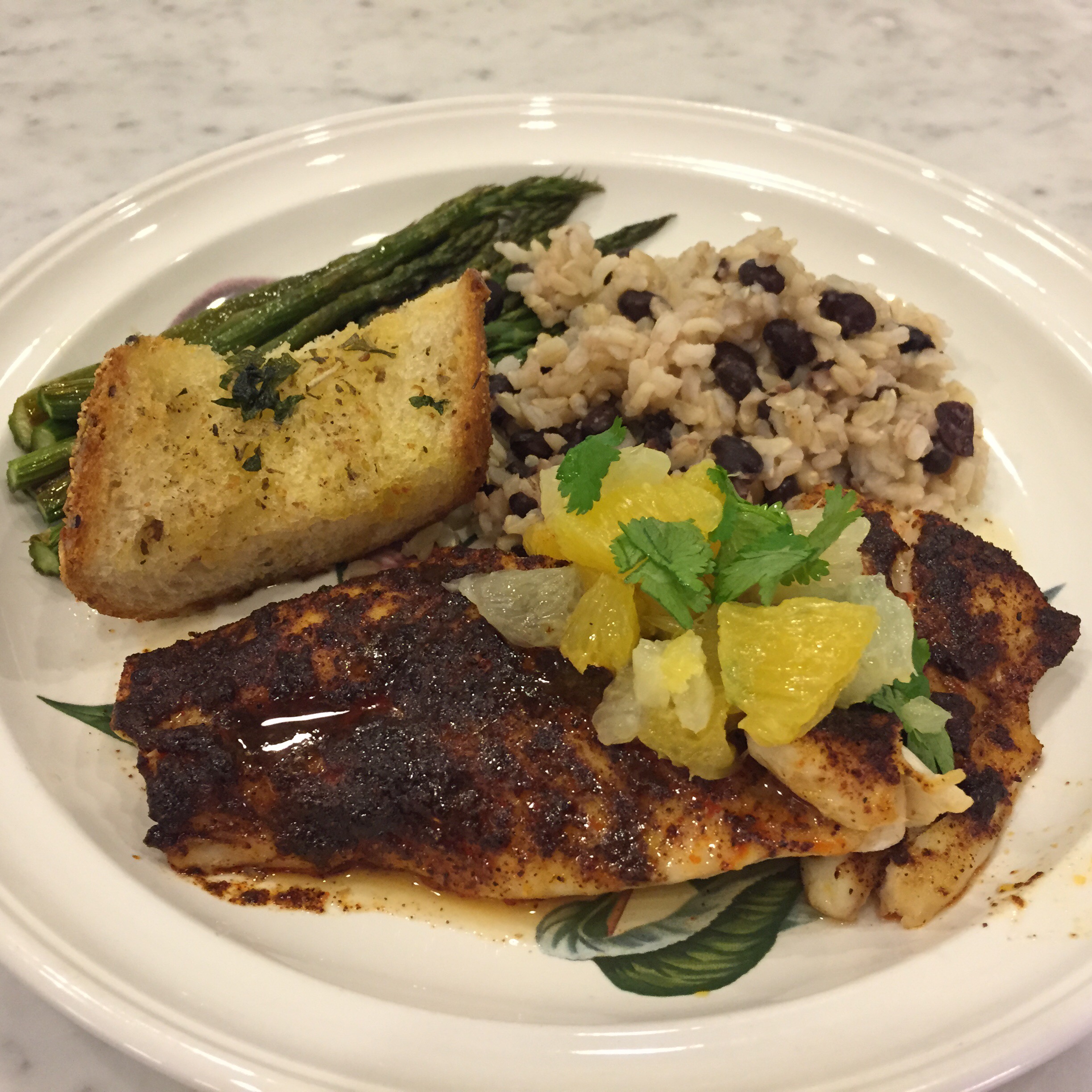 My family is all about that bass.
Striped Bass, that is. No tilapia.
It might be too cold to fish on Lake Martin today (16 degrees) but it's not too cold to eat fish. We caught these striped bass back in November on a fishing trip with David Hare with Alex City Guide Service. It was a mere 38 degrees that day, and thanks to David, we slayed 'em.
We fileted them and have had them twice, and both times they were excellent. The first batch we cooked a day after we caught them. We blackened them in the cast iron skillet and they were awesome. This particular batch we froze in a Ziplock bag water after thoroughly cleaning them. We thawed them out and then broiled them in the oven.
My sons helped out, their job was prep the fish. They just put salt, pepper, and chili powder on them. That's it! My wife made the fresh fruit top – she cut out sections of oranges, grapefruit, and sprinkled in cilantro. It was really good!
One of the hugest part of our latest Lake Martin fishing adventures is that it has converted my wife into a wild game eater, just based on its pure organic nature. It doesn't get any more "real food" than eating a wild animal. No preservatives, no nothing. Now, I would not say she is making her own rabbit hash or roasting wild boars over the spit, but for her, eating something we caught is a big step.
It helps that the fish tastes incredible and is easy to prep!