Archive for the 'Dining' Category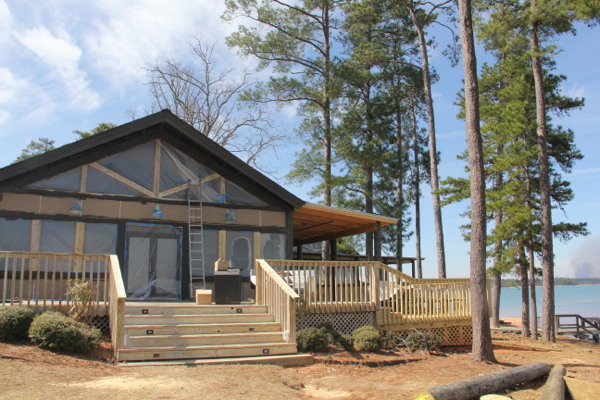 Most of you know that Kowaliga Restaurant is back.   Like I said in a recent  LAKE magazine article, I love this.
Russell Lands did not renew the lease of the restaurant's most recent operators, the group that runs Sinclair's Restaurant in Montgomery.  Russell Lands' Vice President Roger Holliday said that under their management, they "plan to offer a … dining experience reminiscent of the original Kowaliga Restaurant," since it "sits at the heart of Russell Lands on Lake Martin."
Update 4-11-13: Roger let me know that Kowaliga will open on Wednesday, April 24. Their hours of operation will be Wednesday, Thursday, Sunday 11 am to 10 pm. Friday and Saturday 11 am to 11 pm. Here's their website. For reservations at Kowaliga, don't call me, I'm just a real estate agent. Call 256-215-7035 for reservations and info at Kowaliga.
I think this is a brilliant move, and one they couldn't have pulled off 20 years ago. It is further proof, I think, that Russell Lands Corporation is shaping itself as being in the Lake Martin experience business, instead of merely selling lots or boats or lumber or golf. This move shows that they understand how important it is to give people a rich taste of life on the lake, including good dining, good shopping and fun things to do. All of these things create the milieu that drives their biggest engine – waterfront real estate sales. Now is the perfect time to take over Kowaliga. It's great for me, because I never got used to calling it Sinclair's anyway. But it is great for Russell Lands, because they have had three years of experience in the restaurant business with Catherine's Market and SpringHouse.
Like I said, I could be wrong. I am an outside observer; however, I think Russell Lands is extremely confident in the short and long term future of Lake Martin real estate.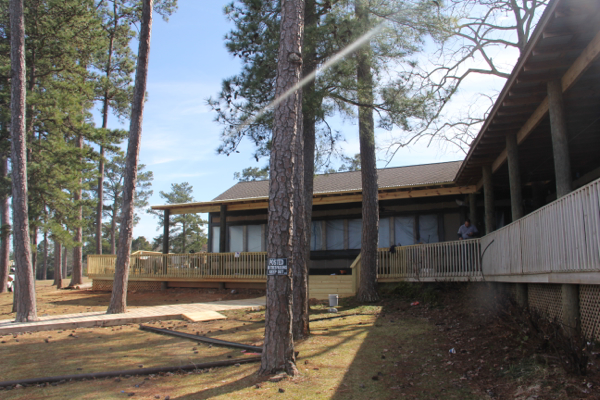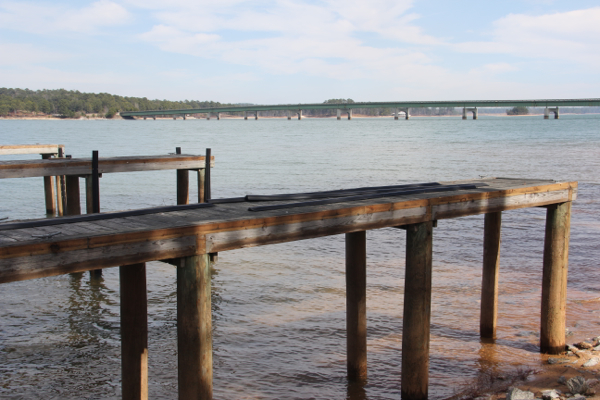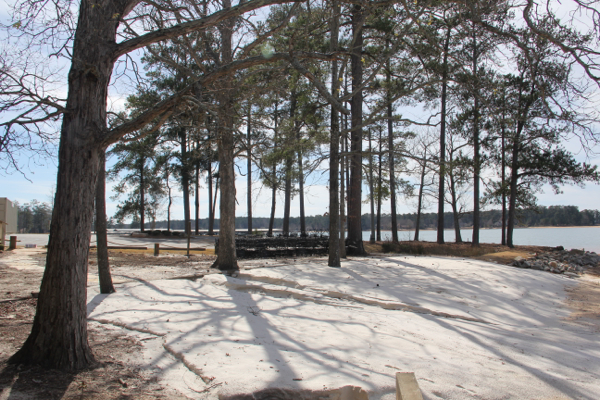 If you're interested in waterfront homes for sale in the Kowaliga area, check out my Kowaliga Bay and Little Kowaliga Neighborhood pages.  Here you'll find histories of these areas, maps, video tours, and most importantly, a live MLS feed of all the homes and lots for sale.  Check it out, and give me a call at (334) 221-5862 and let's talk.  I'd love to be your Lake Martin realtor.
Unlike some crazy civil engineering projects I've seen, this tunnel under Highway 63 has major significance for the Lake Martin area.  Most of you know that there's been road construction near Russell Crossroads for about 3 years now now.  Part of this construction project is a nifty tunnel.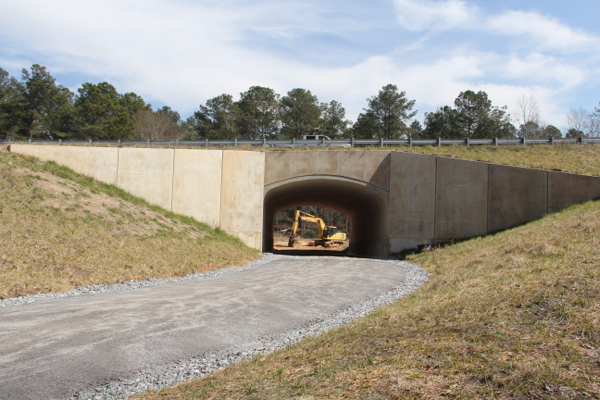 This tunnel is a really big deal for Russell Lands and therefore, Lake Martin real estate.  It's a huge part of Russell Lands' plan to link together their waterfront neighborhoods of Windermere, Windover, Windermere West and The Ridge to west side of Highway 63′s Willow Point.  The central hub of all of this will be Russell Crossroads.
Right now the idea is to open the tunnel road to hikers, runners, bikers, golf cart and horse riders. I love the it.
I think this will be especially transformational for Windermere, Windover, and Windermere West which do not have neighborhood amenities.  After the trails and roadways are complete and christened for use, homeowners in Windermere, Windover, and Windermere West will  figure out that Saturday morning coffee at Catherine's Market is a five minute golf cart ride away. Big things will happen.
I can envision a lot of other things happening along this trail system.  The fact that you don't have to cross Highway 63 opens up a realm of possibilities.  Willow Point people can ride to The Ridge Marina on their golf carts.  People in The Ridge can mountain bike through the tunnel and explore Russell Forest trails.  Homeowners in Windermere and Windover neighborhoods can do all this, plus go to SpringHouse restaurant or Willow Point Country Club.  The ease and sense of community will be a great thing.
This really reminds me of Sandestin in the late 1970s.  If you are old enough, like me, to remember the original Sandestin, it used to only be a residential development on the bay side, and an unconnected beach on the gulf side.  You had to get in your car to cross Highway 98, and the whole thing was disjointed.  Then they put a tunnel under the highway, developed out some commercial space, and suddenly everything in between flourished.
I'm not saying the Russell Lands is about to have a mega development like Sandestin, but I am saying that all of these neighborhoods are going to truly be able to use Russell Crossroads.  I think it will increase property values in all of these developments.  Russell Lands has pumped millions into this project, but homeowners will reap the benefits over the next 5-10 years.
If you'd like to know more about homes in the above mentioned neighborhoods, check out my Neighborhoods page, give me a call at (334) 221-5862, or CLICK HERE to contact me via email. I can help you with any property for sale in the Lake Martin MLS, regardless of who has it listed.  
I was glancing through the February issue of LAKE Magazine – looking for my monthly column -  and I had to grin when I saw this article.  Allison Trumbull got engaged at Children's Harbor.  I helped her parents find a lake home a few years ago, and clearly Lake Martin has become a big a part of their lives.  And now their daughter has added a Lake Martin engagement as a part of their family's "story. " Very cool.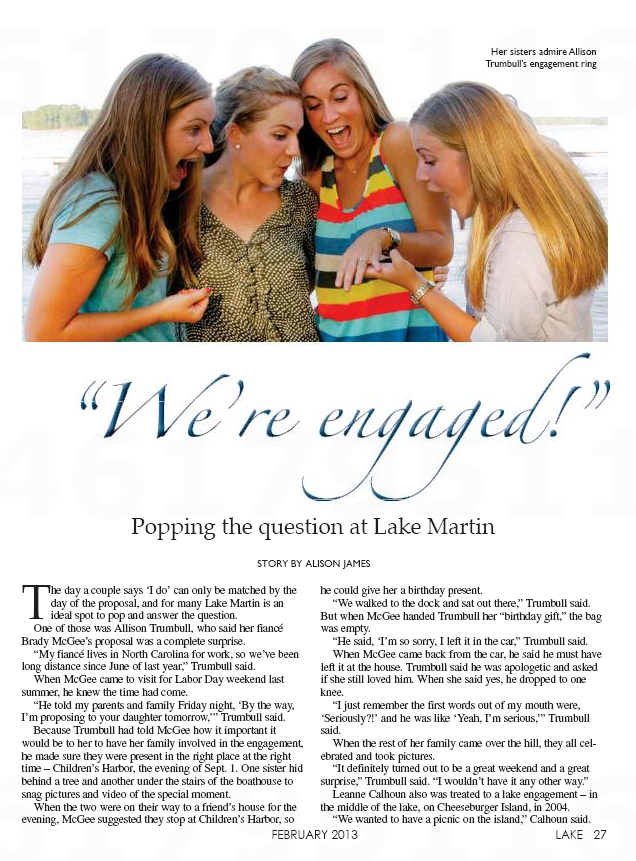 The fact that LAKE Magazine now has a "Wedding Edition" in February is proof that there are more couples getting engaged and married here. Maybe Lake Martin is becoming a destination to rival Cabo?  Glancing through LAKE's Wedding Edition, I can see that the Lake Martin community is responding with more venues, caterers, photographers, etc.  That's a great sign for the Lake Martin area economy.
Have you been to a wedding at Lake Martin?  Do you have any pics or advice to share? Use the comment box below and let us know about your experience.  And if any of your wedding guests decide they, too, need a Lake Martin home, I'm your man.  Give me a call at (334) 221-5862 or CLICK HERE to contact me.
1220 Cafe in Tallassee may not be a waterfront bistro, but it is located on one of the gateway corridors to Lake Martin.  Tallassee natives and veterans of the restaurant industry, Pam and Noah Griggs, opened 1220 Cafe as a "fast casual" restaurant, and since I'd heard so many good things about it, I decided to check it out myself.
I was really surprised by how big it is.  They have a lot of room both inside and outside, so even if you see a lot of cars in the parking lot, they can fit you in.  In small towns you often find local places that simply reheat frozen foods from distributors, but not here. They have put a lot of thought and effort into creating foods that are fresh and unique.  Noah's mom has even contributed the recipes for many of the homemade desserts.
My parents travel through Tallassee all the time and my mom is an avid coffee fan.  Neither she nor my dad will pass by without stopping, and the 1220 Cafe folks make them a special frozen coffee drink that is not on the menu – that's something that doesn't happen at a chain eatery. And, at Lake Martin you can count the number of restaurants with cool cappuccino machines on your toes, so this is definitely a special experience for this area.
Next time you're on the south side of the lake, or driving through Tallassee on the way to the lake, check them out.  You can also find them on Facebook.
Catherine's Market and SpringHouse restaurants – both of these super hip Lake Martin spots to dine and play are off the water in Russell Crossroads (on Highway 63 north of Kowaliga Bridge).  Luckily, for those of us who hate to part with our boats while we're at the lake, there's a shuttle service that will take you from your boat to Russell Crossroads.  By shuttle, I mean golf cart.  That's fun.
We tried it out the other weekend, and the adventure of getting there and back was as much fun as the meal.  If you'll watch the video tour below, you'll see a map that gets you to the boat landing.  It's tucked in the back of a slough that is east of Sand Island, and if you aren't looking for it, you'll probably not even notice it's there.
There's a dock with room for several boats, but it was already full, so we beached ours with the help of the shuttle staff.  In front of the docks is a former Russell cabin that's been converted into a shuttle command center.  The Russell Crossroads website says there is a phone in the cabin you can use to call the shuttle if a driver is not already there.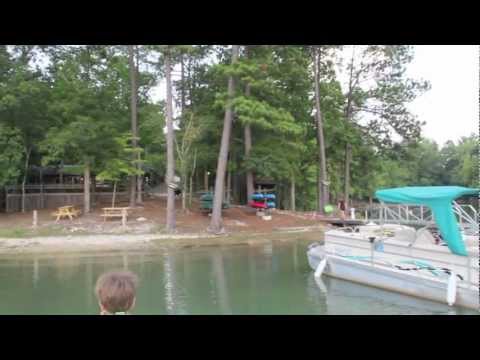 We happened upon a Friday night outdoor event on the lawn right beside Catherine's, and were told there would be more like this throughout the summer.  The shuttle operates till 10 pm on the weekends, so go ahead and linger over dinner – there will be someone there to get you at least halfway home.
You had better call to confirm the shuttle. Don't call me. Call Catherine's at (256) 215-7070.
When we went, the schedule was:
Shuttle Schedule
Monday thru Thursday:  10 am – 9 pm
Friday:  10 am – 10 pm
Saturday: 8 am – 10 pm
Sunday: 8am – 5 pm
I repeat – to be sure, call (256) 215-7070 for Catherine's. Please don't call me, I won't come and get you!
I don't drive the shuttle, but I can show you any property in the Lake Martin MLS – regardless of who has it listed!  The seller pays my commission so it doesn't cost you a dime to let me help.   I'd love to be your realtor if you're buying or selling – call me at (334) 221-5862, or CLICK HERE to email me and let's get together.
Continuing to reminisce about our Spring Break at Lake Martin, I would be remiss if I didn't mention our stop at Niffers Place at the Lake for lunch.  Party of 13 with 7 kids.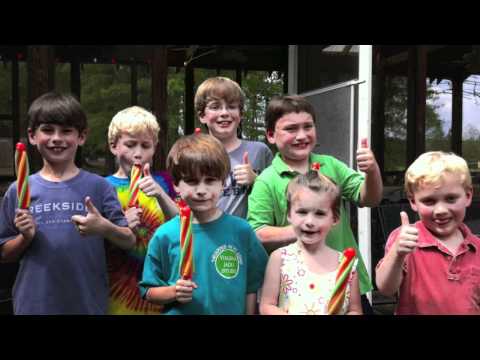 If you're an Auburn fan, then the Niffers in Auburn is a familiar, if not sentimental burger stop.
Niffers Place at the Lake is its Lake Martin counterpart – on the east side of the lake, just south of the Highway 49 bridge by Blue Creek Marina.  It's not an on-the-water restaurant, so you need to come by car, but it's what we in real estate call a "water-view" location. It is the definition of a family friendly restaurant.
The menu is American with burgers, wings, nachos, etc., but what sets Niffers apart, in my opinion, is their effort to make it fun.  Take the hula hoops that were quickly delivered to our table, and the incentives we were ALL offered to give them a try.  The kids were promised popsicles for cleaning their plates, and what could been just another lunch stop was turned into a very memorable event.  That simple meal ended up being a highlight of our week.
The food is good, too!
They had a new IPA that a few of us tried, and it was a lot of fun just to hang out, relax, and have a nice lunch. It was one of those moments where we all looked around at each other and asked, "why don't we spend every spring break at the lake?"
I will admit, though, that the dads need to work on their hula hooping before our next trip. We barely passed the bar of our incentive plan.
Thanks to the staff at Niffer's for making it a lot of fun, and thanks to the other outdoor diners for putting up with us!
I guess all generations have things that they think are timeless. Maybe it's one of the many signs that I'm getting older, but I hear myself saying "they don't make em like that anymore" quite
often.
I will say that, no matter your generation, you have to admit that there are few things in this life quite like a co cola in a glass bottle. I mourn their passing. The youth of today's America grow without its bliss, the instant rush of caffeinated sugar, cleanly flowing from the non plastic container.
Lake Martin and cold co colas in a bottle go hand in hand. Sometimes if we were lucky, we'd get one for the long ride to the lake. We definintely would drink them as much as possible at the lake.
In every real cabin I've ever been to, there's a co cola bottle opener screwed into a cabinet or wall somewhere. It was as necessary as a bathroom or a box fan.
My message to future Lake Martin lovers – treasure the cabin, and, every now and then, go to the trouble to find and drink a co cola out of a real glass bottle. There's no substitute.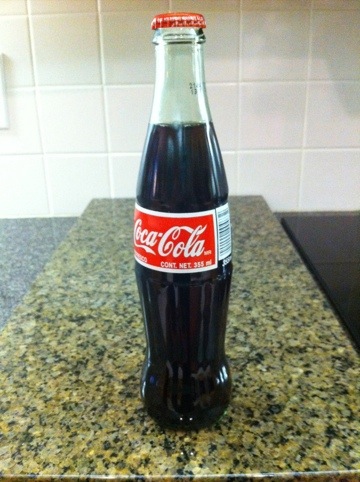 Rob McDaniel, the Executive Chef and General Manager of Springhouse Restaurant at Russell Crossroads, is going toe to toe with Bobby Flay on Iron Chef.
Food Network fans are familiar with the Iron Chef format.  If you're not, it is a high pressure contest in which successful chefs from around the country do battle with celebrity chefs like Flay with 30 cameras watching. Usually they are required to use super obscure ingredients like Liger legs or snozzcumbers.
The episode is set to air Feb. 26 at 9 p.m. on the Food Network.
McDaniel was sous chef to Chris Hastings of Hot & Hot, et al.  Hastings was the main chef so he will be the one named in the competition.  While I know nothing about high stakes cooking, I imagine that you take only people you trust when you battle on Iron Chef.  Kind of a Top Gun / wingman deal.
In this article in the Alex City Outlook, McDaniel talks about the experience.  It is quite an honor to have a Lake Martin representative there and I wish him all of the best in this grueling competition.
If you want to eat at Springhouse, it's not nearly as tough. Just drive down to Russell Crossroads on highway 63, it's about a mile north of Kowaliga Bridge.
Here's a great video interview where Chef McDaniel talks about it with Luke Robinson on the SportsBlitz YouTube channel: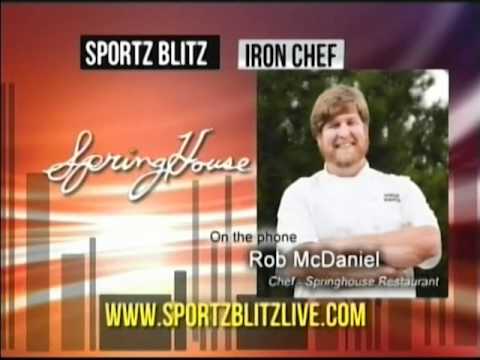 If you have never read any of Luke's articles in the Alex City Outlook, you have missed a treat.  Not only is he a huge sports fan, but an excellent writer.  In fact I think he is in the elite league of writers with talent like Jason Gay at the Wall Street Journal.  They both have the ability to make their columns funny, interesting, and insightful even if you are not a sports fan.
Luke and I grew up together in Alex City. He is an original. I always thought he would grow up to be one of the guys that is a "manager" for a professional rassler.  You know, the guy that comes out with the microphone and carries on about his champ while the rassler seethes in the background.
Sure, he didn't turn out to be the next Jimmy Hart, but I think Luke has done pretty well for himself.
Anchor Bay Marina is a full service marina on the south side of Lake Martin.  It's part of Singleton Marine Group, and has all the usual features: dry storage, wet storage, boat sales, gas, service center and a ship's store.  So if you're close to Chimney Rock, or heading east of Kowaliga Bridge, it's your place to refuel and buy treats for the kids.  (It used to be called Castaway Island Marina for those who haven't been here lately.)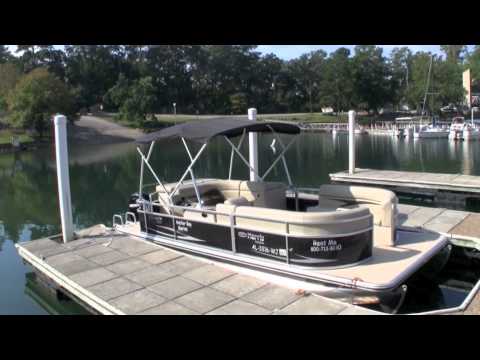 Anchor Bay Marina is close to my office and our family cabin, so I often find myself there.  A couple of weeks ago, (I think it was the end of September), I was there on a weekday.  We were going out on the boat to do a little filming of some neighborhoods from the water when  I started having trouble with the starter on my boat.  Yikes.
Since we had to be back to town to pick up the kids from school, I didn't want to risk it.  Solution –> rent a boat from Anchor Bay!  They already had one gassed up and ready to go.  It cost me no down time, and was so convenient that I shot the above video out of pure gratitude.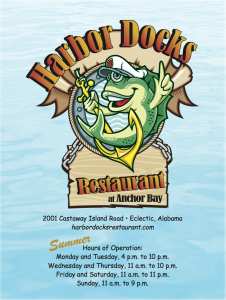 Another thing that makes Anchor Bay unique is that  Harbor Docks Restaurant is tucked away in the back.  Drive up by car or by boat, and enjoy a casual menu (pizza, fried seafood) either outdoors or in the air conditioning.  It's kid friendly, and they've been known to have live music on the outside deck.
This year's Indian Summer afforded us several Sundays in a row after Labor Day where we went for boat rides.  We made a habit of hitting Harbor Docks for supper, on the way back home. Not having to fix food and clean up = Mommy likee.
Uncle Nick's Smokehouse is the newest of Lake Martin's waterfront restaurants.  Its main gig is barbeque – offered lots of different ways, but it also has many non Q items on the menu.
They opened earlier this summer, so my "new" description might not be all that accurate.  Sorry, but it has been a (blessedly) busy buyer summer and I am just now getting time to upload all of these video and photos.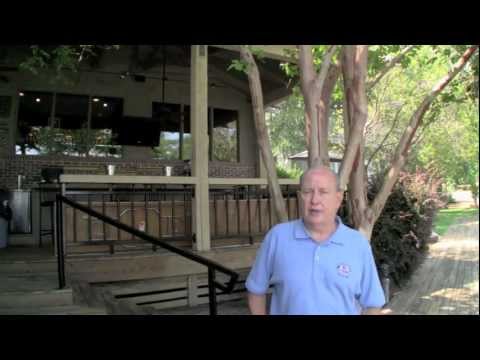 Nick's menu ranges all over the BBQ spectrum.  They offer brisket, chicken, and turkey dishes, though the focus seems to be more on pork.  At least when I have been there I have had mostly the pork dishes. I have had the BBQ turkey sandwich, the BBQ pork sandwich, and, while they were good, they weren't my favorite. My favorite thing I have eaten at Nick's so far are the BBQ potato skins.  I don't see them on the online menu I linked above, but trust me, they are awesome. I had the pork ones, and liberally applied their Carolina and Alabama sauces. Yum.
As of yet I haven't tried any of their non Q items like steak or burgers or shrimp, but I have heard good reports from other folks.
Ambiance
Waterfront.  Need I say more?  No, but I will. You can dine alfresco – in riva al lago. If you don't like that, I have concerns about your salvation. Inside is nice, too. They have plenty of room, nice tables, and a nice bar area. I would say that it's a little more upscale feeling than nearby Oskar's and Niffer's.
Location
One of the many cool things about Lake Martin is the fact that we have many waterfront restaurants like Sinclair's at Kowaliga, Chucks, and Harbor Docks Anchor Bay. Uncle Nick's Smokehouse now joins that group.  If you've never tried it, you should.  There is something about arriving by boat that makes the food better, the sweet tea sweeter.  If you are going to Nick's by boat, please note that they are located on the east side of the Blue Creek Bridge, aka the Highway 49 Bridge.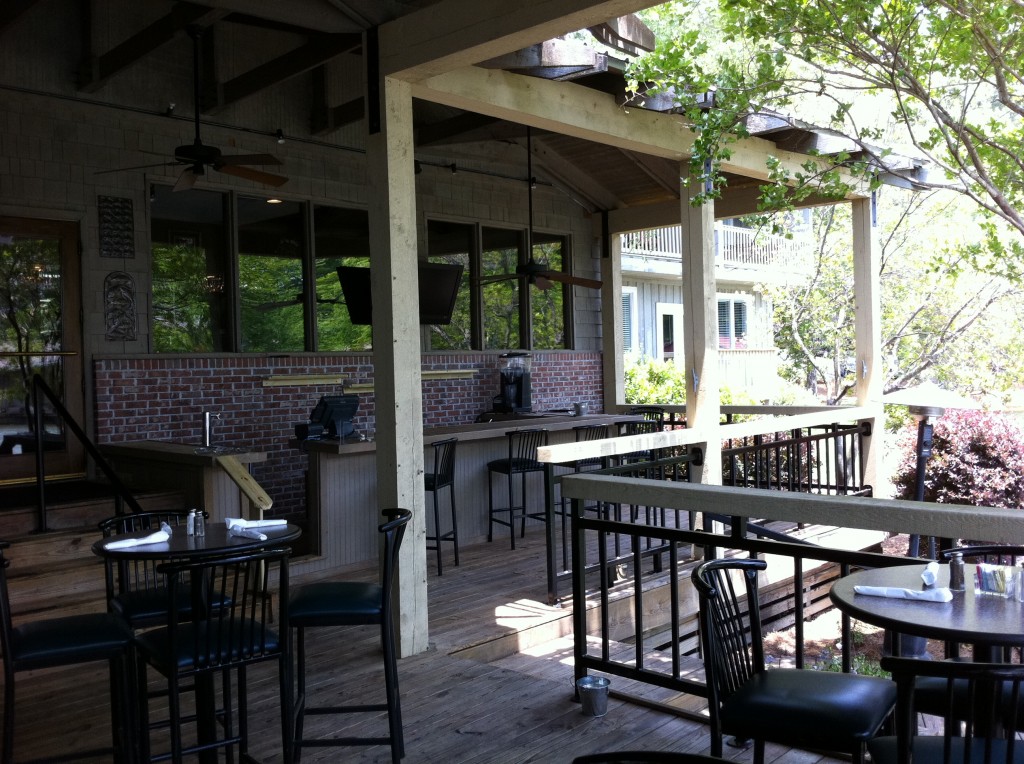 Blue Creek Bridge is kind of low, so take care to note if your boat will make it under.  At full summer pool of 490, you definitely will not make it under the bridge in boats like sport cruisers, fixed roof pontoon boats, T top fishing boats, or ski boats with fixed wakeboard towers.  If you have a smaller boat with a droppable bimini top, or if it's less than full pool, you might be OK.  Just check it out beforehand and be careful.
If you are coming by car, no worries. It is the latest proof that the Blue Creek area of Lake Martin is becoming known for its restaurants.
Uncle Nick's Strengths
Uncle Nick's Smokehouse has several strengths which I think will give it staying power. Forget good food and a great waterfront location, although it has both. Other restaurants in this same location have had both, and not lasted.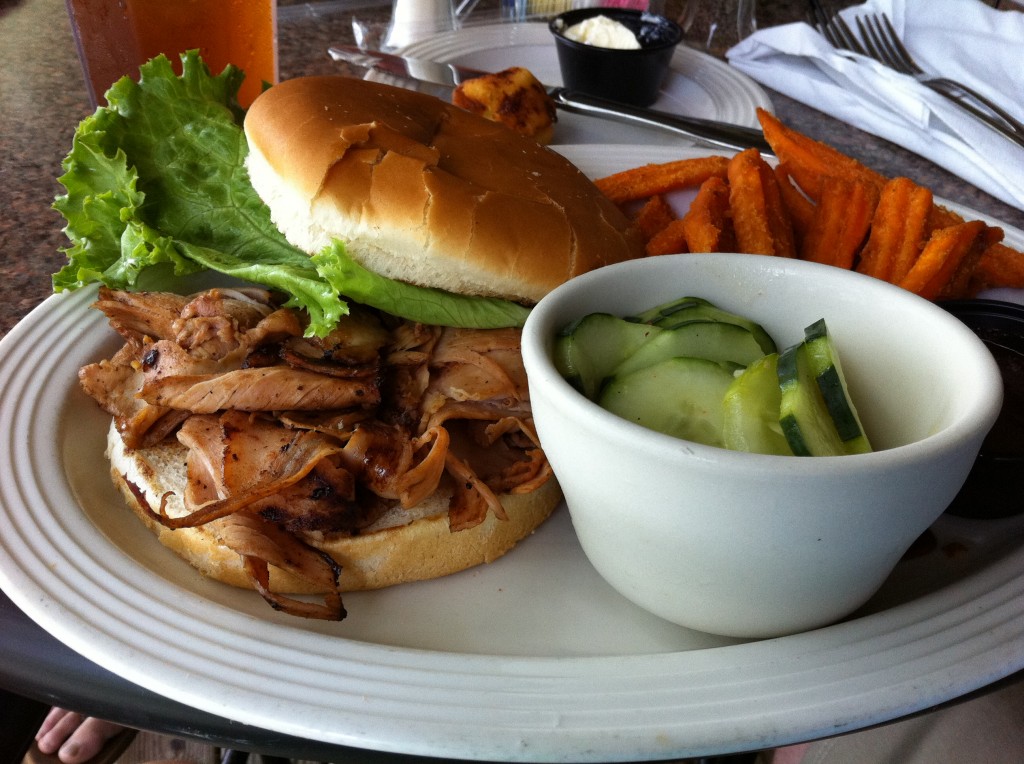 I have been impressed by Nick's management. They are professional. They are serious. They know what they are doing. Here are some examples:
Social Media – they have embraced social media marketing. For the last couple of years I have tried my best to help local businesses understand and take advantage of social media marketing. Nick's gets it.
I see Nick's reaching out and interacting with the Lake Martin community on Twitter and Facebook. I see they have started a blog. They are not waiting for you to walk in the door. They are reaching out to meet their potential customers on the web. I like it.
Synergy – This word is a tired MBA cliche. But Nick's is living it by working with their sister company, Creekside Lodge and Conference Center.  They share a parking lot, and cross promote each other very well.  Indeed, I had some buyers in town from Florida last month and I recommended Creekside to them. They stayed there and ended up eating a couple of meals at Nick's because it was such a short walk.  They enjoyed their entire Lake Martin experience and they recommend both.
We at Lake Martin Voice Realty welcome Uncle Nick's Smokehouse to Lake Martin and look forward to many more delicious meals there!