Archive for the 'Entertainment' Category
Here we talk about bait.  In any kind of fishing that I know, the first question everyone asks is, "What are they biting?"  Whether you chase trout in Townsend or bonefish in Belize, that's what you want to know.  It is no different here for striped bass fishing on Lake Martin.
Here David Hare of Alex City Guide Service talks about exactly what kind of bait he uses to score big stripers out of Lake Martin.  First of all,  he makes it clear that in his experience, he thinks live bait is the way to consistently catch big fish.  He doesn't use just any live bait – he throws shad, suckers, and other bait fish out there of gargantuan size.  These things are so big that I would be proud to catch them on purpose.
Because many of these bait fish are not native to Lake Martin, David often travels up to 50 miles away to cast net for them.  Once back at Lake Martin, he has an intricate system of live wells to keep them alive, fishy, and frisky for long periods of time.  Talking about this with David has opened my eyes to a whole new world of fishing that is truly a hybrid of the spotted bass fishing I did growing up and the fishing done by our salty neighbors to the south. 
Hope you enjoy this video of the David talking about the bait he uses for striper fishing on Lake Martin.  If you have any questions, please do not call me.  You will get a lot of dumb answers.  Please contact David directly at (256) 401-3089  or via their Facebook page.
If you didn't catch the first installment of David's interview, here it is:  In Search of Striped Bass , Part 1
I have literally spent a lifetime on Lake Martin, but the other day I felt like I met a totally new side Lake Martin for the very first time.  It was kind of like driving the boat home from my kids' first wake board demo at Blue Creek Marina and realizing we'd just scratched the surface of this Lake Martin subculture – like an onion, the lake has many layers. Except it's not like an onion in that it doesn't stink or make you teary when you cut it.
The layer I discovered a couple of weeks ago was the striped bass layer, courtesy of David Hare of Alex City Guide Service.
I had already shot this video series with him when I bumped into him around the north lake area, near the River Bridge (Highway 280 bridge).  Even though I'd heard him talk about fishing Lake Martin, I was not prepared for the amount of fun I had. He took Lake Martin fishing to a whole new level for me.
The above video is the first in a trilogy of interviews with David about fishing for striped bass, in particular. If you're antsy to fish and can't wait for the next video post, you can 1) go to my LakeMartinVoice YouTube Channel and watch all three interviews there, or 2) go ahead and call David at Alex City Guide Service and schedule a trip. David's number is (256) 401-3089.
After fishing with David, my only regret was that I was in my wife's car, and didn't have a cooler to bring home the fish fillets. Rookie mistake.
Check out the photos from my trip with David below: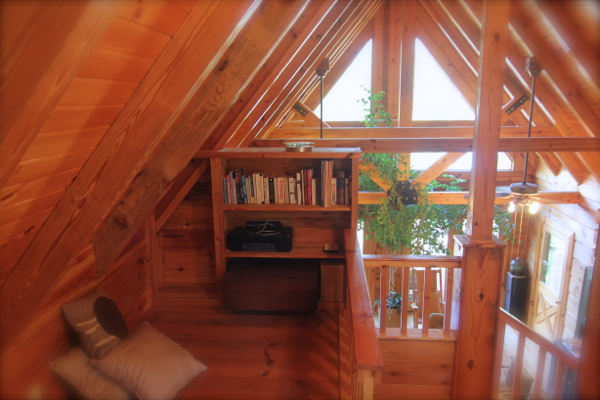 As the weather turns cooler  around Lake Martin, I think about time spent by the fireplace (or fire pit), and reading a good book.  The picture above is from a waterfront home I have for sale in the Parker Creek area of Lake Martin at 128 Orchid Drive.
This is an upstairs loft that's currently used as an office, and they found a way to tuck a bookcase and reading nook into this cozy space.  This loft really caught my imagination;  I love that you can see outside through the great room windows, but still be cloistered away from the hubbub.  I bet you can hear the fire crackle in the great room fireplace from here, too!
If you'd like to see ALL the pictures and listing information for this four bedroom, three bath home, CLICK HERE.
And click on the following link for the VIDEO TOUR:  128 Orchid Drive in Parker Creek on Lake Martin
This home makes it easy to live year round at Lake Martin.  I'd love to show it to you, so call me at (334) 221-5862 or click here to contact me and we'll make it happen.  I can help you with any home in the Lake Martin MLS, regardless of who has it listed.
Attention Auburn fans, Tidy Tigers, and visiting team fans:  Here's a fun way to simplify Auburn game days, and spend more time at Lake Martin, too.
The Creekside Lodge and Conference Center on the eastern side of Lake Martin is offering a game day shuttle service that takes you to Jordan-Hare Stadium in Auburn and back for $25/person.  The 15 passenger shuttle bus leaves the Dadeville, AL hotel 4 hours before game time and picks you up at the stadium 1 hour after the game is over.
It's a first come, first serve deal, so call and make your reservation at (877) 740-7404.  Anyone from the area can use this service – you don't have to be a hotel guest to hop on.  They'll drop you at Toomer's or at the stadium before the game.
You can also take advantage of the catering service at Uncle Nick's Smokehouse next door to Creekside Lodge.  Let them pack BBQ and sides for your tailgate, and check yet another item off your Saturday to-do list.
Best of all, when they bring you home from the game, you're back at the lake.  That's hard to beat. If you like to enjoy a beverage at Auburn games, this can be a great way to stay safe.
Or, if you're like me, the older I get the more I hate driving in traffic. Plus, with gas at $4 a gallon, it makes the El Cheapo in me smile.
The more I think about it, this would be a really good idea if you root for a team that is the Visitor at the Auburn game. You wouldn't have a huge tailgate tradition there, plus you would have the added bonus of spending the weekend on Lake Martin.
Never been to the Creekside Lodge?  Check it out on this video below:
I have recommended many a Lake Martin home buyer to stay at Creekside Lodge, and I consistently hear rave reviews. It's really close to Lake Martin and therefore close to homes that we see.
If you need the Lake Martin house to come home to, I'm your guy.  Give me a call at (334) 221-5862 or click here to contact me, and put me to work.  I'm a member of the Lake Martin MLS and can show you any property on the MLS, regarless of who has it listed. The seller pays my commission so it doesn't cost you a dime extra to let me help you.
It's that time again to start plugging the awesomeness of the Lake Martin in the fall.
Now, my family has a lot going on this fall, too, so our plan is this: We pack up after church and spend Sunday afternoon on the water (where we pretty much have the lake to ourselves).  Eat a picnic on an island as the sun sets.  What a way to begin the new week!
These pictures were taken in the Little Kowaliga area of Lake Martin.  We were right by Real Island Marina.  Those of you familiar with this area know that on a typical Saturday in the summer, there would be too many waves from other boats for this to happen.  Not so in September, when you can ski your child from Little Kowaliga to Sand Island with nary a worry.
We had our Sunday afternoon dates with Lake Martin through the end of October last year, and we're hoping to repeat the run this year.  Hope to see you, too!
By the way, if you need some wakeboarding gear, check out SMG Wake Shop – that's Singleton Marine, aka Blue Creek Marina's wake shop.
This is for those of you who love Lake Martin, but cannot imagine  jumping off of ANY Lake Martin rock, this one's for you.  Click on the video below and you can struggle up the rope, enjoy the view from atop Chicken Rock, and even experience the plunge to the water below – from the safety of your phone, iPad, or computer screen.
If you're asking, "What is Chicken Rock?"  – it's the lower of the two rocks that adventurous Lake Martin folk like to jump.  The higher one in technically Acapulco Rock, but most people call it Chimney Rock.  (Click here for the full rock-name explanation).
I bought my GoPro camera for this very video, and it does not disappoint.  See what you think:
I'm sure I'm supposed to have some kind of disclosure, like, "Lake Martin Voice Realty does not advocate jumping off rocks or any activity that might cause bodily harm," so there you go.  I certainly want everyone to be safe on the lake.
I also fully disclose that I am a hard working real estate broker who would love your business.  Give me a call at (334) 221-5862, or email me at [email protected], and let's get started.  I'm a member of the Lake Martin MLS, and can help you with any listing, regardless of who has it listed.
Catherine's Market and SpringHouse restaurants – both of these super hip Lake Martin spots to dine and play are off the water in Russell Crossroads (on Highway 63 north of Kowaliga Bridge).  Luckily, for those of us who hate to part with our boats while we're at the lake, there's a shuttle service that will take you from your boat to Russell Crossroads.  By shuttle, I mean golf cart.  That's fun.
We tried it out the other weekend, and the adventure of getting there and back was as much fun as the meal.  If you'll watch the video tour below, you'll see a map that gets you to the boat landing.  It's tucked in the back of a slough that is east of Sand Island, and if you aren't looking for it, you'll probably not even notice it's there.
There's a dock with room for several boats, but it was already full, so we beached ours with the help of the shuttle staff.  In front of the docks is a former Russell cabin that's been converted into a shuttle command center.  The Russell Crossroads website says there is a phone in the cabin you can use to call the shuttle if a driver is not already there.
We happened upon a Friday night outdoor event on the lawn right beside Catherine's, and were told there would be more like this throughout the summer.  The shuttle operates till 10 pm on the weekends, so go ahead and linger over dinner – there will be someone there to get you at least halfway home.
You had better call to confirm the shuttle. Don't call me. Call Catherine's at (256) 215-7070.
When we went, the schedule was:
Shuttle Schedule
Monday thru Thursday:  10 am – 9 pm
Friday:  10 am – 10 pm
Saturday: 8 am – 10 pm
Sunday: 8am – 5 pm
I repeat – to be sure, call (256) 215-7070 for Catherine's. Please don't call me, I won't come and get you!
I don't drive the shuttle, but I can show you any property in the Lake Martin MLS – regardless of who has it listed!  The seller pays my commission so it doesn't cost you a dime to let me help.   I'd love to be your realtor if you're buying or selling – call me at (334) 221-5862, or CLICK HERE to email me and let's get together.
This year I admit I spent way too much money at the fireworks stand.
I usually have better self control.  But with 3 boys (6th, 4th and 3rd grades) in tow, how could I not succumb to the frenzy?  The number of "free" items the checkout guy gave us after our purchase confirmed that maybe I had overdone it a little.  But with only one busted glass bottle and no other noticeable injuries, it will probably happen again next year!
If you spend the 4th at Lake Martin, there are fireworks stands a plenty, but we are also fortunate to have the FREE concert and fireworks extravaganza put on each year at The AMP by Russell Lands on Lake Martin.  Boaters gather in Kowaliga Bay in the hours before the show, while those in cars picnic on the hill of the amphitheater.  We watch from our driveway.
Around 9 pm, you'll hear the first crack, and then, BOOM!  I put together a few pics and video clips from this year's show, and also dug up one of my favorite videos from the 2010 archive – I actually filmed the fireworks setup on July 3rd, 2010.  That was cool.
There are a lot of fun things to do at Lake Martin. Each summer seems to bring a new spot to visit or a new sport to enjoy on the water. But there is no doubt about it – one of the most popular things to do is ride in the boat and look at waterfront homes.
Maybe you don't want to actually go in them, maybe you're just curious. Or maybe you really are considering buying, but just not this weekend. I can help. Just let me know where you will be staying on the lake, or what part of the lake you plan to visit, and I can make you a Home Tour map!
That way, as you drive around and see for sale signs on docks or on the street, you can check the list to get the sales info. Contact me my filling out this form or calling me at 334-221-5862 and I will be glad to help you make a map.
Not ready to talk to a cheesy ole realtor like me? I don't blame you. Check out this How To video where I coach you on making your own map. If you do decide to do it, and see something you like, please let me know. I can help you with any property that is for sale, no matter who has it listed. The seller pays my commission so it doesn't cost you a dime more to let me help you.
Have fun, and I hope to see you on the lake!
That's right – Lake Martin is a great place to spend your spring break.  My family did it, along with a couple of others.  We had lots of different adventures around the lake, and now that we're all back to work this week, I'm posting some pictures and videos to reminisce.
BOTE Paddle Board Demo
You may remember from this post that my friends at Lake Martin Dock Company are now official dealers of BOTE paddle boards for the Lake Martin area.  For those of you who are unfamiliar, BOTE paddle boards are made in Destin, FL, and their motto is "Fish. Paddle. Surf."  They've created the first paddle boards specifically designed for fishing.  They also have a racing board and regular ones.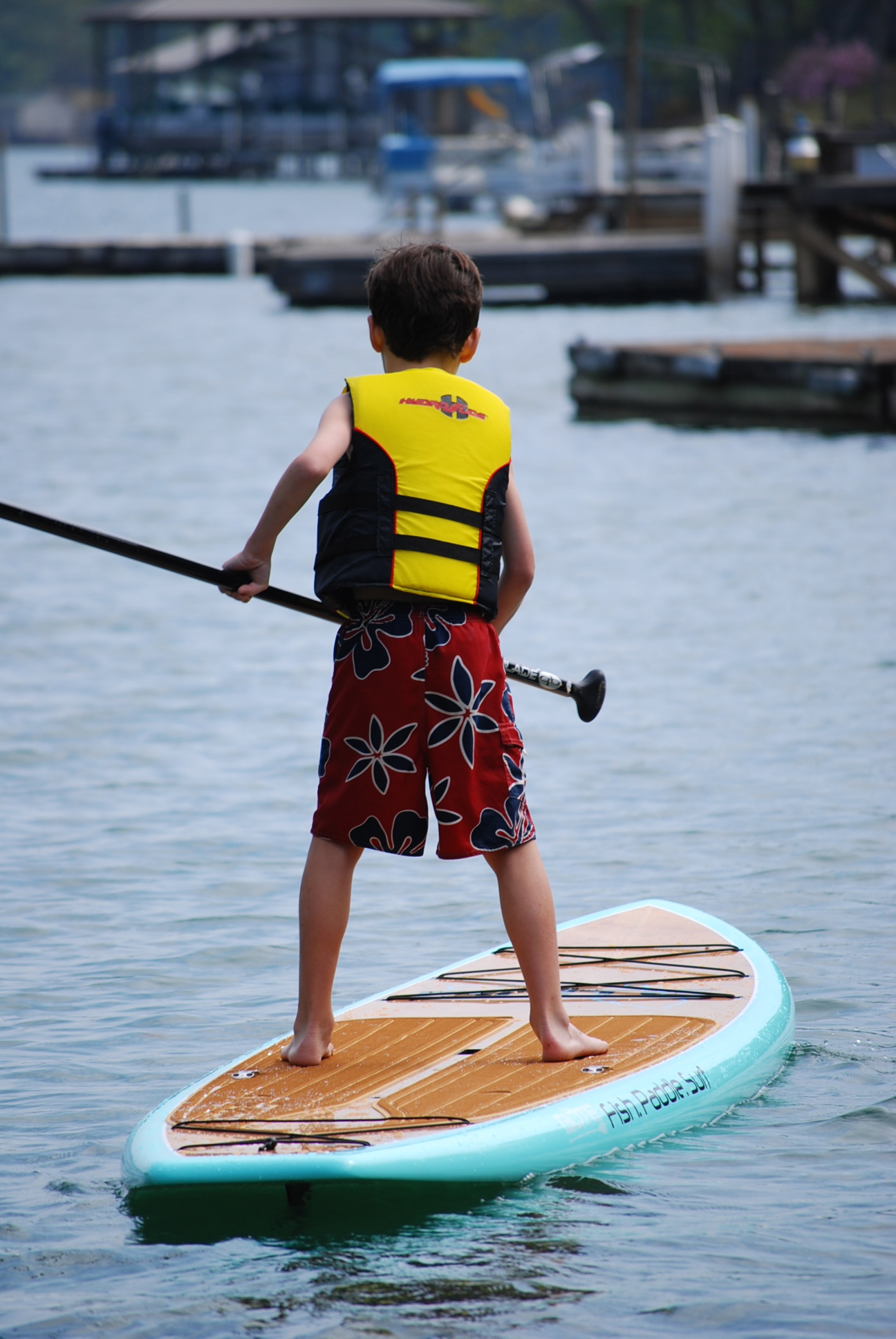 We stopped by with the kids to demo the boards.  As you can see, anyone can do this, and it's a lot of fun!  Even those that had to be coaxed a little found them to be stable and easy to paddle – bathing suits not required.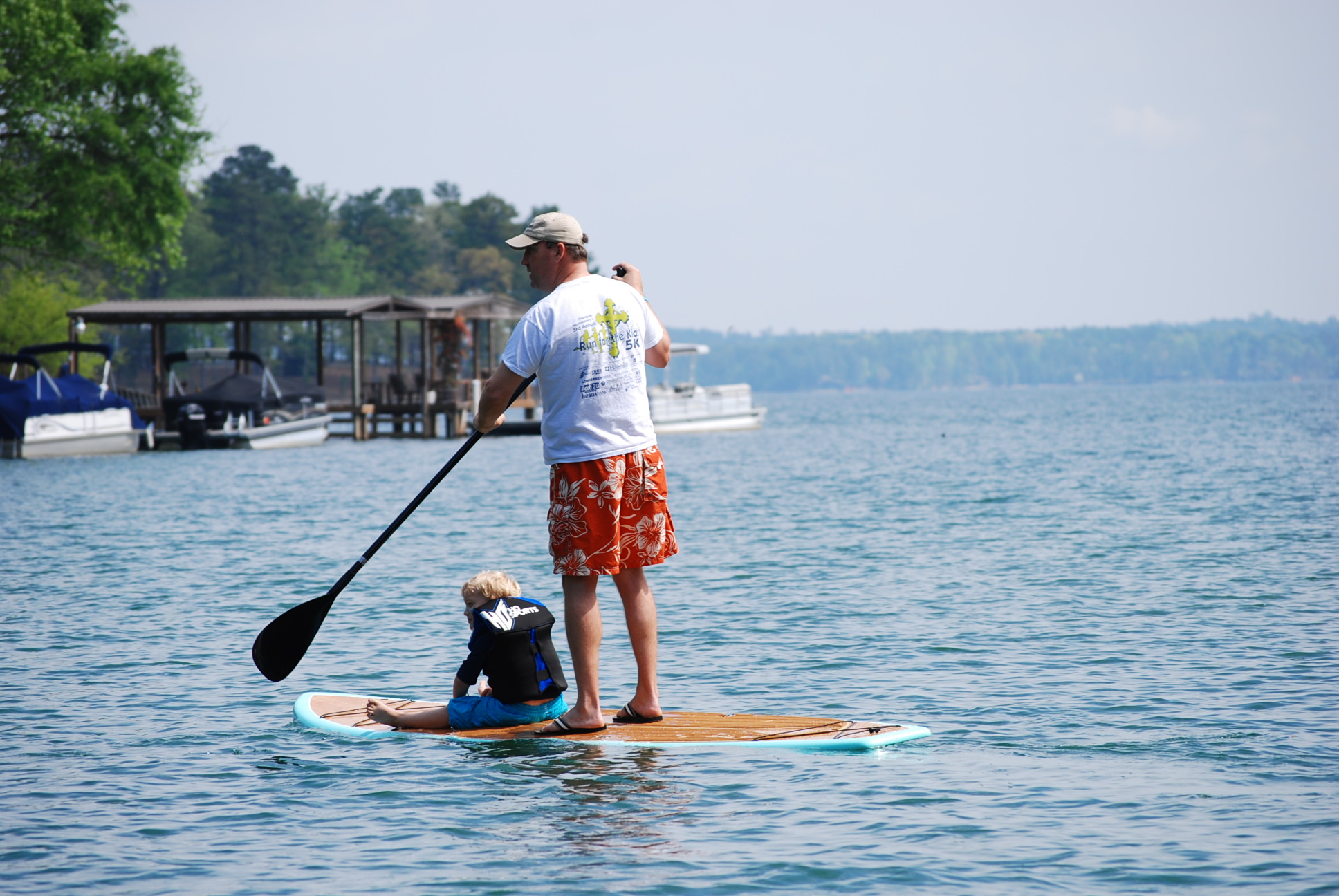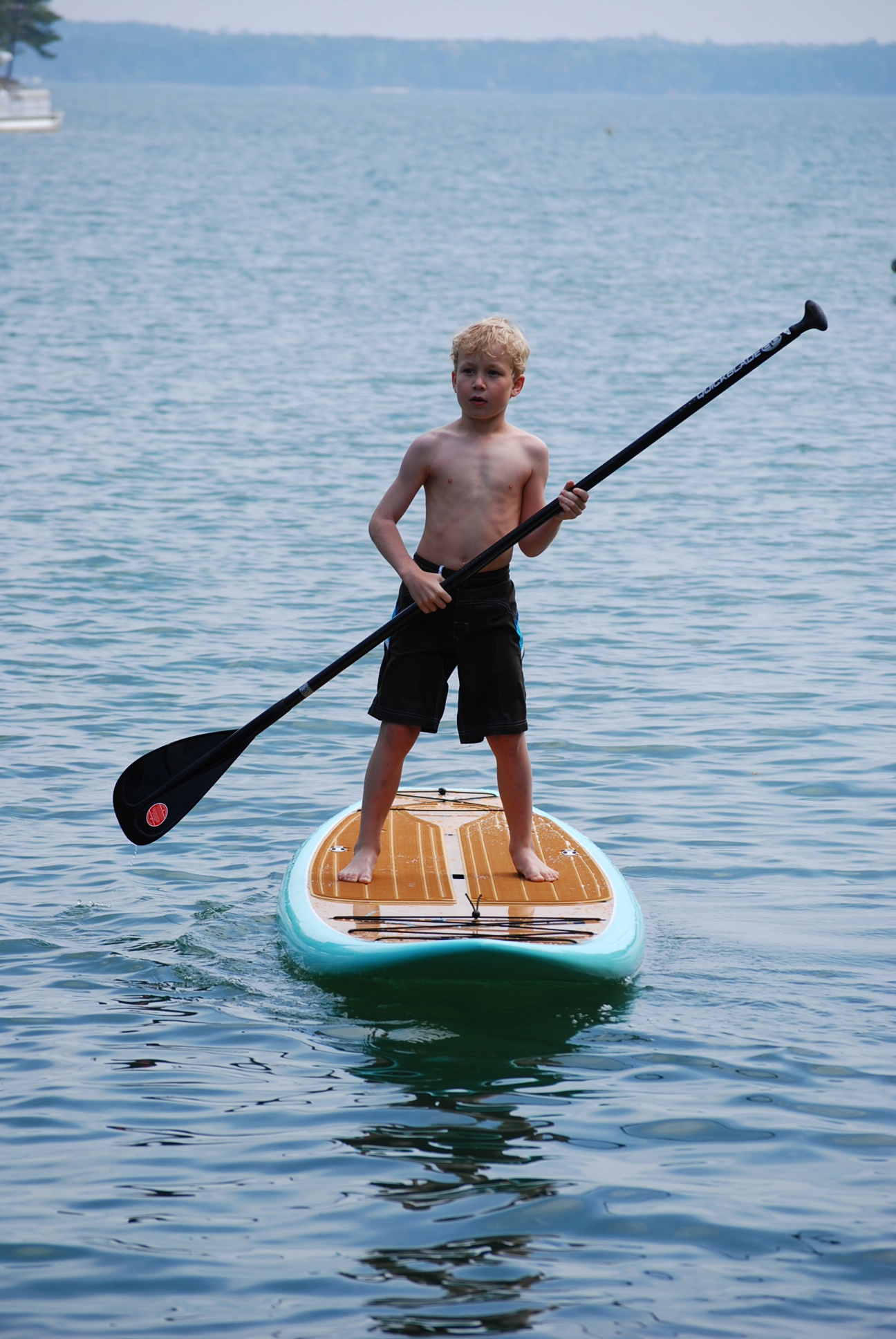 To see the entire gallery of pictures from the paddle board demo, click here.
Get your Own BOTE Board
If you want to demo or purchase a BOTE paddle board, call Sharon Johnston at (334) 857-2443 and tell her John Coley sent you and you can get my special discount:)  Sharon is planning on having a few paddle board races at Lake Martin this summer.  It won't be anything serious, just for kicks.  If you already have a paddle board and would like to participate, call her for details.