Archive for the 'Entertainment' Category
Have you ever ridden on a paddle board, on Lake Martin or elsewhere?
I haven't, but I seem to be among a dwindling minority.
This blog post was inspired by a recent announcement by my friends at Lake Martin Dock Company.  They posted on their Facebook page that they are now a dealer for Bote Boards – a stand up paddle board company out of Destin.  Bote Boards look cool to me because several of their models are designed for fishing.  There are little holes or slots in the top of the board in which you insert a stand.  As a fly fisherman, this makes me want one to try out the paddle and fish thing.  Have fun while getting a workout!
Stand up paddling is supposed to be great exercise, especially for the core.  I first heard about stand up paddling (SUP) from the Paddle Board race that Yolo put on with Bay Pine Marina.  Ever since I read this article I have wanted to try it out.
How about it? Has anyone out there tried fishing from a paddle board on Lake Martin yet? 
What about the ultimate combination: on a paddle board, hooking into a big striper, while fly fishing, on the lake?  Anyone? Anyone?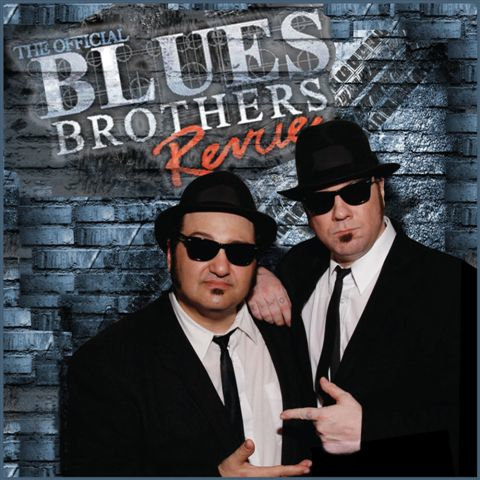 If you plan to be at Lake Martin on Valentine's Day, and are wondering what to do, you may want to check out the Blues Brothers Revue in Alexander City.
That's right, Jake and Elwood have gotten the band back together, and they are performing at the Benjamin Russell High School Auditorium in Alex City on Tuesday, February 14th, 2012, at 7:30 PM.
They are playing complete with the intercontinental Rhythm and Blues Band, with a "piping hot" horn section, with gospel singers, and dancers. In fact, their sax player Murph Dunne got in a huge fight with his wife. He lost her and a job to be here, so the least you can do is show up.
I will grant you, there will be a few elements missing from the normal show. While they do feature gospel singers, I am pretty sure that James Brown will not be doing back flips on a trampoline. But on a positive note, there will be no crazed women firing M-16s at the boys.  Here's a link to their latest promo video.
Seriously, this is for a really good cause – The Alex City Arts, and was funded in part by a grant from the Alabama State Council of the Arts.
Doors open at 7pm. Tickets: $15.00 for adults, children 12 and under $5. Tickets will be available February 1st at the Russell Hospital Gift Shop; The Chamber of Commerce; and 'Main Street', Alexander City, or at the door. For more information call; Ron Morgan, President, Alex City Arts at 256.234.9806 or e-mail [email protected]
The Piedmont Plateau Birding Trail officially opened on November 17 with a nice ceremony held at Horseshoe Bend National Military Park.
The Piedmont Plateau Birding Trail is the central Alabama version of the popular birding trails like the Alabama Coastal Birding Trail and the North Alabama Birding Trail.
What is a birding trail?
A birding trail is a collection of locations where bird lovers and other folks can go to observe some of Alabama's renowned diversity of bird species.  The Piedmont Plateau Birding Trail is organized into three "loops."
The Lake Martin Loop, obviously, is the part of the trail that will be closest to Lake Martin. Some of the observation points are directly on the water of the lake, such as the DARE Park and the Cherokee Ridge Alpine Trail head.  Others will take you off the water, but to nonetheless interesting spots like Horseshoe Bend National Military Park.
The new trail has already earned some attention.  Deborah Storey covered it in this Hunstville Times article.
For what it is worth, I think this is an outstanding idea and brilliant marketing on the part of the various Chambers of Commerce that worked together to get this done.  I congratulate the Alexander City Chamber for taking the lead on it.  Even if you are not a "birder" – you should realize that birding related tourism is a really big business, and Alabama is a mecca.
Furthermore, it offers yet another thing to do off of the water for people who love Lake Martin.  Fall is the time of year that I think gives you the best chance to hike, bike, and explore the area around the lake.
Speaking of things to do, how many of you have never been to Horseshoe Bend National Military Park?  Why not? It is only about 10 miles off of highway 280 between Dadeville and Alex City.  The dedication ceremony gave me a perfect excuse to tour through it again. When I was growing up, we had oodles of school trips out there.  As a child, I never appreciated the sheer beauty of that park, nor did I grasp the historical significance of a battle that shaped the destinies of millions of acres of land, entire nations of native Americans, and at least one President.  (Hint: check a $5 bill).
After my tour the other day, I was really getting my nature, my history, and my local pride groove on.  I went wild in the Park's gift shop, buying several (my wife rolled her eyes) books about The Battle, this area's history, and nature.  My fellow nerds will please note I added them to my Lake Martin Voice Library.  Check them out, they are excellent reads.
To see my other pictures of the opening of the Piedmont Plateau Birding Trail, and Horseshoe Bend Park in general, please see:
Flickr Photo Set by Lake Martin Voice

Anchor Bay Marina is a full service marina on the south side of Lake Martin.  It's part of Singleton Marine Group, and has all the usual features: dry storage, wet storage, boat sales, gas, service center and a ship's store.  So if you're close to Chimney Rock, or heading east of Kowaliga Bridge, it's your place to refuel and buy treats for the kids.  (It used to be called Castaway Island Marina for those who haven't been here lately.)
Anchor Bay Marina is close to my office and our family cabin, so I often find myself there.  A couple of weeks ago, (I think it was the end of September), I was there on a weekday.  We were going out on the boat to do a little filming of some neighborhoods from the water when  I started having trouble with the starter on my boat.  Yikes.
Since we had to be back to town to pick up the kids from school, I didn't want to risk it.  Solution –> rent a boat from Anchor Bay!  They already had one gassed up and ready to go.  It cost me no down time, and was so convenient that I shot the above video out of pure gratitude.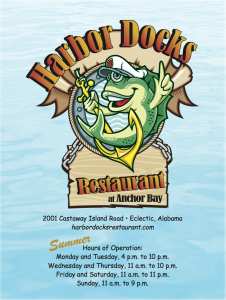 Another thing that makes Anchor Bay unique is that  Harbor Docks Restaurant is tucked away in the back.  Drive up by car or by boat, and enjoy a casual menu (pizza, fried seafood) either outdoors or in the air conditioning.  It's kid friendly, and they've been known to have live music on the outside deck.
This year's Indian Summer afforded us several Sundays in a row after Labor Day where we went for boat rides.  We made a habit of hitting Harbor Docks for supper, on the way back home. Not having to fix food and clean up = Mommy likee.
Sea Ray and Russell Marine are once again bringing Aquapalooza to Lake Martin, Alabama, – on July 23, 2011.
Aquapalooza is a free, on the water concert that you can boat up, anchor, and go dance by the stage.  It is tons of fun, and, in my opinion, becoming the 4th big lake holiday behind Memorial Day, 4th of July, and Labor Day.
Lake Martin has experienced two really big Aquapaloozas – the nationally promoted signature event in 2009 featuring Alan Jackson, and this pretty doggone big event in 2010 with John Anderson.
In 2011, the headliner is Sawyer Brown.  Here's the full lineup:
Lake Martin Aquapalooza 2011 Lineup
Sawyer Brown
Rhett Atkins
Chase Rice
Derek Welsh and the Cold Hard Truth
Lake Martin Aquapalooza 2011 Schedule
11 AM – 7 PM on July 23, 2011.
Memo to all you fast timers – we're on Central Time.
Lake Martin Aquapalooza 2011 Setup Tips
The prior years of fun have given us all some valuable experience. I shot a quick video below to go over some tips for Aquapalooza on Lake Martin.

Here are some more Lake Martin Aquapalooza 2011 tips:
Have a sober driver and sober spotter – I say this in the video but it's worth repeating. The driver will need someone at the front of the boat that is looking out for other boats, swimmers, kayakers, etc.
Obey all Alabama laws – if you're coming from out of state, study up.
Idle speed only – west of Kowaliga Bridge is idle speed only until you get to Governor's Island. The surest way to get pulled over by the AL Marine Police is to be above idle in this zone. Make even the smallest wake and they will hammer down on you.  Quite frankly, you deserve it.
If you anchor up, use an anchor line – so many times I see folks throwing out their brand new mushroom anchor that is tied to ski rope.  Bad idea. It may be easy going down, but at the end of the day when you are hauling in 75 feet of it, and it's slick, that thin ski rope will burn your hands.
If you swim to the stage, use a PFD – it looks like a short swim, but trust me, you will get tired. Swim with a life vest on your person.
Bring twice as many boat bumpers than you think you will need – even if you only use 2 to attach to your pier, you will need a bunch more when your friends (old and new) sidle up to you and anchor with you.
Buy all your provisions locally – OK, so I'm a big believer in supporting the Lake Martin locals, yes.  But on the practical side, I can tell you that the local C Stores will have plenty of ice, snacks, and beverages.  It's the same price as your hometown's.  Unless you just like to load a cooler 2 days in advance, the smart move is to get it in theater.
Take plenty of pics and video – you won't believe how much fun it is to look at them later.  Local Lake Martin photographer Kenneth Boone usually has the best ones on his SmugMug account here.
Tweet it out – if you're on Lake Martin and hip to twitter, use hashtags of #lakemartin and #aquapalooza and @SeaRayBoat
Check in on FourSquare – there's a musical event set up on Foursquare – Aquapalooza on Lake Martin
Homes For Sale On Lake Martin Near Aquapalooza 2011
Do you have some time to kill, and maybe would like to cruise by some waterfront homes that are for sale near Lake Martin's Aquapalooza site at Kowaliga Marina?
Click on the Request List link below:
CLICK HERE TO REQUEST HOMES FOR SALE
You will be asked for your name and email, and then you will be emailed two lists we have compiled of waterfront homes for sale on Lake Martin right now. One list is east of Kowaliga Bridge, the other is west of it. This list is from the Lake Martin Area Realtors' MLS, so it's any brokerage's listings, not just mine.  Also, don't worry, we DO NOT SELL, GIVEAWAY, or otherwise distribute your info.
Have a fun and save Aquapalooza 2011 on Lake Martin!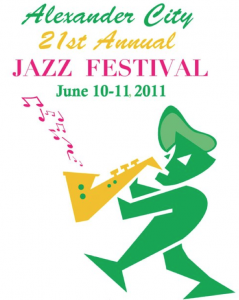 The 21st annual Alexander City Jazz Festival is THIS weekend – June 10-11, 2011.  It's 2 nights of outdoor fun and FREE music:  Friday night in downtown Alex City, and Saturday night at the Lake Martin Amphitheater.
This event is always a good time and one of the Lake Martin area's biggest parties. In fact, it is one of the few remaining music festivals of its size in the southeast that is still FREE.
It's also family friendly, and both locations will have food vendors and t-shirt sales.  Bring your coolers, drinks, blankets and folding chairs, and settle in for 2 nights of great music.
Here's the lineup for both nights:
Friday, June 10: Strand Park, Downtown Alex City
6:00 pm              Davin McCoy and the Coming Attractions
7:30 pm              Deep Fried Five
9:00 pm              Wet Willie
Saturday, June 11: Lake Martin Amphitheater
6:30 pm              Yonrico Scott Band
8:00 pm             Randall Bramblett with Geof Achison
For more information, click on the following links:  Alex City Jazz Fest 2011,   Lake Martin Amphitheater
Here's a video of the Lake Martin Amphitheater if you are unfamiliar with it.  I shot it last summer, but the tips and directions I give still apply today:
The Highlands Golf Club in StillWaters is one of the only public golf courses in the Lake Martin area.  If you can stomach Lake Martin Voice agent John Christenberry's wild golf cart racing, then this video tour will give you an idea of what The Highlands course is all about.
The StillWaters course manager was super helpful when we showed up (he gave us the cart), and wants everyone to know that this is a public golf course, and that anyone on Lake Martin can have a monthly membership to play here.  There are golf condos that you can rent, and specials running all the time.
Click here for a copy of The Highlands score card.
For more information, here's the website:  The Highlands at StillWaters Golf Club. If you have any questions about golf, please contact them directly.  We're just Realtors.
But, if you're interested in waterfront property in StillWaters, we can definitely help you with that.  CLICK HERE to see the homes and condos that are currently for sale within StillWaters.
At Lake Martin Voice Realty, we can help you buy or sell any property in the Lake Martin MLS.  Give us a call, and put us to work.
Related Posts:
Tour of StillWaters Neighborhood on Lake Martin
Tour of Harbor Pointe Condos in StillWaters
Tour of Villas on the Harbor in StillWaters
Deer Take Refuge in StillWaters

One huge perk of my job as a Lake Martin Realtor is getting to spend all 4 seasons at the lake.  Summer is obviously the biggest draw, but as the days get cooler and quieter, I have to ask why more homeowners don't make the time to soak up fall on Lake Martin??
I'm with you – there are football games, soccer tournaments, and the business of fall in general.  But, I still encourage you to carve out at least one weekend this fall to make the Lake Martin trek.  It might become your best-kept secret, too!
Or, just stay away.
It makes it quieter for the rest of us.  Either way, Lake Martin's weather is still pleasant, the water is still quiet, and it's still a heckufa place to watch football, or sit by the fire.
My iphone makes my job as  Lake Martin Realtor a lot easier.  One reason I love having it is being able to take pretty decent pics and video wherever I go. Mostly I take wildlife shots, private tours of homes, or quirky scenes around Lake Martin, but this last video was taken in the "city" – at my children's Field Day event at school.
We parents were sitting around talking when one of the ladies mentioned some reasons she likes Lake Martin over the beach – namely, that they just pick up groceries (so it's cheap), and her kids stay around the house (solid family time, plus they don't get into too much trouble).  When she was done with her mini commercial,  3 people in the crowd said (in unison) "Watch out!  John will get you on video and put you on his blog."
Everyone laughed, except me. I was serious.
When she said it was OK with her, I whipped out the iphone for take 2.  She just laughed and gave it to me again.   It was a perfect Lake Martin Realtor moment.   I think it is so much more helpful to hear from actual civilians instead of us blathering realtors.  After several weeks of taping straight forward listing videos and hearing myself talk on many hours of neighborhood tours and community videos, this video is a welcome respite!
Thanks for your help, Alex!
Lake Martin's Aquapalooza 2010 is this Saturday, July 24th.  The free concert is from noon to 7 pm in front of Sinclair's restaurant in the Big Kowaliga area of Lake Martin (by Kowaliga Bridge, aka Highway 63 Bridge).
The featured artist, John Anderson, will wrap up the show (Think, "Seminole Wind").
I went by Kowaliga Bridge this morning and shot some video of the set up.  The logistics worked last year, so bring your boat and enjoy a really fun afternoon on Lake Martin.   Take a look:
What: Lake Martin's Aquapalooza 2010
When: Saturday, July 24,  12pm -7pm
Where: In the Kowaliga area of Lake Martin between Church in the Pines and Sinclair's Restaurant (off of Highway 63)
Reservations: not required