Archive for the 'Events' Category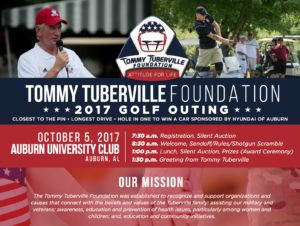 I just got a call from Jim Nichols and wanted to give you a heads up on a great event coming up soon – the 4th annual Tommy Tuberville Foundation Golf Tournament being held on Thursday, October 5, 2017 at the Auburn University Club in Auburn, Alabama.
The Auburn University Club is a beautiful 18-hole championship golf course over 225 acres of rolling hills and woodlands and surrounds the 25 acre Yarbrough Lake. Click here for a Google map.
The Tommy Tuberville Foundation was established to recognize and support organizations and causes that are important to the Tuberville family such as assisting our military and veterans. "Giving back and helping our wounded veterans is something I have always wanted to do to show my sincere appreciation for our military and their selfless service all while carrying on the legacy of my Dad," says Coach Tuberville. Charles Tuberville, Coach T's father, served with distinction in WWII earning five Bronze Stars and a Purple Heart.
The funds raised in this tournament will help build homes for members of our military who are recipients of the Purple Heart Medal.
If spending the day with Coach T and other supporters of the Foundation playing golf on a course in Auburn sounds like something you would enjoy, contact Jim Nichols at [email protected] or call 352-801-8686 for more information.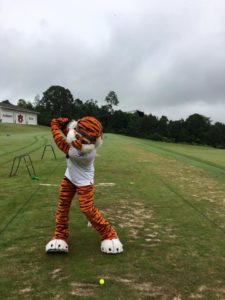 And remember, you never know who you may see on the greens – War Eagle!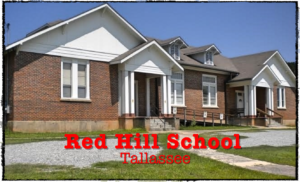 Do you come to Lake Martin on the weekends? If you consider yourself a semi local you may have worshipped on Sunday at Church in the Pines or even shopped on Saturday at the Alex City Farmers Market.
But have you been to the singing that happens every Friday night at the old Red Hill School in Tallassee?
It really is a pretty cool event. It's just the type of thing I had in mind when I created my app. There are so many great things going on here at Lake Martin that deserve some attention.
Recently I was contacted by Paula about the Old Red Hill School Jam – a weekly event every Friday night from 6:30 -8:30. For over 12 years folks have been entertained by a country, folk, gospel or blues music jam for free. Visitors can dance, sing and play, or just listen while they enjoy free coffee and snacks.
For more information call Paula at 334-541-2474.
Google Maps Link to Red Hill School.
To download my free Lake Martin Voice app click here – I know you don't want to miss anything going on at the Lake!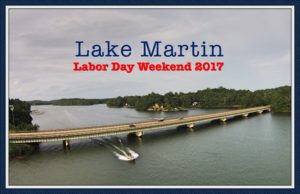 Are you headed to Lake Martin for the long Labor Day weekend? There are plenty of options for things to do as we celebrate the end of the summer season.
Here are a few things to do around Lake Martin for Labor Day 2017. For a full list and more details see my free Lake Martin Voice app – the best way to keep up with Lake Martin events and an easy way to find the restaurants, shops and landmarks.
Friday on the Green at Russell Crossroads – 6:30-8:30 pm, Jilla and Kurt will kick off September with some great music. Enjoy lawn games, sidewalk art. Pet and family friendly.
Old Red Hill Jam at Red Hill School House – local live music, open stage 6:30 – 8:30 pm. Dance, play or just listen!
Saturday – 2nd Annual Cornhole Tournament at The Landing – Noon. Teams of 2 will compete for prize money and the chance to wear the Crown of Corn!
Community Garden Club Pancake Breakfast – Saturday morning from 8-10. Russell Crossroads Artist Cabin.
Labor Day Weekend Blowout – at Bezlo's Bar & Grill, live music Friday from the Shades of Gray band and Saturday – Rob Aldridge & the Proponents Band. Comedy Night on Sunday with E. Craig and the Alcohol Break comedians.
Labor Day Bash – Copper's Grill at Stillwaters. Live music from Matt Smith, Sid Phelps and Blackberry Breeze. Music starts around 6:30 pm.
Sunday night, Labor Day Concert at The Amp featuring "Just Got Started Lovin' You" Nashville recording artist James Otto, the pride of Clarke County, country music singer and writer, Ashton Shepherd, local favorites, The Bank Walkers and Rexton Lee. Gates open at 5. Show starts at 6 pm. Tickets are $10.
Happy Labor Day weekend!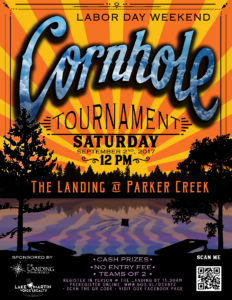 I can't wait for the Cornhole Tournament at The Landing at Parker Creek –
Saturday, September 2 starting at noon. Fun for the entire family!
Cash Prizes per team:
1st Place $300
2nd Place $200
3rd Place $100
No entry fee!
Register at The Landing before 11:30 am the day of the tournament or preregister online – click here.
Google Maps location for The Landing at Parker Creek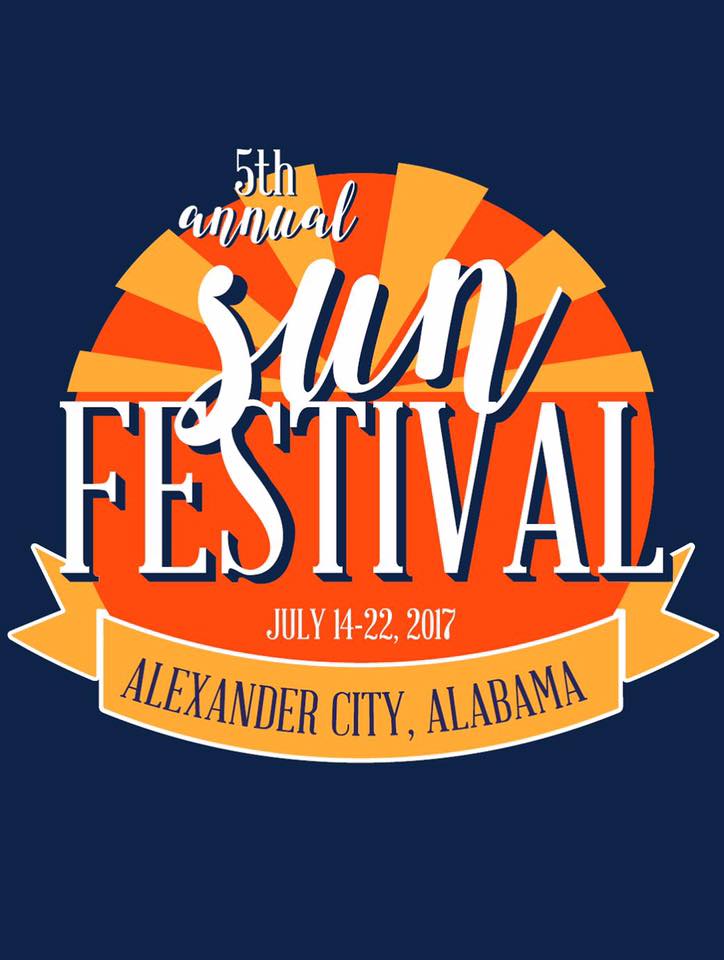 The Alexander City Sun Festival – nine days of fun – July 14- 22, 2017!
I really have to hand it to the Alexander City Chamber of Commerce. I think the Sun Festival is the perfect way to meld the City with Lake Martin. And they always schedule it after July 4th but well before Labor Day. The events are sponsored by local businesses that all bring their own flair. If you are anywhere near the Lake Martin area for this week, you owe it to yourself to catch one of these fun events.
With fun for the entire family be sure to make your plans now because you know you don't want to miss anything! To help with your planning download our free Lake Martin Voice app – all of the events are listed. Be sure to check the Sun Festival's Facebook page and website too for more details. Also the printed day-by-day guide can be picked up at the Chamber office and various businesses around town.
Listed below are a few of my favorite events:
July 15 – Slip-n-Slide 5K and 1 Mile Fun Run – Be sure to pre-register. I saw a pic of the slip-n-slide they will be using. They will end up at Strand Park and that is a great hill for sliding.
July 16 – PaddleBoard Race at Wind Creek State Park – This is sponsored by my friends Nicki and Jackson Dozier at TowBoat U.S. Lake Martin and also by Sharon and the Paddle Lake Martin group. The lake area has a growing paddle community and if you are new, this would be the perfect time to hop in, meet folks, and have fun.
July 17 – Dawg-Gawn Good Parade – Call me a sucker for dogs but I think this is just hilarious. Quintessential small town. You just dress your dog up in a funny costume, show up, and walk the walk. They even have prizes. Don't take it too seriously, this is not Best in Show. It's just for fun.
July 22 – On the Pontoon – two-hour cruises around Lake Martin sponsored by our fellow Lake Martin Voice Realty agent, the ever fun loving Paige Patterson. Paige will need to correct me if I am wrong but I think she has been doing these about three years. She first started them as a way to show real estate to folks new to Lake Martin, and it was such a hit she decided to incorporate a tour during Sun Festival. It's a great way to get to know the Lake. Also, if you absolutely just had to buy a piece of real estate that you saw along the way, Paige probably wouldn't hold you back. Just sayin'.
July 22 – Cornhole Tournament – starting at 4 in Strand Park. Cornhole is a "sport" that requires a minimal amount of effort.
July 22 – Moon Taxi Concert – starting at 6 in Strand Park. End the nine days of Sun Festival fun with a musical celebration! You absolutely need to get tickets ahead of time for this one, but they are only $20. Be sure to check the Chamber website www.alexandercitychamber.com.
Some of the events require registration or tickets. Registration forms can be downloaded at www.alexandercitychamber.com or go by the Chamber office.
Sun Festival is possible due to the Alexander City Chamber of Commerce, the many sponsors and volunteers and the city and county governments. Be sure to thank and support the sponsors and thank the volunteers when you see them!
Happy Sun Festival – enjoy celebrating all that Lake Martin and Alex City has to offer!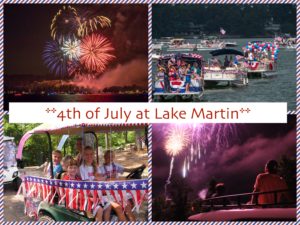 What is there to do at Lake Martin on the 4th of July?
I am glad you asked! Since the 4th is on a Tuesday this year (and hopefully you have Monday off from work) there are loads of events scheduled at the Lake starting Friday, June the 30th. In fact there are too many to list here but don't worry – check out my free Lake Martin Voice app for a full list of events.
As far as July 4th here are some great choices:
The Amp 4th of July Blast – Concert and Fireworks – gates open at 5:00 with music starting at 6:30 from The Bank Walkers and the Sweet Tea Trio. Fireworks will start at 9 featuring the Southeast's largest fireworks show! Tickets are $10 with children 6 and under free.
Russell Marine 4th of July Boat Parade – boats will parade from Kowaliga Marina to Children's Harbor in a "festive and patriotic holiday display." The parade starts at 10. Prizes awarded! Register to enter the parade (call 334-857-2111) or enjoy the parade from the shore!
Blue Creek 4th of July Parade – starts at the North end of Ponder Camp Road at 11 and ends at Niffer's. Watch or enter – fun for all!
Three cheers for the Red, White and Blue!
The Lake Martin Voice app is available for free (click on images below):


This year's Wine & Words event is Friday, June 23 from 6-8 pm at Chuck's Marina. Please come out to support the Friends of the Dadeville Library – sample some wine, browse the selection of books and listen to some live music from John Bull and Ed Pickett.
Also meet author Katie Porterfield who will be on hand to sell and sign her book "Find Your Heart in Lake Martin." This book would make a great gift for anyone, any age that loves Lake Martin. To read more about Katie click here for an article from the Alex City Outlook.
Any donations will benefit the Friends of the Dadeville Library. The Friends are also offering chances to win a brand-new Fender "T-Bucket" acoustic guitar, featuring an on-board amplifier. Tickets for the guitar drawing are a $2 donation each. Tickets are currently being offered at Dadeville Public Library and can also be purchased at Wine & Words.
We are happy to help sponsor Wine & Words this year along with Chuck's Marina Winestoppers and Friends of the Dadeville Library.
Country Living magazine chose their 2017 Lake House of the Year location at Lake Martin! Their July/August issue (which goes on sale at news stands this week) has been dubbed The Water Issue. And since you love Lake Martin like I do you will agree they made a wise choice in choosing Lake Martin as the site of the Lake House of the Year! This issue celebrates life on the water so be sure to pick up an issue today!
This beautiful, relaxed home was built in a collaboration with architect Jonathan Torode of Nashville (Pfeffer Torode Architecture), builder Chad Calhoun of Alexander City (Classic Homes), and Russell Lands on Lake Martin. The home is located at 321 Paddock Point in The Ridge, a Russell Lands development.  Click here for Google map.
The lake home's exterior features rough cedar siding and a natural stone chimney and outdoor spaces that we all love such as a screened in porch, a lakeside fire pit and a deck area to watch the sunset. Inside the 2,900 sq. ft. home are expansive windows – each room taking advantage of natural light, oak hardwood floors, tongue and groove pine walls, a smooth cypress ceiling in the open living room, a natural stone fireplace, beautiful finishes in the kitchen such as subway tile quartz countertops and a pecky cypress kitchen island, 3 bedrooms, 4 1/2 bathrooms with patterned porcelain tile, an upstairs bonus room, a pantry and more.
And guess what? You can take a tour between June 26 and July 9 from 10-5 daily. Tickets are only $15 and will benefit Children's Harbor. Click here to purchase tickets now.
Check out one of the videos Country Living did (click play arrow):

To read the online article and see photos and more videos from Country Living click here.
If you are ready to find your Lake Martin home to enjoy life on the water give me, John Coley, a call or text me at the number at the top of this page, email me [email protected] or contact me here.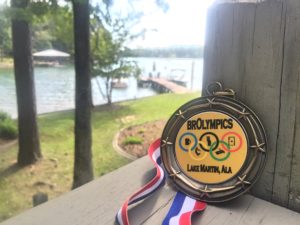 What better place than Lake Martin to reunite with old friends and family? Now's the time of year we all start eyeing the calendar and carving out some vacation time.
I thought it'd be fun to share an aspect of a gathering I've attended here at the lake. It's a get together of old college buddies – just the guys.
I know what you're thinking – mid-life crisis types trying to relive the nuttiness of their youth. Actually, these days, we are more concerned with good coffee. Instead of trying to avoid rooming with the guy that will keep you up all night, you're worried about which oneS of the group have to sleep with a CPAP.
One (of the more creative) of the group came up with the BrOlympics concept last year. It's pronounced "bro-lympics." We "competed" in several categories. Wake surfing, ordering food food at Kowaliga, cards, cornhole, and responsible beer drinking. It was a huge hit! He even made a gold medal for it.
This summer, I encourage you to reach out to your friends, loved ones, and, hey … even your family :)!
If you need help planning your weekend, download my free Lake Martin Voice app here. It has all of Lake Martin's events in one easy spot!

Summer officially starts June 20 but at Lake Martin we all know summer starts MEMORIAL DAY WEEKEND. And boy there are so many events to choose from here at the Lake you are going to wish you could clone yourself to enjoy them all.
Here is a list of events in no particular order:
RXR FEST – three nights of great music at Russell Crossroads – featuring Airside, Mose Wilson and The Delta Twang, The Bank Walkers, Raquel Lily, Jordy Searcy and The Jonathan Bloom Band. Bring your chairs and coolers and enjoy a weekend with family and friends. 6-10pm
Art on the Lake at Children's Harbor – Saturday from 9-5 and Sunday from 9-2 this free art festival features art and jewelry from over 40 artisans with a portion of art purchases helping support Children's Harbor.
Bezlo's Cafe – Opened earlier this year in Eclectic. Avondale Brewing Company Tasting Party from 5-8pm on Friday. Live music from Mark Kelley from 8:30-10pm Friday and Saturday.
Chuck's Marina – Your home all summer long. Live music all weekend – Friday at 7:30pm, Rachel Wilson, Saturday at 7:30pm, Blane Rudd and Sunday from 6-9pm River Dan!
Copper's Grill at Stillwaters – Great food, live music, outside venue! Friday 7-10pm music from Blackberry Breeze, Saturday 7-10pm music from Winston Ramble and Sunday 7-10pm the Sid Phelps Band.
McFadden Cup Club Race – Dixie Sailing Club – Racing open to all members. Saturday from 11-5. Not a member? If interested in crewing see their website.
Eagles at Naturalist Cabin in Russell Crossroads – Saturday at 12pm and 1pm. Come visit two of Auburn's popular eagles!
The Landing at Parker Creek – Saturday starting at 6pm, live music from the M-80s and Jenni Foreman Mote.
Interested in knowing what is happening at Lake Martin? Or check the weather? See the water level? Discover new restaurants or shops? Contact one of the area Marinas? Keep up to date with new property listings? Then download the free Lake Martin Voice App! You will be glad you did!