Archive for the 'Events' Category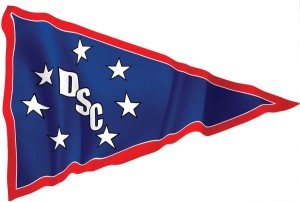 Here is the 411 – how, when and where! The Dixie Sailing Club at Lake Martin offers a free "Introduction to Sailing" class each year. This year the event will be held Saturday, June 4 from 10-3 at their location on Lake Martin near New Hope Baptist Church.  For directions click here.
Intro to Sailing is held each year in early summer to introduce you to sailing and to the club. There will be classroom instruction (basics of sailing, learn parts of a sailboat) and practical sailing instruction (what to do if you capsize and how to recover). To test your skills they will let you sail on Lake Martin on either a Sunfish or Laser sailboat or go sailing on large boats with club members.
Picture this – the sun is beginning to set, there is a breeze pushing you along, a perfect day on the water – you can understand why Yacht Rock Pioneer Christopher Cross "…If the wind is right you can sail away and find tranquility.  The canvas can do miracles just you wait and see."   Explore the waters, learn sailing now!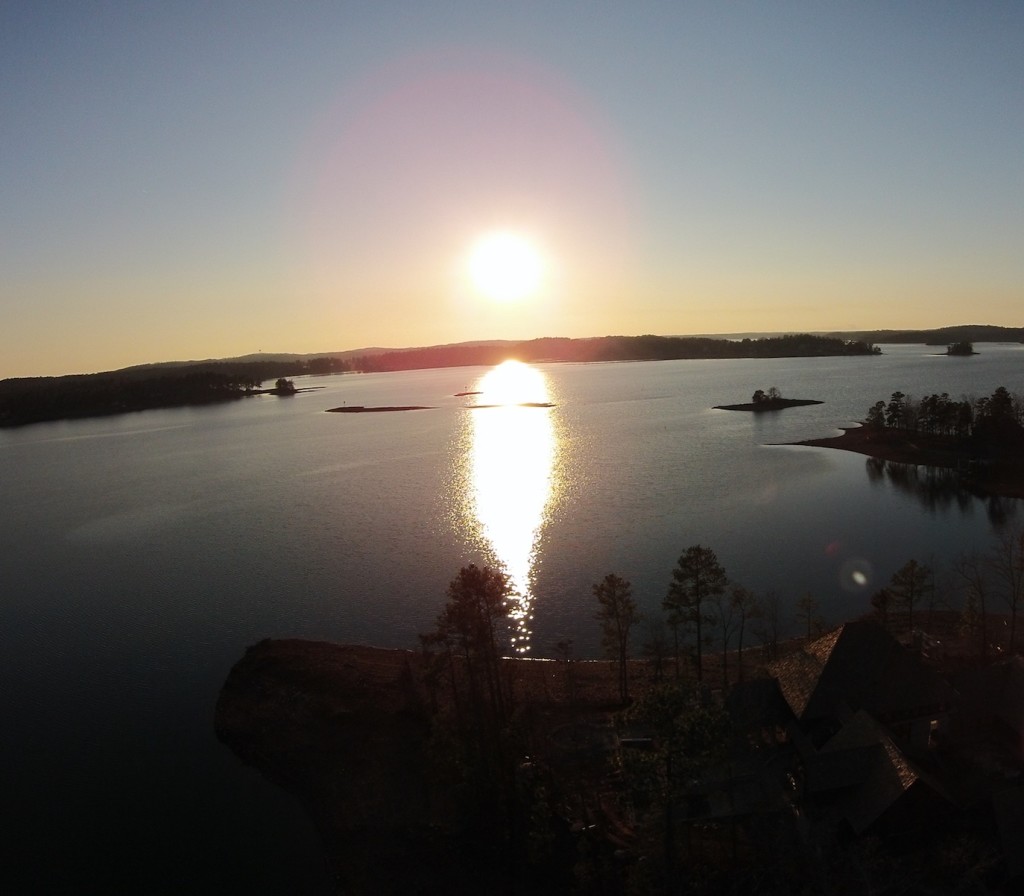 The Dixie Sailing Club has been around a long time – over 50 years. For more info about scheduled cruising, racing or sailing with the club – visit their website or send an email to [email protected] or find them on Facebook.
Interested in the current Lake Martin water level? Or Lake Martin area weather? Also want to keep up with events from around the lake, places to eat, homes and lots for sale, where to shop, marinas around the lake, places to have fun, and more? Check out the Lake Martin Voice app!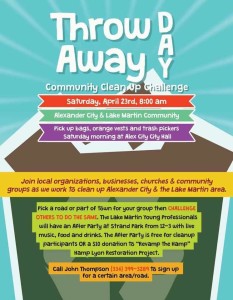 Ready to do some Spring Cleaning in the Lake Martin area? Join area civic clubs, companies, youth groups and other residents on Saturday, April 23 for a county wide cleanup.  Read about the first ever county wide clean up from the Alex City Outlook.
Interested in a little competition?  Challenge other groups to pick a road or part of town. Call John Thompson (334) 399-3289 to sign up for a certain area or road.  Celebrate at The After Party at Strand Park from 12-3 – free for clean up participants.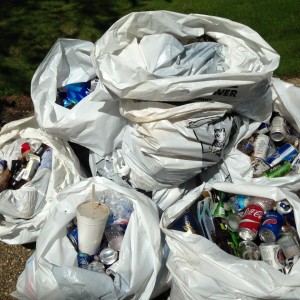 Pick up bags, orange vests and trash pickers Saturday morning at Alexander City City Hall.
Help us make the Lake Martin area beautiful and clean this Spring!
Would you like to know the easiest way to keep up with events around Lake Martin? Download our free Lake Martin Voice App and stay current!
The missing piece of what puzzle you may ask?  The Coffee Corner located at 107 Main Street in historic downtown Alex City was the winner of the first ever MainStreet Alexander City Missing Piece Business Competition. The contest,  sponsored by the downtown merchants organization was awarded to The Coffee Corner in summer 2015.  To read more about this new restaurant and the Missing Piece competition check out these links.
I shot the video (above) in December, hence our reference to Christmas, but this is a good idea for a gift card any time of the year.
I like this spot and decided that the Cafe' Au Lait is my favorite.  They are fully open now and serving breakfast and lunch too.  Please go by and enjoy coffee, a sandwich or salad.
Located at the corner of Main Street and Alabama Street in historic downtown Alex City – for a map click here.
To keep up with their latest events, daily brew or new additions to the menu  (the Oreo Delight frappe' looks soooo good) check out their Facebook page or call them at 256-392-4999.
If you want to keep up with new restaurants in the area, or just find a new place to grab a bite to eat, check out our "Eats" tab on the Lake Martin Voice Realty App.
The Lake Martin Voice app is available in the Apple App Store and on Google Play for Androids.
Click here for more information about our app!
Happy Plug Day 2016 Lake Martin!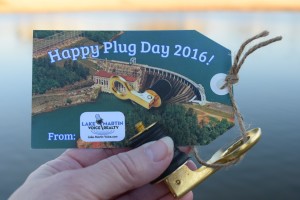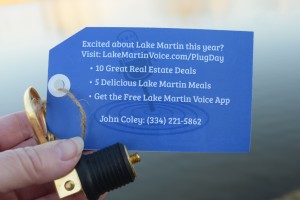 Plug Day on Lake Martin is when we celebrate the annual rising of the water towards full pool. In 2016, that day is March 1.
Question from John Q. Cynic: Is it a tad silly to celebrate when the water starts coming up? I mean, given all of the important issues in the world today, should we really take time out to cheer the annual, repetitive raising of one lake in central Alabama?
To the inquisitor, I respond, "Lighten up, Francis."
Sure, the water comes up every year, and, with one extreme drought exception, stays up until well into the fall. And sure, we fans of Lake Martin have no real control over it. But it's still fun to celebrate.
And to all the Eeyores out there that can't have a little fun, that can't be happy at witnessing one of the first signs of the spring, I say, I am sad for you on the inside. Have you tasted not the joy of warm water and warm weather? Is your heart so encrusted with malaise,  your eyes so jaded that you see not the spark of renewal that is Spring?
For the vast majority rest of us who give three cheers on Plug Day, we say a collective "Yee-Haw!" We are happy that Lake Martin is on the way up to full pool.
Looking around nationally, some real estate blogs and the agents who who write them are so serious they sound like a Warren Buffet annual report. Other agents are so in-your-face aggressive that I'd be scared to ride in the same car with them. Still other realtors come across as so dippy, fluffy, and bland that I'd wonder if they have any thoughts beyond how awesome their latest glamor shot looks.
Since I sell real estate in a second home market here at Lake Martin, I try to be informative, but I also realize that Lake Martin is mostly about fun. Pretty much all about spending time with your family and friends. S'mores. Cannonballs. Preacher's Seats. Escaping the occasional horse fly. Barbecuing ribs. The smearing of sunblock. Sunset selfies. Ribbon sandwiches. Falling asleep on the boat.  Smacking each other with those foam noodles. Falling asleep in the hammock and burning the hamburgers.
My role as a real estate agent here is to help people find their happy place, or help people sell it when the time is (regretfully) right. That's it. It's that simple.
Happy Plug Day, Lake Martin!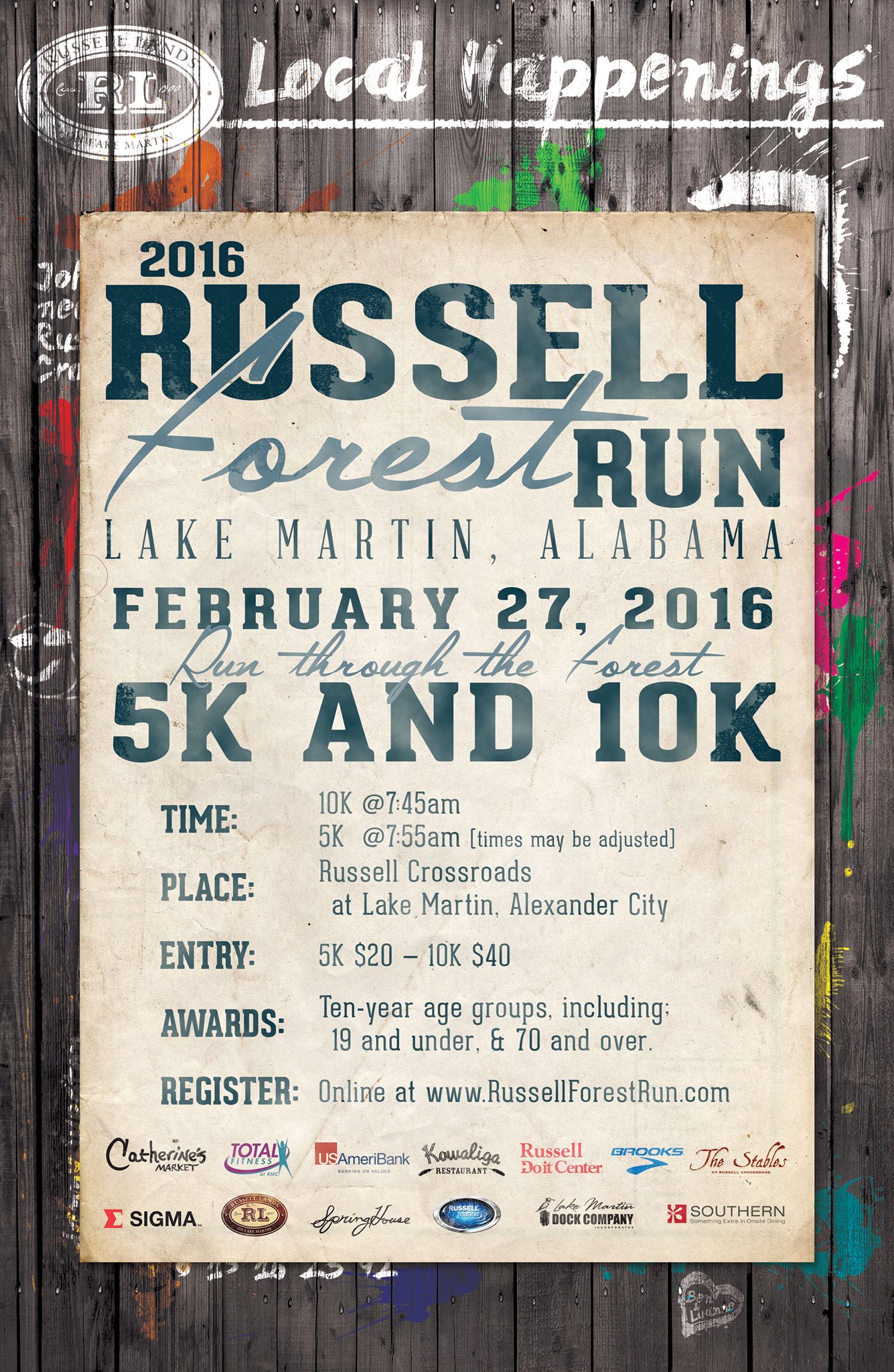 The 7th Annual Russell Forest Run is Saturday, February 27th, 2016. Register Here
The Russell Forest Run is held in Russell Forest, and is a great event for local charities. Runners will be treated to beautiful scenery around Lake Martin as they jog (or walk) along dirt roads, through the forest around the Kowaliga area of Lake Martin. Catherine's Market is right at the starting line in case you'd just like to watch the fun.
It is a really laid back event. The whole community comes out to watch the festivities. I am not sure if I will be able to run this year, I have some appointments that morning, but I am going to try, because it is such a cool event.
You could make a pretty strong argument that the post race meal is worth the price alone, and that everything else is free.
For those of you who are not familiar with the setup, here's the description from the official website:
"The Run is an out and back race that carries runners on a certified course(USATF AL10003JD) over sand, clay, and gravel roads that were designed for runners, bicycles and electric cars. The scenic route starts at Russell Crossroads, takes runners near Kob's Knob, up to Heaven, and back to the finish line at Russell Crossroads. The 10K will start promptly at 7:45 with a cannon shot from the Town Green at Russell Crossroads. The 5K route follows the first 2 miles and finish of the 10K route and is an out and back run. The 5K also starts with the cannon blast at 7:55.
Following the Russell Forest Run there will be a post-race party at The Stables complete with our Famous Grits Bar, ice cold beer, the awards ceremony, music, giveaways and more.
Event details and schedule
10K-Individual Age/Group open   $40
5K – Individual Age/Group open   $20
Online registration will continue until midnight February 25th. The Russell Forest Run 10K is an out and back "chip timed" run. There is plenty of parking on site and a shuttle is available for those who may need it. Please allow yourself plenty of time to get to the site. The 10K will begin PROMPTLY at 7:45 and the 5K approximately TEN minutes later!
Packet Pickup will be Friday February 26th from 4-6pm and Saturday from 6-7am at the Discovery Center at Russell Crossroads!
Click Here for more information and to register."
Would you like to know the easiest way to keep up with events around Lake Martin? Download our free Lake Martin Voice App and stay current!

 Alex City Jazz Fest– the Lake Martin area annual music festival that is free to the public – has been scheduled for Friday June 10th and Saturday June 11th, 2016.  Mark your calendars and plan to be in the area, because, as always, some great bands will be on hand to entertain you.
And if you are feeling creative as you think about all that great music, enter the Jazz Fest Art Contest. See below for details on the contest and stay tuned for more info click here for their website  or  click here for their Facebook Page.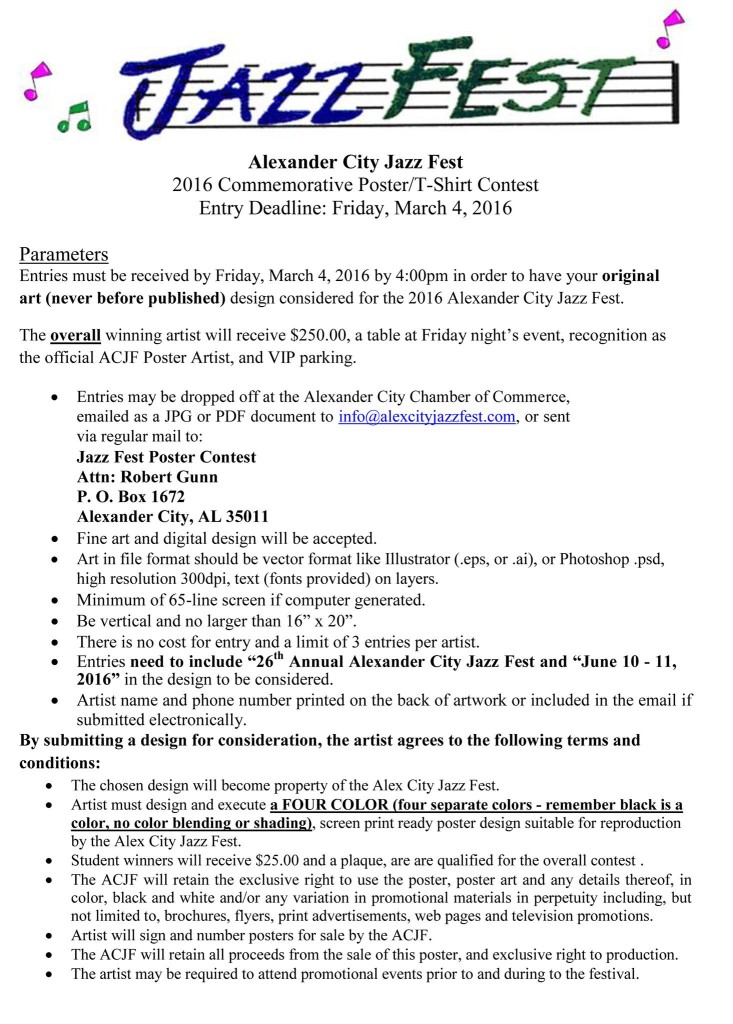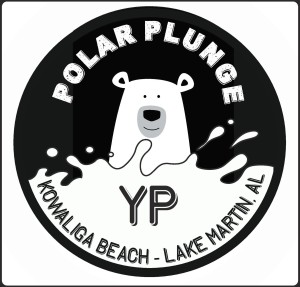 Brrrr.  Ready to take the plunge? Come join the Lake Martin Young Professionals on Saturday, January 23 at 11:00 AM and take the polar plunge while helping raise funds for the Lake Martin Resource Association (LMRA).
The LMRA has been working to promote, preserve and protect Lake Martin since its origination in 1970.
"We are going to do a count down," Jacob Meacham of LMYP said. "At noon everyone will take the plunge together. Then we will have four hours of music from local musicians. Kowaliga Restaurant will be there as well with food and drink."
It costs $10 to attend, $20 to get a t-shirt and plunge and $30 to get a t-shirt and not plunge.
It is open to all ages with fun and games for the entire family.
For more info, see the Lake Martin Young Professionals' Facebook page here.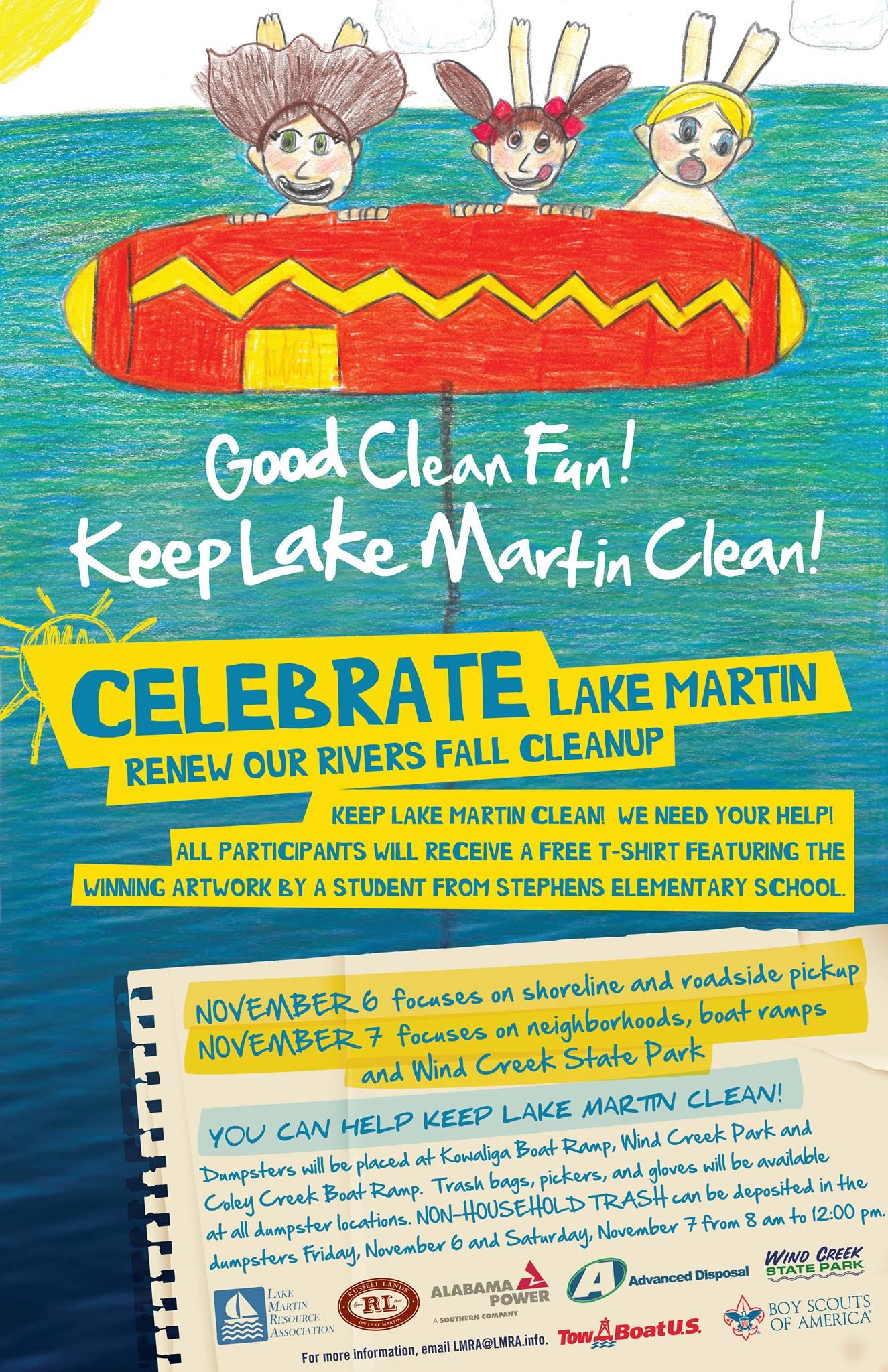 Here's your chance to help keep Lake Martin beautiful!
Every year the Renew Our Rivers event helps organize volunteers to clean up litter around the Lake Martin area. Do you love Lake Martin? Then love on it a bit today and tomorrow by helping keep it clean.
November 6, 2015 Focuses on Shoreline and Roadside pickup
November 7, 2015 Focuses on neighborhoods, boat ramps, and Wind Creek State Park
Dumpsters will be placed at Kowaliga Bridge (highway 63 around mile marker 12), Wind Creek State Park, and Coley Creek Boat Ramp. Trash Bags, pickers, and gloves will be available at all dumpster locations. Non household trash can be deposited in the dumpsters Friday, November 6, and Saturday, November 7, from 8 am to noon.
This event is sponsored by many great associations, including our friends at LMRA, Russell Lands, Alabama Power, and TowBoat US Lake Martin.
For more info see LMRA or contact [email protected] with any questions.
Lake Martin, Alabama has awesome striped bass fishing in the fall.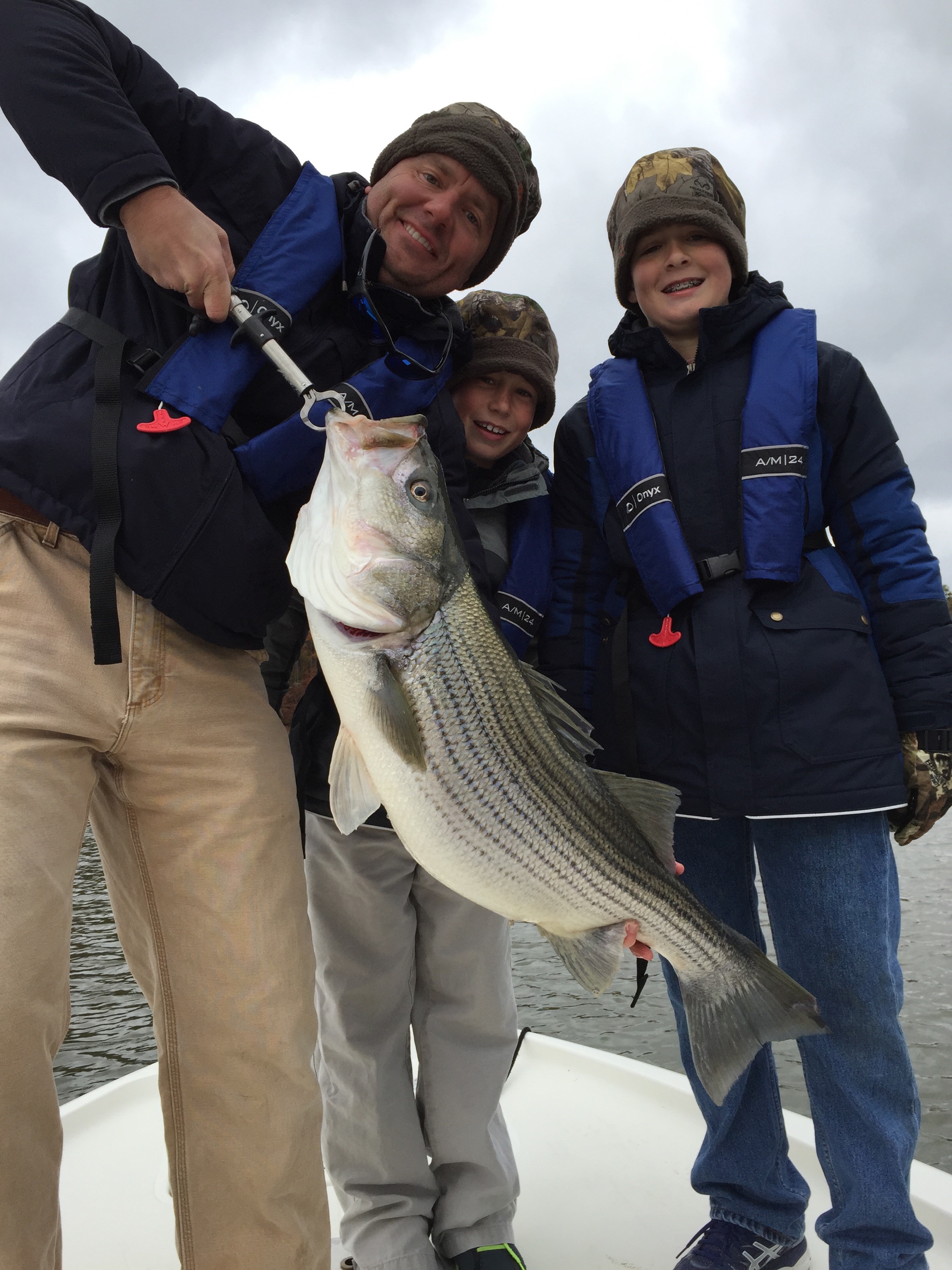 Here at Lake Martin we are proud to be one of the best freshwater fisheries for the Striped Bass in the USA. Fall is one of the best times to fish for them since the water temperatures cool down and the big boys come up from the depths. Above is a picture of a nice striper that one of my sons caught this time last year. We had a cold snap in the middle of last October and it was chilly, but the fishing was awesome!!
I continue to try and crack the code on how to reliably catch striped bass on Lake Martin with my fly rod. If anyone out there has any tips- please contact me here or call at the number at the top of the page and let me know!!
I recently found this article that gives some really good tips for fly fishing for saltwater stripes on inland lakes. Here's another one (featuring none other than Dave Whitlock) that gives a plug for Lake Martin: Fly Fisherman Magazine. I also have discovered a ton of great fly tiers online – like Brandon Bailes of Panther Branch Bugs.
One great tip I have seen online is to hook up with and learn from the local guides, no matter their fishing method. The above saltwater striped bass was caught when I was being guided by David Hare of Alex City Guide Service. David fishes with bait most of the time, but he has an unparalleled knowledge of the stripers on Lake Martin. Therefore, I pay close attention to what he says! Here are his two most recent Lake Martin Striped Bass fishing reports. They tell you what to expect when fishing in November, and then October (because I was too slow to post it last month). If you have any questions, please contact David directly at:
Alex City Guide Service
Captain David Hare
256-401-3089
[email protected]
Lake Martin Striped Bass November Report, By David Hare
Date Written: October 13, 2015
Water Levels 487.15 (490.00 full pool)
Clarity / Clear to very clear
Surface Temp: 70* – 74*
November starts my favorite time for big, big stripers! In fact for the next 8 months the day trips will be awesome!!!!! With water temps cooling down I will be focusing on the biggest of the big stripers by spending most of my time in shallower areas of Lake Martin, then the creek channels, and for sure not overlooking the river channel. Each day I will prepare my bait well with different size baits but making sure I load some of my largest shad I have.
Every year around this time I read articles that some say the bite slows down in the winter because of the fish's metabolism! Well maybe for some but for the fish that I target (trophy stripers) my action and bites actually seem to get much better. It seems to never fail that we keep our taxidermist plenty of work through out the winter.
If you have trouble with boating stripers just try your luck with much bigger baits including much bigger artificial baits. Again, don't rely on all big bait but as I fish 6 rods or baits at a time I will always have at least 4 of the 6 loaded with bigger size baits.
Until next time get off that couch and get on the water for a big fish!
As always call me for your trip of a lifetime.
Lake Martin Striped Bass October Report, By David Hare
Date Written: September 11, 2015
Water Level: 488.3 (full pool 490.00)
Very Clear on lower end to clear on upper end
Surface Temp 82*-85.5*
Sitting here on my deck next to the water, there's a nice breeze coming across the water and feeling early fall in the air. Dressed with a long sleeve shirt on which actually feels good and makes me want to start my fall fishing pattern but I know I actually have several more days before the water temps get me or I should say get the fish in the fall pattern. By the time you're reading this hopefully water temps have fallen and the stripers have once again started that transition to a new feeding pattern on Lake Martin. Every October, I burn more gas than any other month of the year just staying on these fast moving creatures. Each day can be a different location for catching so I always tell my clients patience as always is the key to landing these monsters and October can definitely test even the most patient fisherman. However, don't worry! We still come to the docks most days with great catches just a little more gas burned, a little more patience used up and several more baits used up.
Do not overlook any area of the lake this month when fishing, this is one month you are liable to catch a striper anywhere and anytime of the day and yes night too! That's right, not all stripers are going to switch to the day bite at the same time so if you're a night owl get out there and boat yourself a night time monster!
All of our bass guides are excited because they say fall bass fishing is awesome here on Lake Martin and produces some very large bags of spotted bass. They will be spending a lot of time in the mouths of creeks in search of the amazing fish. Break out your spinner baits and go see what you can put in your boat. Be prepared for that monster strike from a striper while doing this because, yes, Lake Martin striped bass will blow up on a spinner bait. Just 3 years ago I was talking to a bass fisherman that had boated a 42 pound striper on a spinner bait that morning near the Wind Creek boat ramp area.
For you laid back fisherman that don't care what bites as long as something is pulling on the line I would suggest trolling some crank baits that run several different depths. By doing this trolling method you are liable to catch big stripe, white bass, crappie and yes, spotted bass! If I didn't have a umbrella rig I would go purchase a couple to put out while I was trolling. Better yet, put one big rig and one Alabama rig out (much smaller) at the same time to increase your chances, I think you will be pleased at the results. In October, the best trolling speeds is 2.5 mph to 3.5 mph.
As always folks, wear a PFD (life jacket), show respect for fellow fishermen, and be a defensive driver. Constantly watch out for other boaters and for sure this time of year the shallow spots that you do not have in the summer.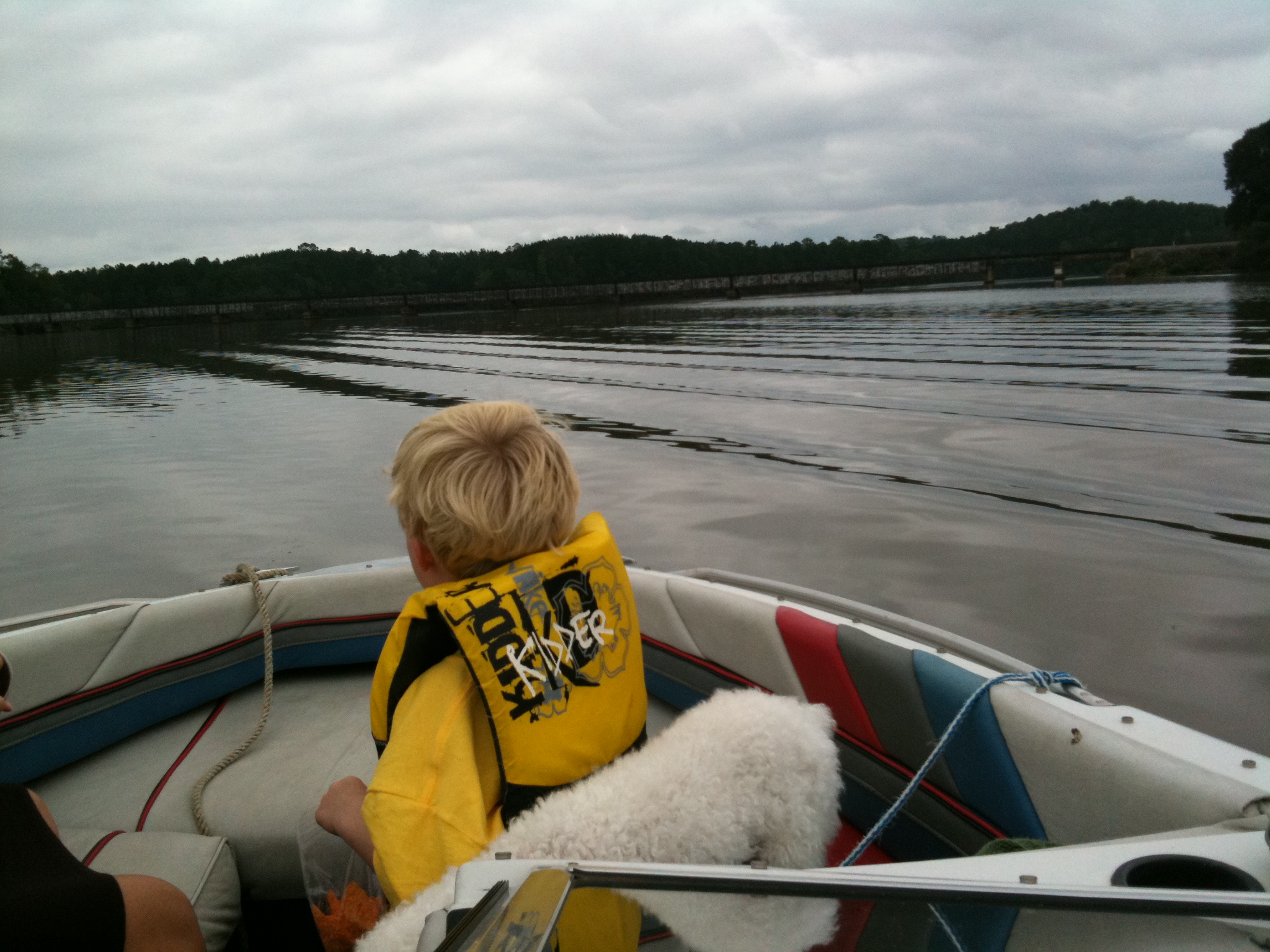 Lake Martin, Alabama, is the place to be on Labor Day.
What else would you expect me to say? I sell real estate here at Lake Martin. But the truth it the truth.
Here are a few things to do, a few events around Lake Martin for Labor Day 2015.  Keep in mind, they are not in order of importance, just order as they come to mind. If you want the best way to keep up with Lake Martin events, and an easy way to find the restaurants, shops, and landmarks I mention, download my FREE APP here.
Lake Martin Labor Day Weekend To Do list:
Friday Night On the Green – at Russell Crossroads
Saturday Pancake Breakfast – at Russell Crossroads
Saturday Lunch into Afternoon – watch football at The Landing at Parker Creek
Saturday Night – get your carb on at Lake Martin Pizza Co. or Oskar's.
Sunday Night – Concert at The Amp – Railroad Earth is the headliner but my money is on the Vegabonds.
The above are all pretty easy spots to find. Are you up for more of a challenge?
If so, then pierce the mysteries of NOCR – North Of Chimney Rock, that is. There is a movement among its adherents that NOCR is always the choice of the Lake Martin fan with discriminating tastes. It's been described as "the non-palooza side of the lake."
OK.
So I will announce a few of its treasures with decided non-palooza vagueness. No websites. No hashtags:
Peanut Point
That Ice Cream Place at Wind Creek Park
Smith Mountain Fire Tower
Tying up at the railroad trestle
An alternative to all of this is to go on a boat ride, 1970s style. In the 1970s, little grasshoppers, there were no cell phones. There were no land line phones, either, pretty much, because there was no sense in paying for service (and leasing a phone) for only half of the year. So when we went to see friends, we could not call them to see if they were there ahead of time. We just drove over there, totally without notice and without a sound track. We were also probably drinking real Cokes, too.
Downside – yes, there were strikeouts. But the upside is that when you found someone at home, it was a real treat. As the person who is potentially being visited, I can tell you it is great. Back in the 70s, when you saw another boat driving towards you in your slough, well, it was better than a package from Amazon.