Archive for the 'Events' Category
Friday May 22 was the Grand Opening of a new restaurant – Lake Martin Pizza! If you would like to call them, their number is (256) 373-3337 and they are located at 5095 Highway 49 S, Dadeville. Basically it's at the shopping center that is at the corner of Highway 49 and Tallapoosa County road 34. For their info see their: facebook page.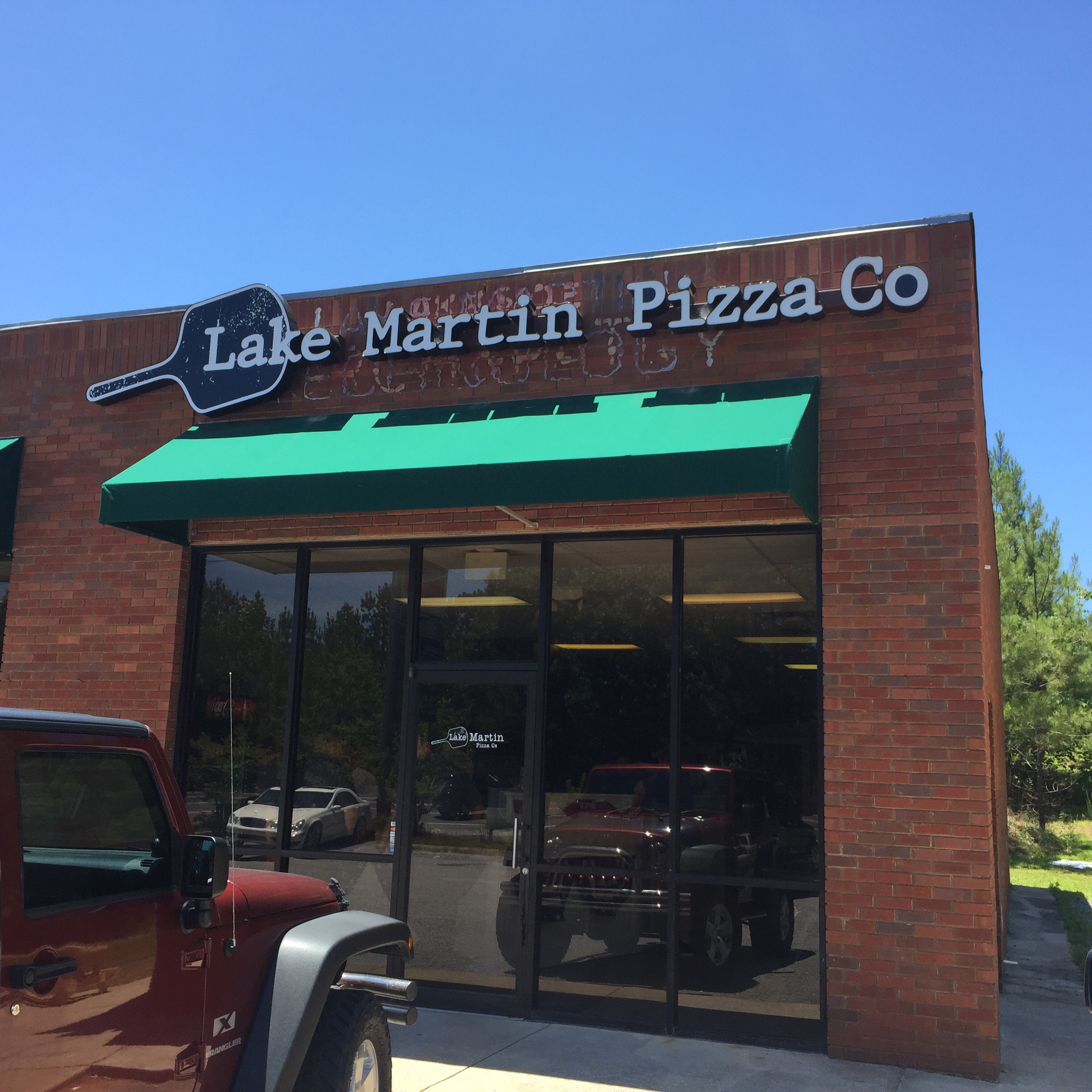 I am happy to report that their pizza is great! I ordered the "Kira's Favorite"– it was a sorta white pizza. It had chicken, pesto, feta, garlic, onions, and sun dried tomatoes. I really enjoyed it as well as the garlic rolls I got. I am not normally a garlic and onions guy but these were not overpowering. They are tasty!
They make their dough and sauce fresh each day and use as many local products as possible.
Plug for my free Lake Martin Voice app:
If you would like the easiest way to see the best Lake Martin area restaurants, on and off the water, plus their hours, their locations, and their menus, please download my Lake Martin Voice app. It's free, available on Apple, Android, and Kindle. Plus it is the best way to see all Lake Martin area events, weather, Marinas, and of course, the best mobile real estate search! CLICK HERE for the Lake Martin Voice App!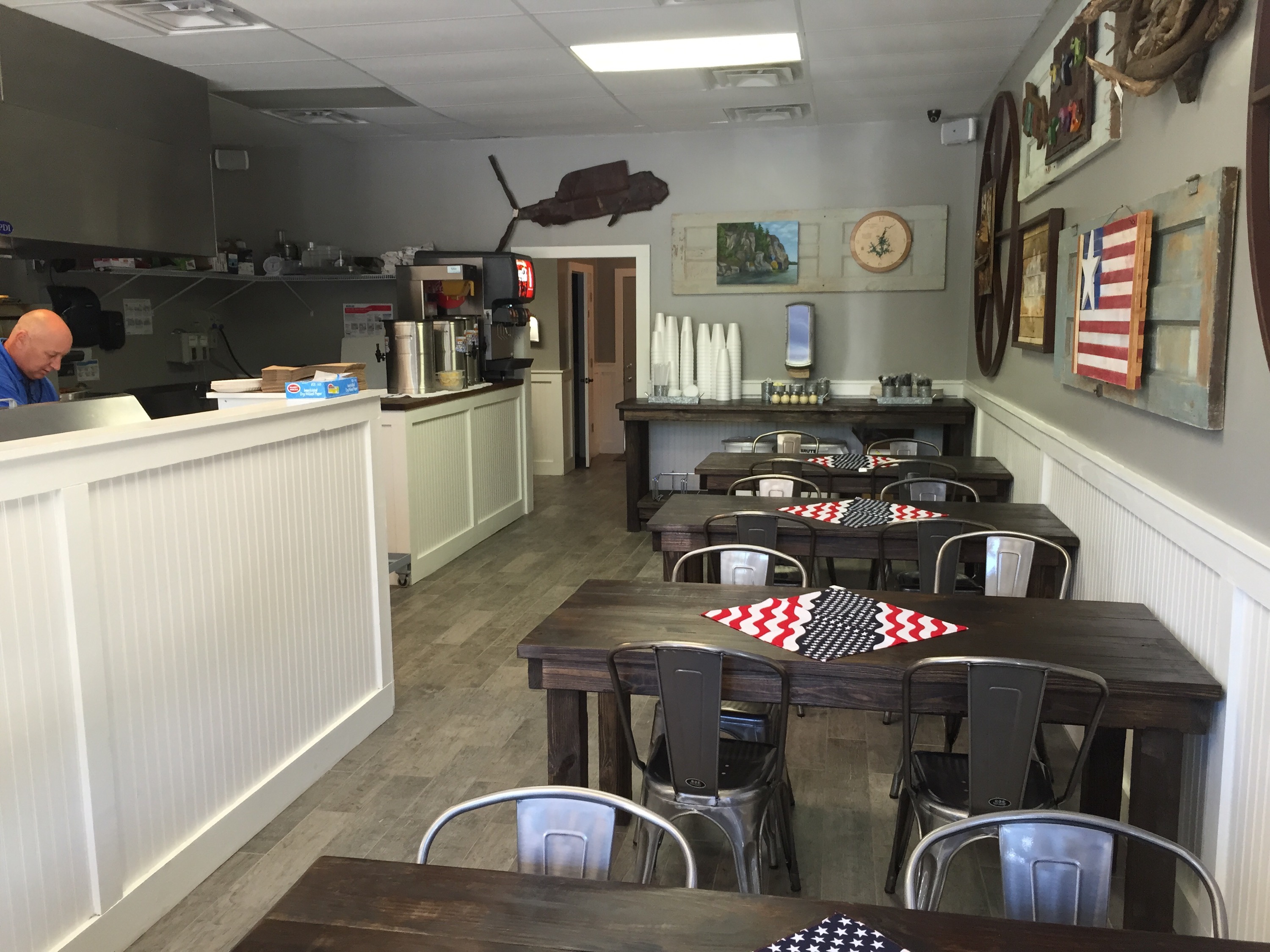 Future Plans for Lake Martin Pizza
I talked to the owner and here are his very near future plans:
Wine Bar – will serve beer and wine. Maybe a speciality drink, but the focus will be on wine and beer
Outside seating – they are creating a covered patio area to the side so they will have outside seating and a guitar player on weekends
There are a lot of great events and things going on at Lake Martin this year for Memorial Day 2015!
I would like to list some, not all of them below.
The best way to keep up with all events at Lake Martin is to download my FREE app, Lake Martin Voice.  Here's a quick video of how it works for Events:
The app is available for iOS in the Apple Store and Android also. Like I said, it's FREE. The app also has a quick guide to Lake Martin area restaurants, marinas, a real estate search, weather, and more.


Memorial Day Events for Lake Martin
Art on The Lake – is at Children's Harbor near Kowaliga Bridge. It is one of my favorite events all summer because they showcase the rich trove of artistic talent that is around the Lake Martin area. Plus, Children's Harbor is a charity near and dear to many hearts. It's on Saturday and Sunday, starting at 9 am. My tip is to go to the pancake breakfast below at 8 am on Saturday, then go to at 9 to Art on the Lake.
Crossroads Pancake Breakfast – at Russell Crossroads. It's $5, cash or check, and the proceeds go to the Crossroads garden. Saturday 8 AM – 9:30 AM.
Chuck's Marina – Chuck's Marina has really stepped up their game this year. They have added another oven to crank out more pizzas, and they have live music every weekend. Unless you download my app, Chuck's Facebook page is the best way to keep up with their music schedule. Friday and Saturday night, 8 PM to 11 PM, Friday and Saturday.
RXR Fest – Russell Lands is starting a new tradition called RXR Fest – music and fun and activities around Russell Crossroads and the Green at Catherine's.
But Seriously, please download my free app!
It gives you so much more than just Events.


This Saturday, May 30, is this year's installment of "Paddle for a Purpose." This annual stand up paddle board race is also a fund raiser for Children's Harbor, one of Lake Martin's most popular charities.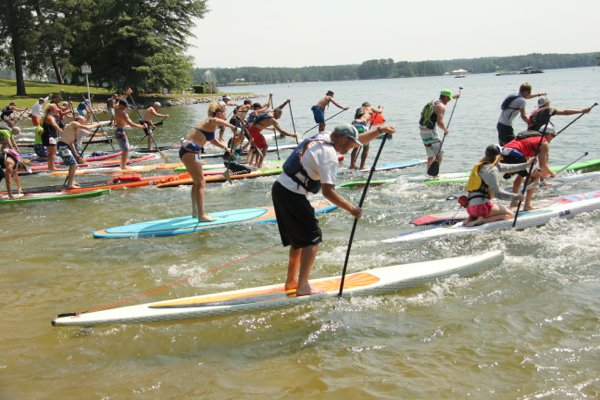 This SUP race is also part of a three race series called "SUP the South." This means that lots of paddlers from around the southeast will be on hand at Children's Harbor. The first leg of the series was in Bay Saint Louis, Mississippi. The Lake Martin race on May 30 is the middle, and the triple crown closes in Destin, Florida, on June 20, 2015.
Racers will have a choice of a 1 mile fun race, a 3 mile, and a 6 miler.
RACE MEETING AT 8:30 AM – FIRST RACE AT 9:00 AM
How To Register for Lake Martin's Paddle For a Purpose
CLICK HERE to register for the Lake Martin Race.
For more information on the series, see this Facebook Page.
Last year, one of my sons raced in the one miler. This year the other one will! We are every excited about the event and Lake Martin Voice is proud to be a sponsor again this year.
Other big sponsors are Bote Paddleboards, and my friends at Lake Martin Dock Company. I bought my Bote at Lake Martin Dock. I get asked a lot about what board I have, it is the 12 foot HD. I really like it because it's flexible, – I can do about anything with it. I fish from it, paddle around for fun, and even occasionally race. I haven't done yoga from it yet, but would love to try.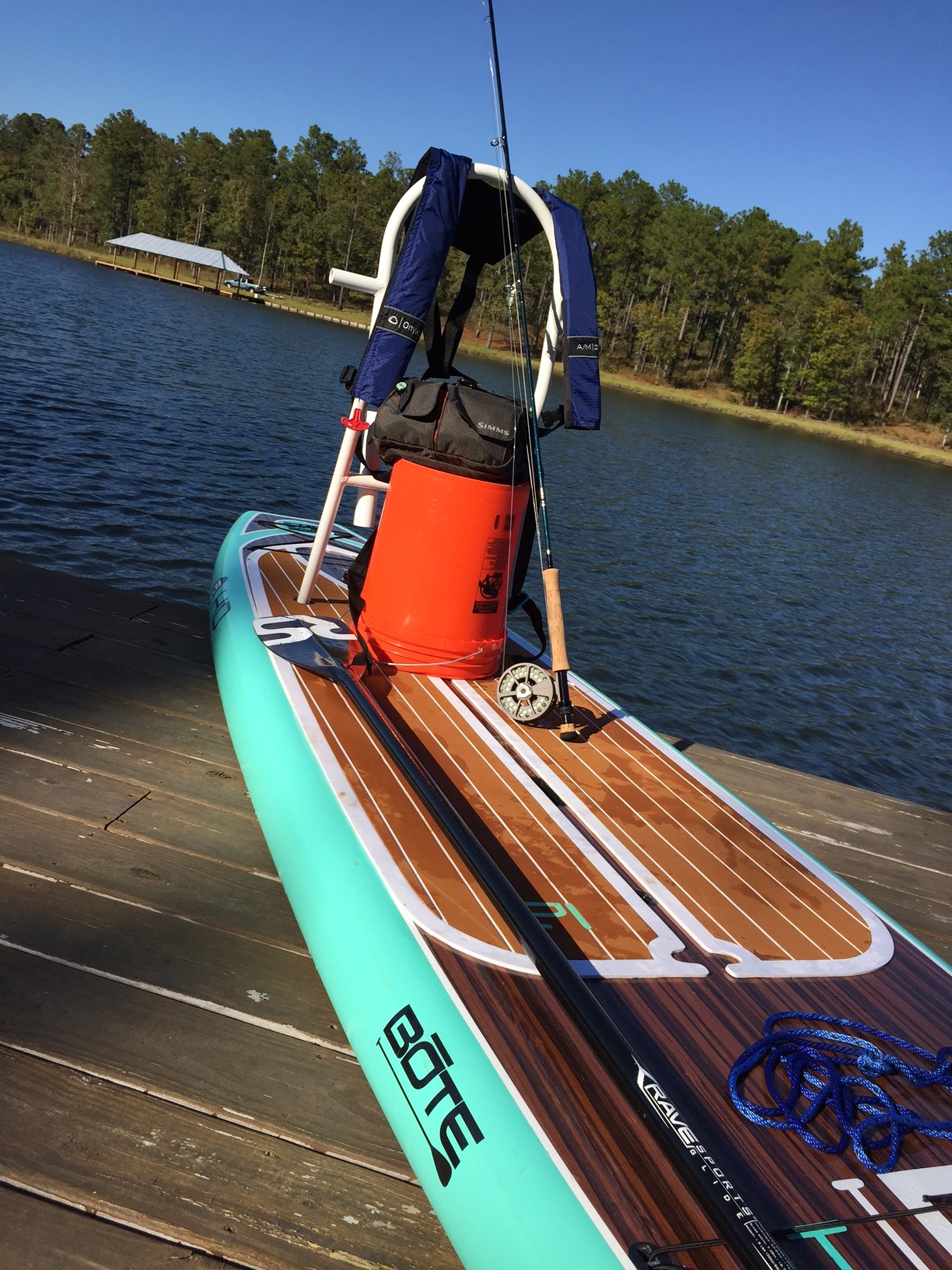 Here's a link to a post I wrote about my  fly fishing setup for my paddleboard. I am on a multi year quest to learn to consistently catch Lake Martin striped bass, on my fly rod, from my paddle board. It's a work in progress! Maybe I can pick up some tips from the pros this weekend.
If you have any pointers, I would love to hear them!
We are pleased to announce a brand new free app for the Lake Martin area!   The Lake Martin Voice app is your mobile guide to the Lake Martin, Alabama, area. We offer mobile waterfront real estate search and events, mapped guides to restaurants (with menus), shops, weather, and much more!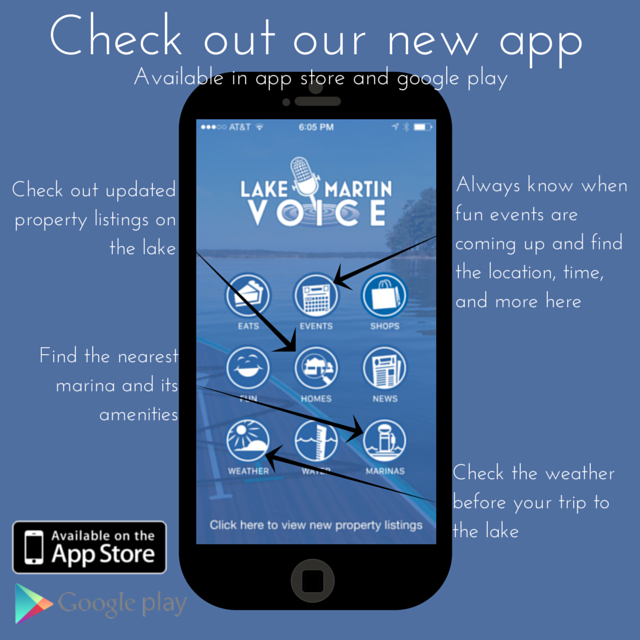 As you can see above, the different tabs you can click through to navigate and learn more about what's near you or happening at the lake are:
Homes – every single home & lot for sale in the Lake Martin MLS, at your fingertips. Use our fast searches like "New Listings" or "Price Drops" or create your own custom search. Cruise by boat and see what's for sale around you if you share your location with the app.
Eats – Restaurants on and off the water around Lake Martin, mapped, with menus
Events – what's going on this week? Next month? Click and scroll to find out.
Fun – Other things to do like where to hike, where to bike, boat ramps, golf courses, churches, and more.
Weather & Water – conditions right now at Lake Martin.
Marinas – mapped locations of all Marinas, plus contact info. Share your location with the app and see where you are, too!
Shops – retail therapy locations on and off water
News – the skinny on Lake Martin stuff
For example, here's what the "Eats" section looks like. If you share your location, you can see where you are in relation to the restaurants. I snapped this screen shot when I was over on the east side of Lake Martin. If you want to browse around the map, you can. Or, if you want to scroll through the list at the bottom, you can do that to. Your call!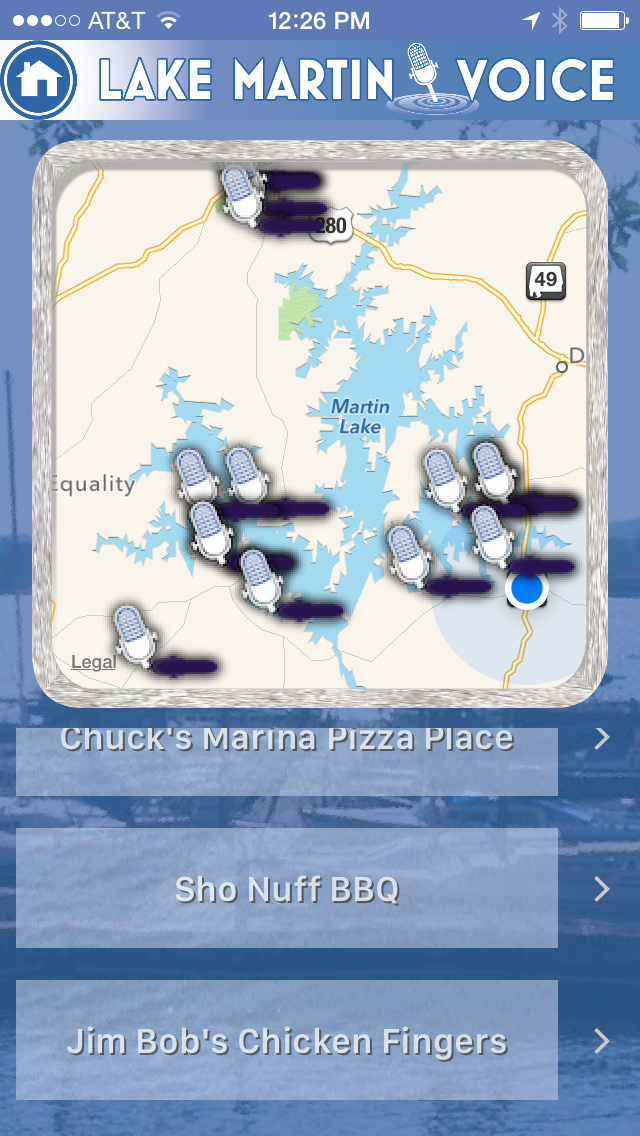 The Shops, Eats, and Marinas sections all work similarly, in that you can browse by map or by list. Every single Lake Martin marina is listed, but you will notice not every restaurant and store are. We purposely left out big chains like Wal-Mart or McDonalds. Nothing against them, but there are plenty of maps and apps that can help you find them easily. Our goal here is to make a special point to mention the locally owned businesses that are so frequently overlooked by visitors. For that matter, there are Alex City folks that are unfamiliar with the Dadeville side, and vice versa, so hopefully it helps them, too!
The Lake Martin Voice app is available in the Apple App Store and on Google Play for Androids.
For more information, please see our FAQ page at: Lake Martin Voice app FAQ 
If you want to request to have an event, restaurant, or shop listed in the app, you can fill out request forms below.
CLICK HERE to request for a shop be added.
CLICK HERE to request for an event to be added.
CLICK HERE to request for a restaurant to be added.
I'm sure you've already seen this on national news and the interwebs, but just in case, the breaking news around Lake Martin is that Kowaliga Kevin, the Poodle of Prognostication, has predicted twelve more weeks of summer here at Lake Martin. So even though the calendar says "Fall," – Mr. Kevin says we will have more summer to enjoy.
Here's the video of a local news department covering the event:
So there's no need to pack up and leave Lake Martin as the calendar ticks toward January first. You can have plenty to do and explore around Lake Martin in the cooler months, too. Now that Mr. Kevin has guaranteed the time, you can plan with confidence.
I have to say, after witnessing this event many years in a row, Kowaliga Kevin is always right. No offense to Punxsutawney Phil, but maybe dogs are better at this sort of thing.
Lately, when selling Lake Martin waterfront real estate, I'm talking a lot more about the growing number of off-the-water Lake Martin activities – things to do that add to the fun we have year round and simply make life here more convenient.  Our exceptional on-the-water activities are the obvious sell, so it's fun to get to brag on our fall, winter and spring attractions, too.  We are becoming a well-rounded second home market.
Take Russell Crossroads, for example.  There's been so much going on there this summer: Yoga on the Green, Friday night concerts, wine tastings.  But did you know that a lot of what Russell Crossroads offers is not summer specific – the restaurants, the grocery and deli shopping, the stables, the trails.  You can enjoy these all year long.
I realized I had not shot a video from Russell Crossroads in a couple of years, so here's quick, updated tour.  For buyers out there who are wondering what Lake Martin offers in the non-summer months, check it out:
I'm a full time Lake Martin real estate agent, and I can help you with any property in the Lake Martin Area MLS.  Give me a call (334 221 5862) and lets talk about making Lake Martin your year round vacation destination.
Related blog posts and videos:
Grab Your Bike and Meet Me at the Market
Russell Forest Trail Hike Video
How to Get to Catherine's Market by Boat
When at Springhouse, Follow Sam's Advice
Warning: Catherine's Market Has Ice Cream
Lake Martin's 4th of July fireworks at The Amp is the real deal.  In the Alex City Outlook, it's called "the Southeast's largest fireworks show."  Russell Lands puts on the event, and it runs a full thirty minutes, from 9:00 – 9:30 pm.  There are all kinds of ways to see this amazing show, but here is my two cents on my favorite way to watch.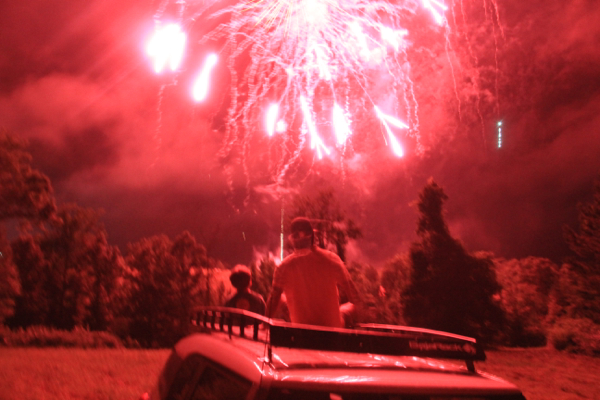 I like to watch them, on land, at the amphitheater.
But there are other options . . .
From the water viewing.  A lot of people like to watch from their boat in Kowaliga Bay.  The boats gathered for the show are themselves a beautiful sight – a city of lights on the water, growing as the skies darken.  Some boats stake out their spot early in the evening.  From the boat, it's a unique, amazing experience.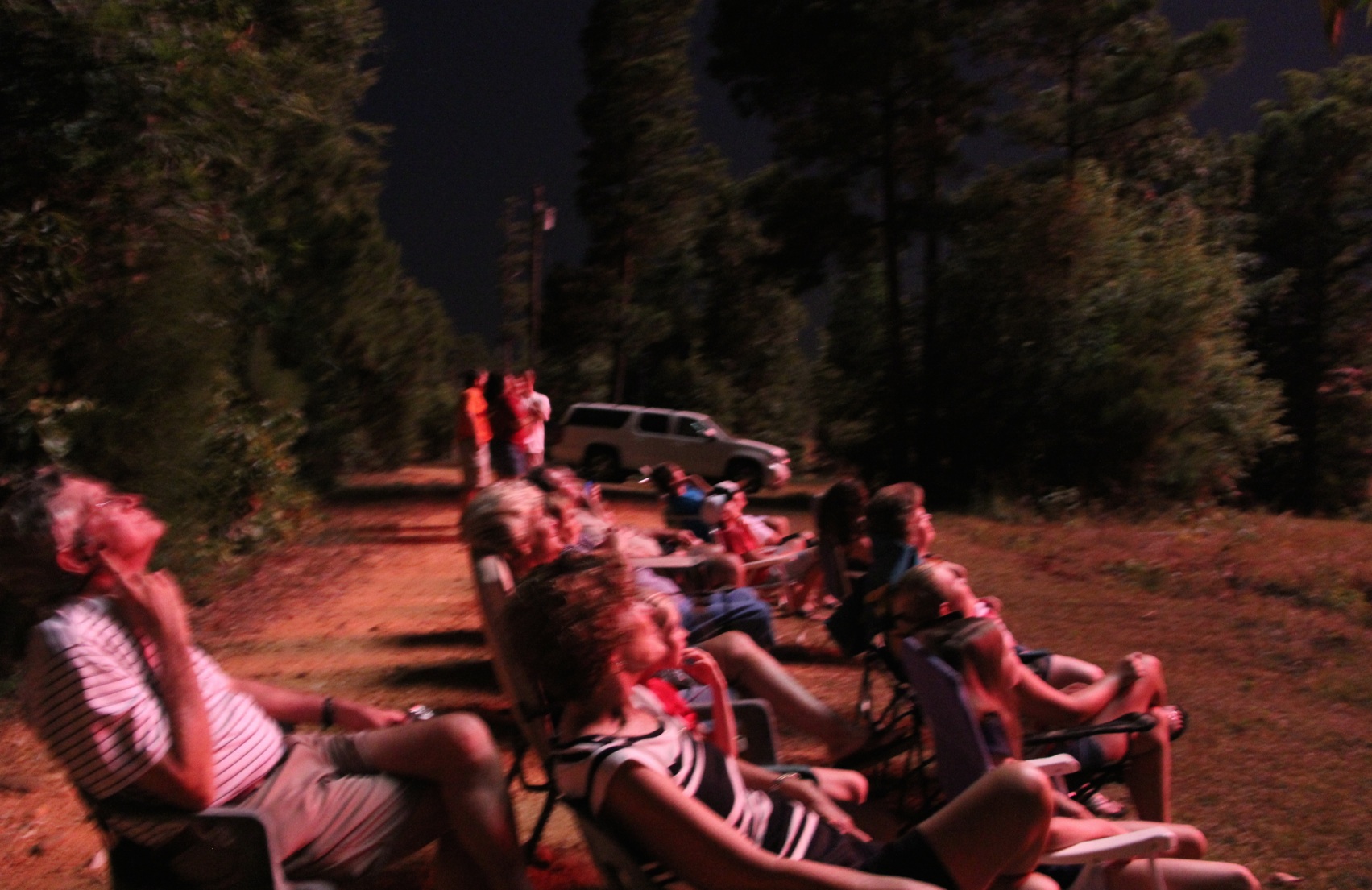 Some considerations when planning the boat/firework viewing are 1) the possibility of rain or thunderstorm, and 2) the boat traffic when the fireworks are over.  As far as storms go, it's July.  It happens.  The weather radar on your phone should help you make this decision.
And traffic-wise, it's dark when the show is over, and there are always those boat drivers who shouldn't be operating any kind of vehicle in their celebratory (yet patriotic) condition.  If you're coming from the east side of the lake, make sure you can navigate all the way home in the dark.  If you've never done it, it's harder than you think.  I would also add some words of caution that are best summarized in this post on the Boat US Site:
Boaters: Don't Let July 4th Be Your Undoing
Another alternative:  If you happen to have a lake home, or have a friend with a home close to the amphitheater and the Kowaliga Bay area, that's a great option. A lot of people can see the show from their house and don't have to worry about the drive home.  Call them now and promise to bring them food.
My vote for the best spot to watch the fireworks at Lake Martin is on land, at The AMP.
You can go as early as 4:30 for the concert that begins at 5:30 and features Nationwide Coverage with guests Sid Phelps and The Bank Walkers (click here for the $15 tickets).  You can go just to watch the fireworks and skip the concert – park for free in the amphitheater parking and watch from there.  (See the Outlook article for more info, or click here for The AMP's website. Please don't call me!)  You'll feel the booming down in your guts – there is so much exploding and blowing up in such close proximity.  And it really does last about 30 minutes.
Remember that you have to drive by car to the amphitheater – there is no water access for boaters.
No matter how you view the fireworks this year, please do it safely and responsibly, and have fun!
Are you spending the Independence Day holiday at Lake Martin?  July 4th is kind of a big deal around here.  In addition to all the regular Lake Martin water activities, here are a few other Lake Martin traditions to be a part of this year: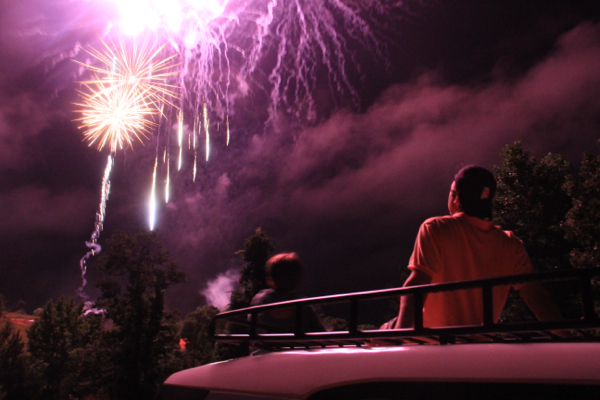 A huge Lake Martin tradition that takes place at The AMP (amphitheater).  Gates open on Friday at 5:30pm, the show starts at 6:30 pm, and the fireworks are at 9:00 pm.  This is a sho-nuff fireworks extravaganza – come prepared to be impressed.  Parking is free and watching the fireworks is free, but the concert is $15.  You can get tickets here.
I made a video of the setup several years ago, and I still think the whole process is really cool:
4th of July Boat Parade
10:00 am on the 4th.  It begins at Kowaliga Marina, crosses under Kowaliga Bridge, turns at Children's Harbor, and heads back to the marina.  To watch the parade, hop in your boat and check out the contestants.  They're being judged on all kinds of flag and patriotic-related categories: biggest flag, most flags, tallest flag, most patriotic, etc.  Sometimes they throw candy.  And by all means, enter the parade if that's your thing.  Registration is free at the Russell Lands marinas. Stop in by July 3rd or call (334) 857-2111.
Alas – this is a tradition that has sadly ended.  We used to go to Jim's on July 3rd and hear The King in the parking lot.  If anyone know where the Elvis impersonator is playing, please let me know.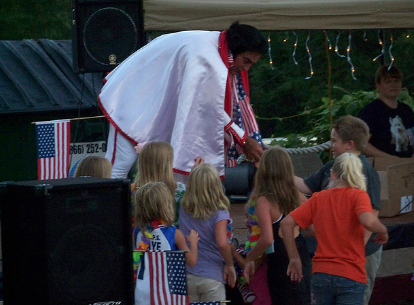 Floating Food
There's a new food boat out of Parker Creek marina.  I don't know much about it, but it's worth checking out.  If you find it and try it out, let us know!  The Nibbler's boat (totally separate boat) has some really good food and they're usually based out of The Ridge marina near the Chimney Rock area.
Crossroads Pancake Breakfast
Thursday, July 3rd.  8-10:30 am at the Arts Cabin at Russell Crossroads.  Last year my dad took us and tried to pay my kids $5 to kiss one of the horses on the mouth while he took a picture.  They declined, but another 10 year old boy at the next table said he'd do it.  And he did. 
Arti Gras
July 5th – Food, crafts and art vendors on the Town Green at Russell Crossroads.  Call (256) 212-1416 for more info.  I guess it's all day.
4th of July Parade at Blue Creek
The parade begins at 11:00am at the north end of Ponder Camp Road and ends at Niffers on Highway 49.  If you'd like to participate, bring your golf carts, bikes, motorcycles, trucks, etc.  Decorating begins at 10:00am at the top of the hill on Olona Drive.  Any questions contact Mickey Forbus at (334) 329-0905.
July 5th. If you're into farmer's market items like fresh produce, local honey, etc., the Farmer's Market in downtown Alexander City is every Saturday morning thru the end of October.  I paid them a visit a couple of summers ago:
Have a fun and safe 4th everyone!  If you're interested in real estate this week, feel free to give me at call at 334 221 5862.
That's right, the 2014 Alex City Jazz Fest is June 13th and 14th, and as always, it's a free weekend of great live music.
If you haven't been to Jazz Fest before, I know this sounds cliche, but it really is fun for all ages.
Friday night the concert is held outdoors in downtown Alex City.  Bring your lawn chairs and your food and drinks, and enjoy a laid back night of really good music.  Young families enjoy the bands while their kids run around the picnic blanket, groups of friends or coworkers set up amazing food and contest winning table decor, and the hip, young crowd stays late to close it down.
Saturday night is at The Amp overlooking beautiful Lake Martin.  Again, bring your lawn chairs, your coolers, and your blankets, and watch out if my dad tries to dance with you.  A designated driver is a good idea, both nights, and FYI, everyone has to get to The Amp by car.  There is no boat parking at this venue.
And it is FREE, thanks to the many local sponsors who make this happen, year after year.  We're proud to be a sponsor again this year.
Here's the schedule for the weekend.  Enjoy!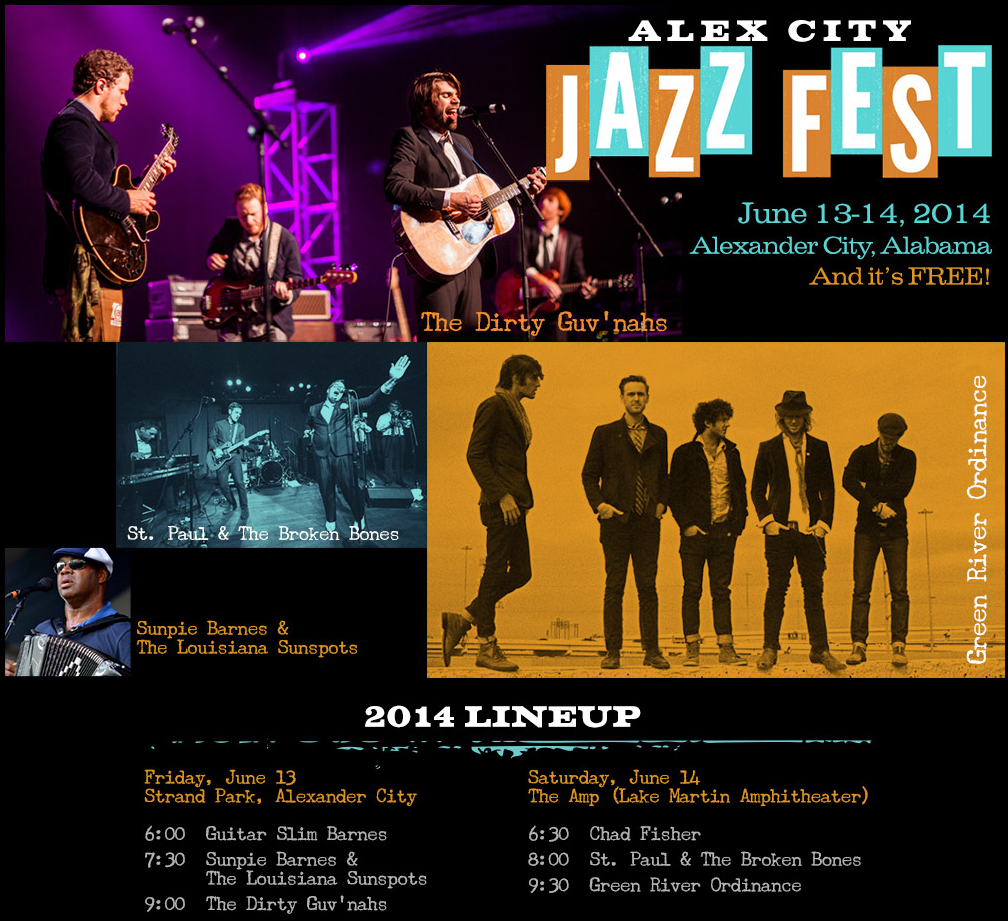 You may have heard – this Memorial Day weekend, there will not be a concert at Lake Martin's AMP.
However, music will abound at three other popular Lake Martin locations: Russell Crossroads, Chuck's Marina, and Harbor Docks Restaurant. Here's the basic info; click on the links provided or call the locations if you need more detail.
RXR Fest 2014 at the Crossroads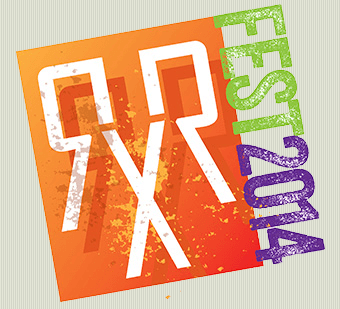 This is the first annual, three day musical event that will take place on the Town Green at Russell Crossroads.  The fun starts Friday afternoon from 6:30-9pm, then Saturday from 2:30-9pm, and Sunday from 2-5:30pm.  For more details and their lineup of musicians, click here or call Russell Lands at 256.329.0835.
You can get to Russell Crossroads by car or by boat, and if you haven't tried the boat route, it's an adventure in itself.  I'd go by boat, go early, because boat docking is limited at the pick up spot.
Chuck's Marina Summer Kickoff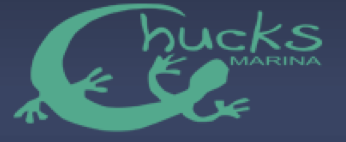 Grab some of Lake Martin's best pizza at Chuck's Marina, and celebrate the arrival of summer on Friday night- May 23rd.  Friday night favorites Bryan Jackson & Jake Corey are playing some of the best summer party music from 8-11pm.  You can like Chuck's on their Facebook page and keep up with events like this all year long.
For more information about Chuck's Marina, call (256) 825-6871.
Live Music at Harbor Docks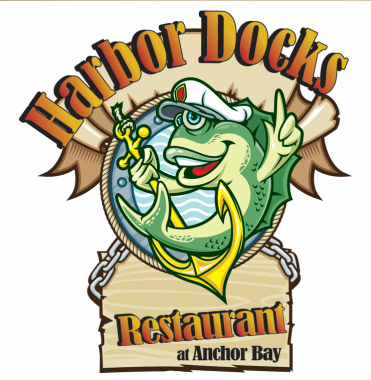 Harbor Docks Restaurant (next to Anchor Bay Marina) will have live music on their deck beginning at 7pm on Friday and Saturday nights.  On Friday night you'll find Kenny Herd, and on Saturday night, Alex Craig (formerly of Trotline). For more information about Harbor Docks, call 334-857-3635.
Happy Memorial Day, and enjoy your weekend, everyone!