Archive for the 'Lake Martin Living' Category
Bike rides and Lake Martin have not always gone together. Hey – we're not Peachtree City, GA, so you can't expect large sidewalks and easy peddling.  But lately, biking has gotten a lot better thanks to the cool new trails in Russell Forest.
I've got a beautiful waterfront Lake Martin listing in Windermere:  44 Fairwinds Circle.  It's a six bedroom home that's full of upgrades and amazing spaces for entertaining.  In addition to its coveted Windermere location, this home also has access to Russell Forest's trail system, and that opens up all kinds of off-the-water opportunities unique to Russell Lands neighborhoods.
With 44 Fairwinds Circle plus these trails on my mind, I employed the services of a non professional bike rider to video the adventure of riding bikes from Windermere to Catherine's Market at Russell Crossroads.  He accepted payment in the form of gelato.  Here it is:
While its not a trail I would recommend for kids riding Big Wheels and tricycles, it is a pretty easy ride.  The only time my biker had to hop off and push his bike was that last hill from the tunnel up to Russell Crossroads.  But then, he had also just competed in a paddle board race an hour before.  At any rate, it's a fun ride.
These trails link together the waterfront neighborhoods of Windermere, Windover, Windermere West and The Ridge to west side of Highway 63′s Willow Point.  The central hub of all of this is Russell Crossroads.  Right now the tunnel road is open to hikers, runners, bikers, golf cart and horse riders. I love the it.
I think these trails are especially transformational for Windermere, Windover, and Windermere West which do not have neighborhood amenities (pool, clubhouse, tennis courts, workout center, etc.).  The fact that you don't have to cross Highway 63 allows new things to happen.  Willow Point people can ride to The Ridge Marina on their golf carts.  People in The Ridge can mountain bike through the tunnel and explore Russell Forest trails.  Homeowners in Windermere and Windover neighborhoods can do all this, plus go to SpringHouse restaurant or Willow Point Country Club.  The ease and sense of community is a big bonus for the already great waterfront homes in these areas.
Here's the video tour of 44 Fairwinds Circle.  This home is exciting because homes in Windermere, in this price range, typically involve a lot of updating.  THIS HOME is move-in ready with that beautiful balance of rustic and modern design.  It made my job of videoing and photographing easy.
If you're interested in this home, or any waterfront property in the Lake Martin MLS, give me a call at 334  221 5862, email me at john @ lakemartinvoice (dot) com, or click here to contact me. 
HGTV fans everywhere discovered Lake Martin last night!
House Hunters featured Lake Martin on it's Memorial Day 2014 show.  As a Lake Martin realtor, I've talked to people from all over the world about Lake Martin's waterfront real estate – Africa, Turkey, Canada, Argentina, Mexico, and Red Hill, Alabama.   Lake Martin truly has a global reach, and this House Hunters episode is proof of that.

I'm assuming that everyone with a TV knows the premise of House Hunters.  I admit, I've had daydreams of bringing America to Lake Martin via this show.  I'm all about real estate video – I currently have 356 videos about Lake Martin real estate on my LakeMartinVoice Realty YouTube Channel!  But I was not the realtor on this House Hunters episode. Erin Johnson of RealtySouth's Auburn / Lake Martin office really did a fantastic job representing our area, so congratulations, Erin!  (The episode will air again on June 29 at 7:00pm eastern if you didn't catch it last night.)
A quick synopsis:
A couple from Helena, Alabama, scour the lake for a low maintenance home for their family of five.  Hubby Paul wants a "fish camp style" home, (which is what I call a cabin) with a big yard, and Neely wants a "cottage style" home with granite counter tops.  Will they ever agree?
After the show's introduction of characters, it gets interesting.  Their price range is the ever popular $350-400k range, and as the couple makes their way through the three homes on their list, I think, "I have two homes for sale right now that are almost identical to two of the homes this family has selected!" Uncanny.
So for all of you who enjoyed last night's show, and to all of you who are currently house hunting at Lake Martin, I'm going to do a quick  Lake Martin Voice Realty version of House Hunters right here!  To follow the sequence of the Lake Martin episode . . .
First – The cottage style house with all the upgrades.
Paul and Neely walked through a home in The Village.  That home happens to be a door or two away from my listing, 52 Cottage Loop, the good news is it's the lowest priced home in The Village right now, has a great view, and it's a toothbrusher (no updates needed, just bring your toothbrush):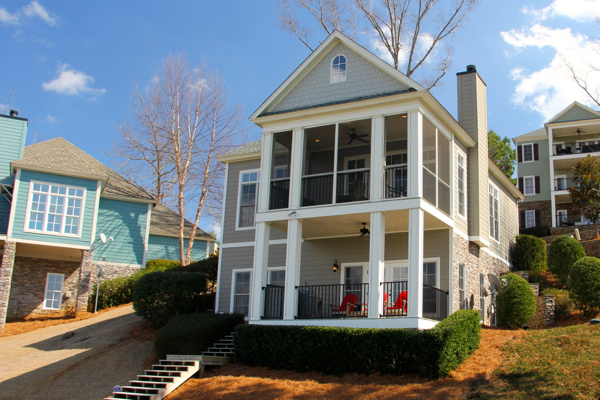 And guess what?  I make my own video tours of all of my listings, so tour away, just like on House Hunters!  Here's the VIDEO TOUR for 52 Cottage Loop.  Isn't this fun?
For all of the listing information on this home, please see its page on my blog: 52 Cottage Loop in The Village on Lake Martin.
Next up, the affordable, family friendly, low maintenance home with the big yard.
Paul and Neely saw (and bought) a home with the exact floor plan as a home I have listed, 108 Leisure Lane.  It is virtually the same house on a different lot, and my listing has more shoreline (for a slightly higher price).  For those of you who saw the show last night, the similarities are going to be almost eerie.  Paul and Neely, don't you agree?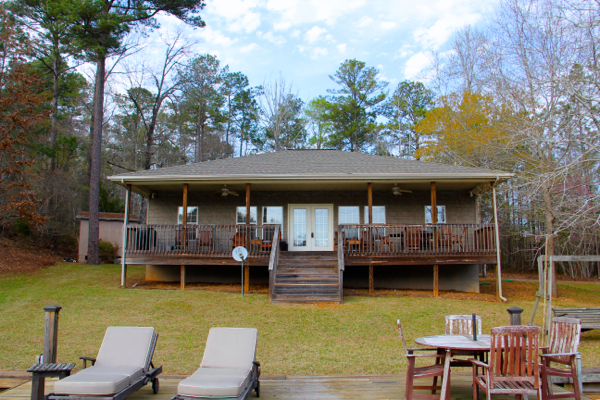 And again, because it is a Lake Martin Voice Realty listing, it already has its own VIDEO TOUR!  I even have my own in-house Suzanne Whang style host to narrate each tour.  No need to wait for the next House Hunters episode:
For all the listing info on this home:  108 Leisure Lane on Lake Martin.
And Third:  The architect-designed camp style lake home with amazing finishes and charming detail.
Paul and Neely saw a Bobby McAlpine Group designed Camp Home across from Blue Creek Marina and the Highway 49 Bridge.  This home is not currently listed on the Lake Martin MLS.
Similarly, for my Lake Martin Voice Realty house hunting tour, I chose an architect designed home that is not currently on the MLS.  I have a private video tour of a Bill Ingram water access house in The Ridge.  I don't mean to exclude anyone, but I can't post my video tour here because it's not my listing.  But yes, I do make videos of other agent's homes for my clients and give them a private email link to view the home on YouTube.  So I need to be your real estate agent to give that kind of access.  It is exclusive.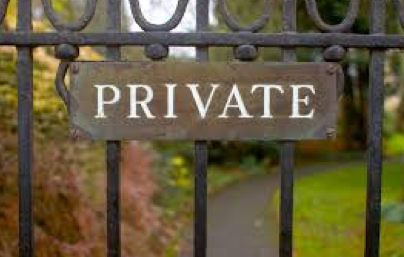 So how did I do?  Did you enjoy the tour?  Which home are YOU going to pick?
I end this post with two calls to action today, instead of my usual one:
1) If you are interested in Lake Martin real estate, buying or selling, give me a call.  I help buyers and sellers at Lake Martin, 100% of the time.  It's my area of expertise.  Give me a call at 334  221 5862, or email me at john (at) lakemartinvoice (dot) com, or click here to contact me.
2)  If you are from HGTV, here's my shameless self promo:  You've seen how picturesque and fun Lake Martin is, and hey – we're only 2 hours from Atlanta. I know you have studios there!  Knoxville is not far, either! I am not afraid to be on camera, and I will not charge extra for my slow southern drawl.  And I have all kinds of interesting clients with great stories to tell.  HGTV – you may also call please me at 334  221 5862, or email me at john (at) lakemartinvoice (dot) com, or click here to contact me.  Let's make this happen!
You may have heard – this Memorial Day weekend, there will not be a concert at Lake Martin's AMP.
However, music will abound at three other popular Lake Martin locations: Russell Crossroads, Chuck's Marina, and Harbor Docks Restaurant. Here's the basic info; click on the links provided or call the locations if you need more detail.
RXR Fest 2014 at the Crossroads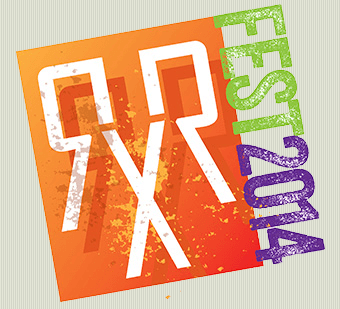 This is the first annual, three day musical event that will take place on the Town Green at Russell Crossroads.  The fun starts Friday afternoon from 6:30-9pm, then Saturday from 2:30-9pm, and Sunday from 2-5:30pm.  For more details and their lineup of musicians, click here or call Russell Lands at 256.329.0835.
You can get to Russell Crossroads by car or by boat, and if you haven't tried the boat route, it's an adventure in itself.  I'd go by boat, go early, because boat docking is limited at the pick up spot.
Chuck's Marina Summer Kickoff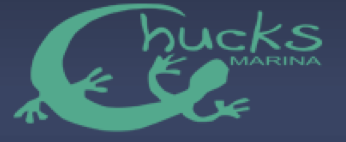 Grab some of Lake Martin's best pizza at Chuck's Marina, and celebrate the arrival of summer on Friday night- May 23rd.  Friday night favorites Bryan Jackson & Jake Corey are playing some of the best summer party music from 8-11pm.  You can like Chuck's on their Facebook page and keep up with events like this all year long.
For more information about Chuck's Marina, call (256) 825-6871.
Live Music at Harbor Docks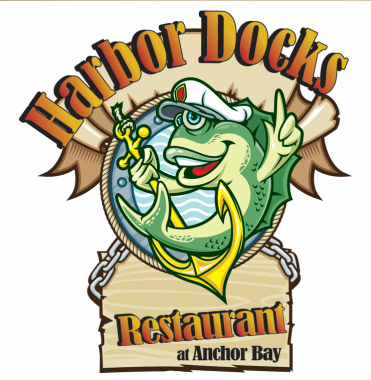 Harbor Docks Restaurant (next to Anchor Bay Marina) will have live music on their deck beginning at 7pm on Friday and Saturday nights.  On Friday night you'll find Kenny Herd, and on Saturday night, Alex Craig (formerly of Trotline). For more information about Harbor Docks, call 334-857-3635.
Happy Memorial Day, and enjoy your weekend, everyone!
Paddle boarding is really taking off at Lake Martin, and this past Saturday's event is proof.   Here's a quick video from Paddle for a Purpose 's one mile race – I put a couple of GoPro cameras on a board because I thought it would be a cool perspective.
It was a well organized event with eighty or so racers, three races (1 mile, 3 mile, 6 mile), and fantastic weather.  Racers came from Florida, Mississippi, and even Kentucky. Hats off to Sharon at Lake Martin Dock Company for another great lake event!  Proceeds from the race went to worthy local cause – Children's Harbor.
Just a lot of fun on Lake Martin!
FYI – Lake Martin has its own paddle board group – Paddle Lake Martin – that meets a couple times a month to paddle together.  Check them out here on Facebook.
If you need a Lake Martin waterfront home, lot, or condo to go with your paddle board, give me a call at 334  221 5862, and let's talk real estate.  I'd love to work for you!

The 3rd and final leg of SUP the South's paddle board triple crown takes places THIS SATURDAY at Children's Harbor!
 The states of Florida, Mississippi and Alabama will be represented by paddle boarders from Paddle Destin, Mississippi Gulf Coast Paddle and Paddle Lake Martin.  Each race will consist of a 1 mile beginner race, 3 mile rec race and 6 mile elite race.  Around here the race is also known as Paddle for a Purpose, because all proceeds benefit Lake Martin's Children's Harbor.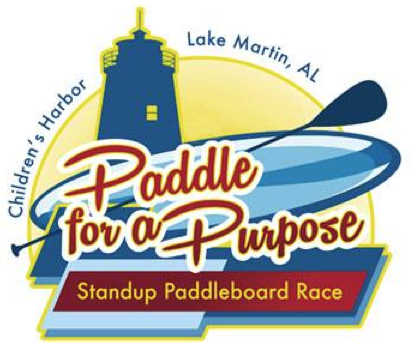 ANYONE can enter and there's still time to register!  It's a super laid back event – my 11 year old is entering the 1 mile race, and my wife is daring me to enter the 3 mile.   If you haven't tried paddle boarding yet and you're curious, bring your family and some chairs and enjoy the morning.  Looks like it's going to be a "clear and pleasant" 80 degree Saturday at Lake Martin.
To catch you up to speed, here are the race dates & locations:
* March 22nd ~ Destin, Florida (Legendary Yacht Club)
* April 26th ~ Bay St. Louis, Mississippi (Bay-Waveland Yacht Club)
* May 17th ~ Eclectic, Alabama (Children's Harbor at Lake Martin)
1 Mile Beginner Race ($35.00) ~ Surf Style (Male/Female)
3 Mile Rec ($45.00) ~ Surf Style (Male/Female)
6 Mile Elite ($45.00) ~ Surf Style (Male/Female)
T-Shirt and Lunch will also be provided for all racers.
*ALABAMA – http://www.active.com/eclectic-al/paddle-for-a-purpose-paddleboard-race-2014
Here's a sneak peak of the shirts for this year's race and the trophies . . .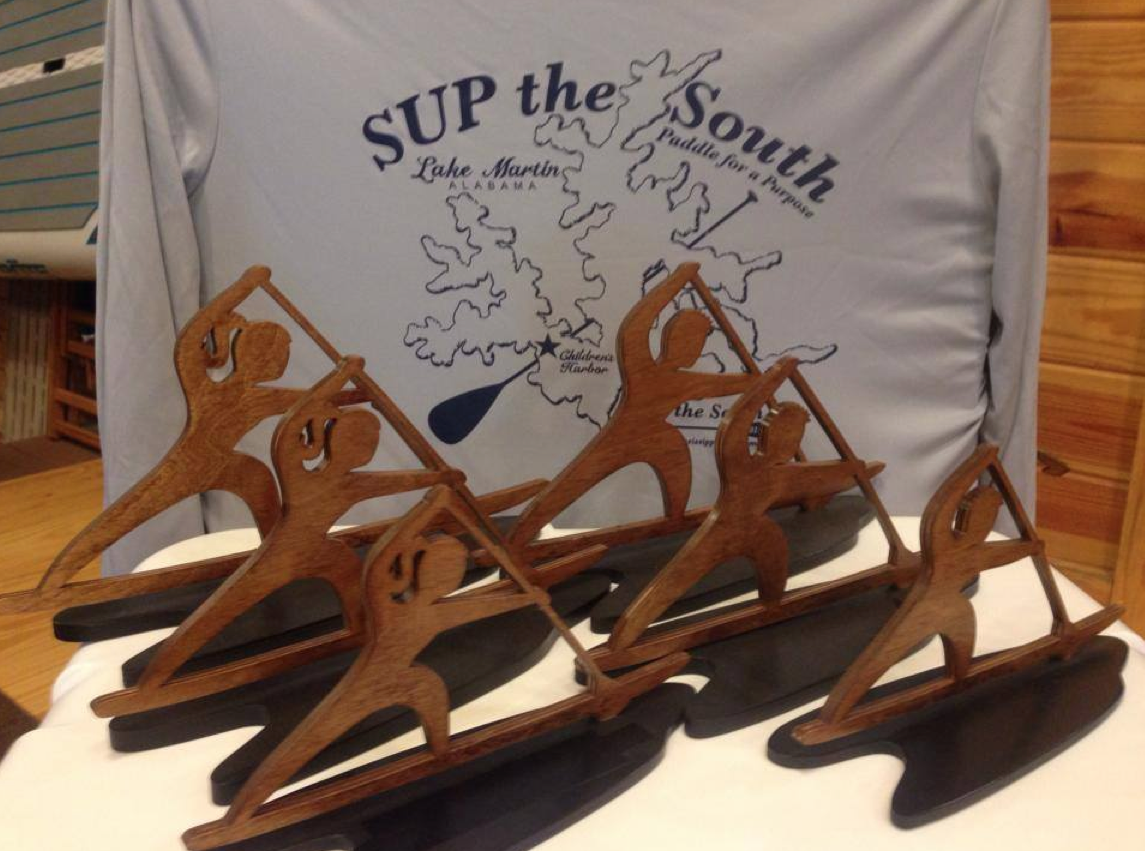 And I'm taking Lake Martin Voice Realty's swag bag goodies (c/o Lake Martin Crazy.com) to Sharon at Lake Martin Dock today.  Lake Martin Dock Company puts together this event with Children's Harbor, and they also sell BOTE Paddle boards.  Saturday will be a great day to demo some paddleboards: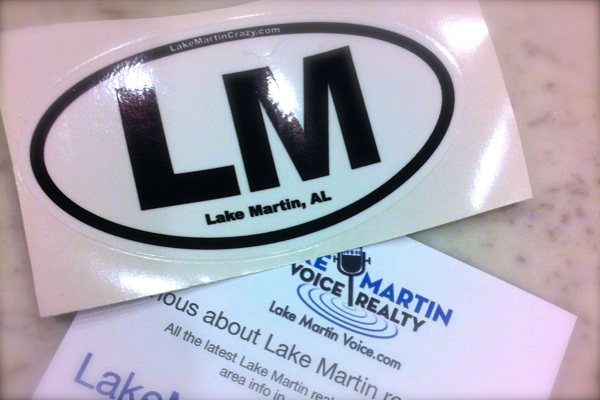 Hope to see you there!
If  you don't have a paddle board, and would like to rent one for the weekend, try calling Anchor Bay Marina at 334-857-2654. Ask for Linda Sharman. They rent paddle boards on Lake Martin, but I am not sure if they are rented out or not. But it's worth a shot! Let her know John Coley said to call!
I have been trying to "crack the code" on fly fishing for striped bass on Lake Martin for a while.  I don't know that I will ever crack the code, so I have adjusted my goal to catch a striped bass, on my fly rod, from my BOTE paddle board. I caught a small striper last summer from my dad's john boat, so maybe I am inching closer.
Imagine my angling envy in early April: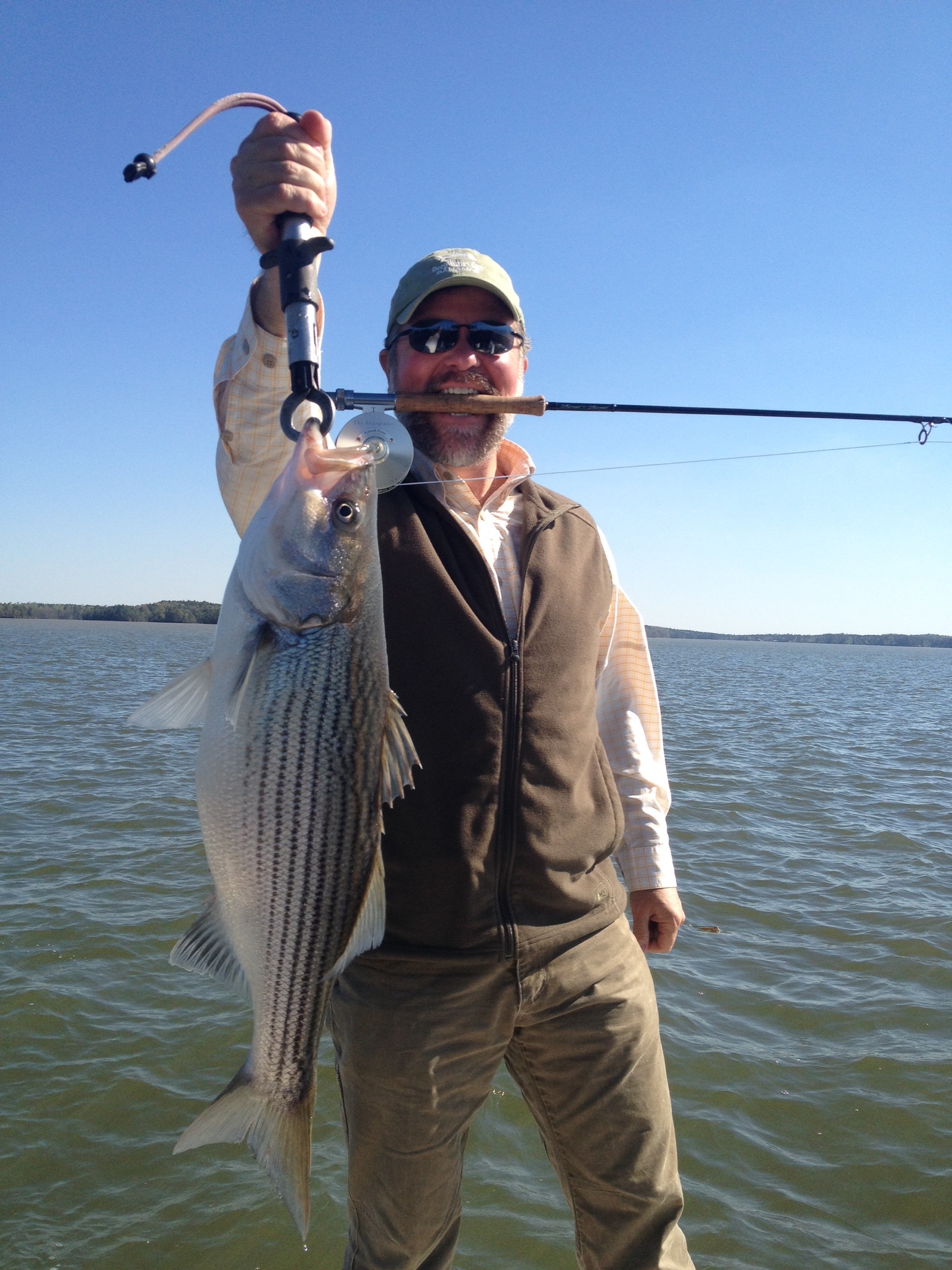 Roger Holliday forwarded me this picture of Kenneth Boone and a striper he caught while they were fishing with David Hare. It seems that they are way ahead of me in the art of fly fishing for striped bass on Lake Martin.
The cause of fly anglers at Lake Martin was also helped in the May / June 2014 issue of Eastern Fly Fishing Magazine.  In page 24, Pete Elkins wrote up a really nice mention of Lake Martin.  He called it "Alabama's sleeper lake for fly anglers looking for big stripers."  Mr. Elkins wrote a book about catching striped bass on the fly.  He also wrote a big article in the March / April 2014 of the same magazine about fishing the Tallapoosa River above Lake Martin.  Elkins gave some great tips on the annual movements of striped bass, noting that the best time to catch them on the fly rod is February through early summer.
He also mentioned hooking up with local guides.  As I have noted here before, David Hare is an excellent guide.  His number is (256) 401-3089, and while he primarily is a live bait angler, if you want to fly fish for striped bass, I know he can put you on them. Here are some video interviews I shot with David: Lake Martin Striped Bass.
If you have success, please let me know!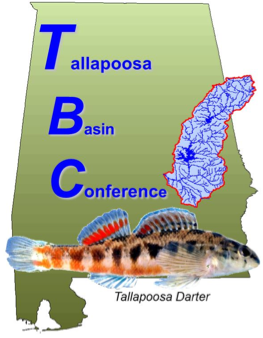 Hey Lake Martin Residents!  SAVE THE DATE!
The 8th Annual Tallapoosa Basin Conference
When: Friday, May 30th, 2014
Where: Auburn University Water Resources Center
559 Devall Drive
Auburn University, AL
After a two-year hiatus they have a LOT to talk about!  Check out the lineup of topics:
  an update on FERC relicensing in the Tallapoosa Basin,
  an overview of water quality, biodiversity and university-based research in the Tallapoosa River Basin,
  a presentation on the award-winning environmental education program at Radney Elementary School in Alexander City,
  updates on watershed stewardship activities in the Upper, Middle and Lower Tallapoosa sub-basins, and,
  how-to for basin residents who want to do their part to minimize polluting our streams, rivers and lakes.
Organizers and sponsors for this year's conference include the Auburn University Water Resources Center, Alabama Water Watch, the Alabama Cooperative Extension System, and the AU College of Agriculture.  For more information, call 1-888-844-4785.
Thanks to Sharon Johnston at Lake Martin Dock Co. for getting me back on the water this spring!  I broke my paddle board's paddle over spring break, and Sharon replaced it for me – no questions asked.  That's super customer service!
I bought my BOTE paddle board from Lake Martin Dock as a Christmas gift to myself (I mean my family), and I have already tried it out at Lake Martin, at my hunting camp's fishing pond, and in Florida.  These boards are easy to transport and they allow you to get out on the water, even when it's still a little chilly.  I installed a simple pulley system to hang it in my garage in town during the winter, and I'm really surprised by the amount of use it's gotten since Christmas.  Now it's time to bring it back to the lake!
These boards are like pieces of art, so I took some pics while I was at Lake Martin Dock.  These are some of their newest boards – check these out!  BOTE has a new inflatable board – with a lower price point – and it's the blue board in the second picture below.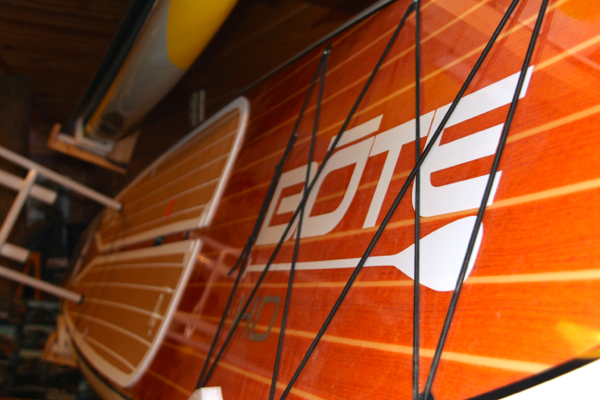 And by the way, Lake Martin Dock Co. and Children's Harbor are teaming up again for the annual Paddle for a Purpose race on Saturday morning, May 17.  You can go to Active.com to register, and all proceeds benefit Children's Harbor. They have a Paddle for a Purpose Facebook page with more info about the race and paddle boarding at Lake Martin in general.   You can also click here to read about last year's event.
In the past there have been boards and paddles to demo, so if you're interested in the sport, but don't have a paddle board, this is a great time to try one out.  If you buy one, please mention you saw it here on Lake Martin Voice!
Hope to see you there! It's a lot of fun, and all ages are welcome!
If you can't make it to the race, but are in to SUP at Lake Martin, see the Paddle Lake Martin Facebook Page.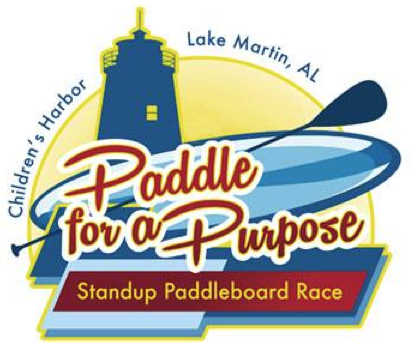 Welcome to Lake Martin and welcome to LakeMartinVoice.com!  If you're researching a waterfront real estate purchase, I hope this website will become your favorite tool, and, let me be honest – I hope one day you'll give me a call and hire me as your realtor.  I realize that the last thing buyers and sellers want to do is call a cheesy realtor, so this website is my attempt to gain your trust by putting the best real estate info into your hands and letting you take the lead.
So what's the deal with my company's name, Lake Martin Voice Realty?  Am I am radio station? No.  Am I a boutique ( a trendy word for small) real estate company that deals exclusively with Lake Martin real estate? Yes!
LakeMartinVoice.com exists to put all of the most accurate and most current Lake Martin real estate information in one location.
1)  Search the Lake Martin MLS – without a doubt, the most accurate and timely source of listing information. All realtors, all brokerages.   Sites like Realtor.com, Zillow, and Trulia are chronically inaccurate and out of date, so go straight to the local source, our MLS.
2)  Read Market Reports – I break down the statistics – finally, my accounting degree put to good use.  It's hard to argue with the numbers.
3)  Learn about Neighborhoods and geographic areas on the lake – Maps, video tours, histories each area, PLUS a live feed from the MLS with homes currently for sale in each neighborhood.  A handy way to get super hyper local.
4)  Connect to my YouTube Channel – Watch hundreds of videos including home tours, community event videos, and client testimonials.
5)  Request Best Buy and Foreclosure Lists – Choose your price range and I'll send you a hand picked list of homes with good value (IMO).  Request a list of foreclosed properties as well.
6)  Explore local news, events and issues – Read hundreds of current and past blog posts covering life at Lake Martin.
If you have more questions about Lake Martin real estate, and you can't find the answers here, please let me know – I'd love to do the research and even post the answers right here.  You can  call me at 334  221 5862, email me at john (at) lakemartinvoice (dot) com, or click here to contact me.
If you're not able to be here in person, rest assured that spring has come to Lake Martin and it is beautiful.  It doesn't feel quite as spring-y as I write this post today (April 15, 47 degrees) as it did last week when I took these pictures, but summer will be here soon, no matter.  And it is still beautiful!
I took the pictures below near the Russell Forest Trails.  Hiking is a great spring activity at Lake Martin, and there are really good trails all around the lake.  The Russell Forest Trails allow horses and bikes, as do the trails at Wind Creek State Park.  If you're looking for more of an Appalachian Mountain hiking experience, try some the the Cherokee Ridge Alpine Trail Association's trails on the eastern and southern sides of the lake.  These include high, woodsy paths and waterfront trails.  I've written about the Chimney Rock and Little Smith Mountain trails several times.
If spring has Lake Martin real estate on your mind, give me a call.  I'd love to talk to you about the homes, lots, condos and town homes that are nestled over our 770 miles of shoreline.  Call 334 221  5862 or click here to contact me.