Archive for the 'Lake Martin Living' Category
There are a lot of great events and things going on at Lake Martin this year for Memorial Day 2015!
I would like to list some, not all of them below.
The best way to keep up with all events at Lake Martin is to download my FREE app, Lake Martin Voice.  Here's a quick video of how it works for Events:
The app is available for iOS in the Apple Store and Android also. Like I said, it's FREE. The app also has a quick guide to Lake Martin area restaurants, marinas, a real estate search, weather, and more.


Memorial Day Events for Lake Martin
Art on The Lake – is at Children's Harbor near Kowaliga Bridge. It is one of my favorite events all summer because they showcase the rich trove of artistic talent that is around the Lake Martin area. Plus, Children's Harbor is a charity near and dear to many hearts. It's on Saturday and Sunday, starting at 9 am. My tip is to go to the pancake breakfast below at 8 am on Saturday, then go to at 9 to Art on the Lake.
Crossroads Pancake Breakfast – at Russell Crossroads. It's $5, cash or check, and the proceeds go to the Crossroads garden. Saturday 8 AM – 9:30 AM.
Chuck's Marina – Chuck's Marina has really stepped up their game this year. They have added another oven to crank out more pizzas, and they have live music every weekend. Unless you download my app, Chuck's Facebook page is the best way to keep up with their music schedule. Friday and Saturday night, 8 PM to 11 PM, Friday and Saturday.
RXR Fest – Russell Lands is starting a new tradition called RXR Fest – music and fun and activities around Russell Crossroads and the Green at Catherine's.
But Seriously, please download my free app!
It gives you so much more than just Events.


This Saturday, May 30, is this year's installment of "Paddle for a Purpose." This annual stand up paddle board race is also a fund raiser for Children's Harbor, one of Lake Martin's most popular charities.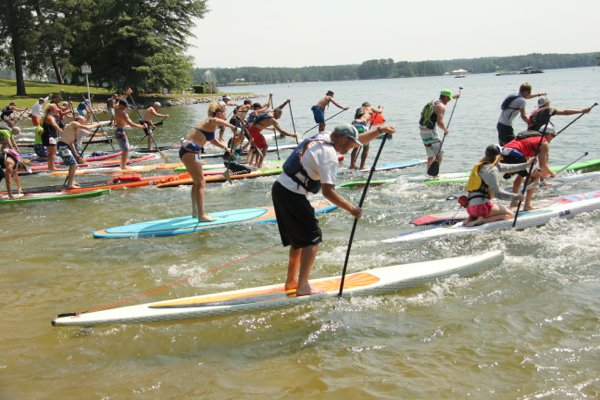 This SUP race is also part of a three race series called "SUP the South." This means that lots of paddlers from around the southeast will be on hand at Children's Harbor. The first leg of the series was in Bay Saint Louis, Mississippi. The Lake Martin race on May 30 is the middle, and the triple crown closes in Destin, Florida, on June 20, 2015.
Racers will have a choice of a 1 mile fun race, a 3 mile, and a 6 miler.
RACE MEETING AT 8:30 AM – FIRST RACE AT 9:00 AM
How To Register for Lake Martin's Paddle For a Purpose
CLICK HERE to register for the Lake Martin Race.
For more information on the series, see this Facebook Page.
Last year, one of my sons raced in the one miler. This year the other one will! We are every excited about the event and Lake Martin Voice is proud to be a sponsor again this year.
Other big sponsors are Bote Paddleboards, and my friends at Lake Martin Dock Company. I bought my Bote at Lake Martin Dock. I get asked a lot about what board I have, it is the 12 foot HD. I really like it because it's flexible, – I can do about anything with it. I fish from it, paddle around for fun, and even occasionally race. I haven't done yoga from it yet, but would love to try.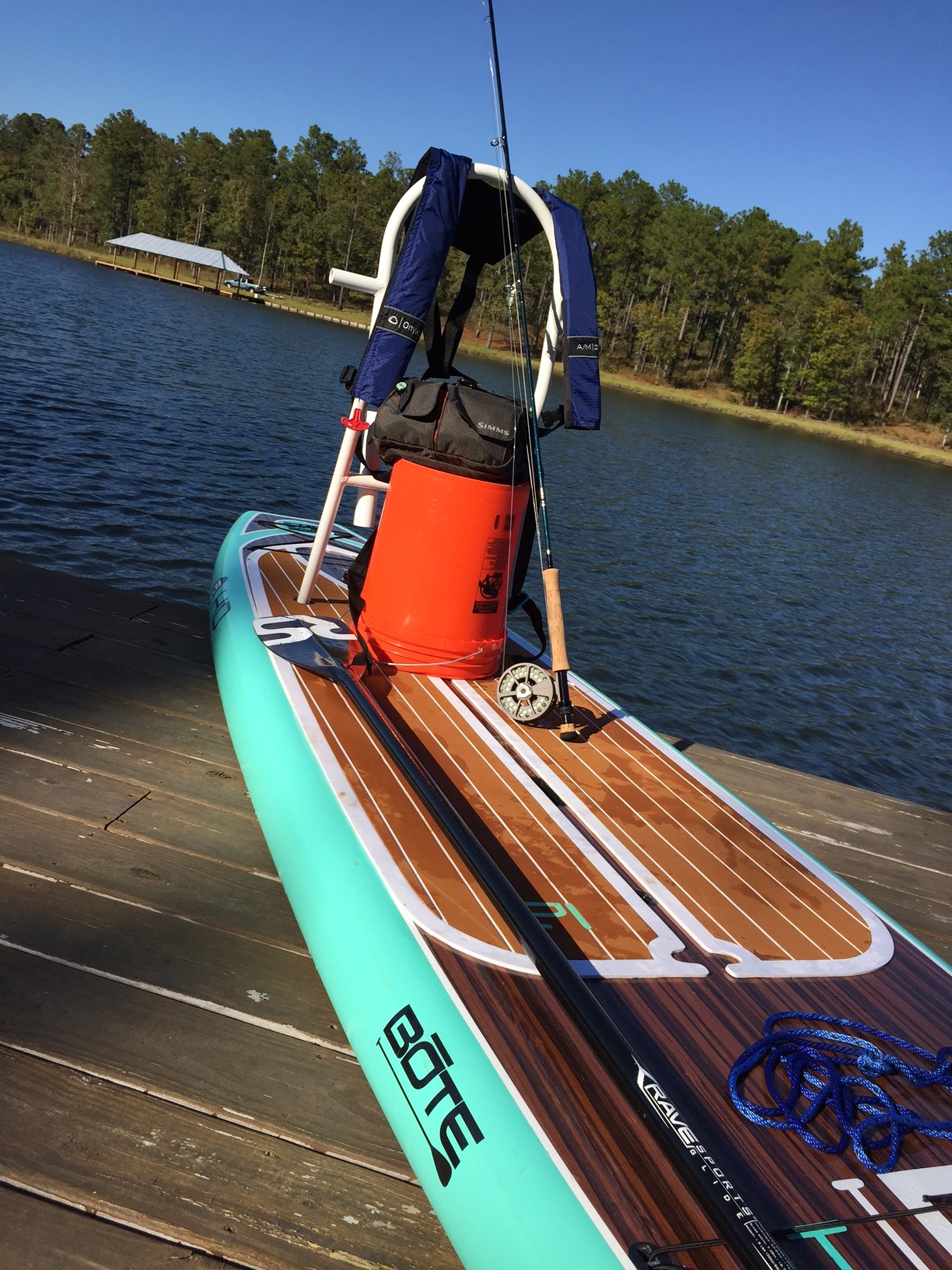 Here's a link to a post I wrote about my  fly fishing setup for my paddleboard. I am on a multi year quest to learn to consistently catch Lake Martin striped bass, on my fly rod, from my paddle board. It's a work in progress! Maybe I can pick up some tips from the pros this weekend.
If you have any pointers, I would love to hear them!
Pizza and milkshake lovers, beware.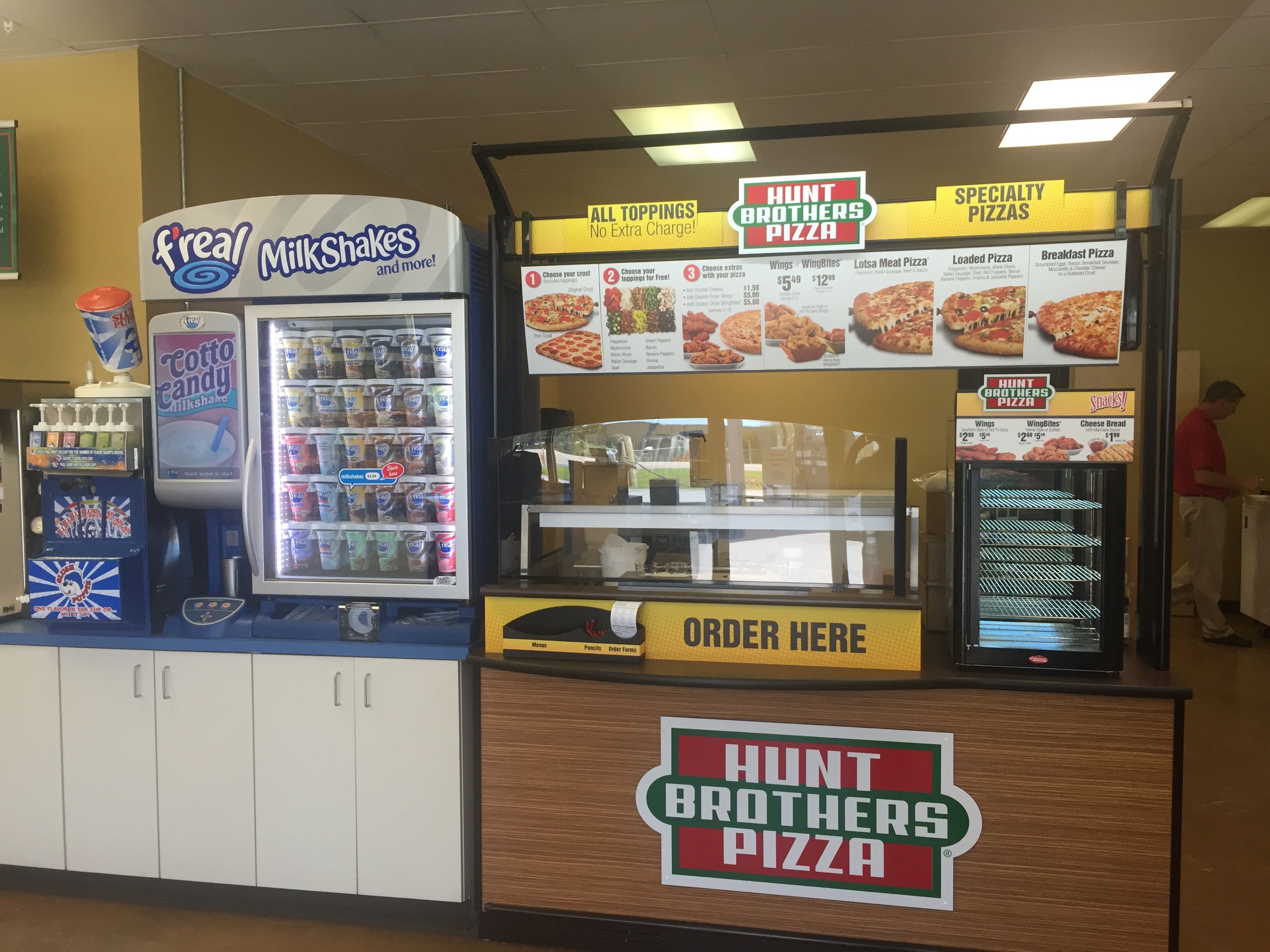 If you are ever around the Kowaliga area of Lake Martin, Nail's Convenience Store has just given us all yet another reason to stop by. My friends and clients know that Nail's is my favorite C store in the area. It's a clean, neat store that sells lots of good brands. The folks that own it and run it are great, too. Yes, I could be biased, I rent office space from them. But why don't you go in and judge for yourself?
Anyway, Nail's has recently added two exciting elements. They now sell Hunt Brothers' pizza. This is a bonus for me as there are times I am craving something a little more substantial, and don't want to drive "all the way" into town. There is also a f'real milkshake machine.
Maybe you have seen these before, but this country boy had not. Basically there are two parts: 1.) a freezer that contains an assortment of pre-made milkshake concentrate. and 2.) a mixer.  You open up the freezer and choose your poison, I mean flavor. They range from fruit smoothies to regular milkshakes (vanilla, chocolate) to Blizzard like mixtures (think chocolate + Reese's cups, etc).  The screen shows a video on what to do, but the cups have a foil top on them. You take off the foil top and place it on the chrome stand. It pushes the cup up into the mixer, where I suppose more milk is fired in there. You can select your consistency (smooth, regular, thick). The mixer does its thing, and then voila. You are in business.
After I posted a video on my Instagram account, my kids have been pestering me for a trip to Nail's.
Are you curious about Nail's or the other shops, restaurants, and activities around Lake Martin? Then you might like to download my free Lake Martin Voice app. Along with the best phone based home search around, it has the low down on what you might like to do or see while at Lake Martin. See: Lake Martin Voice App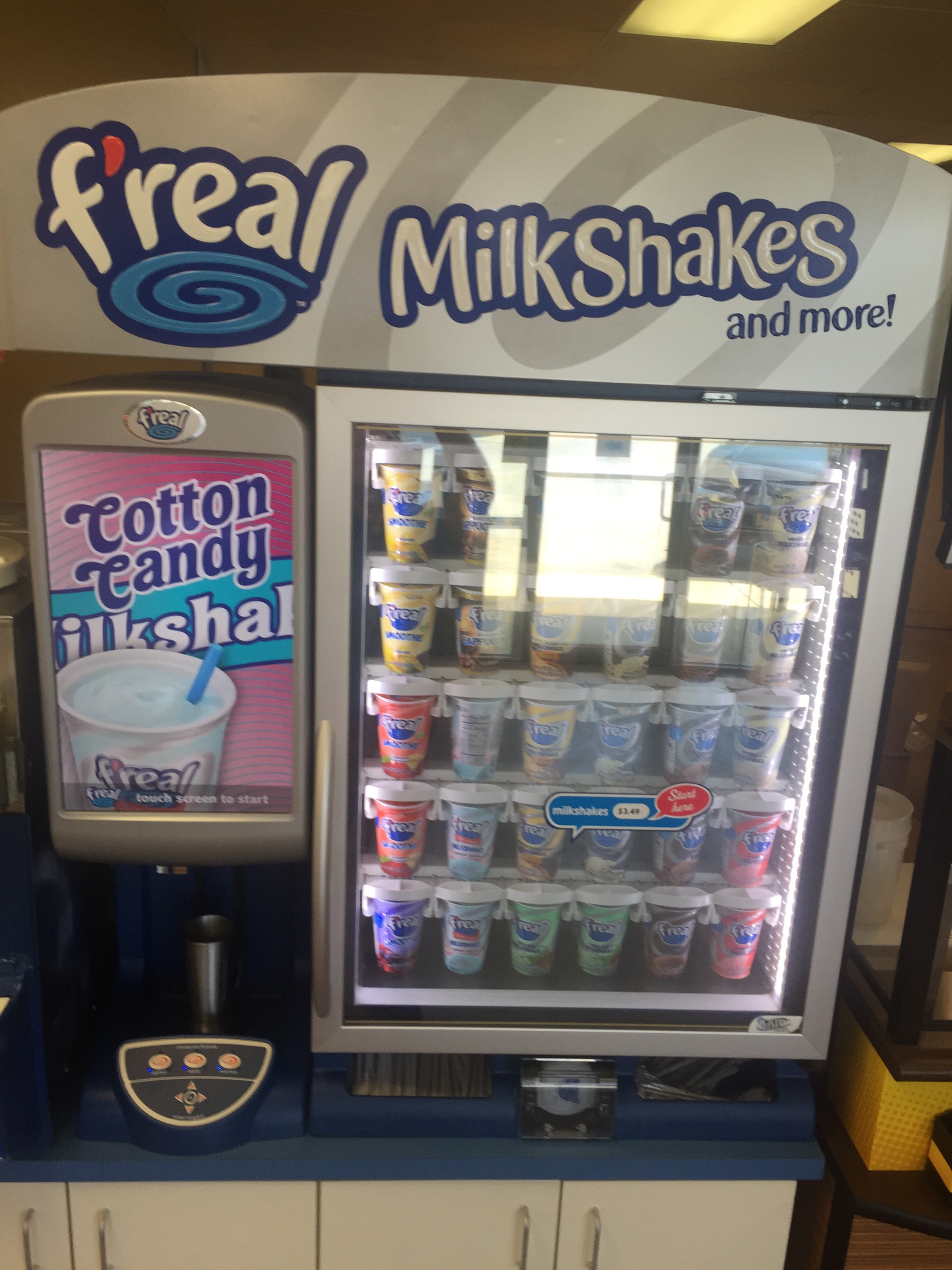 We are pleased to announce a brand new free app for the Lake Martin area!   The Lake Martin Voice app is your mobile guide to the Lake Martin, Alabama, area. We offer mobile waterfront real estate search and events, mapped guides to restaurants (with menus), shops, weather, and much more!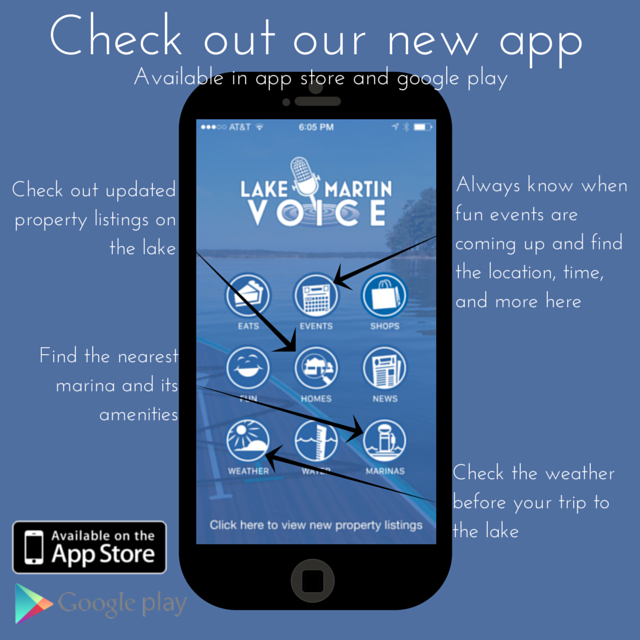 As you can see above, the different tabs you can click through to navigate and learn more about what's near you or happening at the lake are:
Homes – every single home & lot for sale in the Lake Martin MLS, at your fingertips. Use our fast searches like "New Listings" or "Price Drops" or create your own custom search. Cruise by boat and see what's for sale around you if you share your location with the app.
Eats – Restaurants on and off the water around Lake Martin, mapped, with menus
Events – what's going on this week? Next month? Click and scroll to find out.
Fun – Other things to do like where to hike, where to bike, boat ramps, golf courses, churches, and more.
Weather & Water – conditions right now at Lake Martin.
Marinas – mapped locations of all Marinas, plus contact info. Share your location with the app and see where you are, too!
Shops – retail therapy locations on and off water
News – the skinny on Lake Martin stuff
For example, here's what the "Eats" section looks like. If you share your location, you can see where you are in relation to the restaurants. I snapped this screen shot when I was over on the east side of Lake Martin. If you want to browse around the map, you can. Or, if you want to scroll through the list at the bottom, you can do that to. Your call!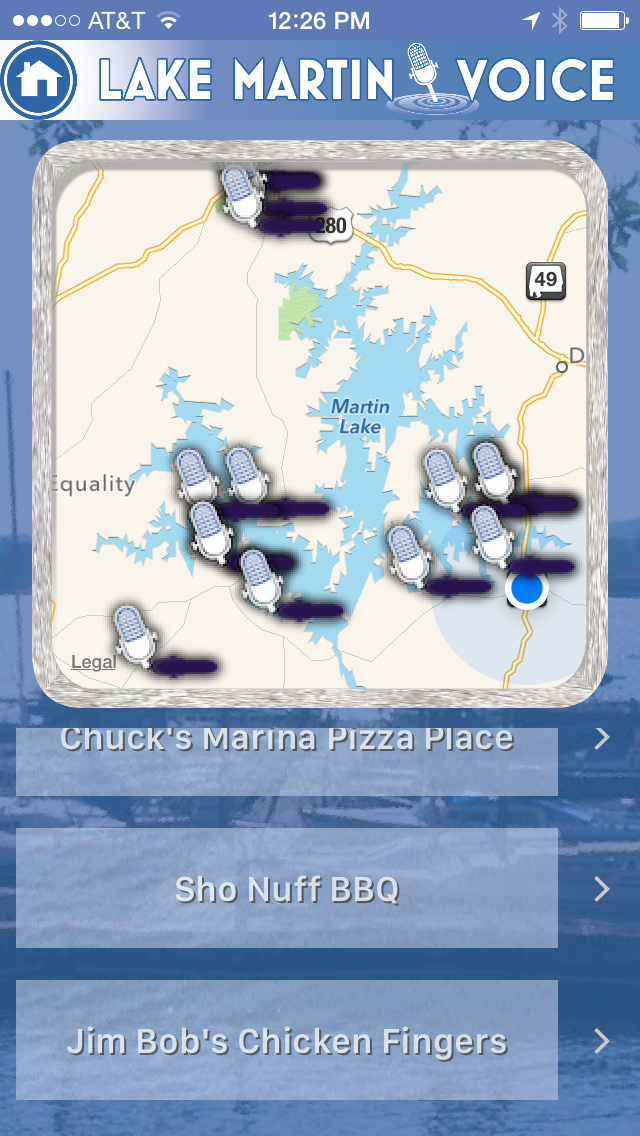 The Shops, Eats, and Marinas sections all work similarly, in that you can browse by map or by list. Every single Lake Martin marina is listed, but you will notice not every restaurant and store are. We purposely left out big chains like Wal-Mart or McDonalds. Nothing against them, but there are plenty of maps and apps that can help you find them easily. Our goal here is to make a special point to mention the locally owned businesses that are so frequently overlooked by visitors. For that matter, there are Alex City folks that are unfamiliar with the Dadeville side, and vice versa, so hopefully it helps them, too!
The Lake Martin Voice app is available in the Apple App Store and on Google Play for Androids.
For more information, please see our FAQ page at: Lake Martin Voice app FAQ 
If you want to request to have an event, restaurant, or shop listed in the app, you can fill out request forms below.
CLICK HERE to request for a shop be added.
CLICK HERE to request for an event to be added.
CLICK HERE to request for a restaurant to be added.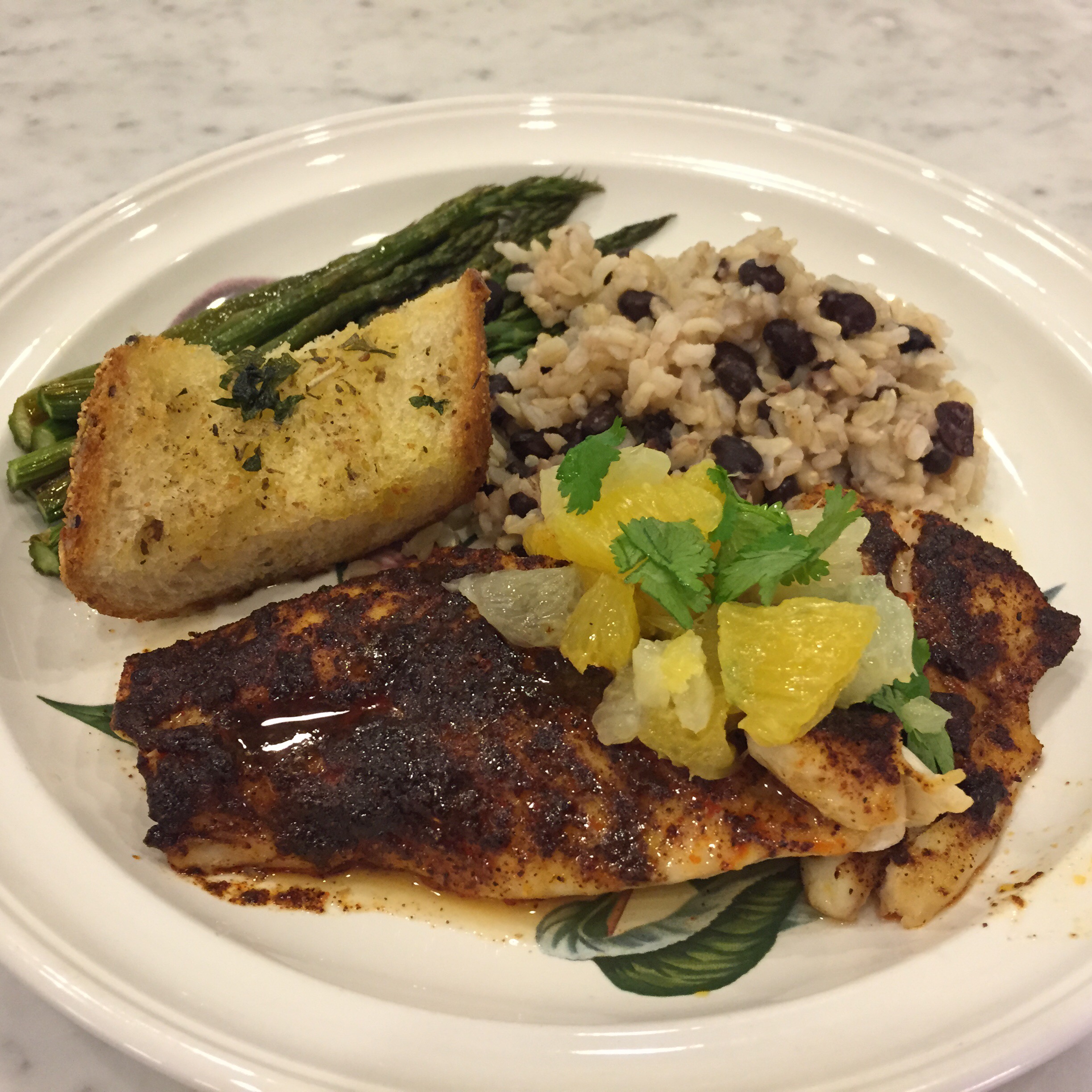 My family is all about that bass.
Striped Bass, that is. No tilapia.
It might be too cold to fish on Lake Martin today (16 degrees) but it's not too cold to eat fish. We caught these striped bass back in November on a fishing trip with David Hare with Alex City Guide Service. It was a mere 38 degrees that day, and thanks to David, we slayed 'em.
We fileted them and have had them twice, and both times they were excellent. The first batch we cooked a day after we caught them. We blackened them in the cast iron skillet and they were awesome. This particular batch we froze in a Ziplock bag water after thoroughly cleaning them. We thawed them out and then broiled them in the oven.
My sons helped out, their job was prep the fish. They just put salt, pepper, and chili powder on them. That's it! My wife made the fresh fruit top – she cut out sections of oranges, grapefruit, and sprinkled in cilantro. It was really good!
One of the hugest part of our latest Lake Martin fishing adventures is that it has converted my wife into a wild game eater, just based on its pure organic nature. It doesn't get any more "real food" than eating a wild animal. No preservatives, no nothing. Now, I would not say she is making her own rabbit hash or roasting wild boars over the spit, but for her, eating something we caught is a big step.
It helps that the fish tastes incredible and is easy to prep!
One of the subjects that stretches my empathy to a breaking point is when someone chooses to buy waterfront property on a lake other than Lake Martin.
Now, let me just put out the disclaimer that I understand intellectually that there are other nice lakes here in the United States. In theory, my brain accepts the academic concept that not all people would choose to be on Lake Martin; however, I must admit a high level of flabbergast when I am told by a buyer that they have decided to find a home on a lake besides Lake Martin.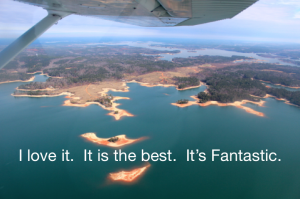 When it comes down to it, especially if the person has visited our fair lake and seen all we have to offer, how could they possibly walk away?
I will say that it does not happen very often.
Maybe it's because buyers that are really fired up about other lakes just don't call Lake Martin real estate agents. But in my line of work, I do speak to a lot of people that are looking to buy waterfront property on a warm, Southern lake, and therefore considering many. I can tell you that nine times out of 10, those who buy, end up selecting Lake Martin. Again, I understand this is merely anecdotal.
Still, it bugs me that anyone would select anything besides the obvious choice. To gain a little more insight, I talked to a couple of other Lake Martin real estate agents.  India Davis at Lake Martin Realty's Willow Point office agreed with me that the losses are few and far between.  "We have more amenities that these other lakes – more things to do, more restaurants, and that kind of thing. Plus, people really like the size of the lake, so you don't feel crowded like some of the tiny, narrow lakes in other areas," she said.
India felt that those who did choose other lakes did not make their decision based on anything other than price or convenience.  "Some buyers might feel that they can get what they want for a lower price. Or other buyers might choose a lake that is closer to their primary home. Those are about the only reasons I see people buying elsewhere."
I agree with India. I find that for most buyers, the unspoiled beauty of Lake Martin and all of the things to do here trumps other lakes in this part of the nation.
If someone goes to another lake, price and proximity to their primary home seem to be a big factor; however, I also see so many people that come to Lake Martin who literally drive right by other lakes in order to come here.  This is a mindset that I can appreciate!
Furthermore, our overall lower cost of living is a real attraction to people nationwide. I recently had a call from a retiree that was in Oklahoma. He was researching the best lakes in the South with the lowest cost of living, and Lake Martin was tops on his list.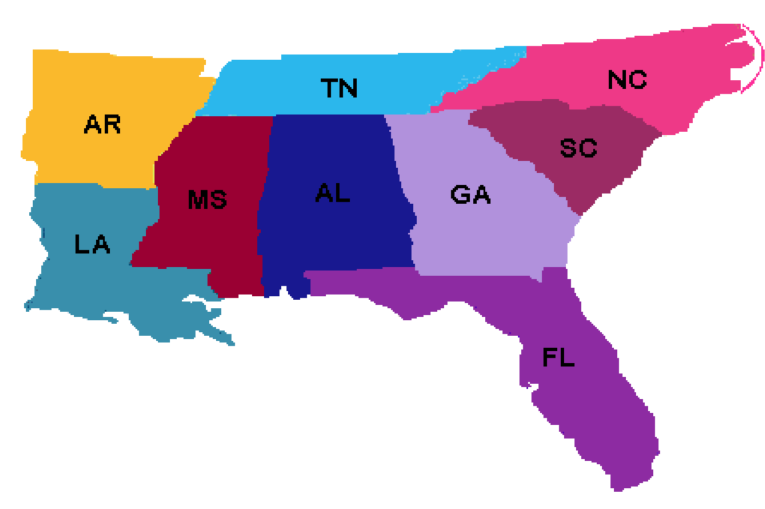 I also talked with Gordon Pickler at Designer Homes Realty Lake Martin, LLC. Gordon pointed out that the convenience of Lake Martin to population centers contributed to how it has been developed over the years.  "In the 1970s, the northwest side of the lake attracted Birmingham folks, and Montgomery families tended to the southern side. For the last 20 years, the east side of the lake has seen a huge influence from Georgia. People from Georgia, especially, are used to what I call 'commuter lakes.' Those are lakes where the homes treat the lake as an afterthought. At Lake Martin, the waterside of the home is the most important. When people see that and realize how relatively undeveloped we still are, they love it." Gordon quipped.  Gordon makes a lot of sense to me.
Try as I might, I still can't really understand someone not choosing Lake Martin. I mean no offense to any other lakes, but we are so blessed to have Lake Martin in our backyard.
To quote my dad who likes to paraphrase Dizzy Dean: "It ain't braggin if it's the truth."
I'm sure you've already seen this on national news and the interwebs, but just in case, the breaking news around Lake Martin is that Kowaliga Kevin, the Poodle of Prognostication, has predicted twelve more weeks of summer here at Lake Martin. So even though the calendar says "Fall," – Mr. Kevin says we will have more summer to enjoy.
Here's the video of a local news department covering the event:
So there's no need to pack up and leave Lake Martin as the calendar ticks toward January first. You can have plenty to do and explore around Lake Martin in the cooler months, too. Now that Mr. Kevin has guaranteed the time, you can plan with confidence.
I have to say, after witnessing this event many years in a row, Kowaliga Kevin is always right. No offense to Punxsutawney Phil, but maybe dogs are better at this sort of thing.
They call it stormy Monday, but Tuesday's just as bad.
It was raining yesterday at Lake Martin and I don't care. We need the rain, and it was Monday after all, post Labor Day. Traffic will be light regardless of precipitation. Things change after Labor Day around here, regardless of weather.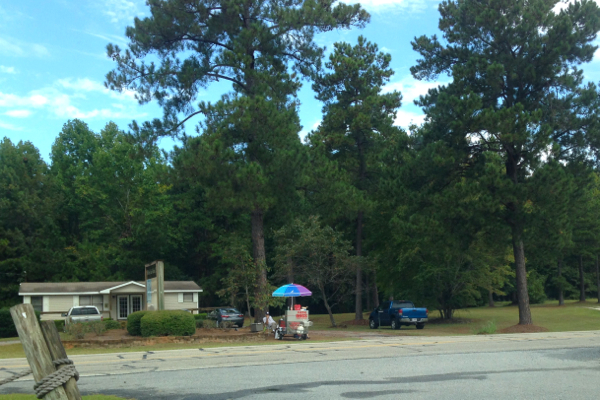 Hence my pic. This guy has been selling hot dogs since around July Fourth. He's set up in downtown Kowaliga, just across from my office at Nails conveneince store. I've never been tempted to buy a dog, despite some pretty good reviews I've heard. But when I see a guy selling hot dogs on the side of the road at 10:00 am on a rainy Monday in post Labor Day September, maybe I ought to buy one out of sheer principle.
About the time I took this picture, the clouds lifted and it turned into a beautiful almost-fall day.  In fact, the past two days have been so achingly perfect (clear, just warm enough, high water, no crowds) I have given serious consideration to pulling my kids out of school and living some sort of home school farm-to-fork existence at the lake.
Do you like to fish for stripers on Lake Martin? Then you definitely need to contact Captain David Hare of Alex City Guide Service. He sends out his Striper Reports every month or so and I think they are invaluable. David is a really nice guy, plus a great guide.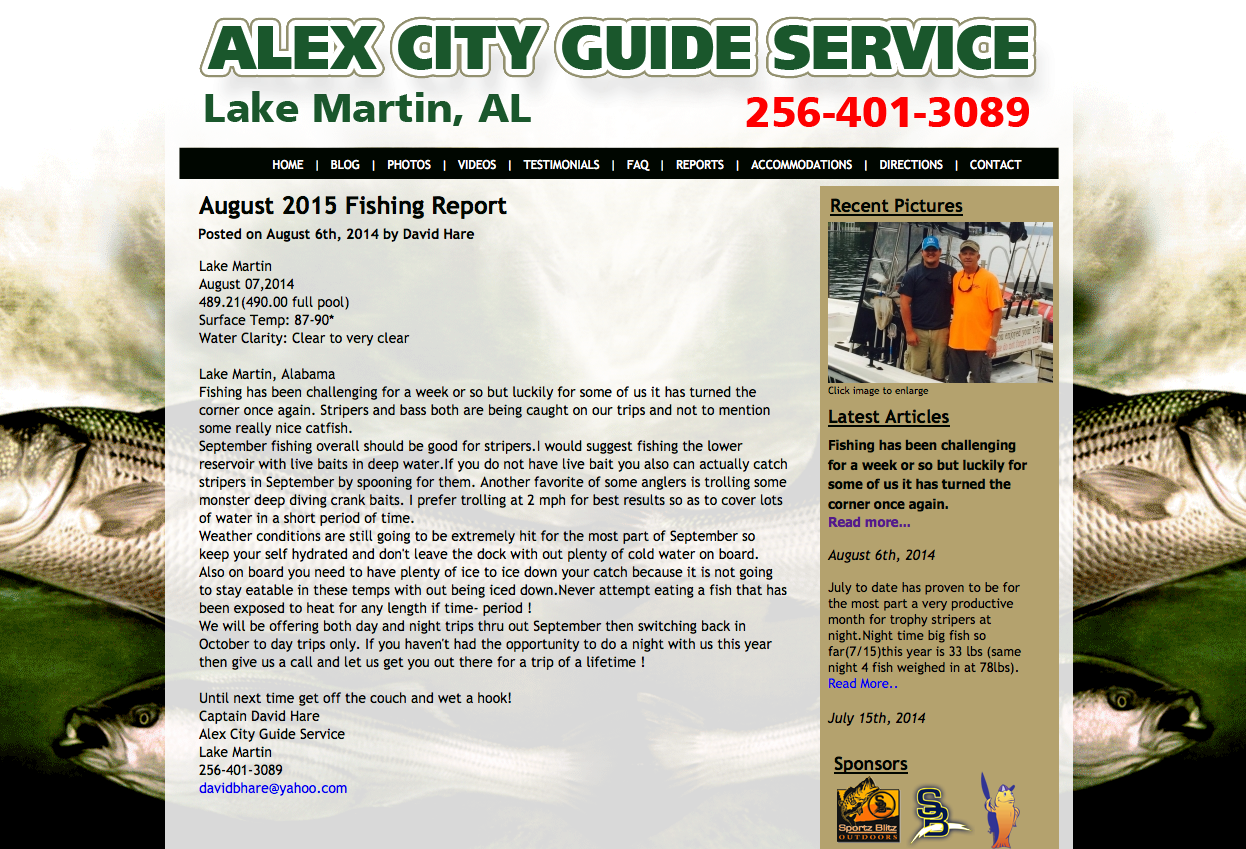 I always slightly mourn the passing of summer, but one of the many fun things to do on Lake Martin in the fall is to try and catch a striped bass. I am already looking at some dates to try and book David or one of his other guides. As I have written in previous years, my big goal is to figure out how to catch these monsters on my fly rod.
While David is not a fly fisherman, he can put you on the striped bass here at Lake Martin.
If you would like to buy some Lake Martin property, call me, I would love to help you out.
If you want to catch striped bass or other fish, call David at the number below, and let him know John Coley said hi!!
Here's a sample report from September 1o, 2014:
Lake Martin
September 10th,2014
488.76(490.00 full pool)
Surface Temp: 85-88
Water Clarity: Clear to very clear
October is really nice fishing weather for the most part and here on Lake Martin in Alabama is no exception. The fall temps should start cooling the water down some and in return should produce more bites overall !
This October I am predicting it to be one of the best yet for stripers on Lake Martin. One of the reasons I feel this way is because I'm already seeing some transition in the stripers both small and trophy size. I think you are going to have a little easier time finding them than in the past few Octobers and I think you are going to be pleased with the quality of the catch.
The days are getting shorter and will continue to do this for several more weeks which means you can stay until dark for that last minute bite and still make it home for supper with the family !
I will be checking all of the hot spots for October stripers but don't be surprised if you see me in the abnormal locations too. I am leaving nothing uncovered this fall because this summer I scouted a lot of areas that I have been overlooking and found some areas that I think will produce in October !
Here at Alex City Guide Service we want to thank everyone that did night trips this summer with us and looking forward to seeing everybody this fall for the day trips !
Until next time get off the couch and wet a hook!
Captain David Hare
Alex City Guide Service
Lake Martin
256-401-3089
[email protected]
My Saturday was spent with a fun couple from Georgia, showing them Lake Martin waterfront homes for sale in Parker Creek.  Around lunchtime, we had an hour break in between showings and I was starving.  But with only an hour to spare, our lunch options were limited: bottled water and peanut buter crackers at the Parker Creek Marina were the best we could do.  And I was thankful for those.
Fast forward a year to next summer, same situation, except I plan to have lunch with my clients at Parker Creek Marina's new restaurant.  That's right – Parker Creek Marina is opening a restaurant in 2015, and I think it's a great addition for the west side of the Lake Martin.  Below is a picture I took of their plan.  It's on a bulletin board inside the ship's store, so it's available for everyone to check out.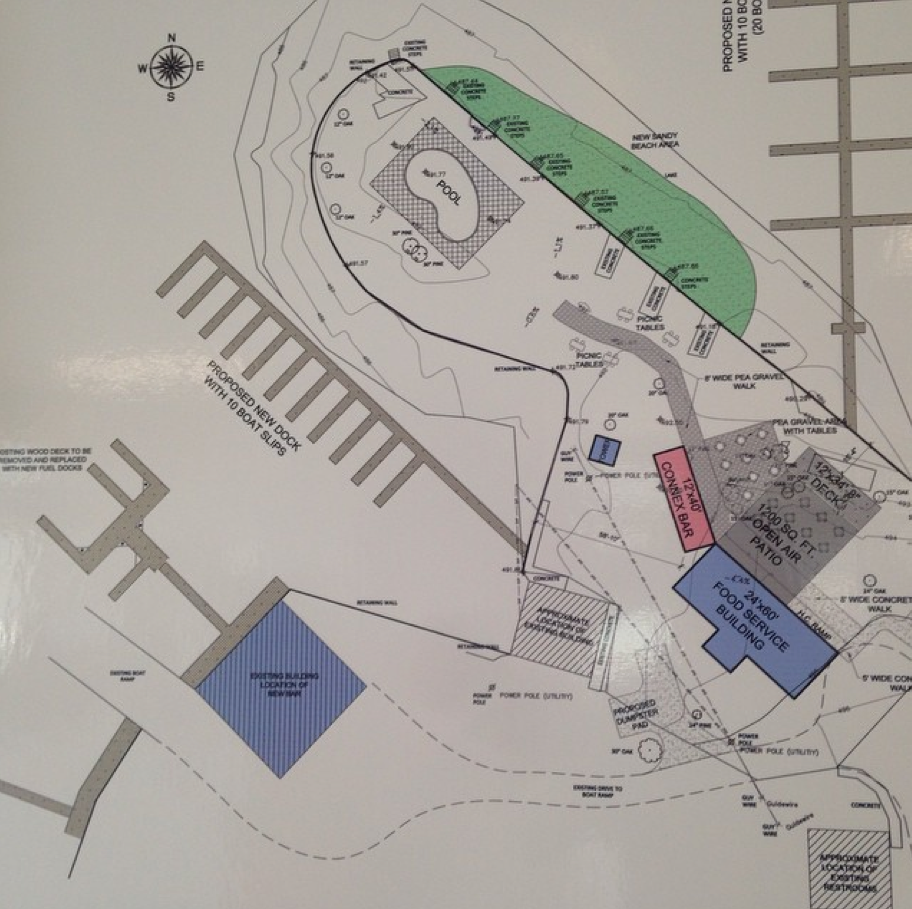 The back story on this restaurant has to do with the elusive Parker Creek food boat I've been searching for.  There were plans for a food boat (like Nibblers Float Thru Grill near Blue Creek), but the marina was told it had to install new septic in order to run this boat and be up to code.  They decided if they had to have new septic, they might as well have a permanent restaurant on their premises.  Parker Creek is such a popular area of the lake, and there just aren't many restaurants close by.  I hope they have wild success, and I will gladly swap in my bottled water and crackers for whatever fare they decide to serve.
If you're looking for a waterfront home in Parker Creek, the addition of this restaurant makes this area even more attractive. Give me a call and let's talk Lake Martin real estate. I'm a full time agent at Lake Martin, and 100% of my realtor time is devoted to helping clients buy and sell property here.  I can help you with any listing in the Lake Martin MLS, regardless of who has it listed.  I'd love to help you, too.