Archive for the 'Lake Martin Living' Category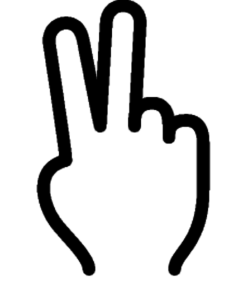 Have you heard the news? We are excited to hear that two cool businesses are coming to downtown Alexander City.
You are already familiar with one of them – Lake Martin Pizza. Its current location in Dadeville will remain open. They have signed a lease on a Broad Street location in downtown Alex City for their second location. We can't wait!

Lake Martin Pizza is known for their New York style pizza, fresh local ingredients and great service! One of my favorite pizzas at Lake Martin Pizza is named Kira's Favorite.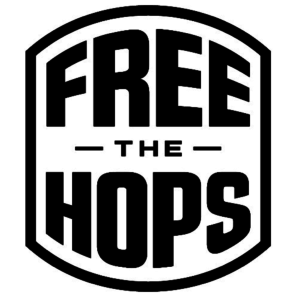 If you love craft brew beer like I do then the second new business to downtown Alex City will be one you will be excited about! Fermenter's Market on the Green will be opening soon.
Sylacauga is the home to Fermenter's Market at the Rex. So if you have been lucky enough to have visited that location you will have an idea of what to expect in Alex City – an excellent selection of craft beer, great wine and your favorite cocktails.
Click here to read the article from the Alex City Outlook for more information.
To stay in the loop about all things Lake Martin be sure to download the free Lake Martin Voice app!
When I helped Pat & Betsy buy their waterfront home on Lake Martin, I set a personal sales record of which I am very proud.
Before you groan and think I am just another real estate agent boasting about my earnings, this record is not about the money. It wasn't a gajillion dollar sales price and commission (although it was very nice).
No, they set my record as my longest looking buyers. I've been working with them to find their perfect home on Lake Martin for a while. Take a second to watch the video and see how long it has been and what the first thing they planned to do after closing. It seems there was a slight disagreement.
The reason I mention this is I find that when helping some Lake Martin home buyers they feel they can't start talking with me because they aren't ready to buy tomorrow and don't want to "waste my time."
I always tell them 1.) there is no way you are going to set the record for my longest looker, and 2.) that it's not a "waste of time" and we can look at their pace.
I am not a high pressure real estate sales guy. I understand that finding a lake house can sometimes take a while, especially here at Lake Martin. That being said, there are plenty of people that I help that find their dream home on the first day. But the majority of successful outings happen like – they contact me (through phone, web or the Lake Martin MLS) – we start talking, we prioritize for matches that come on the market in the future. We talk some more and they give me feedback, then come up to see some homes. That way, when we are looking, there's a good chance we are looking at "maybes." If they don't find their one on that trip, we rinse and repeat.
Just so you know, Pat and Betsy weren't Lake Martin newbies. In fact, they were two of the more experienced "lakey" buyers I've ever had the pleasure of helping. They knew exactly where they wanted to be on the lake, knew how they would use the home, and knew when it was right for them and their family to pull the trigger.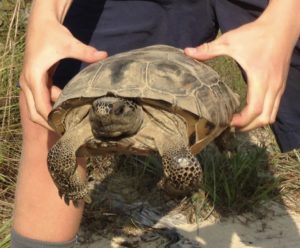 It wasn't a nine year frantic search, instead it was a slow and steadily monitoring, knowing what was right for them. 
Are you ready to break their record? I hope someone is! Contact me here or at the number at the top of the page and let's get started.
2026 will be here before you know it!
Would you love to live on Lake Martin and near a golf course?
Check out the waterfront home I have for sale at 452 Locklear Drive – it is only a five minute drive (pun intended) from Lakewinds Golf Course.
This contemporary Lake Martin home is great for a large family or lots of friends – four bedrooms, three bathrooms, two living rooms, two fireplaces, a screened porch, year round water, gentle slope lot, boat lift, boat ramp, covered dock with a cool slide, covered gazebo – the list goes on and on.
Watch the video below for a quick tour of 452 Locklear Drive.
Are you familiar with Lakewinds Golf Course? Lakewinds is a public, old style golf course owned by Alexander City. It is located five miles east of downtown Alex City – click here for the google map link.
Watch the video below for a quick aerial tour of Lakewinds Golf Course.
Golfers are welcomed 7 days a week – call 256-825-9860 for a tee time.
For more info on 452 Locklear Drive, contact Listing Agent John Coley at the number at the top of the page or by clicking here or email me – john at lakemartinvoice dot com.
Don't tell anyone, but a few weeks ago I played hooky from work.
I fished with Drew Morgan of East Alabama Fly Fishing. We floated the Tallapoosa River, just above Lake Martin.We put in at Horseshoe Bend and floated down to the boat ramp at Jaybird Landing. He took me down on his boat, which is perfect for fly fishing like this.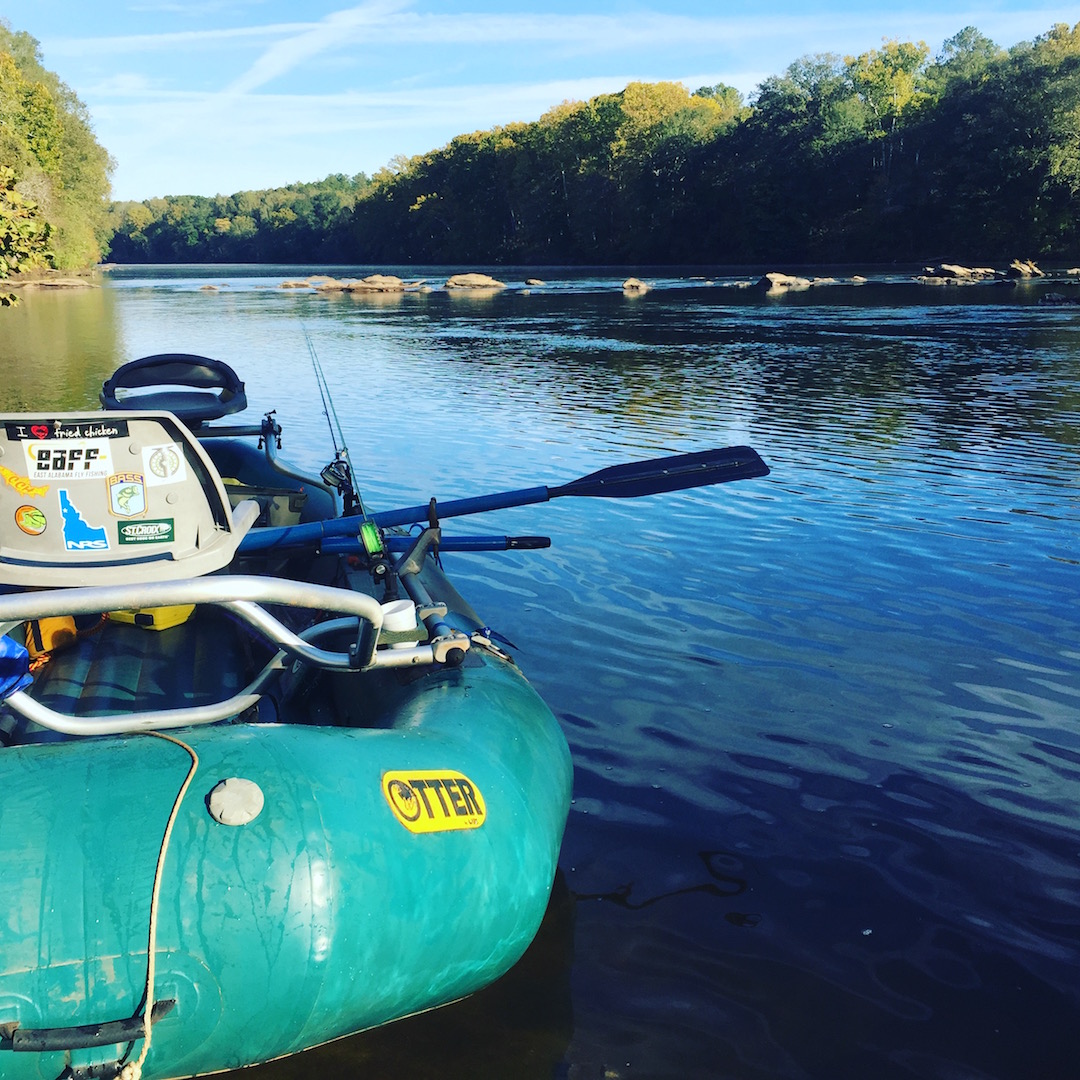 It was a beautiful day! The weather was clear and warm for October. The Lake Martin area is suffering a drought, so river levels were low. The flow was at about three feet when we started. Low, clear water makes fishing a little tougher, and we had to get out and drag the boat over a spot or two.  But other than that, it was picture perfect!
We caught a few spotted bass, a few redeye bass, and several bluegill. White poppers seemed to be the most popular fly of the day. I had to catch my breath when I saw a big (fifteen pounds or so) striped bass cruising the shallows by Jaybird. We were trolling a "Game changer" fly at the time, which I thought might incite a strike. No dice. In hindsight, I sort of wish I would have pulled in the line and cast in his general direction. At the time, however, the fly was trolling and tracking to go right by his line of travel, so I let it go. Seeing a big fish like that sometimes makes me freeze up!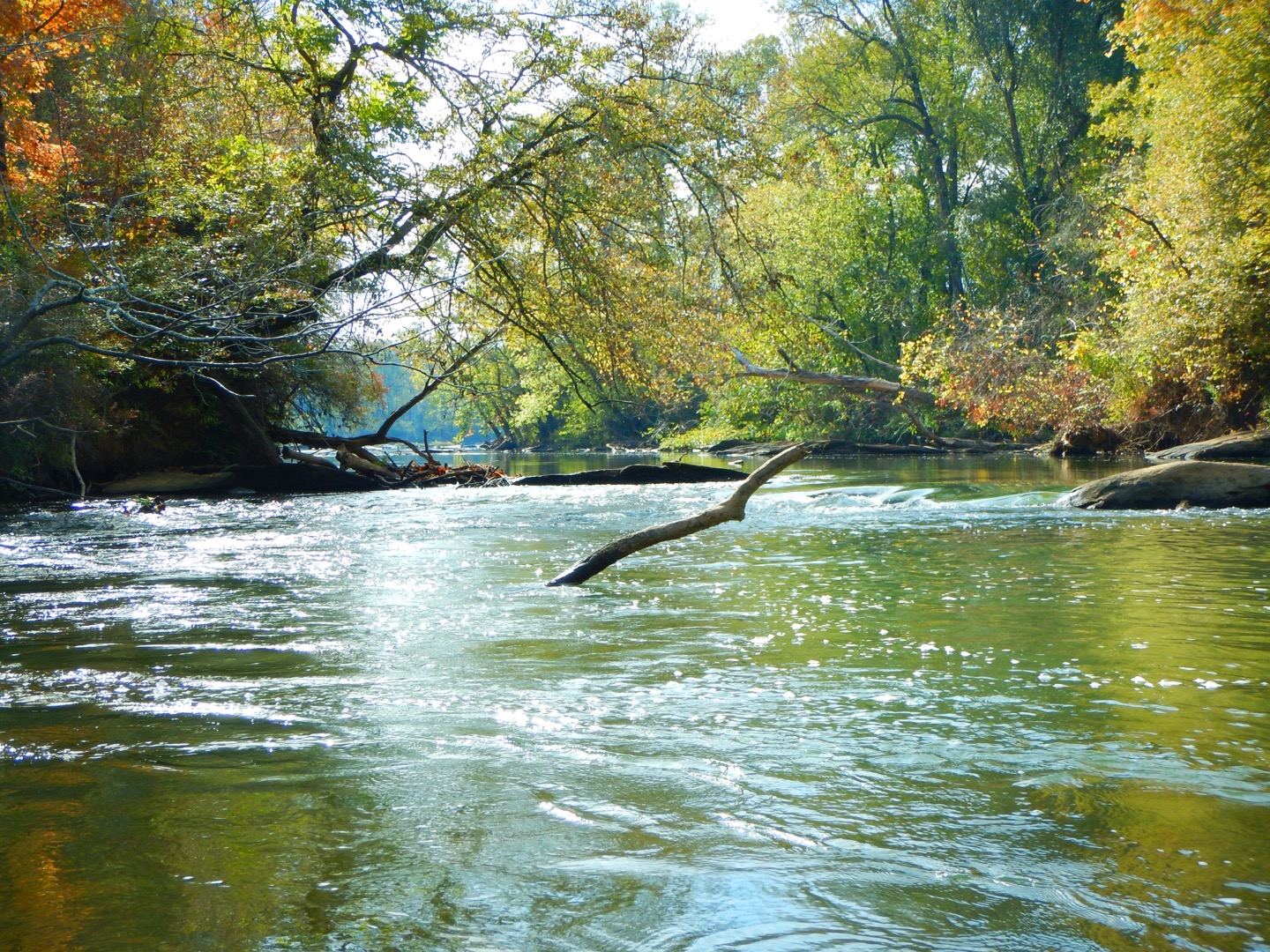 Very few people who visit Lake Martin realize what a beautiful treasure the Tallapoosa River is. The Tallapoosa is what is dammed to create Lake Martin, so if you follow the lake north, you'll hit the River. I can't really blame the lack of knowledge, because even though I grew up here, I didn't realize how cool this area is until I was old (>30).
If you'd like to learn more about fly fishing, spin fishing, or drifting the Tallapoosa River,
CLICK HERE
to contact Drew.
If you like to fish from your own canoe, kayak, inner tube, or rubber ducky,
SAVE THE DATE of

May 13

.
Drew and I are teaming up for a river bass fishing tournament to benefit a local charity. More details later.
For now, enjoy these pictures that Drew took on Monday. That bass with the bulging belly – it was full of crawdads. Plural. It was so stuffed you could feel their hard exoskeletons through the fish's skin. When we looked inside its mouth you could see crawdad antennae poking out of its gullet. It was freaky!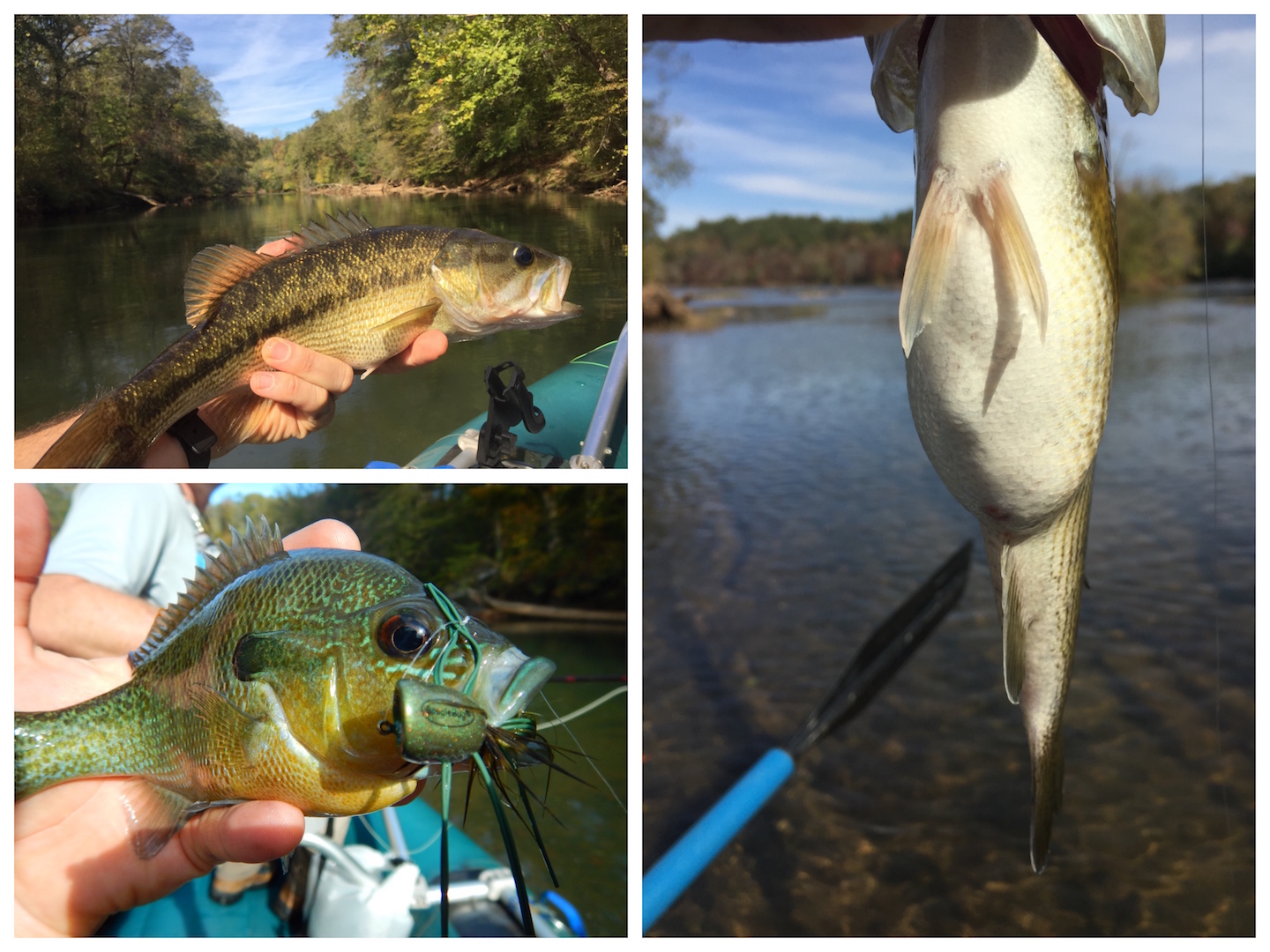 How hard is it to sign a contract to buy waterfront real estate in Lake Martin?
The answer – I try to make it as easy as possible!
These days most Lake Martin buyers are 2 1/2 – 3 hours away. They come to the Lake to real estate shop and enjoy a little mini vacation. On their drive home they spend time talking, texting or calling about lake property.
When ready to make an offer and (hopefully) sign a contract they don't have to leave the comfort of their home. It is not like the old days: come to the office, sign mimeograph copies of the contract, etc.
One of the ways this process has gotten easier is using DocuSign. DocuSign is electronic signature technology letting you electronically exchange contracts or other signed documents.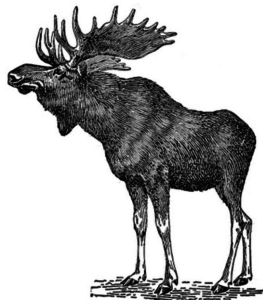 An awesome example of how well this works happened earlier this year.
While the husband was moose hunting on the Alaskan pipeline aka The Haul Road he received a call telling him,  "You got the house!" He had to hike a little ways to get a better signal to sign his sales contract but hey – he was able to get right back hunting!  Watch the video for the full story.
I can help you with your real estate needs in Lake Martin – no matter where you are. Give me a call or text me at 334-221-5862 or email me here – [email protected].
Welcome to Lake Martin, Bobby and Darla!
I was so honored that Bobby and Darla allowed me to help them find their dream home on Lake Martin. I would like to welcome them to the Lake!!!
They even sent me this picture they took on their first weekend at Lake Martin, and told me, "Having devotion and coffee. First morning. Couldn't get much better than this. Thanks John!"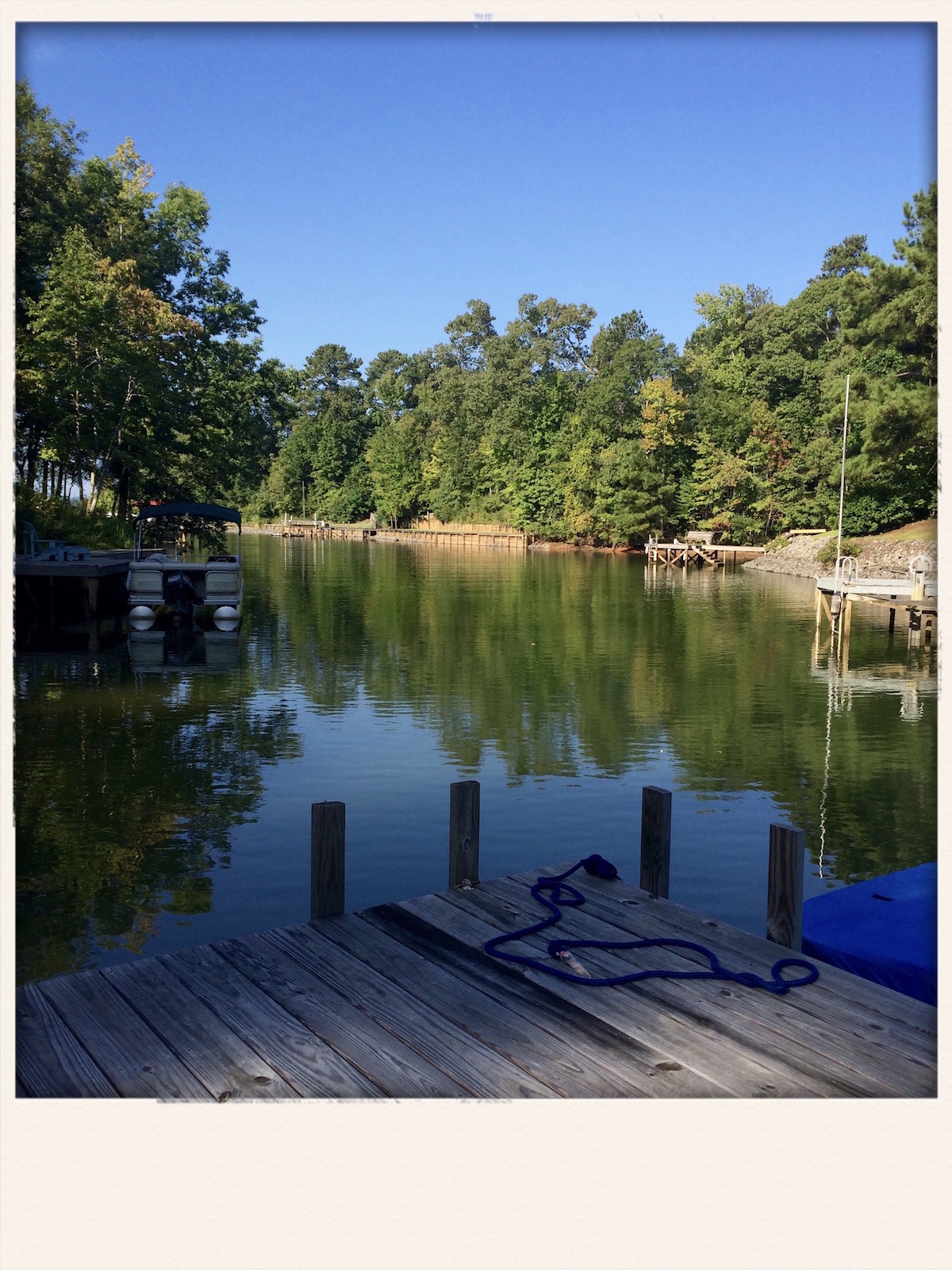 Earlier this summer I took a little video footage of Lakewinds Golf Course at Lake Martin with my drone and thought it would be a great time to share the video with you.
With the weather being so mild it is a nice time of year to be on a golf course.  Lakewinds Golf Course is a public golf course owned by the City of Alexander City.
It has a nice layout around the Lake and is regulation length 18 holes.  Lakewinds is open 7 days a week from 7 A.M. until dark.
Lakewinds is located about five miles east of downtown Alex City and just south of Hwy. 280 – the address is 95 County Road 40, Jacksons Gap.
Lakewinds Golf Course Google Map
Make your tee time today by calling 256-825-9680.
If you would like the best app for Lake Martin, Alabama, complete with events, eats, home search, and landmarks, please see my Lake Martin Voice App. It's free! Just search "Lake Martin Voice" in the app store.
Part two of my Lake Martin Remodel in Parker Creek covers its interior transformation.
In a previous blog post I showed you before and after pictures of the changes made to the exterior of the home, the boat house and dock for this property in the Parker Creek area. (For the earlier post CLICK HERE  for Lake Martin Remodel in Parker Creek).
Now look carefully at the before and after pictures of the interior – no more "wood" paneling, popcorn ceilings and wall to wall carpeting everywhere. I have wood paneling at my lake house and the best I could do was merely paint over it. I am not sure how the home owners did it, but they somehow floated some sheetrock mud over the grooves in the paneling, or something. Whatever they did, the results look incredible. I thought they had pulled out the paneling and installed sheetrock.
They also tackled the popcorn ceilings. Popcorn ceilings are not all that uncommon at Parker Creek because when that area of Lake Martin was developed over the 1960s, 70s and 80s, popcorn ceilings were popular. The problem is that they are messy to remove. These homeowners removed the popcorn, right down to slick sheetrock, then painted it. Look at the difference!
The interior makeover is awesome. It was made brighter with new lighting, fresh paint, and updated interior finishes. The kitchen and bathroom countertops were replaced and tile backsplashes were added. All of the interior doors were replaced including closet doors. But enough of my talking about it – see for yourself!
I am happy to help you look for your own fixer-upper or move-in ready home in Parker Creek or anywhere on Lake Martin. Give me a call at the number at the top of the page or contact me here.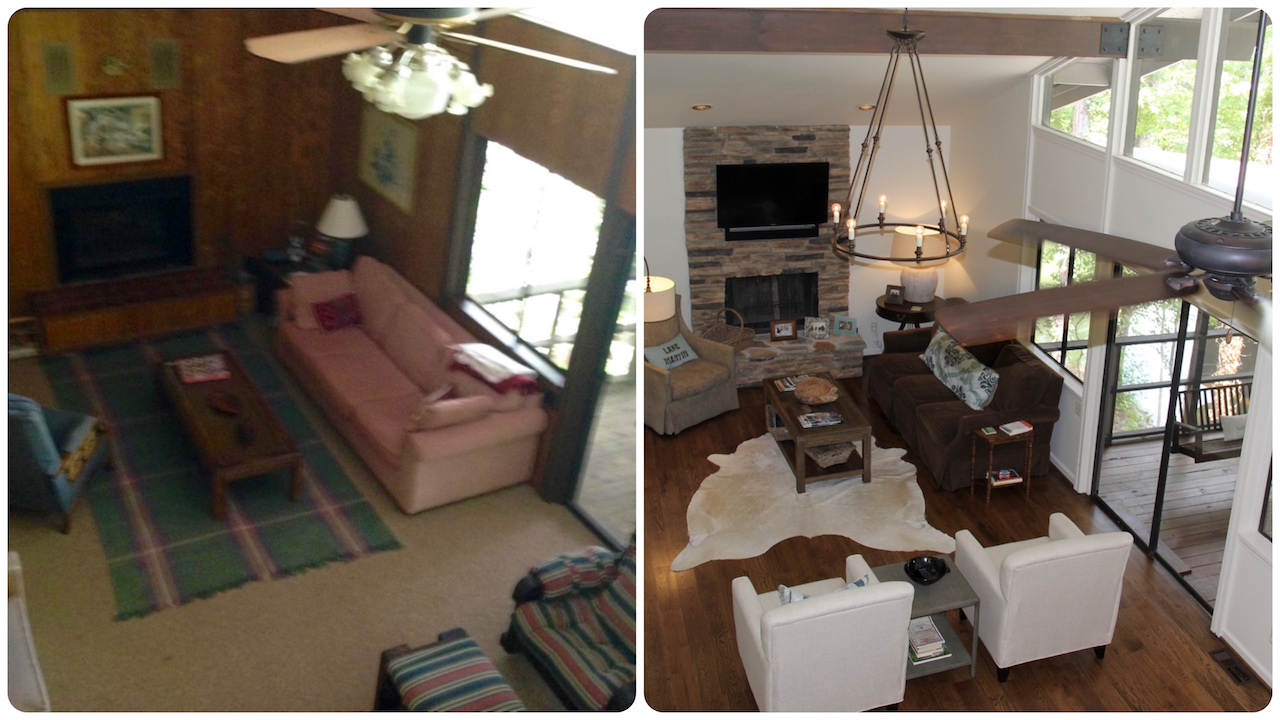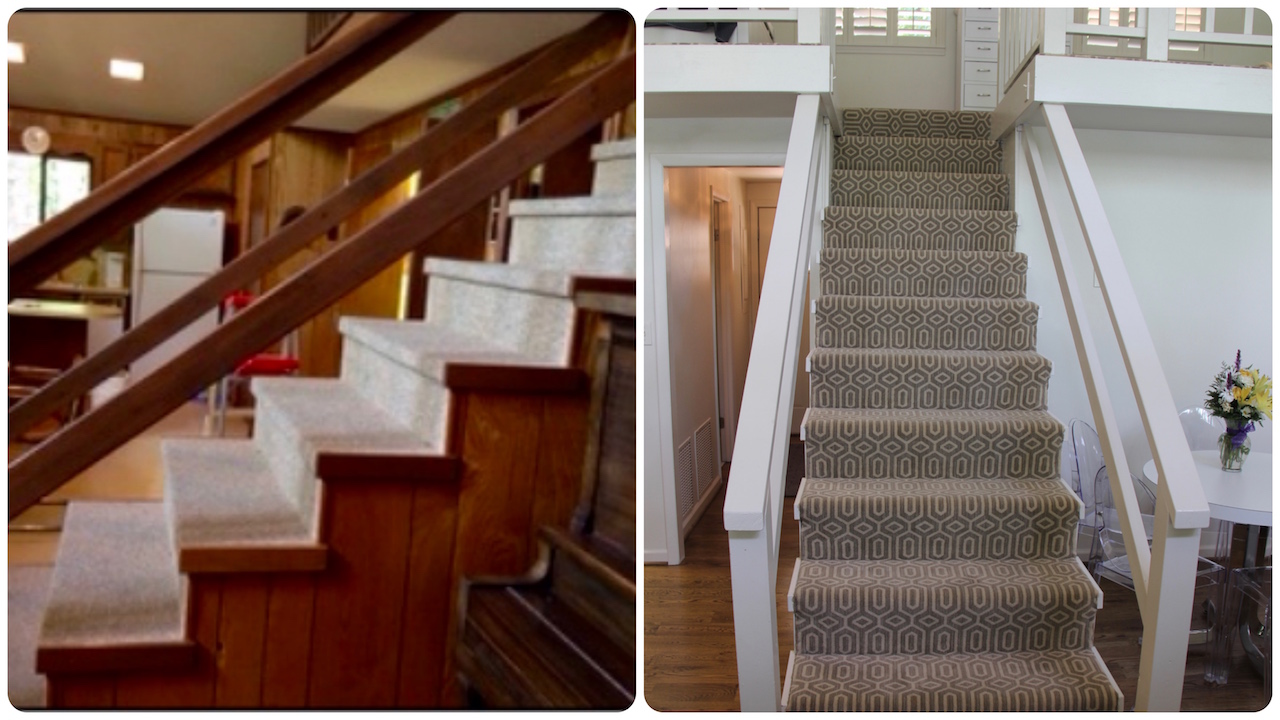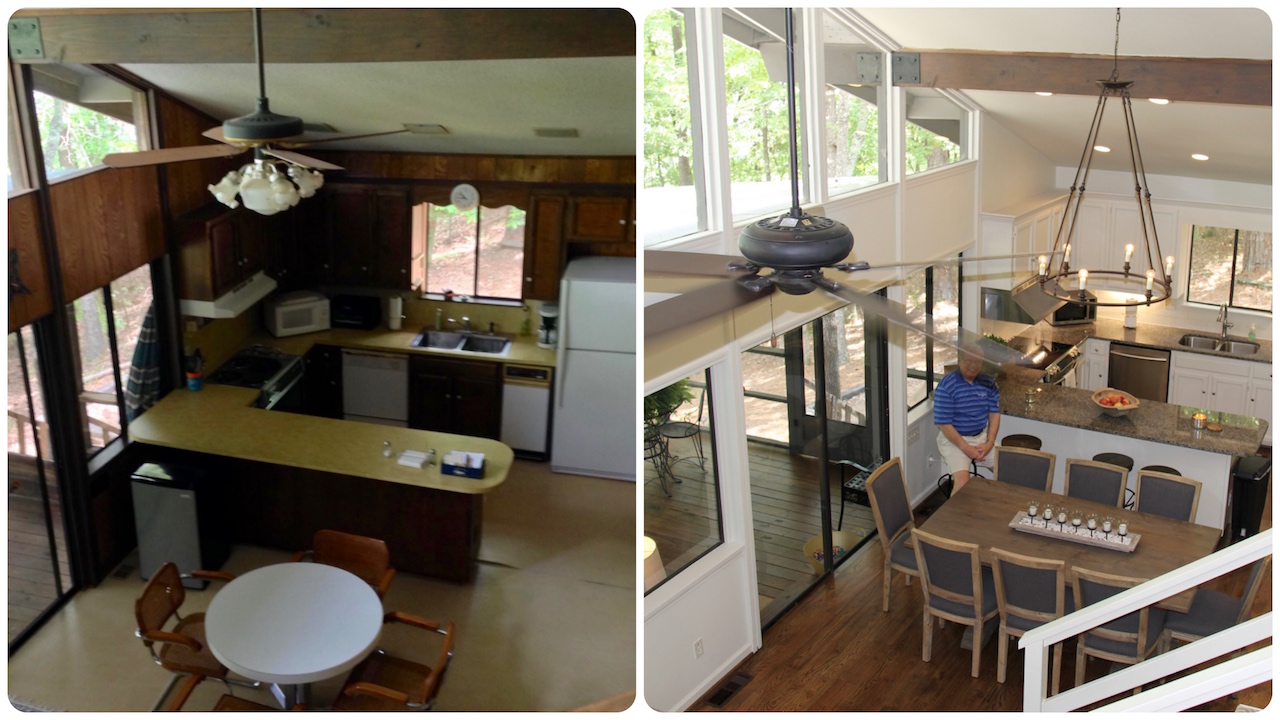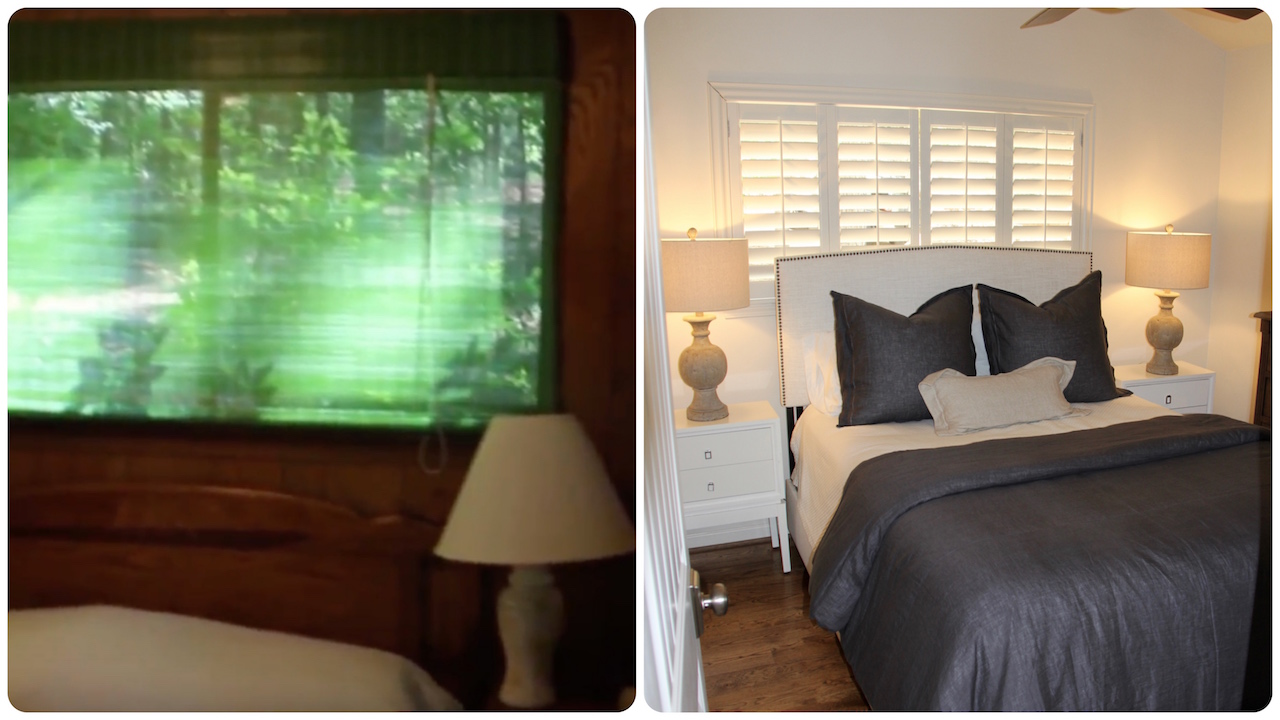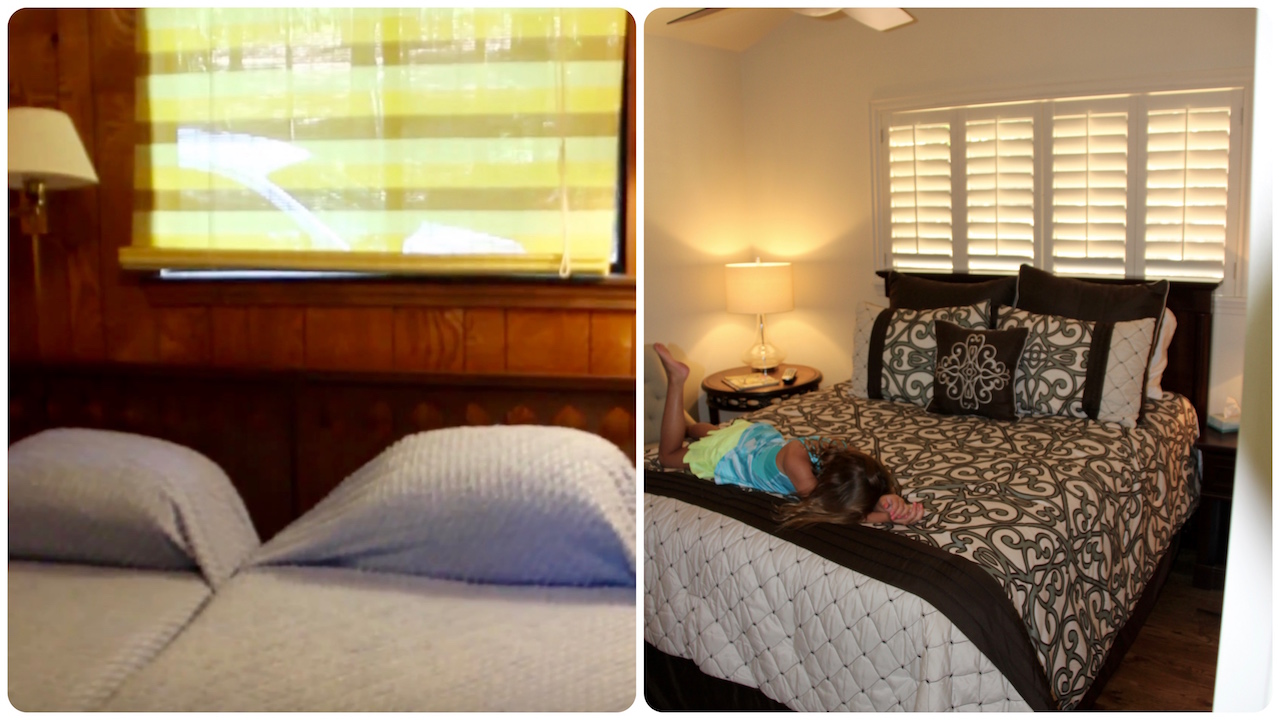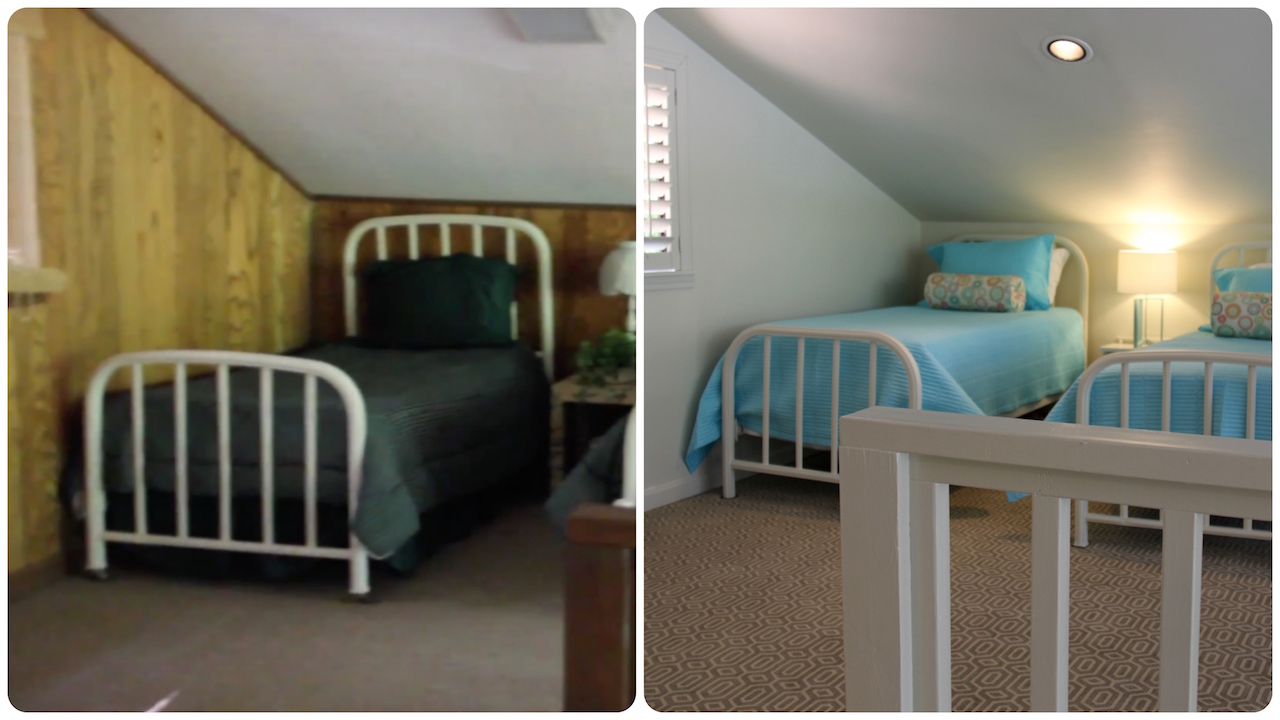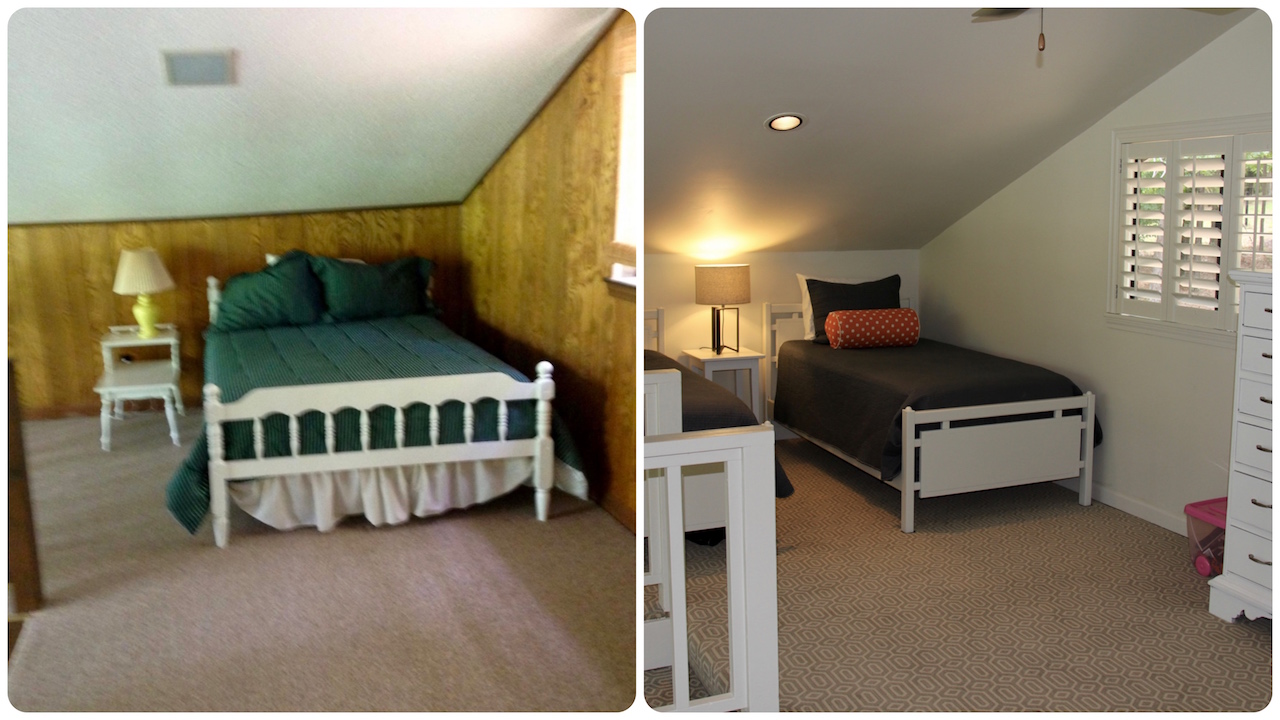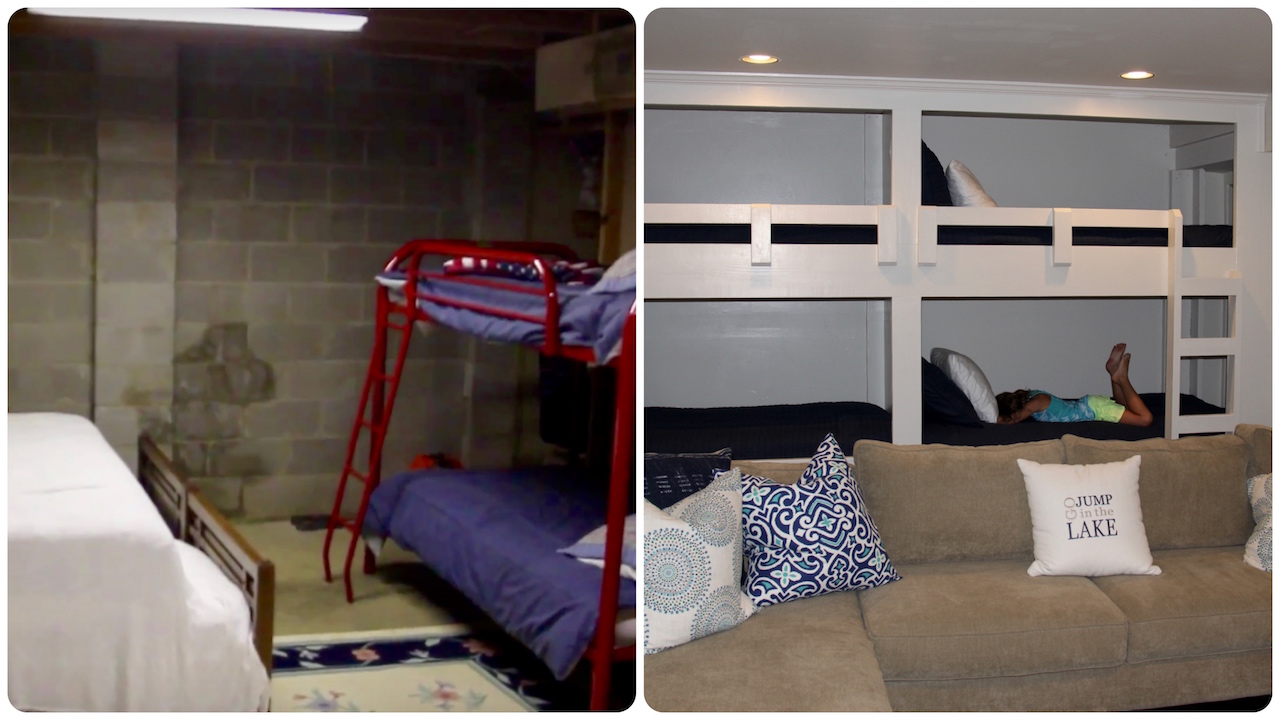 Right now is prime hiking time around Lake Martin.
We've had a really hot and dry autumn, but the temperatures are finally getting right to hit the trails. The other day we Coleys headed to one of the CRATA trails.  It's the Deadening Alpine Trail.
It sounds pretty severe but it's actually a really nice hike. The trailhead and parking area is located just west of the entrance to The Harbor subdivision on Overlook Road. The trail transitions from a red clay and pine tree stand to a deciduous forest with mountain laurel and rhododendron that makes you realize you're on the southern end of the Appalachian Mountain Range.
The trail takes you up and over a ridge that you have seen a million times by boat if you have visited Chimney and Acapulco Rocks. In fact, the coolest part of the hike is when you hit some big boulders that are pretty high up from the water that look straight across to Lake Martin's most infamous landmark. You can hang out on the rocks and get some selfies, or try and squeeze through the Needle's Eye!
We just fooled around on those rocks for a while and then hiked back in time to catch some football on TV. It was lots of fun.
If you'd like to learn more about Cherokee Alpine Ridge Trails, click here for their website. They are a great nonprofit that maintains many miles of trails around Lake Martin.
If I can help you look for waterfront real estate in The Harbor, or anywhere else, please call me at the number on the top of this screen or CONTACT ME HERE.
Earlier this summer I stopped by to see a Lake Martin cabin that I had sold a few years ago in the Parker Creek area.
This waterfront home built in 1983 is on a woodsy, private lot.  It had a good floor plan and great potential but was in need of some updating.
The new owners were excited to rejuvenate the home.  You should have seen their list of projects – "remove paneling, paint entire interior, remove popcorn ceiling, new stone countertops, replace all interior doors, install tile on bathroom floors …" and that was just the list for the interior.
The before and after photos below will tell the story of the exterior improvements.  They painted the home a good looking gray color and built a new entrance on the street side. The screened in porch (don't we all love those) got a makeover and the boat house and dock were repaired.
Stay tuned for more photos of this cabin – you won't believe the transformation of the inside.
By the way, if you are looking for a contractor or subcontractor to help you with a remodel, renovation, or new construction around Lake Martin, CONTACT ME HERE and I would be glad to make some recommendations.