Archive for the 'Lake Martin Living' Category
The Wakeboard Clinic at Blue Creek Marina this summer was fun!  If you hear about one of these events at the Lake – GO!  It is the perfect activity for a warm summer day and the clinic is open for all levels of experience.
And in case you were wondering – the answer is no, that is not me showing off my awesome wakeboarding skills.  But my sons did learn some new acrobatic maneuvers and we want to say a big THANK YOU to Singleton Marine on Lake Martin for hosting the Liquid Force Wakeboard Demo Clinic at their location – Blue Creek Marina.
If you want to know about events around Lake Martin be sure to sign up for my free app!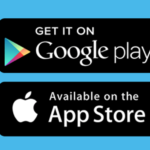 The Lake Martin Voice App is available
on the Apple App Store or on Google Play.
Thanks again to Singleton Marine – Blue Creek Marina!
Come have some great family fun at the Cornhole Tournament being held at The Landing at Parker Creek – Lake Martin on Labor Day Monday, September 5th at Noon!
No entry free!
Cash prizes awarded per team!  1st place – $200, 2nd place $100, 3rd place $50!
What? You've never played cornhole? Just learn a few cornhole terms and you will be yelling "Let's toss some!" before you know it.  For starters a slider is when the bean bag (or bag filled with corn) slides into the hole.  A swish is when the bag lands straight into the hole.  A Sally is a toss made a little too short – it lands on the ground before reaching the actual board.  And an Eddie the Eagle is when the bag goes beyond the board without hitting the board.  Oops.
Let me end on this note – like Herb Winches, owner of The Landing and longtime Birmingham sportscaster likes to say, "Hit 'em straight!"
Google Maps location for The Landing at Parker Creek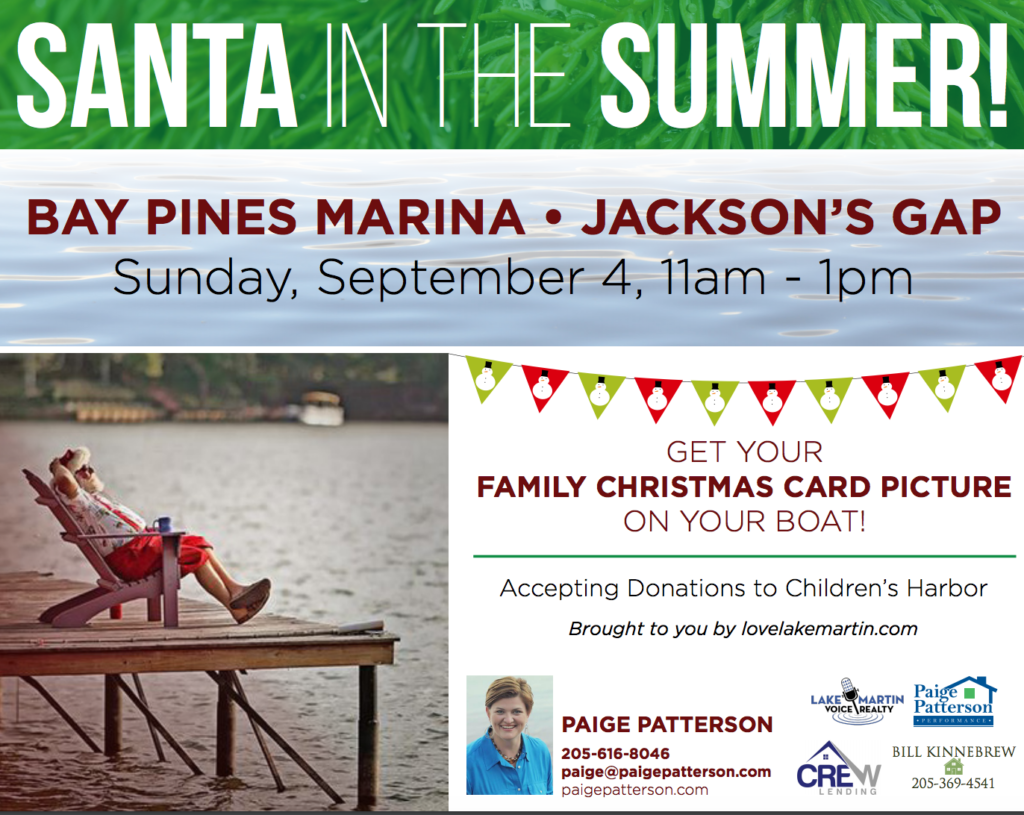 Shhhh…don't tell the kids but Santa vacations at Lake Martin.  Who knew?
You can take advantage of his being on the Lake on Sunday, September 4 and get a family Christmas card picture made on your boat!  Meet at Bay Pines Marina between 11-1 and be ready to smile and say Jingle Bells.  But don't bring your Christmas list because remember – Santa is on vacation.
Brought to you by Paige Patterson – lovelakemartin.com.  Donations will be accepted for Children's Harbor.   Click here for Paige's Facebook page for more info.
Google map for Bay Pines Marina
Ho Ho Ho and away we go!
Driving and Docking Clinics are being offered for free at Blue Creek Marina on Lake Martin!
Are you as confident as these boys about your boat driving and docking skills?  As a new driver or an experienced one learn how to drive and dock in all scenarios and conditions at a free clinic.
Experienced captains at Blue Creek Marina will offer instruction, demonstration and coaching as you practice operating and driving.  Learn how to safely and properly operate your boat.
Each Monday this Fall at Blue Creek Marina a clinic will be held focusing on a different boat type.  Here is the schedule:
Pontoons:  August 1, September 12, October 3
Sterndrives: August 8, September 19, October 10
Towboats: August 15, September 26, October 17
Clinics are from 10am – 3pm – snacks and water provided but bring your own lunch.  Space is limited.
Call Jennifer or Nicole at Blue Creek Marina to reserve your FREE spot.  256-825-8888
And remember – the best way to get good at docking?  Practice, practice, practice.
If you would like the best app for Lake Martin, Alabama, complete with events, eats, home search, and landmarks, please see my Lake Martin Voice App. It's free! Just search "Lake Martin Voice" in the app store.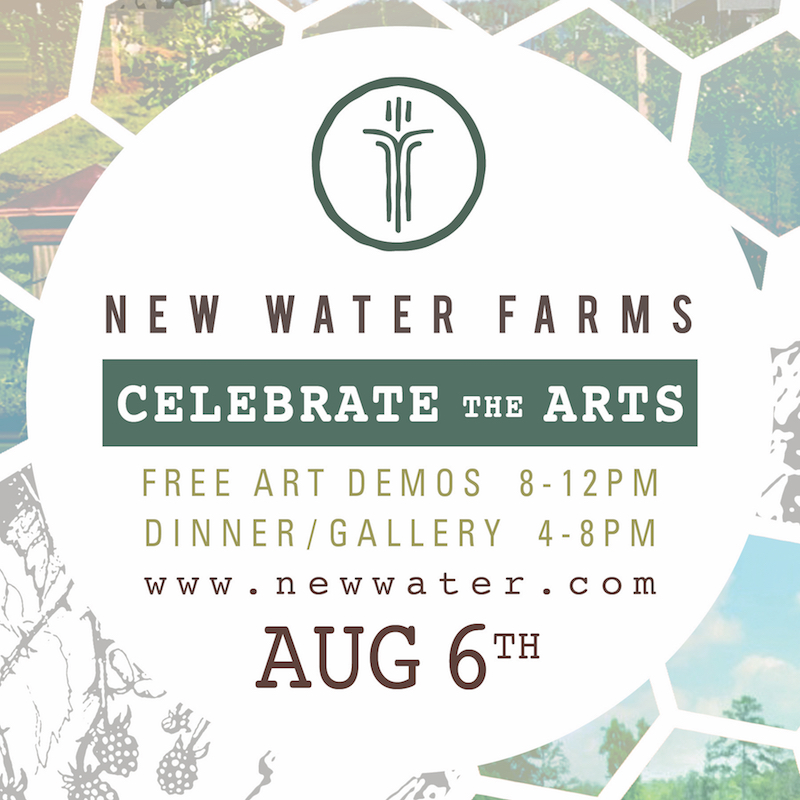 Celebrate the Arts at New Water Farms on Lake Martin in Dadeville on Saturday, August 6th.
You may be familiar with the honey, berries or baked goods from New Water Farms since they are offered at Pepper Place Market in Birmingham during the summer.  But are you familiar with the Farm itself?  Situated on 22 beautiful acres at Lake Martin its goal of "cultivating growth and renewal" is part of the New Water Ministries – a place for people who love Jesus.
It is located at 460 Civitan Road, Dadeville – about 7 miles from Hwy. 280.  Click here for a Google Map to New Water Farms.
Celebrate the Arts is a day for free art demos from 8-12pm showcasing ceramics (Keaton Wynn), glass blowing (Micah Simpson), painting (Betsy Covington), photography (Elizabeth Bacon), woodturning  (Pete Marken), and pen+ink drawing (Kaleigh Hartley).  Watch, chat and purchase pieces as artists work in their medium.
And then enjoy the evening art gallery and a chef-inspired cuisine with Chef Blake Hartley (Bottega Cafe and Hot & Hot Fish Club) from 4-8pm.  Tickets are $75 and are available online.  To see the menu, order tickets and for more information click here.
For other events around Lake Martin download my free app – http://lakemartinvoice.com/app.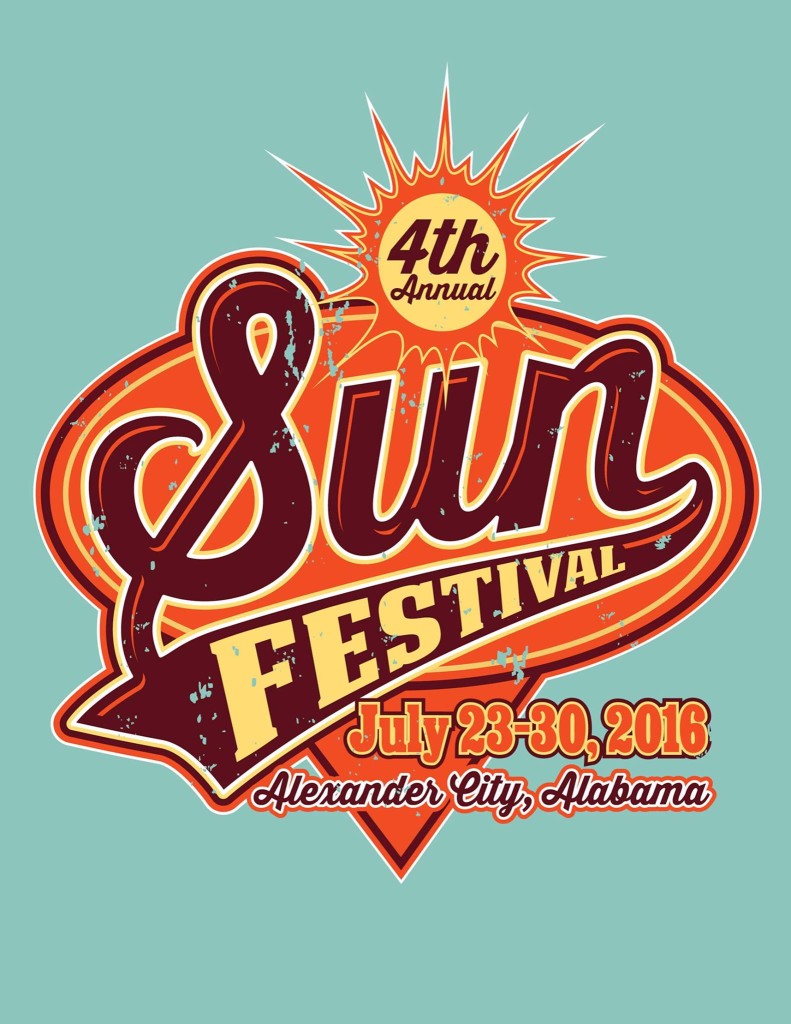 The Alexander City Sun Festival is here again – July 23- 30, 2016!  This Lake Martin area fun filled event is made possible by city and county governments, over 100 sponsors and many, many volunteers.  Sun Fest is coordinated by the Alex City Chamber of Commerce.
This week is packed full of activities for everyone – just to name a few (over 60 events are planned):
Saturday, July 23 – Get your glow on at the 5K Glow Run
Sunday, July 24 – Wind Creek State Park Family Day at the Lake (kayaking, sailing, volleyball, canoe race me?)
Monday, July 25 – Boot Scootin' Boogie in the Park
Tuesday, July 26 – Hittin' the Links Glow-in-the-Dark Golf Tournament at Lakewinds
Wednesday, July 27 – KidsFest Tribal Celebration
Thursday, July 28 – Sunset Hike to the top of Heaven Hill
Friday, July 29 – Band Battle at Strand Park
Saturday, July 30 – Summer Tailgate & BBQ Cook-off AND the grand finale – the Jana Kramer Concert and Fireworks show. Purchase your wristband early at the Chamber, online at www.alexandercity.com or at the gate that day for $20.  This wristband gives you entry to all of the day's events.  Bring your blanket or chair and enjoy the show!
Most events of Sun Festival 2016 are on my free Lake Martin Voice App.  To download a complete Sun Fest day by day guide click here.   You can also see their Facebook page here.  I do suggest you take a look at all 3 sources to help decide what events to attend – you don't want to miss anything!
Happy Sun Festival everyone – you don't want to miss celebrating all that Alex City and Lake Martin have to offer!
Yes, Christmas in July! Where did Santa deliver Ken and Sara's gift?  – Lake Martin of course!
Guess what Santa brought Ken and Sara for Christmas last year? Hint-it is much, much bigger than a bread box. (Spoiler alert – a new house at Lake Martin, Alabama!!)  Watch the video above to see how excited they were about their present.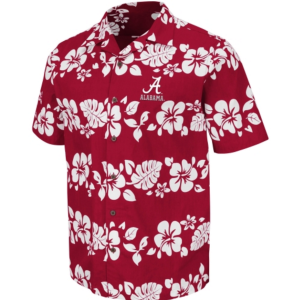 Not everyone can receive a University of Alabama Game Day Hawaiian shirt for Christmas (and surely not everyone wants one) but you can find your Lake Martin home with Lake Martin Voice Realty!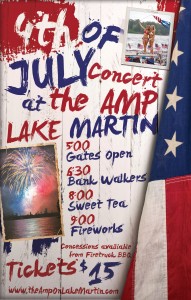 The best place to watch fireworks at Lake Martin for Independence Day? Easy: The Amp – aka The Lake Martin Amphitheater! Lake Martin fans have been watching Fourth of July Fireworks in Kowaliga Bay for generations.
The Lake Martin Amphitheater is located on Highway 63, just south of Kowaliga Bridge. See this Google Map. Don't be tempted to turn on Tecumseh Pt. and Russell Point Roads to get there. The official entrance to The Amp is a dirt road out on Highway 63, across from Prospect Cutoff Road, aka Elmore County Road 389.
Schedule for the Fourth of July Fireworks at the Lake Martin Amp:
5:00 – Gates open
6:30 – Opening is a favorite band of the locals The Bank Walkers.  I have confirmed that guitar prodigy Brian Bice will be wielding his six string, so be sure not to show up late.
8:00 – The Sweet Tea Trio plays until the fireworks begin
9:00 – Fireworks Begin!
For tickets click here to order online – $15 (children 6 and under free).
Happy 4th y'all! I'd like to personally thank Russell Lands for all they do to put on this show every year. The company is the major backer behind the Amp, and coordinates all of the concerts there, as well as the fireworks. It's a huge effort and the Lake Martin community wouldn't be the same without it.
Please see this video for an aerial tour of The Amp.  Also if you're coming to The Amp, bring towels to sit on or low beach chairs.  It's also BYOB but please be sure to have a sober driver.
People always ask me if they should take their boat and watch the Fourth of July fireworks from Kowaliga Bay.  It's a beautiful way to watch the fireworks, arguably the most beautiful, but I discourage it.  If you are new to Lake Martin, or new to boats, or new to boating on Lake Martin at night, forget about it.  If you insist, please make sure to have a sober driver and at least one sober spotter/first mate.  The sketchiest part of the whole affair is after the show is over.  Everybody takes off at once and goes in different directions, and the waves can get problematic.  Be advised.
For other events around Lake Martin for the 4th download my free app –  http://lakemartinvoice.com/app.
Have you ever been to the Lake Martin Amphitheater? If not, check out the above video.
The Lake Martin Amphitheater – aka The Amp – is located just south of Kowaliga Bridge on Alabama Highway 63. The street address is 8878 Kowaliga Rd, Eclectic, AL 36024. You turn in on a dirt road entrance off of highway 63. They have parking in the field before you get there.
The Amp is the host of many concerts (not to mention the annual Fourth of July Fireworks) throughout the year at Lake Martin. The venue is incredible! It's really cool to bring your towels and lawn chairs and sit on the grass to be entertained by some great music with Lake Martin in the background. If you would like a schedule of what's going on at the Amp, please see their website here: The Amp. Ticket prices for events vary widely, so be sure to visit their site or call (256) 329-0835  for the latest info. 
I am just a real estate agent! So please don't call me and expect me to sell you tickets to a concert!
However, if you would like the best app for Lake Martin, Alabama, complete with events, eats, home search, and landmarks, please see my Lake Martin Voice App. It's free! Just search "Lake Martin Voice" in the app store.
Would you like to fly fish around the Lake Martin area? This time of year (June) has hot weather that chases fish from shallow water. That's why local anglers point their rods toward the Tallapoosa River-the headwaters of Lake Martin.
The Tallapoosa River, especially the portion from Horseshoe Bend down to Irwin Shoals, is excellent water for fly fishing for many kinds of bass and sunfish. The problem in the past has been finding someone with the gear and the know how to teach you or take you. Enter my new friend Drew Morgan.  He has been killing it lately on the Tallapoosa. Check his IG for pics.
Stealth bomber, deceiver, game changer, popper, woolly bugger…what are these?
They are a few of the flies that Drew Morgan of East Alabama Fly Fishing  recommends.  Watch the video above and learn more about the gear he recommends for fly fishing on the Tallapoosa River. Drew covers it all- fly rod types, line types, flies themselves, etc.
Contact Drew and book your trip!
To directly contact Drew Morgan of East Alabama Fly Fishing, please go to his website here or his Facebook page!
Related Posts:
Fly Fishing the Tallapoosa and Best Times to Fish the Tallapoosa