Archive for the 'Where To Go' Category

Summer officially starts June 20 but at Lake Martin we all know summer starts MEMORIAL DAY WEEKEND. And boy there are so many events to choose from here at the Lake you are going to wish you could clone yourself to enjoy them all.
Here is a list of events in no particular order:
RXR FEST – three nights of great music at Russell Crossroads – featuring Airside, Mose Wilson and The Delta Twang, The Bank Walkers, Raquel Lily, Jordy Searcy and The Jonathan Bloom Band. Bring your chairs and coolers and enjoy a weekend with family and friends. 6-10pm
Art on the Lake at Children's Harbor – Saturday from 9-5 and Sunday from 9-2 this free art festival features art and jewelry from over 40 artisans with a portion of art purchases helping support Children's Harbor.
Bezlo's Cafe – Opened earlier this year in Eclectic. Avondale Brewing Company Tasting Party from 5-8pm on Friday. Live music from Mark Kelley from 8:30-10pm Friday and Saturday.
Chuck's Marina – Your home all summer long. Live music all weekend – Friday at 7:30pm, Rachel Wilson, Saturday at 7:30pm, Blane Rudd and Sunday from 6-9pm River Dan!
Copper's Grill at Stillwaters – Great food, live music, outside venue! Friday 7-10pm music from Blackberry Breeze, Saturday 7-10pm music from Winston Ramble and Sunday 7-10pm the Sid Phelps Band.
McFadden Cup Club Race – Dixie Sailing Club – Racing open to all members. Saturday from 11-5. Not a member? If interested in crewing see their website.
Eagles at Naturalist Cabin in Russell Crossroads – Saturday at 12pm and 1pm. Come visit two of Auburn's popular eagles!
The Landing at Parker Creek – Saturday starting at 6pm, live music from the M-80s and Jenni Foreman Mote.
Interested in knowing what is happening at Lake Martin? Or check the weather? See the water level? Discover new restaurants or shops? Contact one of the area Marinas? Keep up to date with new property listings? Then download the free Lake Martin Voice App! You will be glad you did!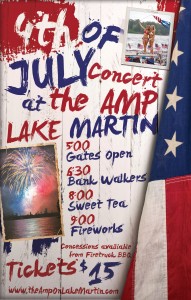 The best place to watch fireworks at Lake Martin for Independence Day? Easy: The Amp – aka The Lake Martin Amphitheater! Lake Martin fans have been watching Fourth of July Fireworks in Kowaliga Bay for generations.
The Lake Martin Amphitheater is located on Highway 63, just south of Kowaliga Bridge. See this Google Map. Don't be tempted to turn on Tecumseh Pt. and Russell Point Roads to get there. The official entrance to The Amp is a dirt road out on Highway 63, across from Prospect Cutoff Road, aka Elmore County Road 389.
Schedule for the Fourth of July Fireworks at the Lake Martin Amp:
5:00 – Gates open
6:30 – Opening is a favorite band of the locals The Bank Walkers.  I have confirmed that guitar prodigy Brian Bice will be wielding his six string, so be sure not to show up late.
8:00 – The Sweet Tea Trio plays until the fireworks begin
9:00 – Fireworks Begin!
For tickets click here to order online – $15 (children 6 and under free).
Happy 4th y'all! I'd like to personally thank Russell Lands for all they do to put on this show every year. The company is the major backer behind the Amp, and coordinates all of the concerts there, as well as the fireworks. It's a huge effort and the Lake Martin community wouldn't be the same without it.
Please see this video for an aerial tour of The Amp.  Also if you're coming to The Amp, bring towels to sit on or low beach chairs.  It's also BYOB but please be sure to have a sober driver.
People always ask me if they should take their boat and watch the Fourth of July fireworks from Kowaliga Bay.  It's a beautiful way to watch the fireworks, arguably the most beautiful, but I discourage it.  If you are new to Lake Martin, or new to boats, or new to boating on Lake Martin at night, forget about it.  If you insist, please make sure to have a sober driver and at least one sober spotter/first mate.  The sketchiest part of the whole affair is after the show is over.  Everybody takes off at once and goes in different directions, and the waves can get problematic.  Be advised.
For other events around Lake Martin for the 4th download my free app –  http://lakemartinvoice.com/app.
The missing piece of what puzzle you may ask?  The Coffee Corner located at 107 Main Street in historic downtown Alex City was the winner of the first ever MainStreet Alexander City Missing Piece Business Competition. The contest,  sponsored by the downtown merchants organization was awarded to The Coffee Corner in summer 2015.  To read more about this new restaurant and the Missing Piece competition check out these links.
I shot the video (above) in December, hence our reference to Christmas, but this is a good idea for a gift card any time of the year.
I like this spot and decided that the Cafe' Au Lait is my favorite.  They are fully open now and serving breakfast and lunch too.  Please go by and enjoy coffee, a sandwich or salad.
Located at the corner of Main Street and Alabama Street in historic downtown Alex City – for a map click here.
To keep up with their latest events, daily brew or new additions to the menu  (the Oreo Delight frappe' looks soooo good) check out their Facebook page or call them at 256-392-4999.
If you want to keep up with new restaurants in the area, or just find a new place to grab a bite to eat, check out our "Eats" tab on the Lake Martin Voice Realty App.
The Lake Martin Voice app is available in the Apple App Store and on Google Play for Androids.
Click here for more information about our app!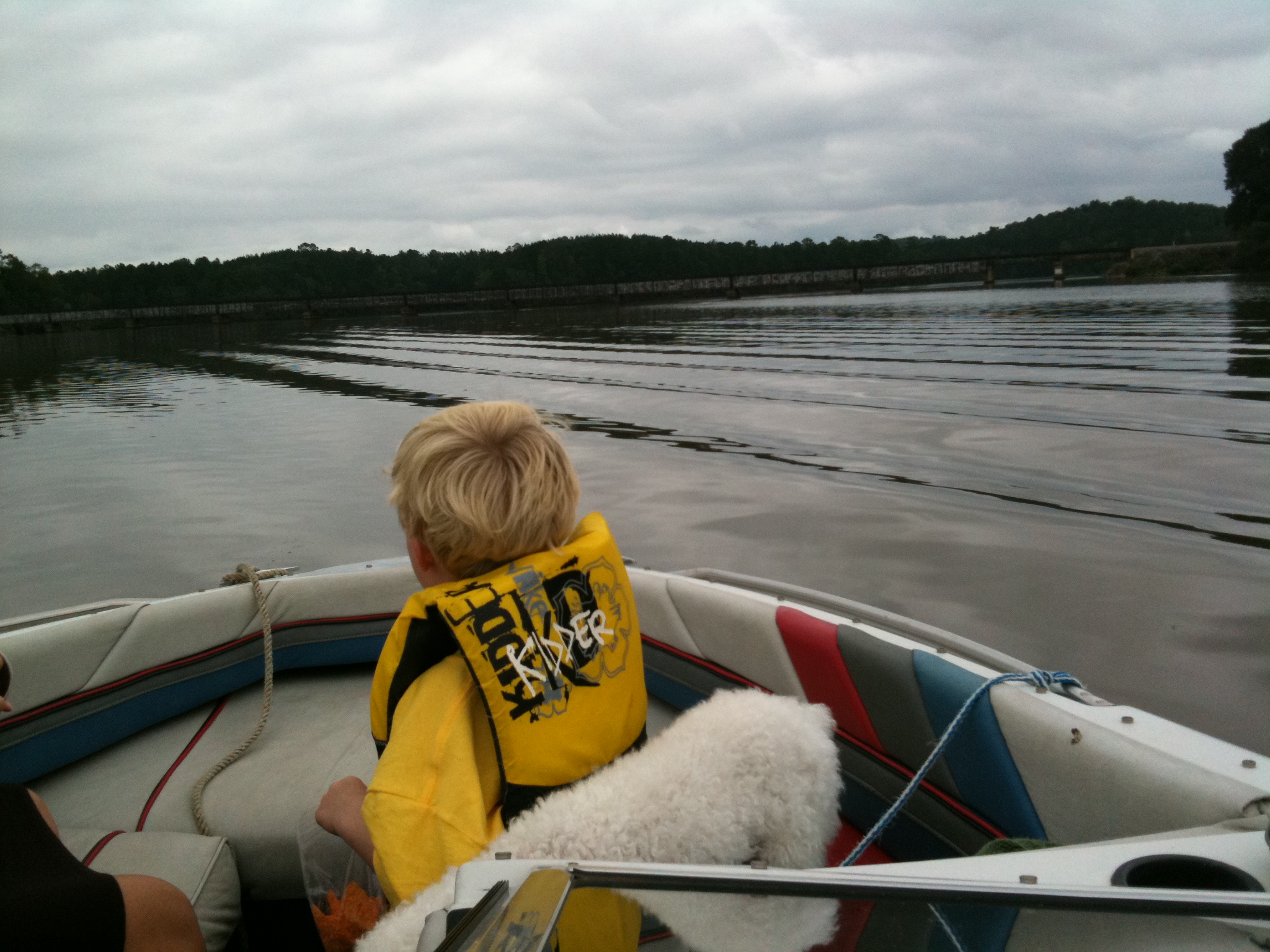 Lake Martin, Alabama, is the place to be on Labor Day.
What else would you expect me to say? I sell real estate here at Lake Martin. But the truth it the truth.
Here are a few things to do, a few events around Lake Martin for Labor Day 2015.  Keep in mind, they are not in order of importance, just order as they come to mind. If you want the best way to keep up with Lake Martin events, and an easy way to find the restaurants, shops, and landmarks I mention, download my FREE APP here.
Lake Martin Labor Day Weekend To Do list:
Friday Night On the Green – at Russell Crossroads
Saturday Pancake Breakfast – at Russell Crossroads
Saturday Lunch into Afternoon – watch football at The Landing at Parker Creek
Saturday Night – get your carb on at Lake Martin Pizza Co. or Oskar's.
Sunday Night – Concert at The Amp – Railroad Earth is the headliner but my money is on the Vegabonds.
The above are all pretty easy spots to find. Are you up for more of a challenge?
If so, then pierce the mysteries of NOCR – North Of Chimney Rock, that is. There is a movement among its adherents that NOCR is always the choice of the Lake Martin fan with discriminating tastes. It's been described as "the non-palooza side of the lake."
OK.
So I will announce a few of its treasures with decided non-palooza vagueness. No websites. No hashtags:
Peanut Point
That Ice Cream Place at Wind Creek Park
Smith Mountain Fire Tower
Tying up at the railroad trestle
An alternative to all of this is to go on a boat ride, 1970s style. In the 1970s, little grasshoppers, there were no cell phones. There were no land line phones, either, pretty much, because there was no sense in paying for service (and leasing a phone) for only half of the year. So when we went to see friends, we could not call them to see if they were there ahead of time. We just drove over there, totally without notice and without a sound track. We were also probably drinking real Cokes, too.
Downside – yes, there were strikeouts. But the upside is that when you found someone at home, it was a real treat. As the person who is potentially being visited, I can tell you it is great. Back in the 70s, when you saw another boat driving towards you in your slough, well, it was better than a package from Amazon.
Friday May 22 was the Grand Opening of a new restaurant – Lake Martin Pizza! If you would like to call them, their number is (256) 373-3337 and they are located at 5095 Highway 49 S, Dadeville. Basically it's at the shopping center that is at the corner of Highway 49 and Tallapoosa County road 34. For their info see their: facebook page.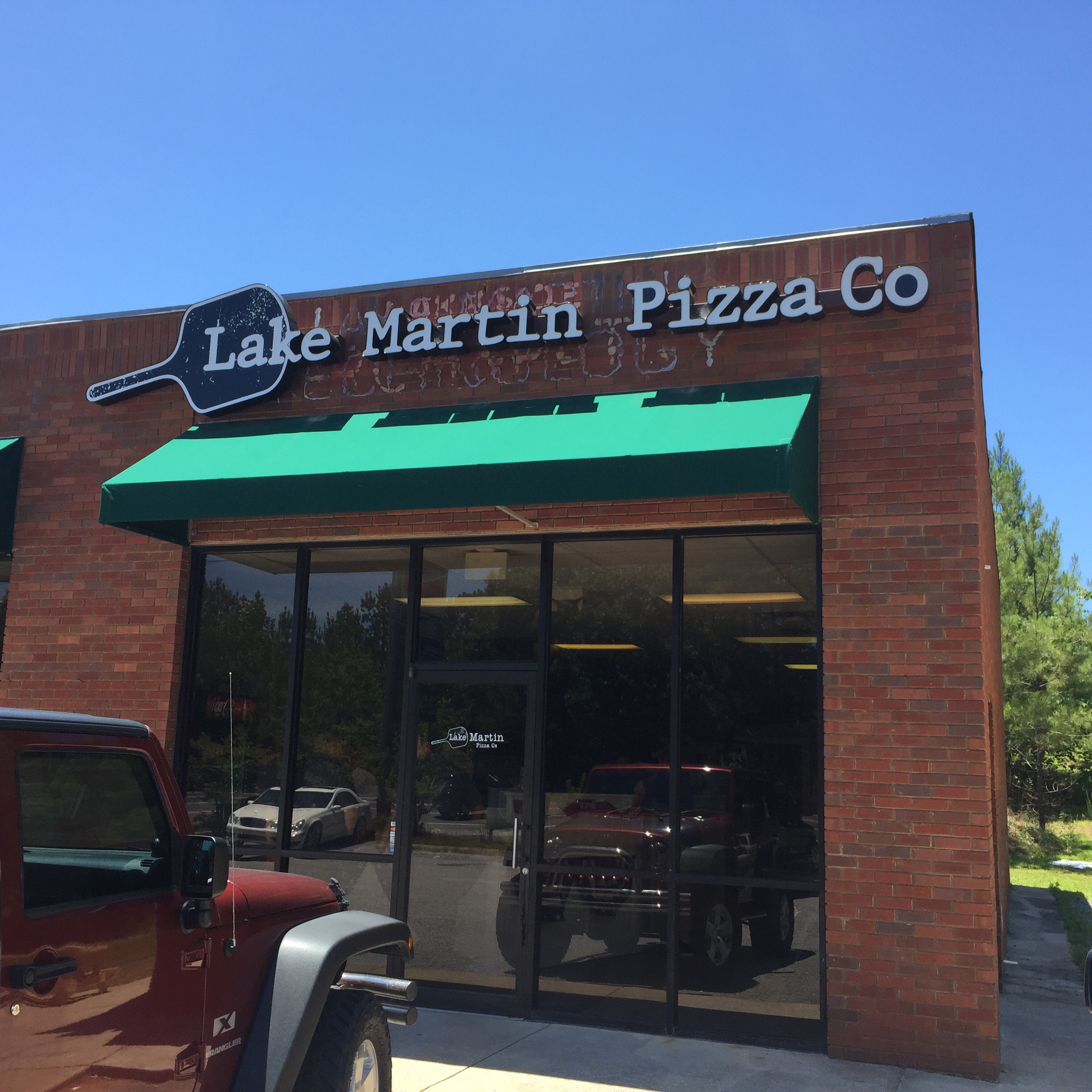 I am happy to report that their pizza is great! I ordered the "Kira's Favorite"– it was a sorta white pizza. It had chicken, pesto, feta, garlic, onions, and sun dried tomatoes. I really enjoyed it as well as the garlic rolls I got. I am not normally a garlic and onions guy but these were not overpowering. They are tasty!
They make their dough and sauce fresh each day and use as many local products as possible.
Plug for my free Lake Martin Voice app:
If you would like the easiest way to see the best Lake Martin area restaurants, on and off the water, plus their hours, their locations, and their menus, please download my Lake Martin Voice app. It's free, available on Apple, Android, and Kindle. Plus it is the best way to see all Lake Martin area events, weather, Marinas, and of course, the best mobile real estate search! CLICK HERE for the Lake Martin Voice App!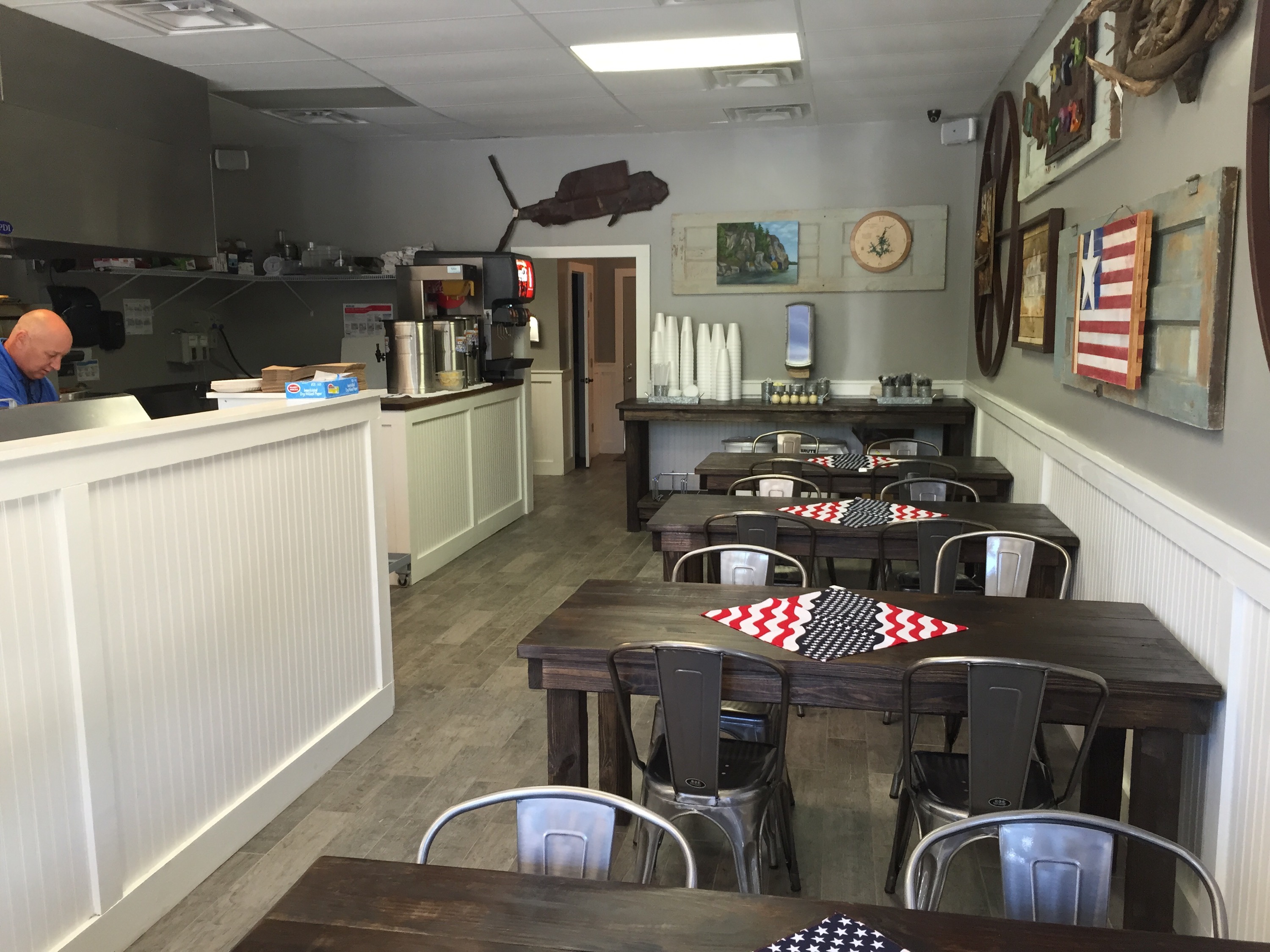 Future Plans for Lake Martin Pizza
I talked to the owner and here are his very near future plans:
Wine Bar – will serve beer and wine. Maybe a speciality drink, but the focus will be on wine and beer
Outside seating – they are creating a covered patio area to the side so they will have outside seating and a guitar player on weekends
We are pleased to announce a brand new free app for the Lake Martin area!   The Lake Martin Voice app is your mobile guide to the Lake Martin, Alabama, area. We offer mobile waterfront real estate search and events, mapped guides to restaurants (with menus), shops, weather, and much more!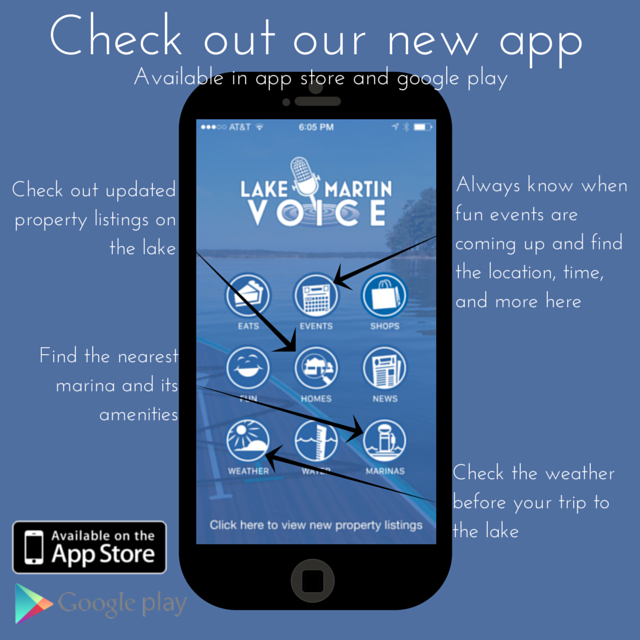 As you can see above, the different tabs you can click through to navigate and learn more about what's near you or happening at the lake are:
Homes – every single home & lot for sale in the Lake Martin MLS, at your fingertips. Use our fast searches like "New Listings" or "Price Drops" or create your own custom search. Cruise by boat and see what's for sale around you if you share your location with the app.
Eats – Restaurants on and off the water around Lake Martin, mapped, with menus
Events – what's going on this week? Next month? Click and scroll to find out.
Fun – Other things to do like where to hike, where to bike, boat ramps, golf courses, churches, and more.
Weather & Water – conditions right now at Lake Martin.
Marinas – mapped locations of all Marinas, plus contact info. Share your location with the app and see where you are, too!
Shops – retail therapy locations on and off water
News – the skinny on Lake Martin stuff
For example, here's what the "Eats" section looks like. If you share your location, you can see where you are in relation to the restaurants. I snapped this screen shot when I was over on the east side of Lake Martin. If you want to browse around the map, you can. Or, if you want to scroll through the list at the bottom, you can do that to. Your call!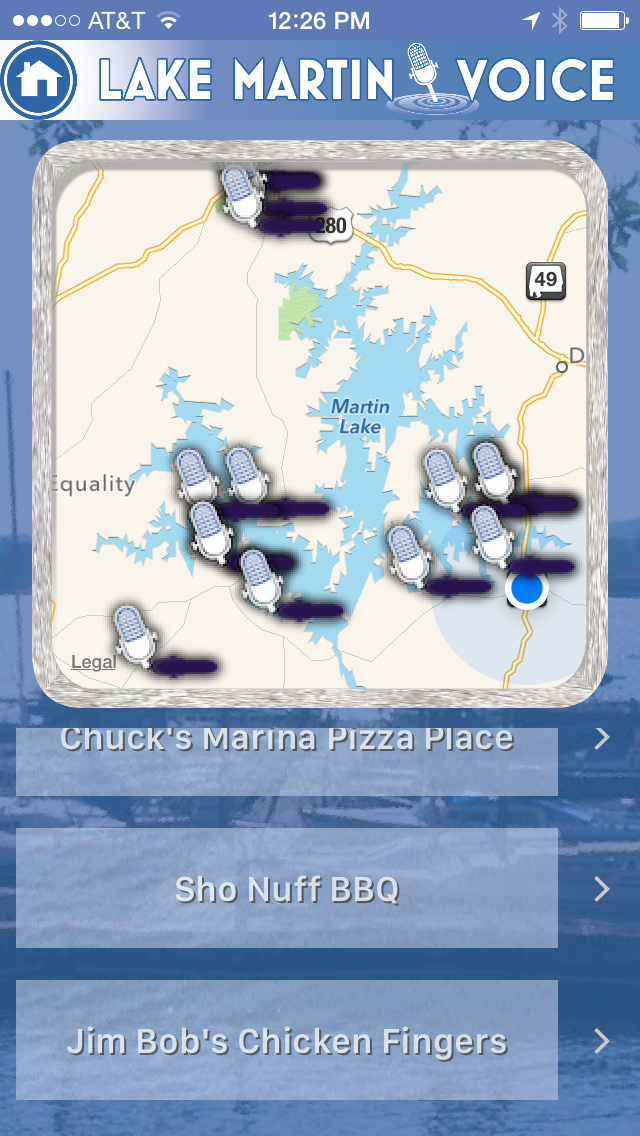 The Shops, Eats, and Marinas sections all work similarly, in that you can browse by map or by list. Every single Lake Martin marina is listed, but you will notice not every restaurant and store are. We purposely left out big chains like Wal-Mart or McDonalds. Nothing against them, but there are plenty of maps and apps that can help you find them easily. Our goal here is to make a special point to mention the locally owned businesses that are so frequently overlooked by visitors. For that matter, there are Alex City folks that are unfamiliar with the Dadeville side, and vice versa, so hopefully it helps them, too!
The Lake Martin Voice app is available in the Apple App Store and on Google Play for Androids.
For more information, please see our FAQ page at: Lake Martin Voice app FAQ 
If you want to request to have an event, restaurant, or shop listed in the app, you can fill out request forms below.
CLICK HERE to request for a shop be added.
CLICK HERE to request for an event to be added.
CLICK HERE to request for a restaurant to be added.
They call it stormy Monday, but Tuesday's just as bad.
It was raining yesterday at Lake Martin and I don't care. We need the rain, and it was Monday after all, post Labor Day. Traffic will be light regardless of precipitation. Things change after Labor Day around here, regardless of weather.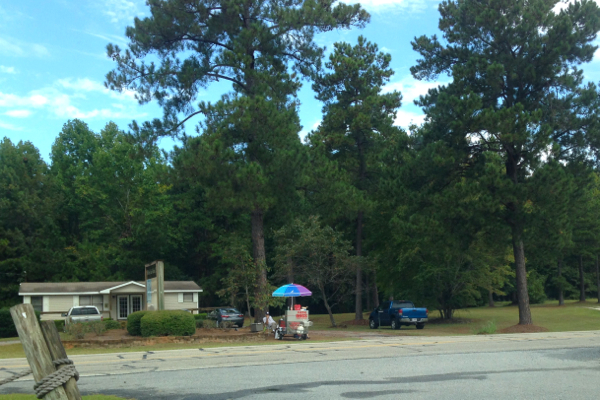 Hence my pic. This guy has been selling hot dogs since around July Fourth. He's set up in downtown Kowaliga, just across from my office at Nails conveneince store. I've never been tempted to buy a dog, despite some pretty good reviews I've heard. But when I see a guy selling hot dogs on the side of the road at 10:00 am on a rainy Monday in post Labor Day September, maybe I ought to buy one out of sheer principle.
About the time I took this picture, the clouds lifted and it turned into a beautiful almost-fall day.  In fact, the past two days have been so achingly perfect (clear, just warm enough, high water, no crowds) I have given serious consideration to pulling my kids out of school and living some sort of home school farm-to-fork existence at the lake.
Do you like to fish for stripers on Lake Martin? Then you definitely need to contact Captain David Hare of Alex City Guide Service. He sends out his Striper Reports every month or so and I think they are invaluable. David is a really nice guy, plus a great guide.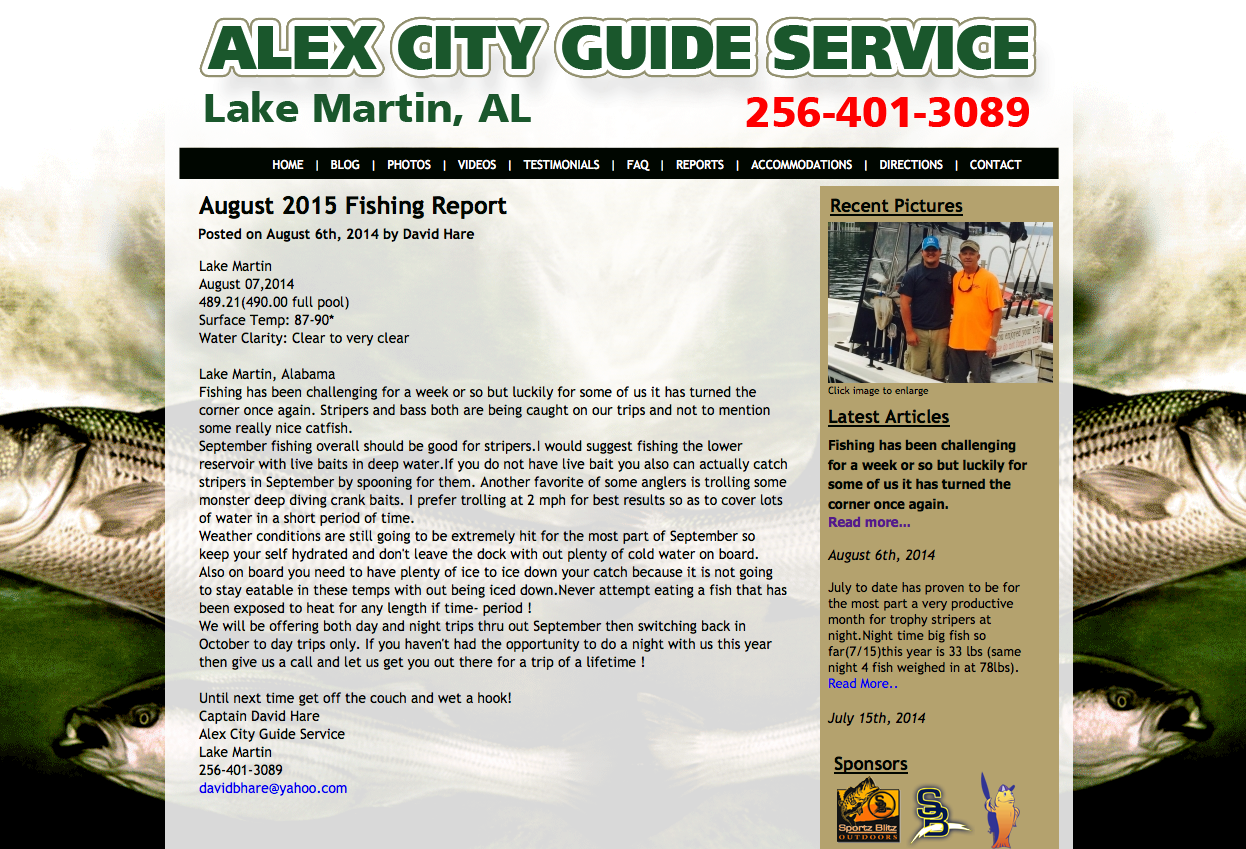 I always slightly mourn the passing of summer, but one of the many fun things to do on Lake Martin in the fall is to try and catch a striped bass. I am already looking at some dates to try and book David or one of his other guides. As I have written in previous years, my big goal is to figure out how to catch these monsters on my fly rod.
While David is not a fly fisherman, he can put you on the striped bass here at Lake Martin.
If you would like to buy some Lake Martin property, call me, I would love to help you out.
If you want to catch striped bass or other fish, call David at the number below, and let him know John Coley said hi!!
Here's a sample report from September 1o, 2014:
Lake Martin
September 10th,2014
488.76(490.00 full pool)
Surface Temp: 85-88
Water Clarity: Clear to very clear
October is really nice fishing weather for the most part and here on Lake Martin in Alabama is no exception. The fall temps should start cooling the water down some and in return should produce more bites overall !
This October I am predicting it to be one of the best yet for stripers on Lake Martin. One of the reasons I feel this way is because I'm already seeing some transition in the stripers both small and trophy size. I think you are going to have a little easier time finding them than in the past few Octobers and I think you are going to be pleased with the quality of the catch.
The days are getting shorter and will continue to do this for several more weeks which means you can stay until dark for that last minute bite and still make it home for supper with the family !
I will be checking all of the hot spots for October stripers but don't be surprised if you see me in the abnormal locations too. I am leaving nothing uncovered this fall because this summer I scouted a lot of areas that I have been overlooking and found some areas that I think will produce in October !
Here at Alex City Guide Service we want to thank everyone that did night trips this summer with us and looking forward to seeing everybody this fall for the day trips !
Until next time get off the couch and wet a hook!
Captain David Hare
Alex City Guide Service
Lake Martin
256-401-3089
[email protected]
If you're looking to buy waterfront real estate, that means you probably want a boat.  And if you have a boat, you probably need some gas.  When showing Lake Martin waterfront homes, I often get these questions, "Where is the nearest marina?" " How do you get there by land?" and "How do you get there by water?" If you're looking for waterfront homes for sale in the Parker Creek area, then take a look at what Parker Creek Marina has to offer:
I've heard all about this food boat that is operating out of Lake Martin's Parker Creek Marina.  I haven't seen it yet, so I thought I'd drop by.  I went during the week, so the marina was closed and I didn't learn anything about the food boat.  But it was a pretty day and it gave me a chance to video their new dock.
I don't know exactly what Parker Creek has in store for next summer, but something's going on.  If you have any updates, let me know.
If you're looking to buy Lake Martin waterfront real estate in the Parker Creek area, check out my Parker Creek Neighborhood page.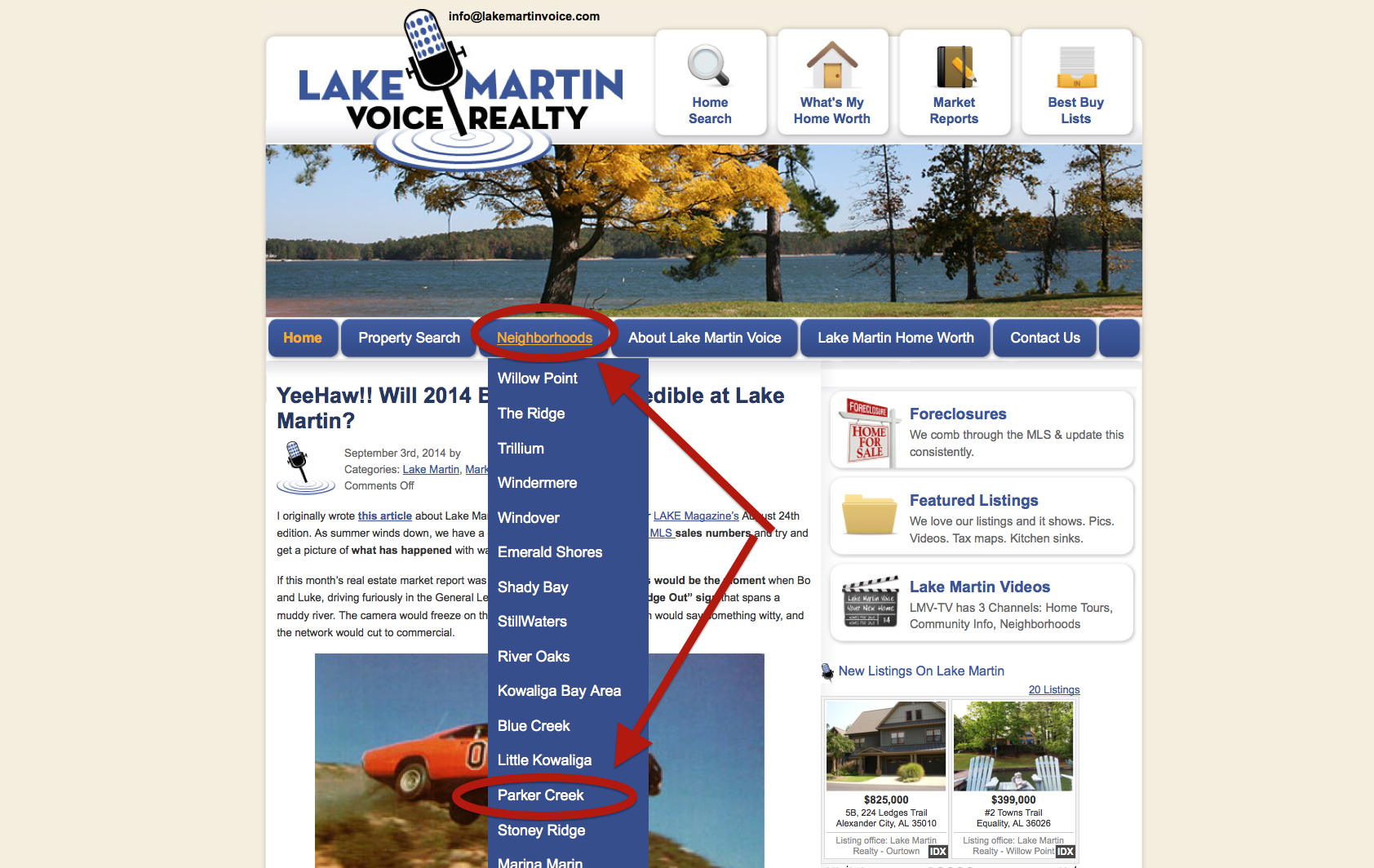 Lake Martin is huge, and it can feel overwhelming to search the entire lake for a home.   I created these Neighborhood pages to simplify the process.  If you know exactly where you want to be on the lake, quickly skim the live feed of current homes for sale in that area.  If you're not sure where you'd like to buy, use these pages to learn about Lake Martin in manageable chunks.  Each Neighborhood page has a video tour, a history of the area, a map showing boundaries, and most importantly, a live MLS feed of homes and lots currently for sale.  These are not just my listings – these are all listings from all agents and brokerages.
And if you see something you like, or you want help sifting through the info, give me a call and let's talk Lake Martin real estate.  334 221  5862.  I'd love to work with you!
One of the things that I love about Lake Martin is that I am constantly learning about new spots – rope swings, skiing sloughs, hiking trails, fishing haunts.  Despite the fact that I'm a full time real estate agent here, and despite the fact that I grew up in Alex City, rarely does a week go by where I do not learn of a new road or a new slough on Lake Martin.
For example, I read a recent issue of LAKE Magazine, and I learned about Peanut Point ("A Visit to Peanut Point" July 2014).  I know, I know, many of you readers are rolling your eyes right now.  How could I not know about Peanut Point??  But after I read about it, I had to seek it out.  I realized I had driven by there once before, last May, and wondered, "What in the world is going on here?"
We have some good friends who have a lake house on what they call the "Non-Palooza" side of Lake Martin, and they are Peanut Point regulars.  They offered to bring us by, and it was a lot of fun! There's something exciting about driving up by boat and getting boiled peanuts.  Lake Martin + boiled peanuts = Fun.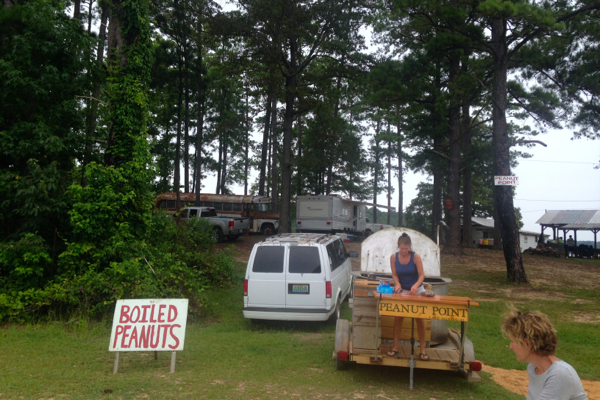 Granted, I am a huge fan of boiled peanuts.  A couple of football seasons ago I boiled a bushel of my own one Saturday for a marathon session of watching SEC football.  I ate so many that the next morning I awoke convinced I had a stomach virus.  My wife gently reminded me that my sodium intake the previous day was gargantuan.  Never-the-less, she let me lay out of church that morning.
To find Peanut Point:  There's a very small cut thru on the west side of Woods Island.  It separates Woods Island from the mainland where the Alex City version of Young's Ferry Road peters out into a dirt track.  If you don't know where that is, go to Bay Pines Marina and ask them.  They will tell you to travel south/southwest, or about seven o'clock on the clock face.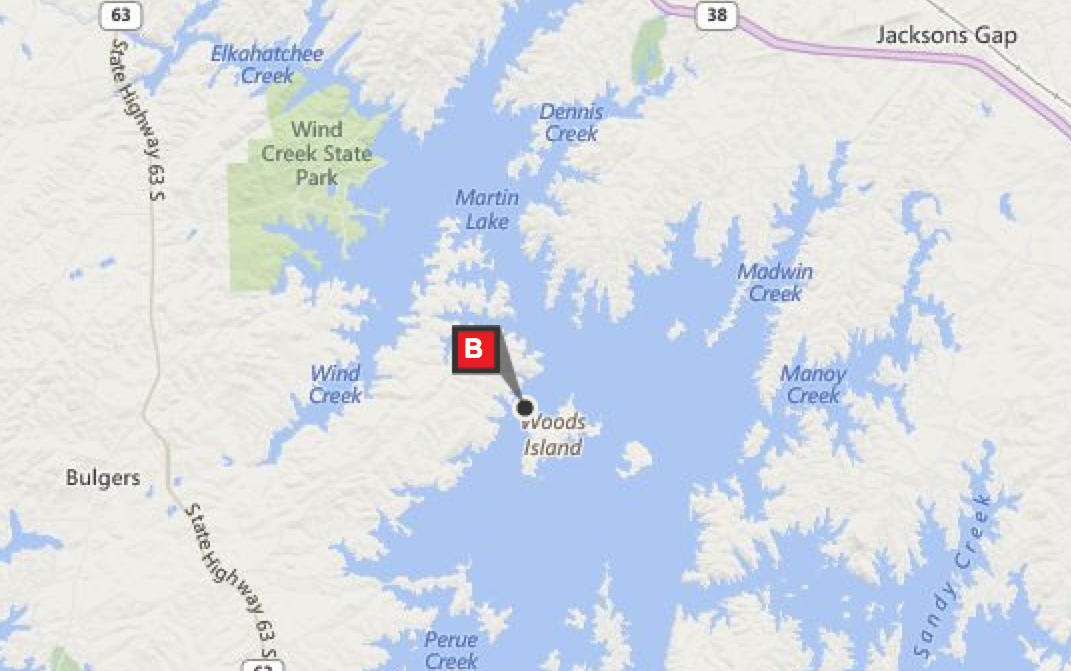 A gentle reminder to my readers that I am a Lake Martin realtor, and I do not sell boiled peanuts.  If you call me to ask if Peanut Point is open, I will tell you "Yes!" 100% of the time.  I'd love to help you research Lake Martin real estate, but I'm leaving the boiled peanuts to the experts.