Archive for the 'Lake Martin' Category
June waterfront home sales on Lake Martin were up 44% from last year!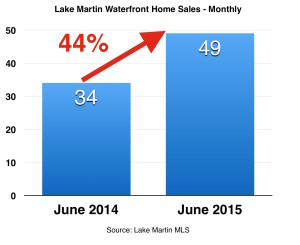 Yes, you read that right. The Lake Martin real estate market is doing well this summer. June of 2015 beat last year in sales by 44%. That's not the only good news! If you look at the year to date, we are selling well ahead of the prior year. 2015 is beating 2014 by 26%! That is impressive because 2014 was a record year of home sales on Lake Martin, even better than 2005.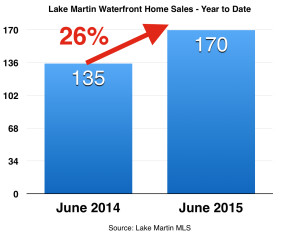 ACRE pointed out on AL.com that supply is down 6.8% and we are still having rising demand and sales even with a lesser supply.  You can read more from this article on AL.com by clicking HERE.
Another factor that is incredible is that lot sales are pacing far ahead this year as well. We have sold 46 lots through the Lake Martin MLS. That's all realtors and all brokerages in the Lake Martin area. Last year at this time we had sold 25 lots through the MLS, and last year was a great year for lot sales.
Just to recap, waterfront homes are pacing ahead by 46% and lot sales are pacing ahead by 84%. Overall, we are doing great in sales so far! Keep updated with Lake Martin market statistics HERE.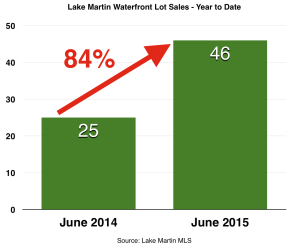 If you have any questions or need real estate help on Lake Martin, feel free to contact me, John Coley, with THIS FORM or at john (at) lakemartinvoice (dot) com or  334 221 5862.
Would you like to search the Lake Martin MLS from your smart phone? Then download the Lake Martin Voice free app!
Happy Friday and Congratulations!! You just saved $10,000 on Lot 61, Phase II of The Ridge!
We just dropped the price on Lot 61, Phase II of the Ridge. It's an awesome waterfront lot on Lake Martin. Just think of it, you didn't have to lift a finger and you saved $10,000. The price has been reduced to $229,000 from $239,000. CLICK HERE for more info on the lot.
Lot 61, Phase II is on Eagle Ridge in one of Lake Martin's most prestigious neighborhoods: The Ridge!
Waterfront lot and home sales are beating last year by 26% on Lake Martin, and 2014 was a record year. Now is the time to take advantage of a great new price on this  wonderful lot!
Call John Coley at 334 221 5862 or john (at ) lakemartinvoice (dot) com.
More Info: The Ridge in Lake Martin
The new restaurant here on Lake Martin, The Landing at Parker Creek, just opened! I decided to go down and video the area, take a look in the video below. PLEASE NOTE: The Landing's # is (205)410-6190!! Please don't call me unless you want me to try and sell you some real estate!!
The restaurant has a unique, casual setup with areas to eat, drink, and even play yard games like cornhole, ring toss, and ladder toss. There are 21 new boat slips, so visitors can come by boat or car to enjoy the food and fun atmosphere.
To see more about this new restaurant: check out their website at www.thelandingatparkercreek.com and their Facebook page HERE. 
Located at 486 Parker Creek Marina Road, Equality, AL 36026
Phone: (205)410-6190
As you might guess from its address, The Landing at Parker Creek is located next to Parker Creek Marina. It is already a great addition to the Parker Creek area and Lake Martin as a whole. I am excited about eating there for years to come!
If you would like to see waterfront lots and homes for sale in Parker Creek, CLICK HERE for my Parker Creek Neighborhood page. It has a live MLS feed so it's always up to date!
If you want to keep up with new restaurants in the area, or just find a new place to grab a bite to eat, check out our "Eats" tab on the Lake Martin Voice Realty App.
The Lake Martin Voice app is available in the Apple App Store and on Google Play for Androids.
Click here for more information about our app!
A Lake Martin Leased Lot waterfront home is becoming an increasingly rare bird in our real estate market.
If you're new to searching the Lake Martin MLS, you might have noticed a field in the information sheet that looks like this: Deeded: Deeded or Deeded: Leased. This is shorthand. If we had more room, it would probably look like: Is This Lot Deeded or Leased? and then have the answer either Deeded or Leased.
What is a leased lot home on Lake Martin?
A fair question. It's a home where the seller is owns and is selling the improvements only, but they don't own the land underneath it. They lease the land, usually from Alabama Power. Historically leased lot homes are less than 10% of overall sales. For more information, see the Leased Lot category of my blog.
Why are leased lot homes becoming more rare on Lake Martin?
About two or three years ago, Alabama Power began selling some of the homeowners the lots which they lease. Mind you, this was not Alabama Power opening up new lots to lease or sell, this was them contacting homeowners on existing leased lots, and saying, in essence, "hey, do you want to buy this lot at $X?" Because of this (relatively) new phenomenon, we Lake Martin agents are seeing fewer waterfront leased lot homes for sale on the market. Those that are on the market usually have an option to buy the lot. Often, you'll see this noted in the (super secret) Agent Notes section of the Lake Martin MLS.
Recently, I had a buyer ask me about how one goes about purchasing a leased lot home with an option to buy the lot.
His Q: Is being able to secure purchase of the lot a reasonable contingency on a contract for the house? Would both transactions be handled together at one closing and with one mortgage or would they have to be separate?
My Answer:
"Excellent questions, I have closed a couple this way:
1.) That's an absolutely reasonable contingency. In fact, I as your agent would insist on such a contingency, broadly worded like "contingent upon buyer's obtaining an acceptable contract with Alabama Property company to purchase Lot X for $yyy,yyy and acceptable review of all lease documents." The idea here is that if you can't buy it for what you want, you're out of there.
2.) closing at one time is doable. I have had one where technically it was two closings but they happened at the same time, where you sat down at the table and signed a bunch of docs to buy the lot first and then a bunch of docs to buy them all together. But it felt like one closing. I can recommend lenders around Lake Martin that are used to this concept. I would not recommend getting lenders from out of town because they have a hard time wrapping their heads around the concept. No slight against them, it is admittedly a weird concept and if I hadn't seen it at Lake Martin I would know nothing of it myself. In fact, growing up here I didn't know anything about it, it wasn't until I started selling real estate that I learned about it.
FYI here's everything I have ever written about leased lots: Leased
It's a little outdated because of the above but it hopefully gives you a decent background.
Do you have any questions about Lake Martin real estate?  If so, please email me with this form or : info (at) lakemartinvoice (dot) com!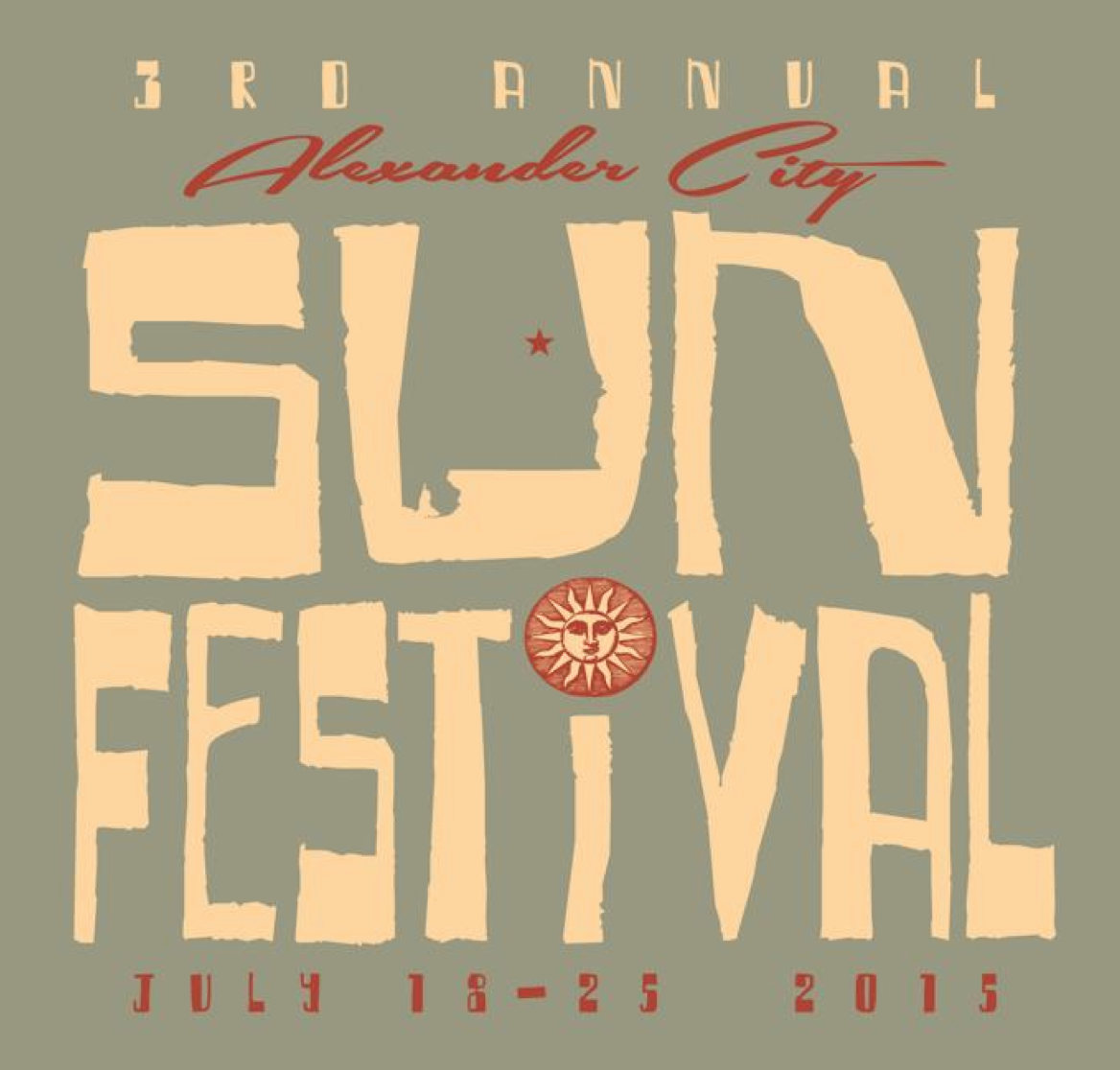 The Alex City SunFestival is a week long series of events coordinated by the Alex City Chamber of Commerce. It is a variety of things from hikes to downtown dancing! There is truly something for everyone. This is the third year of the festival. The Chamber has lined up a lot of local sponsors, and the entire community is involved.
For a complete schedule, see their website:
You can also see their Facebook Page here.
I think this is a great idea and it is really well done. Most of the events are free, but the week culminates in a Fireworks show and concert on July 25th by David Nail.
Here are the details:
This ticket will also get you into the Sun Festival Tailgate & BBQ Cook-off starting at 12:00Noon. 7:00pm Band Battle Winner 8:30pm David Nail 10:00pm Fireworks You will need a printed copy of your ticket to exchange for a wristband that will give you full access to all of the day's activities at the Charles E. Bailey Sportplex. You can bring your ticket to the Alexander City Chamber of Commerce to get your wristband or pick it up the day of the event.
I am putting some, not all, of the events on my Lake Martin Voice App.
Once again, congratulations to the Chamber and everyone in the Lake Martin area that has stepped up and made this week great!
Have you ever thought, "Lake Martin is almost perfect, but what if it were a little more like the Smoky Mountains?"
If so, your dream may have come true. Black bears have been spotted around Lake Martin. See this article in the Alex City Outlook. I must admit that I often have wished Lake Martin could be more Smoky like, but it has to do mainly with wild trout. If some mad plan could be hatched so that the Tallapoosa below Martin Dam could sustain trout, maybe we could become the next South Holston.
Back to reality, this story reminds me that I have many waterfront lots for sale in Shady Bay. They range in price from $57,000 (Lot 23 Ph I) to $190,000 (lot 5 Ph II). If you would like to see the entire list, see Shady Bay Lots For Sale. Or, if you would like to learn about Shady Bay real estate in general, see the Shady Bay neighborhood page.
Since the black bear article first appeared, the sightings have decreased. Maybe the bears have moved on, or maybe they are getting camera shy.
But one thing's for certain – Shady Bay on Lake Martin is a great spot to build your waterfront home. There are homes underway on lots 9 – 14, and they are going to be some really nice ones!
If you have any questions about the lots in Shady Bay, or anywhere else, please don't hesitate to contact me. I can put you in contact with builders and architects to answer your design and construction questions, if you would like me to do so.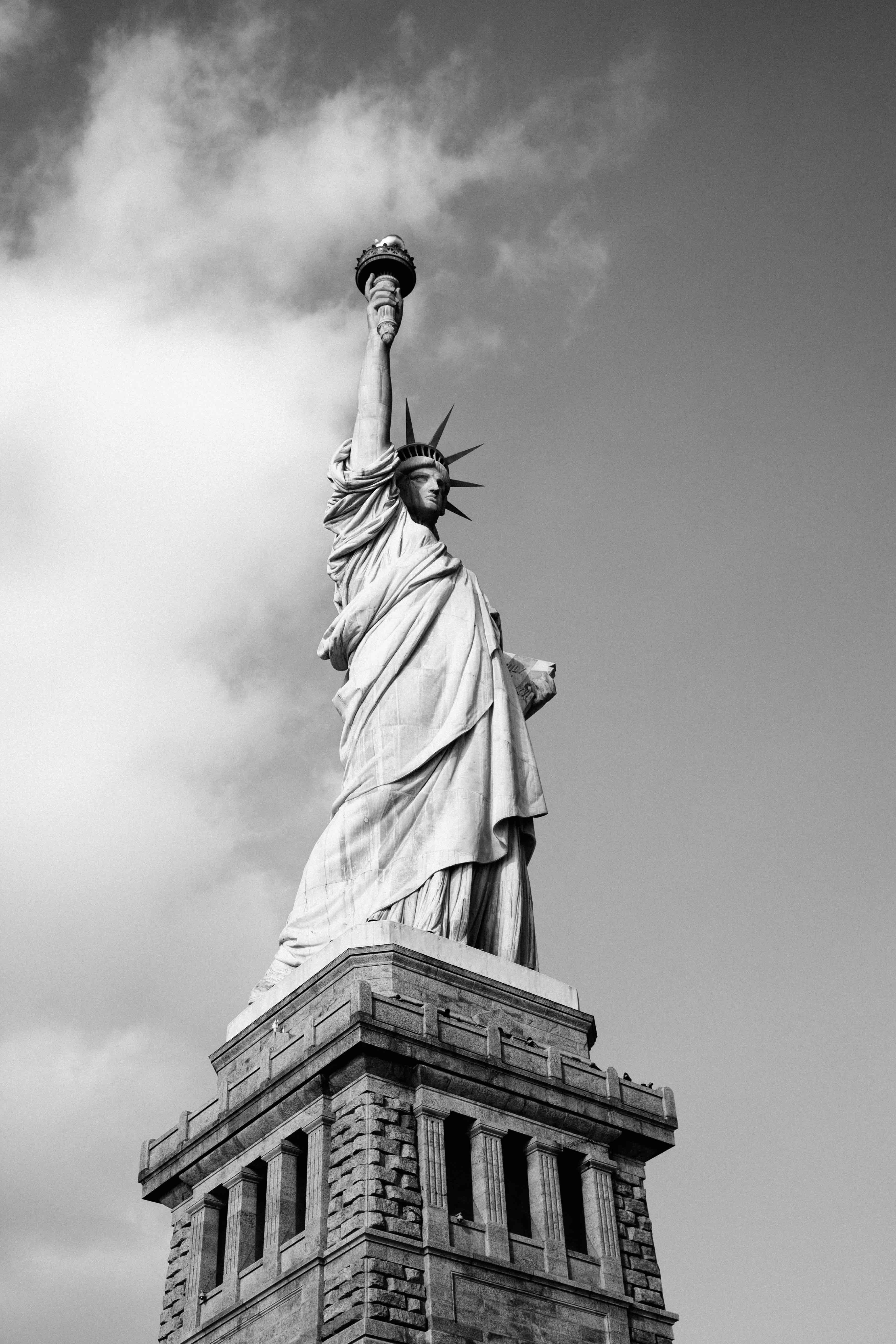 July 4th at Lake Martin
Lake Martin is the place to be this Independence Day with plenty of activities for everyone.
Sure, there's the fireworks show at 9 PM at The Amp. I challenge you to find a better one! But did you know about the concert before? See the Amp's site for more info.
A few other fun events:
July 3rd: Fridays on The Green, Wine Tastings, Arti Gras at Russell Crossroads; Live Music at Chuck's Marina
July 4th: Boat Parade at Kowaliga, Pancake Breakfast  & Arti Gras at Russell Crossroads.
July 5th: Worship God lakeside at Church In The Pines or Church of the Living Waters or any of the numerous Lake Martin area churches.
Why miss any Lake Martin events when you can download our FREE APP here?  Or go to your favorite app store and search "Lake Martin Voice."
John Coley's tips for a fun 4th of July at Lake Martin:
Wherever you go, whatever you do, please be careful and have fun.
If you are man enough to go see the fireworks by boat, have a sober driver and two sober spotters. Don't take off instantly and create huge hole shot waves. Take it slow and easy when you leave.
Don't pack a huge cooler from home. Stop in and give the locals some business. It's probably cheaper from wherever you are coming, is less of a hassle, and our economy is centered around tourism.
Don't complain about the boat traffic. We all know that you are so old you "can remember when…. "
Spend 10% more on fireworks than you planned.
Find a slough that is empty. Toss out a small anchor and float, if even for a few minutes.
Know that the U.S. is still the greatest country in the world. I am quite sure that no matter your political flavor, in the past 12 months there has been something in our country that made you shake your head and think the whole thing is going down the tubes. Cheer up. Be thankful for today, and resolve to help change tomorrow. America wasn't founded, nor was it made great, by apathetic whiners. That last bit is directed at me. I find myself saying "they ought to…." or "someone should …." a lot these days. My resolution is to pitch in and help, not complain.
Get a bad sunburn on purpose. Racoon eyes. Farmer's tan. How else will the folks at work know you've been to the lake? (I wrote that to see how many in my family read to the end).
If you missed last night's Jazz Fest in downtown Alex City, fear not, you have a chance tonight.
Every year, the Alex City Jazz Fest puts on one of the state's best free musical events. Friday night is always in downtown Alex City at what is now the Strand Park. Saturday nights are at The Amp, the incredible amphitheater that overlooks Lake Martin.
Tonight, June 13, 2015, the lineup is:
8:00  Hotel Oscar
9:30 The Revivalists
Like I said, The Amp is a really cool venue and the admission is free. You can't beat that. I think that the local VFD takes a collection for parking but it's well worth it.
Lake Martin Voice Realty is a long time sponsor of the Alex City Jazz Fest!!
How to Find Lake Martin Events
The best way to keep up with all events at Lake Martin is to download my FREE app, Lake Martin Voice.  Here's a quick video of how it works for Events:

The app is available for iOS in the Apple Store and Android also. Like I said, it's FREE. The app also has a quick guide to Lake Martin area restaurants, marinas, a real estate search, weather, and more.


The headline on AL.com reads "Lake Martin Sales Have Slipped 2 Percent." Should we be worried?
We shouldn't be panicking quite yet. This number came from the Alabama Center for Real Estate. They do a great job at accumulating and reporting real estate market reports for the entire state of Alabama. That particular study was looking at the entire area of Lake Martin which includes off water property. If you dig into the details in their report, you'll see that the Lake Martin waterfront home sales are actually pretty much the same as April 2014.
In April 2014, 25 waterfront homes were sold on the Lake Martin MLS*, this includes all brokerages, all real estate agents. This year, in April 2015, we also sold 25 waterfront homes, so we are dead even with last year from a monthly standpoint.
If we look at the cumulative sales from the whole year in 2015, in the Lake Martin MLS*, we sold 87 waterfront homes. Throughout 2014 in the Lake Martin MLS, we sold 72 waterfront homes, and 2014 was a record year. So far, we are tracking ahead of last year in sales by over 20%.
Now, if the Lake Martin waterfront market starts seeing months lose to the prior year and we see that cumulative total go down and we start tracking behind last year, then there might be reason to worry. But so far, we are doing great this year!
If you have any questions, please contact John Coley with Lake Martin Voice Realty at 334 221 5862 or emailing directly at john (at) lakemartinvoice (dot) com.
**************************************
Copyright notice – the above, and every other post on this blog, is the property of John Coley, Broker, Lake Martin Voice Realty. Appraisers may use my information in their appraisals without charge or asking, but please give me credit by citing me, my company name and title, and website address of http://lakemartinvoice.com.  If anyone else would like to use this information, please contact me here and ask. I probably will let you do it, just please ask!
(*)Disclaimers: All of the above info was taken from the Lake Martin Area Association of Realtors Multiple Listing Service. Accuracy is not guaranteed but deemed reliable. The above does not include sales by   FSBOs or developers that sell privately and not through the MLS. But, I do think that the above represents a very large majority of all waterfront sales on Lake Martin, Alabama.
My wife is in full spring cleaning mode. She has attacked the attic with a vengeance. Since I tend towards being nostalgic about my stuff, she knows she has to throw away some and then ask about others. She found this gem  – my old Sony Handycam.
It was the first camera I used to make Lake Martin real estate videos in 2008. It had these little tapes that I had to use to capture the footage. I remember thinking long and hard about whether to invest another twenty bucks in extra tapes. If I had known how the lord was going to bless my business, largely because of my videos about lake Martin real estate, I wouldn't have been so cheap. Note how I had an after market wide angle lens. I bought that off of eBay and thought I was being pretty resourceful.
Sure, it is outdated now, but this little camera filmed many homes, neighborhoods, and places around Lake Martin.
May she rest in peace. 
Fast forward to now, three video cameras later, and I find myself in a quandary about by Canon 60d. It's a nice one, but is its footage so nice that it beats an iphone six? The iPhone is so much easier to upload and transfer files. The other day I was in a pinch to record a Lake Martin Real Estate Market report, and I found that the quality on the 6 is so close to my DSLR, you can barely tell the difference. My guess is I will start to use the 60d less and less. In someone else's more professional hands, the 60d is tons better I am sure.
It just reminds me that if you want to be proficient at anything, you have to keep sharp!