Archive for the 'Developments' Category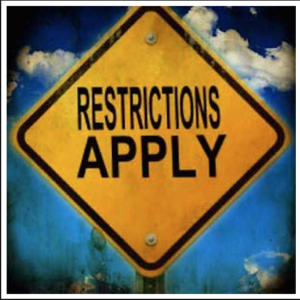 Note: I originally published this article in my monthly column in Lake Magazine. I also published it on my column on al.com – where I am proud to write about Lake Martin Real Estate for AL.com.
Bob and Susie Q. Buyer have found a way to buy a Lake Martin waterfront home that will pay for itself!
It's easy money, they think.
They have done their due diligence (i.e. watch HGTV) and are ready to make their move. They have found the perfect little Lake Martin waterfront cabin. It's on a beautiful lot with 500 feet of waterfront. When they noticed that house is crammed over to one side of the lot, it gave Bob and Susie Q. their idea. They buy the home, cut the lot in half, sell the lot, and pay for their entire purchase.
They can't miss, right?
I can think of two reasons they will.
Firstly, they might need to consider that HGTV is carried on the cable networks of Charter, Com-Link Inc. and Dish here at little 'ole Lake Martin. In other words, we know how to flip (and flop) here, too. If a deal is that much of a layup, it will likely be scooped up by Adam Smith's Invisible Hand way before it comes on their radar up there in the big city.
Secondly, the biggest reason is that the lot is restricted. Well, I should say that there is a 98% chance it is restricted and therefore they cannot split the lot. The seller is selling the lot subject to the same deed restrictions which they bought, and at Lake Martin, that means you can't split it, among other things.
Yes, there are some needles in the haystack here and there. But, the last time I looked for a buyer, I reviewed the 100 or so waterfront lots for sale on the lake and only found two or three that were truly unrestricted.
If you are unfamiliar with deed restrictions, think about the neighborhood where you live just outside of Gotham. Most neighborhoods have their own set of rules about what kind of home you can build. They might also have rules that state the minimum size a home can be, how close it can be placed to the lot lines, the materials used, or any number of things.
Still other neighborhoods have "Architectural Review Boards" which is a committee of residents tasked with making sure all new construction fits the Homeowner Association's guidelines.  These are all "deed restrictions" because they are part of the deed when you bought your house.
I hear from buyers all the time that let me know that they want a waterfront lot that is, in their words, "unrestricted." When they mention that, I always ask them if they plan to split the lot or build two homes on a lot. Usually, they say no. Most of the time buyers think unrestricted refers to controls like architectural review committees.
They don't want anyone telling them what color paint to use on their deck.
This also comes up when people want to be able to park their RV on the lot for a few years before they build their home. Or, they even might want to park the RV during the precious few months of home construction. Most formal neighborhoods and county road plats at Lake Martin have restrictions against this.
Other buyers might like to put a manufactured home on the lot, and keep it like that as long as possible. Again, it's equally difficult to find a lot that would allow this.
Does that mean all restrictions are bad? If your neighbor split his lot into 30 parts and plans to sell them all to the highest bidders, would you be excited about it?
The point here is that each lot buyer must not go around making assumptions. Don't assume that all restrictions are "bad," or that any restrictions are "good." One must behold any deed restrictions with one's own eye and decide beauty.
How does one do that?
You verify before you buy.
After that, it's too late. Therefore, a buyer with concerns about when can be done on the lot should include a contingency in the real estate contract to say something like "this offer is subject to buyer's favorable review of all deed restrictions" or something like that. The buyer should consult an attorney to make absolutely sure.
I am not a lawyer, but experience here at Lake Martin has pretty much taught me to never assume.  But, if I had to guess, I would say that Bob and Susie Q. Buyer won't be able to split that lot.
I will take a 98% chance any day of the week!
How do we know the value of a Lake Martin waterfront lot?  Have you ever seen two that are exactly alike?  Do appraisers base their finding based on a feeling, or is there a formula?
Yes, there are several formulas, but only one that works at Lake Martin:  Comparable Sales.
Every now and then, out-of-town appraisers come to Lake Martin and are paid to make decisions about property value on our lake.  And they often bring their city-style pricing methods with them.  I've seen it enough, and have had to have this conversation with buyers often enough that I felt a real study of lot pricing methods was due.  I wanted to combine our MLS sales data with the anecdotal evidence I've been collecting for years.
I've been saying for a few weeks now (Part 1 and Part 2 of this series) that Lake Martin waterfront lots are best valued by the Comparable Sales method.  I've walked you through two other methods that don't cut it in our Lake Martin market:  Price Per Waterfront Foot and Price Per Square Foot/Acre.  The time has come address the most accurate valuation tool, the Comparable Sales Method aka the Sales Comparison Approach.
The Comparable Sales Method at Work on Lake Martin
"The Comparable Sales Method uses data from the sales of similar properties to estimate the market value of a piece of real estate.  This is a common method of assessing the value of real estate . . .  In most cases, several similar properties are used in the analysis." (About.com)  So what I do when helping a potential seller determine a list price for their lake property is look at other similar sales.  A perfect comparable sale would be one that is geographically close,  with a similar view, privacy, water depth, and waterfront footage, etc.  Properties that have already sold are called "comparables," and the lot you are trying to value is called the "subject."
When the Sales Comparison Approach is used, choosing the most comparable sales is a critical part of the equation. To make things simple, let's think about deed restricted developments on Lake Martin first.  The old real estate cliché of "location, location, location" does apply at Lake Martin.  Over the years, buyers have shown a preference to select lots that are inside deed restricted neighborhoods with covenants and homeowners associations.
One takeaway from this study is that the Comparable Sales method is labor intensive.  It requires a working knowledge of the area – otherwise how to know which sales are most comparable?  It also supposes an understanding of what buyers value in a Lake Martin lot.  Like most real estate pricing, it is not an exact science, but I think you can get pretty close.  There is no getting around it, no shortcuts, no magic formula. One simply has to buckle down and find the most comparable sales and then adjust to match the subject. For instance, if a comparable lot sells for $185,000, and I think that its view contributes 10% more value than the subject's, then I would subtract 10% or $18,500 from the sales price to arrive at an estimation of the subject of $166,500. I try to get two of three more comparables, and average their adjusted sales prices, and presto, I have my estimation of value.
Obviously it gets a little more tricky to find comparable sales for properties that are not in formal neighborhoods at the lake, and there are some that are not.  But it can be done, and done well with the proper research.  The same goes for properties with homes.
The Sales Comparison Approach is also the preferred method by residential appraisers, so we shouldn't be surprised that is the most accurate here at Lake Martin.
That is not to say that waterfront footage should be ignored – not at all. When using the sales comparison approach, if two lots are ceteris paribus except for waterfront footage, consideration should be given to the lot with more feet at lakeside. 

There is a place for adjustment for waterfront footage, but only as a secondary, fine tuning after first selecting good comparable sales. Much like a set of scales at the doctor's office has two weights  –  a large one to get you close, and a small to get you exact:
Hopefully this study dispels the impulse of using waterfront footage as a starting point, or as the primary driver of estimated sales price.  The numbers just don't work. I also hope that using a price per acreage or per square foot will not be used at all.
And now, having read all three parts of this math heavy series on lot pricing, I declare you to be a graduate of the Lake Martin Voice School of Graphs and Charts!  Congratulations!
Caveat:  If you call me to list your waterfront home or lot, and you tell me you have a "feeling" your Lake Martin lot should sell for X because Lake Martin lots generally sell for X per square foot, I'm going to make you go back to Part 1 and retake the course.
Links to Related Material:
Lake Martin Waterfront Lot Pricing: An In-Depth Study Part 1
Lake Martin Waterfront Lot Pricing: An In-Depth Study Part 2
Lake Martin developer, Russell Lands, is expanding in Phase III of The Ridge.  They've had plans to do this for a while, but the old Dixie Sailing Club occupied part of that area designated for Phase III.  When Lake Martin's real estate market picked up, Dixie Sailing Club's location was moved to a new location in Young's Basin.  Once the club was moved, the signs were clear for everyone that Russell Lands felt optomistic about the future of waterfront real estate and Phase III in The Ridge.
On Columbus Day, I was out on the boat doing market research – by that I mean my family was taking our the last tube ride of the year on a beautiful, sunny, October Monday.  I saw some smoke billowing up from the old Dixie Sailing Club area near Chimney Rock, so I drove closer to check it out.  Russell Lands had their heavy equipment out, tearing down and burning the old Sailing Club cabins.  Check out the picture and video below of the house-less docks, the burn pile, and the big machines.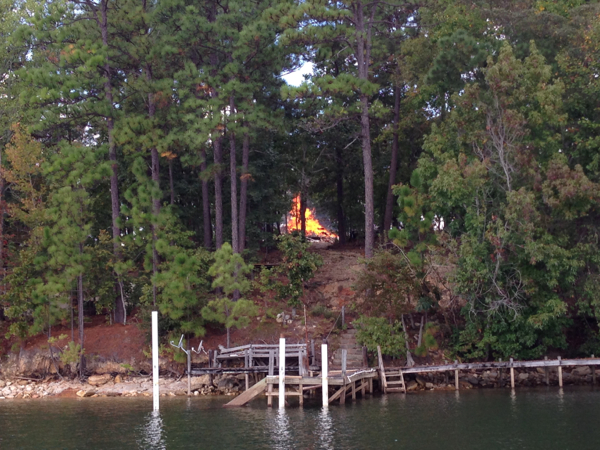 The Ridge is a huge , gated development that is centrally located on Lake Martin.  I just helped a family close a house last week in Phase III of The Ridge.  I love that area – some of the lots and homes in Phase III have views of Kowaliga Bay, and others have views toward the Chimney Rock area. It's close to The Ridge Marina, and all home owners have access to The Ridge amenities like the clubhouse, tennis courts, pool, beach club, etc.
If you'd like more info on The Ridge, check out my Neighborhood Page.  Here you'll find a history of the development, map, video tour, PLUS a live feed from the MLS of all homes and lots currently for sale.  I design my Neighborhood Pages to be one-stop-shops for the different developments and geographic areas around Lake Martin.  There are over 700 miles of shoreline at Lake Martin, and I want to make it as quick and easy as possible for you to learn our market.
I wrote about this part of Phase III in my LAKE Magazine column, "Peek into the Big Boys' Mind" (Dec 2012).  To read the entire article, click here.  If you're interested in waterfront real estate on Lake Martin, give me a call and let's talk about why I think the progress on Phase III of The Ridge is good for our entire market.  I sell Lake Martin property exclusively, everyday, and I'd love to be your realtor.  Call me at (334) 221-5862, email me at john@lakemartinvoice.com, or click here to contact me.  Thanks!
Last week we at Lake Martin Voice Realty announced the release of 14 new waterfront lots for sale in Shady Bay.
Below are some pictures I took as I walked up and down these lots:
If you're interested in Shady Bay, we invite you to walk the lots, too, but bring your bug spray and perhaps a walking stick.  These are not 100′ x 100′ feet city lots;  they're thickly wooded with all kinds of hardwoods and pines and they slope from Amber Drive down to the water.  They are raw and untouched and ready for buyers to envision their perfect lake home.  Buyers may bring their own builder and house plans, and covered boat docks are allowed.
If you'd like more info on Shady Bay, give me a call at (334) 221-5862, email me at john@lakemartinvoice.com, or click here to fill out a contact form.  I  can help you with Shady Bay and all properties on the Lake Martin MLS, regardless of the listing company.
Here's a quick video tour of Shady Bay:
It's hard to beat a Lake Martin sunset.  I've been experimenting with this time lapse app on my iPhone, and the other week I recorded some pretty skies over Emerald Shores.  The video below is the sunset view from Lot 18, a 1.26 acre lot with +/- 321 feet of shoreline that is still available for sale.  For all the listing information on Lot 18, CLICK HERE.
Here's an Emerald Shores SALES UPDATE, too.
As of April 23, seventeen of the twenty-nine lots that were released for sale by Alabama Property Company are under contract.  Two additional lots are in negotiations.  In thirty-eight days, sixty-five percent of the lots offered have gone under contract or are being negotiated (we at Lake Martin Voice Realty joyfully listed these lots on March 16, 2013).   These are strong sales numbers, especially when you look in the Lake Martin MLS and consider that in the entire year of 2012, a total of 38 lots waterfront lots were sold on Lake Martin, by all agents, all brokerages, everywhere.
Like I've said before, if you're interested in one of these lots, NOW is the time to call me.  They're moving quickly, but there are still some beautiful lots available.
Lot 18, featured in the time lapse video above, is a great example. It's flat, wooded, and private.  Alabama Property Co. has already installed a rip rap seawall, and that wall is included in the sales price. It's also a flexible lot;  there is a variety of ways to place and orient a home on this lot.  Check out the pictures below: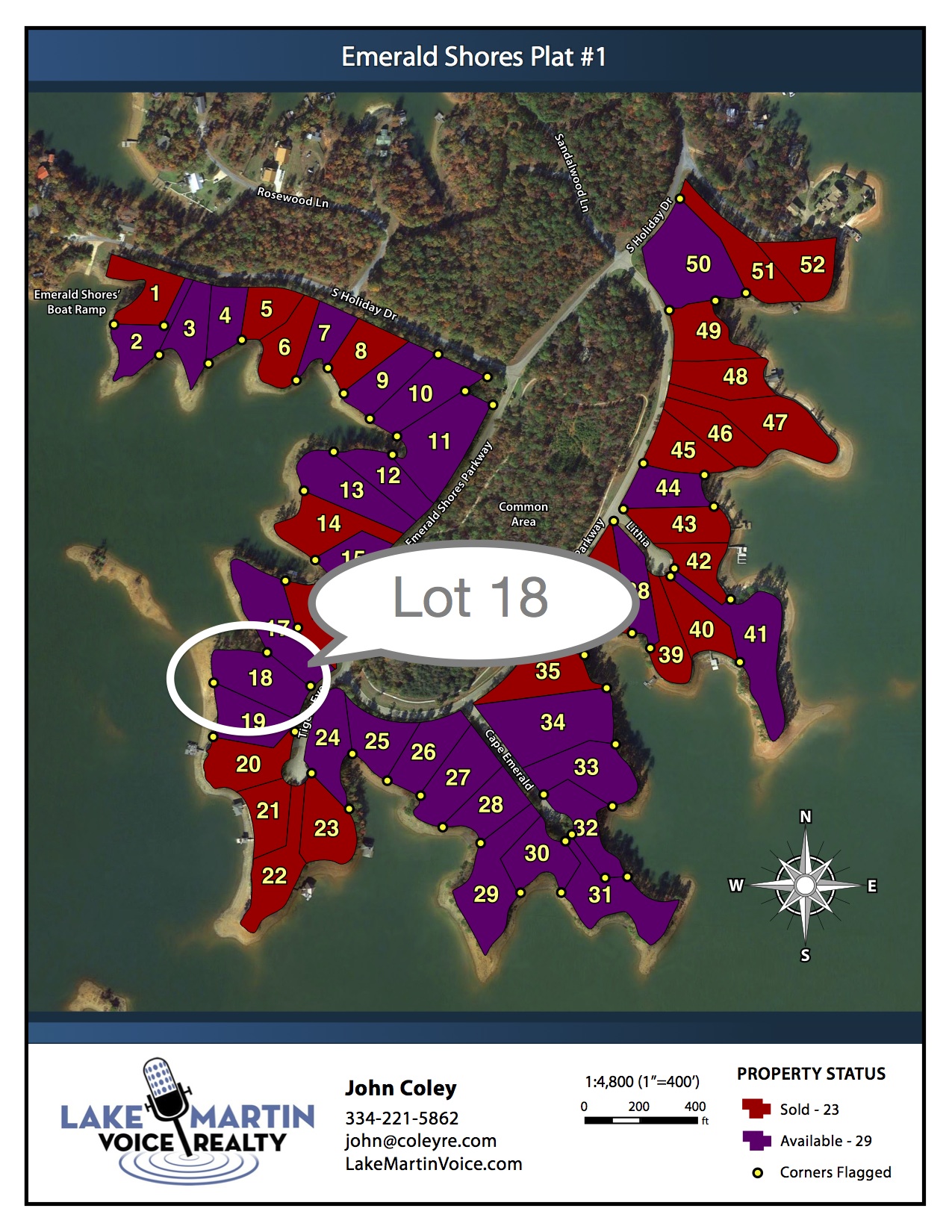 I also really like the lots on either side of Lot 18 – Lot 17 and Lot 19.   Big views.  Pretty sunsets.
For more information, give me a call at (334) 221-5862, or CLICK HERE to email me.  Lake Martin Voice Realty is the listing company, so we can answer all your questions.
Of the 29 Emerald Shores waterfront lots that were released on March 16 for sale, NINE are already pending, and SIX more are currently under negotiation.
As the listing agency for Emerald Shores,  Lake Martin Voice Realty is excited about the public's interest in these lots, and we want to make sure you have the latest information on this east side development.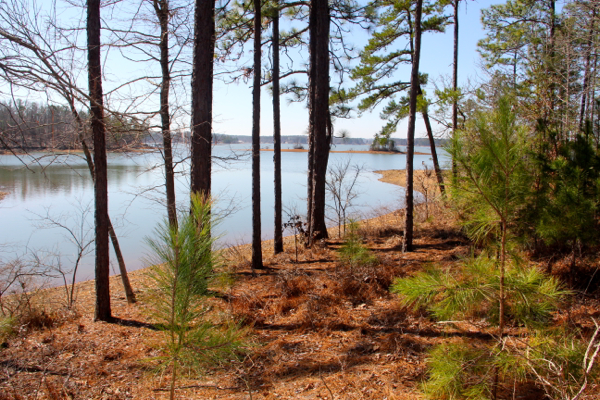 CLICK HERE for listing information on Emerald Shores.
Contracts on these lots have been brought by our company, along with several other Lake Martin real estate companies.  My point in telling you this (I know this sounds like typical Realtor barking) is that you really need to give us a call if you have any interest in a lot in Emerald Shores.  Don't wait until you get around to it because the lot that you want, in your price range, and with the view you like, may be gone.
Well, there's clearly a demand for lots in a deed restricted neighborhood on this popular side of Lake Martin. And frankly, Emerald Shores has really pretty lots on the big water of Blue Creek.  It's an established community with homes already built, so there's a history of sales and construction.
For more information, give me a call at (334) 221-5862, or CLICK HERE to email me.  Lake Martin Voice Realty is the listing company, so we can answer all your questions.
Quick Video Tour of Emerald Shores:
Video Tour of the Blue Creek Area of Lake Martin:
Lake Martin Voice Realty is excited to team up with Alabama Power and offer 29 new deeded waterfront lots for sale in Emerald Shores. 
Emerald Shores is a waterfront neighborhood on the eastern shores of Lake Martin. These are big, wooded lots surrounded by the big water of Blue Creek.  They're part of an already established neighborhood (entrance signs, roads paved, utilities, boat ramp, common area trails), and they're close to all the east side Lake Martin restaurants, marinas, and landmarks.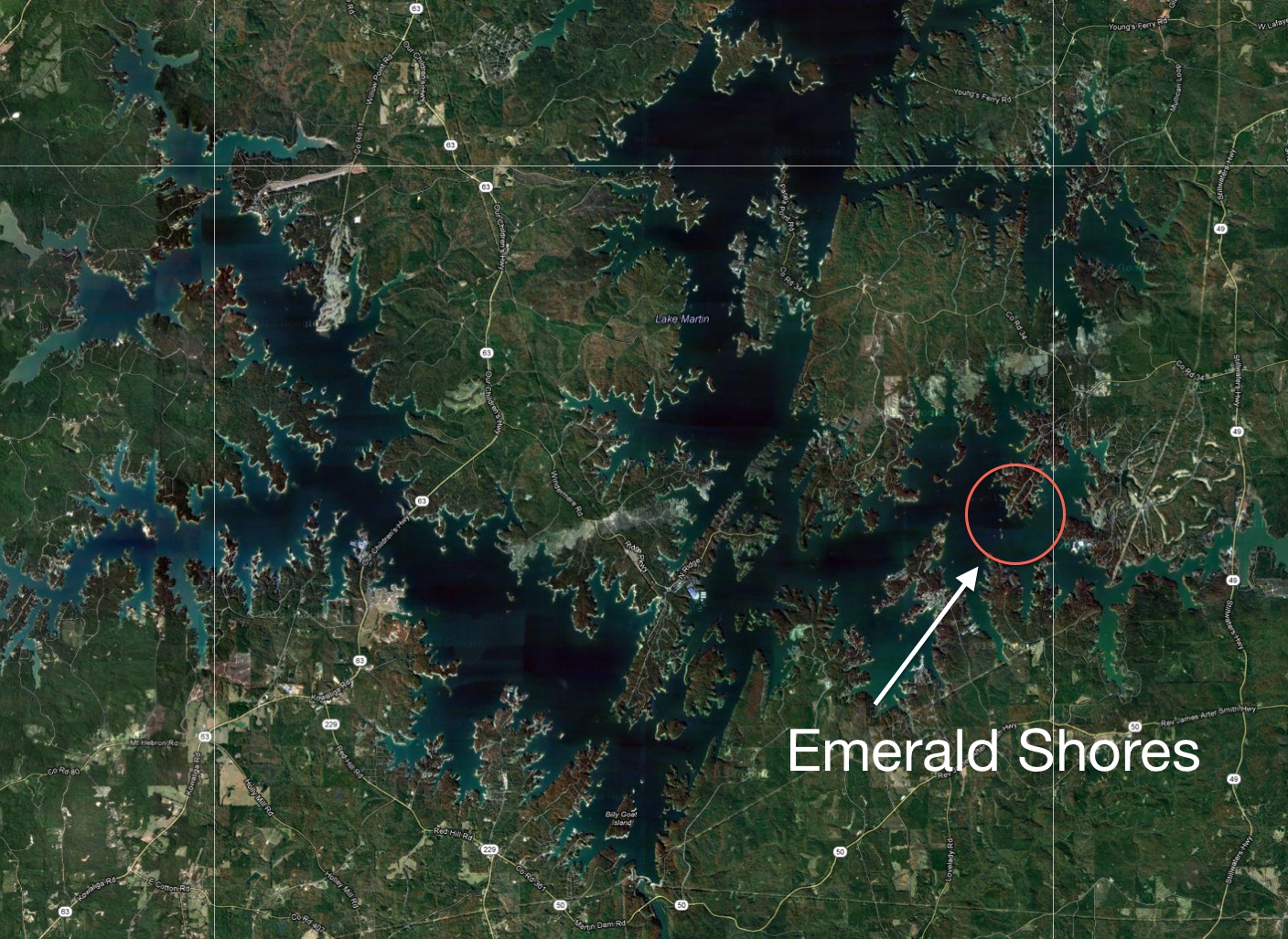 Lake Martin Voice Realty is proud to be the Listing Agency!
The first phase of Emerald Shores began in 2004.  17 lots were sold at that time, then six after that, and now 29 more are available.  There's a lot of choice for buyers here: lots range in size from 0.6 to almost 2 acres, and waterfront footage ranges from 115 feet to over 1,000 feet of shoreline per lot.  At the center of Emerald Shores is a 17 acre wooded common area with a paved walking trail.  A neighborhood boat ramp makes it convenient to launch your boat.
Another big perk for many buyers:  covered boat docks are allowed in Emerald Shores.  That's a big deal on Lake Martin.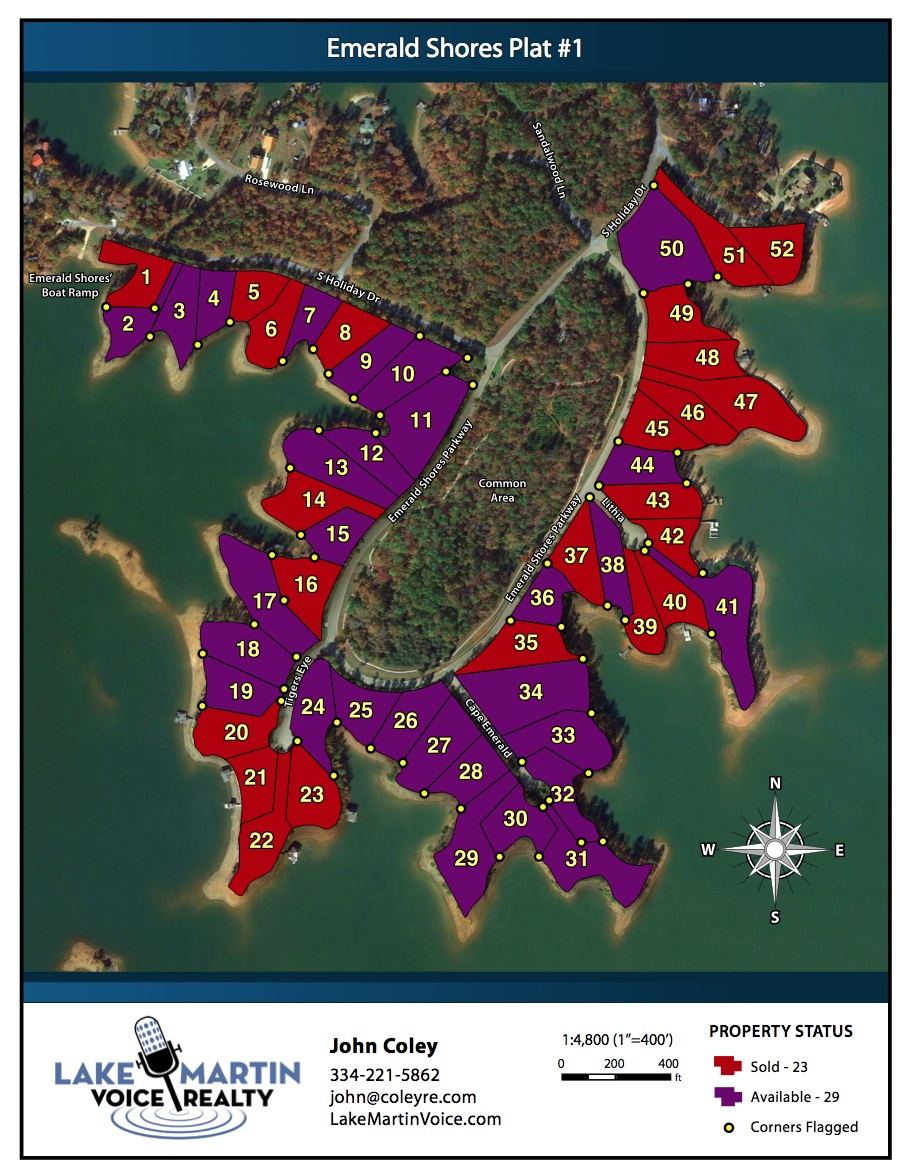 For more information on these deeded lots, CLICK HERE, or give us a call at (334) 221-5862.  We have plat maps, tax maps, photos, a video tour – everything you need to learn the lay of the land.
Emerald Shores is on the east side of Lake Martin, so it is convenient to Atlanta, Auburn, I-85, and Highway 280.  By car, take Highway 49 and turn onto Highway 34.  Turn left onto Win Blu. At the stop sign, turn left onto Holiday Drive.  Take 1st right onto South Holiday.  Follow all the way to Emerald Shores entrance.  By boat, it's on the north side of Blue Creek as you drive toward StillWaters.
For a quick video introduction to Emerald Shores, click below:
And for a video tour of the Blue Creek area, click below:
Unlike some crazy civil engineering projects I've seen, this tunnel under Highway 63 has major significance for the Lake Martin area.  Most of you know that there's been road construction near Russell Crossroads for about 3 years now now.  Part of this construction project is a nifty tunnel.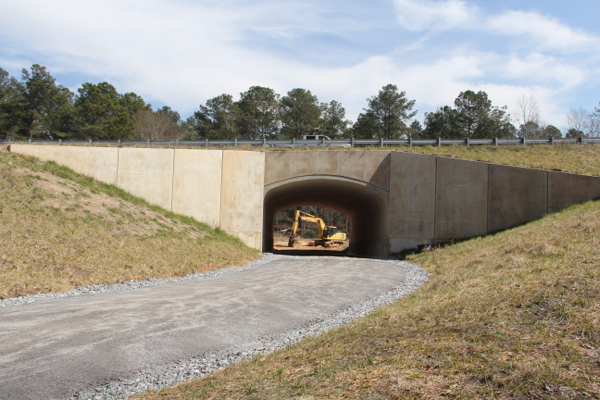 This tunnel is a really big deal for Russell Lands and therefore, Lake Martin real estate.  It's a huge part of Russell Lands' plan to link together their waterfront neighborhoods of Windermere, Windover, Windermere West and The Ridge to west side of Highway 63's Willow Point.  The central hub of all of this will be Russell Crossroads.
Right now the idea is to open the tunnel road to hikers, runners, bikers, golf cart and horse riders. I love the it.
I think this will be especially transformational for Windermere, Windover, and Windermere West which do not have neighborhood amenities.  After the trails and roadways are complete and christened for use, homeowners in Windermere, Windover, and Windermere West will  figure out that Saturday morning coffee at Catherine's Market is a five minute golf cart ride away. Big things will happen.
I can envision a lot of other things happening along this trail system.  The fact that you don't have to cross Highway 63 opens up a realm of possibilities.  Willow Point people can ride to The Ridge Marina on their golf carts.  People in The Ridge can mountain bike through the tunnel and explore Russell Forest trails.  Homeowners in Windermere and Windover neighborhoods can do all this, plus go to SpringHouse restaurant or Willow Point Country Club.  The ease and sense of community will be a great thing.
This really reminds me of Sandestin in the late 1970s.  If you are old enough, like me, to remember the original Sandestin, it used to only be a residential development on the bay side, and an unconnected beach on the gulf side.  You had to get in your car to cross Highway 98, and the whole thing was disjointed.  Then they put a tunnel under the highway, developed out some commercial space, and suddenly everything in between flourished.
I'm not saying the Russell Lands is about to have a mega development like Sandestin, but I am saying that all of these neighborhoods are going to truly be able to use Russell Crossroads.  I think it will increase property values in all of these developments.  Russell Lands has pumped millions into this project, but homeowners will reap the benefits over the next 5-10 years.
If you'd like to know more about homes in the above mentioned neighborhoods, check out my Neighborhoods page, give me a call at (334) 221-5862, or CLICK HERE to contact me via email. I can help you with any property for sale in the Lake Martin MLS, regardless of who has it listed.  
As a real estate agent here on Lake Martin, I get a lot of questions.  Many of these questions are the basis for subjects on this blog.  Recently, a buyer asked a really good one:  She wanted to know which of the waterfront neighborhoods on Lake Martin are gated?  I asked her, "What do you mean by gated?  Like with a full time guard?"  She said, "Well, that would be nice, if it's not too expensive, but a gate with a coded entry would be nice too."
That got me thinking.  How many waterfront neighborhoods on Lake Martin are like this?
I can think of many neighborhoods that have a guard house, and a gate, but most of these have no person in the guard house and the gate is always open.  In this buyer's view, that doesn't count.  So I compiled a list, with links to the particular ones on my website's Neighborhood Pages. If you would like to explore other neighborhoods, simply go to the "Neighborhoods" button that is below the big picture at the top, hover your cursor there, and a menu will pop up with different neighborhoods.  Each page has a description, a video tour, and also a live link from the MLS with homes and lots for sale.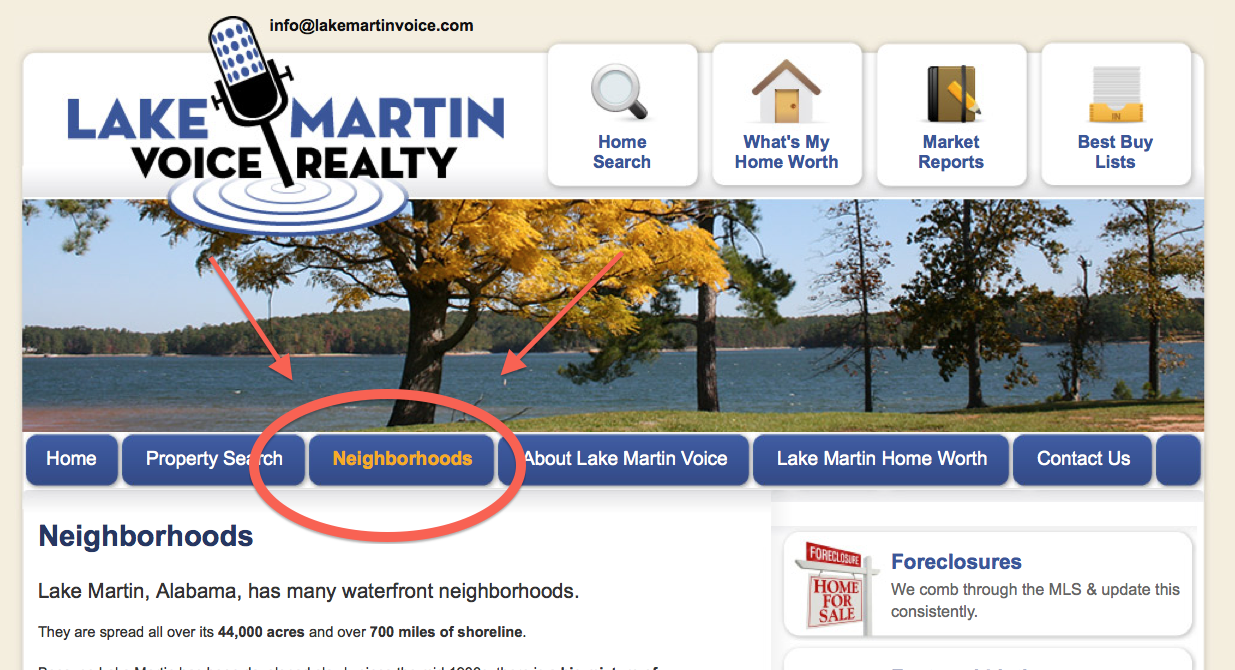 Here are the neighborhoods with full time guards. Click on each neighborhood's name to go to the page:
Willow Point
or
or
Here are two neighborhoods with  coded gates:
and
Pace's Bluff is another ones that comes to mind, but I don't have a Neighborhood page for it yet.
Do you know of any that I have omitted? Please comment below and let me know!
Just like any waterfront home, lot, or condo on Lake Martin, I can help you with it, regardless of who has it listed.  I would love to be your real estate agent.  CLICK HERE to contact me, or you can email me (info @ lakemartinvoice . com), or you can call me at (334) 221-5862
The Harbor is a Lake Martin waterfront neighborhood tucked away on the south side of the lake, but very close to Chimney and Acapulco Rocks.  It was developed around 2000, and is a short drive for folks from the Montgomery and Auburn sides of the lake.  If you like being in the center of Lake Martin action, this neighborhood might be a good fit.
If you would like to see waterfront homes and lots for sale right now in The Harbor, CLICK HERE to go to my Harbor Neighborhood page. I have a report that shows every waterfront home and lot for sale – by all agents, all brokerages, on Lake Martin. It pulls from the Lake Martin MLS so it will be current no matter when you visit the page.
It's basically one big slough with homes on both sides.  Lots in The Harbor vary from gently sloping to steep as you can see in the video tour below:
The Harbor is across from The Ridge Marina by water, but if you're looking to store your boat, you might try Anchor Bay Marina a little to the west of The Harbor.  It would be a shorter drive by car, depending on the direction you're coming from.
If you have more questions about The Harbor in general, or about a specific home for sale in The Harbor, give me a call at 334-221-5862, or CLICK HERE to contact me via email.  I can talk about and show you any waterfront home in the Lake Martin MLS, regardless of who has it listed.