Archive for the 'Real Estate Tips' Category
Lake Martin waterfront home sales had the second best year on record in 2012. According to the Lake Martin, Alabama, area MLS, 239 waterfront homes were sold, compared to 207 in 2011.
This represented a 15.4% gain over the prior year!
The Lake Martin Area MLS* gathers data from all its members, so this number includes every agent, every brokerage at Lake Martin. The previous best year for vacation home sales on Lake Martin was 2005, when 285 homes were sold. 2012's total of 239 beats out the previous second place winner of 2006, when 235 were sold.
Here at Lake Martin Voice we had a really good idea that the Lake Martin real estate market would have such a sales report for 2012. In this post I wrote concerning waterfront home sales in November 2012, we knew that we were setting up for a very good situation, we just didn't know how good until the December results were posted.
I also noticed that a few sales were added to prior months. If you go look at the November 2012 market report, that I wrote on December 10, 2012, you will see that 26 homes were reported as sold in September 2012. Since then, that number changed to 27. That is because our MLS* is only reporting the information that each Lake Martin realtor or broker inputs. Why did it change? Who knows. Maybe someone realized they had the sale date wrong, and corrected it. This happens fairly frequently. I think we can assume that, as we look over the course of eight years, that an equal amount of mistakes happen each year.  At any rate, this is the best data we have.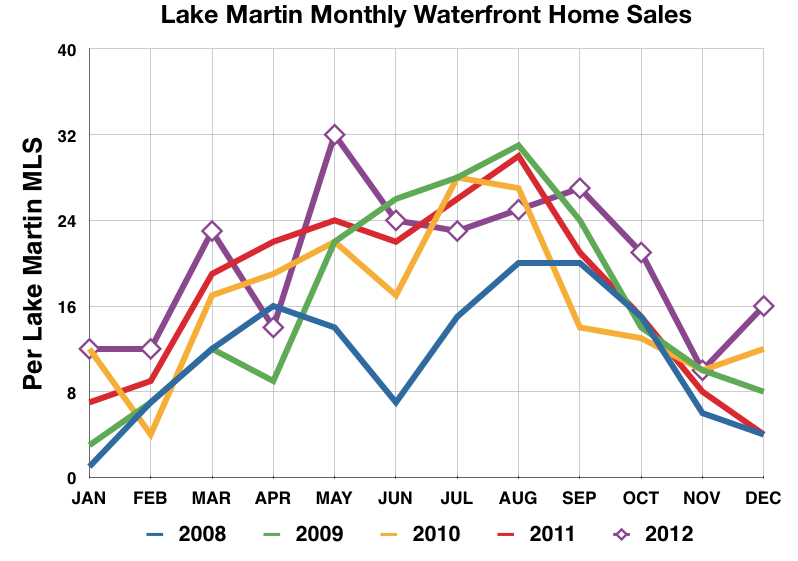 The Lake Martin real estate market also received some favorable attention from the ACRE news flashes. ACRE  is the Alabama Center for Real Estate, and it compiles statistics for the entire state. They recently posted this article about the Lake Martin area's gain of 10.7% homes sold versus 2011. Please keep in mind that ACRE pulls numbers straight from the Lake Martin Area MLS, which includes off water homes in Alexander City, Dadeville, et al. The numbers I quote above of 239 home sales for 2012 and a 15% gain are taken from that same database, but filtered to give Lake Martin's waterfront home sales only.
2012 A Winner Over Prior Year
When it is all said and done, the most any real estate market can ask is to have beaten the prior year in numbers of homes sold. This goes for Lake Martin or any market at any time. I have said many times over my years of doing these Lake Martin real estate market reports that I really focus on this statistic, especially at the month to month level.  I first read about this metric from Nicolai Kolding's brilliant blog posts, who was then at Better Homes and Gardens but now is at Weichert. I started tracking the current month versus same month prior year sales a long time ago, and my research indicates to me that the Lake Martin Market turned for the better in July 2008, although 2008 as a year was the worst of the bubble crash.
2012 Waterfront Home Prices on Lake Martin
I think prices remained steady in 2012 at Lake Martin. Please see the below graph for my reasoning.
Long time readers of this blog know that I only look at Lake Martin home prices once a year. That's because we are such a rural market, we have so few monthly sales on any given month, that if one tracks average prices per month, wild (80%) swings are seen. Monthly average sales price is not a reliable statistic because the sample pool is just too small.  My response is to look at sales price trends once per year, to break them down into "bands" of about $100,000 each, and to look at them in terms of how much each band represents sales as a whole.
For instance, if you look at the above chart, you can see that of the homes sold in 2012, about 24% were sold in the price range of $200,000 to $299,999. This was the largest price segment for the fourth year in a row. The bell curve did not totally shift to the right, which would indicate to me an overall market increase in price.
However, if you take a close look at the above bell curve for 2012, you can note that in other price segments like the $300,000 to $399,999 there was an increase in market share. While it was not enough of a shift to indicate an overall market price increase, it does make me optimistic that one is possible in 2013. It also does not match my intuition gained as an agent with "boots on the ground" this past year. In my gut, it felt like prices were increasing just a tad.  Maybe I am wrong. Or maybe I just need to break these pricing segments down tighter than $100,000 increments.
Maybe that's a subject for a future market report.
Please stay tuned to this blog as I continue to pour through Lake Martin's 2012 real estate sales results for waterfront properties. I will be looking at waterfront lots, the effect of foreclosures, and also be drilling down inside particular neighborhoods and areas.
Can I help you?
I am a full time Lake Martin real estate agent. I write this blog to help the public and myself stay up to date on Lake Martin real estate. I would love to be able to help you buy or sell a Lake Martin property. Please call me at 334 221 5862 or contact me by filling out this form.
Related Posts:
Debunking The Labor Day Price Drop Myth
July Sales Cool
Lake Martin Lot Sales 2011
Lake Martin Real Estate Sales 2011 – Year In Review
Lake Martin Real Estate Sales 2010 – Lot Sales
Lake Martin Real Estate Sales 2010
Lake Martin Real Estate Sales 2009 – Year In Review
Lake Martin Real Estate Sales 2008 – Year In Review
Lake Martin Real Estate Sales 2007 – Year In Review
All Lake Martin Market Reports

(*)Disclaimers: All of the above info was taken from the Lake Martin Area Association of Realtors Multiple Listing Service. Accuracy is not guaranteed but deemed reliable. The above does not include sales by   FSBOs or developers that sell privately and not through the MLS. But, I do think that the above represents a very large majority of all waterfront sales on Lake Martin, Alabama.

Recently I spent a couple of days calling each and every family that I was privileged to have helped close a sale or purchase on Lake Martin in 2012. Some I had to leave messages, but for the most part I was able to talk with all of them. My purpose was not to hit them up for fresh "leads" (though I never turn those down). I called to say thank you.
It was so much fun.
The experience was so uplifting, so refreshing to catch up with everyone, I don't know why I haven't done purposeful, scheduled calls like this before. I have always checked in from time to time with folks, but the first week of the new year is a great time to schedule and set aside some time to call everyone at once. It is so great to hear everyone's enthusiasm for Lake Martin. What an upper.
Phone calls are a weak spot of mine. There are several aspects of the real estate business that, I think at least, require regular, disciplined, phone calling programs. I really have to work hard at these.
Cold Calling – Not My Thing
A neighbor of mine used to be a stock broker who got started in the mid 1980s. She spent a lot of time making cold calls. Cold calls are when you call a person that has no idea who you are, what you want, or why you would be calling. Tough stuff. My neighbor cold called from either from a lead sheet she was given, or just thumbing through the phone book. It doesn't get any colder than that. As part of her broker's staff rules back then, she had to call at least 100 people per day and the hope was that she would receive permission to send more information to 15 people. Then those 15 became warm calls. How many of the 15 would actually become clients? Who knows. I don't think I could handle that.
The people I call have almost invariably contacted me first, through filling out an information request like a foreclosure list, or best buy list, or asking about one of my listings. In sales parlance, that is a hot lead, much warmer than a person that merely allowed you to mail something to them to shut you up.
B-12 Shot
The next time I am procrastinating my phone calls, or need some sort of sales motivation, I am calling a past client to check in. The enthusiasm boost, the trip down memory lane would be more than enough to spur some confidence in calling that next person.
If you're in sales and reading this, take my advice and do it, too.
And if you have any tips for me, please reply with a comment below!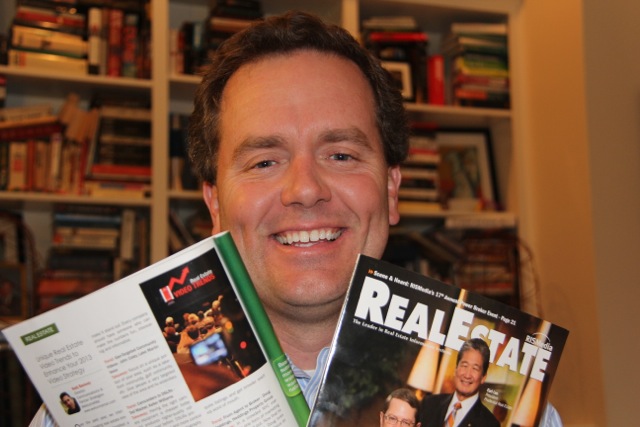 I was honored to be recognized by RISMedia's Real Estate magazine as one of twelve trend setting brokers from around the nation who use video in a unique way to help people with real estate.
Rudy Bachraty wrote, "we interviewed leading real estate brokers and brands and identified a number of unique real estate video trends occurring in our industry. Here are the key takeaways."
I am so flattered to be included in this group! Most are from large metro areas like NYC, so it is exciting to me to be in the same breath as this crowd.  The article appeared in their magazine's December 2012 issue and also online here.
The National Association of Realtors estimates it has about 1.2 million members. Of those 1.2 million, it is estimated that only about 1%, or 12,000 agents across the country, are using video to market real estate. This number hasn't really increased in the three or so years I have seen people talk about it. Why? I have no idea, because I think that video is such a no brainer in real estate.
It's hard to write a blog post like this without sounding like I am boasting, so please don't take it that way. I really am shocked that, out of all the agents in the nation, Rudy was kind enough to include me as an example among agents and brokerages that I watch on HGTV and read about in the WSJ. Really I see this as a victory for Lake Martin, which, in comparison, is such a tiny second home waterfront market.
I would like to thank my clients, friends, family, blog readers and video viewers for coming up with great questions about Lake Martin. I started using online video to answer questions, and it continues to be a driving force behind all of my marketing.
The best part about being included as one of the top 12 trend setters in real estate video is that it has called my attention to brokers that are doing such a better job than I am. I encourage you to click on the article link above, and check out the list. There are some really talented folks there, and I am motivated by their excellence. I realize I am merely hitting the record button on most of my videos, so I plan to get much better at this in the future.
In the meantime, please visit my video page on this site. I break my videos into three categories or channels: 1. Home Tours, 2. Neighborhood Tours, and 3. Community Info. Click the thumbnail pictures to make each of them play in the main space, and click the little arrows in each player to scroll to more.
If you have any suggestions for me on what to video or how to do it better, please contact me and let me know!  Thanks!
Related Posts:
Real Estate Video Trends: John Coley and Geo-Targeted Waterfront Community Videos
Creating a Real Estate Niche with John Coley
John Coley Teaching Real Estate Video Class at REtechSouth
Rarely do I feel like I live a life that would be featured in Garden and Gun magazine.  Somehow, when they feature folks that harvest herbs from their own yards, they come off as locavore specialists, whereas I feel sort of cheap.  These experts create handcrafted bird houses with wood from reclaimed Amish barns;  I buy mine at Wal-Mart.
The one time I felt as special as they are was when some friends invited us to eat al fresco at their Lake Martin home.  Both the husband and the wife are artists per se, who also know how to cook and entertain.  Eating outside on the deck at night at their Lake Martin home felt purposeful and special.  At our cabin we only eat outside when there are too many people, or when someone has burned something in the oven.
This picture, taken from the upper deck of 102 Grandview Lane, says "Dinner Party"  to me.  You've got the shady, secluded, tree house atmosphere, and then there's the view of Willow Point across the water . . . some places just invite you in.  I can see friends gathering in late afternoon, and lingering here well into the evening.  Throw in a fire pit or one of those chiminea things and you have a favorite autumn hangout.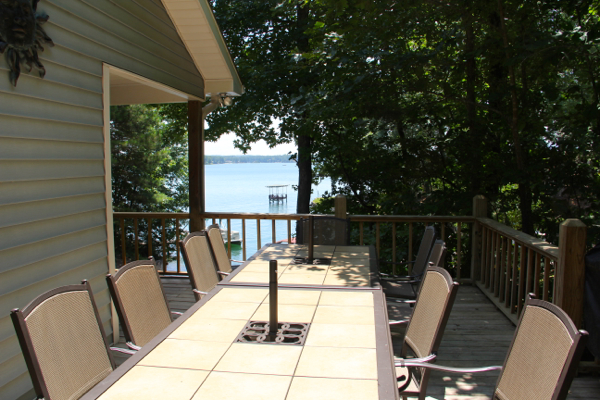 This house is a great buy for the Parker Creek area.  Deeded homes in this price range – in this area – are usually what I call match stickers (aka most people would burn it down or tear it down), but this four bedroom, two bath home is a tooth brusher (as in . . . move in ready, just bring your toothbrush).
Take a peek at the rest of the photos and listing info for 102 Grandview Lane by clicking here.
And click here to watch the VIDEO TOUR of the entire property.
Give me a call (334) 221-5862, or click here to contact me if you'd like to know more about this home, or any property in the Lake Martin MLS. 
A popular feature of my website, LakeMartinVoice.com, is my Market Reports section.  I started crunching the numbers several years ago because nobody else was doing it.  So this latest look at waterfront real estate sales numbers tells me this:  The Lake Martin real estate market continues to chug along.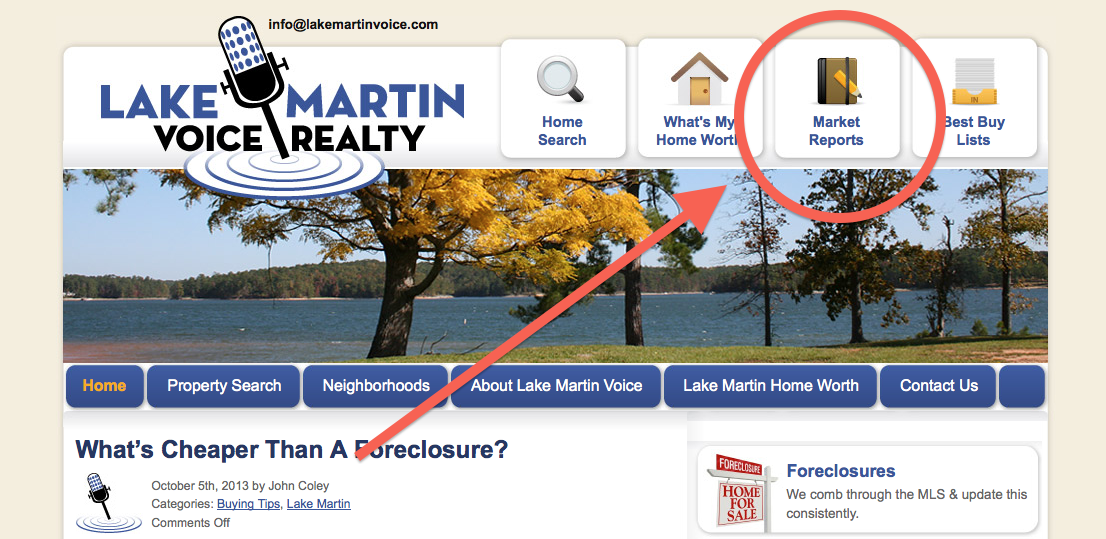 A review of the Lake Martin Area Association of Realtors' Multiple Listing Service shows waterfront home sales on the lake had a very good summer in 2012. Considering all of the homes sold so far in 2012, the lake market is also positioned to beat the 2011 number of homes sold.
With the temperature easing into the 70s, and people focused more on football and school, we can take a step back and see how 2012's monthly waterfront home sales fared versus last summer's tally.
Looking only at the warmer months of May through September, we see that 2012 beat 2011 in three out of those five months: May, June and September. While 2011 scored wins against this year's home sales in July and August, the margin of victory was too small to break the overall trend of 2012's dominance.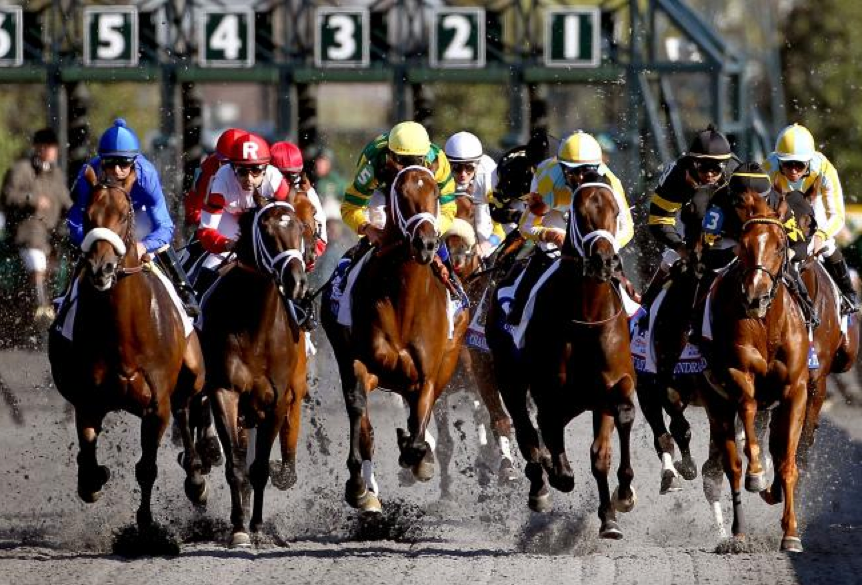 Through the end of September, according to the MLS, 191 waterfront homes had been sold on Lake Martin in 2012. If we compare that to the 180 sold through September in 2011, we see that our market is tracking ahead of last year by about 6 percent. If this trend continues, and we finish the year at 6 percent above 2011, that will mean about 219 waterfront homes will be sold on Lake Martin in 2012. I think we have a fair chance at meeting that mark.
Interestingly, if we look back to 2006, which everyone agrees was a great year for Lake Martin real estate, we see that through September, 193 waterfront homes had been sold. That is pretty much a statistical tie with this year's 191. In the 12 months of 2006, 235 homes were sold. Will Lake Martin achieve that level this year? I doubt it. It is certainly possible, but my gut tells me we don't have that kind of momentum right now.
With three more months left to record sales, we cannot be sure about any of these estimates, but we can be sure that Lake Martin will have a good year in 2012. My definition of a good year is one that beats the prior year in number of homes sold. It is true, 2012 has not done that yet, but I feel pretty certain that 16 homes will be sold in the next three months, cold months though they are.
The only question in my mind is this: Will we have a great year? Will 2012 come close to challenging or even beating 2006's total of 235? I think we will know the answer by the end of October. My guess is that we will need at least 20 sales in October to make a run at the record. Twenty sales in any October would be pretty sporty; it would be the best October since 2005's 26 sales. That is why I think Lake Martin will not quite challenge 2006 and end 2012 with not a great, but a (thankfully) good year.
We have no reason to pout, though. There are plenty of real estate markets around the nation that would love to have an OK year, much less a good one.
And what about prices, you might ask? We will tackle that analysis in the cold of winter, when we will have a full 12 months' worth of data.
For more Lake Martin Market Reports, click here.
This article was originally printed in the November 2012 issue of LAKE Magazine.
I recently ran into a friend of mine in the grocery store.  He's not a realtor, but he quickly asked if I was hiring.  He said he's constantly seeing me in my videos all over Lake Martin on beautiful days.  I'm at all these fun events while he's stuck at the office.  Clearly the joke's on him.
He was kidding, of course, but I know this is often the perception of a Lake Martin real estate agent.  First of all, realtors are a pretty cheesy crowd, and I get that (the Glamor Shots, the "Teams").   But even more, folks think that at Lake Martin we Realtors must paddle board in the morning and spend the afternoon in the boat cruising the lake with clients and a full cooler.  Yeah, yeah, yeah.  I sometimes feel the need to justify my vocation ("I can handle things!")
Peer behind the curtain. This is a real job, and most of it is not glamorous.  As evidence, I submit these pictures.  Yes, the scenery is amazing, but this is no swimsuit issue cover shoot.  It was a cold, windy, spring day in Trillium. I knew that most of the best shots of my new listing at 1020 Wake Robin would be from the water.  It was a lot of fun, but I felt like a goofball with cold legs and a ladder that kept blowing down.
But in the end, I got the shots.  To see all the pictures and listing info for 1020 Wake Robin in Trillium, click here.  The home is really cool.
There are a couple of points I'd like to make with these pictures.
1)  I've been frustrated by poor quality photos of Lake Martin homes of other agents on our MLS, or a general lack of photos of a property.  Maybe you have been, too.  The remedy is simply to DO BETTER, and I hope that if you've seen the media marketing I do for all of my listings, you'll agree that I attempt to do much better than a few mediocre photos set to muzak.  However, like any serious professional, I have to get better. To wit, I have purchased a brand new Canon 60D and am trying to learn how to use it, and use it well. My pictures must get past merely recording info and get to the point where they tell the story of each waterfront home or lot that I am selling.
2)  In order to market YOUR home, are you willing to settle for anything less than an agent's best work?  Buyers are coming from all over the nation (hello to Fort Collins, CO and my chilly friends in Minnesota), and your online presence matters.  They are scouring the internet for info on properties, and are often left with more questions than answers based on a lack of good information.
Does it take longer to take more than 10 pictures of your lake home and lot?  Yes?  Does it take even longer to make a full motion video tour to help explain the layout and flow of the property?  You bet.  Is it worth it? Absolutely. It can mean the difference between engaging a potential buyer or merely confusing them.  Numerous times that buyers have asked me to take additional pictures and make private video tours of properties (that are not my listings) because there isn't much info available on the Lake Martin MLS.  Six poor pictures of a $600,000 waterfront home is inexcusable in 2012, at Lake Martin, or anywhere.
If you'd like to know about my marketing plan for your home, give me a call at (334) 221-5862 or click here to contact me.
A lot of the time, Lake Martin buyers don't pay much attention to the docks at homes they visit.  I think that this can be a  mistake.  Quite often the whole dock system (stationary dock, floating pier, boat lift system) can be one of the most expensive components of a Lake Martin home.
I'm merely a real estate agent, so I always tell my clients to consult marine construction specialists like Lake Martin Dock Company or Docks Unlimited when considering the nuts and bolts of a dock system.  But I do know that to build something from scratch that includes a stationary dock, large floating dock and covered boat slips with boat lifts, can easily run $50,000 to $75,000.  You can add to this dollar figure if you want to trick it out with power and water hookups, and especially if you're in deep water that will require your supporting poles to be installed under the water (as opposed to those whose docks are on dry land when water level is down in the winter) .
If you are buying a waterfront lot on Lake Martin, you need to figure this into the cost of your home.  If you're neighborhood covenants will allow it, you need to consider whether you want a covered boat slip with a boat lift.  It certainly not required on Lake Martin, but I will add that I've never seen anyone tear a good one, just because they didn't want it.
If you're considering buying an existing waterfront home on Lake Martin, you don't get off the hook.  I think it's very smart to look at the docking system carefully – go beyond the obvious questions, like, "Is it in good repair?"  Does it match your lifestyle?  Do you need a place for  jet skis?  Is it on big water that will create big waves and therefore requires a boat lift to protect your boat?  Or, maybe you're like my buddy, Tony, who likes to pull his wake board boat out of the water and wax it down after every use.  That means you also need a boat ramp.
In the above video, I go over a small portion of these considerations.  The house that I helped Ken and Judy find in the Real Island / Little Kowaliga area already had a covered boat lift, and I talk about how to change the boat lift chassis.  That could be an issue you encounter when buying on Lake Martin.
Almost every situation is unique, so I would defer to boat lift manufacturers and installers on the exact ways to customize your dock and boat lift on Lake Martin.  I can help you with your Lake Martin property search, however, so give me a call (334) 221-5862 or click here to contact me.  I'd be honored to help guide you through the process.
"The strongest of all warriors are these two — Time and Patience."
― Leo Tolstoy, War and Peace
Some Lake Martin buyers know what they want right out of the gate, either because they have been visiting Lake Martin for many years, or because they know specifically what they want in a vacation home.  Other buyers might be new to Lake Martin or may need some help clarifying exactly how they would use a waterfront home.  Or both.
For the second group, I think that Ken and Judy have really good advice – to be patient and allow yourself time to find what you really want.  They knew where they wanted to be geographically, but took their time and ended up finding the home that fit their needs best.
It is not unusual for me to work with buyers for months, and sometimes even years, in order to find that perfect property.  If you're just getting started with your search, or you've been at it for years, give me a call (334) 221-5862.  I'd love to walk with you through the journey.  And I'd love to celebrate with you and film YOUR testimonial video from the dock of your new lake home!
We at Lake Martin Voice Realty would like to thank our readers and viewers for a huge milestone in our marketing of Lake Martin waterfront real estate.
Over the summer, as we were in the thick of showing property and enjoying the lake, we missed the fact that we passed 100,000 views on our Lake Martin Voice YouTube Channel. Since then, we have had several thousand more views on all our videos, and we currently sit at about 112,000 video views on YouTube alone.
We sort of hesitate to mention this because it can so easily resembles boasting. If there's one thing that we don't like about the real estate industry, it's the tireless self promotion of those who somehow think that buying or selling a home, at Lake Martin or somewhere else, is about them.  It's not.  It's about you.
We do mention it as thanks to our readers and viewers and people who have allowed us to help them over the years.  Let us not boast in anything but the Lord who has allowed us to do all things.
That being said, and while you listen to another John C play a classic, here are some points to ponder:
YouTube is big, but not the only way we market Lake Martin real estate by video. We also post videos on WellcomeMat also in the MLS, so in the big marketing picture, the total impact is really greater than that. WellcomeMat is a better host for real estate video, anyway.
Total channel views are calculated by adding all of the views of all of one's public videos (at this writing we have 236).  We also have private video tours whose views I do not believe count in this number. For more information about our private video tours, click here.
Just for perspective, the last time I looked, our total video views are about 10 times that of every other Lake Martin agent combined. Also for more perspective, Coldwell Banker's national channel has about 4.2 million views with 83,000 agents. That is 50 per agent. We have two agents, at about 55,000 views per agent.  I repeat, I am not into numbers for numbers sake. I am much more concerned about helping my sellers and buyers.
As I said above, any eye popping numbers just mean that we are in debt to our readers and viewers. It further convinces me of our overall marketing strategy: keep attention focused on our properties and Lake Martin. Not us. No one comes to Lake Martin and buys an agent, or even a team of agents. They buy Lake Martin. They buy a home or a place to build a home.
OK, you might say. Then why is it a milestone? Does having a high number of views help my customers, and if so, how?
Yes it does:
The YouTube search engine is #2 most frequently used search engine on the web. It's behind only Google, which owns YouTube. Which means….
Google search loves YouTube videos. It ranks them highly and even gives thumbnail images to entice you to view them. It digs down into the keywords that are used to describe each video, which is precisely why we are so careful to accurately describe ours.
The higher you are viewed for a subject matter, the better your search results. You are seen as a relevant source of news and info for the keywords present in your videos. Obviously, I am going for big keywords like "lake martin" and "waterfront" but also we like to kick tail in the long tail searches like "young's island" and "parker creek."
This is why I can make a video on a Tuesday and it be tops on a Google search the next day. This helps my videos get found, and getting found is the first and biggest step in internet marketing these days.  The hardest part is stepping through the noise. That is why if you FSBO your house and make an awesome video, you more than likely will not get found by the typical searcher, who does not venture past the second page of results on a web search. It can be (and likely will be) more artistic, better shot, edited, and better done overall. But it won't get found because I am louder than you are.
WellcomeMat.com is an online video platform that is specifically geared to real estate video. About 17,000 agents use it to host their real estate videos, and about 8,000 video production companies use it to connect with agents and other clients. It is, in my opinion, the clear market leader in real estate video hosting. More importantly, they are also the leading think tank of real estate video.
By think tank, I mean that the WellcomeMat blog is THE place to be to get ideas, be inspired, learn, and see over the horizon and peer into real estate video's future.  It's like the coolest basketball court in your city – you know – the one where all of the hardcore ballers hang out and play. If you think you are ready for the big time with the grown ups, you head to that court. Mostly you watch and marvel at their moves, but if you're brave enough, you call, "Next."
My high opinion of this community is what caused me great shock to learn that Rudy Bachraty, who is the Director of Communications and Partner Strategies at WellcomeMat, wanted to interview me about how I use video in my real estate business.  Rudy produces a series of videos he calls Real Estate Video Trends to interview real estate folks and video production companies from around the nation.
I was floored and flattered, because Rudy has interviewed such big city industry elites as NYC's Heddings Property Group and Halstead , and the best that Napa Valley has to offer. My videos certainly do not belong in the same group as theirs, and that is pretty obvious.
But, perhaps by interviewing me he can provide a cleanse of palette if nothing else.  And perhaps his reasoning was to show how one regular guy uses video to help market real estate.
Please enjoy the above embedded interview, and if you would like to go to their blog, click here for the post where he put up the interview, and click here for where he did another post about a quote from me.
I use real estate video in 3 ways:
1) For SELLERS:  I create a full motion video tour for all of my listings where I walk through and around the property.  This is not the typical slide show montage with 8 pictures.  It's narrated, it shows the flow of the home and lot, and buyers appreciate it.
2) For BUYERS:  I do a lot of private video home tours for clients who want to see more of a particular property, but live 2 hours away and can't get down to the lake immediately.  I set them up with a private YouTube link, and I walk them through the home, highlighting areas they want to know more about.
3) For BUYERS and SELLERS: I do tons of Neighborhood and Community video tours.  These help draw buyers to my website and to my listings.  There are a lot of buyers who need to research Lake Martin before they buy, and I want LakeMartinVoice.com to be the place to do that research.
If you'd like to know more about how video can help market your home, or how to schedule a private video tour of a home on the Lake Martin MLS, call me at (334) 221-5862, or click here to contact me.  I'd love to be your realtor.