Archive for the 'Real Estate Tips' Category
A Lake Martin Leased Lot waterfront home is becoming an increasingly rare bird in our real estate market.
If you're new to searching the Lake Martin MLS, you might have noticed a field in the information sheet that looks like this: Deeded: Deeded or Deeded: Leased. This is shorthand. If we had more room, it would probably look like: Is This Lot Deeded or Leased? and then have the answer either Deeded or Leased.
What is a leased lot home on Lake Martin?
A fair question. It's a home where the seller is owns and is selling the improvements only, but they don't own the land underneath it. They lease the land, usually from Alabama Power. Historically leased lot homes are less than 10% of overall sales. For more information, see the Leased Lot category of my blog.
Why are leased lot homes becoming more rare on Lake Martin?
About two or three years ago, Alabama Power began selling some of the homeowners the lots which they lease. Mind you, this was not Alabama Power opening up new lots to lease or sell, this was them contacting homeowners on existing leased lots, and saying, in essence, "hey, do you want to buy this lot at $X?" Because of this (relatively) new phenomenon, we Lake Martin agents are seeing fewer waterfront leased lot homes for sale on the market. Those that are on the market usually have an option to buy the lot. Often, you'll see this noted in the (super secret) Agent Notes section of the Lake Martin MLS.
Recently, I had a buyer ask me about how one goes about purchasing a leased lot home with an option to buy the lot.
His Q: Is being able to secure purchase of the lot a reasonable contingency on a contract for the house? Would both transactions be handled together at one closing and with one mortgage or would they have to be separate?
My Answer:
"Excellent questions, I have closed a couple this way:
1.) That's an absolutely reasonable contingency. In fact, I as your agent would insist on such a contingency, broadly worded like "contingent upon buyer's obtaining an acceptable contract with Alabama Property company to purchase Lot X for $yyy,yyy and acceptable review of all lease documents." The idea here is that if you can't buy it for what you want, you're out of there.
2.) closing at one time is doable. I have had one where technically it was two closings but they happened at the same time, where you sat down at the table and signed a bunch of docs to buy the lot first and then a bunch of docs to buy them all together. But it felt like one closing. I can recommend lenders around Lake Martin that are used to this concept. I would not recommend getting lenders from out of town because they have a hard time wrapping their heads around the concept. No slight against them, it is admittedly a weird concept and if I hadn't seen it at Lake Martin I would know nothing of it myself. In fact, growing up here I didn't know anything about it, it wasn't until I started selling real estate that I learned about it.
FYI here's everything I have ever written about leased lots: Leased
It's a little outdated because of the above but it hopefully gives you a decent background.
Do you have any questions about Lake Martin real estate?  If so, please email me with this form or : info (at) lakemartinvoice (dot) com!
My wife is in full spring cleaning mode. She has attacked the attic with a vengeance. Since I tend towards being nostalgic about my stuff, she knows she has to throw away some and then ask about others. She found this gem  – my old Sony Handycam.
It was the first camera I used to make Lake Martin real estate videos in 2008. It had these little tapes that I had to use to capture the footage. I remember thinking long and hard about whether to invest another twenty bucks in extra tapes. If I had known how the lord was going to bless my business, largely because of my videos about lake Martin real estate, I wouldn't have been so cheap. Note how I had an after market wide angle lens. I bought that off of eBay and thought I was being pretty resourceful.
Sure, it is outdated now, but this little camera filmed many homes, neighborhoods, and places around Lake Martin.
May she rest in peace. 
Fast forward to now, three video cameras later, and I find myself in a quandary about by Canon 60d. It's a nice one, but is its footage so nice that it beats an iphone six? The iPhone is so much easier to upload and transfer files. The other day I was in a pinch to record a Lake Martin Real Estate Market report, and I found that the quality on the 6 is so close to my DSLR, you can barely tell the difference. My guess is I will start to use the 60d less and less. In someone else's more professional hands, the 60d is tons better I am sure.
It just reminds me that if you want to be proficient at anything, you have to keep sharp!
In the flurry of activity around Lake Martin for Memorial Day, I realized I hadn't posted anything about ReMax Around the Lake's Linda Shaffer being on HGTV!
The Episode is called "All In The Family" and the link is here on HGTV. Click there for the latest but there is an upcoming airing on June 6 at 6:30pm ET / 5:30 PM CT.

I posted it on my Facebook page but hadn't said anything here. Linda was on an episode of Lakefront Bargain Hunt, just a week after Amy Clark was featured. It seems Lake Martin is having a real run of promotion by the network. I can't blame them, Lake Martin is a great place.
Linda's contact info is:
Linda Shaffer, GRI, ABR
REMAX Around the Lake
5295 Highway 280
Alexander City, AL 35010
Office Phone – 256 329-5253
Cell – 256 794-4641
shaffer @ lakemartin . net
http://lindashaffer.com
I also can't blame HGTV for selecting Linda. She is has been an outstanding agent for a long time and even better person for longer.  She lives in the same neighborhood as my parents. When I first started selling real estate in the Lake Martin area, one of the homes I was to show was Linda's listing. She invited me by her house and gave me lots of words of encouragement about the industry. I will never forget it. Also, her husband also offered to let me borrow his truck anytime, just in case I ever need it! That's the way they are.
The original episode aired on Mother's Day, which was appropriate. The show featured Linda helping her daughter Lacey and Lacey's husband John look for a home. Everyone came out looking great. Lacey, of course, is of Wickles Pickles fame, and John is a world traveling sculpture restorer for Robinson Iron. It had a happy ending and I thought they did a great job capturing Lake Martin in the fall!
I am so happy for Linda, and her entire family, as well as ReMax Around The Lake. A well deserved spotlight on some great people!
March 2015 was another great month for Lake Martin waterfront home sales.
The graph below was provided by the Alabama Center for Real Estate (ACRE). On it you can see the number of homes sold monthly and the amount of inventory in the Lake Martin area during those months. ACRE's chart shows the months of March for 2007 through 2015.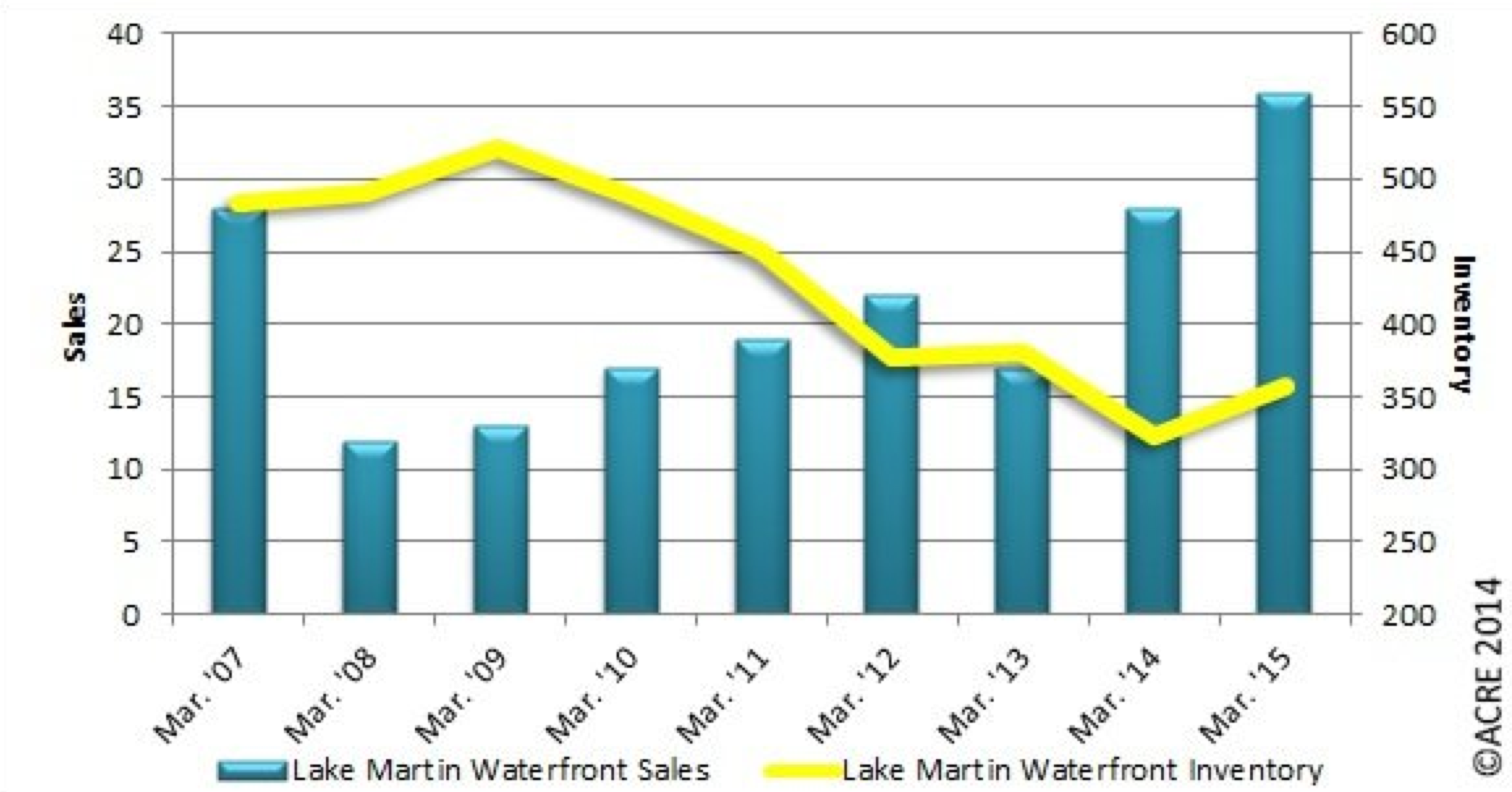 March has been consistently been a good month for Lake Martin waterfront home sales.(*) In 2015, 36 homes were sold in the month of March. This number includes sales from all brokerages and real estate agencies that participate in the Lake Martin MLS. In 2014, there were 28 homes sold in the month of March, so there was an 8 home increase in sales from 2014 to 2015. This is impressive, because 2014 was a record year for sales. The previous record year for sales was in 2005, when 30 waterfront homes were sold in March.
Lake Martin Home Price Changes?
A question I hear a lot is, "if Lake Martin home sales are up, what about prices?"
It's a great question. When I looked back at the entire year of 2014, I did not see evidence of a huge price increase for waterfront property. What I saw, maybe, was a slight increase. Perhaps a couple of percent, but it's hard to parse the numbers that tightly. Looking forward, I think you have to consider the amount of waterfront homes for sale right now on Lake Martin.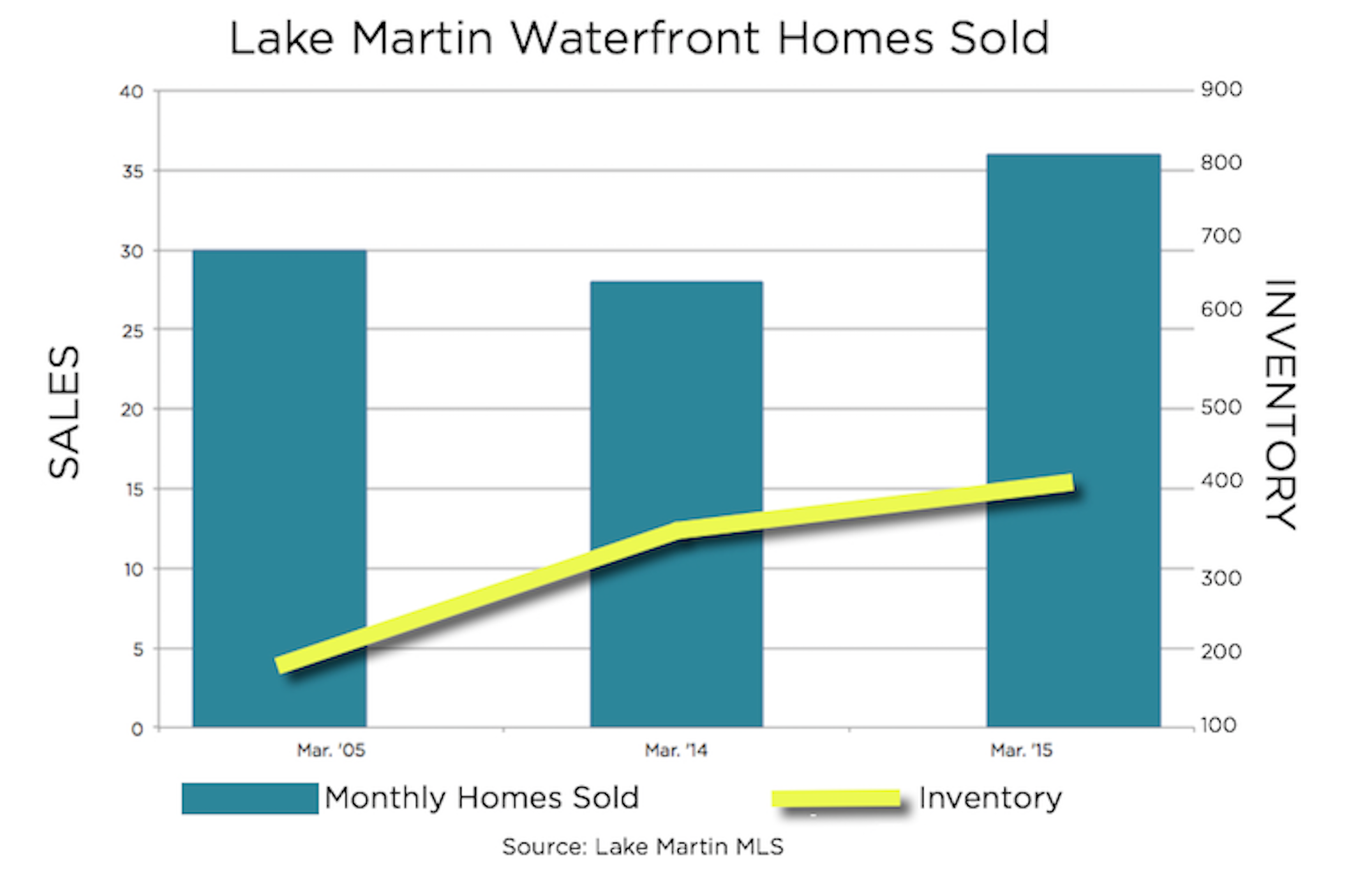 There are currently 358 homes for sale right now in the Lake Martin MLS. In comparison, there were 324 homes for sale at this time in 2014. Back in 2005, there were 180 homes for sale and prices went up from 2005 to 2006.  To emphasize this point, I cut the ACRE chart down to only the years of 2005, 2014, and the current year.  For example, in 2005, when we had 180 homes for sale and selling 30 homes a month, it was only 6 months of inventory being sold.

I think that 2015 will be the first year in a while that we will be able to go up in price. I don't think we will see huge (30%) price jumps like we saw in 2005 because of the ratio of sales to inventory. But I do think we have a pretty good chance for a home price increase here at Lake Martin.
Only time will tell, so check back for more market reports as the year goes on.
Do You Need Help At Lake Martin?
I'm a full time real estate agent here at Lake Martin. I write these market reports help my clients. Do you need help with buying or selling at Lake Martin, please contact me, John Coley, by using this contact form, calling me at 334 221 5862 or emailing directly at john (at) lakemartinvoice (dot) com.
Copyright notice – the above, and every other post on this blog, is the property of John Coley, Broker, Lake Martin Voice Realty. Appraisers may use my information in their appraisals without charge or asking, but please give me credit by citing me, my company name and title, and website address of http://lakemartinvoice.com.  If anyone else would like to use this information, please contact me here and ask. I probably will let you do it, just please ask!
(*)Disclaimers: All of the above info was taken from the Lake Martin Area Association of Realtors Multiple Listing Service. Accuracy is not guaranteed but deemed reliable. The above does not include sales by   FSBOs or developers that sell privately and not through the MLS. But, I do think that the above represents a very large majority of all waterfront sales on Lake Martin, Alabama.

Local Lake Martin agent Amy Clark is featured on an upcoming episode of HGTV's Lakefront Bargain Hunt!
Amy is the broker and owner of Amy Clark Real Estate. Amy's contact info is:
Amy Clark Real Estate, Inc.
1994 Cherokee Road
Alexander City, AL 35010
http://sellinglakemartin.com
Amy is a great real estate agent and friend. She has been a very loyal member of the Lake Martin Area Association of Realtors for years, and has served in just about every office there is. Amy is also a hard working, good person, and I am so happy for her that she and her husband and fellow agent Todd were featured on HGTV. Please tune in to watch!
Show times:
Sunday May 3 at 7:30 pm CST
Monday May 4 at 2:30 am CST
Friday May 8 at 1:30 pm CST
Here's the link on HGTV's site: Lakefront Bargain Hunt
Waterfront Lake Martin home for sale in the Real Island / Little Kowaliga area
Do you long for an escape from work? From city life? Are you looking for a real departure?
Do you find yourself remembering when cabins were cabins, not extensions of pretension? When dirt roads led to gold, not away from it? Then 236 Delilah Lane on Lake Martin could be the perfect place for you to come away and put your phone on Do Not Disturb.
Nestled in a modest hill in the woods, its close to home in Little Kowaliga or Real Island area of Lake Martin. Because its bordered on one side by 38 acres of forest, you'll soon forget the world of instant notifications and expectations.
The home comes fully furnished and decorated by two renowned architects who captured the spirit of the cottage. It's a place to experience Lake Martin in a tangible way, and experience a lifestyle that doesn't take itself too seriously.
Upstairs the wood ceilings, wood burning fire place, and galley kitchen support the main bedroom and bathroom. Downstairs the guest bedrooms share a bathroom and are only 3 steps from the water at Lake Martin.
Go for a boat ride or stay here and paddle to cast a fly against the lake shore. You can lounge on the swing and read on the screened in porch. If you know the difference between a buzzing phone and the call of the cicada, or if you'd like to learn, please come see this home. Keep your phone on, but only if you want to.
For more information about this home, CLICK HERE.
Or, just call me, John Coley, directly at 334 221 5862 or contact me here. I would love to show you all this home has to offer!
Often, I'm asked, "How is the market doing in 2015 compared to 2014?" In short, I think its doing great! If you look at the graph below provided by the Alabama Center for Real Estate, you can see that February 2015 sales doubled from February 2014. In February 2015, sales were at 14, compared to sales at 7 in February 2014.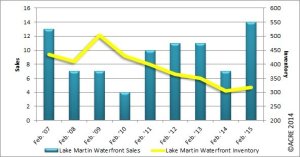 The yellow line, represents the inventory levels. The levels are the same, and certainly a lot better than they were in the dark days of 2007. Overall, when you look at the big picture, you can see that supply on the inventory side is similar and demand on the sale side is similar. We are poised for another great year here at Lake Martin.
Hear more about this in the video below.
We have dropped the price on 38 Antler Road, a four bedroom, three bathroom waterfront home on the east side of Lake Martin.
This home is one of my favorites, as it has really nice appointments, yet remains a fun, accessible lake house. It's located toward the end of County Road 34 on the Dadeville side of Lake Martin, so it's centrally located on the water. Check out the video above, or CLICK HERE for complete information on the home.
Or, just call me, John Coley, directly at 334 221 5862 or contact me here. I would love to show you all this home has to offer!
Great news! Prices have dropped on great waterfront lots in Lake Martin's Shady Bay neighborhood!
Shady Bay is a great waterfront neighborhood on the northern end of Lake Martin. I have several waterfront lots for sale in Shady Bay. We started out with fourteen lots and have sold six, so we are down to eight. We recently dropped the prices on these lots, so if you are looking for a site to build your Lake Martin dream home, now may be an excellent time to take advantage of the new prices.
For more information on these lots, please see:
For more information on Shady Bay in general, please watch the above video or click on this: Shady Bay Neighborhood Page.
Which lot looks right for you? Please call at 334 221 5862 or contact us here if we may help!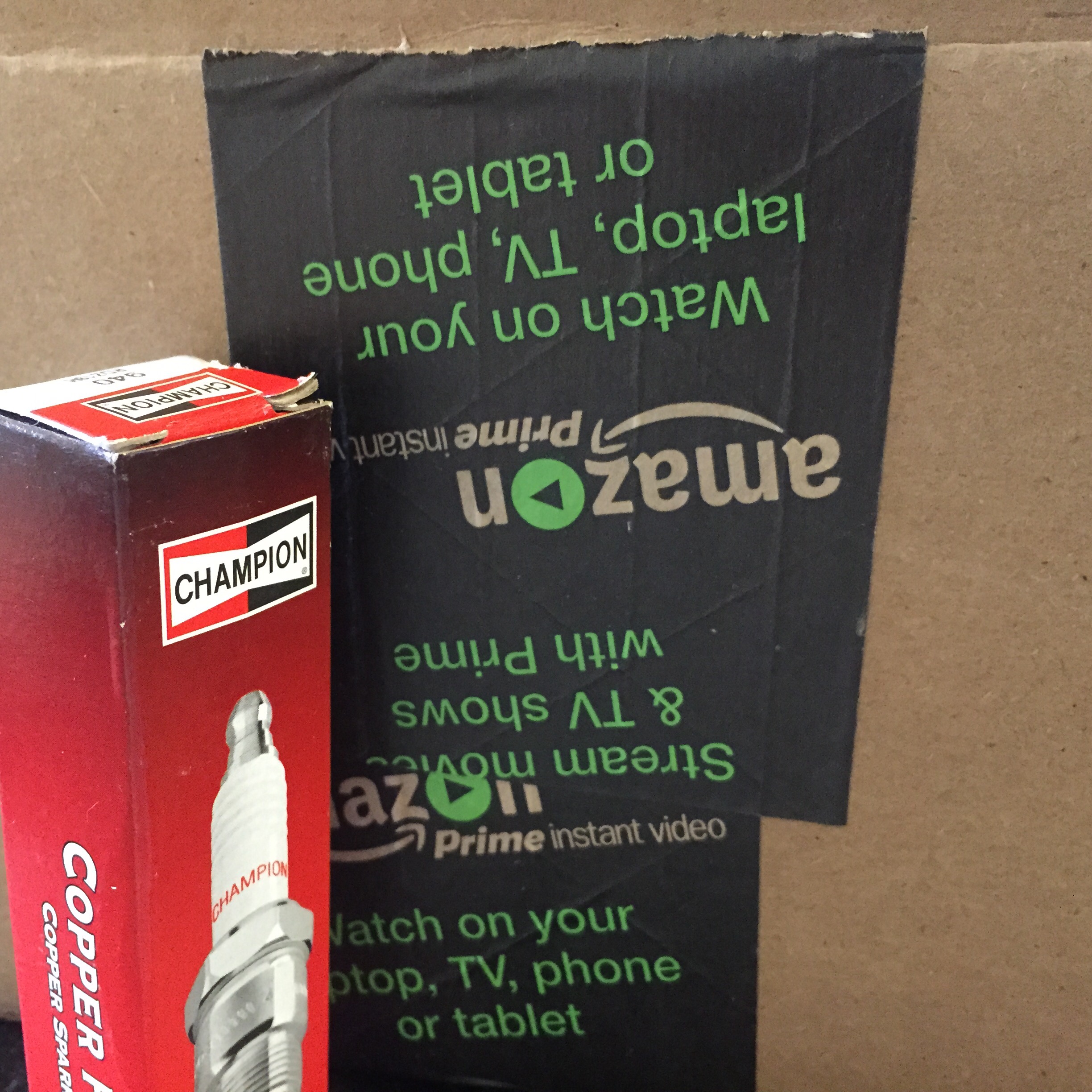 Saturday afternoon I spent the day running around town getting supplies to tune up my yard equipment. I know – super exciting… I am a stone cold gangster.
When I got done shopping, I realized that none of the stores I visited had two items- a specific hanger for my weed eater and an obscure spark plug sized just for it. No worries. I fired up my Amazon app, ordered them, and went about my bidness.
They were sitting on my doorstep at ten am Monday, less than 36 hours later.
I know my story is not unique. In fact, it's pretty common. But I still get awe struck sometimes when I consider how Amazon has totally changed the game in e commerce, and how that bleeds over to almost everything else. We consumers didn't start out demanding random spark plugs in less than two days. Amazon's excellence made it happen though, and now I confess disappointment when other vendors can't deliver like that.
Contrast that with this recent LA Times article I read about Zillow. Basically, their estimates stink and their home search tool is misleading and inaccurate.
So why do consumers keep using them? Why are we so demanding about shipping times on the latest Brotherband book but so accepting about a company that feeds us such terrible real estate data? I talk to buyers all the time that quote a zestimate to me and ask why it's so high or low. Invariably they admit "oh yeah Zillow is terrible in my hometown." So why use it for Lake Martin? Why use it for anywhere?
Aren't you tired of the expired listings that look active? Aren't you distrustful of their estimates? Can't you see the futility of a website that says a house has 1,665 square feet but no bedrooms? Does the appetite for mediocrity in real estate know no bottom? Who knows, one day I might have to shift my approach and become Mr. Zillow. Maybe they will have decent data and maybe it will be the best place to connect to consumers, and I will have lost this philosophical position because the market has spoken. When that day arrives, look out. I will be its biggest cheerleader. But right now the most popular site we use to look for $5 spark plugs is better than the one for $250,000 homes. Does that make any sense?

As for me, I'm trying to revamp my entire website. Really, I guess, my entire business model. Today's consumer demands fast, accurate info delivered on multilateral platforms. That's it. They demand Amazon Prime level service from real estate agents. I strive towards that, not anything else. I am sure I will fall far short of that standard, but I'd rather fail doing that than drown in the legion of average.