Archive for the 'Real Estate Tips' Category

We at Lake Martin Voice Realty would like to thank our readers and viewers for a huge milestone in our marketing of Lake Martin waterfront real estate.
Over the summer, as we were in the thick of showing property and enjoying the lake, we missed the fact that we passed 100,000 views on our Lake Martin Voice YouTube Channel. Since then, we have had several thousand more views on all our videos, and we currently sit at about 112,000 video views on YouTube alone.
We sort of hesitate to mention this because it can so easily resembles boasting. If there's one thing that we don't like about the real estate industry, it's the tireless self promotion of those who somehow think that buying or selling a home, at Lake Martin or somewhere else, is about them.  It's not.  It's about you.
We do mention it as thanks to our readers and viewers and people who have allowed us to help them over the years.  Let us not boast in anything but the Lord who has allowed us to do all things.
That being said, and while you listen to another John C play a classic, here are some points to ponder:
YouTube is big, but not the only way we market Lake Martin real estate by video. We also post videos on WellcomeMat also in the MLS, so in the big marketing picture, the total impact is really greater than that. WellcomeMat is a better host for real estate video, anyway.
Total channel views are calculated by adding all of the views of all of one's public videos (at this writing we have 236).  We also have private video tours whose views I do not believe count in this number. For more information about our private video tours, click here.
Just for perspective, the last time I looked, our total video views are about 10 times that of every other Lake Martin agent combined. Also for more perspective, Coldwell Banker's national channel has about 4.2 million views with 83,000 agents. That is 50 per agent. We have two agents, at about 55,000 views per agent.  I repeat, I am not into numbers for numbers sake. I am much more concerned about helping my sellers and buyers.
As I said above, any eye popping numbers just mean that we are in debt to our readers and viewers. It further convinces me of our overall marketing strategy: keep attention focused on our properties and Lake Martin. Not us. No one comes to Lake Martin and buys an agent, or even a team of agents. They buy Lake Martin. They buy a home or a place to build a home.
OK, you might say. Then why is it a milestone? Does having a high number of views help my customers, and if so, how?
Yes it does:
The YouTube search engine is #2 most frequently used search engine on the web. It's behind only Google, which owns YouTube. Which means….
Google search loves YouTube videos. It ranks them highly and even gives thumbnail images to entice you to view them. It digs down into the keywords that are used to describe each video, which is precisely why we are so careful to accurately describe ours.
The higher you are viewed for a subject matter, the better your search results. You are seen as a relevant source of news and info for the keywords present in your videos. Obviously, I am going for big keywords like "lake martin" and "waterfront" but also we like to kick tail in the long tail searches like "young's island" and "parker creek."
This is why I can make a video on a Tuesday and it be tops on a Google search the next day. This helps my videos get found, and getting found is the first and biggest step in internet marketing these days.  The hardest part is stepping through the noise. That is why if you FSBO your house and make an awesome video, you more than likely will not get found by the typical searcher, who does not venture past the second page of results on a web search. It can be (and likely will be) more artistic, better shot, edited, and better done overall. But it won't get found because I am louder than you are.
WellcomeMat.com is an online video platform that is specifically geared to real estate video. About 17,000 agents use it to host their real estate videos, and about 8,000 video production companies use it to connect with agents and other clients. It is, in my opinion, the clear market leader in real estate video hosting. More importantly, they are also the leading think tank of real estate video.
By think tank, I mean that the WellcomeMat blog is THE place to be to get ideas, be inspired, learn, and see over the horizon and peer into real estate video's future.  It's like the coolest basketball court in your city – you know – the one where all of the hardcore ballers hang out and play. If you think you are ready for the big time with the grown ups, you head to that court. Mostly you watch and marvel at their moves, but if you're brave enough, you call, "Next."
My high opinion of this community is what caused me great shock to learn that Rudy Bachraty, who is the Director of Communications and Partner Strategies at WellcomeMat, wanted to interview me about how I use video in my real estate business.  Rudy produces a series of videos he calls Real Estate Video Trends to interview real estate folks and video production companies from around the nation.
I was floored and flattered, because Rudy has interviewed such big city industry elites as NYC's Heddings Property Group and Halstead , and the best that Napa Valley has to offer. My videos certainly do not belong in the same group as theirs, and that is pretty obvious.
But, perhaps by interviewing me he can provide a cleanse of palette if nothing else.  And perhaps his reasoning was to show how one regular guy uses video to help market real estate.
Please enjoy the above embedded interview, and if you would like to go to their blog, click here for the post where he put up the interview, and click here for where he did another post about a quote from me.
I use real estate video in 3 ways:
1) For SELLERS:  I create a full motion video tour for all of my listings where I walk through and around the property.  This is not the typical slide show montage with 8 pictures.  It's narrated, it shows the flow of the home and lot, and buyers appreciate it.
2) For BUYERS:  I do a lot of private video home tours for clients who want to see more of a particular property, but live 2 hours away and can't get down to the lake immediately.  I set them up with a private YouTube link, and I walk them through the home, highlighting areas they want to know more about.
3) For BUYERS and SELLERS: I do tons of Neighborhood and Community video tours.  These help draw buyers to my website and to my listings.  There are a lot of buyers who need to research Lake Martin before they buy, and I want LakeMartinVoice.com to be the place to do that research.
If you'd like to know more about how video can help market your home, or how to schedule a private video tour of a home on the Lake Martin MLS, call me at (334) 221-5862, or click here to contact me.  I'd love to be your realtor.
I have a client who has narrowed his search down to two Lake Martin waterfront homes his family likes.  This is great!  But because this is Lake Martin real estate, deciding between the two homes is proving to be tough.  A quick MLS property search in any price range will confirm that shopping for Lake Martin homes is not like comparing apples to apples.  There are so many variables to consider, that even 2 homes next door to each other can have radically different qualities (water depth, house condition, waterfront footage, view, etc.)
It boils down to the simple question: "Why do you want a lake house?"  That sounds obvious, but really thinking about their expectations for a lake home forces buyers to make choices:  Where is the best location for them?  How will they use it?  What do they like to do at the lake? Why are they even buying one in the first place?
The video below is of Lake Martin Voice Realty clients, John and Wendy, who have just closed on their home, and had to make similar decisions.  I think they offer some great advice: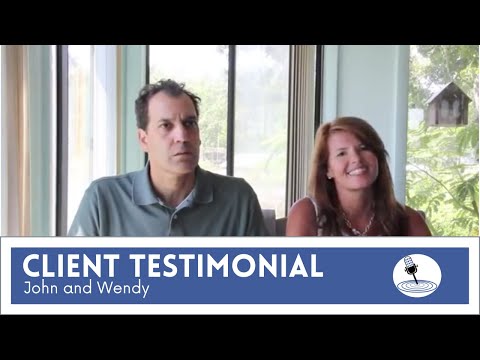 Back to my current client with a choice to make.  Our conversation goes something like this, and it is:
Buyer:  "John, what do you think?  House A or House B?"
John:  "I have been selling long enough to realize that different people have different priorities. I think House A is a good choice if you prioritize newer home construction and the location in the west side of the lake.  I like House B if you prioritize size of waterfront and length of view, or a North Lake / close to Highway 280 location.
If you are undecided about location, my advice is to ask yourself where you would like to be closer by water? Whereas House A might cost you 12 more minutes to drive from Birmingham, it might be only 7 minutes by boat from friends.  Or House B might be 15 minutes faster drive from Birmingham, but 30 minutes from friends by water, but 10 minutes to shopping and restaurants in Alex City.  You just have to ask yourself what you will be doing and how you will be spending your time."
What about you?  What are your priorities?  Why do you want to buy a Lake Martin home?  I'd love to be your realtor and help you think about these question – whether your time frame to purchase is two months or two years.  Give me a call at (334) 221-5862 or click here to contact me. 
Alabama Power, a division of Southern Company, is utility company with a huge influence on the waterfront real estate market on Lake Martin, Alabama.
Why?
First of all, they built Martin Dam in 1926, thereby damming the Tallapoosa River and creating Lake Martin in the first place. For my post about our tour of Martin Dam, click here.
In the process of building it, they bought up all of the land under, and most of the land around the eventual shoreline. Along with developer Russell Lands, Alabama Power owns pretty much every inch of undeveloped land around the lake.  Area experts estimate that of the 770 miles of shoreline of Lake Martin, 70% remains undeveloped.
Over the years, Alabama Power has sold off residential lots. But a big part of their influence remains as holders of lot leases. This is where the homeowner owns the house, improvements, etc., but Alabama Power still owns the dirt and they lease it to the home owner.
Since about 2007, I have written a couple of posts on this subject. To get a basic understanding of how leased lots work on Lake Martin, please read them. Please keep in mind, they are old and about to be sort of outdated by what I say below, but please see:
and see:
Huge Change In Leased Lots For Lake Martin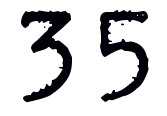 Since I have written the above, Alabama Power has made a huge change in the lease program. If you really dug into the old leases, you would find that they used to read that they were for five years, with five automatic renewals at five years each. The way you renewed it was to pay the first month's payment.  So, it was five years plus 25 years of renewals, that's how they figured they were giving you a 30 year lease.  It made sense to them, but caused most loan underwriters fits.   Well, I should rephrase that. Before 2008, lenders didn't give a hoot. Back then they had only two requirements for lake lending: mirror and water. If you could fog a mirror, and if the land was touching water, they pushed money at you.
After the real estate meltdown in 2008, the pendulum swung to the other extreme. When underwriters on leased lot home loans read the automatic renewal clause, most freaked out. They would not give 30 year fixed rate loans on what they viewed as five year property. Most wouldn't even offer an ARM loan. That left you only with a couple of local banks as financing choices.
All this is now moot!
Somewhere around March of 2012, Alabama Power changed the lease terms for their residential land leases on Lake Martin. Now they are 35 year fixed term leases, meaning, the lease starts in (for example) Jan 1, 2012, and ends December 31, 2047.  This allows you to get 30 year fixed rate financing. I think this development could really revolutionize the way people view leased lots.
Over the years I have been blessed to sell a lot of waterfront leased lot homes on Lake Martin, and for every one I have sold I have talked to probably 50 buyers about the leased lot process on Lake Martin. It's a hyperlocal concept, to be sure, and when buyers have reservations, it's usually about the lease terms. Many times, even when they get past the concept and go to finance the purchase and want to use their hometown lender, that is where the deal would crash. Hometown lender would be unfamiliar with Alabama Power lot leases, would freak out about the renewals, and the deal would die.
Now, with Alabama Power offering to have a 35 year lease, I predict a tremendous influx of other lenders who can finance them. Like any other type of real estate, once the financing options open up, it makes them easier to buy. When things are more liquid, they gain in value.  I think over the long term, say the next five years, you will see a gain in leased lot homes' worth on Lake Martin.  It's a great move by Alabama Power, and I heartily applaud it.
Are you interested in buying a leased lot waterfront home on Lake Martin? I would be glad to help you out, and explain what to look for so that you get the most for your money.
Or do you own a leased lot home right now, and are wondering how this new policy might affect your home's value? Click here to request a no obligation CMA, or call me at 334 221 5862.
Young's Island is a major landmark on the east side of Lake Martin.  I always look for it when I'm in my boat heading north from Pleasure Point toward the main river channel, and when I'm headed south from Highway 280 and Jackson's Gap toward Chimney Rock.
There used to be a ferry – Young's Ferry – that would take people back and forth across this channel.  That's why there are two Young's Ferry Roads on Lake Martin: a Young's Ferry Road on the west side in Alex City, and one on the opposite side in Dadeville.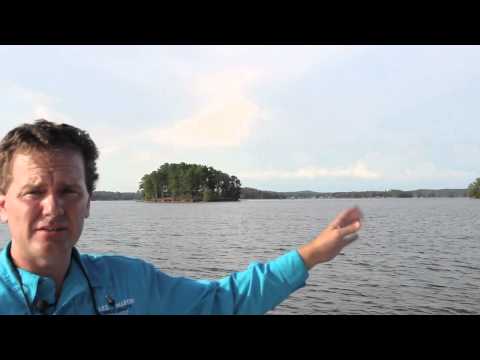 Having two Young's Ferry Roads on one lake is not unusual for Lake Martin.  Since this one lake covers 3 counties, and (depending on your definition of a "city") 0 – 5 cities, having the same name for multiple roads in very common.  For example, there are several "Lakeviews," "Lakewoods," "Hilltops," "Dogwoods," and even two "Easy" streets.  This can make searching for homes a little tricky, so be sure you understand the address you're seeing on the Lake Martin MLS.
Or just call me.  I make it my business to know trivia like this –  that of the two homes for sale today on "Easy" streets, the one in Eclectic is on a leased lot, and the one in Alex City is deeded.   I'd love to help you find the Lake Martin property you're searching for.  As a member of the lake MLS, I can help you with any property, regardless of the listing agent.  Give me a call (334) 221-5862, or shoot me an email at [email protected] 
I'm getting a lot of calls and emails these days from folks wanting to rent a vacation home on Lake Martin.  Well, my company doesn't do rentals, only sales, so I send callers to VRBO.com and lakemartin.com.  There are also a few real estate companies around the lake that manage rentals.
Lake Martin Voice Realty friend, Wayne, and his family have gone through the Lake Martin rental process a number of times, successfully.  I thought I'd let them share their advice with you, so check out their video below . . .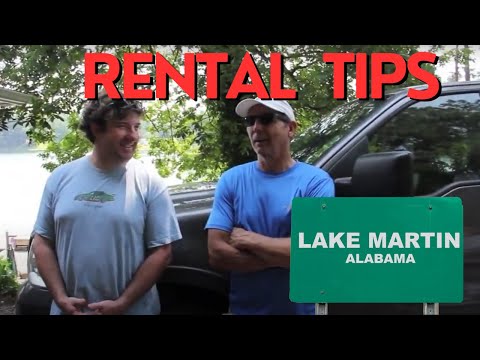 If you're not very familiar with Lake Martin and want a better feel for the different parts of the lake, and the lifestyle you're after, renting is great idea.  After you've rented a home, and you've fallen in love with Lake Martin, give me a call and I'll help find you something permanent: (334) 221-5862.
Buyers – remember that I can show you any home in the Lake Martin MLS, no matter who has it listed.  The seller pays my commission, so it costs you nothing to let me help!
The following is an article I wrote for LAKE Magazine's July 2012 edition:
I have always been a nerd. My genes dictate it.  In high school I was in all of the nerdy clubs: Don't think Olympic sports; think Science Olympiad.
Now that I am in my adult years, this nerdliness is coming out in all kinds of ways. I guess one of the dorkiest hobbies I have is "birding." I have tried to stay in the closet about this one for years, but I have reached the point in my life where I no longer have the energy to hide the fact that I like to sit on the back porch with binoculars and the Peterson Field Guide.
Perhaps the Holy Grail of birders, at least in North America, would be to spot the ivory-billed woodpecker. It's known by a nickname that I now consider blasphemous, but it is roughly translated as "Boy Howdy Would You Look At The Size of That Woodpecker." It is as big as a crow. It is red headed as the day is long, and has distinctly marked wings and bill. It is thought to be extinct in our continent, so to get a picture of one – to confirm they still exist here – would be the biggest ornithological event since the rescue of the California Condor.
I, of course, think I have spotted many over the years – like one time in the piney sand hills of north Florida, or when I've been hunting in south Montgomery County. Once, while driving around Lake Martin, I spent two hours chasing a likely one just outside of Tallassee off of Highway 229. I tromped down an Elmore County road with a 300-millimeter zoom lens on my camera and even got a decent shot. But that and every other time when I get back to my bird guide, I realize that I have only seen a mere pileated.
In 2006, I was turkey hunting in Texas and met a guy from a small town in Arkansas where scientists "think" they found an ivory-billed in a nearby state forest. Once word spread, pandemonium broke out. People flooded to the tiny hamlet. Birders, scientists and savvy capitalists descended upon Brinkley. They filled hotels, they hammered restaurants, they staked out the woods, they sold T-shirts – they even bought up tracts of land. In the end, they came away with a doubtful audio recording but no confirmation. The lesson? Caution. Be very careful when you think you have spotted a rare species.
It is with great trepidation, with this proper perspective, that I tell you that I have confirmed sightings of another creature thought to be extinct – the Lake Martin house flipper. I can think of two or three successful flips in the last 12 months.
A house flipper is someone buys a house with no intention of ever spending the night there. Their goal is to buy it, fix it, sell it and forget it. Around Lake Martin, they most often do things like add a bedroom and bathroom. They might add central air conditioning if they need to, but you can bet they will add wood floors and the ubiquitous black granite counter tops with stainless appliances.
House flippers exist everywhere, obviously. Sometimes they have been blamed for the housing bubble, as callous profiteers who "bid up prices" just to rake in the dough. Hogwash, of course. The bubble was too big to blame on one section of the industry. It had plenty of guilt to go around. No one group was totally innocent, including us real estate agents. So don't be a hater. Flippers are a good thing, a necessary element in any industry, a part of the circle of life – Hakuna Matata and all of that. I, for one, am glad to see a successful flip here and there in the Lake Martin real estate market. I take it as a positive sign, yet another indicator that the freeze has thawed for good.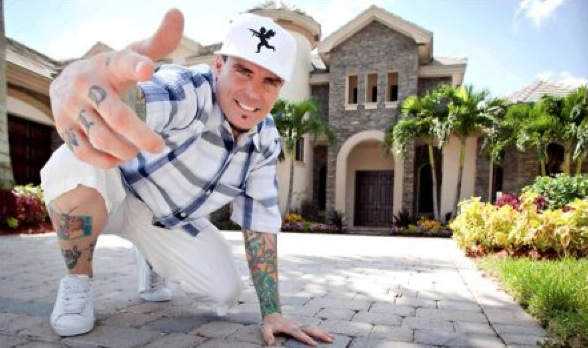 I cringe with this announcement, however, I loathe suggesting anything that might be interpreted by sellers as their chance to jack their prices back up. I don't want everyone to become armchair developers again like they did in 2005-2007. If you don't do this for a living, don't do it at the lake.
To buyers, I say this loudly – do not think of your purchase as an "investment." Do not make the mistake of those in the past that thought in terms of rate of return. A lake home is a home – not your 401k. If you buy one and spend $15,000 making improvements over the course of one month, it is not magically worth $100,000 more than the day you bought it. Everyone gets HGTV. Everyone has cute ideas. Everyone knows someone in the construction industry who will give them a deal. Don't be tempted by that siren.
So if, in the coming months, you hear about a successful Lake Martin flipper, don't believe it until you see it. If you see one, smile and let it warm your heart, but don't get any big ideas. The mere existence of one or two successful flippers does not mean the roaring times are back. They are just the first purple martin to reach Lake Martin in February – a reminder of a healthy ecosystem, not evidence of a free for all.
On the other hand, if you see an ivory-billed woodpecker, take a picture, and then call me. But only me! And if you'd like to talk about Lake Martin real estate, please give me a call: (334) 221-5862.  I'd love to be your realtor.

The Lake Martin real estate market had a smashing May, tallying 32 waterfront homes sold! This is the highest number of homes sold in six years, since May of 2006.
In this real estate market report I wrote for Lake Magazine, I noted that according to the Lake Martin MLS*, April 2012 had a relatively weak number of waterfront homes sold. I wondered if this was a signal that the Lake martin market was slowing down, or if this is a mere timing thing, setting the table for an explosive May.
It seems the latter was correct. 32 waterfront homes sold in one month is a lot for a little market like Lake Martin. Please note these numbers encompass all brokerages, all agents, in the Lake Martin MLS.
How good is 32?
To help put it into perspective, I looked at each month's sales history since January, 2005. I found that May 2012 was the best home sales month on Lake Martin since 33 was sold in May of 2006. Think of that – the last time we have seen sales like this was in a confirmed seller's market of 2006.
Also, another way to view this month is to ask this question:
Q: Since January of 2005, how many times has the Lake Martin real estate market exceeded 30 waterfront home sales per month?
A: Just six. That's right, over the last 54 months, including the blistering years of 2005 and 2006, Lake Martin has exceeded 30 only six times: May 2012, August 2009, the above mentioned May 2006, and three times in 2005.
I think this proves that April 2012's weak showing of 14 Lake Martin waterfront homes sold was an aberration, a timing issue. Of course, the same could be said about May, but I doubt that is really the case. As I write this, there are 23 home sales pending in the Lake Martin MLS and 17 recorded as sold since June 1. In other words, June is setting up to be a good sales month as well, very likely to beat the prior year's June total of 22 homes sold.
If we step back and look the cumulative total number of waterfront homes sold on Lake Martin so far this year, we see that 93 homes have sold. Once again, this is the best five month start since 2006.
Lake Martin Lot Sales 2012
Lake Martin waterfront lots are also selling well so far in 2012. In May, 10 lots were sold, which was the best since 10 sold in April 2011. Other than last year, we have not seen that many lots sold since 2005.
Supply Side
When I first started blogging about Lake Martin real estate way back in 2007, I always included the numbers of waterfront homes for sale on Lake Martin. Every month I trotted out the supply. But, it got rather tedious so I stopped doing it every month, only mentioning it once per quarter or so. I don't really know why. Maybe it was because it frustrated me to see the number of homes for sale keep rising when the Lake Martin market was in an obvious shift to the buyer's side of the equation. I don't know.
I do think it bears a look now, in light of the sustained sales.  I took a look at the number of waterfront homes for sale on Lake Martin in the last few years. It has been dropping quite a bit. If we use the month of May as an example, we see that in May of 2009 there were 589 homes for sale on the MLS. May of 2010 saw it drop to 492, then drop to 476 in 2011. In May of 2012 it was only 411. That is a 30% decrease in supply in three years. True, that percentage fluctuates based on which month you consider. It also is true that many more condos were for sale back then, but I looked at the condo effect in this post and it wasn't all that big an influence in sales.
If supply stays low and sales continue on this trend, could 2012 be a year of actual price increases?  I'm not willing to go out on that limb.  Yet.
Related Posts:
Lake Martin Lot Sales 2011
Lake Martin Real Estate Sales 2011 – Year In Review
Lake Martin Real Estate Sales 2010 – Lot Sales
Lake Martin Real Estate Sales 2010
Lake Martin Real Estate Sales 2009 – Year In Review
Lake Martin Real Estate Sales 2008 – Year In Review
Lake Martin Real Estate Sales 2007 – Year In Review
All Lake Martin Market Reports

(*)Disclaimers: All of the above info was taken from the Lake Martin Area Association of Realtors Multiple Listing Service. Accuracy is not guaranteed but deemed reliable. The above does not include sales by   FSBOs or developers that sell privately and not through the MLS. But, I do think that the above represents a very large majority of all waterfront sales on Lake Martin, Alabama.
Ok, so the Little Kowaliga area is not technically a neighborhood; rather it is a geographic area of waterfront homes on Lake Martin.  It's a way to talk about that branch of Lake Martin on the west side of the lake, north of Kowaliga Bridge, and around the corner west of Sinclair's and Kowaliga Marina.  Some people that grew up here or have had cabins on Lake Martin for 40 years may even argue with me for calling it Little Kowaliga.  Lots of people refer to this area as the Real Island area, because Real Island Marina is the oldest marina in this area.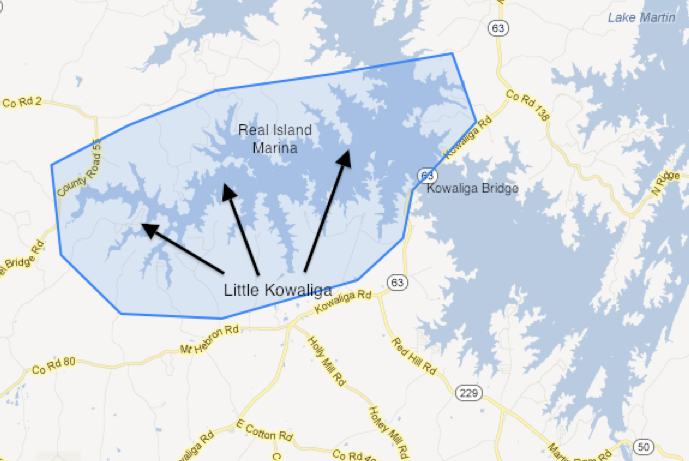 If you would like to see waterfront homes and lots for sale right now in the Little Kowaliga area, CLICK HERE to go to my Little Kowaliga Neighborhood page. I have a report that shows every waterfront home and lot for sale – by all agents, all brokerages, on Lake Martin. It pulls from the Lake Martin MLS so it will be current no matter when you visit the page.

The reason it's called Little Kowaliga is because Little Kowaliga Creek once ran here before the lake was created by Martin Dam.  It is close to Montgomery, and traditionally a lot of Montgomery families have had cabins in this area.
There aren't really any formal neighborhoods in Little Kowaliga – no gated entrances with formal signs, no neighborhood pools, etc.  Most waterfront homes in this area are located off of county roads.  This is a section of Lake Martin where you can have a trailer next to a two million dollar home.  It is similar to Parker Creek in that there are really no undeveloped lots left.  When you see new construction on a waterfront lot in Little Kowaliga, odds are that person has torn down an old cabin or mobile home.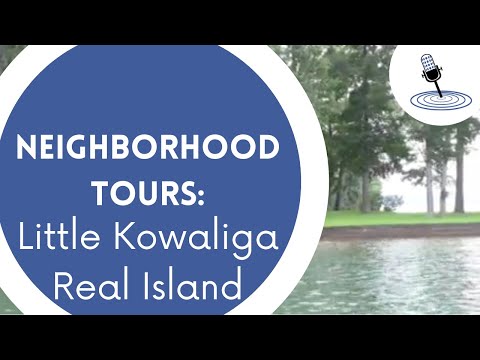 Driving directions and addresses can be wacky in this area.  The county line separating Elmore and Coosa counties runs through Little Kowaliga, so you can have homes in the town of Equality that can be in either Elmore or Coosa County.  As you drive the road on the north side of Little Kowaliga, road signs can switch from Elmore County to Coosa County, and then back again.  Google Maps and GPS's still haven't figured out many of the streets, so it pays to combine them with a good physical map of Lake Martin, and good directions from a homeowner.  Hancel Road, for example, is a road that runs in and out of both counties, and is spelled 3 or 4 different ways by street signs, Google, the MLS, and GPS's.
If you're looking for the "lake cabin at the end of the dirt road" experience, the Little Kowaliga area might be a good fit.  To see homes currently for sale in the Little Kowaliga area, CLICK HERE.  I'd love to help you find your Lake Martin home – in Little Kowaliga or anywhere on Lake Martin. Remember, I can help you with any property in the Lake Martin MLS, and it doesn't cost the buyer a dime to have a realtor help you with your research and purchase.  The sellers pay my commission. 
If I can help, give me a call at (334) 221-5862, or email me by CLICKING HERE.
I need some help!
What do you call the middle face in this picture? Sort of smiley? I know the one on the left is a big smiley face, and I guess we can call the one to the right a frowny face. I just have no clue what to call the middle one and it is affecting me. Why?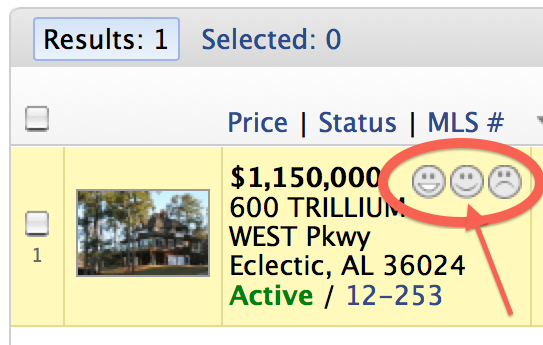 These faces are a feedback tool within the Lake Martin MLS.  People who are searching for waterfront homes, lots, or condos for sale on Lake Martin can use this feedback system by creating themselves a Portal. You create a Portal on the MLS by clicking "Save" on a search, after you check a particular listing, or if you click on one of these faces to give feedback. Then you are asked to register some info and create a Portal. The big smiley face puts your selection in a Listing Cart called "Favorites." The middle one is "Possibilities" and the frowny is "Rejects."
Why would you want to do that? I can think of a few reasons:
1.  My buyers love this feature. There is safety in numbers. You know, the old "many have enjoyed this, you will, too!" line.
2.  Registering allows you to save your favorites without searching again and again each time you log on to search the Lake Martin MLS.  It saves you huge amounts of time, plus your spouse can log on also and see the same info.
3.  Don't worry, your info comes only to me!  This may or may not be a comfort, but this live feed to the homes and lots for sale is provided by me, so only I see your email address or any other contact info you provide.  I don't spam and no one else will have it.
4.  It saves a lot of time when/if you are ready to buy, even if it's 6 months later.  I can find the current examples of your past favorites and get a good idea of what you like and what you don't like.
Like I've said many times before, the Lake Martin MLS is the #1 source for the most accurate, up-to-date information on homes for sale on the lake.  If you're not sure how to use it effectively, I'll give you the 5 minute lesson: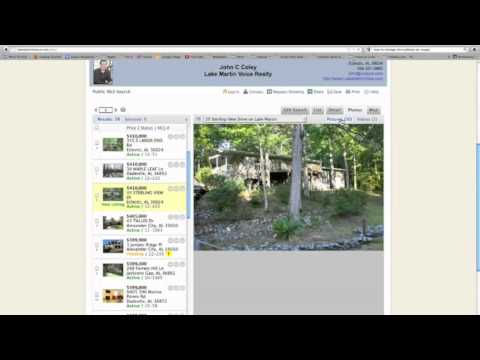 If I can help you, please call me at (334) 221-5862, email me at info @ lakemartinvoice .com, or CLICK HERE to contact me.  I can help you with any property in the Lake Martin MLS, regardless of which realtor has it listed.