Archive for the 'Real Estate Tips' Category
When my clients, Kane and Emily, found this Lake Martin cabin last summer, they liked the whole package.  The home felt like a lake house, the lot was flat and wooded, there was plenty of shoreline.  It wasn't too much house or too much lot.  It was just right.
And they knew that with a little tweaking, just a little renovation, it could be even better.  It could become "theirs."
They've allowed me to share their before and after pictures of the remodel of their Lake Martin home. These photos show that simple changes like removing carpet can have a big impact.  New sod and covered entry can make a home look new.  Take a look and see how they made a difference by making smart changes during the renovation project.
Outside:
The new porch on the street side of the home is not a huge addition, but adds a more welcoming (and sheltered) spot to enter the home.  The lake side of the home is similar – small additions were made, building on what was already good about the lot.  The docks and sea wall were already there, and so was the hammock between the trees.  But adding new landscaping, a sandy beach area and a fire pit, makes this yard even more liveable, and really personalized to their needs:
Inside:  The Kitchen and Dining Area
Inside, the changes of the redo were simple, but with great effect as well.  The floor plan remains the same, the kitchen and baths have not been radically altered.  But small changes like removing carpet make a big difference:
The Living Room
Here's the living room – it was already in good shape.  Let's face it, in a second home like this on Lake Martin, you're likely to spend a lot of your time hanging out. Kane and Emily realized this, and moved the TV over the fireplace and brought in their own the furniture:
The Master Bedroom
And finally, they removed the carpet in the lakeside master suite and it makes a huge difference!  I really had to look twice at the pictures to make sure this was the same room:
Kane and Emily started out with a great cabin. As a matter of fact, I liked it so much, I showed it to my wife and my dad a couple of years before this. So from ground zero, they had a really nice Lake Martin home. But, by calling this a "simple" renovation, I run the risk of minimizing the amount of thought, effort and resources the new homeowners put into this transformation – perhaps I should say "smart" renovation instead.  Kane and Emily didn't go overboard.  Instead they played up their cabin's strengths.  This is what I mean by "smart" and I think they hit a home run!
If you're looking for a cute cabin with good bones, but you just can't see past the orange shag carpet and faux paneled walls, give me a call 334  221 5862 or email me here.  Let's talk about your dream home, let's discuss what is really essential in a good Lake Martin home  investment (the dirt, the view, the waterfront) and what things can be changed or overlooked for the time being (the choice of counter material, the screened porch that could be bigger).  I'd love to help and I'd love to be your Lake Martin real estate agent.
It's time for the final reveal.  Much like an Extreme Makeover Home episode, Henderson and Coker Contractors have resurrected a Lake Martin seawall that was a complete fail.  This was no minor seawall fail.  This was a seawall that had fallen over into the lake and taken a lot of earth with it – and dirt is dollars in waterfront real estate.  They allowed me to tag along and film the stages of construction, and now that the water is down for the winter months, I can show you the new seawall from the ground on up.
This time of year is great for inspecting and repairing Lake Martin sea walls.  As you can see from the video below, there's a lot more to a seawall than the few feet that are exposed during the summer months.  This is a project for the pros.  The dirt beneath your lake home is the most valuable part of your lake investment, so make sure you protect it with a strong, well built sea wall.
Did you know that sea wall inspections are not typically part of the home buying inspection process?  Buyers should contact a sea wall professional and have a separate inspection completed if they are concerned about the condition of a lake home's seawall.
I can't inspect your seawall, but I can help you with Lake Martin real estate. If you're thinking about buying or selling a Lake Martin home, give me a call and let's talk about all the factors to consider when buying or selling.  I'd love to be your realtor. (334) 221-5862
For Parts 1 and 2 of this series, click on the links below:
Extreme Seawall Failure on Lake Martin: Part 1
Extreme Seawall Failure on Lake Martin Part 2: Rebuilding
We here at Lake Martin Voice Realty are professional real estate agents, and know good marketing when we see it. We try to be the best, but we don't mind admitting when we see our fellow Lake Martin agents doing something awesome. Everyone should take a look at the incredible aerial photos posted on Facebook by Toni Adcock of ReMax Around the Lake. Really, this is groundbreaking. If you are reading this post from other spots around the nation, I ask you, are agents in your town going this far? Are they trying this hard? I am telling you, this is impressive:
Toni's husband Phil Adcock took these pictures using a GoPro Camera, mounted on a DJI Phantom quadcopter. Technical assistance and photography consulting was given by Matt Adcock of Del Sol Photography. Toni is the listing agent of 116 Hilyer Road. To contact Toni about this home, go to her website or call her at 256-234-1327.
I am even more impressed by this because I also own a Phantom quadcopter and have been experimenting on flying it for real estate photography and videography. I need a lot more practice with mine before I am ready for the bigtime, as you can see by this wreck I had.
I am convinced that using tools like the Phantom quadcopter will usher in a new level of marketing in real estate. I was inspired several months ago by seeing what some commercial agents are doing with it, and I thought it would be a natural fit for Lake Martin, thus my experimentation. Kudos to Toni and Phil for having the talent and the hard work to get it to a point that it is useful. That kind of dedication is rare in this industry and I think it is so cool to be in a place like Lake Martin where we have so many talented agents that are thinking of creative ways to help out their sellers.
Well done Toni, Phil, Matt, and ReMax Around The Lake!!!!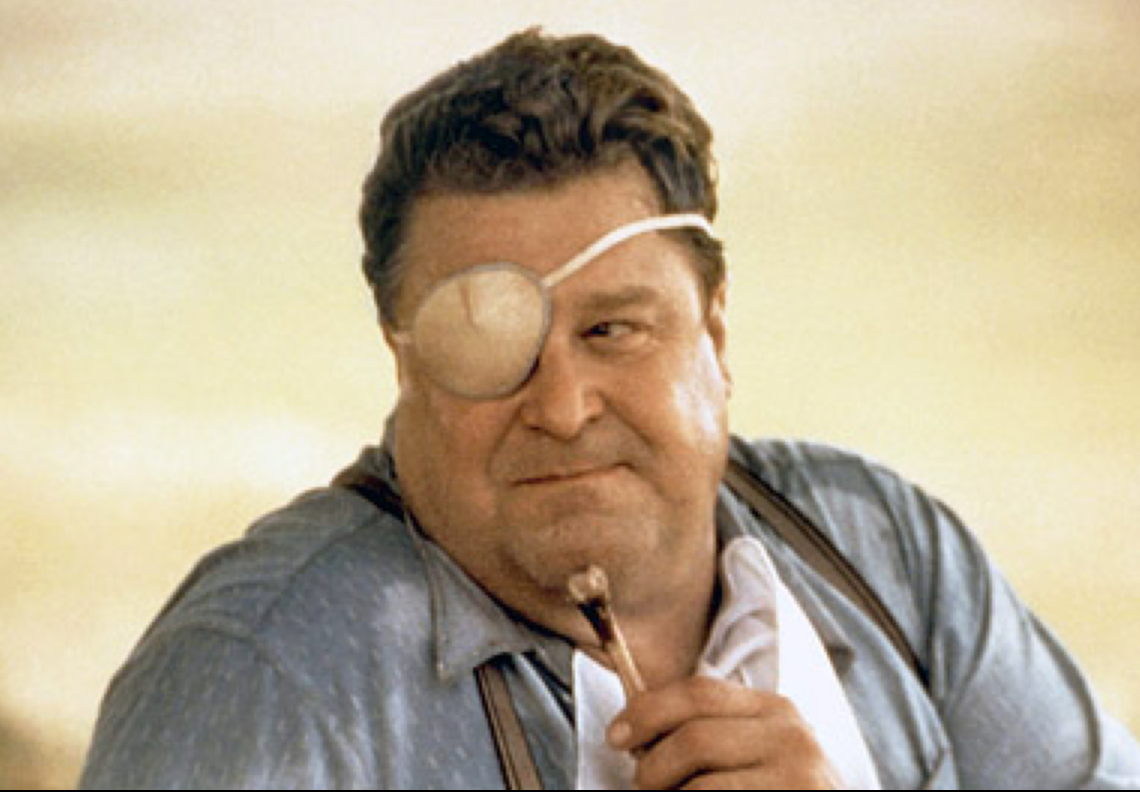 I love the Wall Street Journal. Reading it is one of my favorite pasttimes. They have a regular section now called "Mansions" that covers real estate. On a recent Friday I was intrigued by a front page tease that read "Secrets of Top Brokers." Naturally, as a real estate broker here at Lake Martin, I wanted in on the secrets. I flipped to page M1 and found the article, penned by Lauren Schuker Blum, titled "The Battle For the Big Deal."
I was immediately disappointed.
The article was about the competitive nature of getting high priced listings in places like Malibu, LA, etc. It's bottom line was that these ultra cool brokers have to battle hard to win a $40 million listing. They throw lavish parties and have in-house computer nerds to cultivate top secret databases of high rollers. Wow.
Don't get me wrong, the article was well written and had plenty of pretty pictures. But the usability of these secrets by the average agent or even the average home seller is absolutely zero. (Who is going to spend $10,000 on a VIP house party?)
I guess I should not expect a practical article from a section of the WSJ called "Mansions." I also can't blame them for splashing flashy home pictures (I call it house porn) to catch the eye and entertain. I can't help but wonder, though, what would happen if the WSJ would ask one of their talented writers, perhaps Ms. Blum, to turn their eye to the not so extraordinary. Sure, it's easy to think of crazy ways to promote a home when Presidents have slept there and your potential commission is in the millions. What are the secrets of brokers or agents who actually sell normal homes?
Lake Martin Real Estate Secrets
I can tell you that there are no secrets for the Lake Martin real estate market, or anywhere else for that matter. If you want to sell a waterfront home, lot, or condo, you must pay attention to what I call the Holy Trinity of Real Estate:
Pricing – You absolutely must price your home correctly. Yes, the market here at Lake Martin has rebounded since its low in 2008. But I don't think we have evidence of price increases. Check my market reports and see if you agree. As a Lake Martin seller, you must price your home within 5% or 10% of what the market likes, or it will sit there. Buyers expect deals, research extensively, and can walk away. "I will price mine a little high. You can't go up but you can always come down" you might say. I say – you can't come down if you don't get an offer. You won't get an offer if you are priced too high to begin with.
Marketing – You or your agent must market your Lake Martin home aggressively. A sign in the yard won't do it anymore. Three fuzzy pictures in the MLS? Please. You have to have a full court press of well done pictures, full motion video, scads of backup information, just to stay in the conversation. You have to have a supercharged website to break through the noise and get found. In online marketing today, pretty is as pretty does. If people can't Google it and find it, it might as well not exist. The old realtor trick of putting scant info out there so the buyer will call the agent and the agent will "sell them" on the home – is dead. Here is a modern truth – NO ONE WANTS TO TALK TO REAL ESTATE AGENTS – including me. They only call the agent on the last resort. Buyers research and research online so they don't have to ask the agent, whom they perceive is cheesy and just out to say whatever. As an agent, I must realize that and earn trust by putting as much info online as possible. Another truth – put the marketing focus on the property. Not the agent.
Staging – Staging is getting your home looking good to sell. Clean it up. Paint. Replace the rotten wood. Declutter. Depersonalize. Get all that junk out of the way that detracts from the view. People are here for Lake Martin. Don't distract from that with petty repairable.
Are you considering selling your Lake Martin home, lot, condo, or some other property? We would love the chance to talk to you about it. We can get it done. We have the knowledge and experience to price it accurately. No other agency on Lake Martin, no matter how big, can even come close to our online marketing. The huge amount of traffic to this website are facts, not idle boasts. We can also help you stage your home to sell.
How to get started? Request a Comparable Market Analysis here or email us at info at lakemartinvoice dot com. Or call me at 334 221 5862!
Lake Martin is like most real estate markets, I guess, in that every buyer loves foreclosures. I don't blame them. The thought of a buying a waterfront home or lot that is a heck of a deal because it's a foreclosure is enticing.
But is it always true? Are all good deals on Lake Martin necessarily foreclosures? And are all Lake Martin foreclosures good deals? No.
The other day I was on the phone with a buyer from Florida that signed up for my waterfront foreclosure list. He was interested in looking at just about anything in his price range: lots, condos, homes, whatever. One of the foreclosures he asked to see was a condo in the Crowne Pointe condo complex, which is located off of Highway 50, kind of by Chuck's Marina, in the Blue Creek area of Lake Martin. When I saw the price they were asking for the foreclosed condo, I thought, whoa!
Here's a Condo That's Cheaper than a Foreclosure
This particular condo I found was a three bed, three bath unit in Crowne Pointe that is listed for $289,000. Disclosure: it is a foreclosure, and is not my listing.
However, I was quick to let him know that I have this condo listed in Crowne Pointe, also a three bed and three bath, for $265,000. If you are interested, please click here for more information. It's an awesome condo with its own deeded boat slip, a gigantic view, and two owners' pools for funzies.
Yes, you read that correctly. My (civilian owned, regular seller) condo is priced $24,000 less than the foreclosure. That's almost a 10% price difference. Why on earth would the foreclosure be listed higher than a regular sale? Who knows. Every case is different. Often, the banks must try higher prices due to the foreclosure proceeding. Sometimes banks are too big to spend a lot of time studying the market. Anyway, how would you like to be the guy bragging that he got a good deal on a foreclosure in Crowne Pointe, only to realize you paid about $24,000 too much?
This leads me to a few rules of thumb to remember:
Lake Martin Foreclosure Rules Of Thumb
Just because it's a foreclosure doesn't automatically mean it's the lowest priced option. See above for a glaring example.
Just because it's a foreclosure, and even if you think it's priced well, it doesn't automatically mean it's a good deal. You will still need to do your due diligence to see if it makes sense relative to the rest of the market on Lake Martin.
Just because it's a foreclosure, doesn't mean its legal woes are over. Lake Martin is located in Alabama, and here we have rights of rescission and other issues that could affect your purchase decision, to say nothing of possible property condition concerns.
If you're interested in a waterfront Foreclosure on Lake Martin, great. Click here for my list. But be warned – getting a great deal isn't as easy as going down the list like you were at Home Depot. I can help you learn about the market and help you focus your search so that you know a good buy when you see it. Don't worry, the seller pays the commission, so it doesn't cost you a dime to let me help you.
And if the Crowne Pointe condo I mentioned is still around, I would love to sell it to you!
Just contact us on this page, or at info at lakemartinvoice dot come, or John Coley at 334 221 5862 or John Christenberry at 334 398 0762.
If you are interested in waterfront homes, lots, or condos for sale on Lake Martin, you might like the latest feature of LakeMartinVoice.com.
I have added a new feature called "New Listings On Lake Martin." See the right hand column of my blog, just below the top. There is a little plugin there that brings you the very newest homes, lots and condos on the market here at Lake Martin. In some real estate markets, this is called a "Hot Sheet." So I guess I could have called it the Lake Martin Hot Sheet. Nevertheless, it's a quick way to check what's new on the market here at Lake Martin.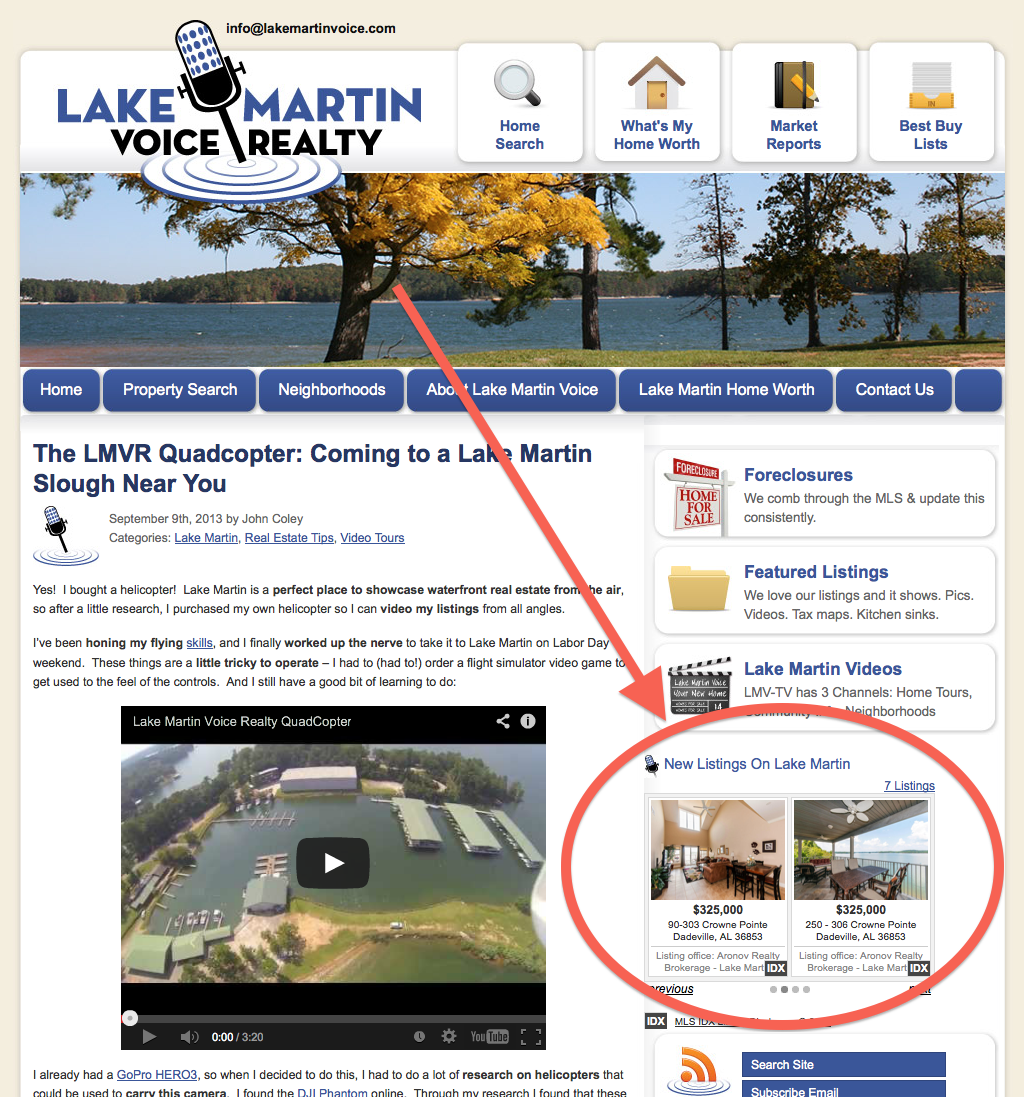 My goal is to have absolutely, positively, the best website and tools for searching the Lake Martin real estate market. I feel very blessed that this site continues to be number one in traffic, usage, and most Google searches for Lake Martin property. I will continue to tinker and experiment with new features like this to try and stay number one. If you have any suggestions or ways I can improve, please email at info at lakemartinvoice.com.
FAQ about New Listings On Lake Martin
Are these only your listings? No, this list comes from the Lake Martin MLS, so that includes every single agent on Lake Martin, every single brokerage. It doesn't matter who has it listed, I can help you with it.
How often is it updated? It pulls about the last seven days of new listings from the Lake Martin MLS. So, if you haven't checked it in about a week, you may have missed some. You may want to click here to search the Lake Martin MLS to see everything.
What if I want more info on a home? Just click on its thumbnail and a new page, with that listing's complete info will appear.
What if I request info through your site, or give feedback by clicking a smiley face? The system will ask you to register by giving your name and email address. That's so I can have a way to reach you and answer your request. Don't worry, your info only comes to me.
What is your spam policy? Don't worry, I hate spam more than you do. In fact, I spend a lot of time and money to keep my site as virus and spam free as possible. I work way too hard to gain your trust to then turn around and spam you.
Is this list waterfront property only on Lake Martin? Yes, this is a search that looks at three fields in the Lake Martin MLS: Waterfront = Yes, Lake Name = Lake Martin, and Age = < 7 Days. If you click on the Property Search button under the main picture, it will show you every single active listing in our MLS, waterfront or not. To view waterfront only on that page, click on the waterfront field and select "Yes."
If you see anything you like, or want to talk Lake Martin real estate in general, I'd love to talk to you.  Give me a call at (334) 221-5862, email me at [email protected], or click here to contact me.  Thanks!
I once embarked on a mission to see how cheaply I could take a brown bag lunch to work.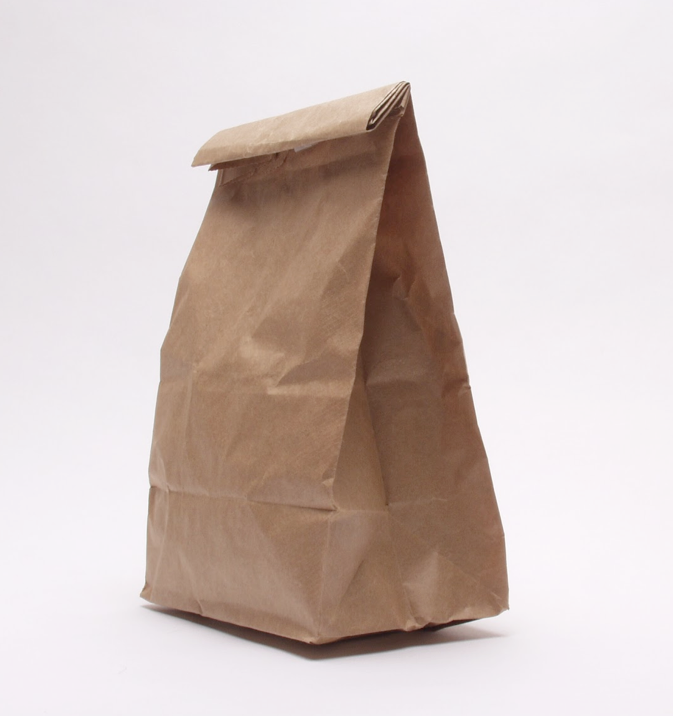 I brought all my accounting skills (I was a controller at the time) and all of my family traditions to bear upon the subject. I used fast food ketchup packets, bought cold cuts in bulk and stalked the "almost stale" bakery section, but I hit a wall at around $1.10 per lunch. Despite way too much thought on the subject, I could not pierce the $1.00 per lunch barrier.
One day, as I bemoaned my plateau to the rest of the office, one of the ladies suggested, "Why not re-use your bags?"
Eureka!
It was so simple. So obvious; yet, so effective. Re-using my bags and other packaging plunged my per-lunch cost to the seventy-cent range.
This leads me to my point for those who are thinking about selling a Lake Martin home. If you are the do-it-yourself type and want to go the for-sale-by-owner route, let me share a couple of Special Weapons and Tactics that we Lake Martin Realtors use. They may appear obvious, but remember the paper bag. Simple solutions can take you to new heights.
First, take your pictures with a wide-angle camera lens. If you have or can borrow an SLR camera, you can buy a wide-angle lens that will make a world of difference. The lens might cost you $500, but remember how much you are asking for your home.
I've read good articles on Houzz saying the opposite is true – use a regular lens and be happy capturing less square footage in the room.  For art's sake, I agree.  But I've found that wide angle lenses work well in some of the funky rooms we find in lake homes.  If I can capture more space in a room with the wide angle lens, I'm going to do it.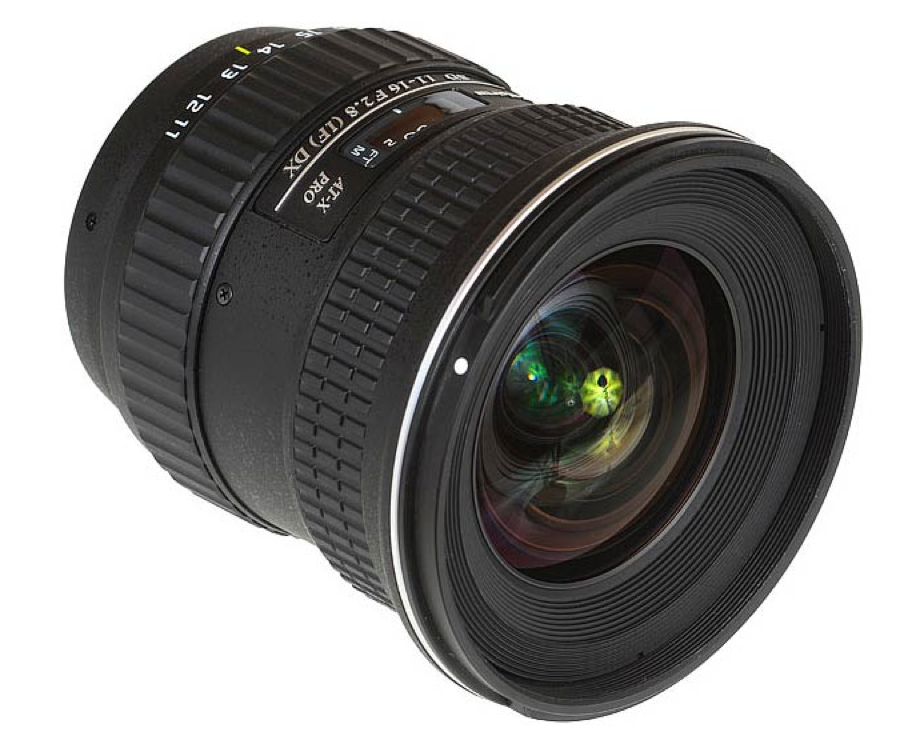 Bottom line, I'm neither an artsy nor accurate photographer and continue to try and learn.  If there's anyone in the Lake Martin area who is a budding photographer and would like to practice photographing homes, let's talk.  I'll give you the credit, and you could help me up my photography game.
If you don't have an SLR, and all you have is the camera on your smart phone, at least spend $50 for a wide-angle lens to put over it. Yes, no matter what kind of iPhone or Android phone you have, you can order a case to clip over it that will allow you to shoot wide angles. This is critical, because when people look at homes online, the pictures are a major way they weed out the tares from the wheat. Good quality photos can make or break your success.
Perspective is everything on home photos. Pictures look so good in magazines because professional photographers use different perspectives to present the best features of the room. Inside, a stepladder lets you point down into the room, as opposed to shooting flat across it. Try shooting some of your pictures from waist level, or from the height of a light switch on the wall.   Combine with a wide-angle lens and note the difference.
To get a nicer picture of the exterior of your home from the lake, use a taller ladder on your pier. When selling a lake home, the lakeside photo is the most important. Most Lake Martin homes are at least five feet above the dock; from dock level, you often are shooting the house at a weird, unflattering angle. Get a tall ladder and set it up on the dock; the results will be much better.
Once you master these special weapons and tactics of Lake Martin Realtors, you can move on to others, like finding a new you-just-can't-miss-it home.
If this sounds like a lot of hassle and you'd rather have a professional do the marketing work for you, give me a call at (334) 221-5862.  You can also email me at [email protected] or click here to contact me.  I'd love to help you!
Yes!  I bought a helicopter!  Lake Martin is a perfect place to showcase waterfront real estate from the air, so after a little research, I purchased my own helicopter so I can video my listings from all angles.
I've been honing my flying skills, and I finally worked up the nerve to take it to Lake Martin on Labor Day weekend.  These things are a little tricky to operate – I had to (had to!) order a flight simulator video game to get used to the feel of the controls.  And I still have a good bit of learning to do:
I already had a GoPro HERO3, so when I decided to do this, I had to do a lot of research on helicopters that could be used to carry this camera.  I found the DJI Phantom online.  Through my research I found that these are pretty easy to fly, on a relative scale.
So far I have learned two key things:
1)  Do not take it out of GPS mode without a lot more practice.  The Phantom has a mode whereby it can auto stabilize by using its GPS.  I did OK when I was in GPS mode, but when I decided to get fancy and shut the GPS off, the wind caught the quadcopter and it took off.
2)  Do not to get too high and fly into strong wind.  I just don't think the Phantom's motors are strong enough to battle the wind for very long.
I do, however, think that filming video from the air is going to be a great way to showcase Lake Martin waterfront real estate.  Once I get to the point where I can get usable aerial videos of Lake Martin, I think buyers and sellers will love to see this unique perspective.
If anybody out there has experience flying remote control helicopters, I'd love to meet you at the lake and learn from you.  And if you're a waterfront home, lot or condo seller on Lake Martin and are would like your property to be the first one showcased in an aerial video tour, give me a call.  (334) 221-5862 or [email protected]
A shout out to Carlton Dean on the Scene, who is the best commercial broker in the Florida Panhandle:  You have talked a big game about your flying skills, but have yet to post a video.  Let's see what you've got:)
I wrote the article below on Lake Martin waterfront lots for the April 2013 issue of LAKE Magazine.  I got a lot of positive feedback from it, and even had it quoted back to me by a client:  "John, we've thought about looking for a larger lake home, but I think we're going to love the lot we're with (and renovate)."  If you missed it in print, here goes:
____________________________________________________________________________________________
This month's issue of LAKE magazine has a lot of great information about designing and building a home on Lake Martin. I think this is a superb idea. Not only does the lake boast many inspiring and original home designs, but we also have more than our share of talented architects, builders and subcontractors.
But with all this talk of site improvement, let's not forget one important point when it comes to Lake Martin real estate: The lot.
That's right, the lot. The dirt. It's why you are here. Well, maybe not the dirt per se, but the fact that the dirt leads up to the water. It may seem obvious, but we all need to remember that the lake is what makes our real estate so valuable. The lot value is also the major driver in overall real estate value.
I see this time and again with buyers who are new to the Lake Martin market. They really have to wrap their heads around the concept that a little humble cabin on a huge lot with a big water view will likely sell for more than a newer home on a smaller lot in the back of a slough. It's the facts. It's market preference.
I also hear from people who want "just a little quaint cabin, a fixer upper, on a nice lot. I can do some of the work myself." Sometimes, it takes a while for it to sink in for them that the proverbial "quaint cabin on an awesome lot" is a very popular request. Popularity equals price pressure. In our market of limited supply, price pressure always equals higher prices. Economics 101.
This rule does not limit itself to the small cabins. Even the larger waterfront homes are subject to the reign of the lot. One only needs a cursory review of county tax assessor appraised values to see that even on homes assessed above $1 million, the lot is likely greater than half of the overall value. Unless you are coming from major metro areas that have similar buyer pressure on land, that high percentage may be a shock.
I am certainly not the first real estate agent to give this advice, but I always tell waterfront home buyers, "You had better love your lot, because you can never change it." Once again, an obvious statement; however, it is one we need to keep in mind. Most buyers work under a budget, and budgets mean tradeoffs. No two homes or lots are exactly the same, so if buyers find themselves trying to pick between two very close contenders, I always counsel them to buy the one with the lot that they like the best. They can always change everything else.
This magazine is chocked full of friendly people to help you improve or redesign everything other than the lot. On that point, be sure not to build too much house on too small of a lot if your goal is to increase your home's overall worth. If your goal is to have fun or just to customize, go for it. I don't want to discourage "dream home" activities, but you have to understand that every improvement may or may not increase the overall value of your real estate asset. Your particular improvement may increase value, but not necessarily. It all depends on what the market has proven that it will bear. Think about it: Would an Eskimo pay extra for an outdoor shower on the side of an igloo? Would someone living on the equator pay extra for an electrically heated, snow-and-ice-proof driveway? Not likely.
Don't misunderstand me – I am not trying to hold you back from home improvements or building. Far from it. Just remember what we have discussed here. And if you can't be with the lot you love, honey, love the lot you're with.
I can help you find a lot to love, so if you're looking at waterfront real estate on Lake Martin, give me a call at (334) 221-5862, email me at [email protected], or click here to contact me. 
Lake Martin home remodels are common in the Little Kowaliga / Real Island area.  It's an older – and very popular – part of the lake, so many of the homes have been there for years.  We last visited Lee and Amelia's Little Kowaliga cabin renovation in May.  Doug Fuhrman of Southern Traditions Construction has since put the finishing touches on the home, and a lot of summer fun has already been had.
I think it's a great example of a smart renovation – They made the existing square footage make more sense, and they added living space where it matters most: waterfront.  The bricks and sticks of a lake home pale in value when compared to the dirt beneath them, so this couple first got the lot they wanted, and then created the home they needed.  I dropped by last week to check things out:
BEFORE renovation, lakeside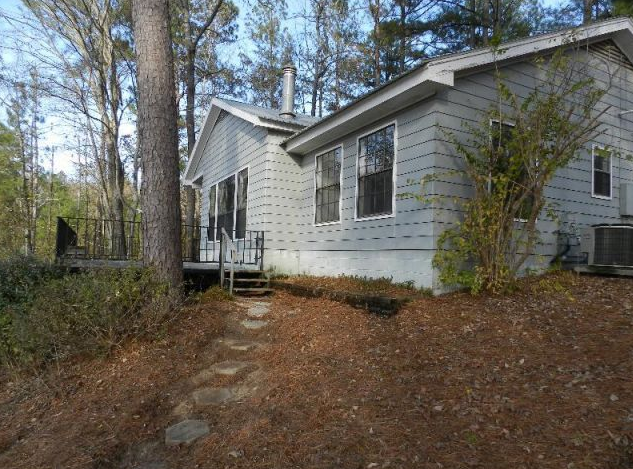 AFTER: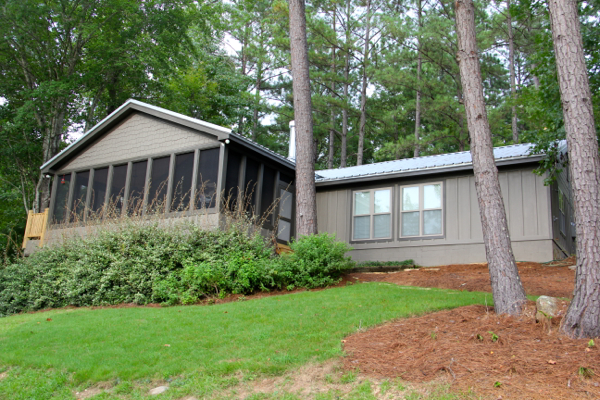 Enclosing the lakeside deck with a screened porch was a no-brainer.  They added lots of waterfront living space that can be used almost year round.  For those of you wanting to know what adds value to a lake home, it's not the closets.  It's usable waterfront space.  I've never had a buyer object to a large screened porch.  Ever.
BEFORE picture of the 1980's kitchen: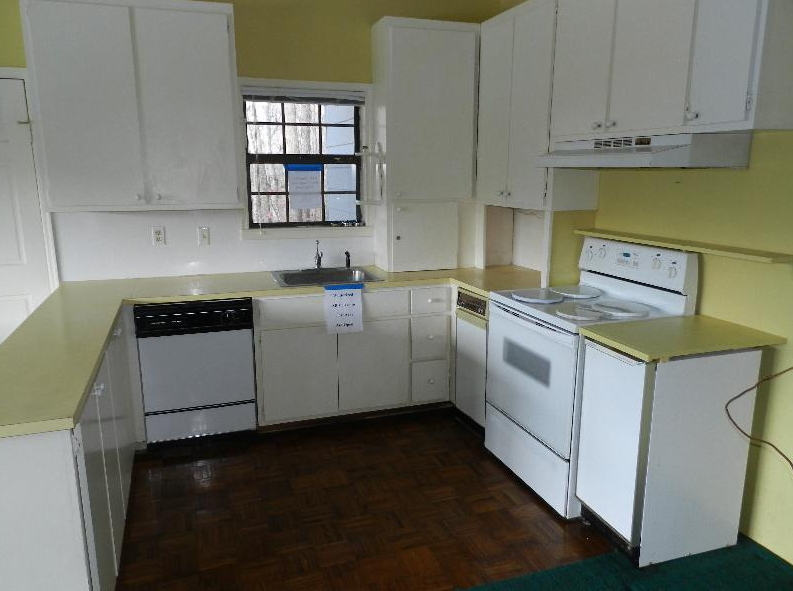 AFTER: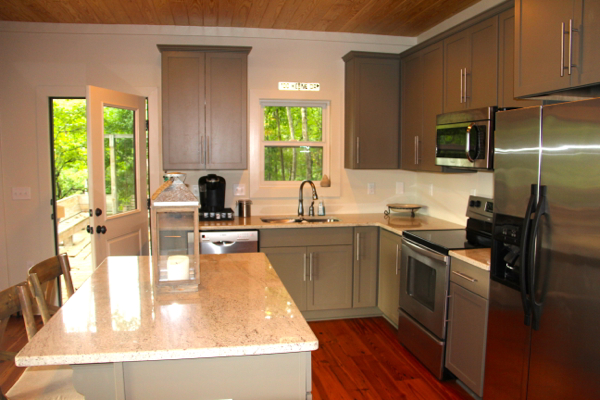 Amelia updated everything in the kitchen, keeping the layout of the appliances the same.  They swapped out the peninsula for an island, and gained a little more room to move about the kitchen.  The floors, the windows, the walls – all new and fresh.
BEFORE – The main living area with no lakeside access and the deck outside: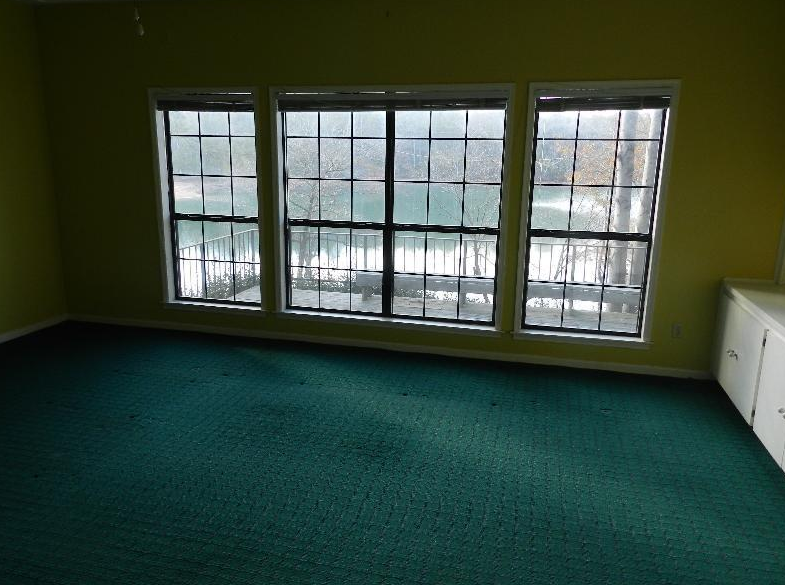 AFTER: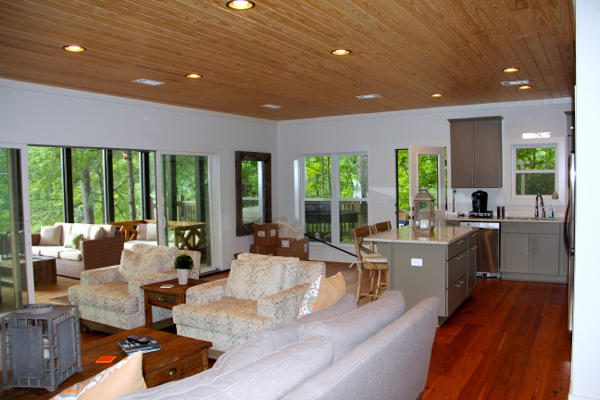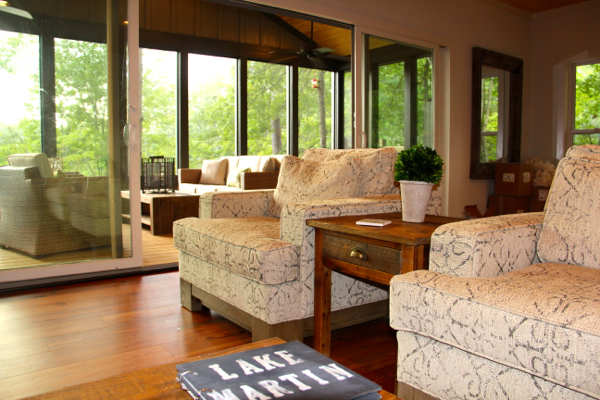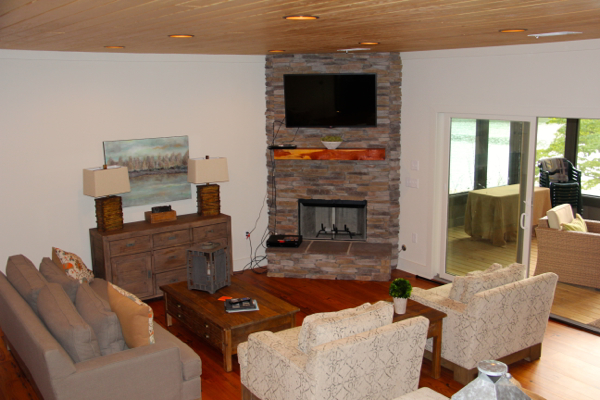 The old lakeside windows went out, and new sliding glass doors went in.  The screened porch replaced the old deck, and Viola! Room for everyone with a view of Lake Martin.
BEFORE, the home had two bathrooms, but they were awkward and outdated (and pink):
AFTER:
They had some fun with these bathrooms, and for those that are wondering, that is wood grain tile at the base of the shower.  Pretty neat.
BEFORE picture of a bedroom with the familiar green carpet: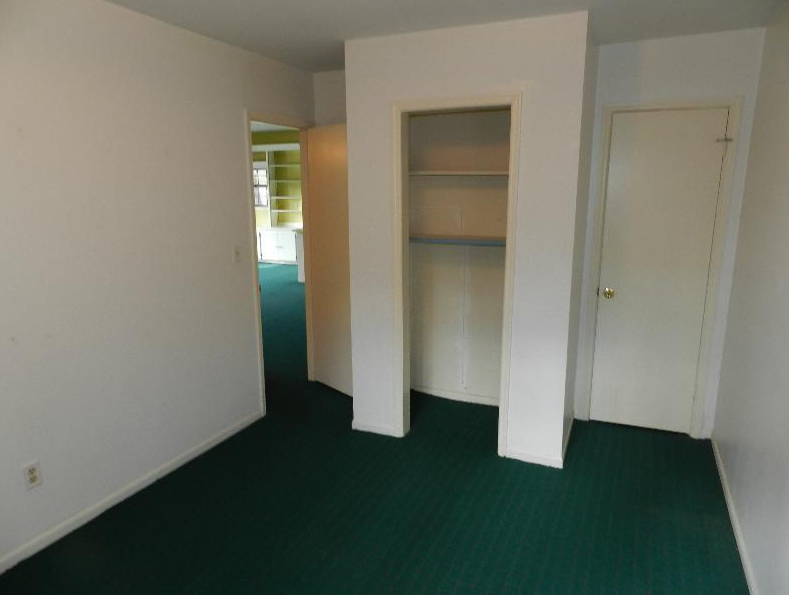 AFTER: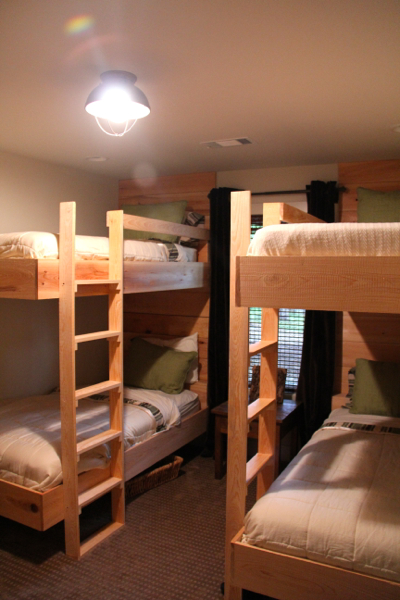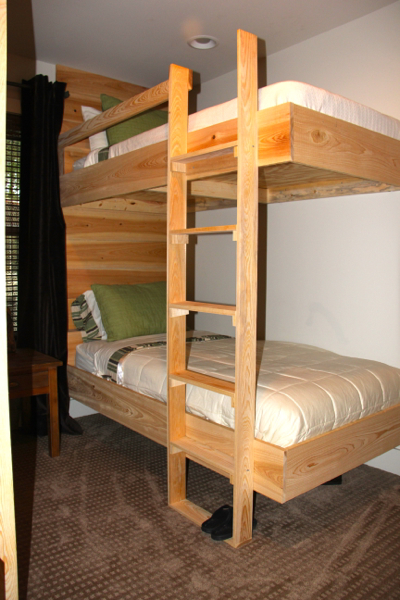 The bedrooms have all been freshened up with new carpet, lighting, windows, etc.  These built in bunk beds have space underneath for stowing luggage and whatever else their three sons and their buddies might bring to the lake.  In the future they may add drawers for concealed storage.
BEFORE, the side entrance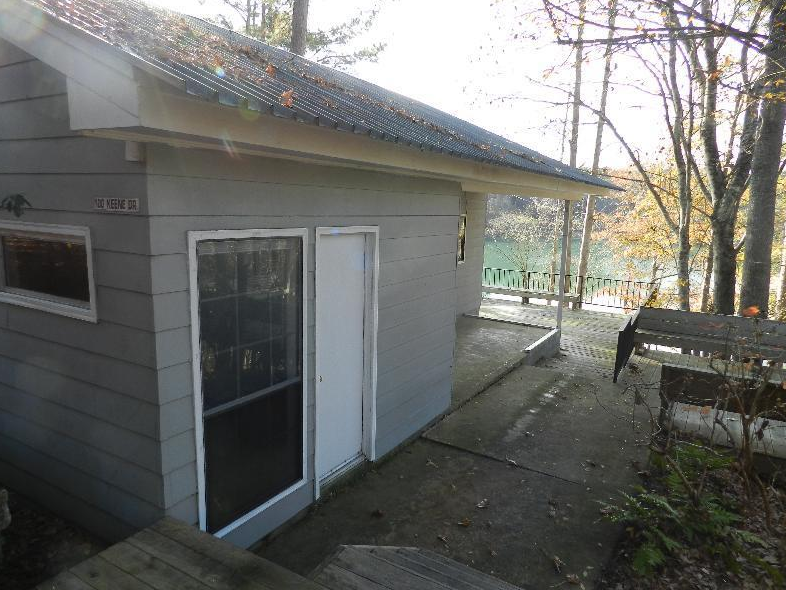 AFTER: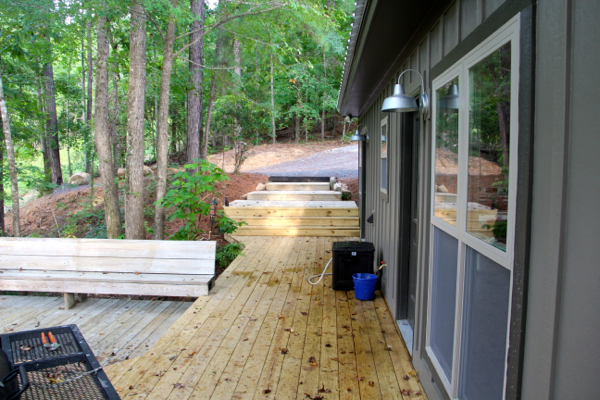 The tiny (and not very useful) covered side porch by the entrance of the house was enclosed and became part of the new living area.  New decking replaced the old concrete slab entrance, and everything feels shiny and new.
My thanks to Lee and Amelia, and to Doug Fuhrman at Southern Traditions Construction for letting us follow this renovation.  So it's a fresh start for this lake address, and now the Lake Martin fun continues . . .
If you're a buyer who is looking for a Lake Martin cabin to renovate, give me a call, and I'll help you find a property that makes sense for your vision and your budget.  I can help you find the right combination of lot and home, just like I did for Lee and Amelia.  Give me a call at (334) 221-5862, email me at [email protected], or click here to contact me.  
Previous Posts in this series:
Real Island Renovation Part II:  Peeling off the 1980s