Archive for the 'Seller Tips' Category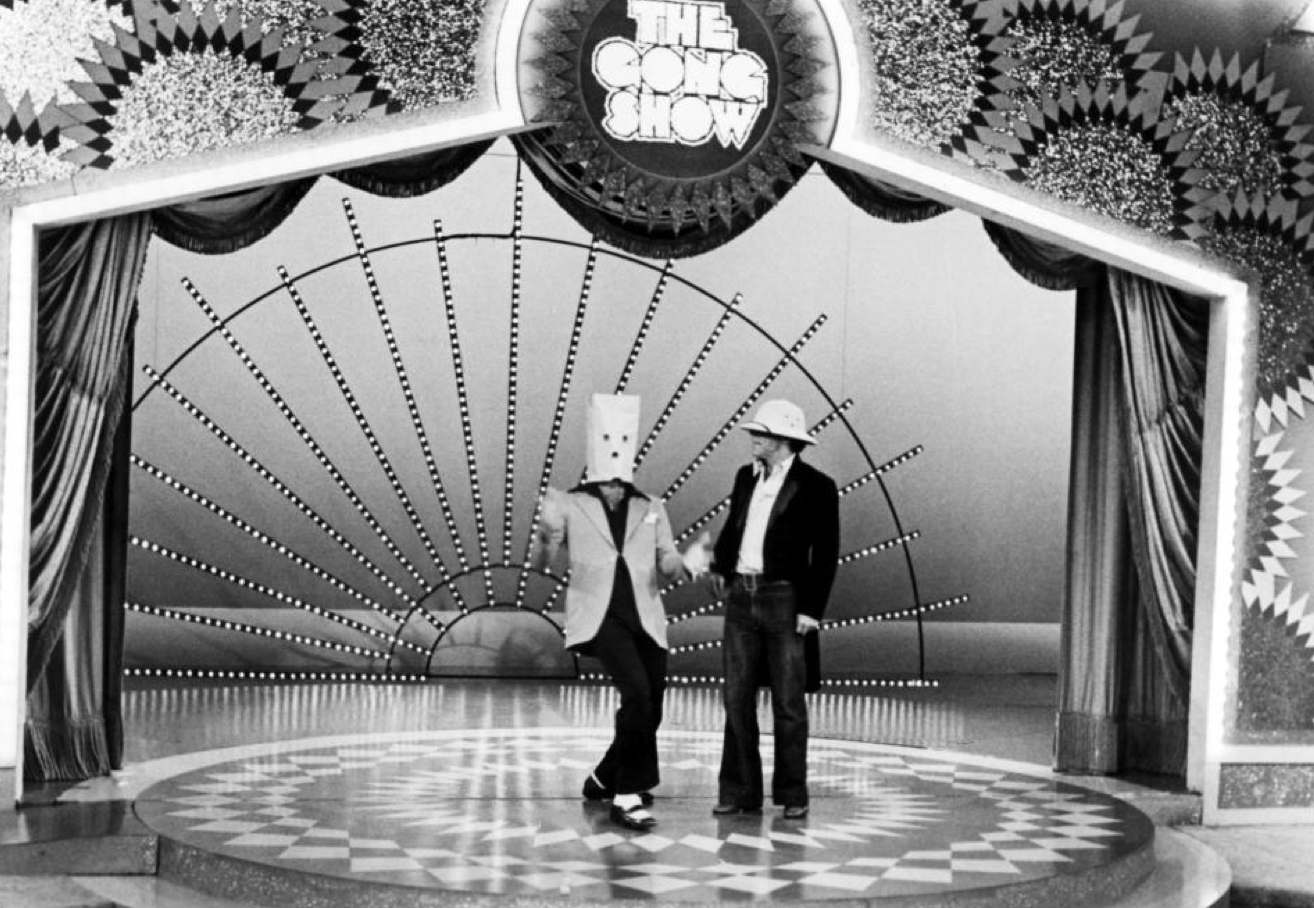 This time of year at Lake Martin creates a question for some sellers in the real estate market.  That question centers around whether or not they should keep their waterfront home, condo, or lot on the market through the winter.
Lake Martin is a seasonal, second home market in a rural community. Most of our real estate sales happen between February and November. Currently, the lake level is drawn down ten feet in the winter. It gets chilly.
So is it worth it to keep your property on the market through the winter? Or should you, as a seller, take it off of the market and let it rest, only to be reborn in spring? The tradeoff seems to come down to Days On Market vs. Anonymity. That is, if you truly want to sell your Lake Martin home, what is worse, having a higher Days on Market in the spring, or not being on the market at all during the winter?
I think it's better to be on the market. That way your waterfront property is in the Lake Martin MLS, all other agents know about it, and your listing agent can legally advertise it. Otherwise no one knows it's for sale.
But on this issue, as with many others, I wanted to test to see if I was a lone dissenter. I recently wrote about the subject in my monthly column for Lake Magazine. In order to get some perspective, I interviewed fellow Lake Martin agents Becky Haynie of Lake Martin Realty, Carl Hopson of RealtySouth Lake Martin, and John Christenberry of Lake Martin Voice Realty.
They agreed with me, and gave some great examples. Here's a link to the article on Lake Magazine's website:
Why Stay On The Market Through Winter?
I guess I am biased since they agreed with me, but I think they are great points.
If you are considering selling your waterfront home, lot, condo, or acreage on Lake Martin, we would love to help you. Please hit the "Contact Us" button below or call at 334 221 5862.
We here at Lake Martin Voice Realty are professional real estate agents, and know good marketing when we see it. We try to be the best, but we don't mind admitting when we see our fellow Lake Martin agents doing something awesome. Everyone should take a look at the incredible aerial photos posted on Facebook by Toni Adcock of ReMax Around the Lake. Really, this is groundbreaking. If you are reading this post from other spots around the nation, I ask you, are agents in your town going this far? Are they trying this hard? I am telling you, this is impressive:
Toni's husband Phil Adcock took these pictures using a GoPro Camera, mounted on a DJI Phantom quadcopter. Technical assistance and photography consulting was given by Matt Adcock of Del Sol Photography. Toni is the listing agent of 116 Hilyer Road. To contact Toni about this home, go to her website or call her at 256-234-1327.
I am even more impressed by this because I also own a Phantom quadcopter and have been experimenting on flying it for real estate photography and videography. I need a lot more practice with mine before I am ready for the bigtime, as you can see by this wreck I had.
I am convinced that using tools like the Phantom quadcopter will usher in a new level of marketing in real estate. I was inspired several months ago by seeing what some commercial agents are doing with it, and I thought it would be a natural fit for Lake Martin, thus my experimentation. Kudos to Toni and Phil for having the talent and the hard work to get it to a point that it is useful. That kind of dedication is rare in this industry and I think it is so cool to be in a place like Lake Martin where we have so many talented agents that are thinking of creative ways to help out their sellers.
Well done Toni, Phil, Matt, and ReMax Around The Lake!!!!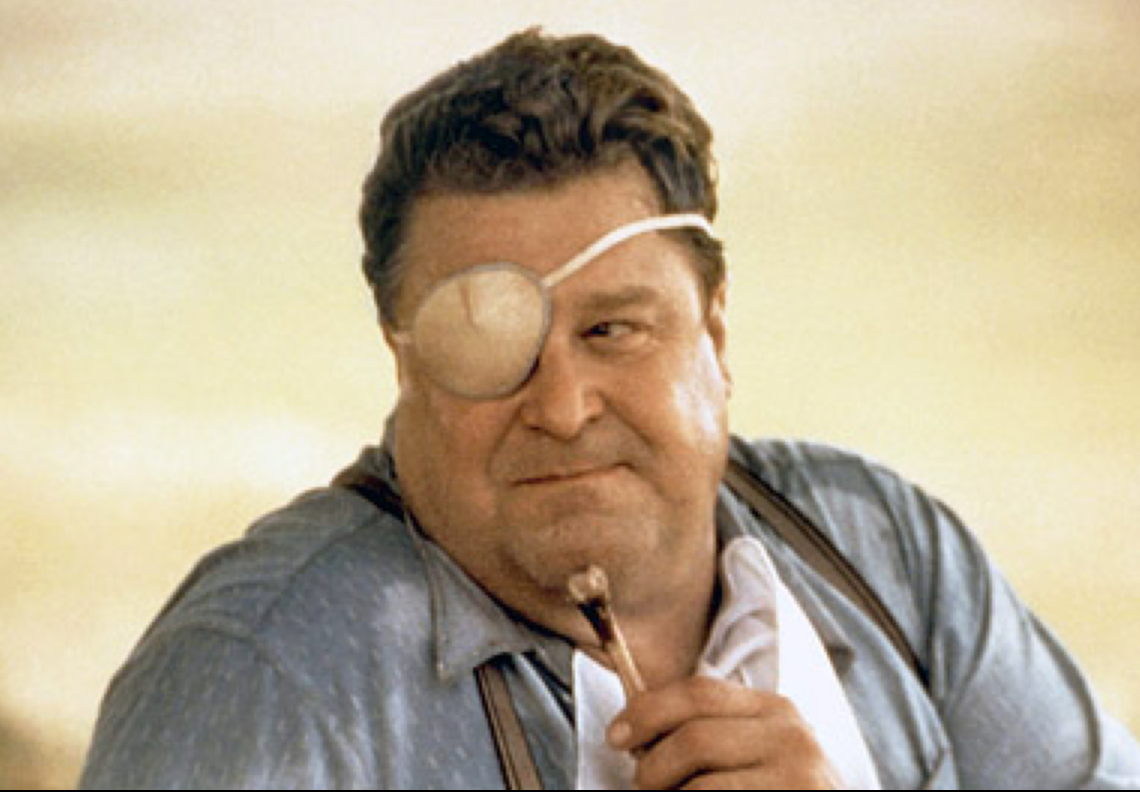 I love the Wall Street Journal. Reading it is one of my favorite pasttimes. They have a regular section now called "Mansions" that covers real estate. On a recent Friday I was intrigued by a front page tease that read "Secrets of Top Brokers." Naturally, as a real estate broker here at Lake Martin, I wanted in on the secrets. I flipped to page M1 and found the article, penned by Lauren Schuker Blum, titled "The Battle For the Big Deal."
I was immediately disappointed.
The article was about the competitive nature of getting high priced listings in places like Malibu, LA, etc. It's bottom line was that these ultra cool brokers have to battle hard to win a $40 million listing. They throw lavish parties and have in-house computer nerds to cultivate top secret databases of high rollers. Wow.
Don't get me wrong, the article was well written and had plenty of pretty pictures. But the usability of these secrets by the average agent or even the average home seller is absolutely zero. (Who is going to spend $10,000 on a VIP house party?)
I guess I should not expect a practical article from a section of the WSJ called "Mansions." I also can't blame them for splashing flashy home pictures (I call it house porn) to catch the eye and entertain. I can't help but wonder, though, what would happen if the WSJ would ask one of their talented writers, perhaps Ms. Blum, to turn their eye to the not so extraordinary. Sure, it's easy to think of crazy ways to promote a home when Presidents have slept there and your potential commission is in the millions. What are the secrets of brokers or agents who actually sell normal homes?
Lake Martin Real Estate Secrets
I can tell you that there are no secrets for the Lake Martin real estate market, or anywhere else for that matter. If you want to sell a waterfront home, lot, or condo, you must pay attention to what I call the Holy Trinity of Real Estate:
Pricing – You absolutely must price your home correctly. Yes, the market here at Lake Martin has rebounded since its low in 2008. But I don't think we have evidence of price increases. Check my market reports and see if you agree. As a Lake Martin seller, you must price your home within 5% or 10% of what the market likes, or it will sit there. Buyers expect deals, research extensively, and can walk away. "I will price mine a little high. You can't go up but you can always come down" you might say. I say – you can't come down if you don't get an offer. You won't get an offer if you are priced too high to begin with.
Marketing – You or your agent must market your Lake Martin home aggressively. A sign in the yard won't do it anymore. Three fuzzy pictures in the MLS? Please. You have to have a full court press of well done pictures, full motion video, scads of backup information, just to stay in the conversation. You have to have a supercharged website to break through the noise and get found. In online marketing today, pretty is as pretty does. If people can't Google it and find it, it might as well not exist. The old realtor trick of putting scant info out there so the buyer will call the agent and the agent will "sell them" on the home – is dead. Here is a modern truth – NO ONE WANTS TO TALK TO REAL ESTATE AGENTS – including me. They only call the agent on the last resort. Buyers research and research online so they don't have to ask the agent, whom they perceive is cheesy and just out to say whatever. As an agent, I must realize that and earn trust by putting as much info online as possible. Another truth – put the marketing focus on the property. Not the agent.
Staging – Staging is getting your home looking good to sell. Clean it up. Paint. Replace the rotten wood. Declutter. Depersonalize. Get all that junk out of the way that detracts from the view. People are here for Lake Martin. Don't distract from that with petty repairable.
Are you considering selling your Lake Martin home, lot, condo, or some other property? We would love the chance to talk to you about it. We can get it done. We have the knowledge and experience to price it accurately. No other agency on Lake Martin, no matter how big, can even come close to our online marketing. The huge amount of traffic to this website are facts, not idle boasts. We can also help you stage your home to sell.
How to get started? Request a Comparable Market Analysis here or email us at info at lakemartinvoice dot com. Or call me at 334 221 5862!
If you are interested in waterfront homes, lots, or condos for sale on Lake Martin, you might like the latest feature of LakeMartinVoice.com.
I have added a new feature called "New Listings On Lake Martin." See the right hand column of my blog, just below the top. There is a little plugin there that brings you the very newest homes, lots and condos on the market here at Lake Martin. In some real estate markets, this is called a "Hot Sheet." So I guess I could have called it the Lake Martin Hot Sheet. Nevertheless, it's a quick way to check what's new on the market here at Lake Martin.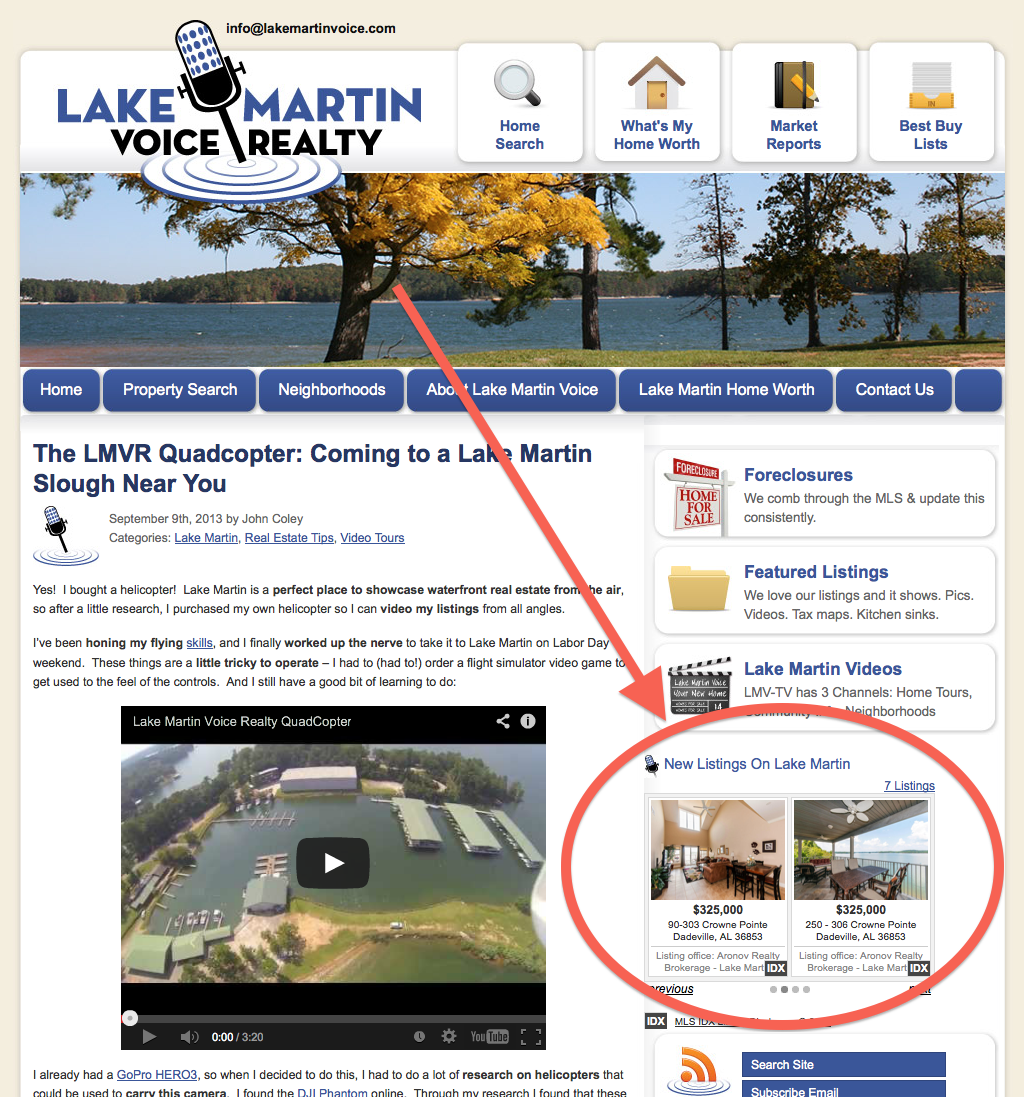 My goal is to have absolutely, positively, the best website and tools for searching the Lake Martin real estate market. I feel very blessed that this site continues to be number one in traffic, usage, and most Google searches for Lake Martin property. I will continue to tinker and experiment with new features like this to try and stay number one. If you have any suggestions or ways I can improve, please email at info at lakemartinvoice.com.
FAQ about New Listings On Lake Martin
Are these only your listings? No, this list comes from the Lake Martin MLS, so that includes every single agent on Lake Martin, every single brokerage. It doesn't matter who has it listed, I can help you with it.
How often is it updated? It pulls about the last seven days of new listings from the Lake Martin MLS. So, if you haven't checked it in about a week, you may have missed some. You may want to click here to search the Lake Martin MLS to see everything.
What if I want more info on a home? Just click on its thumbnail and a new page, with that listing's complete info will appear.
What if I request info through your site, or give feedback by clicking a smiley face? The system will ask you to register by giving your name and email address. That's so I can have a way to reach you and answer your request. Don't worry, your info only comes to me.
What is your spam policy? Don't worry, I hate spam more than you do. In fact, I spend a lot of time and money to keep my site as virus and spam free as possible. I work way too hard to gain your trust to then turn around and spam you.
Is this list waterfront property only on Lake Martin? Yes, this is a search that looks at three fields in the Lake Martin MLS: Waterfront = Yes, Lake Name = Lake Martin, and Age = < 7 Days. If you click on the Property Search button under the main picture, it will show you every single active listing in our MLS, waterfront or not. To view waterfront only on that page, click on the waterfront field and select "Yes."
If you see anything you like, or want to talk Lake Martin real estate in general, I'd love to talk to you.  Give me a call at (334) 221-5862, email me at [email protected], or click here to contact me.  Thanks!
I once embarked on a mission to see how cheaply I could take a brown bag lunch to work.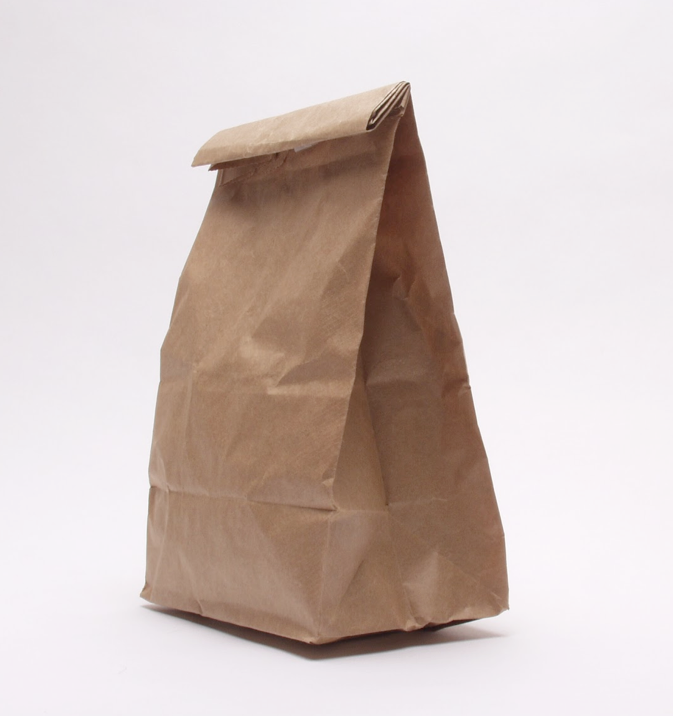 I brought all my accounting skills (I was a controller at the time) and all of my family traditions to bear upon the subject. I used fast food ketchup packets, bought cold cuts in bulk and stalked the "almost stale" bakery section, but I hit a wall at around $1.10 per lunch. Despite way too much thought on the subject, I could not pierce the $1.00 per lunch barrier.
One day, as I bemoaned my plateau to the rest of the office, one of the ladies suggested, "Why not re-use your bags?"
Eureka!
It was so simple. So obvious; yet, so effective. Re-using my bags and other packaging plunged my per-lunch cost to the seventy-cent range.
This leads me to my point for those who are thinking about selling a Lake Martin home. If you are the do-it-yourself type and want to go the for-sale-by-owner route, let me share a couple of Special Weapons and Tactics that we Lake Martin Realtors use. They may appear obvious, but remember the paper bag. Simple solutions can take you to new heights.
First, take your pictures with a wide-angle camera lens. If you have or can borrow an SLR camera, you can buy a wide-angle lens that will make a world of difference. The lens might cost you $500, but remember how much you are asking for your home.
I've read good articles on Houzz saying the opposite is true – use a regular lens and be happy capturing less square footage in the room.  For art's sake, I agree.  But I've found that wide angle lenses work well in some of the funky rooms we find in lake homes.  If I can capture more space in a room with the wide angle lens, I'm going to do it.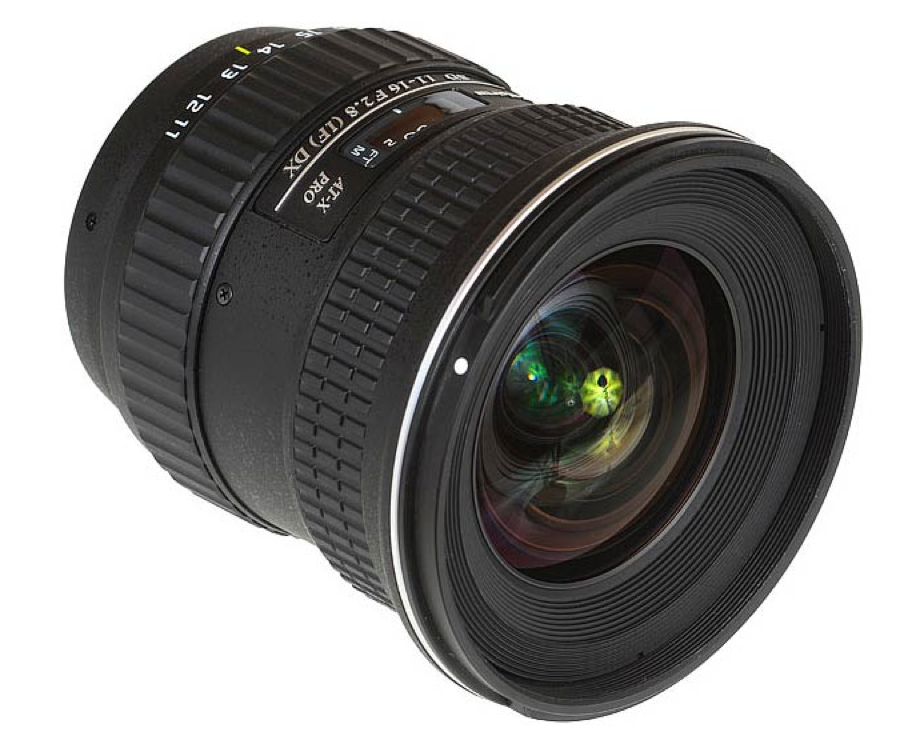 Bottom line, I'm neither an artsy nor accurate photographer and continue to try and learn.  If there's anyone in the Lake Martin area who is a budding photographer and would like to practice photographing homes, let's talk.  I'll give you the credit, and you could help me up my photography game.
If you don't have an SLR, and all you have is the camera on your smart phone, at least spend $50 for a wide-angle lens to put over it. Yes, no matter what kind of iPhone or Android phone you have, you can order a case to clip over it that will allow you to shoot wide angles. This is critical, because when people look at homes online, the pictures are a major way they weed out the tares from the wheat. Good quality photos can make or break your success.
Perspective is everything on home photos. Pictures look so good in magazines because professional photographers use different perspectives to present the best features of the room. Inside, a stepladder lets you point down into the room, as opposed to shooting flat across it. Try shooting some of your pictures from waist level, or from the height of a light switch on the wall.   Combine with a wide-angle lens and note the difference.
To get a nicer picture of the exterior of your home from the lake, use a taller ladder on your pier. When selling a lake home, the lakeside photo is the most important. Most Lake Martin homes are at least five feet above the dock; from dock level, you often are shooting the house at a weird, unflattering angle. Get a tall ladder and set it up on the dock; the results will be much better.
Once you master these special weapons and tactics of Lake Martin Realtors, you can move on to others, like finding a new you-just-can't-miss-it home.
If this sounds like a lot of hassle and you'd rather have a professional do the marketing work for you, give me a call at (334) 221-5862.  You can also email me at [email protected] or click here to contact me.  I'd love to help you!
We humans, especially Southerners, like the art of storytelling, don't we?
We like legends. We like to talk about the way things were back then.
For Lake Martin, 2007 will always be "The Year of the Drought." Similarly, 2009 will be thought of as "The Year of Alan Jackson at Aquapalooza." I have no doubt that 2013 will become "The Year of FERC Relicensing" because the potential changes in the water level rule curve will impact the next forty years.
As I study real estate trends in the waterfront market for Lake Martin in 2013, I have a hard time separating market reports from the mammoth issue of relicensing the dam. Usually, when people ask, "what's going on at Lake Martin?" I give them a ten second market report. This year, however, I have talked about FERC.
But, if we can all forget about that for a moment, and focus solely on what's happening in the real estate market per se, I think we find something very interesting. There is a notable trend at Lake Martin that, in my judgement, is yet another sign pointing to the overall health of our market.
The big story at Lake Martin in 2013 is waterfront lot sales.
Yes, lot sales.
Do you remember 2008? You might know it as "The Year of The Bank Crash." For those who don't, I can tell you that getting a loan to buy a lot in 2008, and even in subsequent years, was dang near impossible. If a bank or mortgage lender smelled, perchance even suspected that you wanted a loan on a lot, they ran the other way. If that lot was located in a subdivision that was lightly populated, well, they called Father Merrin for an exorcism.
Please take a look at the Waterfront Lot Sales chart. Sales are blistering. Through the end of July, there have been 37 waterfront lots sold through the Lake Martin MLS. That is only one fewer sold in all of 2012 and only two fewer sold in the 12 months of 2011. In other words, this year it only took seven months to sell as many lots that were sold in twelve in each of the two prior years. That's growth, neighbors.
Lot sales mean construction. Construction helps the overall economy and it points to more confidence for the future. If no other lots were sold in 2013, the lake would have a good year. If 2013 lot sales continue on pace with prior years, it will be a great one.
Lake Martin Home Sales in 2013
Don't let all this talk about lots obscure the good news about homes. Waterfront home sales on Lake Martin are once again strong in 2013. One can see from the cumulative graph attached, that as of the end of July, 2013 is running on pace with 2012. As I am sure we all remember, 2012 was the second best waterfront home sales market on record. When we look at the entire lake real estate market, with all agents, all brokerages that participate and report to the Lake Martin MLS, we see that at July 31, 2013, 139 waterfront homes have been sold. This is statistically significant to 2012. By the end of July in 2012, 140 homes have been sold. I don't consider the one home difference to be a big deal.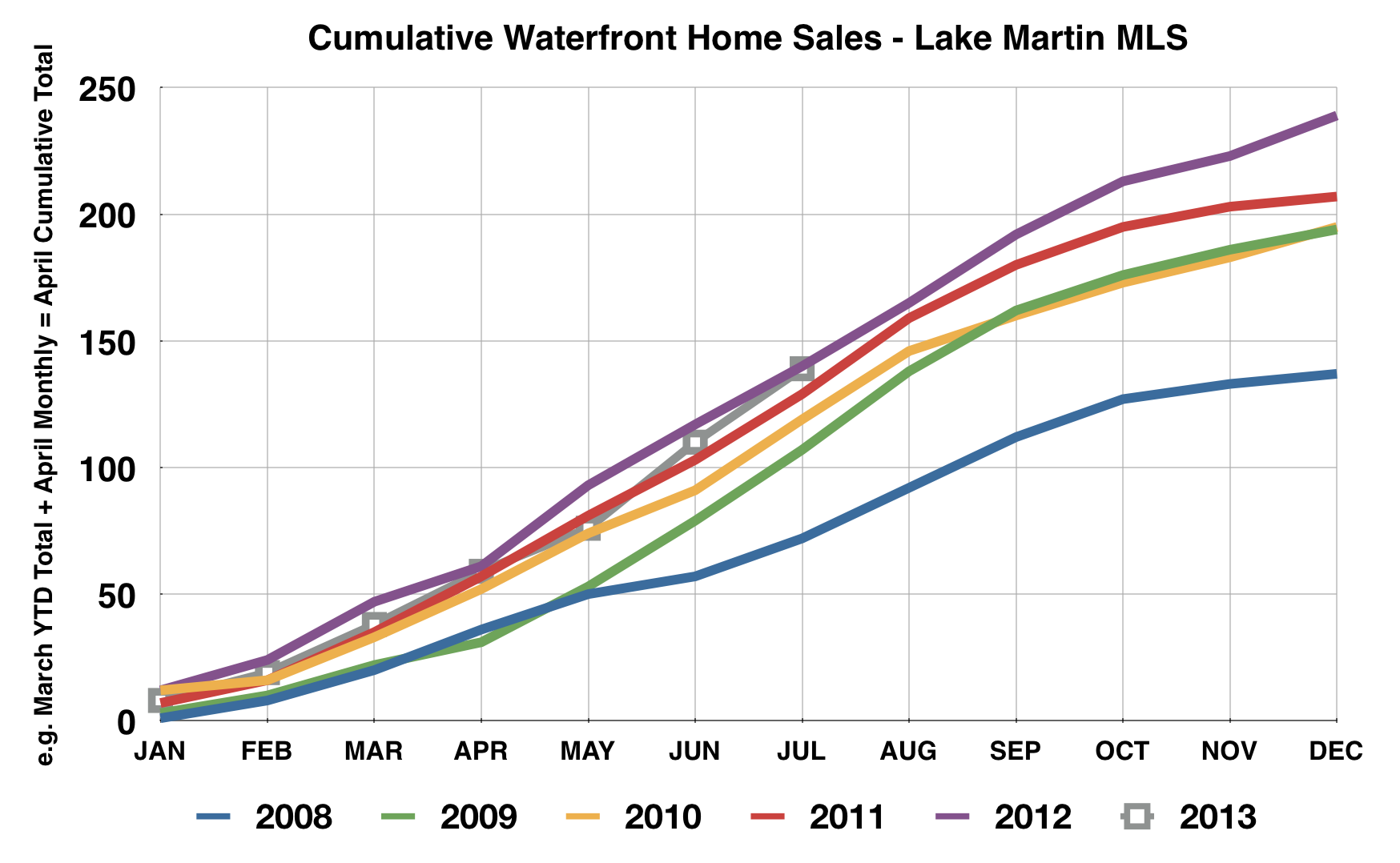 The bottom line is, 2013 is another great year for Lake Martin home sales. The more interesting thing for me to consider is that such great years are becoming routine once again. Remember, 2008 was the last year of decreasing numbers of homes sold on Lake Martin. Every year since 2008, the current year has beaten the prior year's numbers of homes sold. The market has improved.
Lake Martin Home Prices
Whenever anyone hears the words "improved market' – it' s natural to wonder if prices have risen along with the home sales figures. Prices, however, have remained steady. Have prices in 2013 risen? I don't know yet. Because Lake Martin has such a small sample pool, I only calculate price trends once a year.
However, if Lake Martin continues to beat the prior year in numbers of home sold, and supply does not out strip demand, one of these days we will see price increases. When that happens, we can call it "The Year That Prices Finally Rose."
Note:
This article is going to appear in the September, 2013, issue of Lake Magazine. I am honored to write a monthly column on Lake Martin real estate for Lake.
All indications are holding true that 2013 waterfront home sales are following suit with 2012, with many homes selling. In 2012, we saw the second best year in number of homes sold, topped only by 2005.
Naturally, people are asking questions like, "Where are all these buyers coming from?" and "How did they hear about Lake Martin?"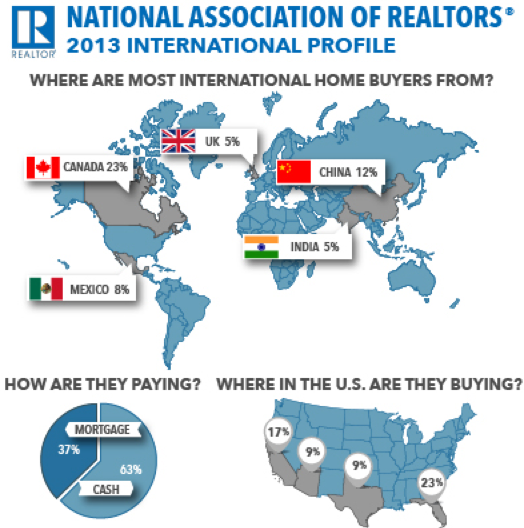 While the data geek in me would love to require a thorough questionnaire with every lake home purchase, alas, one does not exist. But we can infer a good amount of information by studying the next best thing: the National Association of Realtors' Profile of Home Buyers and Sellers.
Every year, the National Association of Realtors (NAR) publishes the Profile of Home Buyers and Sellers. The Profile is the result of a 120-question survey sent to a random sample of home buyers across the nation. This year, about 8,500 surveys were returned. The results were used to compile the statistics and compare them to previous years. This survey is a heavily watched measuring stick of home buyers' preferences and behaviors. In 2013, as in the past, this survey offered valuable insight to us at Lake Martin.
First Step: Agent vs. the World Wide Web
Since Al Gore decided to invent the Internet, there has been a battle between Joe and Jane Agent and the Web. The issue at war is deciding just who is more relevant, useful and trusted by home buyers. This war is all but over.
Winner: the Internet.
Despite NAR's constant advertisement to the contrary, their own survey shows that buyers place much more trust in the Internet than in agents. One very interesting question the survey always asks buyers is, "What is your first step in the home buying process?"  This year, a whopping 41 percent of respondents said they looked online for properties. This is more than double those that contacted a real estate agent (18 percent). The third choice at 11 percent was, "Looked online for info on the process." I would argue that is the same as number one. Added together, those two indicate that about 52 percent of people are looking online before they ever call an agent.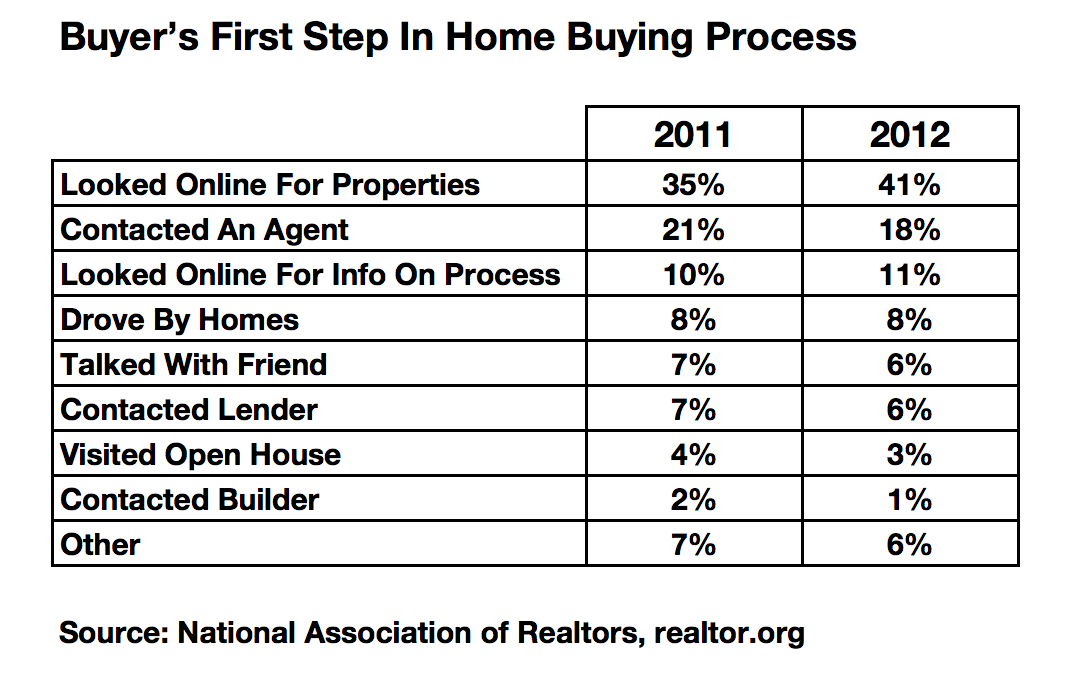 I do grant that potential buyers are looking on the Internet at agents' websites. So some agents can take solace in that fact. But the lesson to be learned is that buyers looking on an agent website is an indirect contact initiated by the buyer, and it's anonymous. The agent has no idea the website is being visited. In other words, the buyer is in complete control of the interaction. Maybe the buyer will contact the agent directly, maybe not. In either case, the buyer is driving the ship.
I do not see this trend reversing any time soon, especially considering the momentum. Last year's survey showed that 35 percent looked online and 21 percent contacted an agent. This means the online first steppers increased by 17 percent, and the agent pickers decreased by 14 percent. Brokerages and agents that do not accept this will find themselves as outdated as the mimeograph machine.
Where Did You Find It?
Today's world is full of resources for the home buyer. Agents, the Internet, signs, billboards, TV and more all vie for the coveted attention of those who are ready to purchase. To some buyers, I am sure it is information overload.
Considering all these channels, two other critical questions to ask are, "What worked?" and "Where did you find the home that you bought?"
Not surprisingly, the Internet trend continues to dominate here. The Web continues to increase in importance, with 42 percent of those surveyed responding that the Internet was where they found their home. Agents checked in with 34 percent, which I suppose is an honorable defeat; however, when you consider that it was down from 35 percent last year, and that the Web increased by two percent, the writing is on the wall.  It is clear that any serious home buyer is not waiting around for their agent to personally call and tell them about homes. Today's home buyer is a researcher.
The Internet's dominance in the "usefulness" category is neither new nor a secret. What should be noted is the degree to which home buyers rely on it. Nothing else is even close.
The implication is huge in that home sellers should ask detailed questions of potential agents, such as, how will my home be displayed online? How many online leads do you get, and how do you track your leads?  Similarly, home buyers by their behaviors are asking agents: What have you done for me lately?
If you'd like to know more about what Lake Martin Voice Realty can do for you, give me a call at (334) 221-5862, email me at [email protected], or click here to contact me.
A big part of wildlife identification is simply knowing where you are on this earth. If you are wondering if that bird is a small raven or a big crow, the first step is to ask yourself where you are standing.  Do you know the native range of a raven?
Similarly, I get asked all the time about where on Lake Martin I sell real estate. In fact, I was asked this question twice this week, both by prospective sellers.  So what's my natural range?  I answer, "All over the lake. Why?"
The Smallest Big Lake You Know
Lake Martin, geographically, is a big lake. It extends over three counties, about 770 miles of shoreline. It takes a couple of hours to drive around it in a car, and probably at least one and a half times that riding from one extreme nook to the other in a fast boat.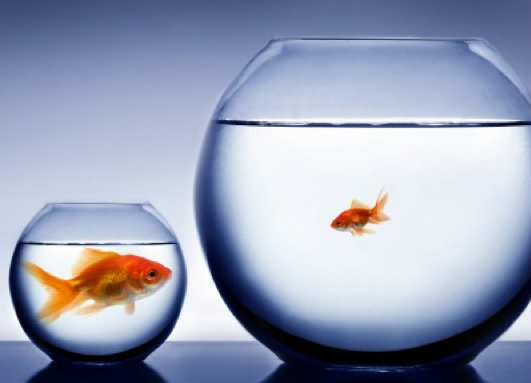 But waterfront home sales-wise, it's small. Consider that in all of 2012, roughly 246 homes were sold on all of Lake Martin (per the MLS – not all sales are recorded on the MLS, but most are). We have (at this writing) about 100 agents in the Lake Martin Association. Not even counting that agents from outside the area occasionally sell here, that's about 2.4 home sales per agent, per year. Once you decide to limit yourself to one particular area, you can expect to decrease that.
Obviously, as a full time agent, you hope to sell way more than that to build and sustain a business and support your family. The Lord has certainly blessed us to do just that.  We have clients from all over the place, and we sell homes on all sides of the lake.  That's one of the reasons our Neighborhood Pages are popular – they help buyers get acquainted with the many neighborhoods/geographic areas of Lake Martin (maps, videos, histories), plus each page has a live MLS feed of homes currently for sale in that neighborhood.
So to be scientific about it, my realtor range is the entire lake.  I can help you with any property in the Lake Martin MLS, regardless of who has it listed.
Give me a call at (334) 221-5862.  I'd love to start the tour.
Downton Abbey Fan Disclaimer:  I know Mr. Carson is a butler, not a waiter.  But the essence of Mr. Carson is what I'm after here, so please bear with me . . .

The mark of any good service industry pro is knowing when to step in, and knowing when to back off. Make no mistake, a good real estate agent has a lot in common with a good waiter. If I were the head broker of some huge real estate shoppe I would scour restaurants or other service industry places and recruit good waiters to be my agents.
They both know the inventory, know what they personally like, and also know how to help people find what they like. I am not the pushy type. I would rather set up someone and give them the tools to search, and then step in when they need an opinion on an area or a decision they have to make with their lake home.
I want to arm them with good information and I try to do that with neighborhood pages, custom searches, blog posts, and area info. I want them to feel well equipped to browse them menu, but to know that I am right there. I want to find the right balance of service through empowerment, and service through direct advice.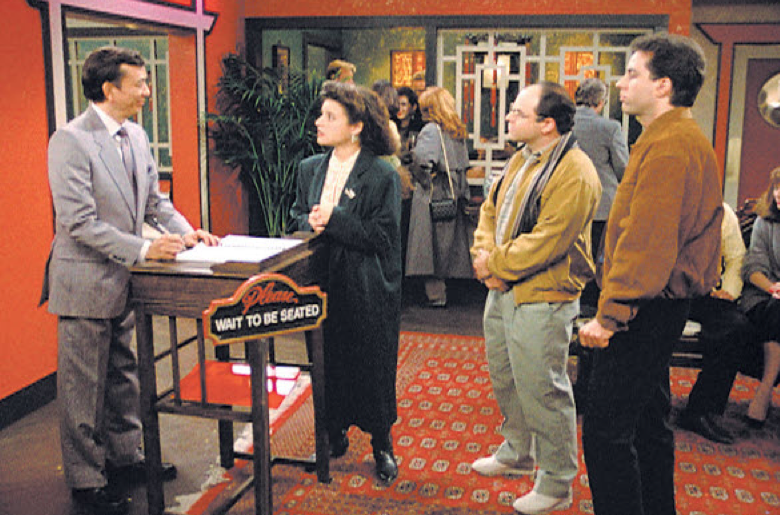 Isn't that what you like in a good waiter or waitress? Or stockbroker, for that matter? Sometimes we just want to hang out at the table for 10 minutes and talk because we haven't had a date night in three months. Leave us alone. Let us causally peruse the menu. Sometimes we are on a schedule and just need to get some food now.  A good waiter or waitress knows the difference, knows when to step in, monitors your progress without you feeling stalked. That's really all I want to do as your Lake Martin agent.
It's as simple as that. Mine is a position of service. Yes, I feel I have some technical real estate expertise and I feel I have lots of knowledge about the menu, and more critically, about what is NOT on the menu and what other people have ordered in the past. Agents need to listen more than they talk.
But when you boil it down, I think a good real estate agent, at Lake Martin or anywhere else, should have a servant heart.  Allow me to be the Mr. Carson of Lake Martin real estate.
I used to think Lake Martin Voice Realty was pushing the forefront in real estate video until I saw the video below of a property in Napa from Realty World's Christine Dwiggins.  Wow!
Sure, they had a huge budget and hired actors and a production company. But can't I do the same thing in a small volunteer way?
Aren't there some of my friends that would volunteer to be in my listing videos? Or local aspiring actors to tap?  So I guess the real title of this post should be, "Do my friends love me enough to act in my real estate videos?"
These are the type of videos I'm impressed with.  The production quality is great. There are a lot of agents nationwide that are working very hard to give their clients serious exposure.  I saw an interview with Christine Wiggins about this Napa video, and she said they filmed for 16 hours to get all the shots they needed.  And that was just the filming.
So I'm trying to learn from people like Christine.  Even though I'm the only Lake Martin Realtor who currently creates video tours for all listings, I can still improve.  I've been using video since 2007, and while some of those early clips make me cringe, I had to start somewhere.  See these 2 videos, both of the same home I sold in 2007, and again in 2012.  My narrator had clearly not discovered coffee in the  first version.  I'd like to think there has been some growth in all aspects of production.  But in 2007, the idea of a video tour seemed revolutionary.
2012 Video Tour
2007 Video Tour
Sure, it's more work, but I truly believe video tours tell a more complete story of a property.
So who's in for the acting gig?  Comment below and let me know if you're available.  I pay in Lake Martin Crazy gear, but your exposure will hopefully be tremendous.  Just this past month (Dec. 26 – Jan. 24), my YouTube viewers spent 2, 363 minutes watching my real estate videos.  That is pretty strong for what is considered an off season for Lake Martin real estate.
If you'd like to see your property get exposure like this, give me a call at (334) 221-5862 or CLICK HERE to contact me and let's talk about marketing your Lake Martin home.