Archive for the 'Seller Tips' Category
What does it take to sell a waterfront Lake Martin home in ten days?  That's what happened with this Little Kowaliga property.  Since this home was a Lake Martin Voice Realty listing, I wanted to share this success story with you.  I also brought the buyers to the home, so I'm familiar with both parties.  While it is certainly not the norm to have a contract within ten days on Lake Martin, it's a worthy goal.  So let's unpack how this sale worked and see what lessons it offers.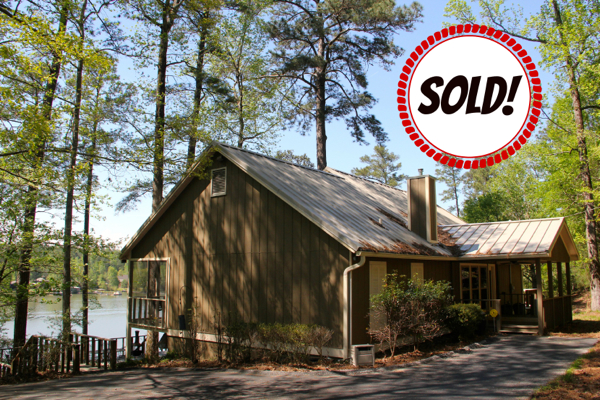 1.) The sellers had their lake home in great selling condition.
It looked good.  It was uncluttered, it was depersonalized, it was clean – all the tips you see on HGTV.  This is huge, and it does not always happen.  You'd be surprised. Let's face it, people buy waterfront homes on Lake Martin to have fun – and a lot of times having fun gets in the way of keeping a tidy home.
2.) I had buyers who were ready to buy a Lake Martin home.
A large part of a realtor's commission should be access to that agent's "inventory" of current buyers who want to buy a Lake Martin home RIGHT NOW.  Not maybe, not hypothetically, but right now.  I had a buyer who was ready. This couple was familiar with Lake Martin already, and had been looking both online and in person. They were well researched on the Lake Martin market, and knew what they wanted.
Realistically, realtors do not always have that perfect buyer already queued in the wings, but another resource a realtor should bring to the table is his or her ability to go out and find other buyers.  That takes a strong marketing presence. That's why I blog about Lake Martin – ninety percent of buyers look on web, and for the vast majority that is the first move they make, so I think our internet presence should be a big priority.
A strong web presence (website, youtube channel, pictures) is an absolute must. But you can have the prettiest pictures in the world and it doesn't mean squat if it doesn't get found. Your agent MUST have a site that can stand out of the noise of the web and get found by Google. That's why I blog about Lake Martin in general, and real estate specifically. The search engines recognize this site as a strong resource, and visitors to my site (thank you very much) are the proof in the pudding. We have been blessed with about a million hits from literally hundreds of thousands of unique visitors since I have been blogging (2007).
3.) Maybe most importantly, the sellers had an honest assessment of pricing.
What is a home worth?  Really?  In spite of all of the real estate info available to buyers and sellers online these days, buying or selling a home is still a pretty personal transaction.  Objectivity can be difficult.  The sellers of this Little Kowaliga home had tested the market for 252 days at a higher price with another listing company.  They were willing to try again at a price more closely aligned with what our market was telling them.  The result was a sale.  In ten days.
4.) The media.
And specifically, a huge amount of pictures.  Most buyers are coming from out of town and can't swing by the home during lunch to check it out.  For obvious reasons, I want Lake Martin to be known for its awesome real estate marketing. I want people to be blown away by the care we take to sell Lake Martin.  I want the info on all of our MLS properties to be readily available, completely thorough, and of the highest quality.  So we select the best forms of marketing and then get out of the way (No sassy glamor shots of me with my arms folded. No talk about my "team." People want a lake home, not an agent).  In this case, we chose seventy two quality pictures of the Little Kowaliga home and put them on the MLS.  And on our website.  And on Flickr.
I am still surprised, however, that in this age of no cost digital pics, I still see agents in the MLS that mail in their media efforts.  I see homes with five pictures of a property, two of them are out of focus, and one contains their thumb.  I don't get it. Let me say a word to people who are thinking about selling their Lake Martin property – check out the past listings of the agents you are considering. First of all – can you even find their listings? If you can't, how do you expect a buyer to find them? And if you do find them, do you see vague directions? Lackluster verbal descriptions? Poorly lit and out of focus pictures? And I will say it – A TOTAL LACK OF VIDEO?
Why do you think this agent will do anything different for your property?
It shouldn't matter what kind of property you are selling, I believe it is up to us agents to put in 100% effort to sell your waterfront properties.  I'll never be confused with Ansel Adams or Steven Spielberg, but I can say that I will do my best to give not 5, but 45 clear pics of any property I have the honor of listing.
5.) Video video video.
We put out a great full motion video tour of the home.  Not a slideshow of the same MLS pics set to muzak.  We're currently working on incorporating aerial shots of the properties into the video home tours, and that looks really cool. The video below is the one we made for the Little Kowaliga home; we try to squeeze  every possible bit of info about the property into these videos in under 3 minutes.  We want buyers to know exactly what the seller is offering, with no surprises once they arrive at the home in person.
We also did a quick aerial video of the outside of the Little Kowaliga home. It's amazing how much additional info you can gain from this vantage:
10 days on the market was all it took in this case.  Like I said, this is not the norm for Days On Market, but the transaction is more likely to move quickly if all of these factors are considered.  And of all of these, an honest assessment of pricing is probably going to be the biggest factor.  I love Blizzards from Dairy Queen a whole lot, but I will not buy one for $10, even if it is the best looking Blizzard I have ever seen, and it is 105 degrees outside.  Its value has been set in the open market and I know I can get a comparable Blizzard for less on down the road.
So – Lake Martin homeowners, are you considering listing your home with a Lake Martin realtor?  If you are, and you like what you've seen here, I'd love the opportunity to talk with you about your property.  And if you are a buyer, I'd love to help you thoroughly scour the lake inventory and gather as much info as possible on homes that may meet your needs.  If you're interested in a listing that is not mine, and you feel like you need more info, I make private video tours of other agent's listings and provide you with a private YouTube link.  Call me.  John Coley  334  221 5862 or john (at) lakemartinvoice (dot)com.
This post is directed to Lake Martin waterfront property buyers – don't waste your time with Zillow, Trulia, Homes.com, Realtor.com and their ilk (ZTR). They are terribly inaccurate.
This post is also to potential sellers of Lake Martin waterfront property. Don't insist on having your home "featured" there. They stink, it's a false hope, and they don't generate good leads. It's like wanting to be advertised on a billboard inside a smelly, run down indoor mall. Why would you bother?
If you want the most reliable, most accurate, most timely Lake Martin waterfront real estate information, search our local Lake Martin Area MLS.  Period.
3rd party syndicator sites like Zillow, Trulia, Homes.com and even Realtor.com rank high on some internet real estate searches for Lake Martin. But does that make them truly helpful for buyers and sellers?  If you're not familiar with how these websites work, they try to be the MLS for the entire nation by getting content (listings of homes for sale) for free from agents, and then turning around and charging the same agents to advertise on their site in a circular, almost extortive calculation.  I don't want to supply the rope and then pay the hangman, so I don't advertise on any of these syndicators.
Plus, at Lake Martin, these sites just don't work.  They merely cause confusion. They pull most of their info from County tax records, and since we are in a rural area, the info is not that pure, and our counties don't report sales data.
Let me show you a quick example.  I did a Google search for one of Lake Martin Voice Realty's new listings, 44 Fairwinds Circle in Windermere.   (This home is an awesome 6 bedroom, 4 bath, 4,457 sq foot home with custom hardwood floors and mill work throughout.  It was built in 2007 and is listed for $649k.) Google's search results had Trulia, Zillow, Realtor.com and Homes.com all making the coveted first page of search results.  They must have it going on, right?
But you tell me if any of this information is helpful . . .
Here's what I found on Trulia: According to Trulia, 44 Fairwinds Circle is a  ZERO BEDROOM – 2 bathroom, 1,665 sq ft home with wood siding. Hey home buyer  – can I interest you in this ZERO BEDROOM home? Awesome ! Yes! Sign me up!!!!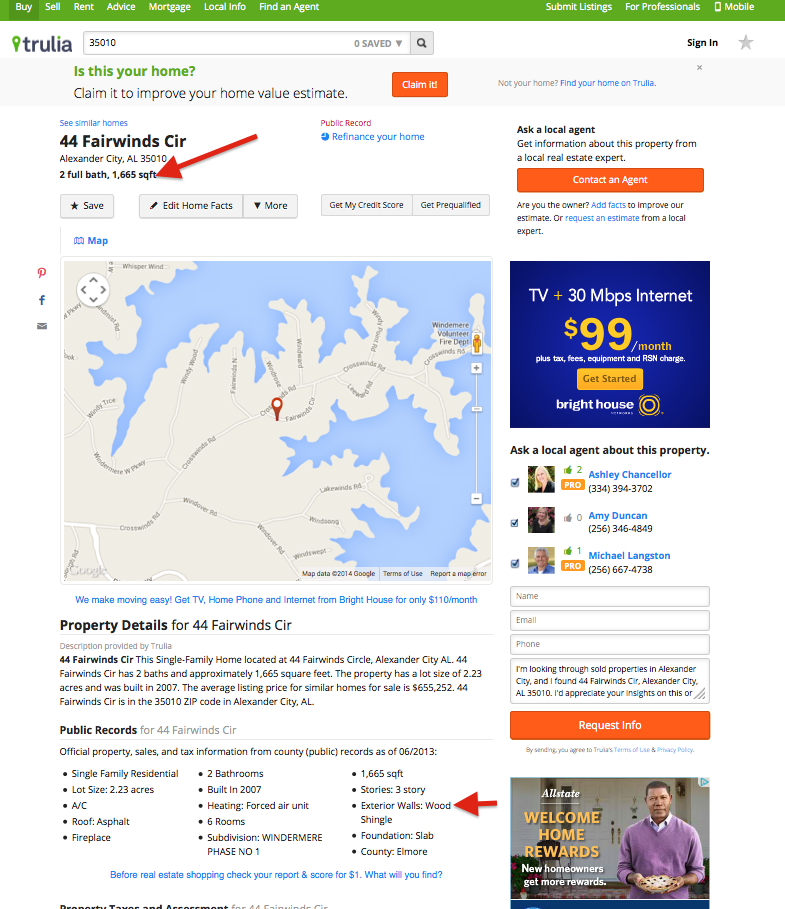 Here's Zillow:  if you trust Zillow, you would be led to believe that 44 Fairwinds Circle is a 1,665 sq ft home with unknown floor coverings, and a "Zestimate" of $595, 130. Here, Zillow carries along the ZERO BEDROOM concept that apparently is sweeping the nation. Wow! How cool! How Techy! How totally cutting edge that they are able to sit up in Oregon or wherever they are and tell us all how much a ZERO BEDROOM home costs in Windermere.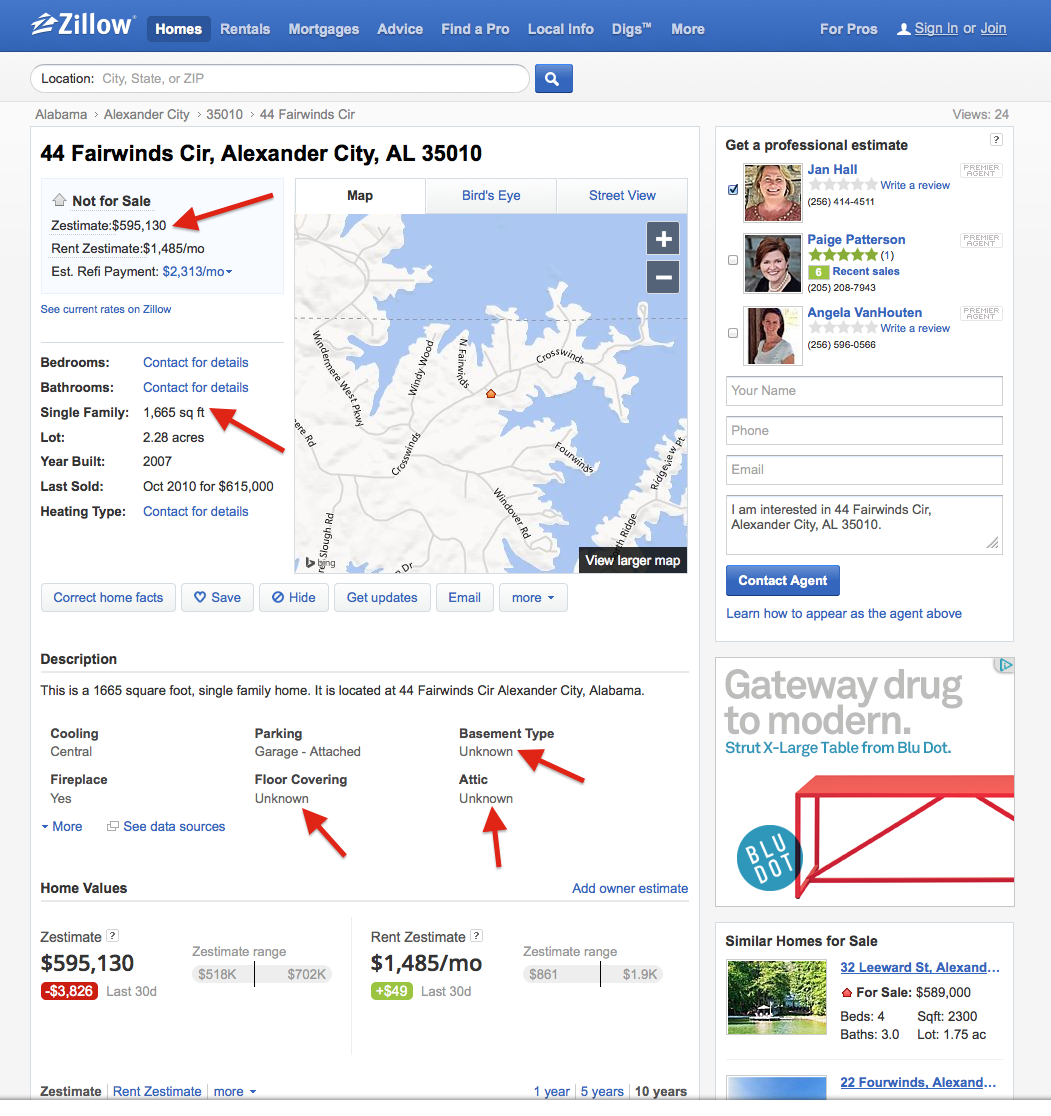 And here's Homes.com:  The same 2 bath, 1,665 sq ft home for around $711,500.  ZERO BEDROOMS, of course.  And why not pay $116,370 more? If you would like to pay $711k, I won't hold you back. A zero bedroom home is priceless. You should know that by now.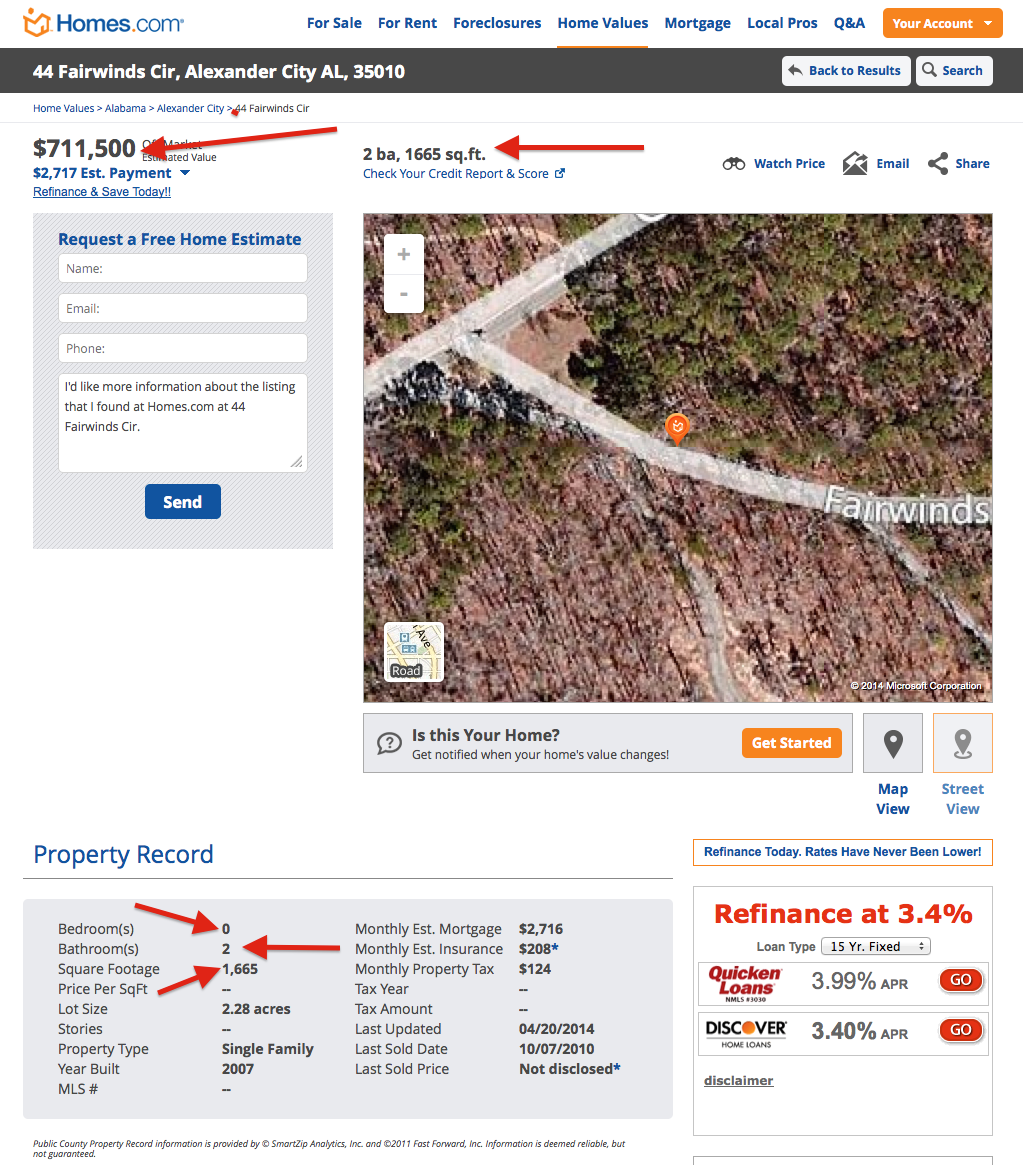 And even Realtor.com can't get it straight:  44 Fairwinds Circle is listed as 4A Fairwinds Circle (the lot number) with 4,728 sq ft built in 2008.  If you look at all of these pages, notice how little space is devoted to actual data on the home versus ads for internet service, moo.com (??) and Blu dot. The thing that especially galls me about Realtor.com is that it is owned by the National Association of Realtors. Yes. You would think that this site would try and do a good job to be accurate, and then not turn around and extort advertising dollars by playing one agent off of another in a cruel, Leone-esque Mexican Standoff, – > ("What, Agent A, don't you want to be listed as The Awesome Agent for this zip code? Well you 'd better pony your money up because Agent B is bidding against you. Agent B – you'd better pay us because Agents A and C are vying for your coveted spot. ") Does that add value to the process? Also, Realtor.com only allows a few precious photos to be displayed unless you pay them to advertise. Check it out: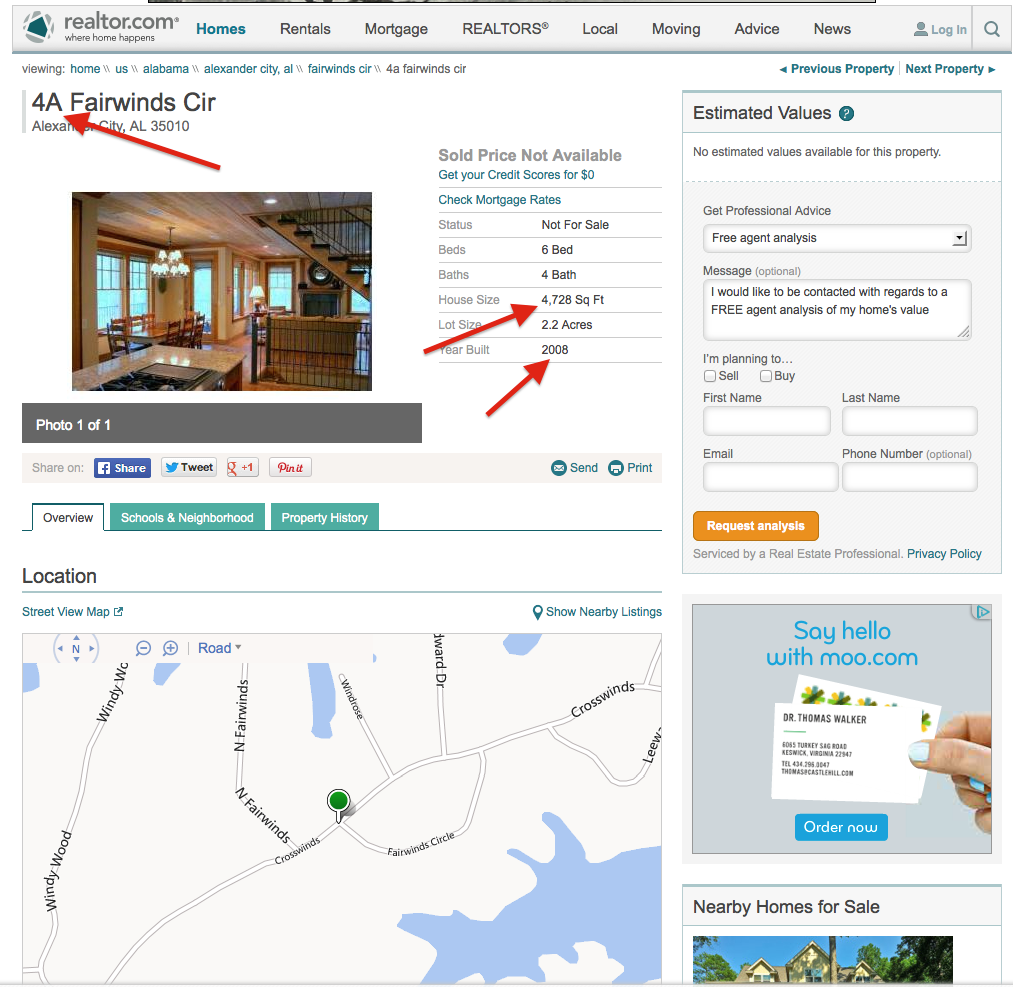 Are you finding these sites helpful, or are they adding confusion to the search?  I know the small detail on these screenshots may be hard to read, but what you'll find is virtually the same incorrect information about the home on all of these websites.  A home with zero bedrooms and two bathrooms for $711,500k?  Does that make any sense?
Contrast that with the information found inside the Lake Martin MLS. 
Most local Multiple Listing Services are closed services, meaning they are not searchable by Internet search engines.  Our Lake Martin MLS is no exception, and contains only firsthand data on properties entered by the listing agents themselves. (And if we want to continue working, we'd better get it right.)  Local agents know the homes and have spoken extensively with the owners.  There is no "noise" from 3rd party syndicators to sift through, and you know exactly whom to call if you want to know more.
Here's the screen shot for 44 Fairwinds as it appears in the MLS search.  The text is going to be hard to read here because there is so much information on the page, and it may look a little basic because it's missing the huge ads for mortgage providers and the ginormous google map. But, I agree with Forrest Gump's mama, pretty is as pretty does. If the so-called information that currently resides on ZTR sites is shiny and glitzy, does it matter that it's so inaccurate as to be useless? You bet. I will take basic and correct any day. Granted, the MLS info is only as correct as the agent that enters it. But at least in the Lake Martin MLS you are getting the info from the direct source, and with its full complement of ALL the pictures, video, and related media: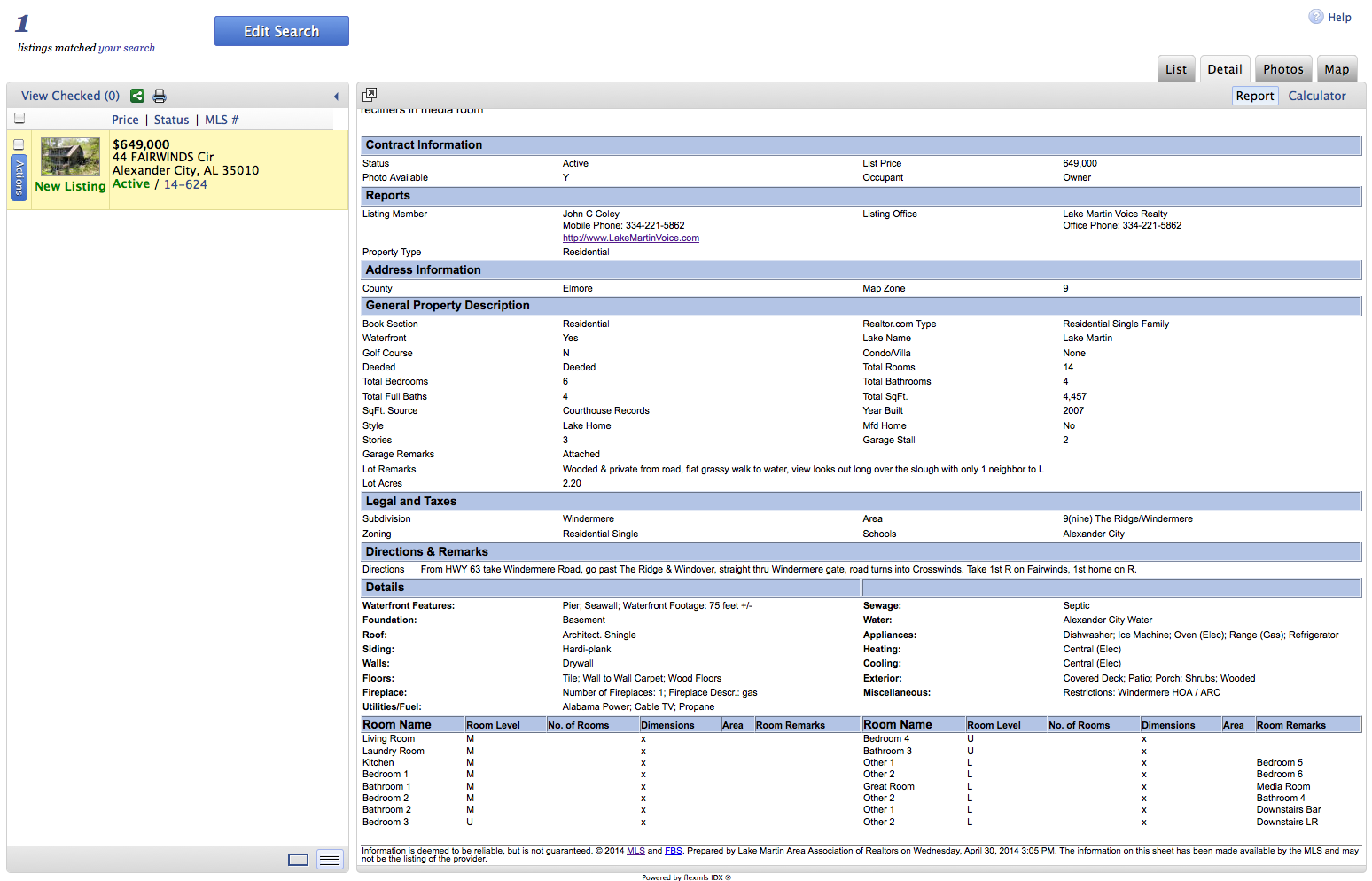 Our Lake Martin MLS entry for 44 Fairwinds Circle contains the data above, plus access to 93 photos of the property, our VIDEO TOUR of the property, and a map.  It's thorough, it's complete, and it is the most current information available.
So save yourself time and confusion:  search for Lake Martin real estate on the Lake Martin MLS.  Realtors have great incentive to display quality information for their listings.  And if you need more info, call a local realtor.  And if you're calling a local, realtor, I'd love for you to call me.  John Coley  334  221 5862  or john (at) lake martin voice (dot) com.
Will I Ever Eat My Words And Pay ZTR?
Quite possibly. I can envision I day where I will be forced to pay Zillow, Trulia, and / or Realtor.com for the privilege of participating in a Mexican Standoff with other agents at Lake Martin. I know plenty of agents that I respect highly that are in other markets around the nation that do. Sadly, they must pay the hangmen and supply the rope, and they grit their teeth when they pay them each month because they know it's not worth it and it benefits neither buyers nor sellers. So, I will never say never. But I can say, right now, while I am still beating or competing well with the third party syndicators, I will not.
Want more info on this subject, and proof that big brokerages in big markets are sick of ZTR as well? See this video: Abbott Realty  They are in San Diego, and figured this out in 2012. Since then, there have been more brokerages and MLSs to opt out of ZTR than opt in.
The Lake Martin waterfront real estate market is a unique animal. I try hard to provide meaningful market reports, built on math and not assumptions. I recently sent out my 2013 Year End Review via email. In it, I asked for suggestions on how to improve my report.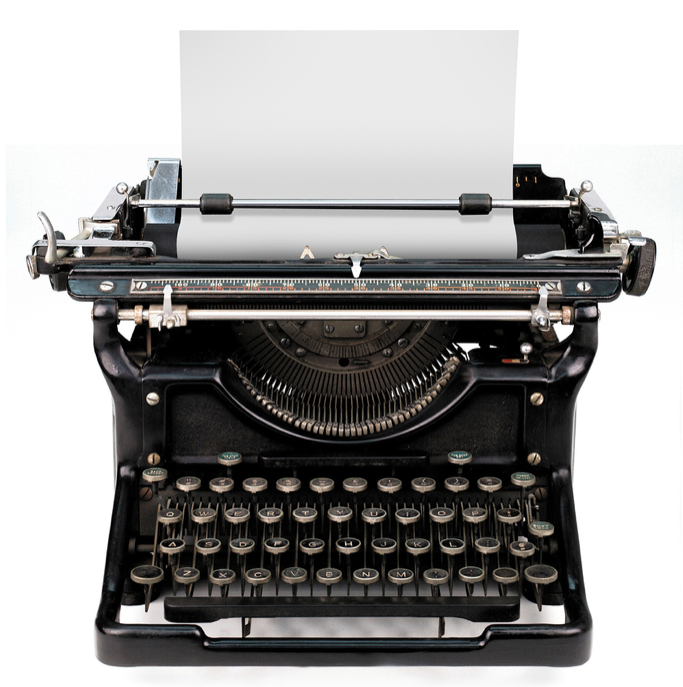 I received two very interesting emails, and thought I would publish them here. I would like to once again thank these readers for their input, and continue to ask for suggestions, and challenges, to my published numbers and analysis. With such a small number of homes sold each year, it's critical to have good information. You won't ever hurt my feelings if you think I am wrong or looking at something the wrong way. On the contrary, I would love to hear from you.
Here is the first email:
On Feb, 2014,  "Paul" wrote:
Just read though your email – great to see sales and construction activity continue to climb. You mentioned that you do not necessarily see price appreciation…..yet. Presumably you have the aggregate of sales dollars per annum. Does that not evidence any increase in avg sale/property?
Just curious because I was wondering how much the rate environment (which is still very favorable) could have an impact on discretionary/second home real estate purchases.
And my response:
Begin forwarded message:
From: John Coley
Subject: Re: sales data
Date: March, 2014
To: "Paul"
Hey "Paul," thanks for your email. I don't really look at aggregate sales dollar figures because I am not sure it is representative. For instance, the aggregate sales data in 2013 is going to be about double of 2008. But – 263 homes were sold in 2013 compared to 137 homes in 2008. If you looked at aggregate sales data you would be tempted to conclude that values have doubled since 2008, which certainly does not meet the smell test. I don't know of any market anywhere that has doubled since 2008. In fact, I think values dropped slightly in 09 and have been steady since then. My bell curve chart and real world examples (homes bought in 08 that are for sale now) confirm that. But it is certainly interesting to consider.
As to interest rates – I don't think rates mean a hill of beans to the average buyer. I think their interest rate sensitivity is zero. I have never run the numbers, but now that I know how to do so (I plan to do it like I did for WF footage and lot size) – I might try it. Stay tuned to my blog in the next few weeks, I am publishing the math behind my studies of price per WF foot.
Great to hear from you!
And the second email:
Dear John:
You asked for input on your charts, so being a CPA I couldn't resist giving some! The chart you are using to determine whether prices are increasing I don't think is accurate for that purpose. For example, let's say in 2014 a lot of people in the $700,000 price range bought a lot of houses, let's say 25% of all 2014 sales – the chart would of course spike at the $700,000 level indicating only that more people are buying houses at that level than they did in previous years. If the $700,000 buyers were buying houses that were previously sold for significantly less (i.e. a big price increase had occurred), the chart would not indicate that.
I don't know if you have the data, but I believe a very meaningful chart re: price fluctuations would be to calculate the dollar sales per square foot, by subdivision, by year. That would certainly capture any price fluctuations. Since the subdivisions are all in different categories (i.e. comparing the Ridge to Trillium, or Blount's Point area to Willow Point) cannot be meaningfully done.
I would love to see a chart that lists sales dollars per square foot, by subdivision, by year. Can you get your hands on that kind of data?
Many thanks for your very valuable research.
– "C.E."
My response:
From: John Coley
Subject: Re: Lake Martin – February 2014
Date: March, 2014
To: "C.E."
Hey "C.E.", thanks for your email. I appreciate a fellow numbers guy giving me input. I am always on the lookout to build a better mousetrap and to similarly test assumptions of my own.
Re: per square foot – I think this stat is extremely misleading at the lake. The reason is that so much of a home's value is tied up in the lot. PSF analysis works well in things like condos where everything is the same, but lake property is way too diverse and has too high a percentage of overall value tied up in the lot. See a post I did on my blog, way back in 2007:
5 Mistakes When Buying Real Estate on Lake Martin
There is zero correlation between sales price and square footage of home.
In that post I also mention the price per waterfront foot of a lot and its deceptive nature. Coincidentally, I just ran the numbers on that using 2013 sales. I will be posting the results on my blog. I did a scatter plot, and a correlation coefficient calculation. Where +1 is a perfectly direct relationship, 0 is no relationship, and -1 is a perfect indirect relationship, I found that waterfront footage only has about a 0.47 correlation, or classified as a secondary correlation by statisticians. Interestingly, the size of the lot (overall acreage) has a zero correlation. This math confirmed for me that when I am valuing lots, and therefore valuing homes, the most accurate method is to start with a comparable sales method, looking at similar location, view, privacy, and water quality. I secondarily adjust for WF footage, and do not adjust at all for acreage.
I will take a look at your suggestion of analysis by neighborhood. I am doing that already for a neighborhood report, but looking at PSF data on homes in a neighborhood will vary even more greatly because of our small sample pool. That's why I only do price analysis once a year – in Willow Point there were only 8 homes sold in the last 12 months, from 600k to 2.2 million. When your sample pool is that small, it won't normalize easily, and one home sale can thrown the whole thing in a wreck and make year to year comparisons inaccurate at worst. But all this does make for interesting discussion!!!
Regarding your example of the 700,000 category – if you look at the most recent example, in 2011 there was a spike in the over 1 million range. You can see the hump up there. Spikes like this are the prime reason I broke it all down to price strata, and also to look a year's worth of sales. I am trying to normalize out the outliers. But again, great food for thought! Thanks!
Thanks for your email!!
It is so humbling that people read my market reports, much less take the time to comment on them and get me to really think about the conclusions I draw.  It helps more than you know.  A huge thanks for your feedback, and please keep it coming!
C.E., in a later email, suggested that I look at the percentage of and direction of change in per square foot pricing on Lake Martin waterfront home sales. His point was that while the raw number might not be useful, the direction thereof might be, kind of like the DJI in the stock market. I think this is a cool idea and worth some further study!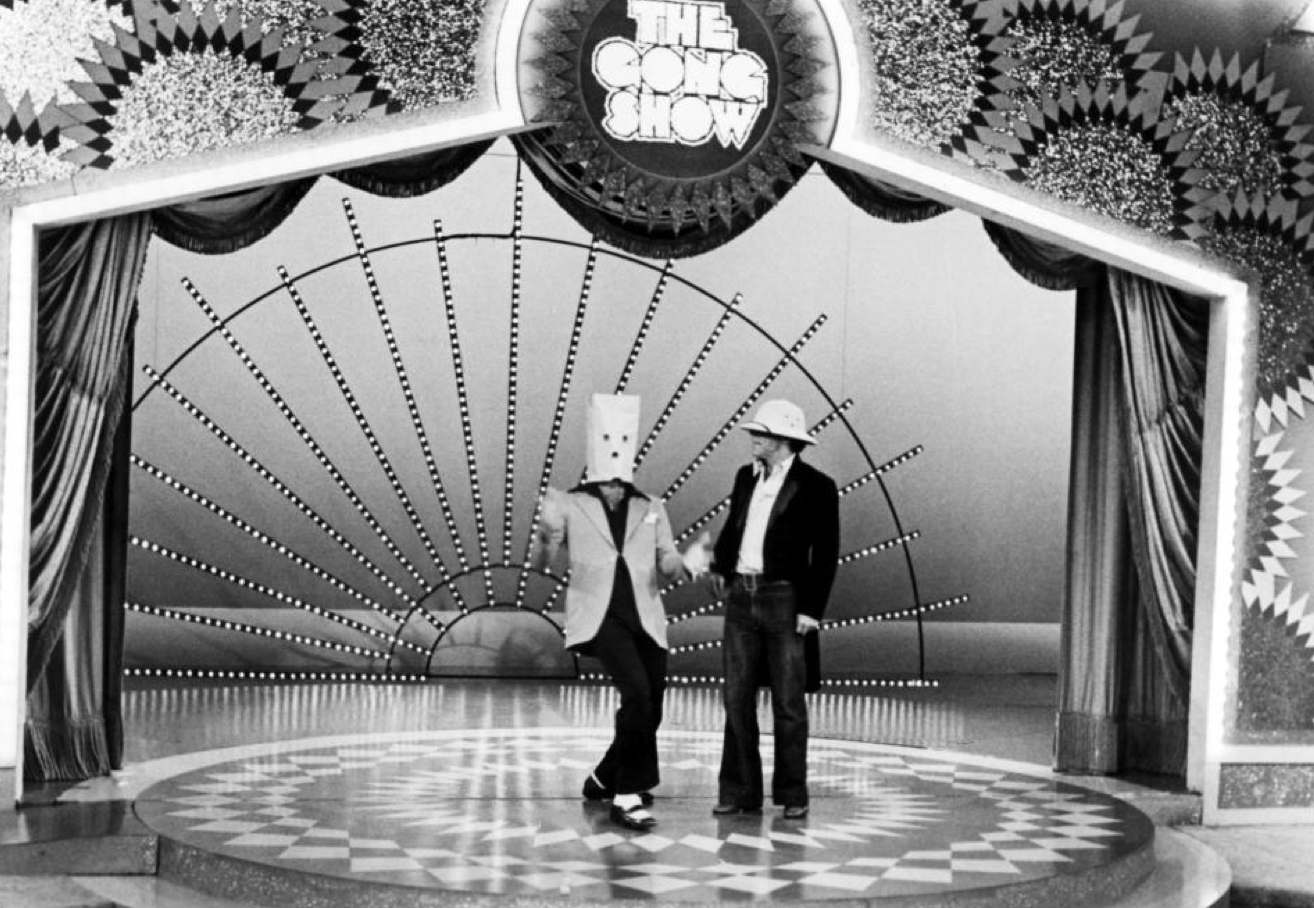 This time of year at Lake Martin creates a question for some sellers in the real estate market.  That question centers around whether or not they should keep their waterfront home, condo, or lot on the market through the winter.
Lake Martin is a seasonal, second home market in a rural community. Most of our real estate sales happen between February and November. Currently, the lake level is drawn down ten feet in the winter. It gets chilly.
So is it worth it to keep your property on the market through the winter? Or should you, as a seller, take it off of the market and let it rest, only to be reborn in spring? The tradeoff seems to come down to Days On Market vs. Anonymity. That is, if you truly want to sell your Lake Martin home, what is worse, having a higher Days on Market in the spring, or not being on the market at all during the winter?
I think it's better to be on the market. That way your waterfront property is in the Lake Martin MLS, all other agents know about it, and your listing agent can legally advertise it. Otherwise no one knows it's for sale.
But on this issue, as with many others, I wanted to test to see if I was a lone dissenter. I recently wrote about the subject in my monthly column for Lake Magazine. In order to get some perspective, I interviewed fellow Lake Martin agents Becky Haynie of Lake Martin Realty, Carl Hopson of RealtySouth Lake Martin, and John Christenberry of Lake Martin Voice Realty.
They agreed with me, and gave some great examples. Here's a link to the article on Lake Magazine's website:
Why Stay On The Market Through Winter?
I guess I am biased since they agreed with me, but I think they are great points.
If you are considering selling your waterfront home, lot, condo, or acreage on Lake Martin, we would love to help you. Please hit the "Contact Us" button below or call at 334 221 5862.
We here at Lake Martin Voice Realty are professional real estate agents, and know good marketing when we see it. We try to be the best, but we don't mind admitting when we see our fellow Lake Martin agents doing something awesome. Everyone should take a look at the incredible aerial photos posted on Facebook by Toni Adcock of ReMax Around the Lake. Really, this is groundbreaking. If you are reading this post from other spots around the nation, I ask you, are agents in your town going this far? Are they trying this hard? I am telling you, this is impressive:
Toni's husband Phil Adcock took these pictures using a GoPro Camera, mounted on a DJI Phantom quadcopter. Technical assistance and photography consulting was given by Matt Adcock of Del Sol Photography. Toni is the listing agent of 116 Hilyer Road. To contact Toni about this home, go to her website or call her at 256-234-1327.
I am even more impressed by this because I also own a Phantom quadcopter and have been experimenting on flying it for real estate photography and videography. I need a lot more practice with mine before I am ready for the bigtime, as you can see by this wreck I had.
I am convinced that using tools like the Phantom quadcopter will usher in a new level of marketing in real estate. I was inspired several months ago by seeing what some commercial agents are doing with it, and I thought it would be a natural fit for Lake Martin, thus my experimentation. Kudos to Toni and Phil for having the talent and the hard work to get it to a point that it is useful. That kind of dedication is rare in this industry and I think it is so cool to be in a place like Lake Martin where we have so many talented agents that are thinking of creative ways to help out their sellers.
Well done Toni, Phil, Matt, and ReMax Around The Lake!!!!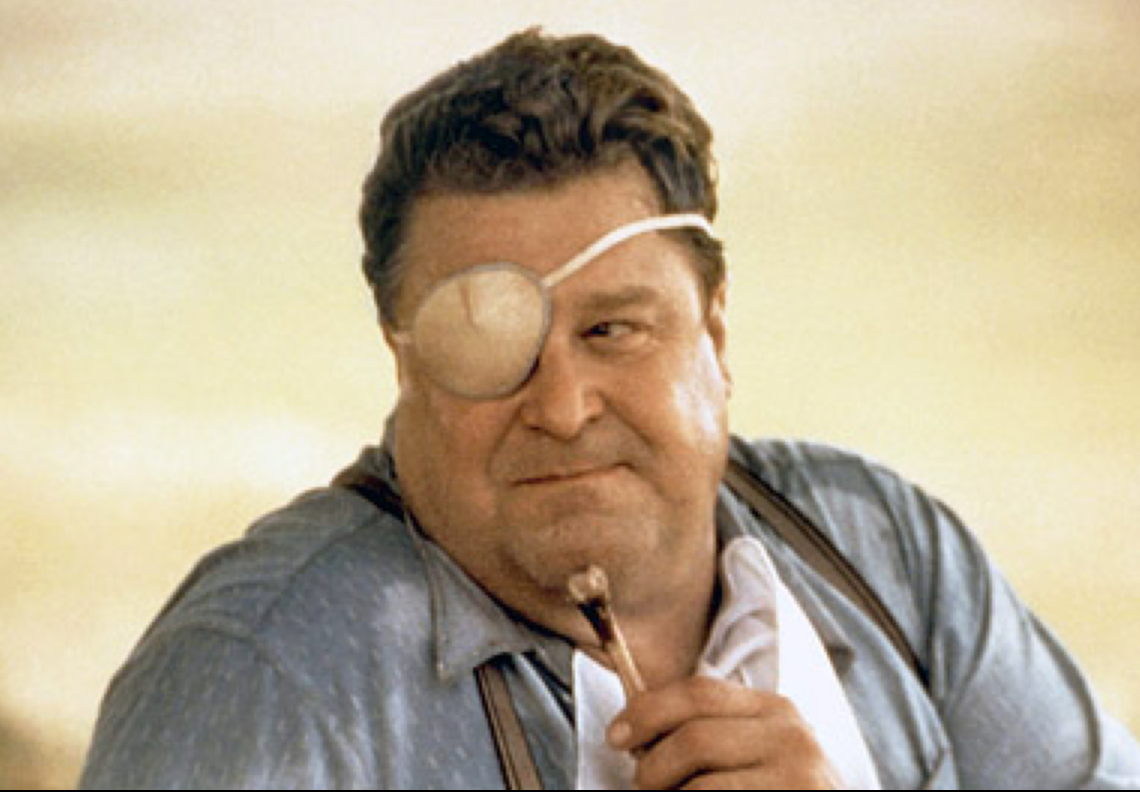 I love the Wall Street Journal. Reading it is one of my favorite pasttimes. They have a regular section now called "Mansions" that covers real estate. On a recent Friday I was intrigued by a front page tease that read "Secrets of Top Brokers." Naturally, as a real estate broker here at Lake Martin, I wanted in on the secrets. I flipped to page M1 and found the article, penned by Lauren Schuker Blum, titled "The Battle For the Big Deal."
I was immediately disappointed.
The article was about the competitive nature of getting high priced listings in places like Malibu, LA, etc. It's bottom line was that these ultra cool brokers have to battle hard to win a $40 million listing. They throw lavish parties and have in-house computer nerds to cultivate top secret databases of high rollers. Wow.
Don't get me wrong, the article was well written and had plenty of pretty pictures. But the usability of these secrets by the average agent or even the average home seller is absolutely zero. (Who is going to spend $10,000 on a VIP house party?)
I guess I should not expect a practical article from a section of the WSJ called "Mansions." I also can't blame them for splashing flashy home pictures (I call it house porn) to catch the eye and entertain. I can't help but wonder, though, what would happen if the WSJ would ask one of their talented writers, perhaps Ms. Blum, to turn their eye to the not so extraordinary. Sure, it's easy to think of crazy ways to promote a home when Presidents have slept there and your potential commission is in the millions. What are the secrets of brokers or agents who actually sell normal homes?
Lake Martin Real Estate Secrets
I can tell you that there are no secrets for the Lake Martin real estate market, or anywhere else for that matter. If you want to sell a waterfront home, lot, or condo, you must pay attention to what I call the Holy Trinity of Real Estate:
Pricing – You absolutely must price your home correctly. Yes, the market here at Lake Martin has rebounded since its low in 2008. But I don't think we have evidence of price increases. Check my market reports and see if you agree. As a Lake Martin seller, you must price your home within 5% or 10% of what the market likes, or it will sit there. Buyers expect deals, research extensively, and can walk away. "I will price mine a little high. You can't go up but you can always come down" you might say. I say – you can't come down if you don't get an offer. You won't get an offer if you are priced too high to begin with.
Marketing – You or your agent must market your Lake Martin home aggressively. A sign in the yard won't do it anymore. Three fuzzy pictures in the MLS? Please. You have to have a full court press of well done pictures, full motion video, scads of backup information, just to stay in the conversation. You have to have a supercharged website to break through the noise and get found. In online marketing today, pretty is as pretty does. If people can't Google it and find it, it might as well not exist. The old realtor trick of putting scant info out there so the buyer will call the agent and the agent will "sell them" on the home – is dead. Here is a modern truth – NO ONE WANTS TO TALK TO REAL ESTATE AGENTS – including me. They only call the agent on the last resort. Buyers research and research online so they don't have to ask the agent, whom they perceive is cheesy and just out to say whatever. As an agent, I must realize that and earn trust by putting as much info online as possible. Another truth – put the marketing focus on the property. Not the agent.
Staging – Staging is getting your home looking good to sell. Clean it up. Paint. Replace the rotten wood. Declutter. Depersonalize. Get all that junk out of the way that detracts from the view. People are here for Lake Martin. Don't distract from that with petty repairable.
Are you considering selling your Lake Martin home, lot, condo, or some other property? We would love the chance to talk to you about it. We can get it done. We have the knowledge and experience to price it accurately. No other agency on Lake Martin, no matter how big, can even come close to our online marketing. The huge amount of traffic to this website are facts, not idle boasts. We can also help you stage your home to sell.
How to get started? Request a Comparable Market Analysis here or email us at info at lakemartinvoice dot com. Or call me at 334 221 5862!
If you are interested in waterfront homes, lots, or condos for sale on Lake Martin, you might like the latest feature of LakeMartinVoice.com.
I have added a new feature called "New Listings On Lake Martin." See the right hand column of my blog, just below the top. There is a little plugin there that brings you the very newest homes, lots and condos on the market here at Lake Martin. In some real estate markets, this is called a "Hot Sheet." So I guess I could have called it the Lake Martin Hot Sheet. Nevertheless, it's a quick way to check what's new on the market here at Lake Martin.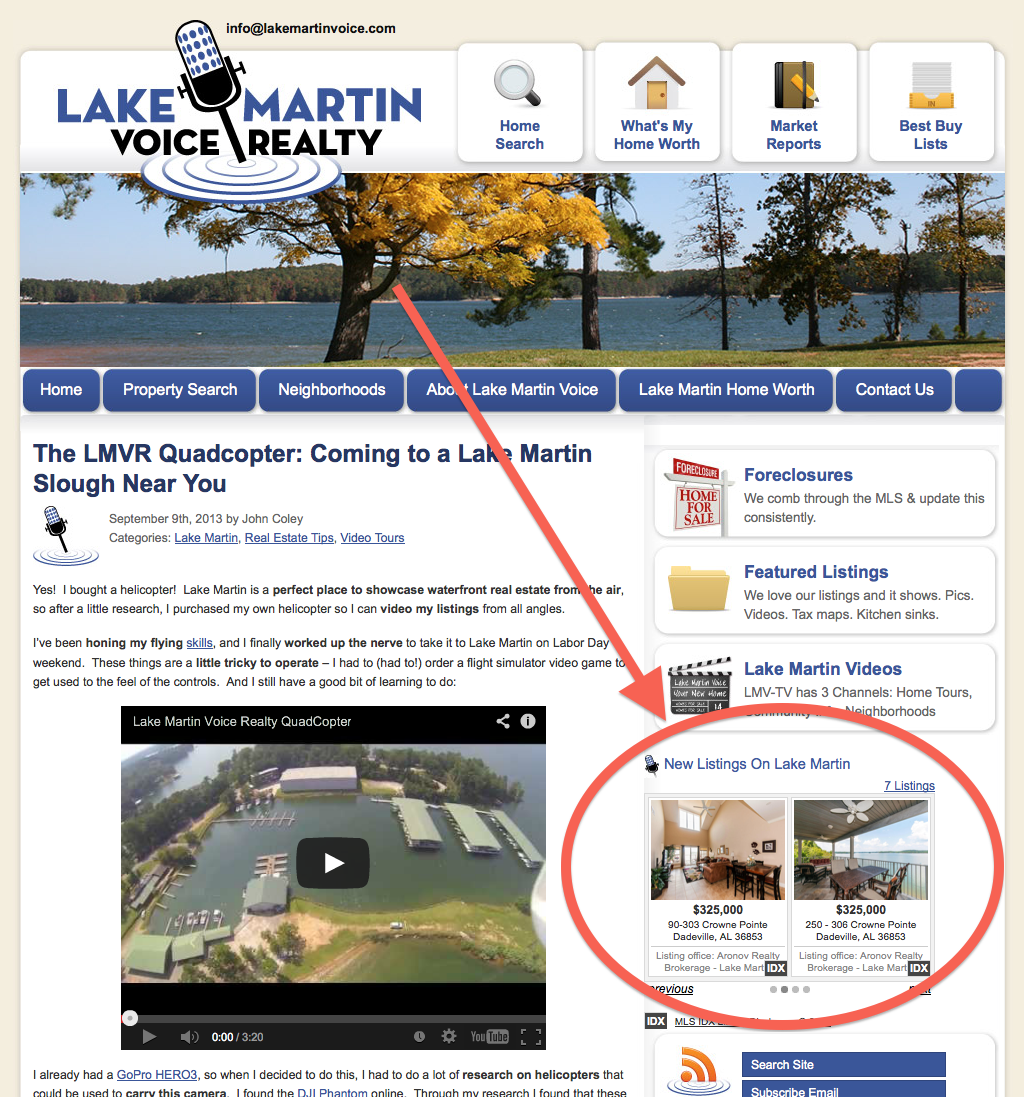 My goal is to have absolutely, positively, the best website and tools for searching the Lake Martin real estate market. I feel very blessed that this site continues to be number one in traffic, usage, and most Google searches for Lake Martin property. I will continue to tinker and experiment with new features like this to try and stay number one. If you have any suggestions or ways I can improve, please email at info at lakemartinvoice.com.
FAQ about New Listings On Lake Martin
Are these only your listings? No, this list comes from the Lake Martin MLS, so that includes every single agent on Lake Martin, every single brokerage. It doesn't matter who has it listed, I can help you with it.
How often is it updated? It pulls about the last seven days of new listings from the Lake Martin MLS. So, if you haven't checked it in about a week, you may have missed some. You may want to click here to search the Lake Martin MLS to see everything.
What if I want more info on a home? Just click on its thumbnail and a new page, with that listing's complete info will appear.
What if I request info through your site, or give feedback by clicking a smiley face? The system will ask you to register by giving your name and email address. That's so I can have a way to reach you and answer your request. Don't worry, your info only comes to me.
What is your spam policy? Don't worry, I hate spam more than you do. In fact, I spend a lot of time and money to keep my site as virus and spam free as possible. I work way too hard to gain your trust to then turn around and spam you.
Is this list waterfront property only on Lake Martin? Yes, this is a search that looks at three fields in the Lake Martin MLS: Waterfront = Yes, Lake Name = Lake Martin, and Age = < 7 Days. If you click on the Property Search button under the main picture, it will show you every single active listing in our MLS, waterfront or not. To view waterfront only on that page, click on the waterfront field and select "Yes."
If you see anything you like, or want to talk Lake Martin real estate in general, I'd love to talk to you.  Give me a call at (334) 221-5862, email me at [email protected], or click here to contact me.  Thanks!
I once embarked on a mission to see how cheaply I could take a brown bag lunch to work.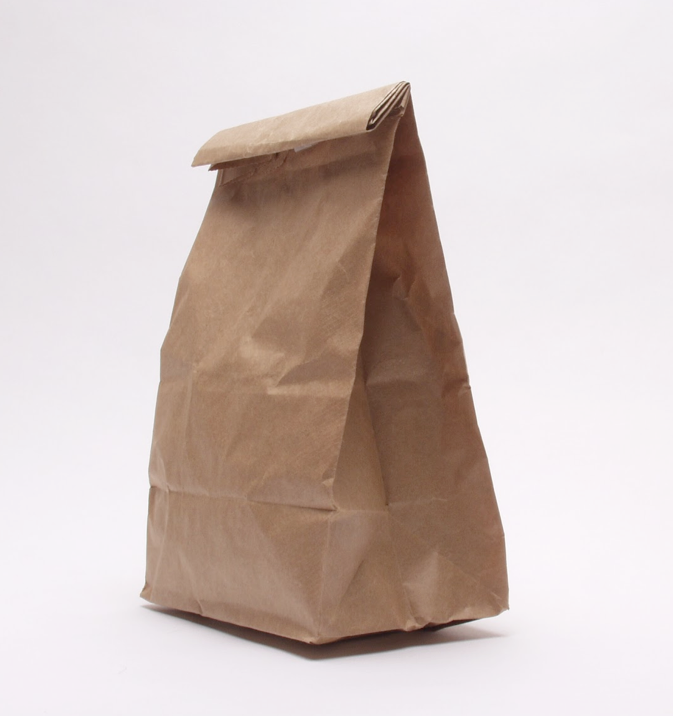 I brought all my accounting skills (I was a controller at the time) and all of my family traditions to bear upon the subject. I used fast food ketchup packets, bought cold cuts in bulk and stalked the "almost stale" bakery section, but I hit a wall at around $1.10 per lunch. Despite way too much thought on the subject, I could not pierce the $1.00 per lunch barrier.
One day, as I bemoaned my plateau to the rest of the office, one of the ladies suggested, "Why not re-use your bags?"
Eureka!
It was so simple. So obvious; yet, so effective. Re-using my bags and other packaging plunged my per-lunch cost to the seventy-cent range.
This leads me to my point for those who are thinking about selling a Lake Martin home. If you are the do-it-yourself type and want to go the for-sale-by-owner route, let me share a couple of Special Weapons and Tactics that we Lake Martin Realtors use. They may appear obvious, but remember the paper bag. Simple solutions can take you to new heights.
First, take your pictures with a wide-angle camera lens. If you have or can borrow an SLR camera, you can buy a wide-angle lens that will make a world of difference. The lens might cost you $500, but remember how much you are asking for your home.
I've read good articles on Houzz saying the opposite is true – use a regular lens and be happy capturing less square footage in the room.  For art's sake, I agree.  But I've found that wide angle lenses work well in some of the funky rooms we find in lake homes.  If I can capture more space in a room with the wide angle lens, I'm going to do it.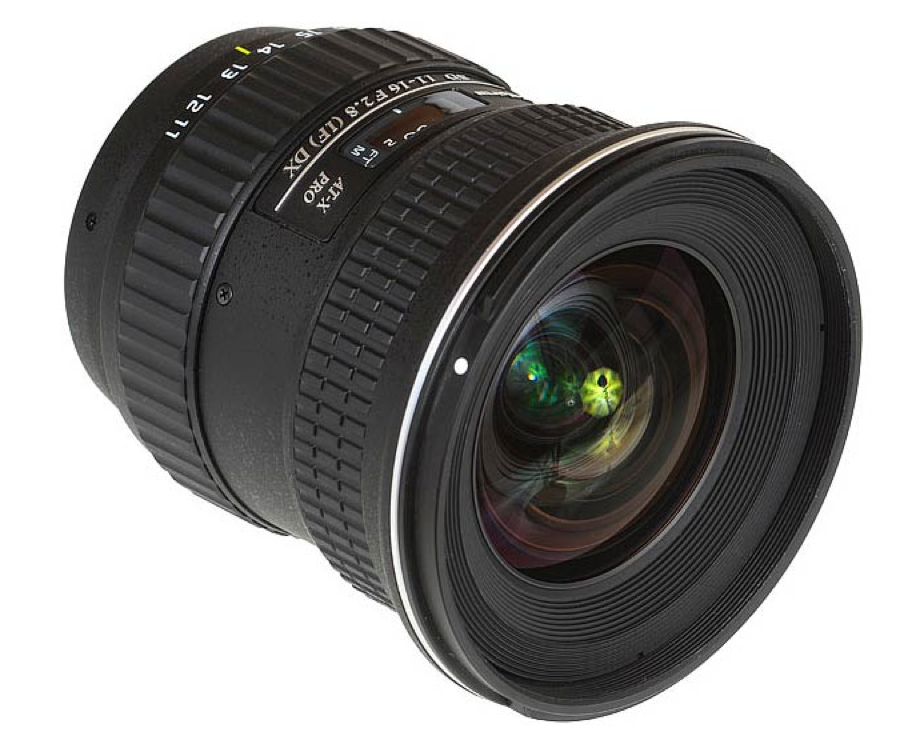 Bottom line, I'm neither an artsy nor accurate photographer and continue to try and learn.  If there's anyone in the Lake Martin area who is a budding photographer and would like to practice photographing homes, let's talk.  I'll give you the credit, and you could help me up my photography game.
If you don't have an SLR, and all you have is the camera on your smart phone, at least spend $50 for a wide-angle lens to put over it. Yes, no matter what kind of iPhone or Android phone you have, you can order a case to clip over it that will allow you to shoot wide angles. This is critical, because when people look at homes online, the pictures are a major way they weed out the tares from the wheat. Good quality photos can make or break your success.
Perspective is everything on home photos. Pictures look so good in magazines because professional photographers use different perspectives to present the best features of the room. Inside, a stepladder lets you point down into the room, as opposed to shooting flat across it. Try shooting some of your pictures from waist level, or from the height of a light switch on the wall.   Combine with a wide-angle lens and note the difference.
To get a nicer picture of the exterior of your home from the lake, use a taller ladder on your pier. When selling a lake home, the lakeside photo is the most important. Most Lake Martin homes are at least five feet above the dock; from dock level, you often are shooting the house at a weird, unflattering angle. Get a tall ladder and set it up on the dock; the results will be much better.
Once you master these special weapons and tactics of Lake Martin Realtors, you can move on to others, like finding a new you-just-can't-miss-it home.
If this sounds like a lot of hassle and you'd rather have a professional do the marketing work for you, give me a call at (334) 221-5862.  You can also email me at [email protected] or click here to contact me.  I'd love to help you!
We humans, especially Southerners, like the art of storytelling, don't we?
We like legends. We like to talk about the way things were back then.
For Lake Martin, 2007 will always be "The Year of the Drought." Similarly, 2009 will be thought of as "The Year of Alan Jackson at Aquapalooza." I have no doubt that 2013 will become "The Year of FERC Relicensing" because the potential changes in the water level rule curve will impact the next forty years.
As I study real estate trends in the waterfront market for Lake Martin in 2013, I have a hard time separating market reports from the mammoth issue of relicensing the dam. Usually, when people ask, "what's going on at Lake Martin?" I give them a ten second market report. This year, however, I have talked about FERC.
But, if we can all forget about that for a moment, and focus solely on what's happening in the real estate market per se, I think we find something very interesting. There is a notable trend at Lake Martin that, in my judgement, is yet another sign pointing to the overall health of our market.
The big story at Lake Martin in 2013 is waterfront lot sales.
Yes, lot sales.
Do you remember 2008? You might know it as "The Year of The Bank Crash." For those who don't, I can tell you that getting a loan to buy a lot in 2008, and even in subsequent years, was dang near impossible. If a bank or mortgage lender smelled, perchance even suspected that you wanted a loan on a lot, they ran the other way. If that lot was located in a subdivision that was lightly populated, well, they called Father Merrin for an exorcism.
Please take a look at the Waterfront Lot Sales chart. Sales are blistering. Through the end of July, there have been 37 waterfront lots sold through the Lake Martin MLS. That is only one fewer sold in all of 2012 and only two fewer sold in the 12 months of 2011. In other words, this year it only took seven months to sell as many lots that were sold in twelve in each of the two prior years. That's growth, neighbors.
Lot sales mean construction. Construction helps the overall economy and it points to more confidence for the future. If no other lots were sold in 2013, the lake would have a good year. If 2013 lot sales continue on pace with prior years, it will be a great one.
Lake Martin Home Sales in 2013
Don't let all this talk about lots obscure the good news about homes. Waterfront home sales on Lake Martin are once again strong in 2013. One can see from the cumulative graph attached, that as of the end of July, 2013 is running on pace with 2012. As I am sure we all remember, 2012 was the second best waterfront home sales market on record. When we look at the entire lake real estate market, with all agents, all brokerages that participate and report to the Lake Martin MLS, we see that at July 31, 2013, 139 waterfront homes have been sold. This is statistically significant to 2012. By the end of July in 2012, 140 homes have been sold. I don't consider the one home difference to be a big deal.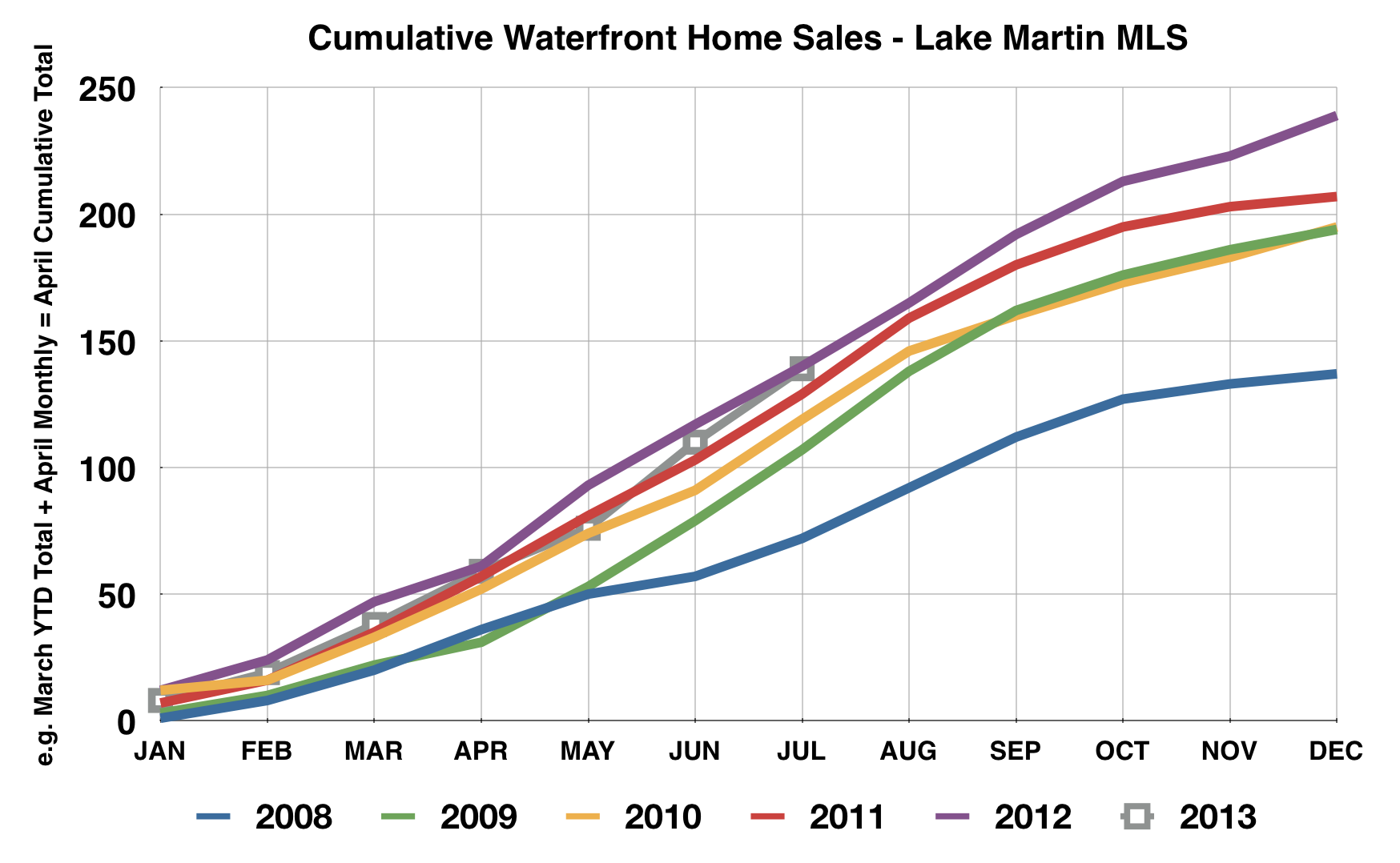 The bottom line is, 2013 is another great year for Lake Martin home sales. The more interesting thing for me to consider is that such great years are becoming routine once again. Remember, 2008 was the last year of decreasing numbers of homes sold on Lake Martin. Every year since 2008, the current year has beaten the prior year's numbers of homes sold. The market has improved.
Lake Martin Home Prices
Whenever anyone hears the words "improved market' – it' s natural to wonder if prices have risen along with the home sales figures. Prices, however, have remained steady. Have prices in 2013 risen? I don't know yet. Because Lake Martin has such a small sample pool, I only calculate price trends once a year.
However, if Lake Martin continues to beat the prior year in numbers of home sold, and supply does not out strip demand, one of these days we will see price increases. When that happens, we can call it "The Year That Prices Finally Rose."
Note:
This article is going to appear in the September, 2013, issue of Lake Magazine. I am honored to write a monthly column on Lake Martin real estate for Lake.
All indications are holding true that 2013 waterfront home sales are following suit with 2012, with many homes selling. In 2012, we saw the second best year in number of homes sold, topped only by 2005.
Naturally, people are asking questions like, "Where are all these buyers coming from?" and "How did they hear about Lake Martin?"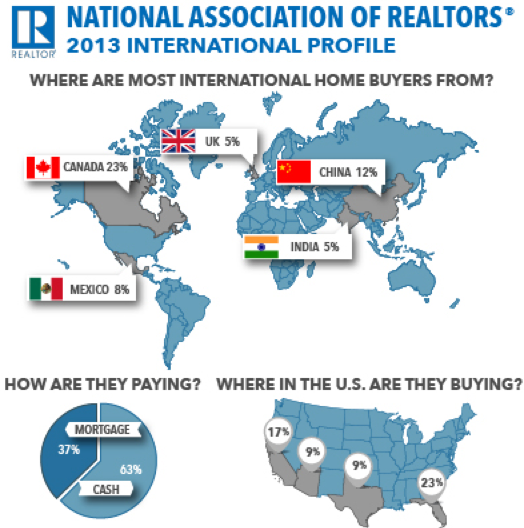 While the data geek in me would love to require a thorough questionnaire with every lake home purchase, alas, one does not exist. But we can infer a good amount of information by studying the next best thing: the National Association of Realtors' Profile of Home Buyers and Sellers.
Every year, the National Association of Realtors (NAR) publishes the Profile of Home Buyers and Sellers. The Profile is the result of a 120-question survey sent to a random sample of home buyers across the nation. This year, about 8,500 surveys were returned. The results were used to compile the statistics and compare them to previous years. This survey is a heavily watched measuring stick of home buyers' preferences and behaviors. In 2013, as in the past, this survey offered valuable insight to us at Lake Martin.
First Step: Agent vs. the World Wide Web
Since Al Gore decided to invent the Internet, there has been a battle between Joe and Jane Agent and the Web. The issue at war is deciding just who is more relevant, useful and trusted by home buyers. This war is all but over.
Winner: the Internet.
Despite NAR's constant advertisement to the contrary, their own survey shows that buyers place much more trust in the Internet than in agents. One very interesting question the survey always asks buyers is, "What is your first step in the home buying process?"  This year, a whopping 41 percent of respondents said they looked online for properties. This is more than double those that contacted a real estate agent (18 percent). The third choice at 11 percent was, "Looked online for info on the process." I would argue that is the same as number one. Added together, those two indicate that about 52 percent of people are looking online before they ever call an agent.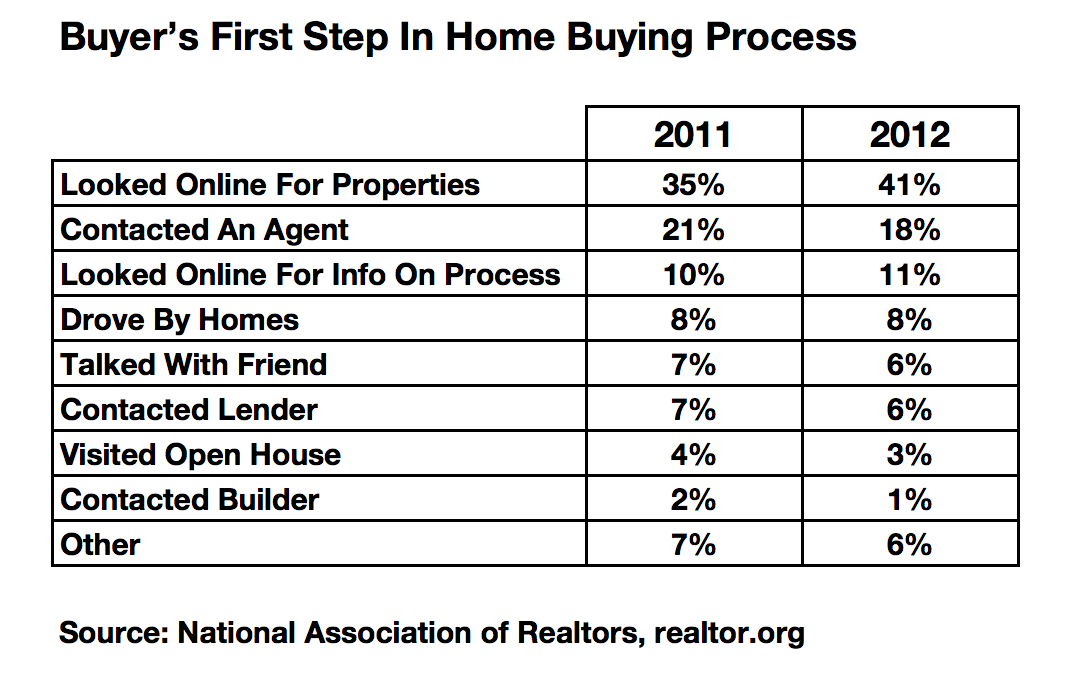 I do grant that potential buyers are looking on the Internet at agents' websites. So some agents can take solace in that fact. But the lesson to be learned is that buyers looking on an agent website is an indirect contact initiated by the buyer, and it's anonymous. The agent has no idea the website is being visited. In other words, the buyer is in complete control of the interaction. Maybe the buyer will contact the agent directly, maybe not. In either case, the buyer is driving the ship.
I do not see this trend reversing any time soon, especially considering the momentum. Last year's survey showed that 35 percent looked online and 21 percent contacted an agent. This means the online first steppers increased by 17 percent, and the agent pickers decreased by 14 percent. Brokerages and agents that do not accept this will find themselves as outdated as the mimeograph machine.
Where Did You Find It?
Today's world is full of resources for the home buyer. Agents, the Internet, signs, billboards, TV and more all vie for the coveted attention of those who are ready to purchase. To some buyers, I am sure it is information overload.
Considering all these channels, two other critical questions to ask are, "What worked?" and "Where did you find the home that you bought?"
Not surprisingly, the Internet trend continues to dominate here. The Web continues to increase in importance, with 42 percent of those surveyed responding that the Internet was where they found their home. Agents checked in with 34 percent, which I suppose is an honorable defeat; however, when you consider that it was down from 35 percent last year, and that the Web increased by two percent, the writing is on the wall.  It is clear that any serious home buyer is not waiting around for their agent to personally call and tell them about homes. Today's home buyer is a researcher.
The Internet's dominance in the "usefulness" category is neither new nor a secret. What should be noted is the degree to which home buyers rely on it. Nothing else is even close.
The implication is huge in that home sellers should ask detailed questions of potential agents, such as, how will my home be displayed online? How many online leads do you get, and how do you track your leads?  Similarly, home buyers by their behaviors are asking agents: What have you done for me lately?
If you'd like to know more about what Lake Martin Voice Realty can do for you, give me a call at (334) 221-5862, email me at [email protected], or click here to contact me.