Archive for the 'Remodeling' Category
We all know that the kitchen is the heart of the home and that applies to kitchens at Lake Martin too. The kitchen in this condo at Sunset Point in Stillwaters needed some updating. The existing white cabinet doors and drawer fronts were replaced with new white ones and the color of the walls were kept the same "lemon drops" yellow. The cabinet hardware was replaced which made a big difference.
All of the countertops were replaced and included a redesign of the peninsula counter containing the sink. A new tile backsplash was also installed and plug outlets were moved and updated which made a big difference in the overall look of the kitchen.
See for yourself – small changes can make a big difference!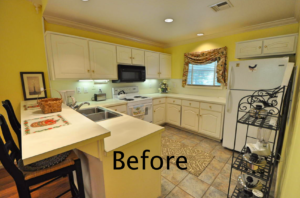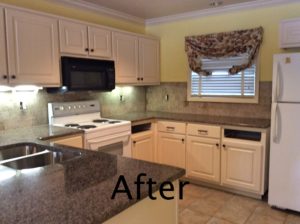 If you're a buyer who is looking for a Lake Martin home let me know.  My name is John Coley and I'll help you find a property that makes sense for your vision and your budget.  Give me a call or text me at the number at the top of this screen or email me here.
What is shiplap? It has nothing to do with ships regardless of its name.
Shiplap (a type of wooden board used on exterior walls) is a hot decorating trend that has seen "…a serious surge in popularity in new renovation, thanks in large part to its extensive use on shows like HGTV's Fixer Upper" – according to several home renovator blogs. However, it is often confused with tongue-and-groove siding.
Sorry Chip and Joanna – you got it wrong. I love you and everybody I know loves you but shiplap refers to a groove not the look of the finished product.
Doug Furhman of Southern Traditions Construction helps explain the differences of shiplap siding and tongue-and-groove siding in the video below.

As a Lake Martin realtor I can help you find your Lake Martin home and quickly identify homes that are move-in ready, tear down opportunities or just in need of some shiplap siding. I'd love to help you out with your Lake Martin search, so call me at 334-221-5862, or CLICK HERE to contact me.
Here is helpful information from one Lake Martin couple who purchased a fixer upper.
When I met with the homeowners back in December, I had no idea (and neither did they) that they would decide to sell their Lake home. I wanted to write an article for Lake Magazine about remodeling at the Lake and stopped by the cabin to take some "after" photos and ask a few questions.
Remodeling is popular these days. If you are unaware of this trend, just flip on the TV. Waco, Texas, has the adorable Chip and his wife Joanna. Los Angeles has Christina and whatever male she decides to include on her show.
So in going along with the trend of "old to new," I thought I would write about lake home remodeling. When homebuyers come to Lake Martin, they often wrestle with this issue.
"Do I want to buy a brand new home? Or am I up for a remodel of an older home? How large of a remodel project would I like?" they might ask themselves.
I thought it might be helpful to talk to a couple that has actually been through the process and hear what they have to say. Granted, their experience is personal and limited to one home. But, they did put considerable thought into their remodel, and it might be entertaining and enlightening for all.
Here is their story:
Don and Kristie are from Birmingham, Alabama. They bought their home in 2011. It is located on the north side of Lake Martin and was originally built as a fish camp style home with concrete block construction. It was extremely functional but short on refinement.
The home's original construction date was listed at 1960, but subsequent owners had made improvements along the way. While Don and Kristie loved the home as it was, they naturally sought to personalize it. Here's a Q&A of their Lake Martin remodel story:
When you first started your home search, did you want to buy a home that was move-in ready, or were you looking for a fixer upper or a project?
Our first priority was to buy a home with great water frontage with pretty view and a level lot for kids to play. At our price range, that dictated a fixer upper.
When you bought it, did you envision fixing it up this much?
Yes, but not with any definitive timeline. It was just as we could afford with money and time. There was no rush because we did not live there full time, so it was nice to do a little and walk away for a bit. Being patient helped us to get to know the house and what we really wanted out of it.
What was your first project, and was that the same project you planned when you bought?
The house was quaint and charming, but we wanted to personalize it to our tastes. We pulled out all carpet and baseboards and slowly started to replace with a floating floor and new baseboards. During that process, we took what furnishings came with the house to refurbish pieces with paint and distressing. That helped to clear some stuff and allow for flooring. It also helped us to visualize how to put each space back together from a decorating standpoint.
Which part gave you the most instant gratification?
Paint. Paint will transform a space. If the ceilings in a lake house are not that special, consider painting them the same color as walls. It really opens up a room and makes it feel larger. That is something many people will look sideways at you for suggesting until it's actually done.
Which part was the least fun to spend money on?
Electricians and plumbers.
Did you experience "project creep," e.g., "as long as we are fixing X we might as well fix Y?"
A tad but not tremendously. To offset the creep, we would look for ways to do things inexpensively but still with good impact, things that we might not otherwise do if it was our primary home. For example, in the kitchen, we had white Formica countertops that were fine for a lake house. But we added the pass-through and purchased a remnant of honed granite for the bar top. Instead of spending thousands on the kitchen countertop, we found Formica that was basically identical to the granite. It only cost a few hundred dollars, and it looks fine for the small space.
How did you budget for this? Did you decide on a total amount to spend and wait until you had it and then start, or did you know that you wanted to do this or that project and just did it?
The rule was, if we couldn't pay for it out of pocket, we were not doing it. That governed our time and pace. With it being a second home, we were not so antsy to 'get it done' immediately.
Anything you would change?
I wish I had peeked at the ceilings in the oldest part of the house during renovation. I always wondered why the ceilings were lower in the old original camp house. Far down the road after interior was done, we were working on the sun porch that required us to reveal part of the ceiling, and it was discovered there was old tongue and groove on the ceiling. It was one of those moments of "who the heck covers this up!"
What was the hardest part of remodeling from afar?
Just having to be patient knowing we had limited time to work on it and making ourselves stop to enjoy the view every now and then.
Note: I originally published this article in my monthly column in Lake Magazine.  I am proud to write about Lake Martin Real Estate for Lake Magazine.
For more info about 106 Windy Trail contact Listing Agent John Coley at 334-221-5862 or by clicking here or email him – [email protected]
Part two of my Lake Martin Remodel in Parker Creek covers its interior transformation.
In a previous blog post I showed you before and after pictures of the changes made to the exterior of the home, the boat house and dock for this property in the Parker Creek area. (For the earlier post CLICK HERE  for Lake Martin Remodel in Parker Creek).
Now look carefully at the before and after pictures of the interior – no more "wood" paneling, popcorn ceilings and wall to wall carpeting everywhere. I have wood paneling at my lake house and the best I could do was merely paint over it. I am not sure how the home owners did it, but they somehow floated some sheetrock mud over the grooves in the paneling, or something. Whatever they did, the results look incredible. I thought they had pulled out the paneling and installed sheetrock.
They also tackled the popcorn ceilings. Popcorn ceilings are not all that uncommon at Parker Creek because when that area of Lake Martin was developed over the 1960s, 70s and 80s, popcorn ceilings were popular. The problem is that they are messy to remove. These homeowners removed the popcorn, right down to slick sheetrock, then painted it. Look at the difference!
The interior makeover is awesome. It was made brighter with new lighting, fresh paint, and updated interior finishes. The kitchen and bathroom countertops were replaced and tile backsplashes were added. All of the interior doors were replaced including closet doors. But enough of my talking about it – see for yourself!
I am happy to help you look for your own fixer-upper or move-in ready home in Parker Creek or anywhere on Lake Martin. Give me a call at the number at the top of the page or contact me here.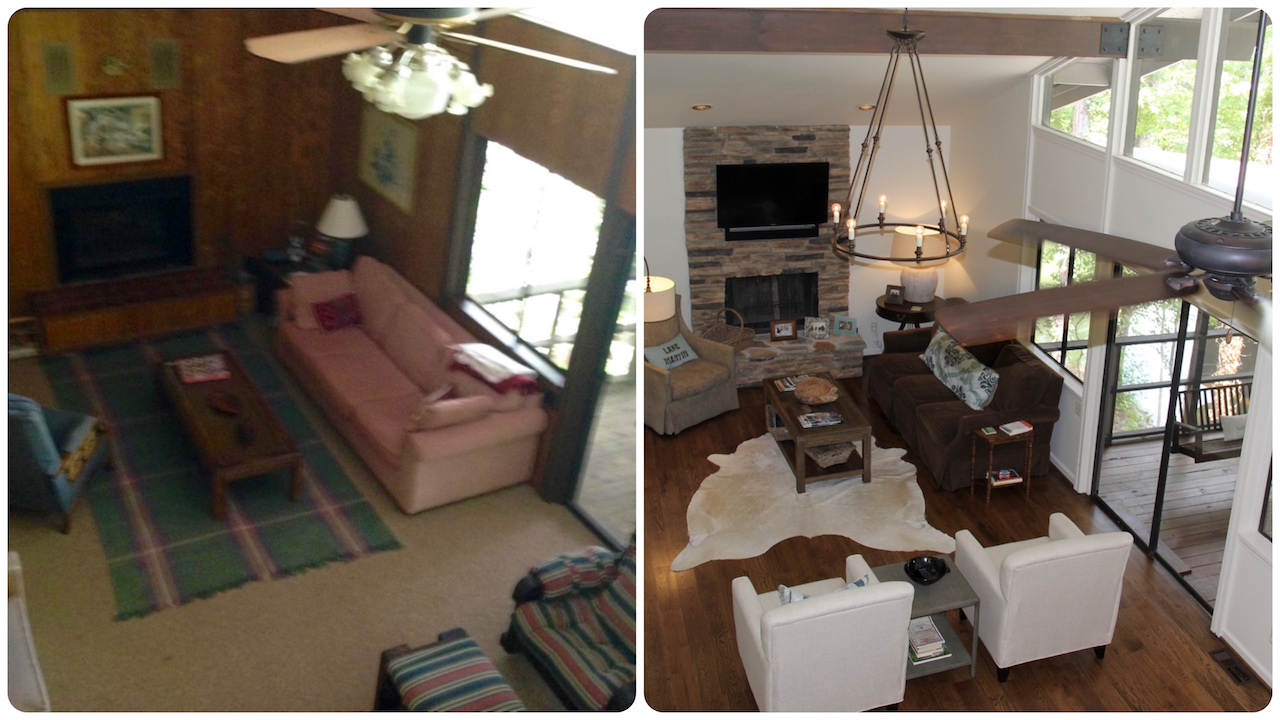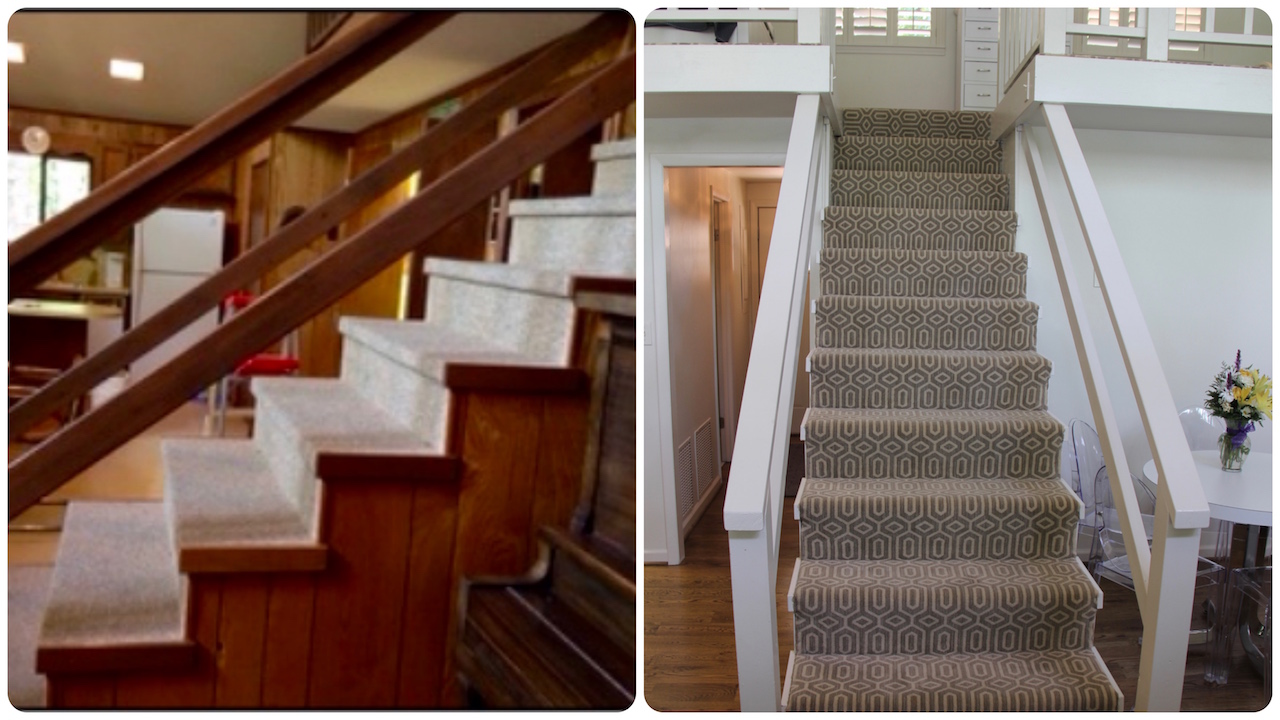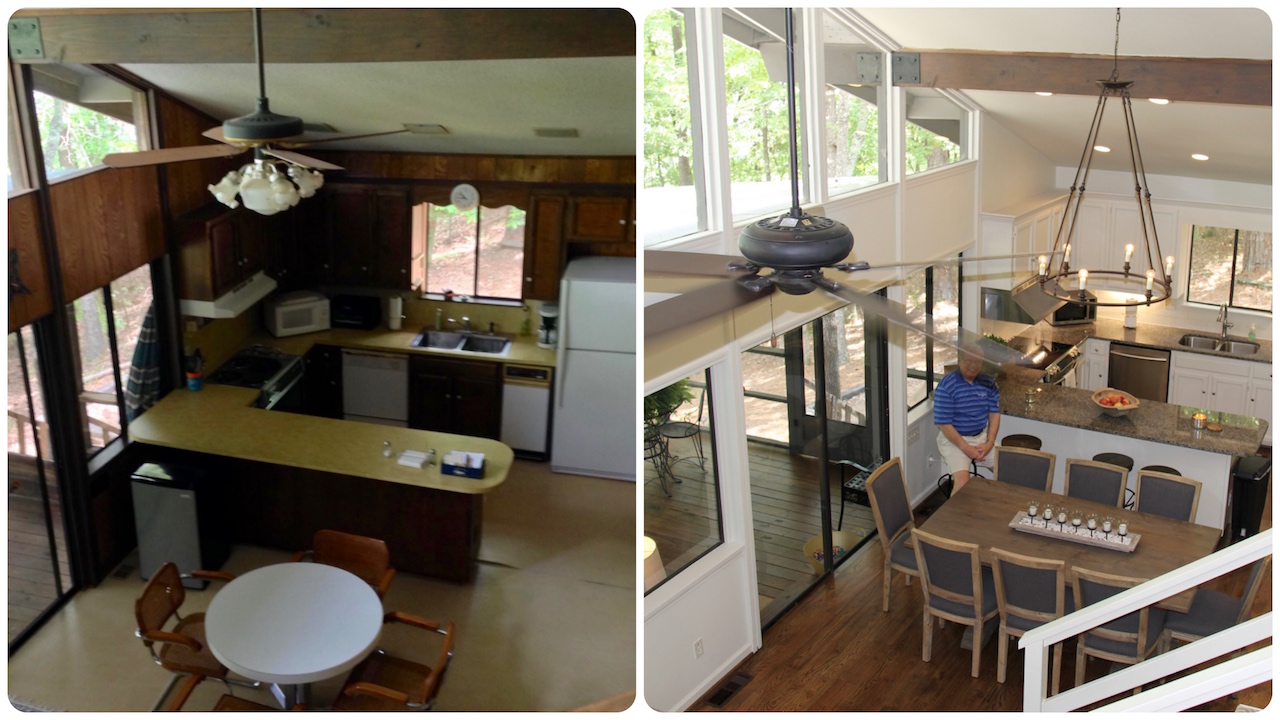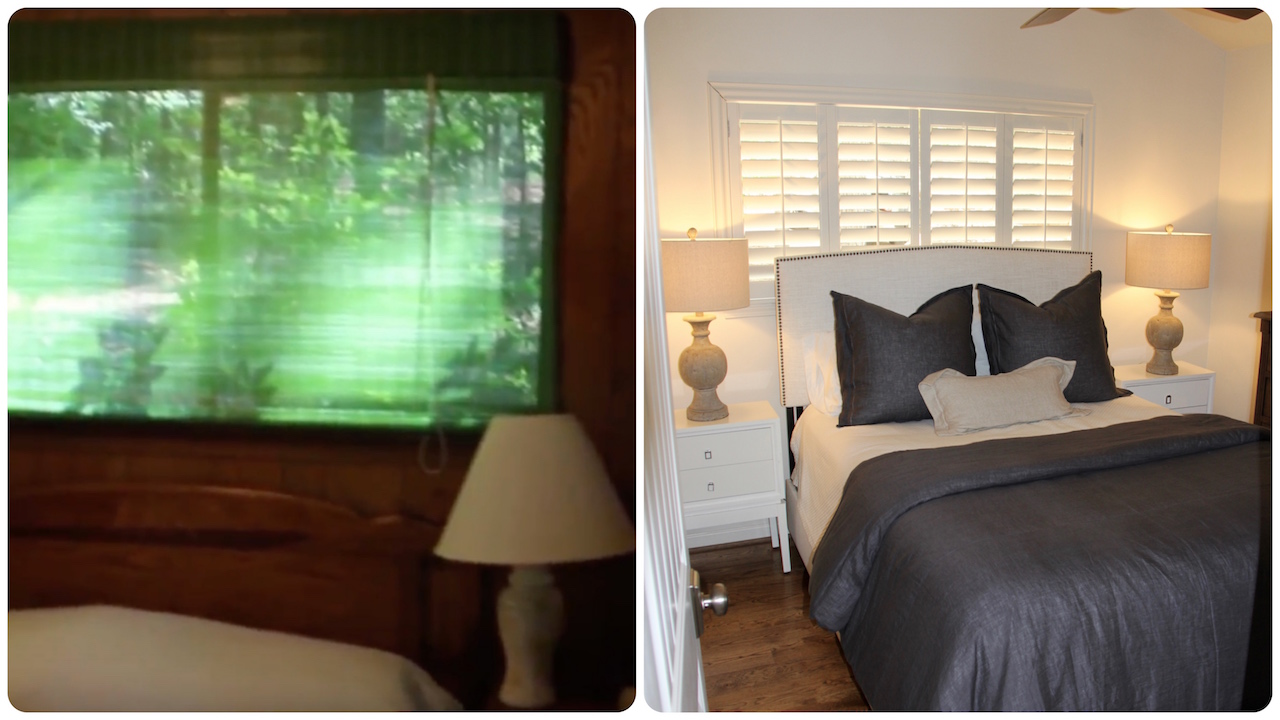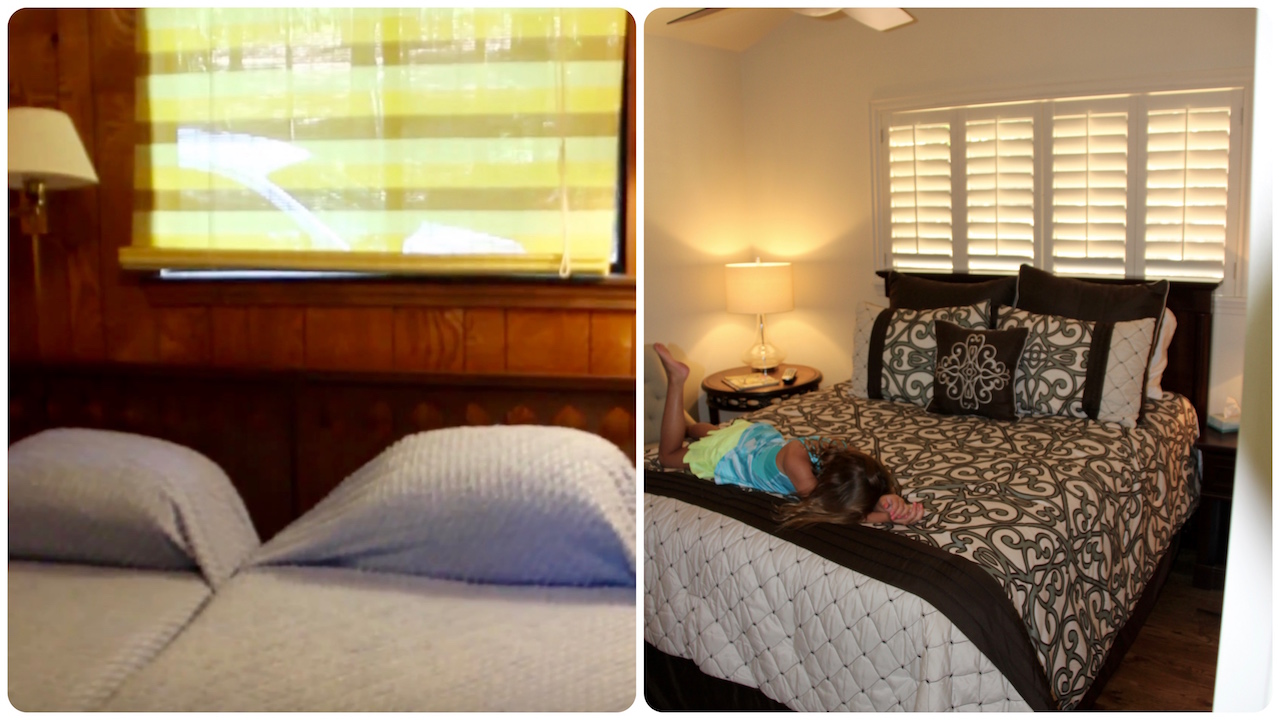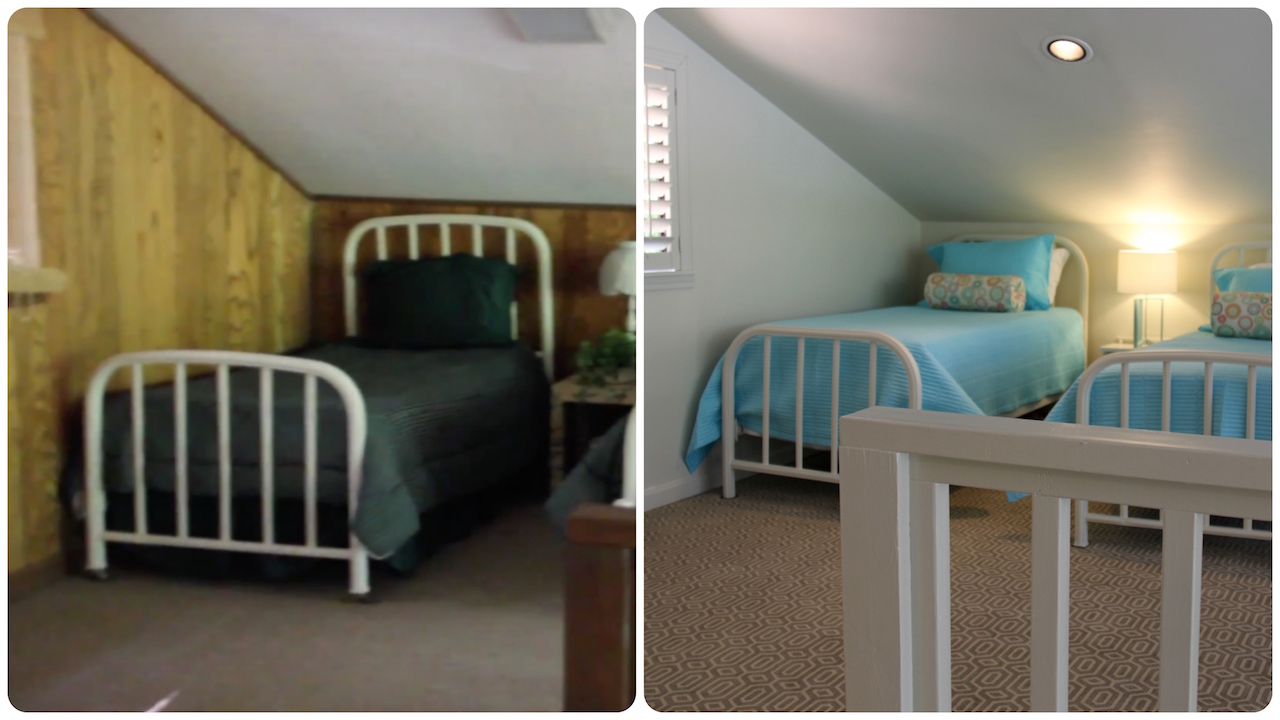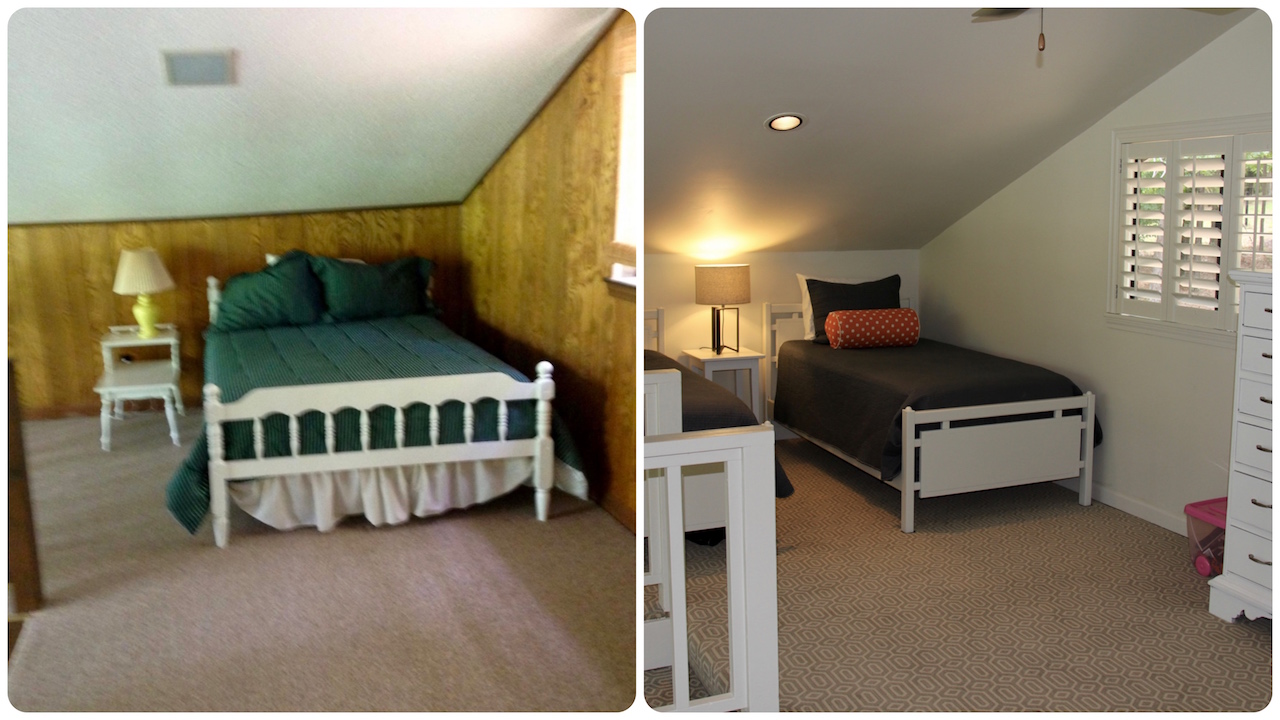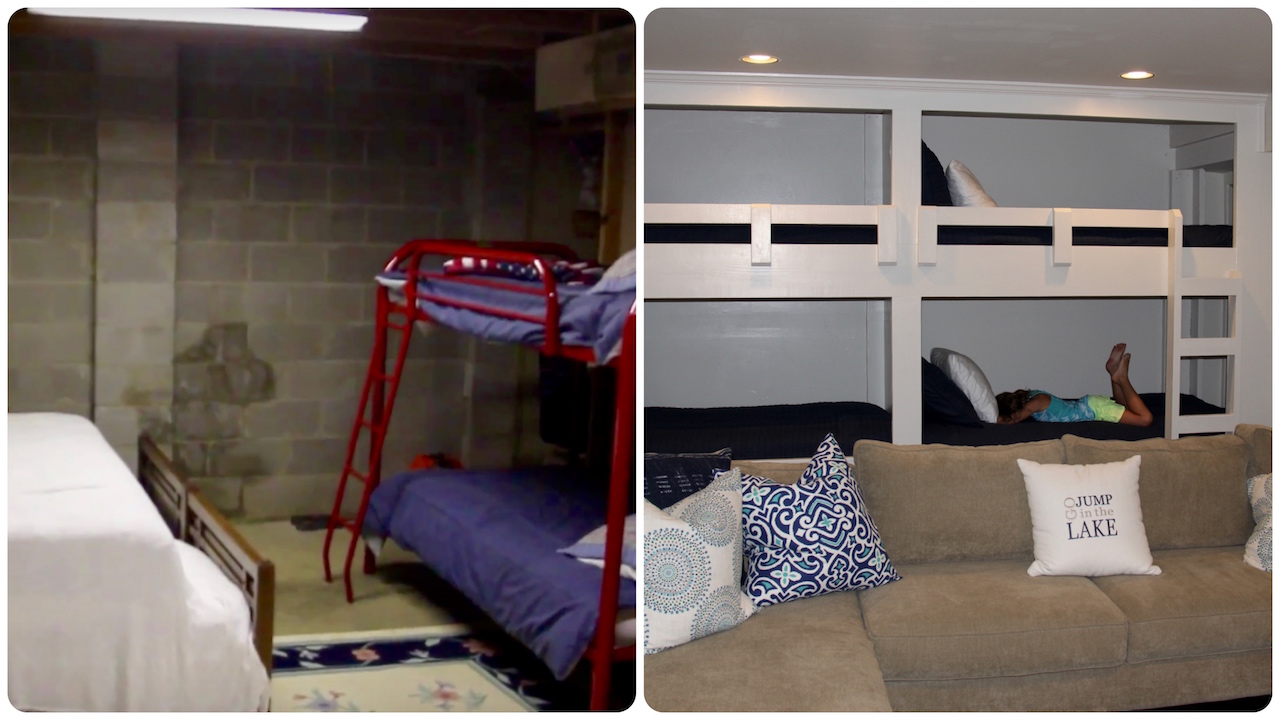 Earlier this summer I stopped by to see a Lake Martin cabin that I had sold a few years ago in the Parker Creek area.
This waterfront home built in 1983 is on a woodsy, private lot.  It had a good floor plan and great potential but was in need of some updating.
The new owners were excited to rejuvenate the home.  You should have seen their list of projects – "remove paneling, paint entire interior, remove popcorn ceiling, new stone countertops, replace all interior doors, install tile on bathroom floors …" and that was just the list for the interior.
The before and after photos below will tell the story of the exterior improvements.  They painted the home a good looking gray color and built a new entrance on the street side. The screened in porch (don't we all love those) got a makeover and the boat house and dock were repaired.
Stay tuned for more photos of this cabin – you won't believe the transformation of the inside.
By the way, if you are looking for a contractor or subcontractor to help you with a remodel, renovation, or new construction around Lake Martin, CONTACT ME HERE and I would be glad to make some recommendations.
Like a lot of people, I love to check out how Lake Martin home buyers renovate their waterfront homes after the purchase.
I was really excited earlier this summer when I stopped by a lake home in the north Lake Martin area that I had sold a few years ago.  The young couple who bought it wanted me to see the results of their remodeling job. They renovated the bedrooms upstairs, and really put a number on the basement!
And wow – the basement (aka lake level) had been transformed!  Sometimes the word "basement" makes us think of a dark, damp and dreary space – sort of scary.  Nothing scary here!
The previous owners had used the area for storage.  While it was easy to see the potential for this large space it would not be an easy project even for the handiest DIYer or professional contractor, yet the buyers performed most of the work themselves. From design to installation of some tricky sheetrock and carpentry, this was almost 100% their remodeling work!
With this renovated lake level area the homeowners have probably doubled the size of their home.  They added a finished bedroom in the space and a bright family room with its own door to the lake side deck.  The existing bathroom was updated and expanded.  The interior stairs were improved and made more user friendly.
The exterior also received some updating.  The old single garage door was removed and replaced with two custom wood, barn style faux doors that look amazing and really add to the lake appeal of the home.
Don't just take my word for it – look at these before and after photos below!
By the way, if you are looking for a contractor or subcontractor to help you with a remodel, renovation, or new construction around Lake Martin, CONTACT ME HERE and I would be glad to make some recommendations.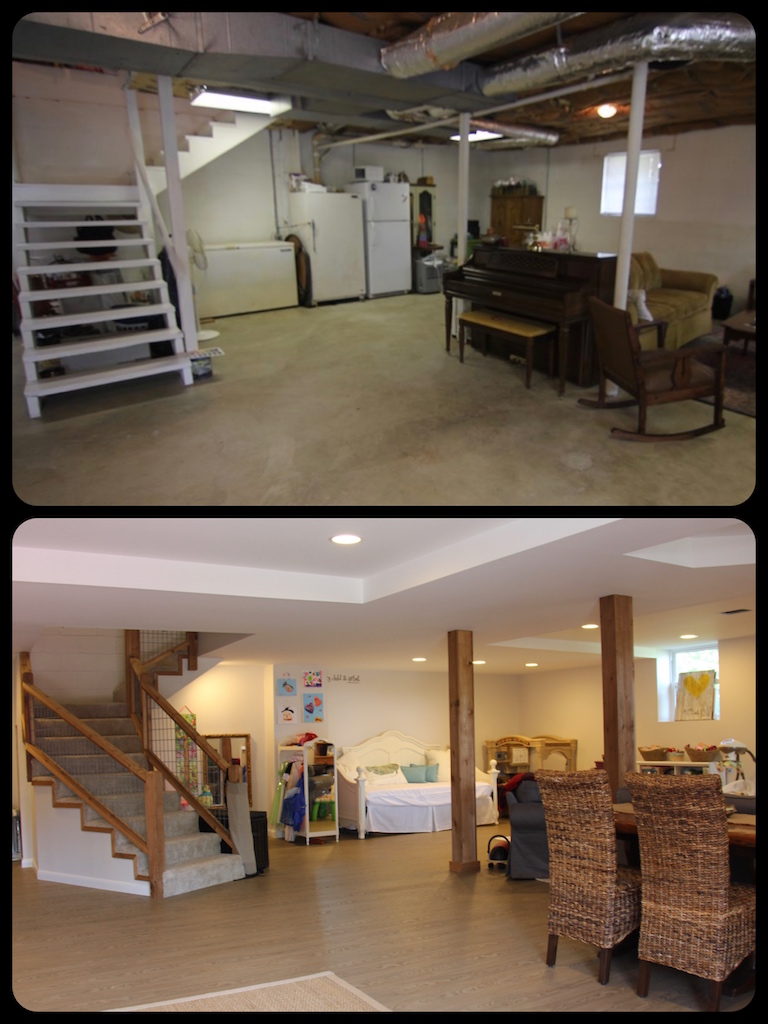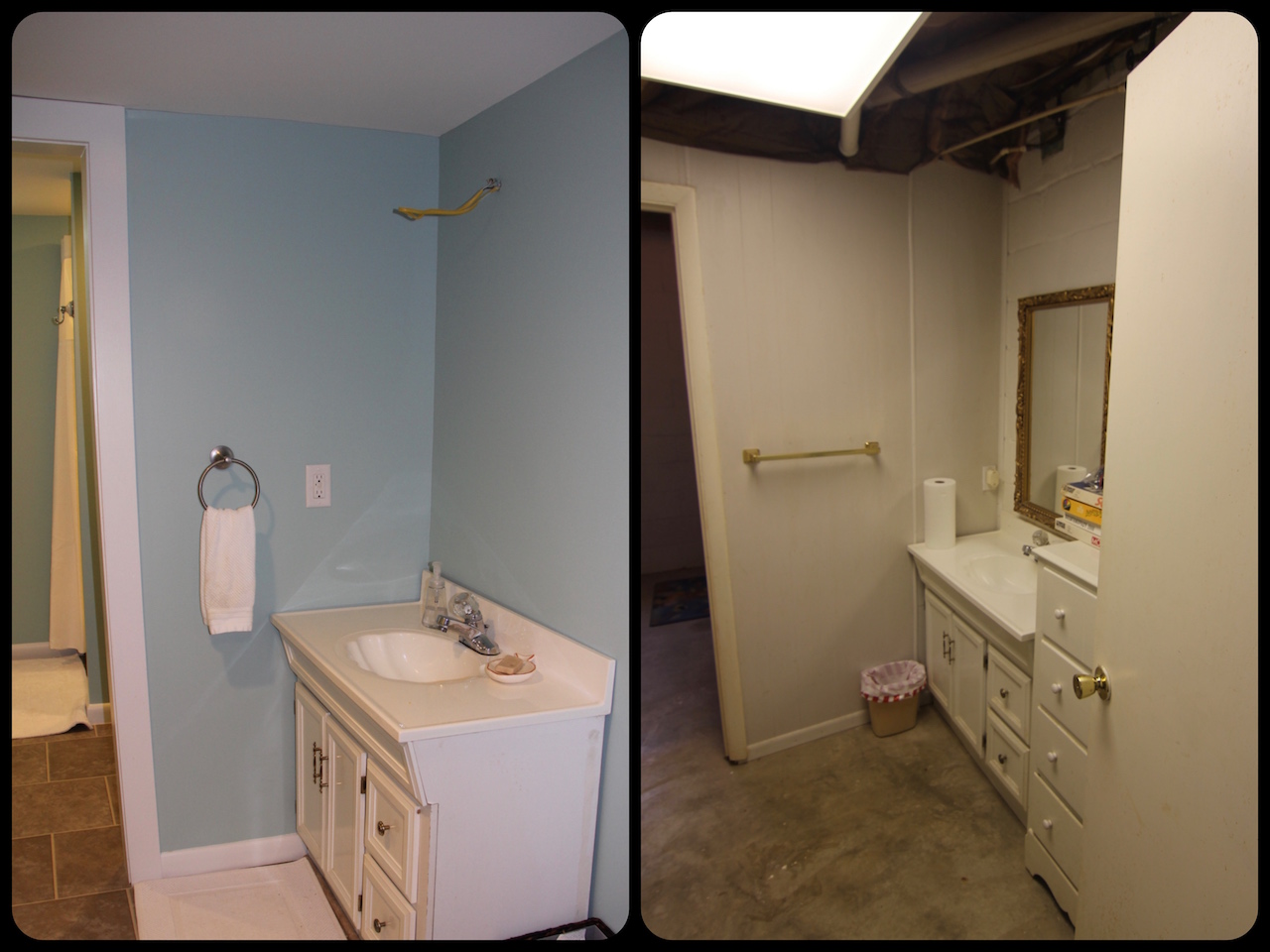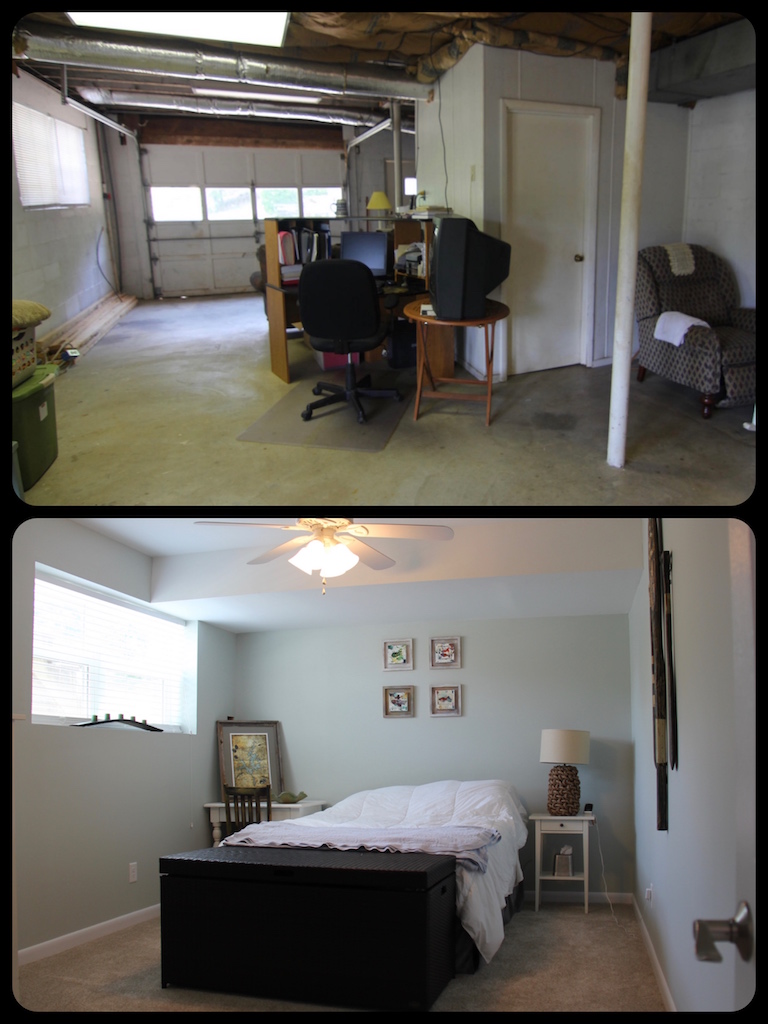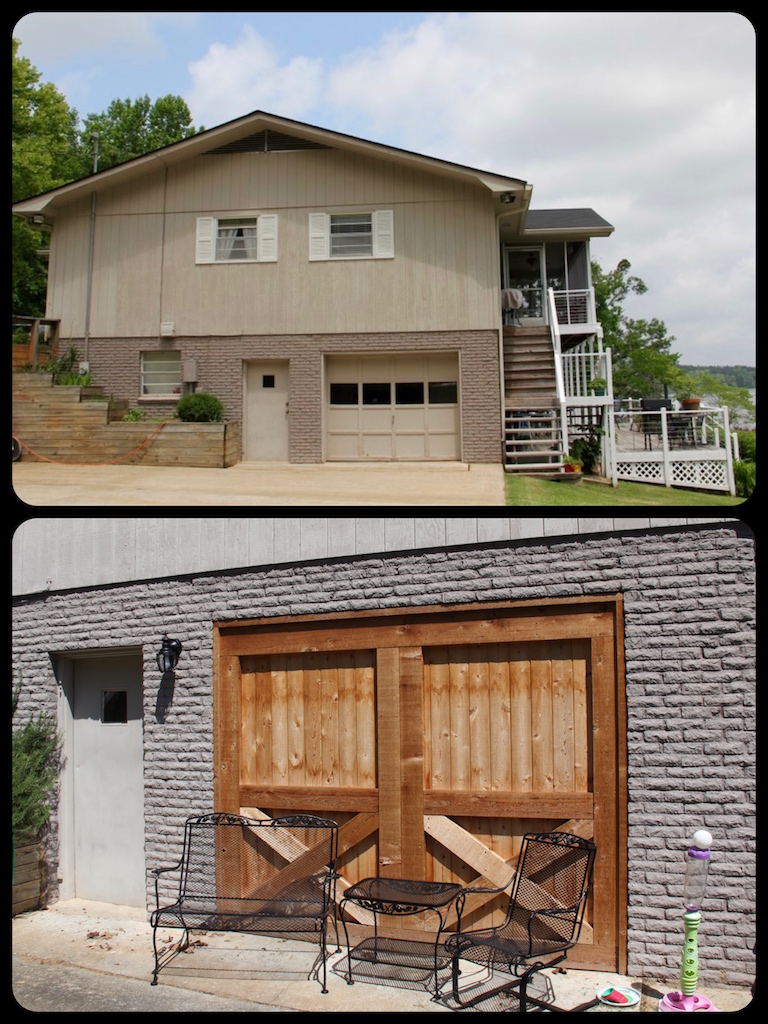 When my clients, Kane and Emily, found this Lake Martin cabin last summer, they liked the whole package.  The home felt like a lake house, the lot was flat and wooded, there was plenty of shoreline.  It wasn't too much house or too much lot.  It was just right.
And they knew that with a little tweaking, just a little renovation, it could be even better.  It could become "theirs."
They've allowed me to share their before and after pictures of the remodel of their Lake Martin home. These photos show that simple changes like removing carpet can have a big impact.  New sod and covered entry can make a home look new.  Take a look and see how they made a difference by making smart changes during the renovation project.
Outside:
The new porch on the street side of the home is not a huge addition, but adds a more welcoming (and sheltered) spot to enter the home.  The lake side of the home is similar – small additions were made, building on what was already good about the lot.  The docks and sea wall were already there, and so was the hammock between the trees.  But adding new landscaping, a sandy beach area and a fire pit, makes this yard even more liveable, and really personalized to their needs:
Inside:  The Kitchen and Dining Area
Inside, the changes of the redo were simple, but with great effect as well.  The floor plan remains the same, the kitchen and baths have not been radically altered.  But small changes like removing carpet make a big difference:
The Living Room
Here's the living room – it was already in good shape.  Let's face it, in a second home like this on Lake Martin, you're likely to spend a lot of your time hanging out. Kane and Emily realized this, and moved the TV over the fireplace and brought in their own the furniture:
The Master Bedroom
And finally, they removed the carpet in the lakeside master suite and it makes a huge difference!  I really had to look twice at the pictures to make sure this was the same room:
Kane and Emily started out with a great cabin. As a matter of fact, I liked it so much, I showed it to my wife and my dad a couple of years before this. So from ground zero, they had a really nice Lake Martin home. But, by calling this a "simple" renovation, I run the risk of minimizing the amount of thought, effort and resources the new homeowners put into this transformation – perhaps I should say "smart" renovation instead.  Kane and Emily didn't go overboard.  Instead they played up their cabin's strengths.  This is what I mean by "smart" and I think they hit a home run!
If you're looking for a cute cabin with good bones, but you just can't see past the orange shag carpet and faux paneled walls, give me a call 334  221 5862 or email me here.  Let's talk about your dream home, let's discuss what is really essential in a good Lake Martin home  investment (the dirt, the view, the waterfront) and what things can be changed or overlooked for the time being (the choice of counter material, the screened porch that could be bigger).  I'd love to help and I'd love to be your Lake Martin real estate agent.
Lake Martin home remodels are common in the Little Kowaliga / Real Island area.  It's an older – and very popular – part of the lake, so many of the homes have been there for years.  We last visited Lee and Amelia's Little Kowaliga cabin renovation in May.  Doug Fuhrman of Southern Traditions Construction has since put the finishing touches on the home, and a lot of summer fun has already been had.
I think it's a great example of a smart renovation – They made the existing square footage make more sense, and they added living space where it matters most: waterfront.  The bricks and sticks of a lake home pale in value when compared to the dirt beneath them, so this couple first got the lot they wanted, and then created the home they needed.  I dropped by last week to check things out:
BEFORE renovation, lakeside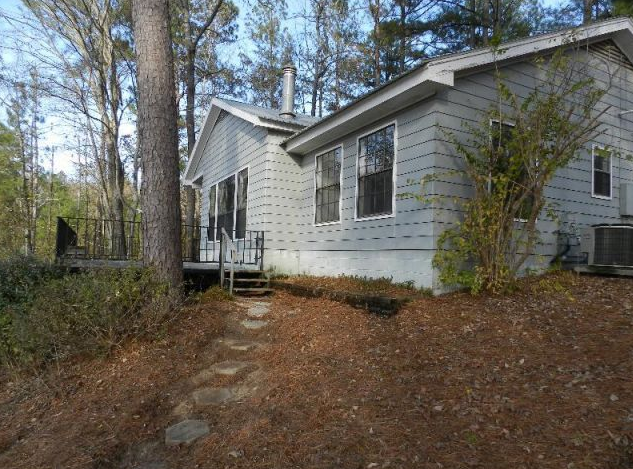 AFTER: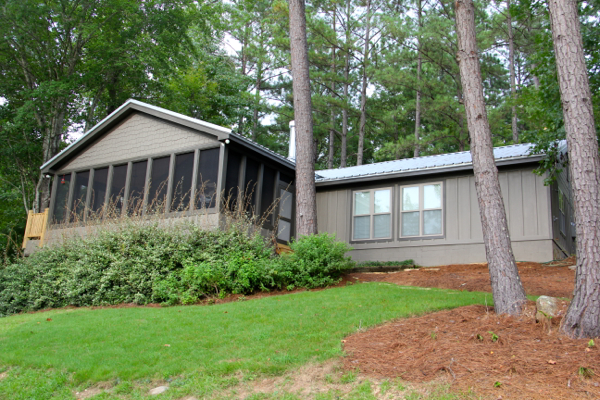 Enclosing the lakeside deck with a screened porch was a no-brainer.  They added lots of waterfront living space that can be used almost year round.  For those of you wanting to know what adds value to a lake home, it's not the closets.  It's usable waterfront space.  I've never had a buyer object to a large screened porch.  Ever.
BEFORE picture of the 1980's kitchen: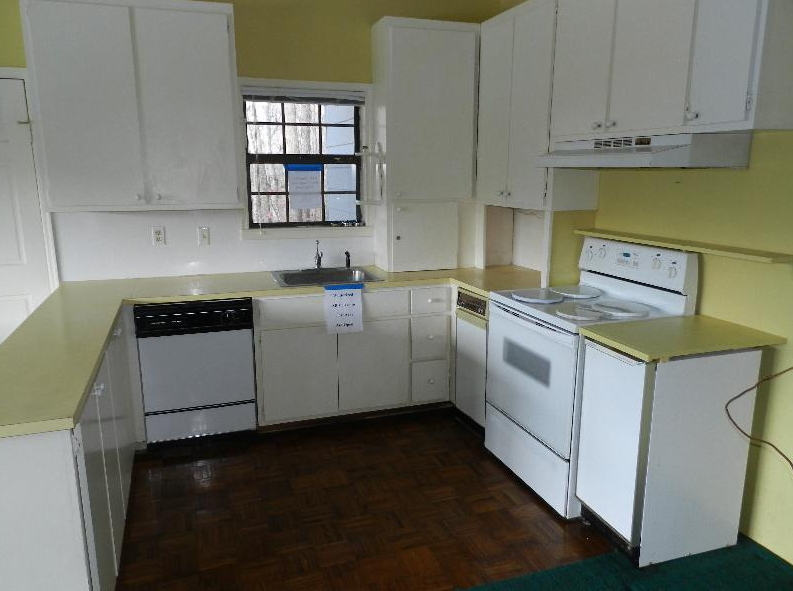 AFTER: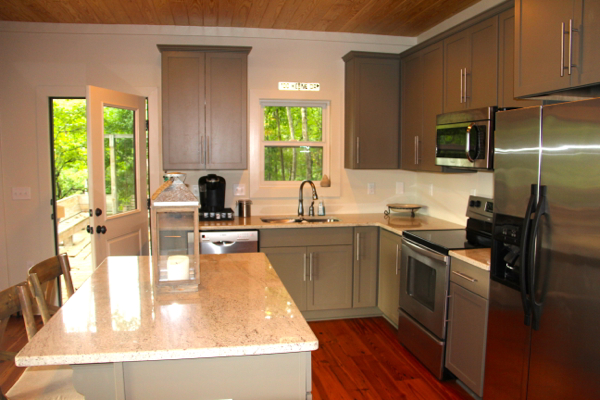 Amelia updated everything in the kitchen, keeping the layout of the appliances the same.  They swapped out the peninsula for an island, and gained a little more room to move about the kitchen.  The floors, the windows, the walls – all new and fresh.
BEFORE – The main living area with no lakeside access and the deck outside: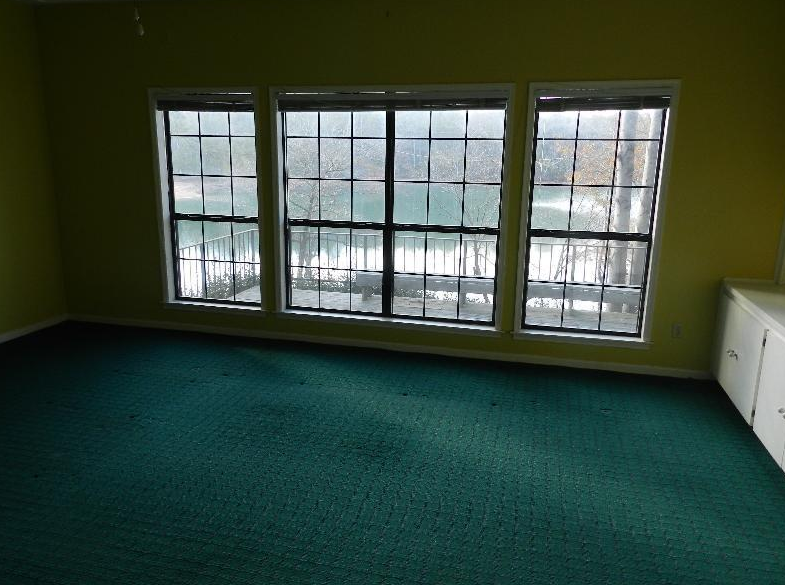 AFTER: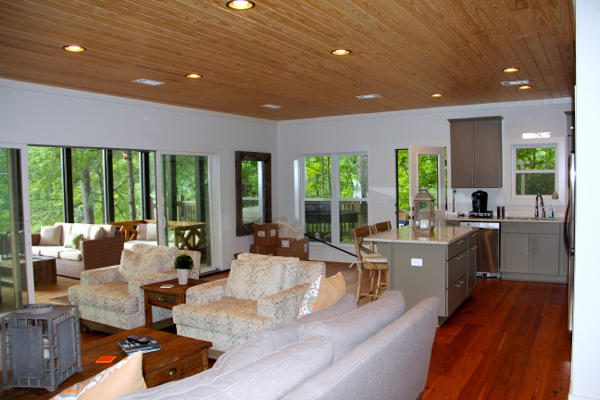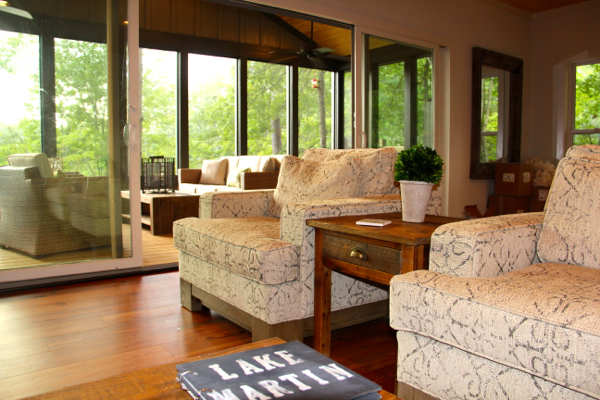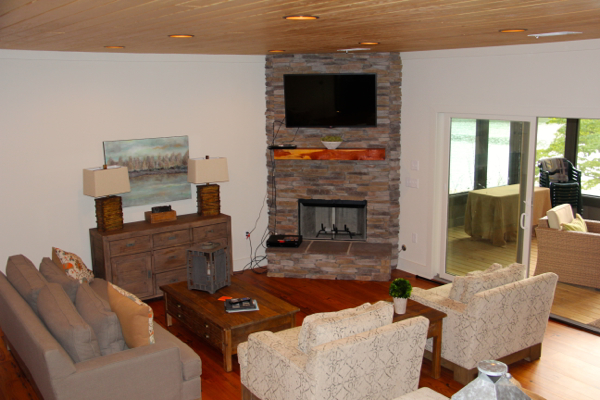 The old lakeside windows went out, and new sliding glass doors went in.  The screened porch replaced the old deck, and Viola! Room for everyone with a view of Lake Martin.
BEFORE, the home had two bathrooms, but they were awkward and outdated (and pink):
AFTER:
They had some fun with these bathrooms, and for those that are wondering, that is wood grain tile at the base of the shower.  Pretty neat.
BEFORE picture of a bedroom with the familiar green carpet: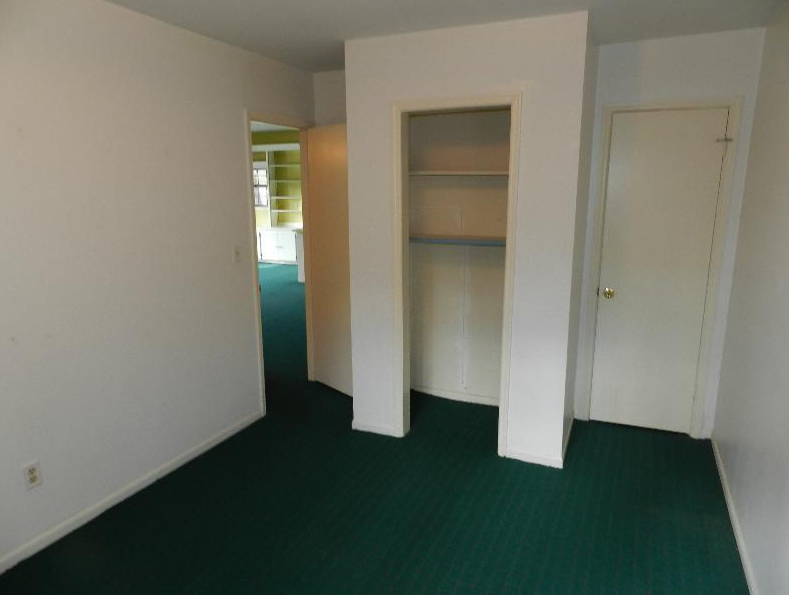 AFTER: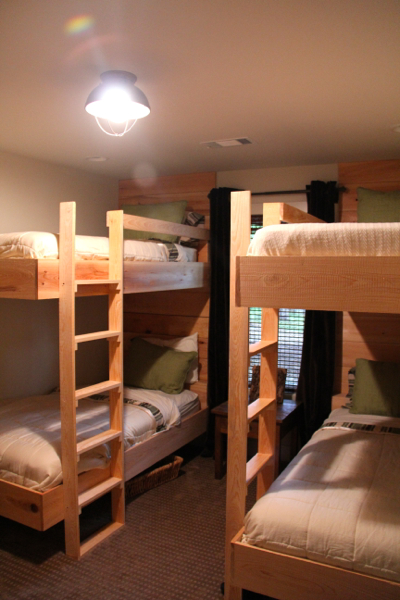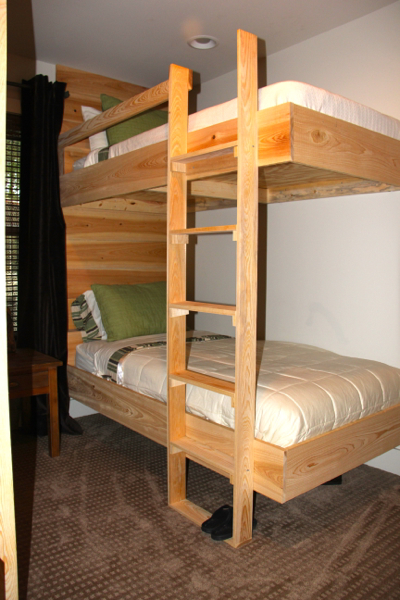 The bedrooms have all been freshened up with new carpet, lighting, windows, etc.  These built in bunk beds have space underneath for stowing luggage and whatever else their three sons and their buddies might bring to the lake.  In the future they may add drawers for concealed storage.
BEFORE, the side entrance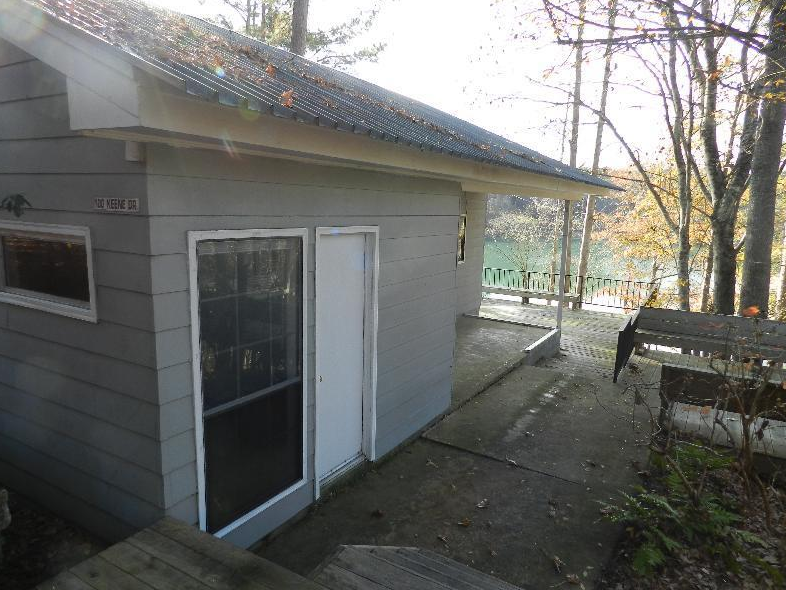 AFTER: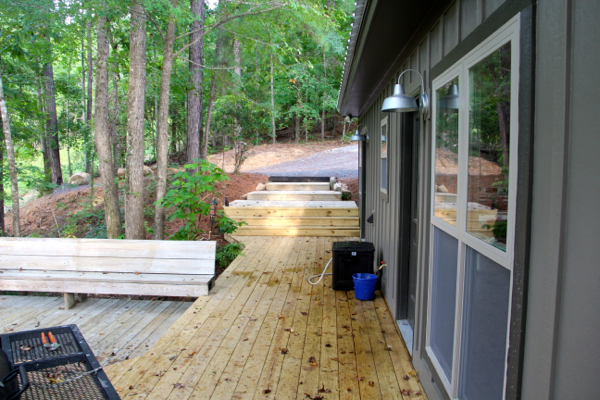 The tiny (and not very useful) covered side porch by the entrance of the house was enclosed and became part of the new living area.  New decking replaced the old concrete slab entrance, and everything feels shiny and new.
My thanks to Lee and Amelia, and to Doug Fuhrman at Southern Traditions Construction for letting us follow this renovation.  So it's a fresh start for this lake address, and now the Lake Martin fun continues . . .
If you're a buyer who is looking for a Lake Martin cabin to renovate, give me a call, and I'll help you find a property that makes sense for your vision and your budget.  I can help you find the right combination of lot and home, just like I did for Lee and Amelia.  Give me a call at (334) 221-5862, email me at [email protected], or click here to contact me.  
Previous Posts in this series:
Real Island Renovation Part II:  Peeling off the 1980s
Is a waterfront construction project on Lake Martin any different than one in the city?  I wasn't sure, so I asked Doug Fuhrman, owner of Southern Traditions Construction, and lead man on this Real Island renovation project we've been following.  I was hoping there would be some exciting insider scoop I could offer my readers, but Doug's response was,  "Not really."
Ha!
OK.  So since construction is construction, no matter where you are, let me offer some real estate tips based on my experience selling homes on Lake Martin.  While these things may seem painfully obvious, you'd be surprised by what some folks do to their waterfront homes:
1) Windows and doors:
You are at Lake Martin to enjoy the water, even if you never dip your toes in it.  You need to see it.  And even better if you can see it from lots of places inside a home.  Why stick a tiny window in a great room when you can use a big one?  Seems pretty obvious to me, but you'd be surprised.  No buyer ever says, "I liked the house, but there was just too much view of the lake from the home."
It's hard to tell from the angle of this picture below, but across the front of the great room (back wall of the new covered porch) is a wall of glass.  New sliding doors have replaced a set of smaller windows, and the new bedroom addition on the right has wall to wall windows (minus space on the left for a closet, and the far right for the new master bath).  This is not fancy architecture; it's just putting more of the lake in front of your eyes.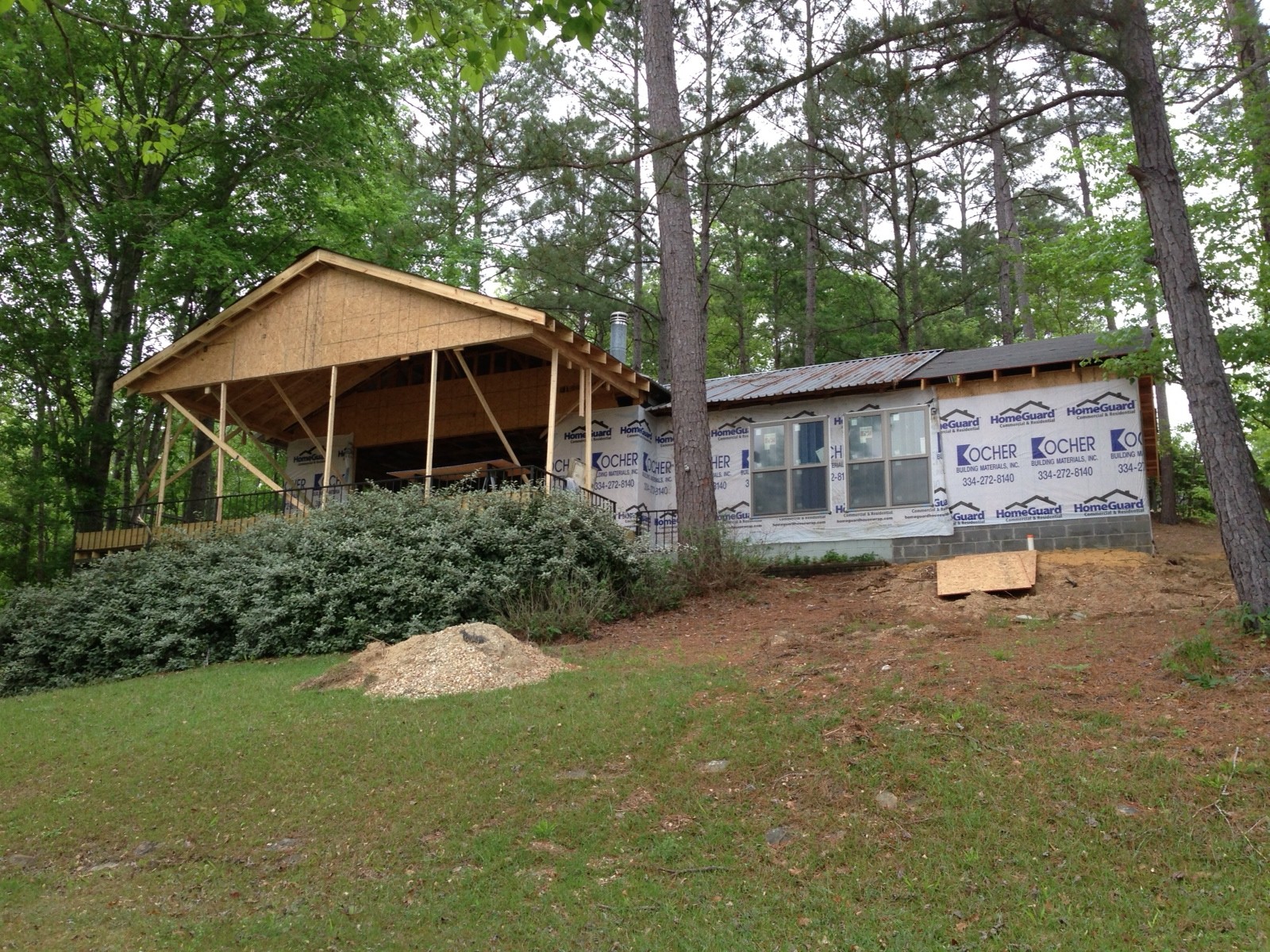 Before: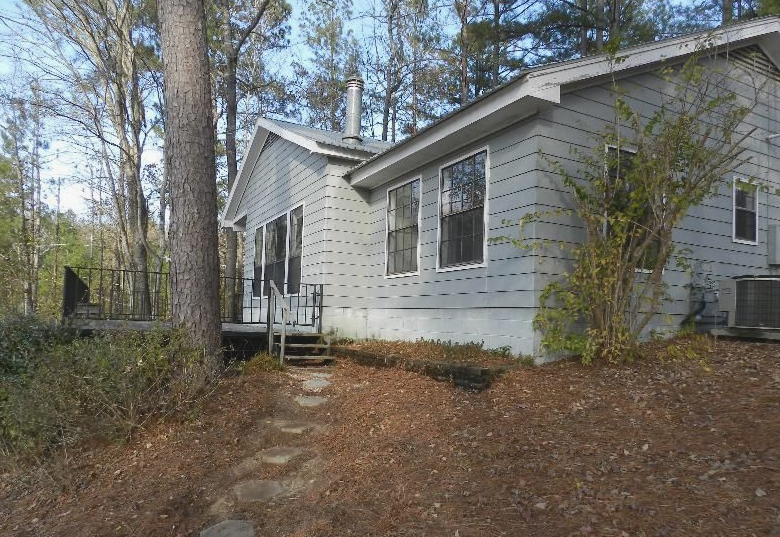 2) Covered outdoor living space
It gets warm here.  It also gets sunny.  And every now and then it rains.  The picture above is a great example of an outdoor space that is OK, but how much more use would it get if it had a roof?  The new owners of this home agree, and are creating a covered space that will be comfortable all day long – rain or shine.  Again, no buyer has ever said, "The inside of the house was great, but I don't want that huge screened porch."
3)  Access to the water
Make it easy to get from the house to the water.  A few years ago I sold a $500k waterfront home that literally had no way to get to the water (other than climbing over a wall and scrambling down a very long hill).  This was one of the first issues the new owners corrected, and imagine how much easier it is to enjoy Lake Martin!  Make it a priority to have the fewest steps possible to get from the inside of the home to the dock, and if the only way to the water does not cut through the master bedroom, even better.
In the process of rethinking this Real Island home, Lee and Amelia decided to add sliding glass doors to the front of the home where there was no lake access before, plus keep the side entry for folks coming in from the street.  Simple and efficient, and with a eye toward the lake.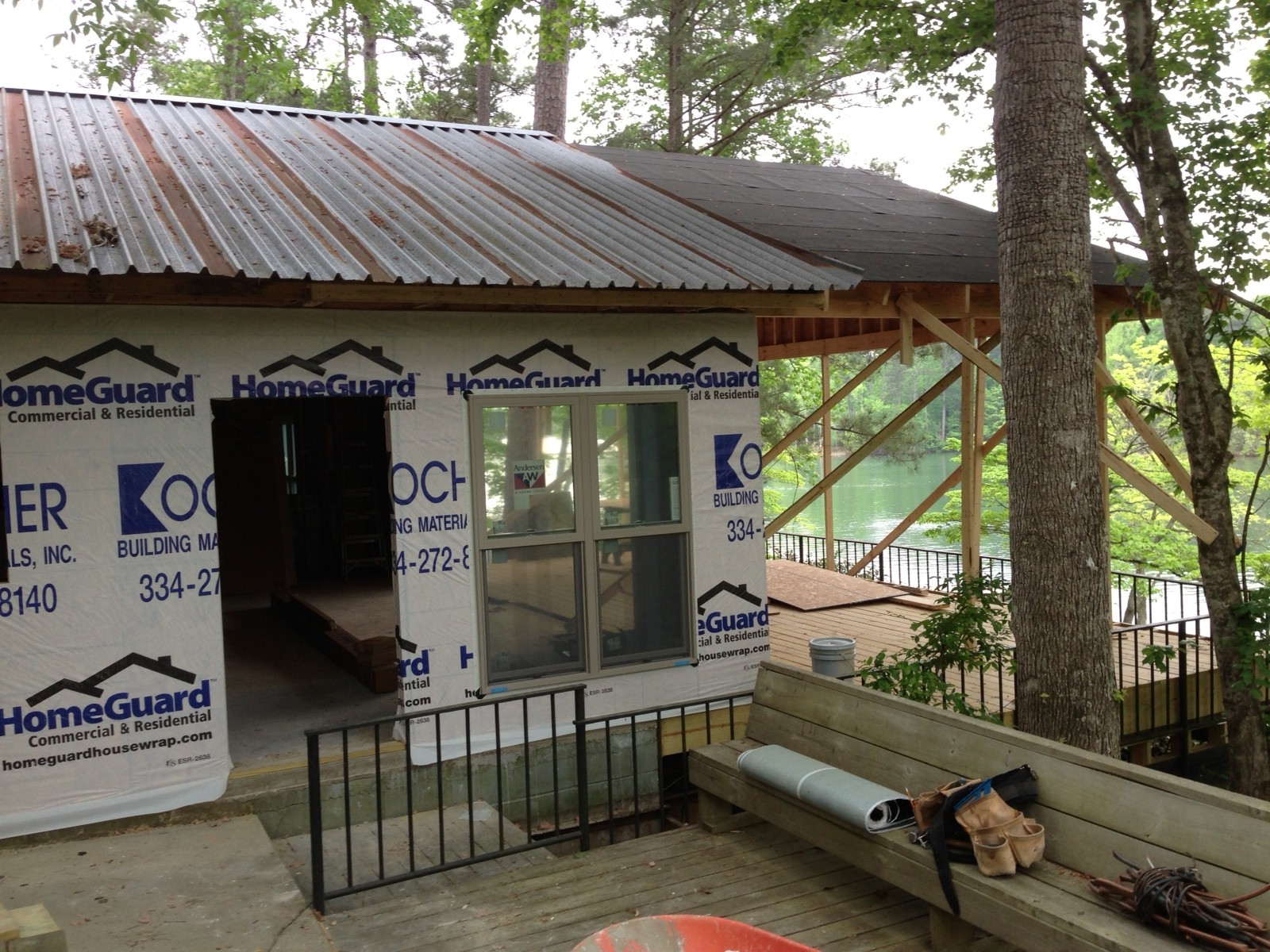 If you're looking for a home in the Real Island / Little Kowaliga area, check out my Little Kowaliga Neighborhood page.  You'll find all kinds of info on this part of Lake Martin, and most importantly, you'll find a live feed from the MLS with all homes that are currently for sale in this area.
If you have ANY questions about Lake Martin real estate, give me a call at (334) 221-5862 or click here to email me.  My job is help people buy and sell homes, and I serve the Lake Martin area 100% of the time.
If you have construction questions, however, I am not your guy.  Give Doug Fuhrman from Southern Traditions Construction a call at (334) 531-3914 or email him at [email protected], and he'll be happy to share his years of construction wisdom with you.
Sometimes a Lake Martin waterfront purchase is all about the lot.  Sometimes it's all about the home.  In this case, for my buyers, it was all about where to put their three teenage boys plus their friends.  Two summers ago, Kent and Andrea found a cabin with a large wooded lot and a great view of Parker Creek near Parker Creek Marina.  The cabin was cute, but they really needed a little more room . . .
If you're looking for a home on the west side of Lake Martin (Kowaliga Bay, Little Kowaliga / Real Island, Parker Creek), you'll find a good number of older cabins that are dated or don't have a modern, open flow.  Some of these cabins have been added onto over the years and are a little wonky.  But if you like the lot and the view, I urge buyers to be open minded about the home – that is the one factor you can change.  Sometimes buyers have a hard time visualizing a remodeled home while standing in the midst of fake paneling and little choppy rooms, hence my recent efforts to share some recent renovations and give buyers inspiration.
I drove by Kent and Andrea's house in my boat last week and took a few pictures.  They graciously said I could share them with you, to give you a taste for what a remodel or facelift can do for an older lake home.  They expanded the home, adding living and sleeping space, but did not stray far from the original footprint.  The result is a fun home with modern conveniences and room for all the guys:
Pre Renovation View from the Water: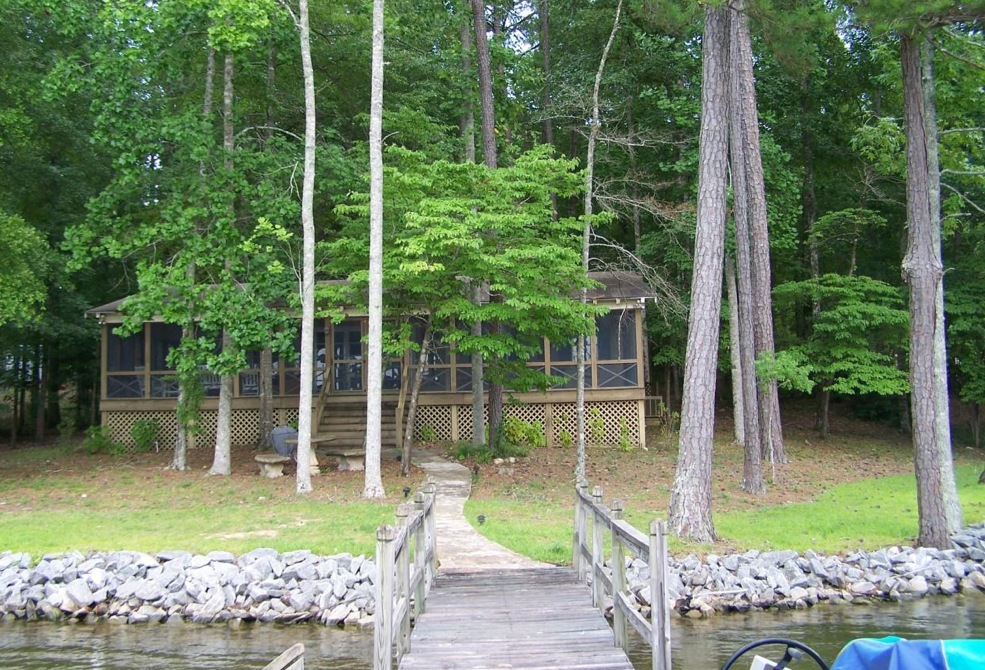 Post Renovation Water View: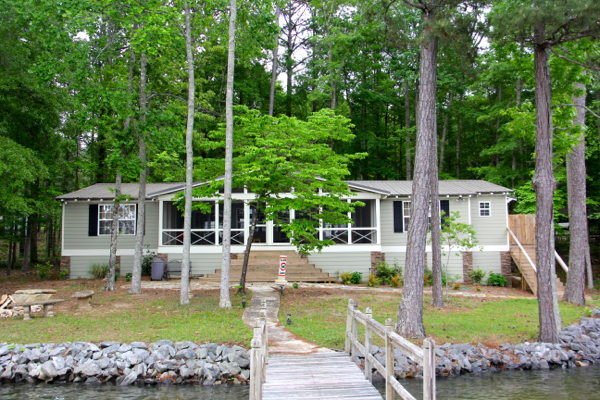 Pre Renovation Street Side of the Home: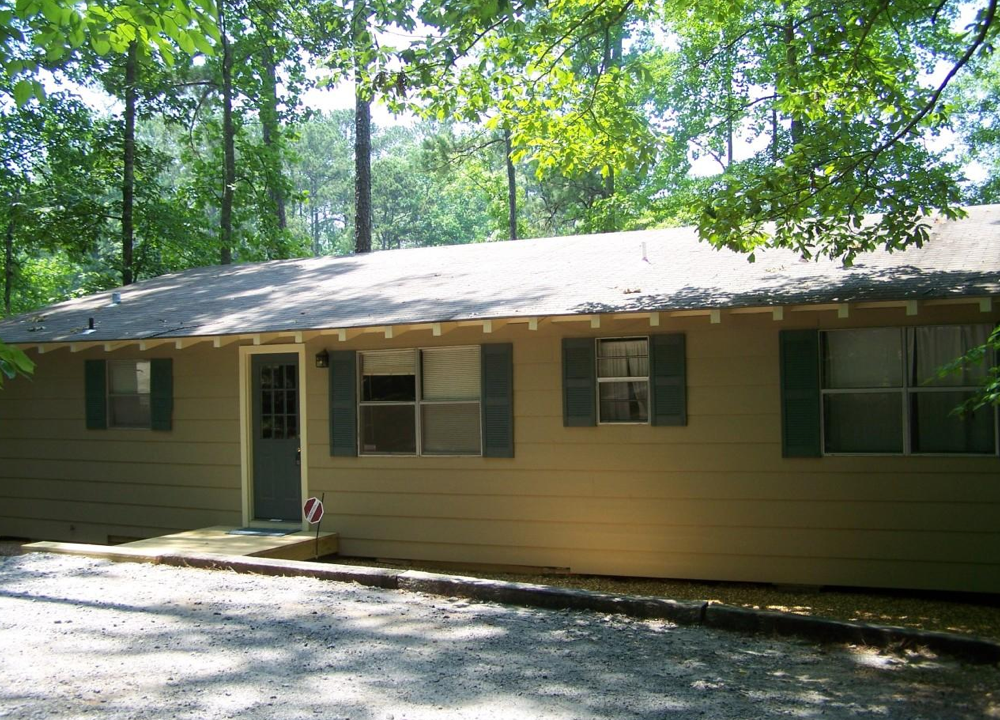 Post Renovation Street Side of the Home: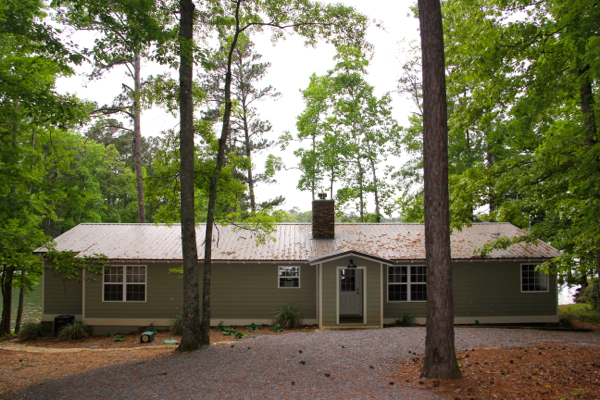 So how do you know how much money to put into a Lake Martin renovation?
Think about the LOT first.  You don't want to overbuild, so consider things like water depth, view, privacy, etc.  On a lot like this, with a view like theirs, Kent and Andrea could not really overbuild.  It's an awesome lot.  In the back of a tight slough without year round water, however, buyers need to be conservative.
If you're looking for a home in the Parker Creek area, check out my Parker Creek Neighborhood Page.  Here you'll find all kinds of info on this part of Lake Martin, and most importantly, you'll find a live MLS listing all the homes that are currently for sale in Parker Creek.  I have Neighborhood Pages for most of the neighborhoods on Lake Martin, and they're a great resource to utilize when house hunting.
If you've been searching the MLS and are feeling frustrated with the homes you see, give me a call.  I can help you pinpoint the homes in your price range with most potential.  That's my job.  My number is (334) 221-5862, or you can click here to email me.  I'd love to be your realtor.
Related Posts:
Lake Martin Dream Renovation in Parker Creek
Real Island Renovation Part Two: Peeling Off the 1980's