This Saturday, May 30, is this year's installment of "Paddle for a Purpose." This annual stand up paddle board race is also a fund raiser for Children's Harbor, one of Lake Martin's most popular charities.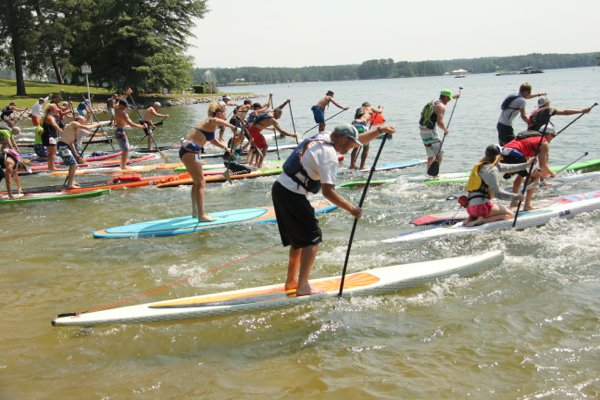 This SUP race is also part of a three race series called "SUP the South." This means that lots of paddlers from around the southeast will be on hand at Children's Harbor. The first leg of the series was in Bay Saint Louis, Mississippi. The Lake Martin race on May 30 is the middle, and the triple crown closes in Destin, Florida, on June 20, 2015.
Racers will have a choice of a 1 mile fun race, a 3 mile, and a 6 miler.
RACE MEETING AT 8:30 AM – FIRST RACE AT 9:00 AM
How To Register for Lake Martin's Paddle For a Purpose
CLICK HERE to register for the Lake Martin Race.
For more information on the series, see this Facebook Page.
Last year, one of my sons raced in the one miler. This year the other one will! We are every excited about the event and Lake Martin Voice is proud to be a sponsor again this year.
Other big sponsors are Bote Paddleboards, and my friends at Lake Martin Dock Company. I bought my Bote at Lake Martin Dock. I get asked a lot about what board I have, it is the 12 foot HD. I really like it because it's flexible, – I can do about anything with it. I fish from it, paddle around for fun, and even occasionally race. I haven't done yoga from it yet, but would love to try.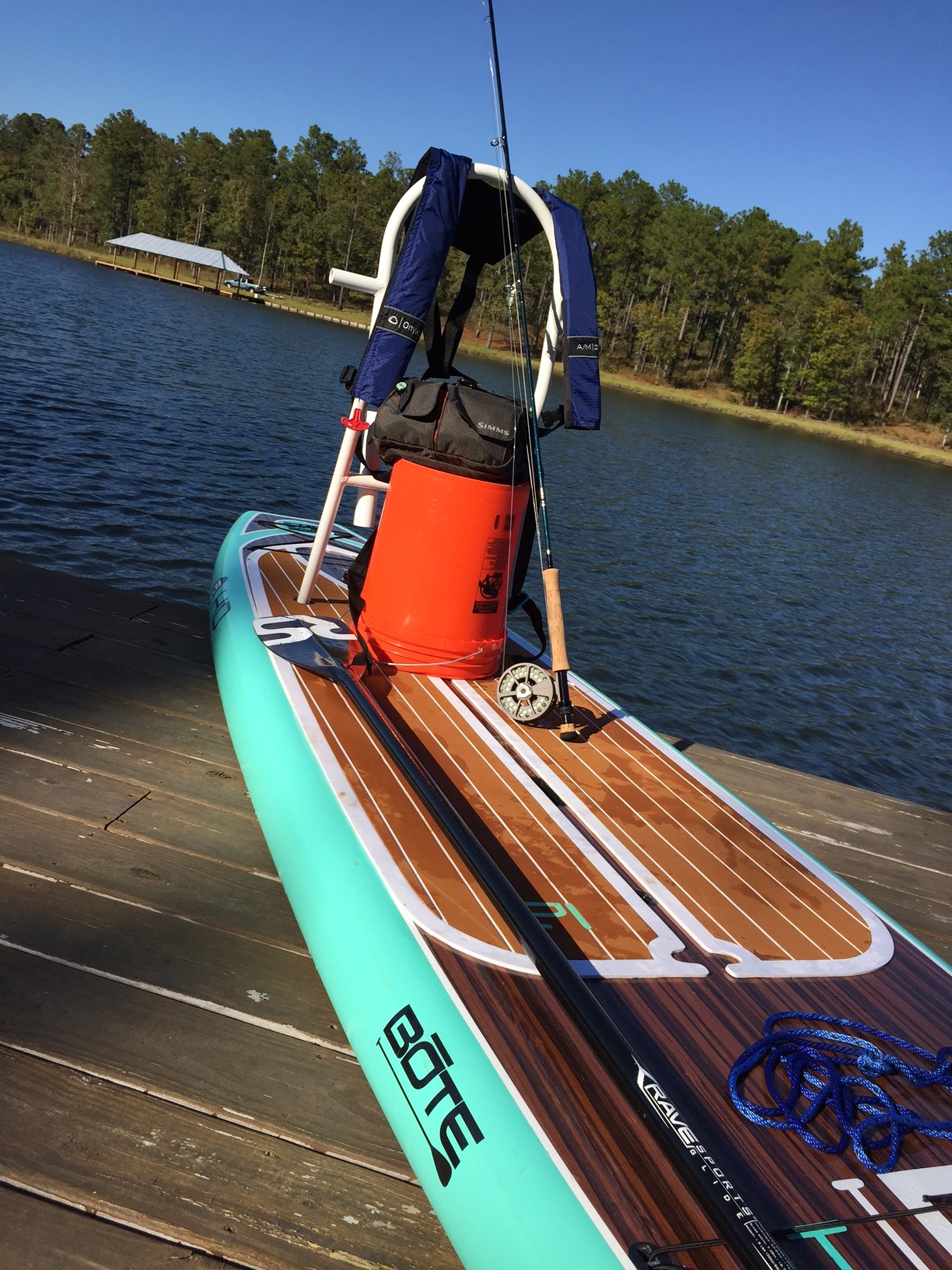 Here's a link to a post I wrote about my  fly fishing setup for my paddleboard. I am on a multi year quest to learn to consistently catch Lake Martin striped bass, on my fly rod, from my paddle board. It's a work in progress! Maybe I can pick up some tips from the pros this weekend.
If you have any pointers, I would love to hear them!
Pizza and milkshake lovers, beware.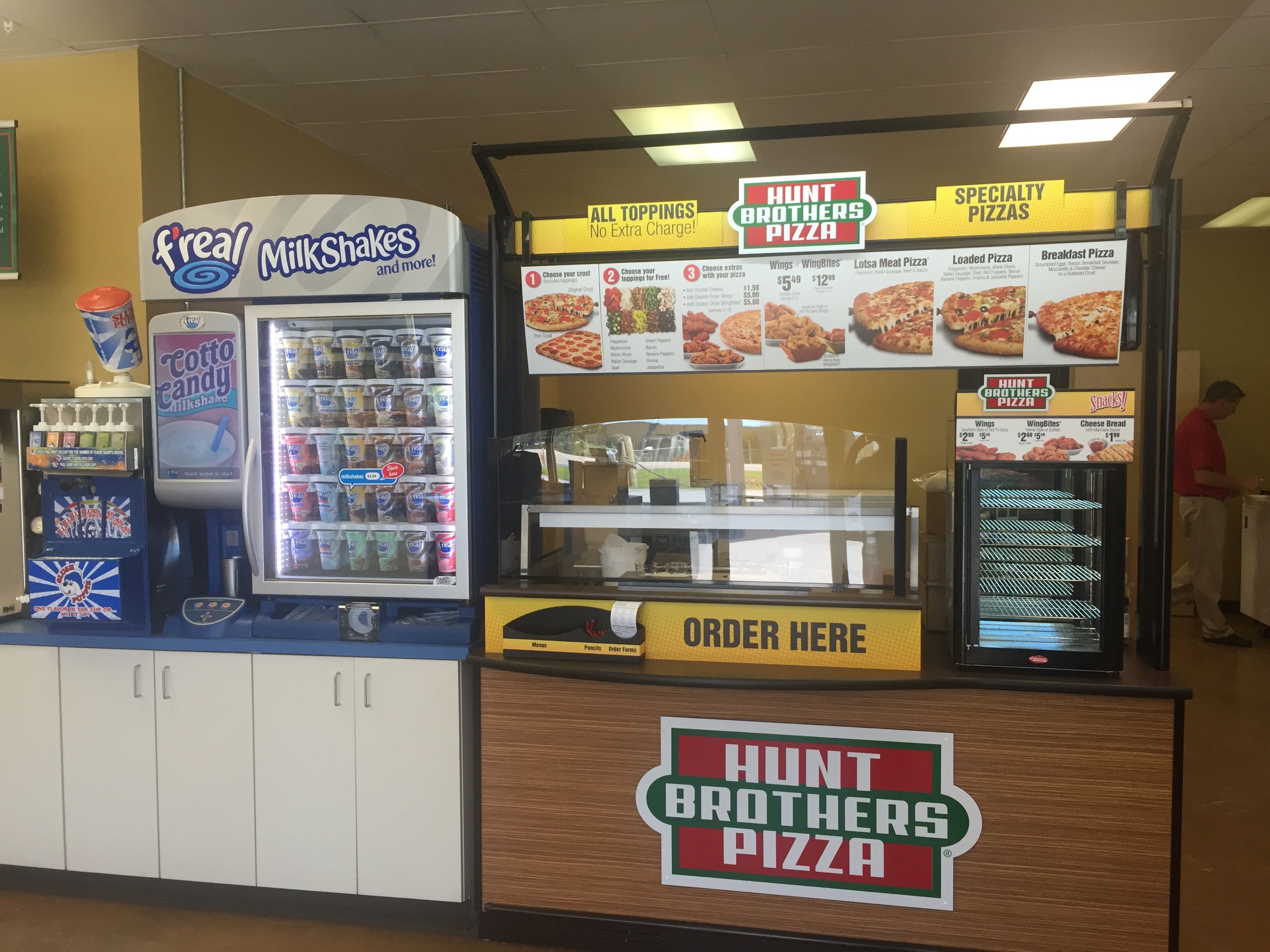 If you are ever around the Kowaliga area of Lake Martin, Nail's Convenience Store has just given us all yet another reason to stop by. My friends and clients know that Nail's is my favorite C store in the area. It's a clean, neat store that sells lots of good brands. The folks that own it and run it are great, too. Yes, I could be biased, I rent office space from them. But why don't you go in and judge for yourself?
Anyway, Nail's has recently added two exciting elements. They now sell Hunt Brothers' pizza. This is a bonus for me as there are times I am craving something a little more substantial, and don't want to drive "all the way" into town. There is also a f'real milkshake machine.
Maybe you have seen these before, but this country boy had not. Basically there are two parts: 1.) a freezer that contains an assortment of pre-made milkshake concentrate. and 2.) a mixer.  You open up the freezer and choose your poison, I mean flavor. They range from fruit smoothies to regular milkshakes (vanilla, chocolate) to Blizzard like mixtures (think chocolate + Reese's cups, etc).  The screen shows a video on what to do, but the cups have a foil top on them. You take off the foil top and place it on the chrome stand. It pushes the cup up into the mixer, where I suppose more milk is fired in there. You can select your consistency (smooth, regular, thick). The mixer does its thing, and then voila. You are in business.
After I posted a video on my Instagram account, my kids have been pestering me for a trip to Nail's.
Are you curious about Nail's or the other shops, restaurants, and activities around Lake Martin? Then you might like to download my free Lake Martin Voice app. Along with the best phone based home search around, it has the low down on what you might like to do or see while at Lake Martin. See: Lake Martin Voice App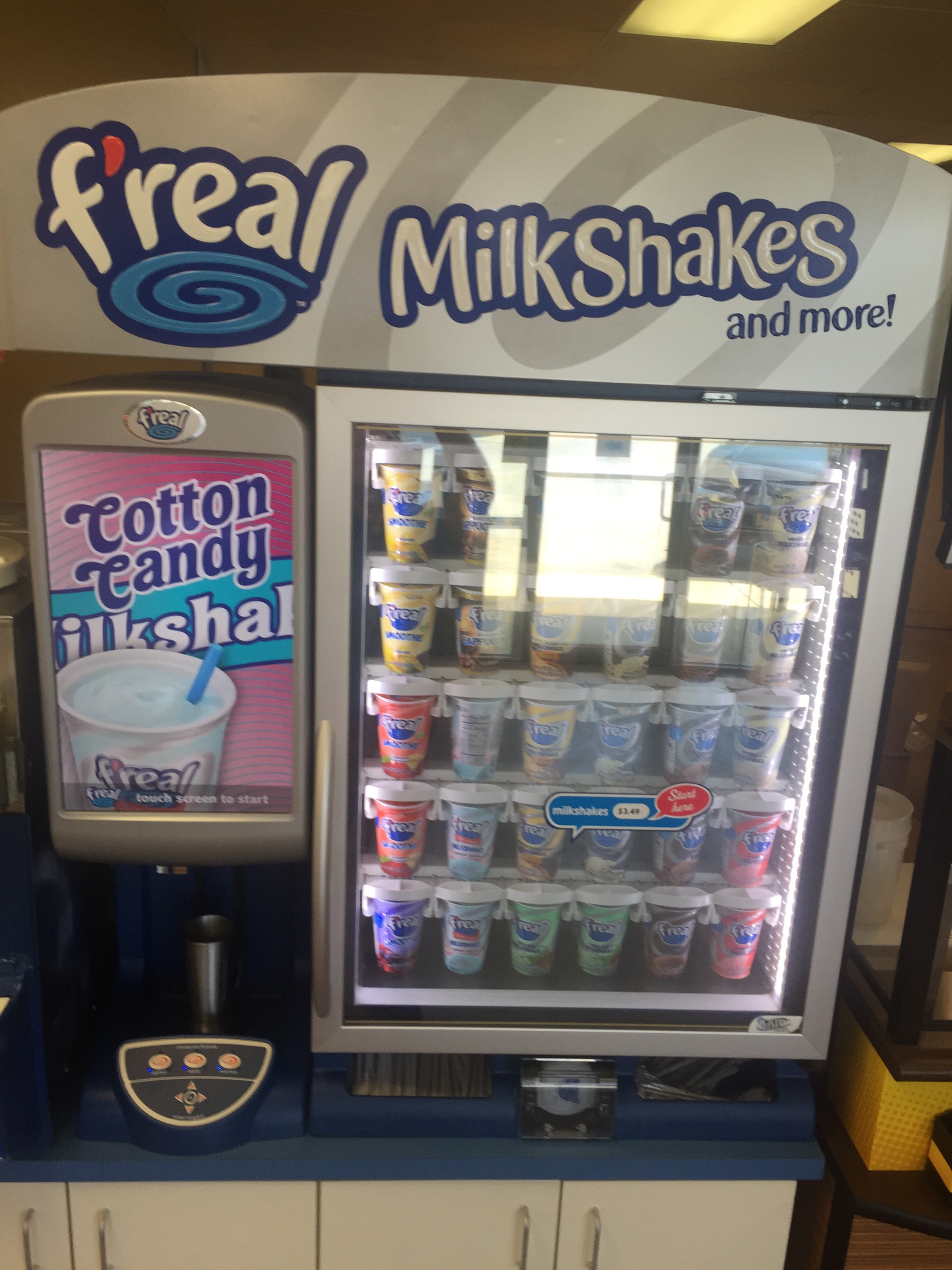 We have dropped the price on 38 Antler Road, a four bedroom, three bathroom waterfront home on the east side of Lake Martin.
This home is one of my favorites, as it has really nice appointments, yet remains a fun, accessible lake house. It's located toward the end of County Road 34 on the Dadeville side of Lake Martin, so it's centrally located on the water. Check out the video above, or CLICK HERE for complete information on the home.
Or, just call me, John Coley, directly at 334 221 5862 or contact me here. I would love to show you all this home has to offer!
Great news! Prices have dropped on great waterfront lots in Lake Martin's Shady Bay neighborhood!
Shady Bay is a great waterfront neighborhood on the northern end of Lake Martin. I have several waterfront lots for sale in Shady Bay. We started out with fourteen lots and have sold six, so we are down to eight. We recently dropped the prices on these lots, so if you are looking for a site to build your Lake Martin dream home, now may be an excellent time to take advantage of the new prices.
For more information on these lots, please see:
For more information on Shady Bay in general, please watch the above video or click on this: Shady Bay Neighborhood Page.
Which lot looks right for you? Please call at 334 221 5862 or contact us here if we may help!
We are pleased to announce a brand new free app for the Lake Martin area!   The Lake Martin Voice app is your mobile guide to the Lake Martin, Alabama, area. We offer mobile waterfront real estate search and events, mapped guides to restaurants (with menus), shops, weather, and much more!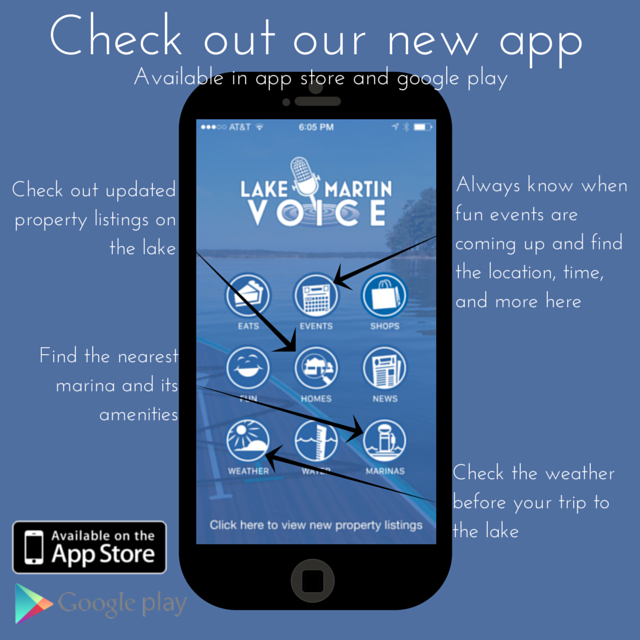 As you can see above, the different tabs you can click through to navigate and learn more about what's near you or happening at the lake are:
Homes – every single home & lot for sale in the Lake Martin MLS, at your fingertips. Use our fast searches like "New Listings" or "Price Drops" or create your own custom search. Cruise by boat and see what's for sale around you if you share your location with the app.
Eats – Restaurants on and off the water around Lake Martin, mapped, with menus
Events – what's going on this week? Next month? Click and scroll to find out.
Fun – Other things to do like where to hike, where to bike, boat ramps, golf courses, churches, and more.
Weather & Water – conditions right now at Lake Martin.
Marinas – mapped locations of all Marinas, plus contact info. Share your location with the app and see where you are, too!
Shops – retail therapy locations on and off water
News – the skinny on Lake Martin stuff
For example, here's what the "Eats" section looks like. If you share your location, you can see where you are in relation to the restaurants. I snapped this screen shot when I was over on the east side of Lake Martin. If you want to browse around the map, you can. Or, if you want to scroll through the list at the bottom, you can do that to. Your call!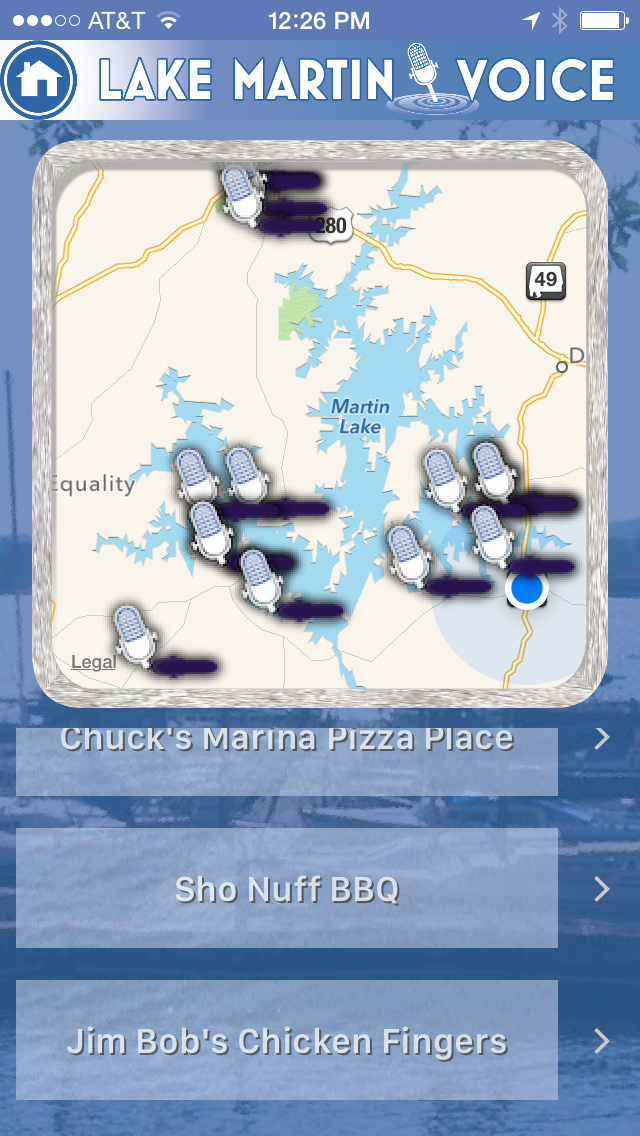 The Shops, Eats, and Marinas sections all work similarly, in that you can browse by map or by list. Every single Lake Martin marina is listed, but you will notice not every restaurant and store are. We purposely left out big chains like Wal-Mart or McDonalds. Nothing against them, but there are plenty of maps and apps that can help you find them easily. Our goal here is to make a special point to mention the locally owned businesses that are so frequently overlooked by visitors. For that matter, there are Alex City folks that are unfamiliar with the Dadeville side, and vice versa, so hopefully it helps them, too!
The Lake Martin Voice app is available in the Apple App Store and on Google Play for Androids.
For more information, please see our FAQ page at: Lake Martin Voice app FAQ 
If you want to request to have an event, restaurant, or shop listed in the app, you can fill out request forms below.
CLICK HERE to request for a shop be added.
CLICK HERE to request for an event to be added.
CLICK HERE to request for a restaurant to be added.
Yes, the news we've been wanting is finally here – it's official!
FERC HAS APPROVED A 483 FOOT WINTER POOL & FULL POOL IN FALL!!

FERC has been in the process of relicensing the usage permit for Alabama Power for several years. Each license lasts about 30 years, so it's a tedious process. If you would like full coverage of this, please see past articles I have written in the Water Level category in my blog. In fact, I think the first post I wrote for my Lake Martin real estate blog back in 2007 was about its water level.
Back to the Good News
If you would like to read the official statement from FERC, please CLICK HERE for that. If you would like to download the entire EIS, CLICK HERE – but be warned, it's a PDF and about 4.7 MB and 295 pages.
The announcement has two main parts:
Lake Martin will only go down to 483 feet at the bottom of winter pool, as opposed to 480 in the past. Three more feet will mean a ton more homes and boat ramps will have access to the water in winter. For real estate, this means lots more homes can claim the coveted "year 'round water" prize.
Lake Martin will remain full until October 15, instead of Labor Day. In the past, the gradual water draw down started after Labor Day, usually the first week in September. Under the new guidelines, if we have enough rain, draw down will not start until October 15. As in the past, it won't drain overnight, but it is a slow decline that hits bottom in late November or December. Now, it the bottom will be three feet higher!
What Does This Mean? As I have said in the past, I don't think this huge victory will raise waterfront real estate prices on Lake Martin overnight. We should not see a huge markup tomorrow. But I do think that it will provide upward pressure for the next three decades. Everyone likes water, and the higher the better. I see this as a tremendous economic impact for the area as more tourists and second homers stay around longer in the fall!! I will write more about this but for now I would like to post this and celebrate!!
Update 4-10-15: Here's a link to Alabama Power's Official News Release
ONE MORE ANNOUNCEMENT:
I was going to wait until tomorrow but I am giddy with excitement, so here it goes:
I have created a FREE app for the Lake Martin area!! More info CLICK HERE!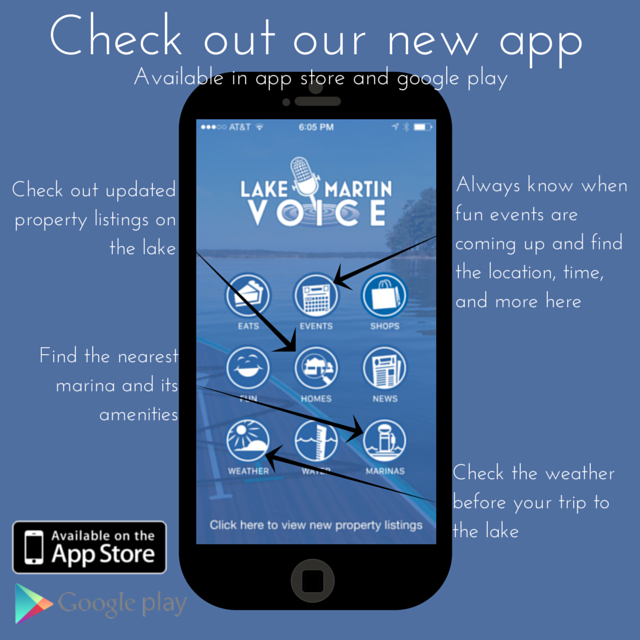 The purpose is to provide an awesome mobile real estate search, but it's much, much more than that. I also have curated info that heretofore only locals knew – Lake Martin events, where to eat (with menus), where to shop (with hours), weather and water level, and other things to do (where to hike, where to bike, etc).  Imagine, when you wonder what's going on at the lake, you are two clicks away from it now!!   Here's what the logo looks like: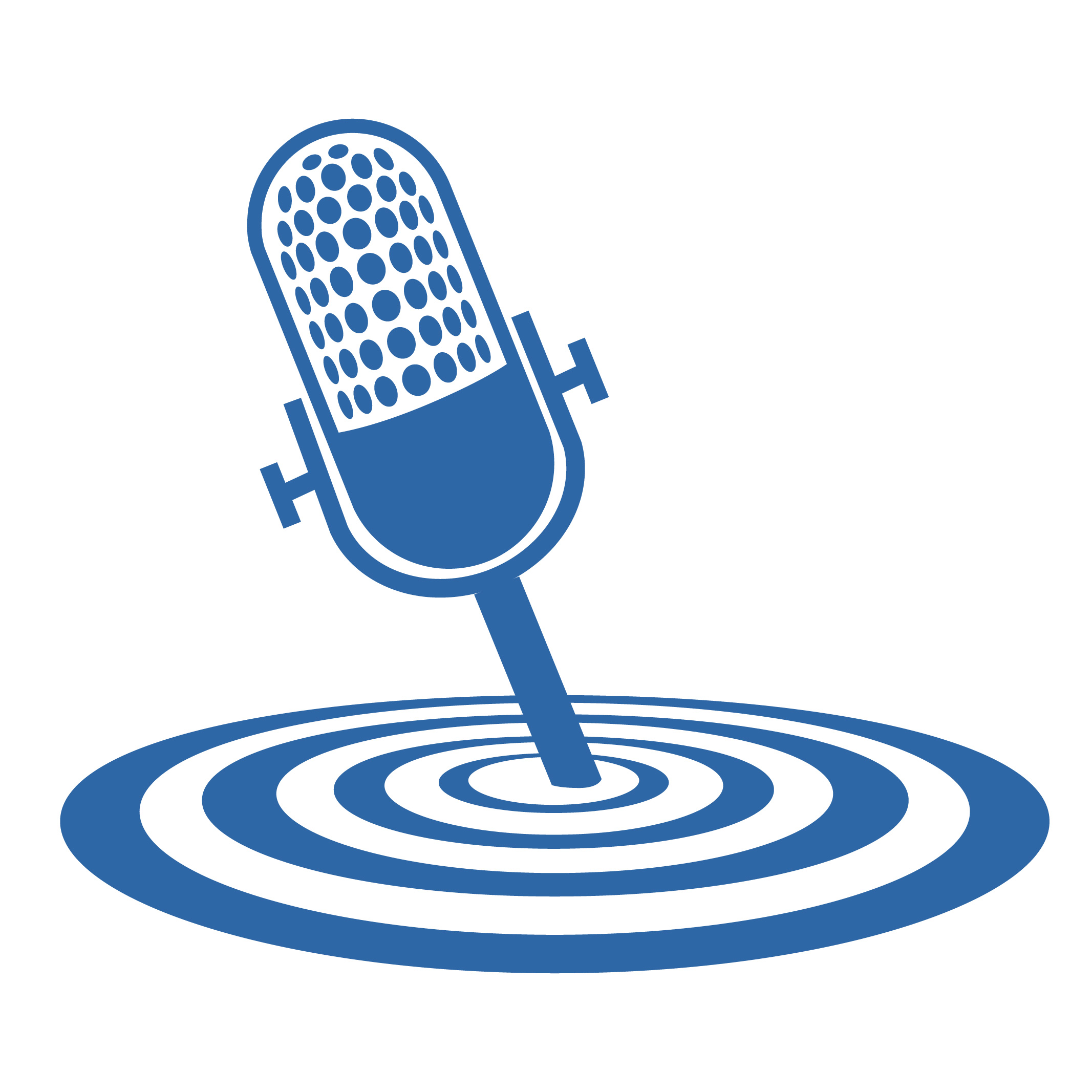 It works on Apple and Google / Android, and in celebration of the high water approval it is FREE!!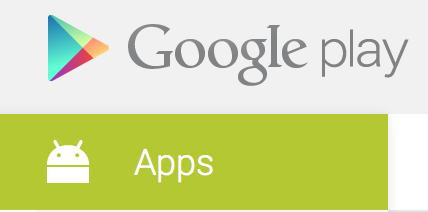 More news!
If you think the water level thing is good news, how about the fact that the creator of the universe sent His Son to die for you? That's what Easter is all about. We are giving praise for the fact that even though God knows are hearts, our innermost thoughts and sees that we're sinners, He sent His son to die for His children. By His Grace we are saved, no other reason. Now that's some real good news!
I continue my quest to learn how to consistently catch striped bass on Lake Martin from my paddle board, with my fly rod.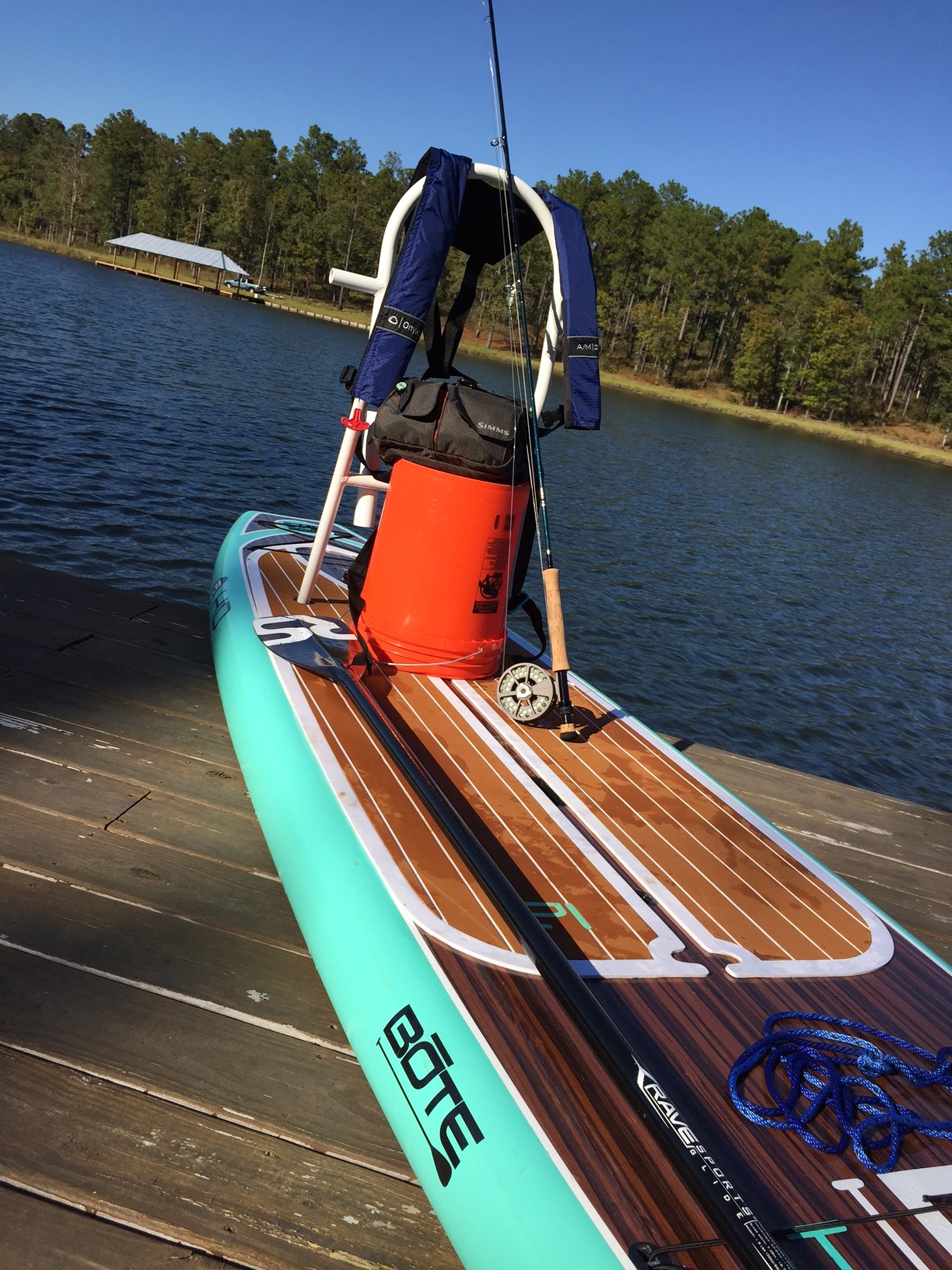 I wish I had a lot of success to report. I have not, but I am looking forward to getting after it again in the spring.  I think it's because I am trying to learn four disciplines at one time: cast a 9 wt, maneuver a paddle board, catch stripes, not fall off. I can't really do any of these very well right now and when you combine all four it's pretty comical to watch.
I have learned a little from my setup to know what I need and don't need:
Paddle – I have an adjustable paddle. It's not optimal for racing or touring but I am glad I have it when I flyfish from my paddle board.  I wish it broke down even shorter.  Most of the time when I am paddling it is small quick maneuvers when I am sitting down, trying to get in position so you really don't need a long paddle. I guess if you are paddling a long way to your fishing spot then the adjustable would be nice.
Line catchers – if I thought fly fishing from a boat was line grabby, I am telling you that there are tons of things that can grab your fly line on a paddle board.
Stripping basket – I need to buy one of these. I think the bucket I sit on can double as this but then I would lose my seat and I would have to change back and forth in between spots. Plus I found that after I have stripped all my line in and am readying for another cast, the line is all over the place, in the water, etc. I think it would just be a lot simpler to have a stripping basket or bucket. I am considering a DIY project here.
Go with the wind – you might as well plan on going on a windy day. That way if it's not as windy as you expected it is a positive. Every time I have been out, gale forces kick up. So I have tried to not fight it, I just paddle like a dog upwind and then drift back and fish with the wind. Of course, this entails keeping at the proper angle so I don't catch myself with a 1/0 hook in my scalp. Some SUP boards have built in anchors but my Bote does not. I guess I could rope in to some structure. I am up to suggestions here.
Coolers and weight- all of the SUP fly anglers I see in magazines and online have a really nice cooler strapped in with them, and it doubles as their seat. At this point I cannot imagine adding a lot more weight to my already heavy rig but I would really like to have a cooler also. I don't know, but I don't think it would drag me down too much.
My setup- just FYI I list my setup for fly fishing for striped bass from a paddle board. If you have any better ideas for substitutions or additions, please let me know. I clearly don't know what I am doing:
Fly fishing related:
Sage 3 piece 9 weight RPLXi
Lamson Konic reel
Simms fanny pack
Flies tied by BaileBr3
Paddle Board related (purchased at Lake Martin Dock):
Board – Bote HD – 12' (love it but if I bought another I would upgrade to the brand new Rackham)
Paddle – Rave adjustable paddle
Tackle Rac – Bote makes this, it helps store gear on the board
Also, I recently read a great article on the subject, by a much more accomplished angler than I:
Top 5 Must Have Items for SUP Fishing
He has an interesting use for 5 gallon buckets: wind anchors.
At any rate, I hope to be more successful in the future!
What are the major towns or cities around Lake Martin, Alabama? I get this question from time to time when I am talking to buyers on the phone about Lake Martin real estate.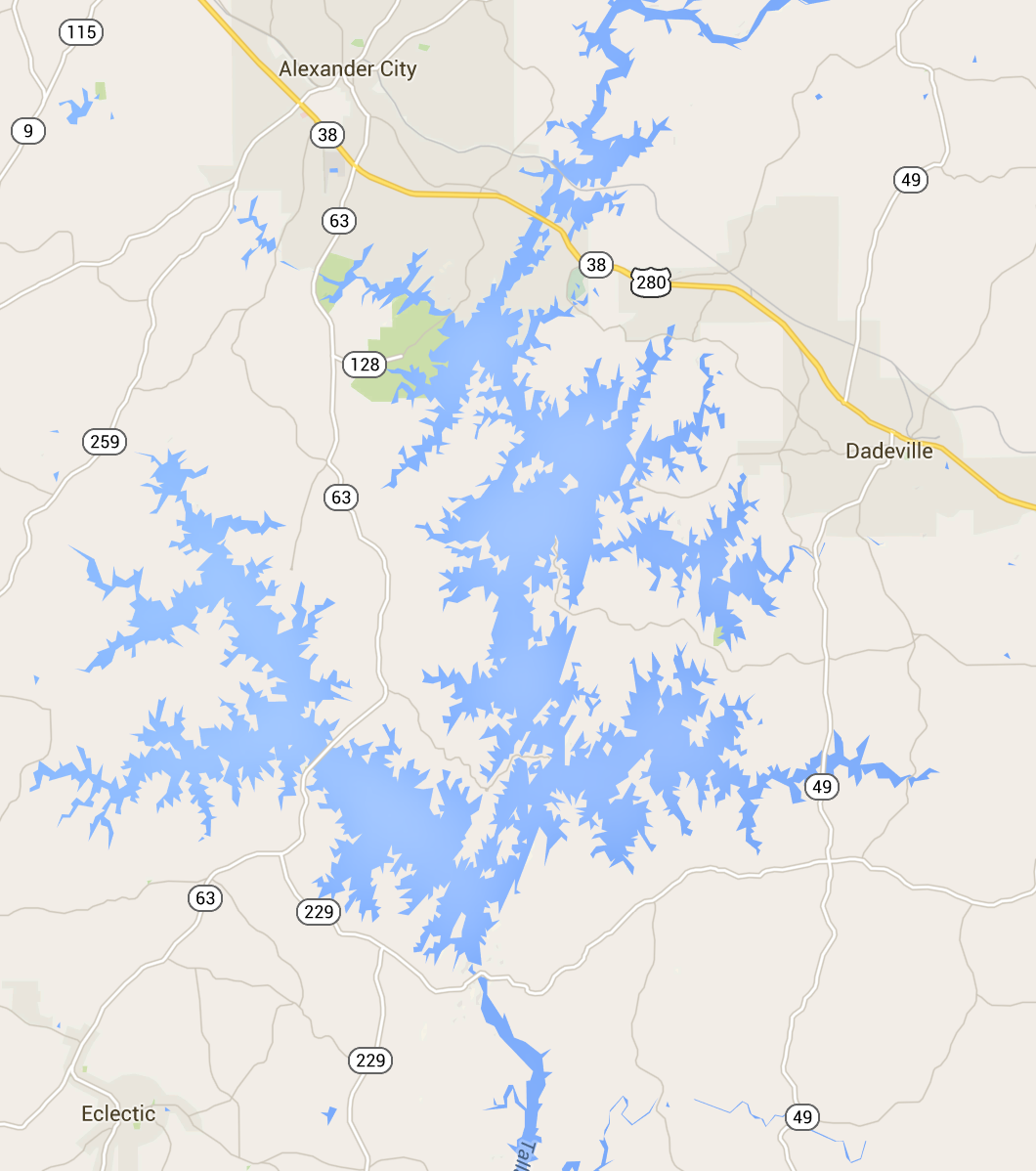 I have written here before that I usually get my best and most effective blog post ideas from my buyers. When one of my buyers asked me this question today, I realized I have never written about it here.
I am biased because I grew up in Alexander City, and sell on the lake now, but I think it would be a wonderful community for anyone.  The three major towns closest to Lake Martin are:
1. Alexander City (aka Alex City) (1 hour 10 min from Birmingham, 45 min from Auburn, 1 hour from Montgomery)
2. Dadeville  (1 hour 30 min from Birmingham, 30 min from Auburn, 1 hour from Montgomery)
3. Eclectic  (1 hour 30 min from Birmingham, 45 min from Auburn, 25 minutes from Montgomery)
If you are a researcher and would like to know more beyond the Wikipedia articles I linked above, here are some great resources for the area:
Lake Magazine and Lake Martin Living are lifestyle magazines, Alex City Outlook is a paper, the Dadeville Record is a paper, here's a link to their viewer:  http://boone.newspaperdirect.com/epaper/viewer.aspx
or their sites:
http://www.alexcityoutlook.com/
http://lake.lakemartinmagazine.com/
http://living.lakemartinmagazine.com/
Lake Martin had its best year ever for waterfront real estate sales in 2014. This year's real estate market report reflects record numbers of waterfront homes sold and waterfront lots sold.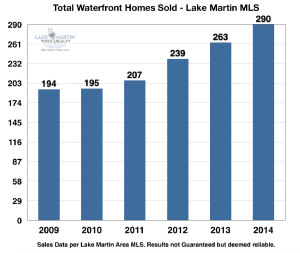 Close readers of my prior market reports for Lake Martin will note that the previous record year for home sales was 2005. In that year, 285 waterfront homes, townhomes, and condos were sold in the Lake Martin MLS(*). It remained the high water mark as sales started to slide the very next year, bottoming with a miserable 137 waterfront homes  sold in 2008.
Do you remember 2008? I do. In 2007 we had no rain. In 2008 we saw few home sales.
Thankfully, the Lord God provided rain and lack of supply combined for the Lake Martin market to bounce back in 2009. As you can see on the above chart, the lake had 194 sales in 2009, a full 42% spike in one year.
Why do I go over these old numbers when I am supposed to be talking about 2014?
Because I think it is worthy to remember how everyone – ( well – almost everyone, see my point #3 to buyers in this report from 2008) – back then said "things will NEVER get back to the old days. We will NEVER see Lake Martin sell like 2005 again." Wrongo. Incorrect. I heard the naysayers back then and I still hear someone say that at least once a month now.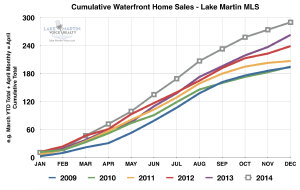 Here is proof positive that you should never say never.  Seriously. Go back to my Lake Martin market reports in 2008 here and look at it.
Lake Martin Waterfront Lot Sales
You also might remember that 2013 was a huge year for waterfront lot sales here on Lake Martin. Did we repeat that feat in 2014? Yes.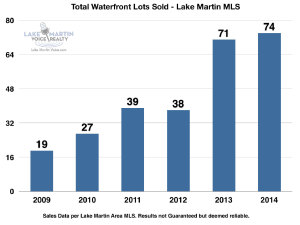 Unbelievably, waterfront lot sales were higher in 2014 on Lake Martin than 2013. One might be tempted to conclude that this is only because Alabama Power Company, a private utility and major waterfront landowner, decided to sell a bunch of lots in both years. However, even if you remove the 23 lots Alabama Power sold in 2014 through the MLS, it would still leave 51 lots sold, which is way better than 2012. Similarly, in 2013 only 17 of these waterfront lots sold were from Alabama Power. Remove those, and the record still stands.
FAQ About My 2014 Lake Martin Real Estate Market Report
1.) What prices do in 2014 on waterfront homes? I will cover Lake Martin's pricing trends in a later post. But my quick answer is that I did not see a huge price jump. I will detail this in the future.  Please stay tuned.
2.) If we beat 2005 for the best year ever, I guess that means now we will start sliding again? Not necessarily. I calls them as I sees them. When sales start slumping and losing to the prior year, I will be the first to say it. But not before then. Mark my words, in a free market, everything has a cycle. Yes, Lake Martin will experience another contraction some time in the future, just not now. Right now we are booming. Also, since I strongly believe that price follows sales, I don't think we can call a peak until we see upward price movement.
3.) What do you do in real life? I am not a blogger or writer by trade. I am a humble real estate agent here at Lake Martin. I write these market reports and other items to try and be helpful. If I may help you buy or sell something here at Lake Martin, please contact me by clicking here. I would love to be of assistance.
Related Posts About Lake Martin Real Estate Market Reports:
Lake Martin 2012 Waterfront Market Report
Lake Martin 2013 Waterfront Market Report
All Lake Martin Waterfront Market Reports
Copyright notice – the above, and every other post on this blog, is the property of John Coley, Broker, Lake Martin Voice Realty. Appraisers may use my information in their appraisals without charge or asking, but please give me credit by citing me, my company name and title, and website address of http://lakemartinvoice.com.  If anyone else would like to use this information, please contact me here and ask. I probably will let you do it, just please ask!
(*)Disclaimers: All of the above info was taken from the Lake Martin Area Association of Realtors Multiple Listing Service. Accuracy is not guaranteed but deemed reliable. The above does not include sales by   FSBOs or developers that sell privately and not through the MLS. But, I do think that the above represents a very large majority of all waterfront sales on Lake Martin, Alabama.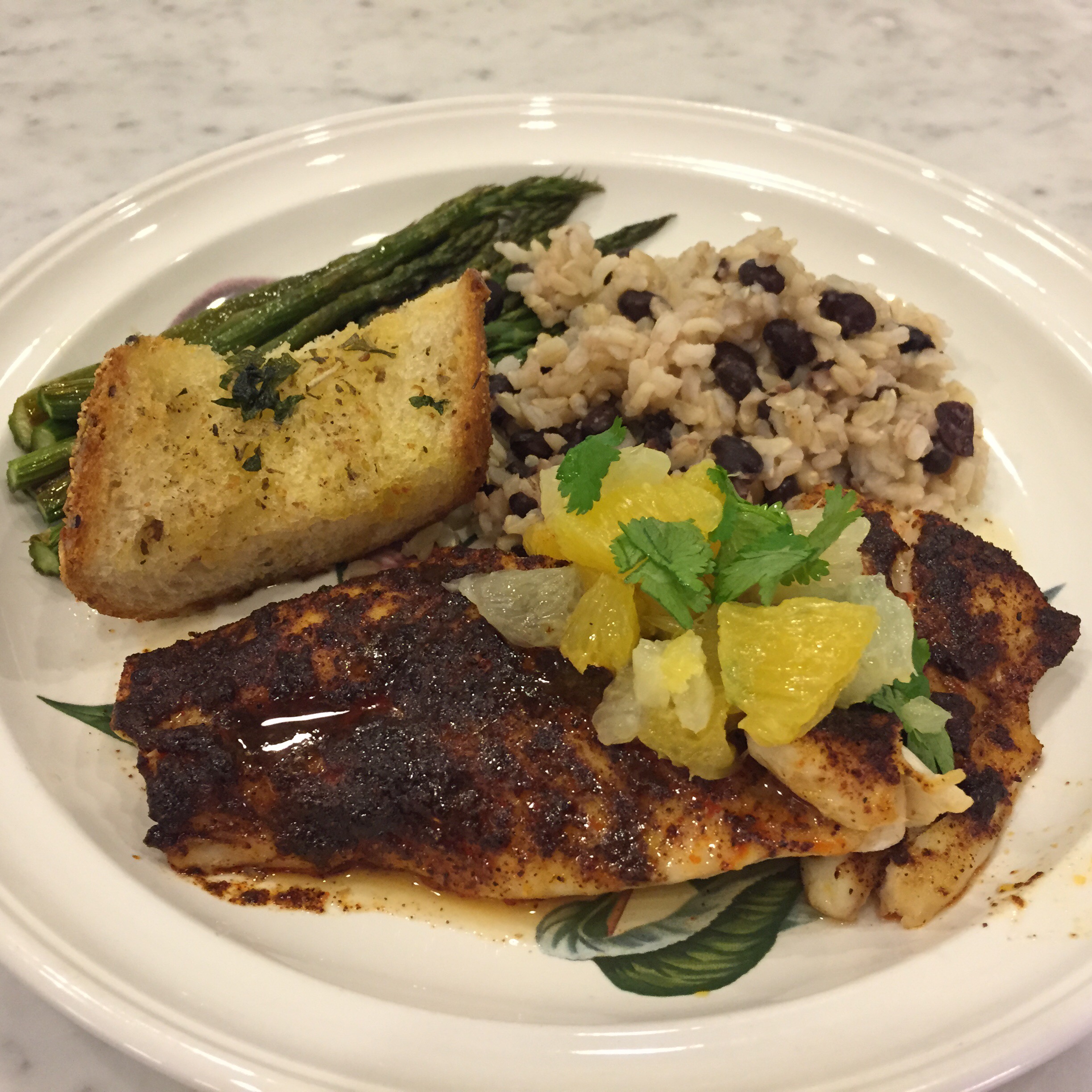 My family is all about that bass.
Striped Bass, that is. No tilapia.
It might be too cold to fish on Lake Martin today (16 degrees) but it's not too cold to eat fish. We caught these striped bass back in November on a fishing trip with David Hare with Alex City Guide Service. It was a mere 38 degrees that day, and thanks to David, we slayed 'em.
We fileted them and have had them twice, and both times they were excellent. The first batch we cooked a day after we caught them. We blackened them in the cast iron skillet and they were awesome. This particular batch we froze in a Ziplock bag water after thoroughly cleaning them. We thawed them out and then broiled them in the oven.
My sons helped out, their job was prep the fish. They just put salt, pepper, and chili powder on them. That's it! My wife made the fresh fruit top – she cut out sections of oranges, grapefruit, and sprinkled in cilantro. It was really good!
One of the hugest part of our latest Lake Martin fishing adventures is that it has converted my wife into a wild game eater, just based on its pure organic nature. It doesn't get any more "real food" than eating a wild animal. No preservatives, no nothing. Now, I would not say she is making her own rabbit hash or roasting wild boars over the spit, but for her, eating something we caught is a big step.
It helps that the fish tastes incredible and is easy to prep!