Have you ever considered buying a Lake Martin home with friends or family? It is not a decision to take lightly.Whether you pool your resources with your best friend or brother it can make a second home affordable. Another aspect that some people like about co-ownership is that it takes some of the "absence guilt" out of owning a vacation home – meaning – if they're not there, they can take heart that the other family is able to use it.
A few years ago I helped two couples buy together in Lake Martin. Watch the video below and hear what they had to say about the experience. These families are also business partners so they reasoned if they can work together they surely can own a second home together! It was one of the most fun experiences I have ever had helping folks find their spot on Lake Martin. Years later, they are still loving the home.
I would love to help you (and your best friend) find your Lake Martin home. Call or text me, John Coley, at the number at the top of the screen or email by clicking here.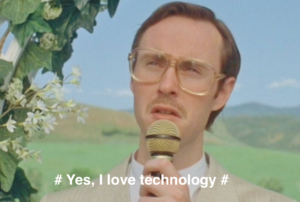 I love technology. Maybe not as much as Kip Dynamite, but I do love it; however, it does have its limitations.
A couple of weeks ago I was helping a potential homebuyer search for a Lake Martin waterfront home. The buyer is really into fishing, and he would like to be able to keep his fishing boat at the dock for as long as possible throughout the year.
Here at Lake Martin, the water fluctuates a total of 7 feet. During the colder months, Alabama Power draws the lake down, starting in the fall, and brings it back up in the spring. Buyers that would like access to their boats no matter the season look for homes with greater than 7 feet at the dock. We agents tend to call this "year 'round water" depth.
While discussing different homes with the buyer, I threw out some suggestions that I thought might be just the fit for him. One in particular was in his target area and price range but he immediately nixed it.
"Nope," he said, "the water is not deep enough at the dock."
"Are you sure?" I asked. "Because I know that area in general and I am pretty sure it has decent water depth."
"I checked my electronic lake chart that's on my fishing boat and the app that comes with it. The app has the water depth for every square inch of the lake and it says the water is only 1 foot deep at the dock and only 2 feet out in front of it. There's no way I can get my boat to it most of the time," he answered.
This sounded crazy to me. I just could not believe the water was that shallow. I had never visited this particular home, but regardless, I knew homes in the area and usually you remember when an entire slough has super shallow water. Because I never visited it, I hated to contradict the electronic chart.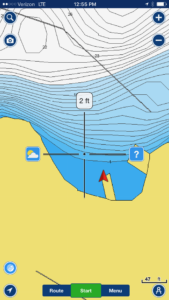 You may be familiar with these types of maps. There are a couple of different companies that sell lake maps, and you buy a "chip" to put in your depth finder on your boat. Or, you can download the app and have it all on your phone.
After a little encouragement, he decided to see the home anyway. After all, as I said, it fulfilled two of his other criteria: location and price.
We both had a big surprise on the day we saw the home. The first thing we did was go directly to the dock. As we walked down the stairs, I could tell there was way more than 1 to 2 feet of depth at the dock. But how much? He had brought his ruler so we could be as exact as possible.
You guessed it – the chart was wrong. The depth at the end of the dock was actually about 8 feet. That's a whopping 6 feet of difference between the app and actual.
Now, 6 feet of difference might not be that substantial when you are trying to hook up with a largemouth or striped bass. But when you are buying or selling real estate on Lake Martin, 6 feet monumental. Especially when that 6 feet takes you from a depth that would be considered very shallow (2 feet) to year round water (8 feet).
I have never been able to create an algorithm that shows how much each foot of water depth helps a lot's value. Maybe such a magic formula exists. But I can tell you that no buyer comes to the lake and says, "I want no water." Not everyone has to have super deep water, but everyone would choose 8 feet of depth over 2, given the same price.
So, as much as we techies love our data and our apps, I urge you to take a lesson from the above. Do not rely on fancy pixels and playthings when calculating such an important thing as water depth. It still pays to be old school in this area.
Bring a ruler and be ready to submerge it. Or make yourself a measuring stick and bring it with you when you are house shopping. Just don't try and sell me one.
I made an infinity of them at scout camp.
Note: I originally published this article in my monthly column in Lake Magazine.  I am proud to write about Lake Martin Real Estate for Lake Magazine and ACRE – the Alabama Center for Real Estate.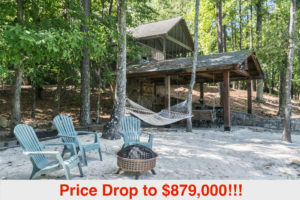 This Lake Martin waterfront home for sale in the Trillium neighborhood has just had a price drop!
570 Wake Robin is a large, upscale home, 4 bedrooms, 3 1/2 baths, with an open floor plan, quality craftsmanship and breathtaking views from the 2 story living room and screened in porch. The private, heavily wooded lot slopes gently to the Lake in a deep water cove. Nice beach area with spectacular outdoor living space to enjoy year round!
New price of $879,000!
Take a full video tour below! (click play arrow) 

The Preserve at Stoney Ridge is a waterfront neighborhood on the east side of Lake Martin in the Blue Creek area.
I recently made a new neighborhood video tour of Stoney Ridge – click on the play arrow and take a look.
The Preserve at Stoney Ridge is a gated community with lots of amenities including a really cool pool that overlooks the lake, a nice tennis court, a pavilion with an outdoor fireplace, and underground utilities.  A landmark for this community is the covered bridge you pass through on the way through the neighborhood.
By water,  Stoney Ridge is close to Lake Martin landmarks like Chimney and Acapulco Rocks and Martin Dam. Also by water, it's near other Lake Martin neighborhoods like The Ridge, Stillwaters, The Village, Emerald Shores, Indian Shores, and Holiday Shores. Wherever I am on Lake Martin, I like to know where the closest marinas are. Stoney Ridge is a quick boat ride to The Ridge Marina, Harbor Pointe Marina (in Stillwaters), and also Chuck's Marina (and its world famous pizza).
There are about 44 waterfront lots with most of them already sold. There are some off water lots that include a deeded boat slip.
Why would a real estate agent spend his time flying around Lake Martin?
My goal is to provide you with the latest information on Lake Martin real estate and one way I do that is to make videos of neighborhoods. I also use the latest technology for listings such as 3D, 360 and aerial video together with high quality still shots.
Are you interested in a private video tour of a listing on Lake Martin? I am happy to do that as well!
Call or text me, John Coley, at 334-221-5862. I would love to help you learn more about Lake Martin and Lake Martin real estate!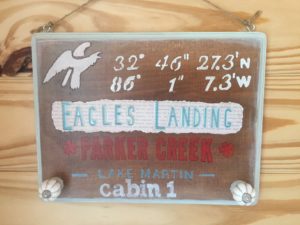 Did you know that the tiny house, big living lifestyle had arrived at Lake Martin? Well it has – at least in the form of rental cabins at Parker Creek!
Herb Winches, founder and developer of Eagles Landing at Lake Martin (and restaurant – The Landing at Parker Creek) saw the need to have a place to "stay in style and play outdoors."
Each of the 3 cabins are fully furnished with all the modern conveniences of home. They each feature a 13 ft. vaulted ceiling and a screened in porch that faces the lake. The master bedroom includes a queen size bed (no climbing to a loft bedroom here).  Stacked bunk beds are in the hallway.
A free boat slip is provided during your stay. And you can enjoy a great beach and large swimming area too! The cabins are 550 sq. ft. and are great for relaxing and enjoying all that Lake Martin has to offer with family or friends.
For more information click here for the Eagles Landing at Lake Martin website or call 205-598-8922.
See for yourself – I think you will agree tiny homes = big fun!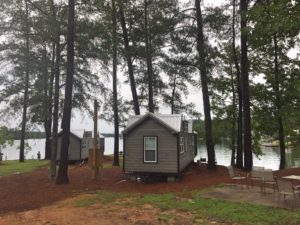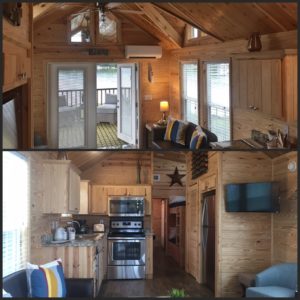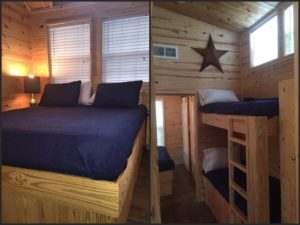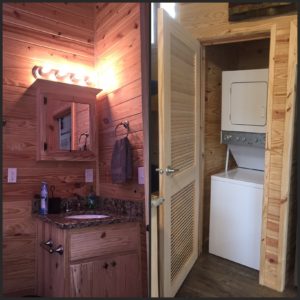 What's the waterfront real estate market doing right now for Lake Martin?
At the end of May 2017 – (all agents, all brokerages over the entire Lake) 150 waterfront homes were sold for the first five months of the year. Compare that to 2015 – the best year ever in my opinion, 119 were sold, and we are 30% ahead of that year. For 2016, 107 waterfront homes were sold which makes us 50% ahead of last year.
These numbers are really remarkable when you see that inventory is down about 10% this year.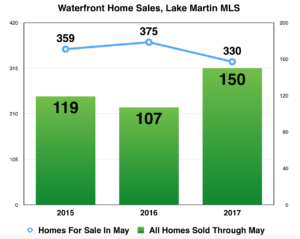 Waterfront lot sales at the end of May totaled 26 which is down 24% from the best year ever, 2015. For the same period ending in May 2016, 29 lots sold. Inventory of waterfront lots is down 30%.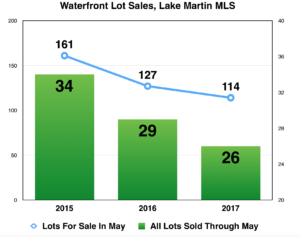 So what does all of this mean? We are in a classic seller's market!
If I can help you with buying or selling your waterfront home or waterfront lot give me, John Coley, a call! I would love to help.
The older I get, the more I respect expertise in various professions. I like to try and DIY sometimes but I have seen some Lake Martin Docks gone bad. Usually it's the case of a person that thinks weekend carpentry skills suffice for the art and science of marine construction. Therefore, when it comes to working on and around docks, I always recommend pros like Lake Martin Dock Company. But, sometimes all you have to do is replace a dock cleat. If that's the case for you, take a look at these cleats I found on Amazon. I really like them because they fold down when not in use. I can tell you from personal experience (X 100)- stubbing your toe on a metal dock cleat has to rank among the more painful experiences of life. I have seen a lot of these fold down dock cleats around Lake Martin and, after installing them myself I can see why. They feel smooth to the touch and look stylish.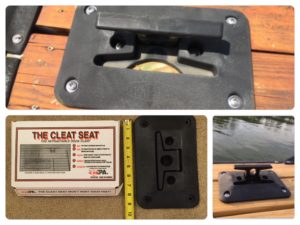 Friendly memo to all potential litigants – don't whine to me if this cleat breaks and your boat floats away, or if they break because you install it incorrectly. In fact don't whine to me at all! I am about the least handy person I know and I can tell you that proper installation is within even my meager skills.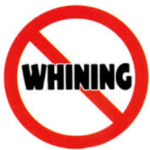 But if you have some time and a socket set, you can install these cleats. I'm using six lag bolts and I've buttressed under my dock so that I'm lagging into additional joists. But don't worry – I'm still keeping my day job as a real estate agent on Lake Martin. LMDC doesn't have to worry!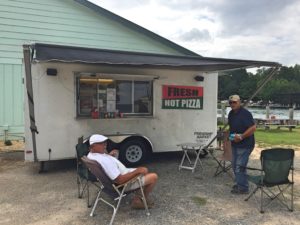 Have you tried Fresh Hot Pizza? Owner, David Reaves, has a food truck located at Anchor Bay Marina and he is offering some delicious, fresh, hot and ready to go pizza and sandwiches and hot dogs and more. Stop by and check it out!
Location? On the beach at 2001 Castaway Island Road Google Maps Link.
Phone Number? Call ahead for pickup 334-224-5434
Parking? Boat or Auto
Find Fresh Hot Pizza on Facebook!
Hours?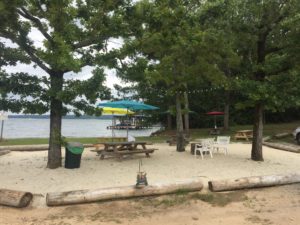 How many nighttime boat rides have you taken on Lake Martin?
I usually take several a year and I love them. The lake always looks totally different when the sun goes down. There's a lot less traffic, but obviously you have to be on guard when operating a boat at night.
I have even fished many a night, especially in the summer. Warm water temperatures means low oxygen, and that means fish go down deeper. When the sun goes down it sometimes gives them a chance to come in to shallower water and look for treats like hatching mayflies. Granted, these are smaller spotted bass and bream that venture up to sip the insects. You probably are not going to catch any of Lake Martin's famed 20+ pound striped bass by delicately casting a size 14 parachute Adams.
There are lots of folks that fish at night during the summer for striped bass, and David Hare's company, Alex City Guide Service, is the best of the best.
I always pay attention to David Hare's fishing reports. David is the owner and head guide at Alex City Guide Service.  Lately his (seemingly) unending pictures of nice stringers of striped bass has finally broken through my willpower. I can't stand it anymore! I called David up and booked a boat for later this month. I have never been night fishing with him so I know my family and I are in for a treat.
If you would like to learn more about striped bass fishing on Lake Martin, please see his report for August below.
I also pay close attention to David's Facebook page.
If you have any questions, please contact David directly at:
Alex City Guide Service
Captain David Hare
256-401-3089
[email protected]
As of 7/11/17 Full Pool(491.00) Clear Surface Temp 88July was a pretty awesome month for night time striper fishing. With only a few nights being tuff we were able to limit out the majority of time plus land some nice trophies including a 36 and a 26 lber. August fishing should continue to be good night time striper fishing. The water temps are going to be 90+ and the fish are going to be deeper this month than most any other month. I personally will be working in 100ft or deeper water looking for suspended fish in the 60-80 ft depths. I will also be expecting the best bite to be later in the night say 

9pm 

or later, with good live bait, lots of patience will be the key to great catches. August is also a good time for deep water trolling at daylight and dusk. I would try in the Ridge Marina area, the dam and Goat Island. For best results try using spoons, jigs and bug swim baits running them 40-60 ft deep.

Bream fishing is really good in August if you can stand the heat. You can limit out most any day at most any time. Try your luck in shaded pockets that are stacked with floating debris. Most any area of Lake Martin holds real nice bream.

Until next time – be safe, keep what you can eat and release the remainder for your next trip!Capt. David Hare

256-401-3089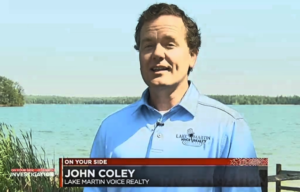 When my phone rings, I never know who or what is at the other end of the line. I am sure you are like me in that these days you get a lot of spam or robot calls on your cell phone. I must admit, a few weeks ago when I saw an out of state number call on my caller ID on a Saturday night, my first thought was to groan inwardly and think, "This is fake."
I was really surprised when I learned the truth.
A real person was calling – it was Lydia Hu, Reporter / Weekend Anchor with WBRC Fox 6 in Birmingham. WBRC was working on a story for their Fox News On Your Side Investigation segment about lot leases for waterfront real estate in Alabama. Lydia asked me to explain lot leases for the viewers. Click here for a link to the entire segment that aired in June. Read below for my explanation of lot leases.
"A lot lease is when a homeowner owns the home, the bricks and sticks and improvements on a house, but they don't own the dirt beneath it," I explained.
And the increase in the lease payments? "Most of the time it's being calculated on the value of the lot. And so if the value of the lot goes up, the lease payment will go up over those 20 years."
"Some people do prefer the lot lease because they are able to buy the house for a lot lower price and they have a smaller lease payment over those 20 or 30 years," I explained.  Anyone with a lot lease should work with a local real estate agent familiar with the market.  
My advice? "As you come to the end of your lease, you need to be aware how much the local real estate market has changed." 
Alabama Power is one of the two major land owners on Lake Martin. Many years ago, Alabama Power did not sell lake lots outright. They would lease them to folks for like twenty or so years. People would build homes on these leased lots – so it created a rather interesting condition whereas the person owns the home and dock and other improvements, but Alabama Power still owned the lot.
Around here at Lake Martin, we call these "leased Lot houses." Whenever you sell a leased Lot house, as a seller you have to disclose the lease terms. As a buyer, you should be ok with all of them.
Until about 2012 or so, approximately 10% of waterfront home sales on Lake Martin were leased Lot home sales. The last time I looked, which was early 2017, I counted that about 1% of home sales were on leased lots.
I think this is because many leased lot homeowners took advantage of a program that Alabama Power instituted around then. They sent offers to leased lot homeowners offering to sell them the lots associated with their homes. Many waterfront homeowners took Alabama Power up on the offer, and thus there are a lot fewer leased lot homes. Logically, that means fewer will make it to the market.
I don't really know if it reduced the amount of waterfront leased lot homes by 90%. Maybe it just meant that those who didn't buy their lots then intend to stay for the long term, and so they are unlikely to sell in the short term.
But, I do have the conclusion that with fewer leased lot homes on Lake Martin, if you plan to sell one, you'll have to do a better job at educating buyers on the whole situation. As with any part of real estate, if you're dealing with a unique piece of property, it is essential that you get out the right information.
Whether your home on Lake Martin is on leased lot or not, I would love to help you sell it!
The first step is usually figuring out the potential market value. I can come by and take a look, no strings attached. Please contact me at here or call me at the number at the top of this page.