I've started a new series of posts to focus on filming video of open house tours for waterfront homes for sale on Lake Martin.  The latest installment is on Cheyenne Lane – right next door to the Lake Martin landmark Chuck's Marina.
I am not the listing agent, but, as a member of the Lake Martin MLS, I can help you if you're interested in it (or any other property on Lake Martin, for that matter).  This 3 bedroom, 2.5 bath home is listed for $425,000.
The listing agent is my friend Rhonda Jaye of ERA Lake Martin Realty.
The home is on the south side of Lake Martin, just east of Martin Dam.  You get to Cheyenne Lane by taking AL Highway 50 to Centerport Road, then taking a right into the Chuck's Marina signs, then right on Cheyenne, the home is on the left.
Related Posts:
All Lake Martin Video Home Tours by John Coley – Lake Martin Voice Realty
ALDOT has Highway 63 under heavy construction. I shot this video today, about a mile north of Lake Martin's Kowaliga Bridge. It's across the road from where Windermere Road intersects Highway 63, aka Our Children's Highway. The construction zone stretches from Russell Crossroads (location of Catherine's and the Springhouse) south to just below Windermere Road.  As of this writing, the highway is passable, you just need to slow down a bit.

I think that Russell Lands is also using this opportunity to create a golf cart path that will go under the highway. The theory is that you would be able to walk, jog, etc. continuously from The Ridge Club to Willow Point.
Up until now, I have sold Lake Martin real estate under my family's name – Coley Real Estate.  Effective 1/15/10, I changed my company name to Lake Martin Voice Realty.  I am also welcoming John Christenberry on board with me.  John is a fellow Lake Martin Realtor, and we are excited about the future.
Why change a company name?  What does it matter?
Two reasons.
1.) Continuity
Our little ole blog, Lake Martin Voice, has been very blessed to become the best resource of real estate and area information for Lake Martin. Do a Google search, about the Lake in general or your neighborhood, and chances are we are at the top of the results, and rising. We have more blog posts, more twitter tweets, more videos, and more pictures on the web than all the other brokerages combined. All of this is not just a nerdy hobby, it serves to sell homes. In fact, a high percentage of our leads now come from Internet marketing, and we have been blessed to have record sales years in tough markets.
It only makes sense to name the business after its strongest marketing presence.
In the past three years, most of the time when I answer the phone, if it's a person calling that doesn't know me, they ask, "is this Lake Martin Voice Realty?" This started happening a couple of years ago. I used to explain, "no I am technically Coley Real Estate Lake Martin, and Lake Martin Voice is my blog." But in 2009 it happened so much I just started answering, "Yes, how can I help?"
Naming a business after a blog may seem backwards to someone who thinks the real estate business is the same as it was 15, or even 10 years ago. These days, the web doesn't represent a piece of your marketing, it is your marketing. According to a 2009 survey by the NAR, 90% of home buyers use the Internet when looking for a home. No one mentioned thumbing through the Yellow Pages.
2.) Teamwork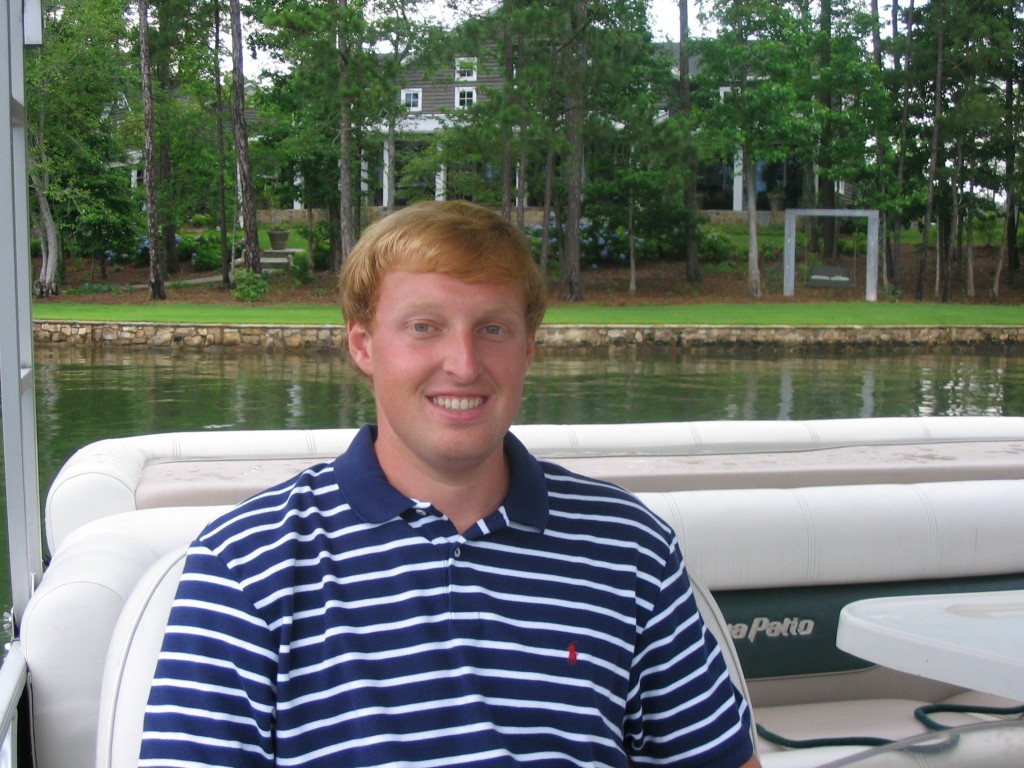 John Christenberry and I have joined forces. John has been a Lake Martin real estate agent since 2005. He comes from ERA Lake Martin Realty, formerly called Russell Lands real estate, at their Willow Point Branch. He's had a lot of success there, and we look forward to working more closely in the future. We have done several deals together in the past. What struck me first about John was his honesty and integrity. Even though we (at the time) were working for different brokerages, we were able to talk openly and share ideas, without worrying about one guy "stealing" from the other.
Another of John's attributes is that he works extremely hard. In a profession that sometimes tolerates those with a less than stellar work ethic, Christenberry stands out as a person that puts in the hours.
It's easy for salesmen to give fluffy assurances of being honest and hardworking, so let me give you just one example of how this would affect you as a client:
One deal we did together was in 2007. He was still with Russell Lands at the time and was the listing agent. I was assisting the buyer as a transaction broker. We got a signed agreement, and were working towards closing when we hit a major snag. The in the course of the closing agent's title search, it was discovered that there was a "cloud" on the title. In the early 1970s, the original subdivision developer failed to get his wife to sign off on a plat map. The wife died. He remarried. The next wife did not sign either. Then they both died. So now we have a title that can only be approved by deceased individuals. Closing was scheduled for about seven days away. The title agent said that we would have to do a bid to quiet title, a legal filing in court with a judge that would take about 3 months. Needless to say, this was horrible news. The only way to fix it was to get the two known relatives to sign off on it, and we didn't know where they lived. The deal seemed dead. Even the title agent said it would be hopeless.
I won't pretend like we knew it would turn out OK. We were seriously bummed out. When the title agent tells you it's a waste of time….
John and I decided to knuckle down and give it a shot. We had 2 names – a bother and a sister. We knew that in the early 1980s one lived in Louisiana and the other lived in Alabama. I took one sibling to search for and he took the other. We did search after search online and came up with a list of about 30 people each. We could eliminate some by their (apparent online) age. Others we just had to call. Praise God, we both found our people. They were well into their 80s, one lived south of Birmingham, one still lived in Louisiana. Neither could drive, so each of us had to call around and find an attorney or a notary close to their home, that would travel to them, to get the documents notarized.
In less than 24 hours, defying the odds, we eliminated the cloud. Most importantly, the sellers were happy and the buyers were happy.  We were exhausted and relieved. We couldn't believe it.  I was really pleased to be in that particular deal with someone else who would be as relentless as I was about getting the deal done in the right way.
That's why we both are excited about teaming up. We think that the end result will be, not an ego driven ra-ra "look at me" type of brokerage, but one where we work hard, using every available tool in the belt, to make our clients happy.  We pledge to keep the focus away from our own Glamor Shots and on our  sellers' properties – or our buyers' desires. Nothing else matters.
So what? Two agents? You're still small.
True. But these days in real estate you don't have to be big. If this downturn in the market has taught us anything, if there is anything we can learn here, is that the old rules don't apply.
Real estate is still a people business, driven by word of mouth and friend referrals, but the way word of mouth works has changed. See point #1 above.
What about Walter Coley?
My father Walter Coley is still the Broker of Coley Real Estate at 45 Main Street, Alex City. My old branch office is going away. Technically, all that happens is I have changed my brokerage name with the Real Estate Commission and changed my signage. I still have my  office in downtown Kowaliga.
Walter is, as always, unaffected. He kidded me bucking family tradition. It was nice to be able to say that I was the 3rd generation of Coleys in Coley Real Estate. That fact promotes trust from clients. They figure that anyone that has been around that long will think twice before doing something to sully the family name.
That part has not changed. Neither John Christenberry nor I would do anything to hurt our reputation. Personal integrity is still a huge part of how we get clients the real estate business. But in the world today, your online reputation is your reputation. The two have come together inseparably.  You can't be one person in real life, and quite another online, and vice versa.  How many fallen celebrities, even fallen governmental regimes, have had to learn that lesson the hard way?
We feel that doing our best to be transparent, honest, and hard working will continue to bless our business. The challenge is getting that idea across over the web. That's what we will do.
Needless to say, we would like you to do two things:
1. Check out our existing listings
2. Call us if we can help you, as a buyer or seller.
Sorry for the long post, but I guess we're guilty of being very excited!
Not that you need reminding, but if you haven't done it yet, you need to make sure that your Lake Martin home is safe from freezing weather.
If you don't have a waterfront home on Lake Martin, but have a friend that does, why not call them up to remind them about the freezing weather?
Or better yet, offer to go down to their cabin and "make sure everything is OK?" Chances are, they have already made arrangements, and you will look like a really concerned friend without having to put forth any real effort! The best time to lock in that 4th of July invite is in the cold of January, I always say.
Snow flurries are falling here on Lake Martin, although the camera can't tell, yet.
From the mailbag: Having a blog like Lake Martin Voice gives me lots of chances to get great questions from readers. One such reader recently emailed me about short sales on Lake Martin. Here's how my answers went:
1.) Could you give me a short lesson on Lake Martin "short sales"? Are they fairly standard, or many variations?
Each deal is different, depending on seller, mortgage company, property, etc.
2.) If a mortgage is leveraged on a house or piece of property, and the owner sells "short" is the owner liable/responsible for the deficiency?
Yes. Short sales are when the seller is still the person (not the bank), but they are selling it for less than they owe to the bank. Usually, depending on the amount, the bank goes after the deficiency, either in form of a new personal note, or a suit, or a lien on other assets, whatever.  Sometimes the bank forgives a portion of the mortgage debt.
3.) Does the mortgage holder have to approve the sale?
Yes, or they will not release the mortgage lien on the property. If they didn't, the buyer would be buying a property on Lake Martin with a mortgage (that is higher than the property value) already on it. You do NOT want to buy a property unless all liens are released or at least disclosed.  The buyer's lawyer / closing attorney should discover and disclose all of this.
4.) How is it different from just walking away from a mortgage and allowing foreclosure?
A short sale is usually attempted before foreclosure. I say "usually."
Each one of these is very different. In general, the bigger the bank that is owed, the harder it is to pull off the short sale. Like I had a buyer that put in an offer on a short sale on a waterfront home in the Ridge. After about 75 days, the bank finally responded – NO. No counter offer, no nothing. 75 days (of the bulk of the summer) – wasted. On the other hand, a small local bank is able to pull off short sales and foreclosures rather effectively because there are real people making decisions quickly instead of talking (when you can get them on the phone) to a person in a

cubicle in California.
Recently I read a great article in USA today, saying only 23% of short sales go through.  From my experience on Lake Martin, I would say that it a pretty accurate number, if you include all offers made to all short sellers (like above).
5.) Are Lake Martin short sales usually good deals?
Maybe.  Just because it's a short sale or foreclosure does not necessarily guarantee that it is a good deal. You still have to go through the same thought process to make sure the value is there as a buyer.
One recent successful short sale I did was under contract for just over three months.  Usually on Lake Martin, once you get under contract, it takes anywhere from 30 to 45 days to close.  Hanging on for 101 days was brutal, for both the seller and the buyer, and I was helping both sides in that particular deal.  Patience was running thin, but in the end, both sides felt it was in their best interest to go through with it. When I deal with sellers on short sales, I strongly encourage them to consider short sales before foreclosure.  You might as well run the numbers with your CPA and lawyer to see if it's in your best interest.
6. What takes so long?  Why do some banks "drag their feet" so much with a short sale on Lake Martin?
From talking with my friends in the real estate industry, this is a nationwide thing, not a Lake Martin thing.  The short sales process is slow.  In fact, a realtor I know in Tampa complimented me for getting it done under 120 days.
Again, the large banks are the ones that usually take a while to process a short sale.  In that particular case, it went like this:  on Day 1 the seller sends (fax only) the signed contract to the bank.  It takes 10 or so days for the bank to "process" the receipt.  Then they assign it to a representative.  Then the representative takes 14 days or so to contact you after that.  So really it was day 24 until the seller could talk to a person that told him "OK we've received your fax."  Then he might ask for additional forms, say, another tax return from the seller, or some other such paperwork, that the seller might have even received.
Once the seller faxes those in, you guessed it, it takes about 5 days for the rep to confirm receipt.  Then he might ask for the contract again.  But – we've already sent that – right?  Well, I need the XYZ form…  These types of conversations go on and on for 3 or 4 weeks.  Then the rep (if you're lucky) will call the listing agent to talk it over. Then maybe the bank will make some sort of counter offer or even accept the contract as is.  But any decision, any correspondence takes 3 or 4 days to send in, receive, and confirm receipt. It can be maddening, especially to the buyer.
Therefore my big advice to Lake Martin short sale buyers is: Patience is part of the price you pay.
Again, I stress, this pain involved is usually directly related to the size of the bank. Emphasis on usually.
Own lakefront property on Lake Martin, and considering a short sale?
Please contact me at the number or email at the top of this page.  I would be glad to walk you through what will likely happen, and help you consider your options.
Hey you – reader – have any questions about Lake Martin real estate?
Please let me know – I love to write blog posts on readers' specific questions.  If you have one, chances are many people are thinking the same thing.  Help us all out, and ask away, either by commenting below or dropping me a line.  Thanks!
Lake Martin waterfront real estate had another good month in October 2009.  There were 14 homes sold in the month, just about equaling the 15 waterfront properties sold in October 2008, according to the Lake Martin MLS*.
Once glance at the above chart can tell you that most real estate sales in the Lake Martin area really taper off in November and December.  Therefore I think it's safe to say that most of our sales for 2009 are behind us, and we can start looking at the year as a whole.
2009 was a great year for Lake Martin waterfront real estate.  Market wide, we have already outsold both 2008 and 2007.  In fact, I think the numbers show that our rally started back in August or September of 2008. That's why I am not too concerned that October 2009 was beaten by October 2008 by one sale.  By October of 2008 we were on a winning streak that continues to now.
On another positive note for sellers, the number of homes for sale on Lake Martin has come down this month.
Perhaps this trend will continue until the normal seasonal buildup in January.
Analysis Of Lake Martin Market
I will save a full analysis for a bit later.  For now, I just wanted to dash off this quick post for October's results.  But I will go ahead and say that, after a closer look at the numbers, I will probably be "calling the bottom" for our market. Who knows what the short term future will hold, but I think it's fairly obvious that, long term, the worst is behind us.
What Do You Think?
Please comment below….
Related Posts:
All Lake Martin Voice Posts on Market Statistics

(*)Disclaimers: All of the above info was taken from the Lake Martin Area Association of Realtors Multiple Listing Service. Accuracy is not guaranteed but deemed reliable. The above does not include sales by FSBOs or developers that sell privately and not through the MLS. But, I do think that the above represents a very large majority of all sales on Lake Martin.
We have had a lot of beautiful clear fall weather this year at Lake Martin. Recently I was driving back from checking on a home for sale in The Village when I decided to stop and snap some pics of the fall colors.
If you would like to see waterfront homes and lots for sale right now in The Village area, CLICK HERE to go to my Village Neighborhood page. I have a report that shows every waterfront home and lot for sale – by all agents, all brokerages, on Lake Martin. It pulls from the Lake Martin MLS so it will be current no matter when you visit the page.
The Village is a subdivision off of Highway 50 on Lake Martin. It is very close to Chimney Rock and Acapulco Rock and Martin Dam. So as I was driving back to my office, I passed right by the Overlook, which also serves as the trail head for Lake Martin's Cherokee Ridge Trail system.
Since it was such a pretty day I decided to stop at the Overlook and get some pics of the fall colors, maybe even the famous landmarks of Chimney Rock and Acapulco Rock.  I figured it would take a quick 30 minutes.
I ended up taking a couple of hours, mainly because I went the wrong way on the Chimney Rock Loop Trail.
As usual I missed a couple of pics of hawks. But this turtle could not escape my speed photography:
I probably need to get a polarized filter or something that will help out with the color balance:
Chimney and Acapulco Rocks look lonely in the fall:
This boater breaks the silence:
In the end, I was too far away from Chimney and Acapulco Rocks to get decent pictures, even with my long lens. But it was a really fun hike, and the leaves were just right.
Click here for the entire set of pics on Flickr
Bay Pines Marina has been around Lake Martin as long as I can remember. More accurately, it has always been there, but has been run by different folks.
That's why I was excited when I read of Bay Pines' renaissance under current owners Jim and Bill.
As the name would indicate, it is in the Bay Pines area of Lake Martin.  To get there by car from Alex City, go east over the Highway 280 (aka River) Bridge.  Take a right on County Road 40. At the stop sign take a right on Bay Pines Road, and go all the way to the end. Click here for a map to Bay Pines Marina.
Here is a link to their ad on lakemartin.com
Also, in a sign of the times, I am pleased to see that they have a Facebook Page.  Now, when Marty's Marina gets a Facebook Page, I really will be surprised.  (quick self promo – please become a fan of the Lake Martin Voice Facebook Page)
They sell non ethanol gas and are proud of it, by God. In fact, according to their ad, "We have ethanol-free gas at the dock and on the street. The street gas is a little lower price but still the same mid-grade all the way around with NO ETHANOL EVER!!! BOAT GAS IS NOT MADE FROM CORN"  Too funny.
Bay Pines Marina seems to be very geared to fishermen. You can launch your boat, get gas, buy coffee and C store food- plus Bait! I am not sure but it may be the only place you can buy live bait on the waters of Lake Martin. If someone knows for sure, please comment below and help us all out.
According to a sign posted on the window, Bay Pines' winter hours are:
Friday – noon till dark
Saturday – 8 till dark
Sunday – 10:30 till dark
Lake Martin waterfront real estate is on a tear.
Last month, we saw August's year to date totals exceed the entire year of 2008.  I speculated in this post that we had a good chance of defeating 2007's 12 month total of 156 with a strong September.  Sure enough, 24 lakeside homes were sold by all agents in the Lake Martin MLS*, which gave 2009 a total of 162 homes sold.
Another one bites the dust.
Here is a chart showing Lake Martin waterfront property sales by month for the last three calendar years:
All of these big sales months add up.  As you can see from the cumulative chart below, if we look at the entire Lake Martin MLS, including all agents, all brokerages, everything, we sold 137 waterfront homes in the entire year of 2008.  We passed that mark in only 8 months this year.  In all months of 2007, 156 were sold.  So at 162 through 9 months in 2009, we have defeated yet another year.
Supply Remains High
We still have a lot of waterfront homes on the market.  One aspect of September's sales results that I did not like to see was the increase in homes for sale on Lake Martin.  We were on a nice, seasonal downward slope that I was hoping would take us to more normal levels, away from the step ladder highs we have been witnessing over the past three years.  We increased to 494 homes for sale in September, up from 488 in August.
True, this number is still about 10% down from the all time high of 555 in 2009, but we are still 5% away from the 2008 high of 524. Sellers – YOU MUST CONTINUE TO PRICE AGGRESSIVELY! Please do not take this post as a sign you can ask whatever you want and get it.
Waterfront Lot Sales Remain in a Slump
All of the above info relates to Lake Martin homes, condos, town homes, etc.  It does not contain lots.  The number of waterfront lots sold has not picked up. Our year to date total of 16 in 2009 is on pace to match the 18 sold in all of 2008, and is a far cry from the 34 of 2007.
As with homes, we will need to see an increase in the number of waterfront lots sold before we see any movement in prices.
The Crowne Pointe Effect
To continue a theme started earlier this year, I will attempt to examine the effect of the fire selling of the Crowne Pointe condo complex.  Earlier this year, we discovered that while the condo sales certainly helped prop up the sales numbers for the lake as a whole, it was not the only driver of the sales resurgence.
What about now?  Most of the units in Crowne Pointe are sold and the buyers have closed already.  Now that the dust has mostly settled, what can we say about its effect on the Lake Martin real estate market?
We can see from the above chart that all non single family homes (which includes ALL condos, town homes, etc) sold this year represents about 36% of all sales.  The average from 2006 – 2008 is 18%. Interestingly, the average from 1-1-06 to 9-30-09 is about 20%.
Yes, we still have had a proportionately high number of non-single family homes sold in the waterfront market this year.  But if you remove its influence and back it down to the four year average of 20%, you are only removing about 16 sales, which still puts 2009 ahead of 2008 already.
My answer is the same as July: Crowne Pointe has helped, but has not made, the year's sales.  2009 is / was strong on its own.
Related Posts:
All Lake Martin Voice Posts on Market Statistics

(*)Disclaimers: All of the above info was taken from the Lake Martin Area Association of Realtors Multiple Listing Service. Accuracy is not guaranteed but deemed reliable. The above does not include sales by FSBOs or developers that sell privately and not through the MLS. But, I do think that the above represents a very large majority of all sales on Lake Martin.
I shot this video of the action at the Willow Point Airfield today around 11:00 AM Central today.  Ex HealthSouth CEO Richard Scrushy had a huge cigarette boat, a bass fishing boat, some PWCs, and a golf cart auctioned today by the Sheriff.  Tallapoosa County Sheriff Jimmy Abbett auctioned them off on behalf of the HealthSouth shareholders, who have claimed them through winning a lawsuit against Scrushy.
Scrushy once owned this airplane hangar on a private airstrip near the neighborhood of Willow Point at Lake Martin, Alabama.
Here is a shot of the cigarette boat that went for $53,000:
I just missed the big boat's auction since I went to the Alex City airport and then had to zip down to Willow Point.  By the time I arrived the Sheriff was auctioning the Sea Doos.  Here is a quick video of the action:
There were probably 50 or 60 people there to watch, and probably another 10 real estate agents.  My guess is that about half of those had registered to bid.  The Sea Doos and the golf cart went for about $3,000 each.
Also present were some of the lawyers representing the HealthSouth shareholders.  Logically, all of the local TV news crews were busy interviewing them.  I believe that one of them was Ralph Cook. Here is a video of another attorney, John Haley, being interviewed:
I talked to a couple of the camera crews about the eventual auction of Scrushy's lake home at Willow Point.
It is easily the most conspicuous home on the waterfront of Lake Martin.  Currently the plans are for the Sheriff to auction it on the Tallapoosa County Courthouse steps on November 9, 2009.  I don't expect there to be much bidding going on with it.  My guess is that it will go kind of like a foreclosure auction.  That is, the entity foreclosing (in this case the HealthSouth shareholders) will put in a minimum bid that will be pretty high.  Anyone is welcome to bid above it and buy it but more than likely they will be the highest bidder as they have the biggest stake in it right now.
Related Posts:
For everything I have written on Scrushy, see Scrushy Category