Renew Our Rivers – Lake Martin / Tallapoosa River clean up days are Friday, November 4th and Saturday, November 5th.
Come one – come all!  Help keep Lake Martin beautiful!  Every year the Renew our Rivers event gives you the opportunity to make a difference.  Volunteers assist in roadside and lake shoreline cleanup.
Volunteers should report at 8 a.m. each day to the Wind Creek Park Marina, Kowaliga Boat Ramp or the Blue Creek Marina.
According to John Thompson (one of the organizers of the event) over 290 volunteers were involved last year to fill more than 400 bags which weighed over 6 1/2 tons!  How about those numbers? (Click here to read more about Renew our Rivers 2015)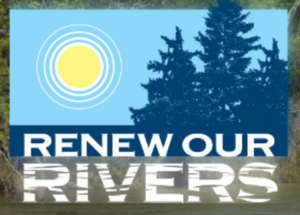 Renew our Rivers 2016 for our area is coordinated by Alabama Power, the Lake Martin Resource Association, Russell Lands, Advanced Disposal, Wind Creek State Park and TowBoatUS Lake Martin.
Mr. Daniel Powell, a spokesman with the Alabama Black Bear Alliance (ABBA), will be the guest speaker.  ABBA's goal is to "…work cooperatively and voluntarily for the conservation of the black bear in Alabama through research, education, and habitat management."  Mr. Powell lives in Washington County where there is a sizable population of the black bear.
According to Mr. Powell, black bears are expanding their territory into central Alabama.  It is important for us to have as much information as possible about the expansion of the black bear and its impact in the communities near Lake Martin.
Red Hill Community Center google map
Click here to read a story published in the Alex City Outlook from June of this year about black bears sighted in the Lake Martin area.
With several local sightings around the Lake Martin area recently, this sounds like a good meeting for us folks around the Lake to attend.
I have seen a few black bears in the wild in my lifetime. The first time I ever saw one, I was working in Yellowstone National Park one summer after my freshman year in college. I wasn't too impressed by black bears back then. I think it was because: 1.) I was too young and too dumb to have proper reverence and 2.) I was extremely scared of grizzlies, and maybe black bears paled in comparison.
I also have seen some in the Great Smoky Mountain National Park when trout fishing with my friends Ian and Charity Rutter at R&R Fly Fishing. Maybe I was old enough to appreciate them, or maybe the Rutters did a good job of explaining the bear's part in the ecosystem to me, but I was fascinated to see them.
It fires me up that there's a decent possibility that black bears will return to the Lake Martin area. They were once an apex predator around here, like the striped bass in the water. Let's hope and pray that we humans handle the bears' return in a responsible way.
A reminder for you to take advantage of the free Driving and Docking Clinics being offered by Singleton Marine at Blue Creek Marina – lots of dates remaining!  I wouldn't want you to miss the boat!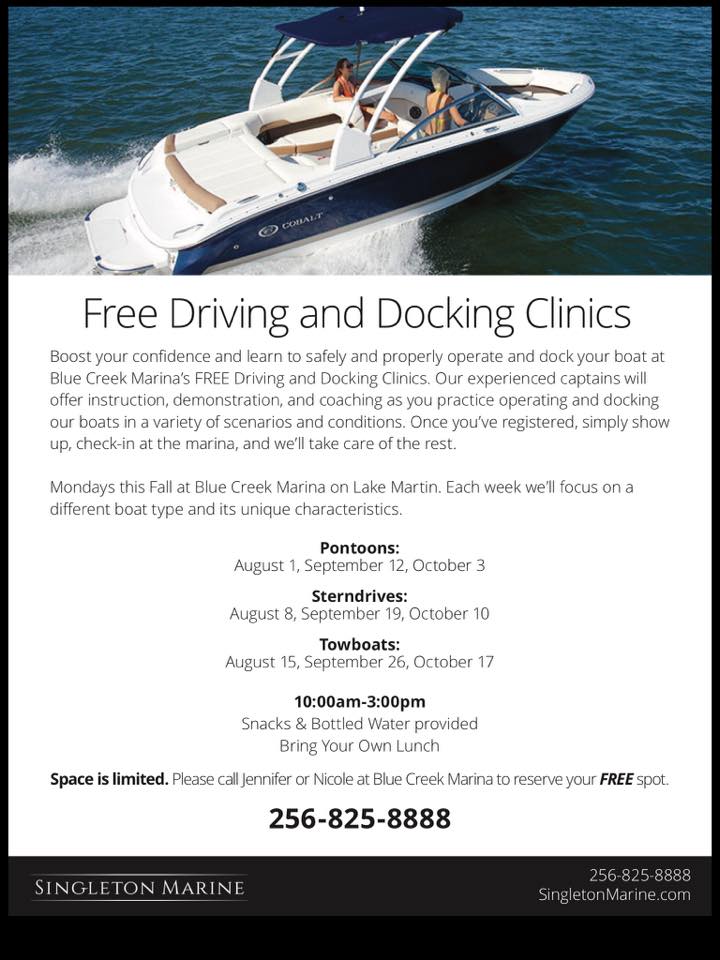 Blue Creek Marina is located at 7280 Hwy. 49 (aka Stillwaters Hwy.) in Dadeville.  Click here for the Google Maps location.
For other events around Lake Martin download my free app:  http://lakemartinvoice.com/app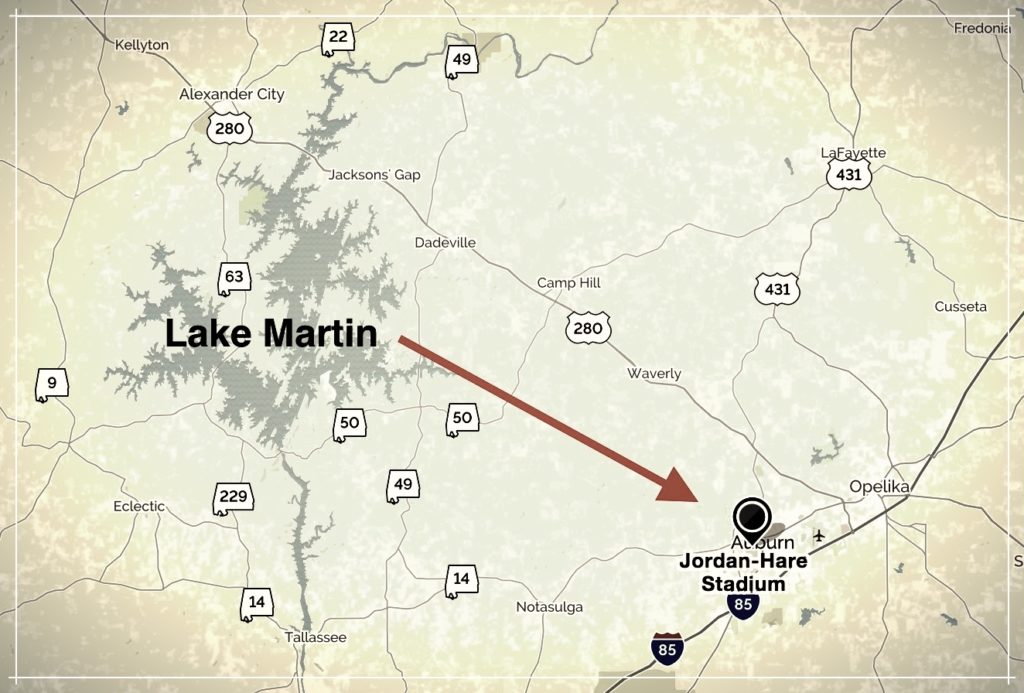 Do people stay at Lake Martin for Auburn games?  I believe the answer is YES. The Lake is a such a short drive to Jordan-Hare Stadium.
According to an article published earlier this month in Alex City Outlook (click here to read) Auburn home football games make a big impact on the economy around the Lake Martin area. Local merchants, businesses and restaurants report increased revenue for home game weekends.
And rentals at Lake Martin are popular for football weekends – enjoy the game in Auburn on Saturday and the Lake on Sunday!  What could be better?  (besides a winning season).
Even if you don't plan on going to the Auburn football game, if you are coming to look at waterfront real estate, it affects you, too.  As an example, I recently had a couple from Atlanta coming in to look at some homes and lots on Lake Martin.  They happened to be coming on a football weekend, and hadn't made any reservations.  Most of the local hotels around the Lake were booked up!  So it always pays to think ahead, even if you are not a football fan.
Since we are talking about Auburn and Lake Martin … were you one of the few that missed Auburn's kicker, Daniel Carlson's, Instagram video from this summer?  He and teammate Will Hastings were at Lake Martin "working hard in the offseason."  Click here to see the video and read the article from AL.com.
Whether or not you Roll with the Tide, yell Waaarrr Eagle, scream Go Vols, support the Bulldogs (Mississippi State or Georgia), geaux with the Tigers, get fired up about the Gators, Gamecocks, Razorbacks, Rebel Black Bears or any other team – enjoy the Fall with Faith, Family, Friends and Football!
The Wakeboard Clinic at Blue Creek Marina this summer was fun!  If you hear about one of these events at the Lake – GO!  It is the perfect activity for a warm summer day and the clinic is open for all levels of experience.
And in case you were wondering – the answer is no, that is not me showing off my awesome wakeboarding skills.  But my sons did learn some new acrobatic maneuvers and we want to say a big THANK YOU to Singleton Marine on Lake Martin for hosting the Liquid Force Wakeboard Demo Clinic at their location – Blue Creek Marina.
If you want to know about events around Lake Martin be sure to sign up for my free app!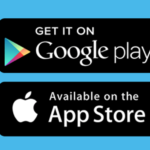 The Lake Martin Voice App is available
on the Apple App Store or on Google Play.
Thanks again to Singleton Marine – Blue Creek Marina!
Come have some great family fun at the Cornhole Tournament being held at The Landing at Parker Creek – Lake Martin on Labor Day Monday, September 5th at Noon!
No entry free!
Cash prizes awarded per team!  1st place – $200, 2nd place $100, 3rd place $50!
What? You've never played cornhole? Just learn a few cornhole terms and you will be yelling "Let's toss some!" before you know it.  For starters a slider is when the bean bag (or bag filled with corn) slides into the hole.  A swish is when the bag lands straight into the hole.  A Sally is a toss made a little too short – it lands on the ground before reaching the actual board.  And an Eddie the Eagle is when the bag goes beyond the board without hitting the board.  Oops.
Let me end on this note – like Herb Winches, owner of The Landing and longtime Birmingham sportscaster likes to say, "Hit 'em straight!"
Google Maps location for The Landing at Parker Creek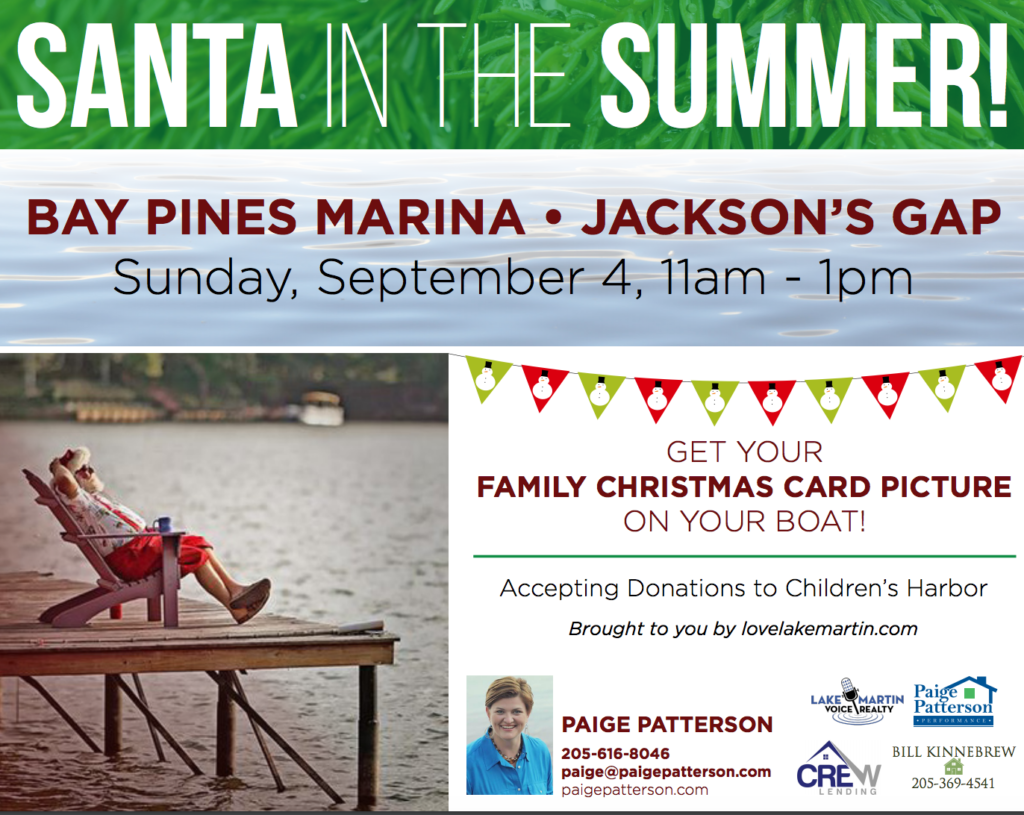 Shhhh…don't tell the kids but Santa vacations at Lake Martin.  Who knew?
You can take advantage of his being on the Lake on Sunday, September 4 and get a family Christmas card picture made on your boat!  Meet at Bay Pines Marina between 11-1 and be ready to smile and say Jingle Bells.  But don't bring your Christmas list because remember – Santa is on vacation.
Brought to you by Paige Patterson – lovelakemartin.com.  Donations will be accepted for Children's Harbor.   Click here for Paige's Facebook page for more info.
Google map for Bay Pines Marina
Ho Ho Ho and away we go!
Driving and Docking Clinics are being offered for free at Blue Creek Marina on Lake Martin!
Are you as confident as these boys about your boat driving and docking skills?  As a new driver or an experienced one learn how to drive and dock in all scenarios and conditions at a free clinic.
Experienced captains at Blue Creek Marina will offer instruction, demonstration and coaching as you practice operating and driving.  Learn how to safely and properly operate your boat.
Each Monday this Fall at Blue Creek Marina a clinic will be held focusing on a different boat type.  Here is the schedule:
Pontoons:  August 1, September 12, October 3
Sterndrives: August 8, September 19, October 10
Towboats: August 15, September 26, October 17
Clinics are from 10am – 3pm – snacks and water provided but bring your own lunch.  Space is limited.
Call Jennifer or Nicole at Blue Creek Marina to reserve your FREE spot.  256-825-8888
And remember – the best way to get good at docking?  Practice, practice, practice.
If you would like the best app for Lake Martin, Alabama, complete with events, eats, home search, and landmarks, please see my Lake Martin Voice App. It's free! Just search "Lake Martin Voice" in the app store.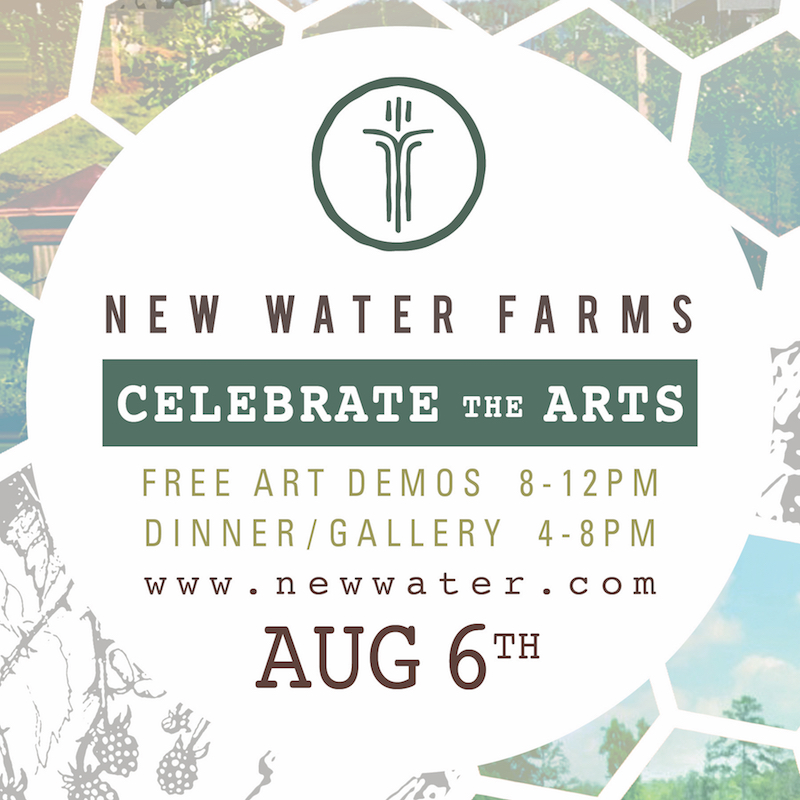 Celebrate the Arts at New Water Farms on Lake Martin in Dadeville on Saturday, August 6th.
You may be familiar with the honey, berries or baked goods from New Water Farms since they are offered at Pepper Place Market in Birmingham during the summer.  But are you familiar with the Farm itself?  Situated on 22 beautiful acres at Lake Martin its goal of "cultivating growth and renewal" is part of the New Water Ministries – a place for people who love Jesus.
It is located at 460 Civitan Road, Dadeville – about 7 miles from Hwy. 280.  Click here for a Google Map to New Water Farms.
Celebrate the Arts is a day for free art demos from 8-12pm showcasing ceramics (Keaton Wynn), glass blowing (Micah Simpson), painting (Betsy Covington), photography (Elizabeth Bacon), woodturning  (Pete Marken), and pen+ink drawing (Kaleigh Hartley).  Watch, chat and purchase pieces as artists work in their medium.
And then enjoy the evening art gallery and a chef-inspired cuisine with Chef Blake Hartley (Bottega Cafe and Hot & Hot Fish Club) from 4-8pm.  Tickets are $75 and are available online.  To see the menu, order tickets and for more information click here.
For other events around Lake Martin download my free app – http://lakemartinvoice.com/app.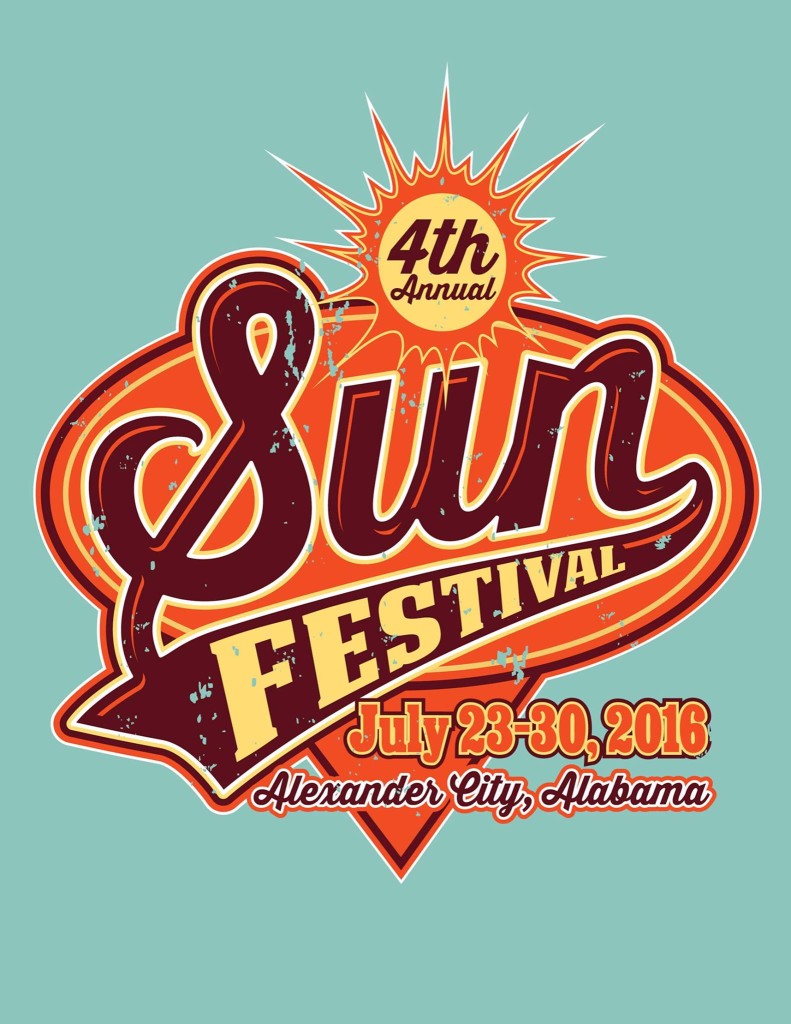 The Alexander City Sun Festival is here again – July 23- 30, 2016!  This Lake Martin area fun filled event is made possible by city and county governments, over 100 sponsors and many, many volunteers.  Sun Fest is coordinated by the Alex City Chamber of Commerce.
This week is packed full of activities for everyone – just to name a few (over 60 events are planned):
Saturday, July 23 – Get your glow on at the 5K Glow Run
Sunday, July 24 – Wind Creek State Park Family Day at the Lake (kayaking, sailing, volleyball, canoe race me?)
Monday, July 25 – Boot Scootin' Boogie in the Park
Tuesday, July 26 – Hittin' the Links Glow-in-the-Dark Golf Tournament at Lakewinds
Wednesday, July 27 – KidsFest Tribal Celebration
Thursday, July 28 – Sunset Hike to the top of Heaven Hill
Friday, July 29 – Band Battle at Strand Park
Saturday, July 30 – Summer Tailgate & BBQ Cook-off AND the grand finale – the Jana Kramer Concert and Fireworks show. Purchase your wristband early at the Chamber, online at www.alexandercity.com or at the gate that day for $20.  This wristband gives you entry to all of the day's events.  Bring your blanket or chair and enjoy the show!
Most events of Sun Festival 2016 are on my free Lake Martin Voice App.  To download a complete Sun Fest day by day guide click here.   You can also see their Facebook page here.  I do suggest you take a look at all 3 sources to help decide what events to attend – you don't want to miss anything!
Happy Sun Festival everyone – you don't want to miss celebrating all that Alex City and Lake Martin have to offer!