Lake Martin area runners take note – The third annual installment of the Russell Forest Run is scheduled for Saturday, February 25, 2012.
If you have run races before through Active.com – you will be saved a step in registering.  If not, that is OK too, an account is free.
The race fee is $40 for the 10k and $20 for the 5k.
I plan to run again this year, it's my third year in a row. It is the only 10k I have ever run in, so I don't have much in the way of comparison.  I think it's hilly, but my Birmingham friends tell me it is not so bad.  Whatever.
At any rate, it gives me great motivation to stay active while I train for it.  Even though it's not very hilly where I live, and I run only on roads or the treadmill, that seems to prepare me pretty well.
The race is run over the trails in Russell Forest.  Honestly, "trails" – is not quite accurate, they are really dirt roads.  True, there are sections that are gravelly, but for the most part it is hard packed red clay.  The roads meander through the woods by Lake Martin, and are just beautiful. Many moons ago, when Russell Lands still leased that area for hunting, my dad used to take me quail hunting all through there.
I think one of the best parts of the race is the after party.  Russell Lands the power of Russell Crossroads and has the Chef from Springhouse there serving tasties (I think they did a squash bisque last year) and the folks at Catherine's Market are supposed to have cold beer and drinks.
Plug For Runkeeper
To anyone that is training for the Russell Forest Run, or if you like to run or walk in general, take note of the Runkeeper app.
A friend of mine told me about this app for my iPhone. I love it for many reasons.
First, it's free. Secondly, it keeps up with all of your workouts and syncs them to the runkeeper.com site. You can set your own running routes, and it calculates distance for you. When you start your run, you let it know what route you plan to run, and it tracks the GPS on your phone and updates you with distance, time, and pace announcements through your earphones. You can even select what playlist you want to play while you run, and whether or not you shuffle.
When you are done, you let it know, and it uploads your results to your private runkeeper.com account.
My only complaint is that it is not compatible with my heart rate monitor. I have one of those older chest strap monitors that transmits your heart rate. It works great on the treadmill but my iPhone 4 won't put it through to runkeeper. Maybe it's an iPhone thing, I don't know. It would be really cool to be updated on my heart rate because that's how I train anyway, not by timed pace per mile.
Enough about me.
I hope to see YOU at the Russell Forest Run. It's a fun event that shows you that there's plenty of things to do around Lake Martin in the winter.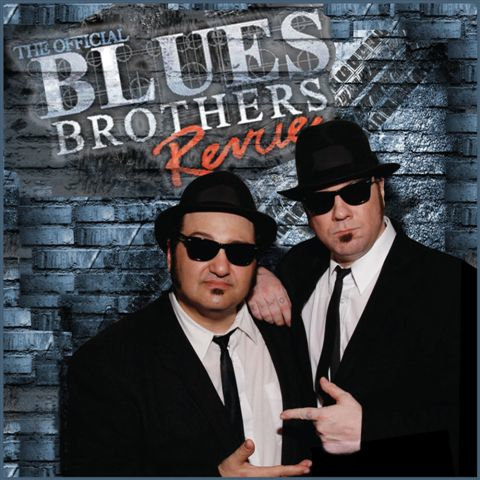 If you plan to be at Lake Martin on Valentine's Day, and are wondering what to do, you may want to check out the Blues Brothers Revue in Alexander City.
That's right, Jake and Elwood have gotten the band back together, and they are performing at the Benjamin Russell High School Auditorium in Alex City on Tuesday, February 14th, 2012, at 7:30 PM.
They are playing complete with the intercontinental Rhythm and Blues Band, with a "piping hot" horn section, with gospel singers, and dancers. In fact, their sax player Murph Dunne got in a huge fight with his wife. He lost her and a job to be here, so the least you can do is show up.
I will grant you, there will be a few elements missing from the normal show. While they do feature gospel singers, I am pretty sure that James Brown will not be doing back flips on a trampoline. But on a positive note, there will be no crazed women firing M-16s at the boys.  Here's a link to their latest promo video.
Seriously, this is for a really good cause – The Alex City Arts, and was funded in part by a grant from the Alabama State Council of the Arts.
Doors open at 7pm. Tickets: $15.00 for adults, children 12 and under $5. Tickets will be available February 1st at the Russell Hospital Gift Shop; The Chamber of Commerce; and 'Main Street', Alexander City, or at the door. For more information call; Ron Morgan, President, Alex City Arts at 256.234.9806 or e-mail [email protected]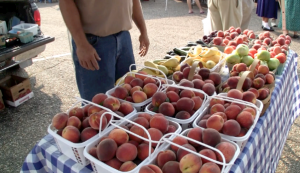 Lake Martin vacationers: MainStreet Alexander City hosts a farmer's market every Saturday morning from 7-11am.  This is a quintessential summer activity;  if you're into fresh produce, local honey, goat cheese, BBQ sauce, soap, herbs, and baked goods, head downtown.
On any given Saturday morning you're sure to run into the Jones family, Lake Martin homeowners from Atlanta, who are hip to things culinary, and fans of local produce. Despite having a world of foodie options in the city, they frequent the Alex City farmer's market (and then the Piggly Wiggly meat counter right up the street) and create fantastic dishes to serve lakeside.  If you're lucky enough to be invited to dine with them, leave your cooler of Natural Light and pimento cheese at home.  Allow Mr. Jones to set the menu.
We took our own family trip to the farmer's market, and filmed this quick video so you can check it out too:
The Lake Martin community extends well past the shoreline into the small towns and countryside around it.  The more you know about the area, the more you will feel at home here.  If you need help finding that perfect lake home, or just want some ideas of things to do while you're here, give me a call at 334 221 5862.
You don't have to own property on Lake Martin to have fun here.  In fact, a day trip on your boat can be a super Lake Martin experience.  I'm not saying you shouldn't buy a home – I need to pay the power bill just like everyone else – but I am saying that you can get a lot of enjoyment out of  just your boat and the people in it.
Pack a cooler.  Find an island and anchor.  Cruise the entire lake.  Tie up at a restaurant for lunch.  Visit friends.  Ski and wake board in the calm waters of a slough.  Enjoy drinks on the boat at sun set.  Not a bad way to spend the day!
I recently sold a home to a couple who had been doing just this : day tripping from Georgia and putting their boat in at River North Marina.  They love to wake board, so they liked the calm waters on the north side of Lake Martin.  They had plenty of Lake Martin day trips and several rented lake houses before they finally decided to buy.  These are great ways to get to know the lake.
If you're interested in day trips to Lake Martin, there are plenty of places to launch your boat.  Click on this link for a list of Lake Martin public boat launches.  Click here for a list of Lake Martin marinas. If you don't have a boat, and would like to rent one for the day, check with the marinas for prices and availability.
If you're a pro at the Lake Martin day trip, comment below and let us know your tips.  Thanks for the input!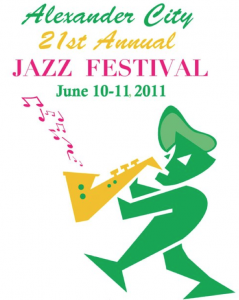 The 21st annual Alexander City Jazz Festival is THIS weekend – June 10-11, 2011.  It's 2 nights of outdoor fun and FREE music:  Friday night in downtown Alex City, and Saturday night at the Lake Martin Amphitheater.
This event is always a good time and one of the Lake Martin area's biggest parties. In fact, it is one of the few remaining music festivals of its size in the southeast that is still FREE.
It's also family friendly, and both locations will have food vendors and t-shirt sales.  Bring your coolers, drinks, blankets and folding chairs, and settle in for 2 nights of great music.
Here's the lineup for both nights:
Friday, June 10: Strand Park, Downtown Alex City
6:00 pm              Davin McCoy and the Coming Attractions
7:30 pm              Deep Fried Five
9:00 pm              Wet Willie
Saturday, June 11: Lake Martin Amphitheater
6:30 pm              Yonrico Scott Band
8:00 pm             Randall Bramblett with Geof Achison
For more information, click on the following links:  Alex City Jazz Fest 2011,   Lake Martin Amphitheater
Here's a video of the Lake Martin Amphitheater if you are unfamiliar with it.  I shot it last summer, but the tips and directions I give still apply today:
New videos of Lake Martin, Alabama, tornado damage and an amazing survival story by a Lake Martin area business.
I spent Friday, April 29, 2011, in the Tallapoosa County Road 34 area.  This area of Lake Martin was the site of much damage – a direct hit from the tornado that passed through on Wednesday, April 27.
The Alabama State Troopers had a roadblock up on County Road 34 to limit traffic flow to the absolutely necessary.  I was shocked and amazed when I saw the damage and destruction the tornado left behind, especially to two area businesses: Kelley's Heating and Air, and The Green Monster Fishing Light.  They are located at about 11003 County Road 34, Dadeville, AL 36853.
I shot a quick video of one of the more amazing scenes I have seen: the tornado picked up weights and threw them about 200 yards.  One of them was a 70 pound dumbbell. It was hard for me to understand how it could pick up something so heavy, with so low a profile and center of gravity. But it did, and did it en route to completely destroying the Kelley metal building and ripping trees from the entrance to Maxwell Gunter Recreation Area.  Check out the video:
I then went and interviewed Ronnie Dennis of The Green Monster Fishing Light.com.  He lives close by ground zero, and his father somehow miraculously survived a direct hit from the tornado while inside the metal building. I found his story to be inspiring, I hope you do, too.
Tomorrow I plan to get back out to the Tallapoosa County area and talk to volunteers and firemen that are working feverishly to help those in need.  As of noon today, Tallapoosa County, Alabama was still not on the disaster area list.  This must be sheer ignorance on someone's part.  If they could see a fraction of the tornado damage here, we would receive some more aid.
Lake Martin stretches over three Alabama counties: Coosa, Elmore, and Tallapoosa.
For more images of the tornado's aftermath at Lake Martin:
Lake Martin Voice Photos on Flickr
Lake Martin Dock Company Photos
The Church of the Living Waters at Stillwaters is one of two outdoor, non-denominational, lakeside churches on Lake Martin. It's convenient to those of you who live or vacation on the east side of Lake Martin, and it's a casual (shorts and t-shirts) worship environment right on the shores of Lake Martin.  You can drive your boat to the Sunday morning service – now that's unique experience –  or you can arrive by car, golf cart, or bike.
Guest preachers and musicians rotate through the pulpit from Easter Sunday through Labor Day.  All services (except the sunrise Easter service) begin at 9:00 am.  They also do weddings.
The Church of the Living Waters has a great website, so to get more information and directions, go to  http://www.colw-sw.com/.
Church in the Pines is the other outdoor worship facility, and it's located on the west side of Lake Martin right off of Highway 63, by Kowaliga Bridge and Sinclair's restaurant.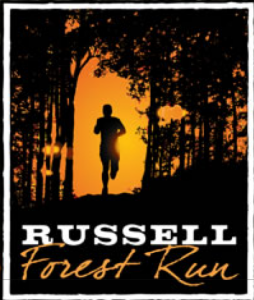 Attention runners (and walkers):  Click here to register for the 2nd Annual Lake Martin Russell Forest Run on Saturday, February 26, 2011!  If you haven't explored the new Russell Forest Trails yet, this is a great way to experience a part of this 20,000+ acre trail system that lies a little north of Kowaliga Bridge, off of Highway 63.  It's also a good reason to make a winter trip to Lake Martin.
I had a good time running the 10K last year, so I'm signing up again. The registration website describes the terrain as "gently rolling," but since I am used to training on some pretty flat ground, it was more than gently rolling to me.  And a little chilly.  But definitely a fun time.  There is a 5K option this year, and you can always walk if you don't like running.  Oh – and the shirts they gave out were that cool, athletic "breathable" kind, – a step up from yet another cotton t shirt (for 10K runners only).  Maybe they'll do that again.
I'm looking for runners and walkers to join the Lake Martin Voice Realty team, and I'd love for you to sign up with us when you register.
Here's a quick video clip from last year's post-party
I recently filmed a hike my family took on some of these trails.  To get a sneak peek at the roads you'll run, check it out:
Looking forward to seeing you there!
Lake Martin's Aquapalooza 2010 is this Saturday, July 24th.  The free concert is from noon to 7 pm in front of Sinclair's restaurant in the Big Kowaliga area of Lake Martin (by Kowaliga Bridge, aka Highway 63 Bridge).
The featured artist, John Anderson, will wrap up the show (Think, "Seminole Wind").
I went by Kowaliga Bridge this morning and shot some video of the set up.  The logistics worked last year, so bring your boat and enjoy a really fun afternoon on Lake Martin.   Take a look:
What: Lake Martin's Aquapalooza 2010
When: Saturday, July 24,  12pm -7pm
Where: In the Kowaliga area of Lake Martin between Church in the Pines and Sinclair's Restaurant (off of Highway 63)
Reservations: not required
Church in the Pines on Lake Martin is an integral part of lake life for many families.  It's an outdoor, casual, nondenominational, Sunday morning worship service.  Guest preachers and musicians from the area rotate through the pulpit, and all ages are invited to attend.
You may have seen Church in the Pines if you've driven by boat to Sinclair's restaurant. It's just north of Kowaliga Bridge.  If you come by car (most folks do), there is parking off Hwy 63 as you turn into Kowaliga Marina.
For the worship schedule visit the Children's Harbor website.
[edited 9-12-12]: ALL BRIDES TO BE, PLEASE NOTE: I am a mere real estate agent. This is a real estate blog. Please do not contact me about reserving Church in the Pines or Children's Harbor Chapel.
To reserve Church in the Pines or Children's Harbor Chapel, contact:
To contact Children's Harbor call:(334) 857-2694
If you decide to call me, please don't get mad at me when I explain I am merely a Lake Martin real estate agent. I am not trying to prevent you from booking your wedding. I understand that booking a wedding at Lake Martin is really cool, and I understand that finding a venue for a wedding is stressful. But please know that I am not the one you need to contact.