How many nighttime boat rides have you taken on Lake Martin?
I usually take several a year and I love them. The lake always looks totally different when the sun goes down. There's a lot less traffic, but obviously you have to be on guard when operating a boat at night.
I have even fished many a night, especially in the summer. Warm water temperatures means low oxygen, and that means fish go down deeper. When the sun goes down it sometimes gives them a chance to come in to shallower water and look for treats like hatching mayflies. Granted, these are smaller spotted bass and bream that venture up to sip the insects. You probably are not going to catch any of Lake Martin's famed 20+ pound striped bass by delicately casting a size 14 parachute Adams.
There are lots of folks that fish at night during the summer for striped bass, and David Hare's company, Alex City Guide Service, is the best of the best.
I always pay attention to David Hare's fishing reports. David is the owner and head guide at Alex City Guide Service.  Lately his (seemingly) unending pictures of nice stringers of striped bass has finally broken through my willpower. I can't stand it anymore! I called David up and booked a boat for later this month. I have never been night fishing with him so I know my family and I are in for a treat.
If you would like to learn more about striped bass fishing on Lake Martin, please see his report for August below.
I also pay close attention to David's Facebook page.
If you have any questions, please contact David directly at:
Alex City Guide Service
Captain David Hare
256-401-3089
[email protected]
As of 7/11/17 Full Pool(491.00) Clear Surface Temp 88July was a pretty awesome month for night time striper fishing. With only a few nights being tuff we were able to limit out the majority of time plus land some nice trophies including a 36 and a 26 lber. August fishing should continue to be good night time striper fishing. The water temps are going to be 90+ and the fish are going to be deeper this month than most any other month. I personally will be working in 100ft or deeper water looking for suspended fish in the 60-80 ft depths. I will also be expecting the best bite to be later in the night say 

9pm 

or later, with good live bait, lots of patience will be the key to great catches. August is also a good time for deep water trolling at daylight and dusk. I would try in the Ridge Marina area, the dam and Goat Island. For best results try using spoons, jigs and bug swim baits running them 40-60 ft deep.

Bream fishing is really good in August if you can stand the heat. You can limit out most any day at most any time. Try your luck in shaded pockets that are stacked with floating debris. Most any area of Lake Martin holds real nice bream.

Until next time – be safe, keep what you can eat and release the remainder for your next trip!Capt. David Hare

256-401-3089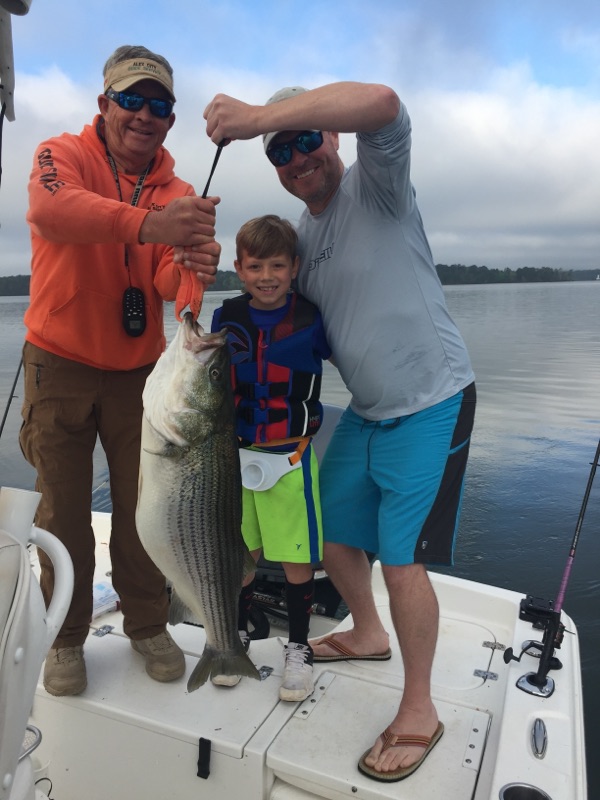 I first met G. C Lewis and his family when I was helping them find a waterfront lot on Lake Martin. Being an Auburn alum G.C. was interested in building a lake home close to Auburn. Since the Lewis family lived in Georgia they were weighing their options at Lake Martin vs lots at Lake Chatuge in Georgia. They realized Lake Martin had a lot more to offer in terms of amenities and restaurants.
We found a lot in Shady Bay that was perfect for them. They hired Bryan Jones of Jones Pierce to design their home. The Lewis family was so excited to move forward with their plans to build at Lake Martin.
It is so much fun for me to keep in touch with my clients over the years. The Lewises were new to Lake Martin but as you can see in the photo above, they quickly learned the fishing hot spots with help from David Hare.
David Hare, owner and head guide of Alex City Guide Services, is one of the best guides on the Lake and certainly one to talk to about learning to fish Lake Martin. Give him a call at 256-401-3089 or email him at [email protected]
If you are looking for a lot at Lake Martin and ready to start planning your lake getaway, call or text me, John Coley at 334-221-5862  or by clicking here or email me – [email protected]. I would love to help you navigate around the Lake and catch your great real estate deal.
It is no secret that I love to fish for striped bass at Lake Martin.  And I am always looking to improve my game.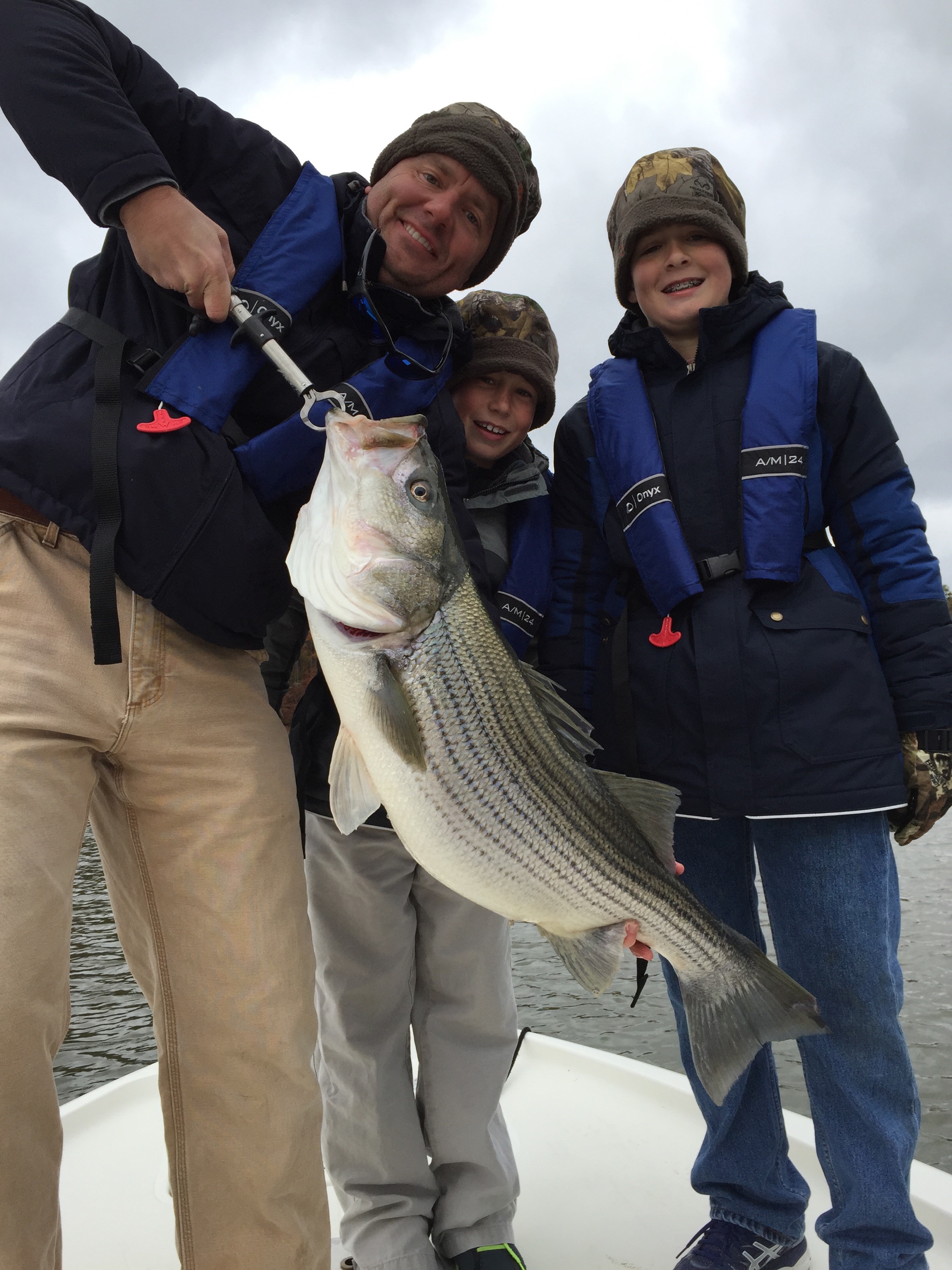 This picture from a few years ago was taken here at Lake Martin in the Fall and yes it was chilly. Here it is March and it is time for a March report from David Hare.
I always pay attention to David Hare's striped bass reports. David is the owner and head guide at Alex City Guide Service.
Please see his report for March below. Also pay attention to the Striped Bass Class (bet you can't say that fast without laughing). The class is March 25 – it is a great opportunity to get some help with catching striper.  Click here for more information about the class.
I also pay close attention to David's Facebook page.
If you have any questions, please contact David directly at:
Alex City Guide Service
Captain David Hare
256-401-3089
[email protected]
Lake Martin Striped Bass March Report, by Captain David Hare
Sitting here on 2/08/17 trying to give you a March report! Well I'm going to tell you what should be happening based on past years of guiding here and living on this lake.
March is a month that you could find stripers on most any part of the lake, however some of my favorite places in March are in the creek channels for example: (but not limited to) Elkhatchee, Blue Creek, Big Sandy, and others. Creeks do not hold all the stripe by any means but for me they produce very well. The next several weeks (12-14 weeks) you can have lots of fun fishing creeks for trophy size stripers. In fact a couple years back on March 13th one of our guides boated a record 52 lb. 'er at the mouth of a creek channel. That same day we had several fish in the 30 to 40 lb. range. That being said – March produces monsters.
I know, I know I haven't told you what to fish with or how? It's no secret that we (Alex City Guide Service) specialize in live bait fishing which for most people is a very challenging way to fish due to catching shad and not to even mention being able to keep them alive, so what you can do is go out and catch you some bream on a hook and line, keep them alive and go right then and fish them on planer boards in these areas. Take your time and your patience and work creek areas and you just might be surprised at what you catch.
Say that sounds like a lot of work, time and trouble? Well that's when you just pick up the phone and call me to book a trip of a lifetime. We are considered the go to guide service on Lake Martin and year after year we entertain thousands of clients and produce some of the best catches in the South.
Now for you anglers that want to learn techniques to be able to catch stripers on most any striper lake we have a seminar here locally on March 25, 2017. This seminar is going to focus on live and artificial baits, locating fish, planer boarding, downlines, trolling, tackle, rigs and rigging, gear, electronics training and more ….. Pro's Capt. Cefus McRae of Nuts & Bolts of Fishing, Capt. Mack Farr of the popular Capt. Mack Umbrella Rigs and Tackle, and myself – Capt. David Hare, owner and guide of Alex City Guide Service on Lake Martin are going to be giving presentations. This seminar is a must for the novice and an eye opener for the most advanced striper fisherman. It starts at 9:00 a.m. and ends at 3:00 p.m. Lunch is included and there will be door prize drawings. It's a no brainer when you get all this at only a $75.00 admission fee. For reservations and more info contact Capt. Cefus McRae by logging on to Nuts & Bolts of Fishing 2017 Seminar Series. Seminar will be rain or shine inside the Alexander City SportPlex Cabin. 

Until next time tight lines!
Capt. David Hare
256-401-3089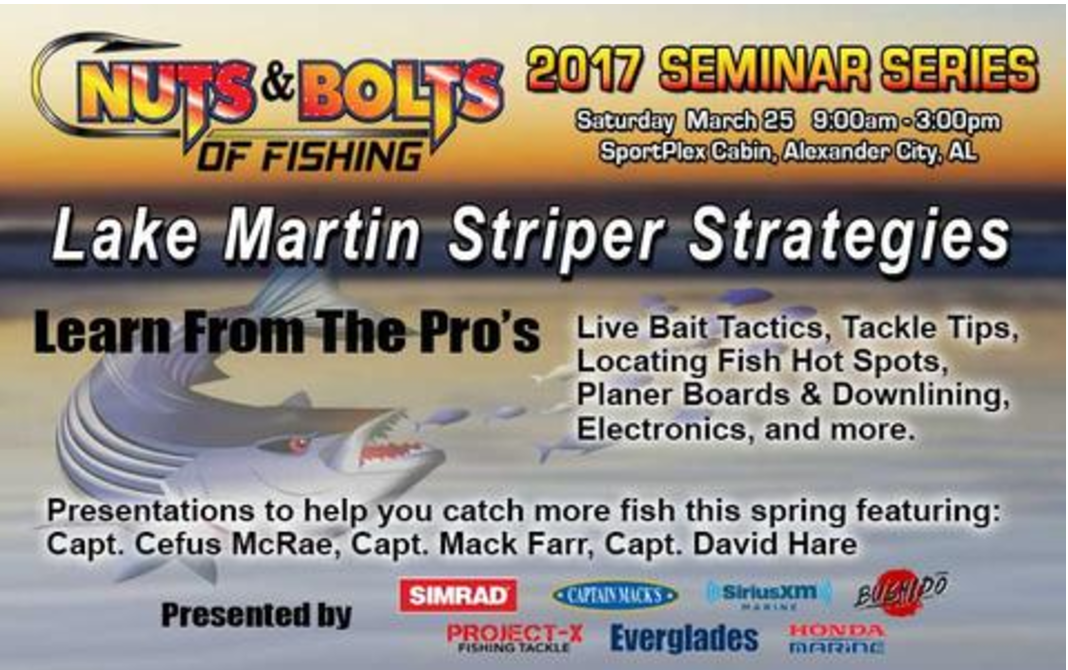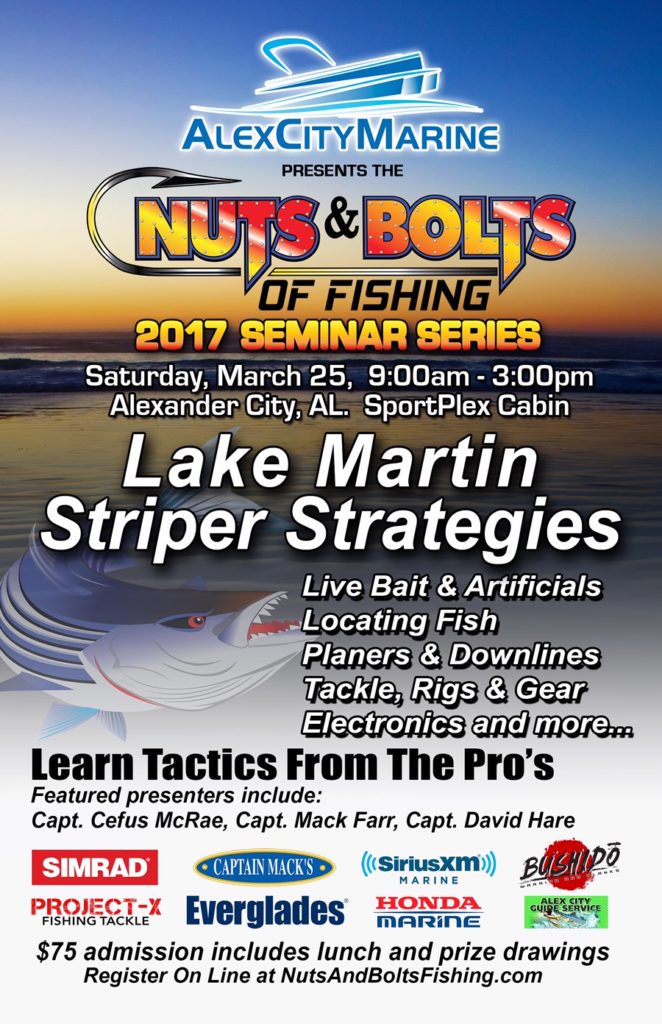 The Nuts & Bolts of Fishing Seminar – Springtime Striper Strategies on Lake Martin on Saturday, March 25 is a full day live, interactive seminar focusing on targeting and catching stripers this spring.
Nuts & Bolts of Fishing seminars provide the 'nuts and bolts' of what anglers want to know and need to know to become more successful on their regional lakes and reservoirs. This event will highlight striper fishing on Lake Martin.
The presentations include:
Getting the Most from your Electronics
Tackle, Tactics and Rigs
Locating Fish
And more – plus there is a Q&A session with the Pros at the end of the day.
Admission is $75 and includes lunch and prize drawings.
Location is the SportPlex Cabin at the Bailey Sports Complex in Alex City.  Click here for directions. Saturday, March 25, the doors open at 8:30 a.m. and the event takes place from 9 a.m. to 3 p.m.
I don't have a fishing boat and mostly fly fish for the striped bass here on Lake Martin. However, I am always curious about how the bait fishermen and those who use conventional tackle go about it. I asked Capt. McRae a couple of questions that I think you might like.
Q: I have heard that the first step in finding striped bass is to find the bait. Do you agree?

 

Striped bass are a nomadic fish. They don't have a 'home', like largemouth bass.   Instead, they follow the kitchen. Stripers have to eat a lot because they are always on the move.   So, yes…find the kitchen, and the stripers won't be far away. But finding bait doesn't always mean there will be stripers ready to eat.  Obviously there has to be lots more bait in the lake, compared to the striper population…otherwise, they would eat it all up in a few days. So another way, especially in the winter and early spring, to locate actively feeding gamefish is to look for the birds. Seagulls cannot dive under water to get food, like loons for instance. They depend on stripers to push the bait to the surface for easy pickings by the birds. Locate whirling, diving seagulls and you've found the mother lode.

Q: I am mostly a fly fisherman. Will your seminar be covering any tips that I could use?

 

The content would definitely be beneficial. We don't necessarily have a full length presentation on fly fishing, or specific flies and streamers to use but…. the same techniques we use for pulling planer boards can work very well for the long-pole angler. Fishing on an overcast day in the winter, when the fish have the freedom to be anywhere in the water column, will keep the fish close to the surface for the fly angler. Sinking lines and streamers that mimic herring or shad will work really well. The key is locating them. And location is exactly what Capt. David Hare will be sharing. Stripers will come from great depths to take a fly, but they have to know it's there, and they have to be ready to eat. Fishing the upper Tallapoosa in the spring where the water is only 6 to 10 feet deep is a prime example of a great place to fish. And it's the same places we pull planer boards. The baits behind the boards are only a few inches to a foot deep and the stripers will explode on them. It's quite a sight. We also throw a lot of small bucktails for stripers on Lanier and Hartwell. When they are zoned in on small shad or threadfin herring, we use crappie minnows and small bucktails. Essentially matching the hatch. We do a lot of fly fishing on Lake Lanier in the winter and early spring using those same tactics and it's extremely fun and can be very productive.
This sounds like a great way to learn more about striped bass fishing here on Lake Martin. And it's perfect timing for the Spring!
Register online at NutsandBoltsFishing.com.  Seating will be limited, so be sure to sign up early!
Questions? Contact Capt. Cefus McRae at 404-402-8329 or [email protected]
Don't tell anyone, but a few weeks ago I played hooky from work.
I fished with Drew Morgan of East Alabama Fly Fishing. We floated the Tallapoosa River, just above Lake Martin.We put in at Horseshoe Bend and floated down to the boat ramp at Jaybird Landing. He took me down on his boat, which is perfect for fly fishing like this.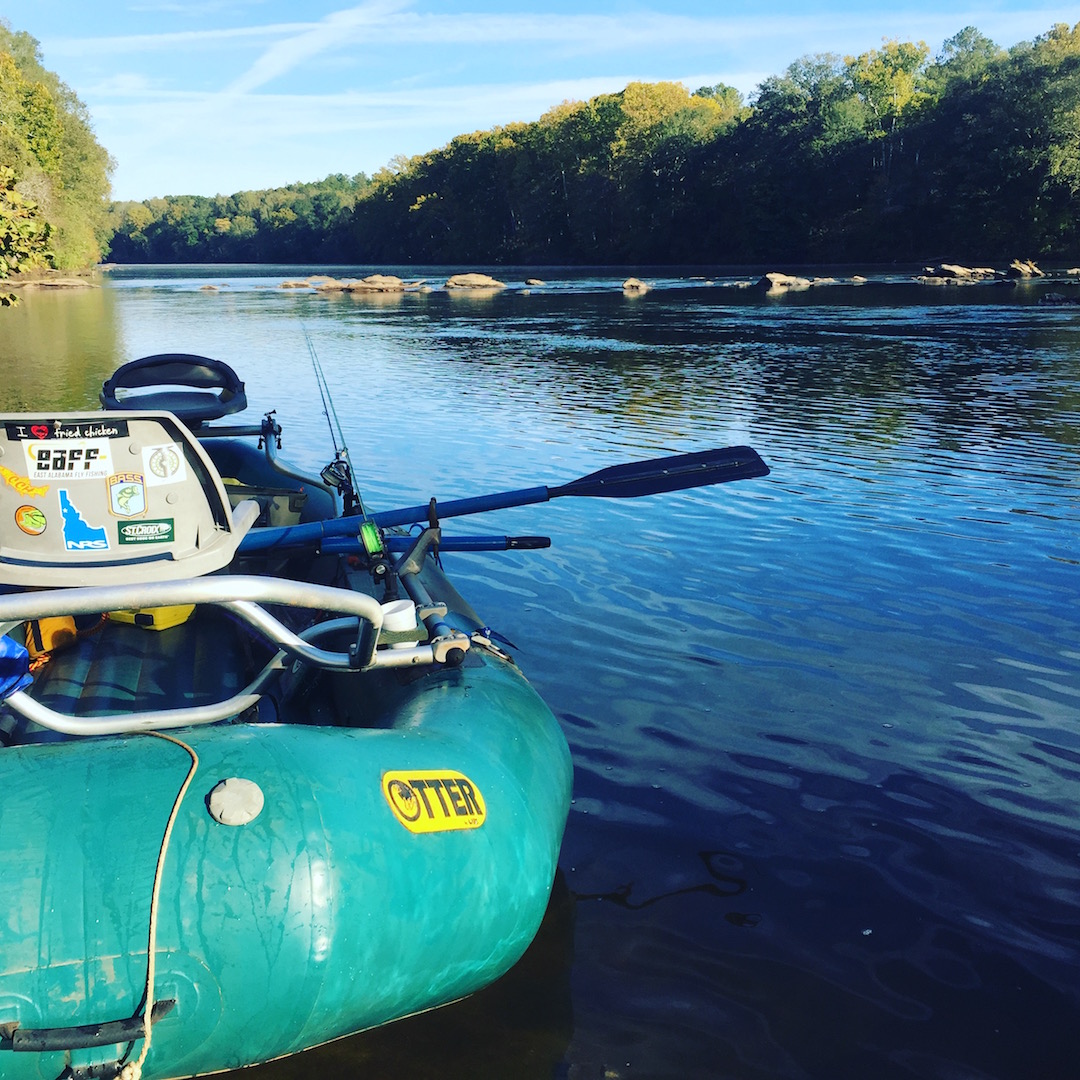 It was a beautiful day! The weather was clear and warm for October. The Lake Martin area is suffering a drought, so river levels were low. The flow was at about three feet when we started. Low, clear water makes fishing a little tougher, and we had to get out and drag the boat over a spot or two.  But other than that, it was picture perfect!
We caught a few spotted bass, a few redeye bass, and several bluegill. White poppers seemed to be the most popular fly of the day. I had to catch my breath when I saw a big (fifteen pounds or so) striped bass cruising the shallows by Jaybird. We were trolling a "Game changer" fly at the time, which I thought might incite a strike. No dice. In hindsight, I sort of wish I would have pulled in the line and cast in his general direction. At the time, however, the fly was trolling and tracking to go right by his line of travel, so I let it go. Seeing a big fish like that sometimes makes me freeze up!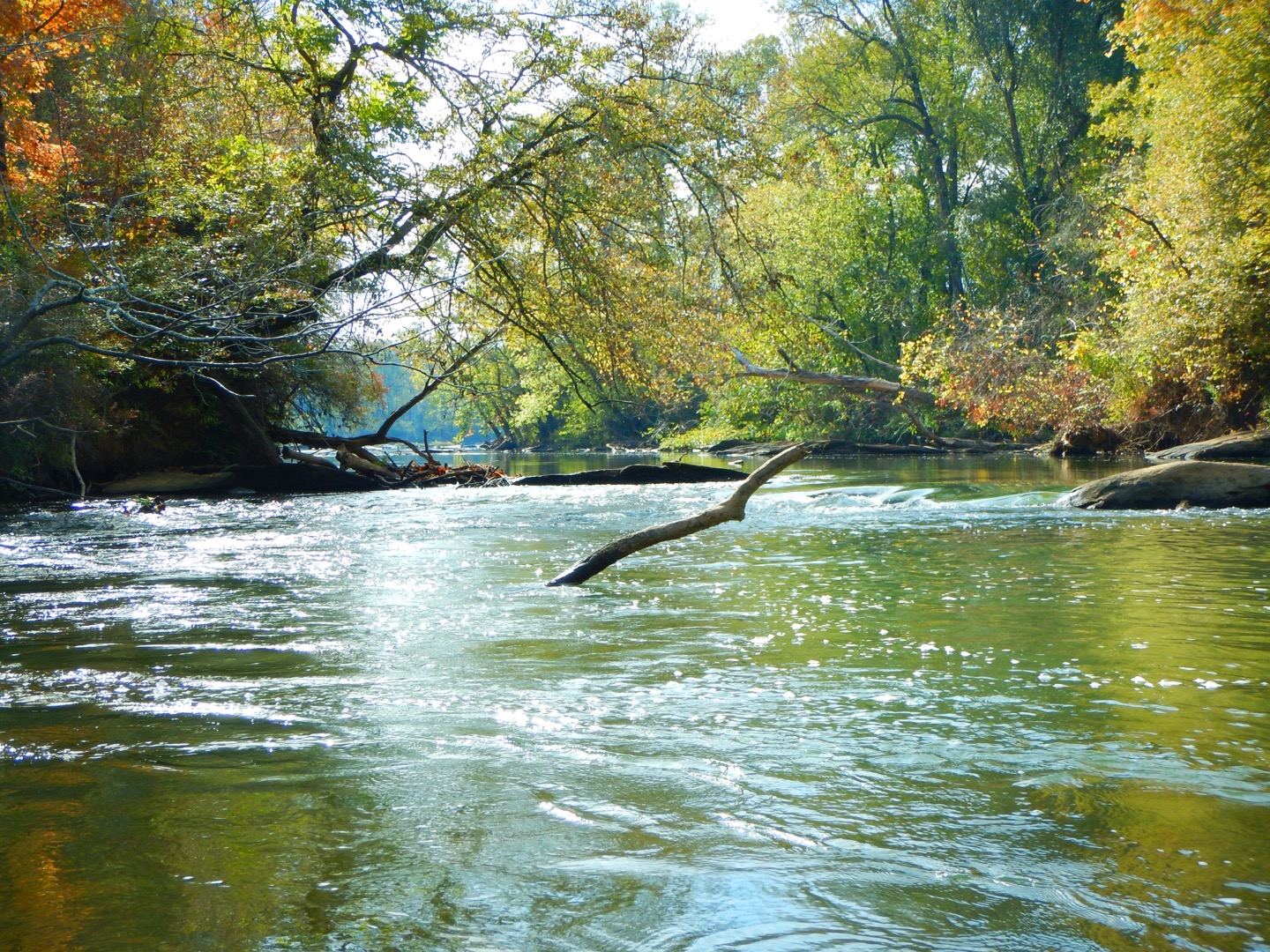 Very few people who visit Lake Martin realize what a beautiful treasure the Tallapoosa River is. The Tallapoosa is what is dammed to create Lake Martin, so if you follow the lake north, you'll hit the River. I can't really blame the lack of knowledge, because even though I grew up here, I didn't realize how cool this area is until I was old (>30).
If you'd like to learn more about fly fishing, spin fishing, or drifting the Tallapoosa River,
CLICK HERE
to contact Drew.
If you like to fish from your own canoe, kayak, inner tube, or rubber ducky,
SAVE THE DATE of

May 13

.
Drew and I are teaming up for a river bass fishing tournament to benefit a local charity. More details later.
For now, enjoy these pictures that Drew took on Monday. That bass with the bulging belly – it was full of crawdads. Plural. It was so stuffed you could feel their hard exoskeletons through the fish's skin. When we looked inside its mouth you could see crawdad antennae poking out of its gullet. It was freaky!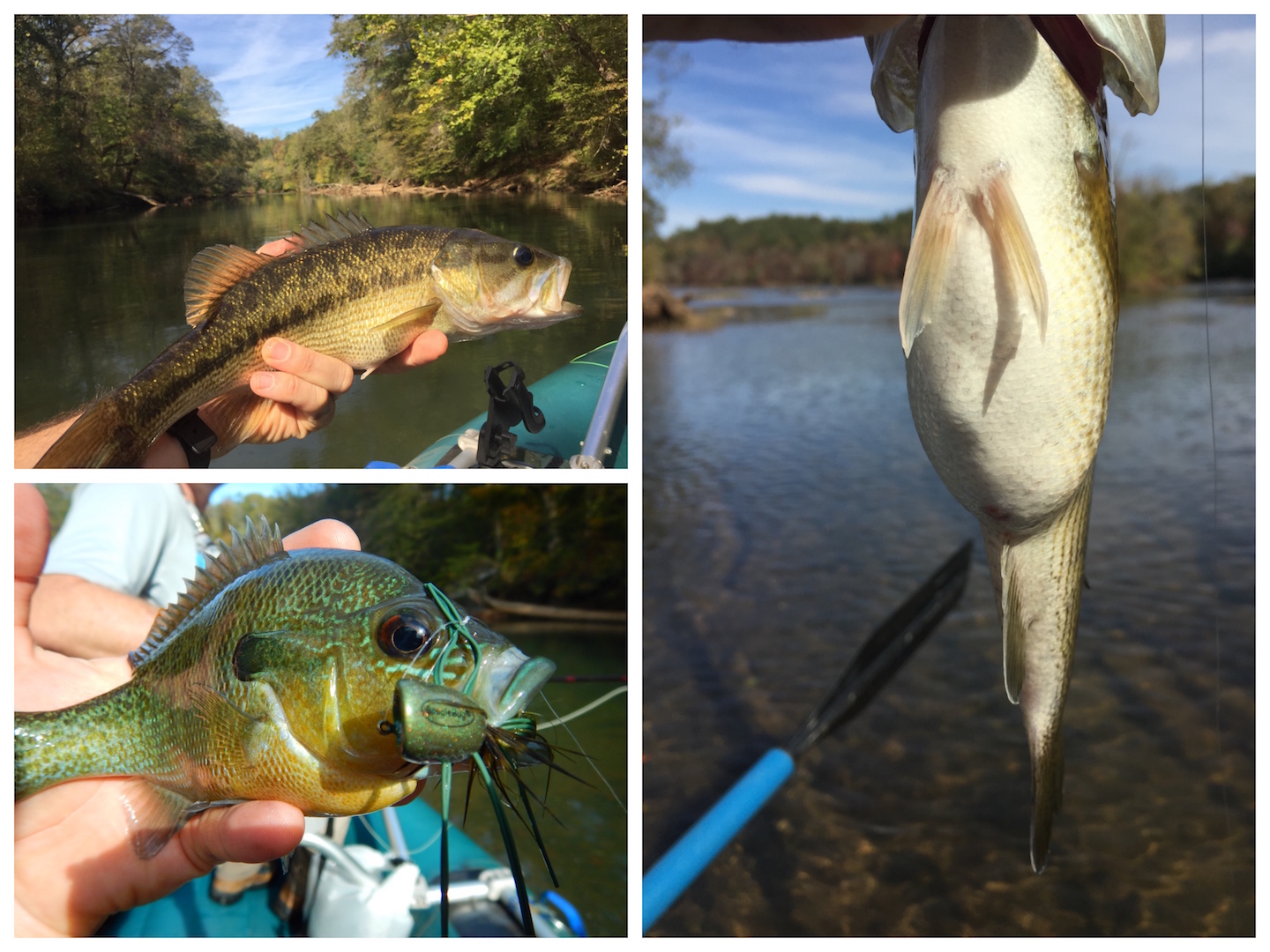 September is a magical month here at Lake Martin. I love it. The water is still pretty warm, but the nights are cool. Not even the oldest of codgers complain about boat traffic, because there is none. One other factor gets me really fired up about Lake Martin life in the fall: striped bass fishing!
I'm on a continuing quest to figure out how to reliably catch striped bass on my fly rod here at Lake Martin. I have learned a lot over the past few years, mostly by error. One huge thing I have learned is that step one is to find the fish. That may sound pretty simple, but to me it is the biggest element of the game.
That's why I always pay attention to David Hare's striped bass reports. David is the owner and head guide at Alex City Guide Service. Although he is primarily a bait fisherman, no one on the Lake knows the striped bass patterns better than he does.
Please see his report for October below.
I also pay close attention to David's Facebook page.
If any reader out there has some good tips for me to catch them on my fly rod, please let me know!!
9/12/16
Water Level 487.8 ( full pool 491.00)
Surface Temp / 84º–89º
Clarity / Very Clear
As predicted September on Lake Martin was awesome. Both day and night trips were producing numbers of stripers. Of course your better quality stripers were and will always continue to be caught on live bait. We still occasionally do get a trophy on artificial baits trolling. At press time we (
Alex City Guide Service
) have boated numerous trophy stripers this month including several in the 30 + lb. range.  With the Lake record being 52 lbs. (which was caught by Alex City Guide Service) and this year's Lake record so far being 45 lbs. (which I am proud to say also was caught by us) – all were caught on live bait in which we specialize in and it continues to keep us on the map for
one of the best trophy striper lakes in the country.
October will be (if the past holds true) another awesome numbers game. There will be lots of stripers and bass caught this month with the water temps cooling down. Not only will you be able to catch these fish trolling  and live baiting, you will also be able to catch some on top schooling.
Remember October is a transition time and you're most likely to find fish most anywhere on the Lake.
No matter what species you enjoy targeting you can normally have a good time in October.
If you don't know Lake Martin or you just had rather hire a guide to increase your chances of a fun day on the water then give us a call at
256-401-3089
and we will take care of the rest.
Until next tight lines !
Capt David Hare
Would you like to fly fish around the Lake Martin area? This time of year (June) has hot weather that chases fish from shallow water. That's why local anglers point their rods toward the Tallapoosa River-the headwaters of Lake Martin.
The Tallapoosa River, especially the portion from Horseshoe Bend down to Irwin Shoals, is excellent water for fly fishing for many kinds of bass and sunfish. The problem in the past has been finding someone with the gear and the know how to teach you or take you. Enter my new friend Drew Morgan.  He has been killing it lately on the Tallapoosa. Check his IG for pics.
Stealth bomber, deceiver, game changer, popper, woolly bugger…what are these?
They are a few of the flies that Drew Morgan of East Alabama Fly Fishing  recommends.  Watch the video above and learn more about the gear he recommends for fly fishing on the Tallapoosa River. Drew covers it all- fly rod types, line types, flies themselves, etc.
Contact Drew and book your trip!
To directly contact Drew Morgan of East Alabama Fly Fishing, please go to his website here or his Facebook page!
Related Posts:
Fly Fishing the Tallapoosa and Best Times to Fish the Tallapoosa
The Alexander City Boat Ramp floating dock on Stowe Ferry Landing has undergone some updates – bumper and deck boards were replaced.  Great news huh?  The picture below from the Alexander City Public Works Facebook page shows the work being done.  Read more here.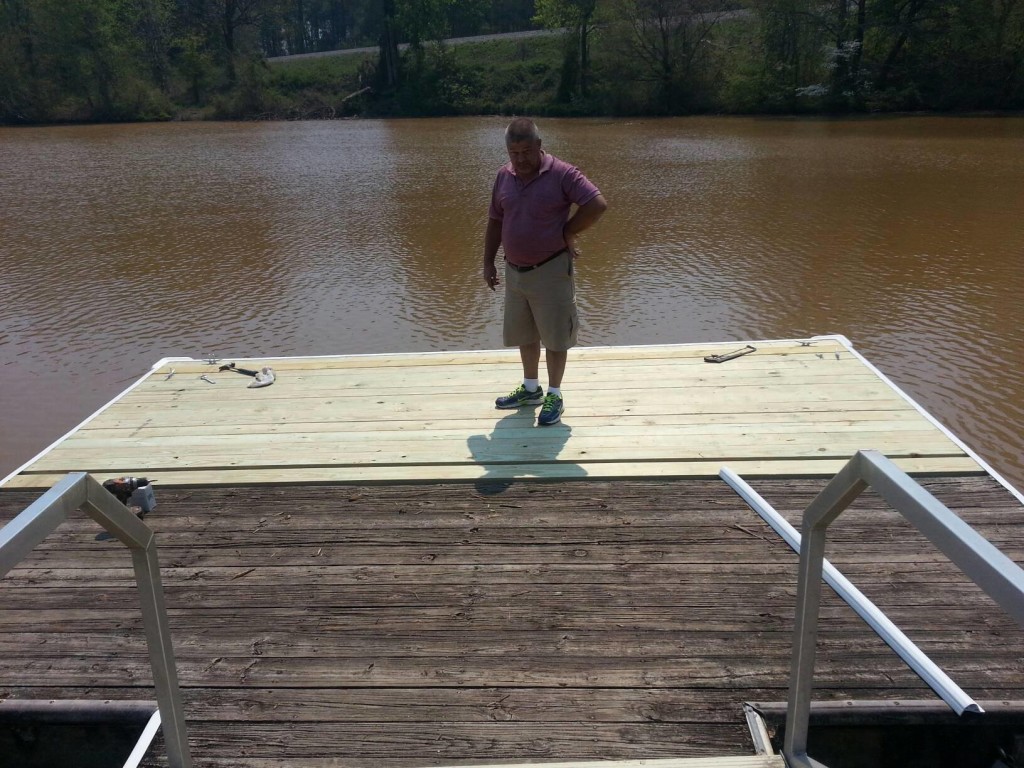 But that is not the only good news for the boat ramp – there will also be a sign welcoming visitors to Alexander City to the area.  Read this article from the Alex City Outlook to learn when the idea originated. Members of  Leadership Lake Martin have adopted the sign project and will also add an enclosed bulletin board with a map of Lake Martin.
Interested in knowing about other boat ramps around Lake Martin? Interested in the current Lake Martin water level? Or Lake Martin area weather?  Also want to keep up with events from around the lake, places to eat, homes and lots for sale, where to shop, marinas around the lake, places to have fun, and more? Check out the Lake Martin Voice app!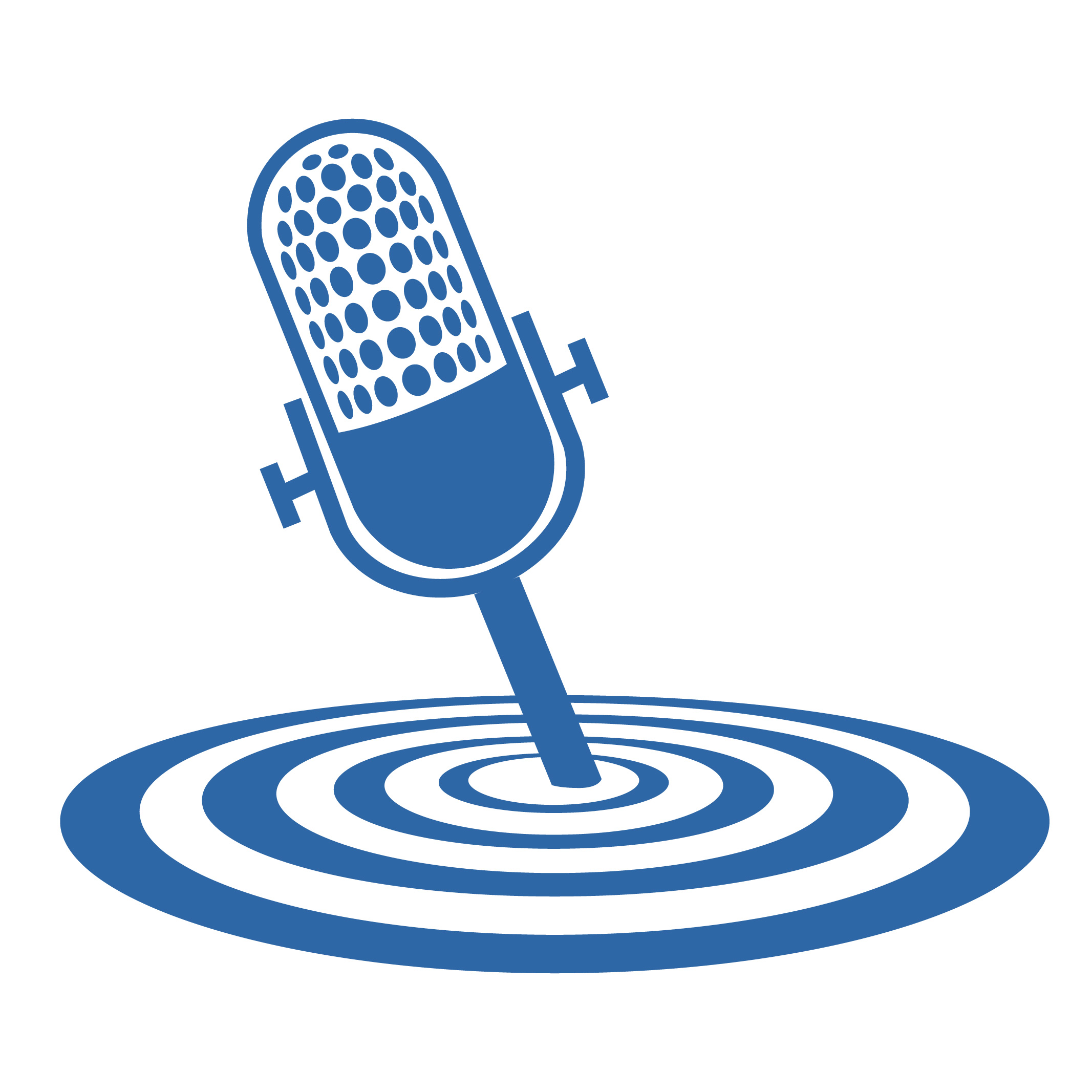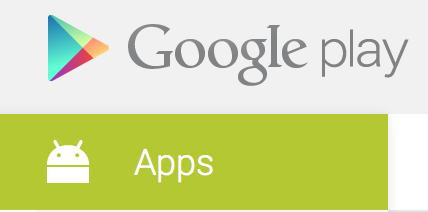 As promised here is the next video from Drew Morgan of East Alabama Fly Fishing – an awesome fly fishing guide in the Lake Martin area.
In this video I shot last November, Drew talks about the different fishing seasons on the Tallapoosa River. If you are new to the area, the Tallapoosa River is dammed by Martin Dam, which creates Lake Martin. We locals refer to the area just upstream from Lake Martin as "the River," but it is more accurately called the Tallapoosa River  – from Irwin Shoals all the way up to the dam on Lake Wedowee.
The mid-spring season is soon to start.  I am already receiving reliable reports that the striped bass are in the rivers and creeks now, so I am looking to target them with my fly rod. With higher water needed to fish from now until July we should be finding our "own kind of paradise" soon.
And don't forget as Drew reminds us the mini season in the fall from mid October – mid November is still a great time to take your canoe, kayak, or his boat out.
While we all love to be out on the water catching fish, part of the lure (pun intended) of fly fishing is wading through in search of different species. When the water is lower on the river – July, August and September, the time is right for wading.
As you watch the video listen out for Drew's version of the "Tallapoosa Slam".  His long list of the different species biting year round is sure to get you "Wishin' I was knee deep in the water somewhere got the blue sky, breeze and it don't seem fair the only worry in the world…" How soon can I get my gear together and call Drew?
If you are interested in fishing, directly contact Drew Morgan of East Alabama Fly Fishing, please go to his website here or his Facebook page!
If you would like to see what waterfront homes for sale on Lake Martin are closest to the Tallapoosa River area, see THIS PAGE that takes you to the River Oaks Neighborhood Page on my blog. If I can help you with any homes or lots there, please call me at the number at the top of the screen!
Drew Morgan of East Alabama Fly Fishing is a fly fishing guide in the Lake Martin area and my new go-to authority when I want to fish around here with my fly rod.
I recently stumbled across Drew's Instagram account and couldn't believe my luck. For years I have been trying to improve my skill and effectiveness of fly fishing for the native species around the Lake Martin area. It just so happens that Drew does just that.
East Alabama Fly Fishing is mainly focused on guiding people along the many beautiful rivers and streams in the area. Drew frequents the Tallapooosa River, which flows into and creates Lake Martin. He also spends a lot of time in the Saugahatchee Creek watershed. 
Ever since I read in Lake Magazine about the discovery of new species of red eye bass, I've been itching to get better at targeting them with my fly rod. Obviously, I still love to fish for trout in The Smokies, but being able to have more options locally is a great thing.
My problem is, even though I grew up here, and dabble a tad at fly fishing, I never really learned the ins and outs on how to do it on the Tallapoosa. Casting a Rapala from a bass boat in fifty feet of clear water is not the same as dead drifting a hellgrammite pattern while wading knee deep in the flow.
I was really excited when Drew made some time for me last November. The result of that trip is I got a ton of (hopefully) helpful video footage where Drew really lays out the details. I'll be posting these over the next few weeks.
The day we went in November was not cooperative. After weeks of clear, warm weather, that day was soaking wet and the water was high and muddy. Not exactly the best for fly fishing or video.
Nevertheless, Drew delivered with great info and a wonderful guided float down the Tallapoosa. 
Please enjoy his intro video above, and be sure to stay tuned for future installments. I have two more videos that will cover the fly fishing gear he uses on the Tallapoosa River, and how the seasons affect the fishing here.
To directly contact Drew Morgan of East Alabama Fly Fishing, please go to his website here or his Facebook page!