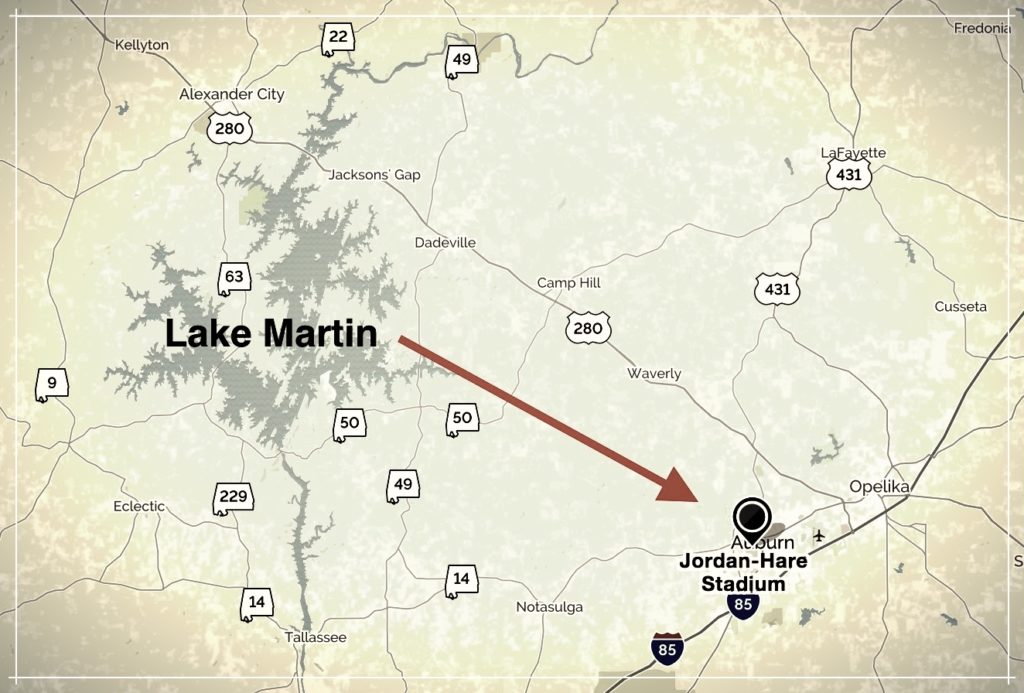 Do people stay at Lake Martin for Auburn games?  I believe the answer is YES. The Lake is a such a short drive to Jordan-Hare Stadium.
According to an article published earlier this month in Alex City Outlook (click here to read) Auburn home football games make a big impact on the economy around the Lake Martin area. Local merchants, businesses and restaurants report increased revenue for home game weekends.
And rentals at Lake Martin are popular for football weekends – enjoy the game in Auburn on Saturday and the Lake on Sunday!  What could be better?  (besides a winning season).
Even if you don't plan on going to the Auburn football game, if you are coming to look at waterfront real estate, it affects you, too.  As an example, I recently had a couple from Atlanta coming in to look at some homes and lots on Lake Martin.  They happened to be coming on a football weekend, and hadn't made any reservations.  Most of the local hotels around the Lake were booked up!  So it always pays to think ahead, even if you are not a football fan.
Since we are talking about Auburn and Lake Martin … were you one of the few that missed Auburn's kicker, Daniel Carlson's, Instagram video from this summer?  He and teammate Will Hastings were at Lake Martin "working hard in the offseason."  Click here to see the video and read the article from AL.com.
Whether or not you Roll with the Tide, yell Waaarrr Eagle, scream Go Vols, support the Bulldogs (Mississippi State or Georgia), geaux with the Tigers, get fired up about the Gators, Gamecocks, Razorbacks, Rebel Black Bears or any other team – enjoy the Fall with Faith, Family, Friends and Football!
Former Auburn football coach Tommy Tuberville is selling his waterfront Lake Martin home for $2.375 million.
Whether he resigned or was asked to resign, it really doesn't matter.
In a sign of the times, I learned about this sale not from the newspaper, not from the radio, not even from the grapevine.  I read it on a blog post from a blog that covers SEC sports. I am not the listing agent.  My friend Toni Adcock is.  She graciously allowed me to write about her listing. (but I expect a repay, Toni! Ha!)
The home is located in the Marina Marin development on Lake Martin.  Its address is 656 Marin Parkway.  It is located off of highway 50, near Martin Dam and Chimney Rock.  Incidentally, Marina Marin was originally developed by deposed HealthSouth exec Richard Scrushy.  Not that it is at all related to Tuberville's home.  I just throw that out there FYI.
The details:
According to the listing agent, it is priced at $2,375,000, the home as 4 bedrooms, 4 bathrooms, and 2 half baths.  It is 5,859 square feet and site on 2.89 acres in Marina Marin.  It is a point lot, with a whopping 730 +/- feet of waterfront.  As you can imagine, it has about every upgrade known to man, both inside and outside.
Toni is having an open house for Realtors next week, and I plan to be in attendance.  I will post pictures and video of that if it is OK with her.
Come to think of it, Coach Tubs is supposed to be a pretty good cook.  I wonder if he will be frying up some catfish for the attendees?
As a member of the Lake Martin MLS, of course I can help any buyer that is interested in this (or any other) Lake Martin home. So if you are interested, please let me help you.  Just call or email me at the info at the top of this page, or fill out this contact form.
UPDATE: Click here for the video home tour of The Coach's home on Lake Martin.