I've started a new series of posts to focus on filming video of open house tours for waterfront homes for sale on Lake Martin.  The latest installment is on Cheyenne Lane – right next door to the Lake Martin landmark Chuck's Marina.
I am not the listing agent, but, as a member of the Lake Martin MLS, I can help you if you're interested in it (or any other property on Lake Martin, for that matter).  This 3 bedroom, 2.5 bath home is listed for $425,000.
The listing agent is my friend Rhonda Jaye of ERA Lake Martin Realty.
The home is on the south side of Lake Martin, just east of Martin Dam.  You get to Cheyenne Lane by taking AL Highway 50 to Centerport Road, then taking a right into the Chuck's Marina signs, then right on Cheyenne, the home is on the left.
Related Posts:
All Lake Martin Video Home Tours by John Coley – Lake Martin Voice Realty
I have a cool Lake Martin home for sale at 40 Cottage Loop in The Village.  The Village is just east of Martin Dam, off of Overlook Road.  I was surprised to see a flock of wild turkeys feeding around the helipad.
The Village installed this helipad a couple of years ago as a public service, so that the area would have a spot for emergency airlifts.  It's a nice bonus for owners in The Village to have that safety feature.
If you would like to see waterfront homes and lots for sale right now in The Village area, CLICK HERE to go to my Village Neighborhood page. I have a report that shows every waterfront home and lot for sale – by all agents, all brokerages, on Lake Martin. It pulls from the Lake Martin MLS so it will be current no matter when you visit the page.
I was on the way to check up on the home I have for sale when I saw this flock of turkeys.  I hit my brakes, grabbed my long lens, and sneaked back through the woods to try to take some pictures.
These hens have a sharp eye out. Many people don't realize that turkeys don't look in the direction that their beak is pointed, but perpendicularly. In this case, right at me.
As always they were wary and elusive. After this pic they putted at me and headed off. They flock together like this during winter for protection.  In the spring the toms get territorial.
I tried to loop around one more time to get a nice clean picture of a gobbler:
I call the above one "Almost." This is what I feel like during hunting season. A quarter second after this pic, I leaned around the tree, and he was gone, dissolved into the understory of the forest.
If you would like to see a nice, new waterfront Lake Martin home that is a really good deal, read about 40 Cottage Loop, watch the video, and give me a call.
My listing videos of Lake Martin homes have proved so popular that this year I have decided to come up with a new series of videos and blog posts:
Lake Martin Open House Videos!
These will (mostly) not be my listings.  I thought it would be fun to tour through open houses at Lake Martin and video them for viewers and buyers.  Since we are in a rural area, and since most people work during the week, I figure that there are a lot of folks that would like to see inside some of these lovely homes. So stay tuned for more open house videos!
Also, please keep in mind that, as a member of the Lake Martin Area Assoc. of Realtors- I can help you if you are interested in this or any other home, even though I'm not the listing agent.
The listing agent on this home is my friend and office neighbor Becky Haynie with RealtySouth.  Their office is right next door to mine (Lake Martin Voice Realty) in the Nail's commercial mecca, downtown Kowaliga.
This was a fun open house.  The weather was beautiful (if not a little windy) and clear.  I knew these particular sellers to be excellent cooks.  I was not disappointed! They had some tasty sausage balls and coffee to fight off the cold, plus some strawberry cupcakes and some sort of raspberry-esque fruit juice to cleanse the pallet.
Their home is on a point, almost an island, in the Real Island area of Little Kowaliga Creek on Lake Martin.  From the water, if you are riding west with Real Island Marina on your right, after you pass the marina, this home is on the next point on your right.  The lot and the home design make it very distinctive.
Also – it's a leased lot.  If you are unfamiliar with how leasing waterfront lots from Alabama Power goes, please click here to read more about Lake Martin leased lot homes.
Stay tuned to Lake Martin Voice for more open house video tours!
Strong sales of waterfront homes on Lake Martin showed us that 2008 was the bottom of the market.  2009 was the best year since 2006 for numbers of homes sold, but prices continued to take a beating.*
2009 proves to be a very interesting time for Lake Martin home and lot sales.  Please note that everything below relates to waterfront home, condo, and lot sales only.  There is a treasure trove of information here, and I would like to present it all.  This first post will attempt to cover the two major themes:
1. 2008 Was "The Bottom" And The Market Has Bounced Back
2. Prices Decreased Again
the details:
1. 2008 Was "The Bottom" And The Market Has Bounced Back
Grade A readers of Lake Martin Voice know that I am a firm believer of fellow RE blogger Nicolai Kolding's Phases of the Real Estate Market. Basically, he holds that the number of homes sold LEADS pricing. In other words, keep your eye on how well the number of homes sold this month compares to the same month last year, because that trend signals the direction of average price sold.
I think that 2009's strong number of waterfront homes sold finally lets us know that we HAVE seen the bottom, and it was 2008. That assumes you define "bottom" the way that most pundits do, that is, from a seller's perspective.  I think a buyer might call it a peak and would interpret this as bad news.  Rather than parley about definitions, I offer the facts:
As you can see from the above chart, at Lake Martin, at least, the bottom was in 2008.  In 2009, just about every single month beat its counterpart for sales in the previous year.  When you look at the cumulative sales totals for the entire year, 2009's dominance is evident.
In 2009, on the entirety of Lake Martin, all agents, all brokerages, all (reported) sales, tallied 194 waterfront home sold.  Compare that to 137 in 2008 and 156 in 2007.  It still wasn't as good as 2006, but hey, you've got to like the trend.
The Convincing Bullets:
The magnitude of the beating that 2009 put on 2008 convinced me.  194 sales vs. 137 means that we were 42% up from last year.
The beating was consistent across almost all months – no one fluke month
Was not caused by one big sell off – Crowne Pointe helped but did not make the year great
If you don't agree, what will convince you? I'm not trying to be challenging, I'm curious. Please comment below and let me know if you have a different opinion and upon what numbers you base it.
2. Prices Decreased Again
It's very hard to track average sold prices in a small real estate market like Lake Martin. Our small sample size makes that number swing wildly month to month, which is why I crunch this number (officially) only once a year.
In my Lake Martin Real Estate: 2008 Year In Review post I laid out a method to study average sold price trends at Lake Martin. I looked at each sale recorded in the MLS, removed those with an unreported sales price, and then categorized the others in several price strata – like $0 – $99,999; $100,000 – $199,999; and so on. This resulted in a nice little bell curve to visually represent the average sold price patterns.
When I did the same analysis this year I found plenty of evidence to lead me to believe that property prices dropped again in 2009. This marks the second year in a row of devaluation. See the below chart:
Focus on the gray line of 2009. See how it shifted backwards, and evened up with 2005? There you go.
Take a look at the peak in 2009. 52 of 194 homes – or 28% – sold in the range of $200,000 – $299,999
Note – I don't think this simply means that more "cheap homes" were sold. Look at how much of the total area is under the price of $500,000. Find the peak of 2006 and 2007, then draw a mental line down to the X axis. Most of 2009's sales are behind (to the left) of it.
Bullets to ponder:
Does this mean that home prices are back to 2005 levels?  In some cases, yes.
When will the drops stop?  I think 2010 will hold steady, because of point #1 above.
Is now a bad time to sell? If you have to sell it for what you paid in 2007, yes.  If you can be flexible, no. It might not be pretty but the rising sales numbers prove we can get it done.
Looking Forward
Basically, my outlook is positive for 2010. As long as we convincingly beat 2007 and 2008 in number of homes sold, I will feel good about calling the bottom. If we don't, I still think we will need to analyze 2010 on its own merits and not as a hangover from the drought of 2007 or bank woes of 2008. In my opinion 2008 will still be a bottom in its own right.
1. I think home sales will equal 2009 (approximately)
2. I think average prices will finally quit dropping, and stay about the same as 2009.
I will give further numbers behind my theories in later posts, but I formed them on the timing of the home sale turnaround, and will try to quantify the lag between that and average sold price moves.
SELLERS – Yes, we can. Please contact us – we can tailor a pricing, staging, and marketing plan specific to your property. Praise God, last year was our brokerage's best sales year ever. We have a method that combines industry leading marketing and old fashioned elbow grease.  It works.
BUYERS – The clock is ticking. Yes, there are still awesome deals out there, but it takes a lot of sifting to find them, and then it takes experience to be able to negotiate the best deal. Now is the time to end the "I should have bought years ago" blues.
Related Posts:
Lake Martin Real Estate Sales 2009 – Waterfront Lots
Lake Martin Real Estate Sales 2009 – Further Study (coming soon)
Lake Martin Real Estate Sales 2008 – Year In Review
Lake Martin Real Estate Sales 2007 – Year In Review
All Lake Martin Market Reports

(*)Disclaimers: All of the above info was taken from the Lake Martin Area Association of Realtors Multiple Listing Service. Accuracy is not guaranteed but deemed reliable. The above does not include sales by FSBOs or developers that sell privately and not through the MLS. But, I do think that the above represents a very large majority of all sales on Lake Martin.
Lake Martin waterfront real estate had another good month in October 2009.  There were 14 homes sold in the month, just about equaling the 15 waterfront properties sold in October 2008, according to the Lake Martin MLS*.
Once glance at the above chart can tell you that most real estate sales in the Lake Martin area really taper off in November and December.  Therefore I think it's safe to say that most of our sales for 2009 are behind us, and we can start looking at the year as a whole.
2009 was a great year for Lake Martin waterfront real estate.  Market wide, we have already outsold both 2008 and 2007.  In fact, I think the numbers show that our rally started back in August or September of 2008. That's why I am not too concerned that October 2009 was beaten by October 2008 by one sale.  By October of 2008 we were on a winning streak that continues to now.
On another positive note for sellers, the number of homes for sale on Lake Martin has come down this month.
Perhaps this trend will continue until the normal seasonal buildup in January.
Analysis Of Lake Martin Market
I will save a full analysis for a bit later.  For now, I just wanted to dash off this quick post for October's results.  But I will go ahead and say that, after a closer look at the numbers, I will probably be "calling the bottom" for our market. Who knows what the short term future will hold, but I think it's fairly obvious that, long term, the worst is behind us.
What Do You Think?
Please comment below….
Related Posts:
All Lake Martin Voice Posts on Market Statistics

(*)Disclaimers: All of the above info was taken from the Lake Martin Area Association of Realtors Multiple Listing Service. Accuracy is not guaranteed but deemed reliable. The above does not include sales by FSBOs or developers that sell privately and not through the MLS. But, I do think that the above represents a very large majority of all sales on Lake Martin.
The other day I had a friend pass through the Lake Martin area who invited me to lunch.  To protect his privacy, and to ensure that this isn't the last time he buys my lunch, let's call him Timmy.
We went to Catherine's and had a nice talk mainly about two subjects: a.) Lake Martin real estate, and b.) how he had forgotten how funny my sister and brother-in-law are.
On the printable subject of Lake Martin real estate, he asked these questions:
1. Are there any deals left for "regular cabin" people?
2. How can someone buy a lake home for $2 million then only come down three times a year?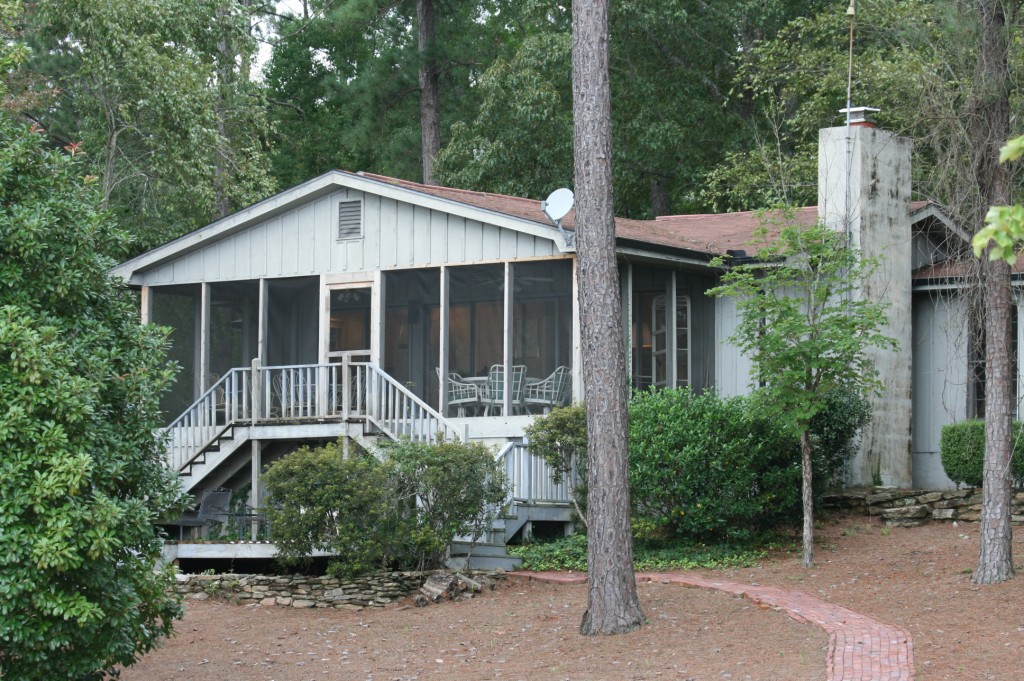 My answer to the first is yes, this year I have had really good luck helping several people buy waterfront homes under $300k, if not several under $250k.  Granted, they are hard to find, but if you scrap around and are ready to pounce, they are there.  Timmy agreed that I need to put him at the top of the list on those type of deals.
Secondly, I agree – but mine is not to reason why.
I Missed My Big Sales Moment
When I got back to the office, the two subjects snapped together in my mind, and I realized I missed my big sales moment.  I should have offered him a solution.  Zig would not be proud.
My answer to the second question should have been:
Well, Timmy, you have a job, a wife, kids, church, activities – how many weekends do you honestly see yourself coming to Lake Martin?
This question would seemingly put me on a direct failure path to the two big Lake Home Killer Objections: No Time and No Money.
Why on earth would any realtor who desires to feed his family ask such a question?
Because it would have led him to what I believe is his best solution: go in halvsies with a friend and buy 240 Bayou Road.
Let The Blatant Pimping Begin
Please know that in three years of blogging I rarely pimp my own listings.  I will mention them in an oh by the way, but I figure everyone is smart enough to click on the My Listings page if they want.  This is an exception:
At $599k, the home at 240 Bayou is realistic if you are on a tight budget – if you take in a partner.
The #1 objection that most people looking at the $300k level is they want more house or want a better lot / view / privacy.  Here you can have an awesomely huge lot, that is flat, deep water, big view, and woodedly private. You get a great house that is not a cold museum-like homage to decorating magazines, but a modern but fun, livable cabin.
And by sharing the lake home, you may have to split the weekends, but at our age with kids, you can't make it every weekend anyway.  Forget the guilt if you can't use it as much.  Plus – and this is a big plus these days – you cut the ownership cost in half!
Check out the slide show:
Let's say he admits he couldn't get this much for $300k on his own.  I hear him ask, "but John, if we like someone well enough to go in partners on a lake house we'd like to see them.  If we split weekends, we would never have fun together."
Again, Timmy, I am one step ahead.  240 Bayou has a guest house! They converted an old boat house years ago, but it is finished out beautifully with wood floors, a bathroom, tons of windows, vaulted ceilings, and a full kitchen.
Check out the listing video here or below
Did I mention the strong AU coaching connection?
Hey Timmy – buy this lake house!
If you would like to beat Timmy to a great deal, contact me by phone or email address at the top of the page.

Lake Martin waterfront real estate is on a tear.
Last month, we saw August's year to date totals exceed the entire year of 2008.  I speculated in this post that we had a good chance of defeating 2007's 12 month total of 156 with a strong September.  Sure enough, 24 lakeside homes were sold by all agents in the Lake Martin MLS*, which gave 2009 a total of 162 homes sold.
Another one bites the dust.
Here is a chart showing Lake Martin waterfront property sales by month for the last three calendar years:
All of these big sales months add up.  As you can see from the cumulative chart below, if we look at the entire Lake Martin MLS, including all agents, all brokerages, everything, we sold 137 waterfront homes in the entire year of 2008.  We passed that mark in only 8 months this year.  In all months of 2007, 156 were sold.  So at 162 through 9 months in 2009, we have defeated yet another year.
Supply Remains High
We still have a lot of waterfront homes on the market.  One aspect of September's sales results that I did not like to see was the increase in homes for sale on Lake Martin.  We were on a nice, seasonal downward slope that I was hoping would take us to more normal levels, away from the step ladder highs we have been witnessing over the past three years.  We increased to 494 homes for sale in September, up from 488 in August.
True, this number is still about 10% down from the all time high of 555 in 2009, but we are still 5% away from the 2008 high of 524. Sellers – YOU MUST CONTINUE TO PRICE AGGRESSIVELY! Please do not take this post as a sign you can ask whatever you want and get it.
Waterfront Lot Sales Remain in a Slump
All of the above info relates to Lake Martin homes, condos, town homes, etc.  It does not contain lots.  The number of waterfront lots sold has not picked up. Our year to date total of 16 in 2009 is on pace to match the 18 sold in all of 2008, and is a far cry from the 34 of 2007.
As with homes, we will need to see an increase in the number of waterfront lots sold before we see any movement in prices.
The Crowne Pointe Effect
To continue a theme started earlier this year, I will attempt to examine the effect of the fire selling of the Crowne Pointe condo complex.  Earlier this year, we discovered that while the condo sales certainly helped prop up the sales numbers for the lake as a whole, it was not the only driver of the sales resurgence.
What about now?  Most of the units in Crowne Pointe are sold and the buyers have closed already.  Now that the dust has mostly settled, what can we say about its effect on the Lake Martin real estate market?
We can see from the above chart that all non single family homes (which includes ALL condos, town homes, etc) sold this year represents about 36% of all sales.  The average from 2006 – 2008 is 18%. Interestingly, the average from 1-1-06 to 9-30-09 is about 20%.
Yes, we still have had a proportionately high number of non-single family homes sold in the waterfront market this year.  But if you remove its influence and back it down to the four year average of 20%, you are only removing about 16 sales, which still puts 2009 ahead of 2008 already.
My answer is the same as July: Crowne Pointe has helped, but has not made, the year's sales.  2009 is / was strong on its own.
Related Posts:
All Lake Martin Voice Posts on Market Statistics

(*)Disclaimers: All of the above info was taken from the Lake Martin Area Association of Realtors Multiple Listing Service. Accuracy is not guaranteed but deemed reliable. The above does not include sales by FSBOs or developers that sell privately and not through the MLS. But, I do think that the above represents a very large majority of all sales on Lake Martin.
Yesterday afternoon I showed some waterfront homes and lots for sale in the Lake Martin neighborhoods of River Oaks and Stillwaters.  I was to meet the couple at the old Lake Hill Restaurant on highway 280 in Alex City.  Even though the restaurant no longer functions, it's a great meeting spot because it's right on 280, conspicuous, and close to the landmark of the River Bridge.  The parking lot is always empty except for boats that River North Marina stores there.
While I was waiting I walked up to the top of the hill, near the front stoop of the building.  It has been a while since I had been up there.  It's a pretty view and was a nice day, so I took some pictures.
Here's a picture looking south, essentially downstream of the old Tallapoosa River way.  My photo does not do justice of this old Lake Martin view:
Here's a shot of the Highway 280 / River Bridge looking east:
This is the North Lake Condominiums:
If you want a list of Lake Martin foreclosed waterfront property – including homes and lots – for sale, please use the form that is linked below.
Click here for Lake Martin Waterfront Foreclosures
Thanks to reader K.L. that requested a list like this today.  It caused me to go into the Lake Martin MLS and update my list of foreclosed (REO) property.  It might not be a perfect list, but it's the best one I've got.  So if you would like to see it, please fill out the form above and I will email you a link to a report I have created on the Lake Martin MLS.
FAQ About Lake Martin Waterfront Foreclosures List
Q1. Why can't you just post a list here of what lots or homes are foreclosed? Why are you making me fill out a request form?
A1. OK but that's really 2 questions.  A few reasons:
a. These homes and lots are from the Lake Martin MLS and are not (necessarily) my listings.
b. This list constantly changes and it would be a hassle to update and edit an HTML page.  It would be wrong almost as soon as I hit "Publish."
c. The Lake Martin MLS allows me to create a "Listing Cart" to house them all, and I can add and subtract as I see changes within the MLS.
Q2. What will you do with my email address after you send?
A2. I will keep it and send you a monthly (or so) email about Lake Martin, unless you tell me you don't want that.  I do not spam nor do I give, sell, buy, or receive email accounts from anyone or any other company.  My poodle will steadfastly guard your address; any trespassers will receive the full wrath of the horrible breath inexplicably produced by his 6.5 pound body.
Q3. Are Lake Martin foreclosures so special? Do I really need you? Why can't I go to the huge sites that show the entire country's foreclosures along with ads for lifestyle meds and "secret" celebrity diet plans?
A3. Yes, we're special in that Lake Martin is made up of 3 rural counties in east central Alabama.  There is virtually zero online newspaper coverage of legal notices or foreclosures. The huge aggregator websites pick up information that is old, inaccurate, and many times, not waterfront.  More Lake Martin specific foreclosure explanations here.

Q4. I've seen your list and it's wrong.  I know for a fact my [neighbor, friend, relative, insert any noun] had their waterfront home foreclosed on Lake Martin, and it's not on your list.  Why?
A4. This list only shows you what is actively for sale right now. If a waterfront home was foreclosed last year, and sold three months ago, it won't be on the list anymore.  Similarly, if the foreclosure has gone through, and the lender has not placed it with a real estate agent yet, it won't be on the list (yet).  Let me know if you see any errors, I will be happy to correct.
Q5. Do you sell Lake Martin foreclosures?
A5. Absolutely. If you would like me to send you only my foreclosed waterfront listings, let me know.  If you are a lender or some other institution that needs help selling, please contact me and I would be delighted to help and tell you about the specific program I have set up to help lenders manage their foreclosed properties.
Q6.  Where do you get your information?
A6. The Lake Martin MLS, mostly.  You can search it for free from my blog. All Multiple Listings Services are run by humans and therefore contain errors.  The listing agents for each property are the only ones authorized to input info about that property.
What other real estate market can claim they clinched by August 31?
Waterfront real estate sales* on Lake Martin in August 2009 absolutely destroys its prior year rival – selling 31 homes and posts the best month since 33 homes were sold May of 2006.  In the past 12 months, the current month's number of lake homes sold has beaten the prior year 11 out of 12 times.
Apparently consumer confidence is coming back to Lake Martin homes. The 31 waterfront lake homes sold in August 2009 kills August 2008's number of 20 and represents the best number of sales since the 33 sold in May of 2006.
Lake Martin Sales For 2009 In Total
If we apply the Lake Martin MLS total of 31 to the previous year to date total, we see that it brings a total of 138 homes. This is better than all 12 months of 2008 when 137 were sold, and it puts us on pace to beat 2007's 12 month total of 156.
Lots Of Supply Keeps Pressure On Prices
The Lake Martin MLS shows that active listings did drop this month, but we are still near historic highs. This transitory market condition – rising number of sales but flat pricing – keeps the pressure on sellers to not raise their prices. Buyers have started to clue in to the opportunity on Lake Martin.
Predictions For Lake Martin Real Estate This Fall
I think prices will continue to be tight. I think the number of sales will drop off of this high for September, but they will be enough to beat last year, and to spell defeat for 2007.
Lake Martin Real Estate Market Talking Points
Market wide, number of sales through 8-31-09 have already surpassed 2008's 12 month total
By 9-30-09 we will likely have more sales then 2007's 12 month total
August 2009's 31 sales was the best month of sales since May of 2006 sold 33
High inventory continues to pressure sellers to keep prices low
Maybe I should have started this post with my talking points.
Here's to the Clinch!!


(*)Disclaimers: All of the above info was taken from the Lake Martin Area Association of Realtors Multiple Listing Service. Accuracy is not guaranteed but deemed reliable. The above does not include sales by FSBOs or developers that sell privately and not through the MLS. But, I do think that the above represents a very large majority of all sales on Lake Martin.