Here is helpful information from one Lake Martin couple who purchased a fixer upper.
When I met with the homeowners back in December, I had no idea (and neither did they) that they would decide to sell their Lake home. I wanted to write an article for Lake Magazine about remodeling at the Lake and stopped by the cabin to take some "after" photos and ask a few questions.
Remodeling is popular these days. If you are unaware of this trend, just flip on the TV. Waco, Texas, has the adorable Chip and his wife Joanna. Los Angeles has Christina and whatever male she decides to include on her show.
So in going along with the trend of "old to new," I thought I would write about lake home remodeling. When homebuyers come to Lake Martin, they often wrestle with this issue.
"Do I want to buy a brand new home? Or am I up for a remodel of an older home? How large of a remodel project would I like?" they might ask themselves.
I thought it might be helpful to talk to a couple that has actually been through the process and hear what they have to say. Granted, their experience is personal and limited to one home. But, they did put considerable thought into their remodel, and it might be entertaining and enlightening for all.
Here is their story:
Don and Kristie are from Birmingham, Alabama. They bought their home in 2011. It is located on the north side of Lake Martin and was originally built as a fish camp style home with concrete block construction. It was extremely functional but short on refinement.
The home's original construction date was listed at 1960, but subsequent owners had made improvements along the way. While Don and Kristie loved the home as it was, they naturally sought to personalize it. Here's a Q&A of their Lake Martin remodel story:
When you first started your home search, did you want to buy a home that was move-in ready, or were you looking for a fixer upper or a project?
Our first priority was to buy a home with great water frontage with pretty view and a level lot for kids to play. At our price range, that dictated a fixer upper.
When you bought it, did you envision fixing it up this much?
Yes, but not with any definitive timeline. It was just as we could afford with money and time. There was no rush because we did not live there full time, so it was nice to do a little and walk away for a bit. Being patient helped us to get to know the house and what we really wanted out of it.
What was your first project, and was that the same project you planned when you bought?
The house was quaint and charming, but we wanted to personalize it to our tastes. We pulled out all carpet and baseboards and slowly started to replace with a floating floor and new baseboards. During that process, we took what furnishings came with the house to refurbish pieces with paint and distressing. That helped to clear some stuff and allow for flooring. It also helped us to visualize how to put each space back together from a decorating standpoint.
Which part gave you the most instant gratification?
Paint. Paint will transform a space. If the ceilings in a lake house are not that special, consider painting them the same color as walls. It really opens up a room and makes it feel larger. That is something many people will look sideways at you for suggesting until it's actually done.
Which part was the least fun to spend money on?
Electricians and plumbers.
Did you experience "project creep," e.g., "as long as we are fixing X we might as well fix Y?"
A tad but not tremendously. To offset the creep, we would look for ways to do things inexpensively but still with good impact, things that we might not otherwise do if it was our primary home. For example, in the kitchen, we had white Formica countertops that were fine for a lake house. But we added the pass-through and purchased a remnant of honed granite for the bar top. Instead of spending thousands on the kitchen countertop, we found Formica that was basically identical to the granite. It only cost a few hundred dollars, and it looks fine for the small space.
How did you budget for this? Did you decide on a total amount to spend and wait until you had it and then start, or did you know that you wanted to do this or that project and just did it?
The rule was, if we couldn't pay for it out of pocket, we were not doing it. That governed our time and pace. With it being a second home, we were not so antsy to 'get it done' immediately.
Anything you would change?
I wish I had peeked at the ceilings in the oldest part of the house during renovation. I always wondered why the ceilings were lower in the old original camp house. Far down the road after interior was done, we were working on the sun porch that required us to reveal part of the ceiling, and it was discovered there was old tongue and groove on the ceiling. It was one of those moments of "who the heck covers this up!"
What was the hardest part of remodeling from afar?
Just having to be patient knowing we had limited time to work on it and making ourselves stop to enjoy the view every now and then.
Note: I originally published this article in my monthly column in Lake Magazine.  I am proud to write about Lake Martin Real Estate for Lake Magazine.
For more info about 106 Windy Trail contact Listing Agent John Coley at 334-221-5862 or by clicking here or email him – [email protected]
When I helped Pat & Betsy buy their waterfront home on Lake Martin, I set a personal sales record of which I am very proud.
Before you groan and think I am just another real estate agent boasting about my earnings, this record is not about the money. It wasn't a gajillion dollar sales price and commission (although it was very nice).
No, they set my record as my longest looking buyers. I've been working with them to find their perfect home on Lake Martin for a while. Take a second to watch the video and see how long it has been and what the first thing they planned to do after closing. It seems there was a slight disagreement.
The reason I mention this is I find that when helping some Lake Martin home buyers they feel they can't start talking with me because they aren't ready to buy tomorrow and don't want to "waste my time."
I always tell them 1.) there is no way you are going to set the record for my longest looker, and 2.) that it's not a "waste of time" and we can look at their pace.
I am not a high pressure real estate sales guy. I understand that finding a lake house can sometimes take a while, especially here at Lake Martin. That being said, there are plenty of people that I help that find their dream home on the first day. But the majority of successful outings happen like – they contact me (through phone, web or the Lake Martin MLS) – we start talking, we prioritize for matches that come on the market in the future. We talk some more and they give me feedback, then come up to see some homes. That way, when we are looking, there's a good chance we are looking at "maybes." If they don't find their one on that trip, we rinse and repeat.
Just so you know, Pat and Betsy weren't Lake Martin newbies. In fact, they were two of the more experienced "lakey" buyers I've ever had the pleasure of helping. They knew exactly where they wanted to be on the lake, knew how they would use the home, and knew when it was right for them and their family to pull the trigger.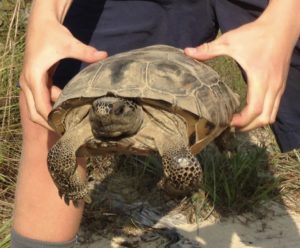 It wasn't a nine year frantic search, instead it was a slow and steadily monitoring, knowing what was right for them. 
Are you ready to break their record? I hope someone is! Contact me here or at the number at the top of the page and let's get started.
2026 will be here before you know it!
Would you love to live on Lake Martin and near a golf course?
Check out the waterfront home I have for sale at 452 Locklear Drive – it is only a five minute drive (pun intended) from Lakewinds Golf Course.
This contemporary Lake Martin home is great for a large family or lots of friends – four bedrooms, three bathrooms, two living rooms, two fireplaces, a screened porch, year round water, gentle slope lot, boat lift, boat ramp, covered dock with a cool slide, covered gazebo – the list goes on and on.
Watch the video below for a quick tour of 452 Locklear Drive.
Are you familiar with Lakewinds Golf Course? Lakewinds is a public, old style golf course owned by Alexander City. It is located five miles east of downtown Alex City – click here for the google map link.
Watch the video below for a quick aerial tour of Lakewinds Golf Course.
Golfers are welcomed 7 days a week – call 256-825-9860 for a tee time.
For more info on 452 Locklear Drive, contact Listing Agent John Coley at the number at the top of the page or by clicking here or email me – john at lakemartinvoice dot com.

Check out this cool, outdoor living area in my newest listing – a waterfront home for sale at 570 Wake Robin, Eclectic – Lake Martin!
Built right on the beach area of this home in Trillium, the rustic outdoor area is like having another living room to enjoy year round.  The beautiful stone fireplace makes a great gathering spot for family and friends.
Entertain and relax here – watch the game on TV, enjoy a cold beverage from the built in cooler or just boat watch and enjoy the sunsets – your choice, your retreat.  Enjoy.
For more info on 570 Wake Robin CLICK HERE.
Do you have a waterfront property you are considering selling on Lake Martin?
Please let me talk to you about how I can help you.  We put the best of today's useful technology to work for you – reaching buyers in a multitude of ways: the web, social media, email, and good ol' word of mouth.
Contact me HERE or call me directly at the number at the top of this page.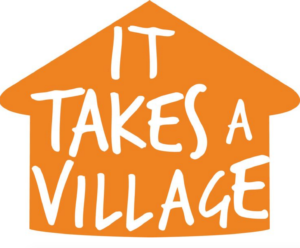 Note: I originally published this article in my monthly column in Lake Magazine.  I am proud to write about Lake Martin Real Estate for Lake Magazine.
It truly takes a village of people to help buyers purchase a home here at Lake Martin.
Sure, you might be tempted to think that the only people involved are real estate agents and lenders.  While they are a great idea, agents and lenders are not necessary.  I will say that, according to the National Association of Realtors, 87 percent of buyers used Realtors last year to help them in their purchases.  Since I am an agent, this recommendation won't surprise you, but I do think a great agent more than pays for himself or herself.  Choose one wisely.
Your agent should also be able to help you find additional people to assist in your purchase.  An effective agent should have the contact information of the below folks ready at a moment's notice.
A first person you might need is a good general contractor or GC.  A GC's advice can give you the data you need to be confident about your decision to negotiate with the seller and get a written contract.  You may need them to walk through the home on which you have selected to make an offer if there are big repair items, but please do not drag the GC around to every single home you view.  You want them to actually return your call when it really counts.
One of the first things to do after you have a written contract is to think about the land on which the home sits.  Before you even get to the house, it is a good idea to hire a surveyor.
When you consider that most of the value of a waterfront home is in the dirt, it's a good idea to get data on that dirt.  A surveyor can help.  Some buyers elect to go pretty light here and only ask the surveyor to "mark the corners."  This means simply finding each point of the property line and putting up some sort of marker.
Another option, albeit more expensive, is to get a complete survey of the property and its improvements.  At the end of this operation, you would be handed (or emailed) a survey that shows the home, the dock, the driveway and just about anything else that is on the lot.  A drawing like this can be extremely useful for future expansions but also could be helpful in case your neighbors get – shall we say – liberal with the placement of their yard art.
Most buyers are attuned to the fact that a home inspector is a critical part of the process. Make sure the one you hire after you are under contract is certified.
My personal theory on home negotiation is not to use the inspector as a way to nickel and dime the seller into having to repair every little scratch on the home; remember, most of the time the value of a Lake Martin home is in the lot anyway.  It's just my opinion, but even though I like an inspector to point out every blemish, I am just looking for the big things.  I am mainly concerned about the expensive systems or potential repairs.  I think buyers should approach inspections with the mindset of priority, ranking the repairs according to their preferences.
Contrastingly, some aggressive buyers in our current seller's market are forgoing a home inspection.  The mindset of these buyers is that they want to make their offers more attractive to the sellers, thus beating out any potential competing offers, since the purchase is not subject to an inspection.  If you choose that route, be careful, and be sure you understand all the risks.
A septic inspector is also a very important person, and this inspection also should be set up after the contract is signed.  A septic inspector is needed because of two factors: 1) most home inspectors will not include the septic system in the scope of the home inspection; and 2) almost every single home on Lake Martin is on a septic system.
Many of the septic tanks were built in a time when there was no building code in effect.  In fact, the only time the word 'code' came up back then was to describe the Lake's temperature in January.  Septic inspections are not a must for every purchase, but a buyer would be wise to at least consider it.
Next comes a termite inspector, who is usually paid by the seller, but that's negotiable.  This is a totally separate inspection, done by a pest control professional.
Usually a termite inspector issues a Wood Infestation Report, or a WIR.  A WIR will tell you if, on the particular day and time inspected, the home had active or previous infestations of termites, powder post beetles and/or wood-decaying fungi.
Many people I talk to think this is a bond that guarantees against the cost of future infestation. It is not the same thing.  If you want a termite bond, negotiate for it.  A WIR is only a snapshot of that day.
Also, unless the house is brand new, I would expect previous infestation.  Most waterfront homes on Lake Martin are older and have battled the humidity of the South.  This usually yields some sort of previous infestation.  Don't let this freak you out unless the damage is so great that your home inspector is concerned.
An active infestation, however, is a showstopper.  You had better get those nasties out of there before you buy the house.
A dock person is another lake-specific professional that might not translate to your hometown.  Every Lake Martin home is different, but this could potentially be an expensive repair or an important part of a planned renovation.
If the home you like has a dock that only needs a few top boards replaced, then it is no problem. Your solution could be a carpenter if the job is that light; however, if the dock is about to fall in, or if illegal foam has been used on the floating dock, you need to get the advice of a contractor that specializes in dock construction.  A regular home inspection does not usually cover the dock or seawall; so don't rely on it here.  Get a specialist to review the situation.
Similarly, you might need to get a dock contractor's advice if you plan a big expansion.  What if your planned expansion would run afoul of dock regulations?  Is that a deal breaker for you? Then you had better include that in your negotiations with the seller.
Selecting a good attorney is often the last choice made in the purchase process, but that does not mean it is an unimportant one.
First of all, pick someone that is a good explainer.  I have been selling real estate on Lake Martin for more than 10 years, and I still learn something new at each closing.  When you have questions about something as important and expensive as a home purchase, it helps to have a good teacher on your side instead of a person that just spouts legal jargon.
Another critical point in selecting an attorney is his or her local title search expertise.  Just because your cousin Vinny is awesome at health care law in New Jersey doesn't mean he is good at searching title at Lake Martin.  Our lake counties are rural areas (thank the Lord), and the title chain often includes some cornbread and collards stains.  The local title agents know the twists and turns of the local courthouses.  Pick a good one and trust the one you pick, but get the title insurance anyway because no one is perfect.
I may have left a few villagers out, but hopefully, I have named most of them.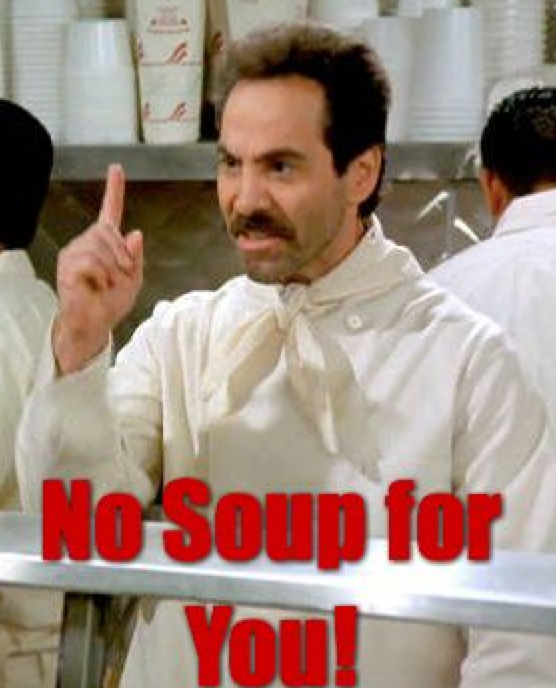 There are not many waterfront foreclosures right now in the Lake Martin market. I haven't run the numbers yet, but my feeling is that they peaked in 2009 or so. However, my Lake Martin Foreclosure list is still extremely popular with my readers and my real estate clients. I get a fair amount of folks who are only curious, but I also connect with people that end up buying later. Since I try and followup with everyone, I spend a decent amount of time explaining that buying a foreclosed home, on the water, at Lake Martin these days is a long shot. (Yes, there are plenty of good deals that are not foreclosures).
When I was setting up some waterfront homes to see tomorrow, I ran across a home on the MLS's Hot Sheet – I was initially interested because the house looked nice from the outside and it looked to be on a flat lot with a good view of Lake Martin. It was a foreclosure to boot- despite my generalities above.
I called the agent to show it, and he said, "you can't show that one. I haven't even been inside of it."
Huh?
Apparently there are people still in it and they are objecting to the sale. Agents can't show it. Buyers can't walk through it. You can enter a bid online, cash only, please sir.
OK.
If this one sells it will be one for the record books, sportsfans.
Can I help you find your dream Lake Martin home or lot? Contact me here or call me at the number at the top of the page.
Please download by FREE LAKE MARTIN VOICE APP before you call, or I will be so sad….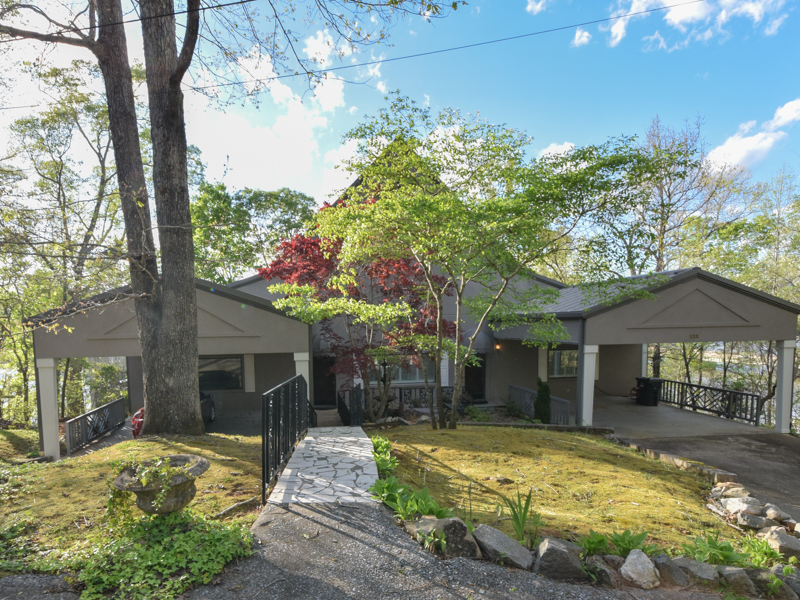 232 River Ridge Road, Alexander City
4 Bedroom, 4.5 Bath
$375,000
MLS 16-546
232 River Ridge Road is a big, beautiful two story home complete with stunning sunset views! Nestled in the trees, this home has sweeping views of the north lake area of Lake Martin. Its porches are larger than many homes!
With this house you have plenty of room for family and friends – 4,200 sq. ft. Per owner, "Downstairs sleeps 15 if they like each other, 12 if not!" It would be a great permanent residence or summer home with 4 bedrooms, 4 1/2 baths. The living room has a fireplace and mahogany built-ins with a soaring 40′ ceiling.
Outside this River Ridge area home features 207′ +/- waterfront, wooded lot, double covered boat slips and deep year round water.
For more info give John Coley, the listing agent, a call 334-221-5862 or drop him a line  [email protected] or contact him here.
Take a 3D Tour Below:
My friend Becky Haynie recently held an Open House at 133 Whisper Wind, Windermere West on Lake Martin in Alexander City.  Becky is the Listing Agent with Lake Martin Realty and can be reached at 334-312-0928 or emailed at [email protected]  Watch the home tour video above which she graciously allowed me to record.
The home at 133 Whisper Wind is a 5/4 floor plan with a 3 car garage which sits on a great lot. Inside, you will find spacious family rooms on two levels – the main level and the terrace level.  Both family rooms have fireplaces, too.  Two of the five bedrooms are on the main level.  Enjoy beautiful open lake views from the home or from the pier, lakeside fire pit or outdoor swing.
Listing price for this home is $825,000.
Click here  for the Google map link.
More Information About Windermere
Windermere (click here for my neighborhood link to Windermere) is close to marinas and boat ramps, Russell Crossroads and Russell Forest trails.
Would you like to see a summarized list of every waterfront home and lot for sale in Windermere? Click here!
Watch the video below and enjoy the bike ride from Windermere to Russell Crossroads.

As Becky pointed out in the video, just like any waterfront home, lot, or condo on Lake Martin, I can help you with it. I would love to be your real estate agent! CLICK HERE to contact me, or you can email me ([email protected] lakemartinvoice.com), or you can call me at the number at the top of this page.
Happy Plug Day 2016 Lake Martin!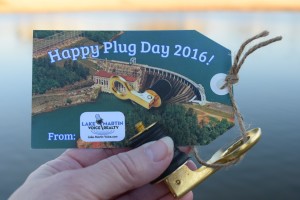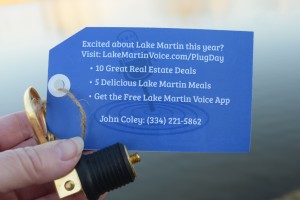 Plug Day on Lake Martin is when we celebrate the annual rising of the water towards full pool. In 2016, that day is March 1.
Question from John Q. Cynic: Is it a tad silly to celebrate when the water starts coming up? I mean, given all of the important issues in the world today, should we really take time out to cheer the annual, repetitive raising of one lake in central Alabama?
To the inquisitor, I respond, "Lighten up, Francis."
Sure, the water comes up every year, and, with one extreme drought exception, stays up until well into the fall. And sure, we fans of Lake Martin have no real control over it. But it's still fun to celebrate.
And to all the Eeyores out there that can't have a little fun, that can't be happy at witnessing one of the first signs of the spring, I say, I am sad for you on the inside. Have you tasted not the joy of warm water and warm weather? Is your heart so encrusted with malaise,  your eyes so jaded that you see not the spark of renewal that is Spring?
For the vast majority rest of us who give three cheers on Plug Day, we say a collective "Yee-Haw!" We are happy that Lake Martin is on the way up to full pool.
Looking around nationally, some real estate blogs and the agents who who write them are so serious they sound like a Warren Buffet annual report. Other agents are so in-your-face aggressive that I'd be scared to ride in the same car with them. Still other realtors come across as so dippy, fluffy, and bland that I'd wonder if they have any thoughts beyond how awesome their latest glamor shot looks.
Since I sell real estate in a second home market here at Lake Martin, I try to be informative, but I also realize that Lake Martin is mostly about fun. Pretty much all about spending time with your family and friends. S'mores. Cannonballs. Preacher's Seats. Escaping the occasional horse fly. Barbecuing ribs. The smearing of sunblock. Sunset selfies. Ribbon sandwiches. Falling asleep on the boat.  Smacking each other with those foam noodles. Falling asleep in the hammock and burning the hamburgers.
My role as a real estate agent here is to help people find their happy place, or help people sell it when the time is (regretfully) right. That's it. It's that simple.
Happy Plug Day, Lake Martin!
As the Lake Martin real estate market heats up, so do those that try and FSBO their waterfront home. I get it.
FSBO stands for "For Sale By Owner" – pronounced "FIZZ-bo" by the cognoscenti. Every market has their fair share and Lake Martin is no exception. As conditions shift into seller market status, it stands to reason that we will see more FSBOs. In fact, I usually counsel my more marketing savvy sellers to try selling it by themselves first. If you can call a few neighbors and friends and sell the home yourself, more power to you. Get a good idea of market value and a good real estate lawyer and you might pull it off.
The above note was sent to me by a buyer couple that I helped look around Lake Martin for a couple of summers. That's pretty normal – most second home buyers take a while to look since it's such a big decision.
Anyway, I showed this couple a variety of homes in different locations. I helped them get an idea of the market, and helped them sharpen their ideas about what they would need. They were pretty educated on Lake Martin real estate to begin with, since one of them is from here and they used to have a Russell cabin. So I wasn't guiding newbies, more like assisting grad students.
Their story had a happy ending! They ended up buying a home directly from a seller, a FSBO. I was really happy for them. They ended up writing me a sweet note and were quite nice about the whole thing. They were actually worried I would be upset! Ha!! Far from it!!
I was just glad to know they ended up with their Lake Martin dream home. Once I saw the home they bought, I couldn't blame them! It is perfect for them!
Since they wrote the note, my family and I have spent quite a few hours hanging out at their lake home, grilling out, wake surfing, and just relaxing. It has been great!
It's folks like them that make my "job" a lot of fun, and I am truly happy for them.