My friend Becky Haynie recently held an Open House at 133 Whisper Wind, Windermere West on Lake Martin in Alexander City.  Becky is the Listing Agent with Lake Martin Realty and can be reached at 334-312-0928 or emailed at [email protected]  Watch the home tour video above which she graciously allowed me to record.
The home at 133 Whisper Wind is a 5/4 floor plan with a 3 car garage which sits on a great lot. Inside, you will find spacious family rooms on two levels – the main level and the terrace level.  Both family rooms have fireplaces, too.  Two of the five bedrooms are on the main level.  Enjoy beautiful open lake views from the home or from the pier, lakeside fire pit or outdoor swing.
Listing price for this home is $825,000.
Click here  for the Google map link.
More Information About Windermere
Windermere (click here for my neighborhood link to Windermere) is close to marinas and boat ramps, Russell Crossroads and Russell Forest trails.
Would you like to see a summarized list of every waterfront home and lot for sale in Windermere? Click here!
Watch the video below and enjoy the bike ride from Windermere to Russell Crossroads.

As Becky pointed out in the video, just like any waterfront home, lot, or condo on Lake Martin, I can help you with it. I would love to be your real estate agent! CLICK HERE to contact me, or you can email me (info@ lakemartinvoice.com), or you can call me at the number at the top of this page.
Happy Plug Day 2016 Lake Martin!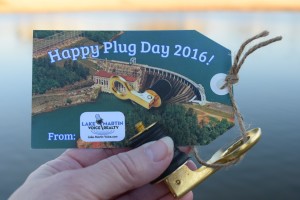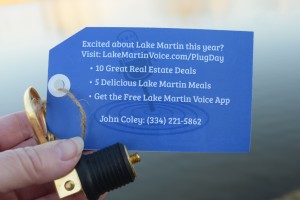 Plug Day on Lake Martin is when we celebrate the annual rising of the water towards full pool. In 2016, that day is March 1.
Question from John Q. Cynic: Is it a tad silly to celebrate when the water starts coming up? I mean, given all of the important issues in the world today, should we really take time out to cheer the annual, repetitive raising of one lake in central Alabama?
To the inquisitor, I respond, "Lighten up, Francis."
Sure, the water comes up every year, and, with one extreme drought exception, stays up until well into the fall. And sure, we fans of Lake Martin have no real control over it. But it's still fun to celebrate.
And to all the Eeyores out there that can't have a little fun, that can't be happy at witnessing one of the first signs of the spring, I say, I am sad for you on the inside. Have you tasted not the joy of warm water and warm weather? Is your heart so encrusted with malaise,  your eyes so jaded that you see not the spark of renewal that is Spring?
For the vast majority rest of us who give three cheers on Plug Day, we say a collective "Yee-Haw!" We are happy that Lake Martin is on the way up to full pool.
Looking around nationally, some real estate blogs and the agents who who write them are so serious they sound like a Warren Buffet annual report. Other agents are so in-your-face aggressive that I'd be scared to ride in the same car with them. Still other realtors come across as so dippy, fluffy, and bland that I'd wonder if they have any thoughts beyond how awesome their latest glamor shot looks.
Since I sell real estate in a second home market here at Lake Martin, I try to be informative, but I also realize that Lake Martin is mostly about fun. Pretty much all about spending time with your family and friends. S'mores. Cannonballs. Preacher's Seats. Escaping the occasional horse fly. Barbecuing ribs. The smearing of sunblock. Sunset selfies. Ribbon sandwiches. Falling asleep on the boat.  Smacking each other with those foam noodles. Falling asleep in the hammock and burning the hamburgers.
My role as a real estate agent here is to help people find their happy place, or help people sell it when the time is (regretfully) right. That's it. It's that simple.
Happy Plug Day, Lake Martin!
As the Lake Martin real estate market heats up, so do those that try and FSBO their waterfront home. I get it.
FSBO stands for "For Sale By Owner" – pronounced "FIZZ-bo" by the cognoscenti. Every market has their fair share and Lake Martin is no exception. As conditions shift into seller market status, it stands to reason that we will see more FSBOs. In fact, I usually counsel my more marketing savvy sellers to try selling it by themselves first. If you can call a few neighbors and friends and sell the home yourself, more power to you. Get a good idea of market value and a good real estate lawyer and you might pull it off.
The above note was sent to me by a buyer couple that I helped look around Lake Martin for a couple of summers. That's pretty normal – most second home buyers take a while to look since it's such a big decision.
Anyway, I showed this couple a variety of homes in different locations. I helped them get an idea of the market, and helped them sharpen their ideas about what they would need. They were pretty educated on Lake Martin real estate to begin with, since one of them is from here and they used to have a Russell cabin. So I wasn't guiding newbies, more like assisting grad students.
Their story had a happy ending! They ended up buying a home directly from a seller, a FSBO. I was really happy for them. They ended up writing me a sweet note and were quite nice about the whole thing. They were actually worried I would be upset! Ha!! Far from it!!
I was just glad to know they ended up with their Lake Martin dream home. Once I saw the home they bought, I couldn't blame them! It is perfect for them!
Since they wrote the note, my family and I have spent quite a few hours hanging out at their lake home, grilling out, wake surfing, and just relaxing. It has been great!
It's folks like them that make my "job" a lot of fun, and I am truly happy for them.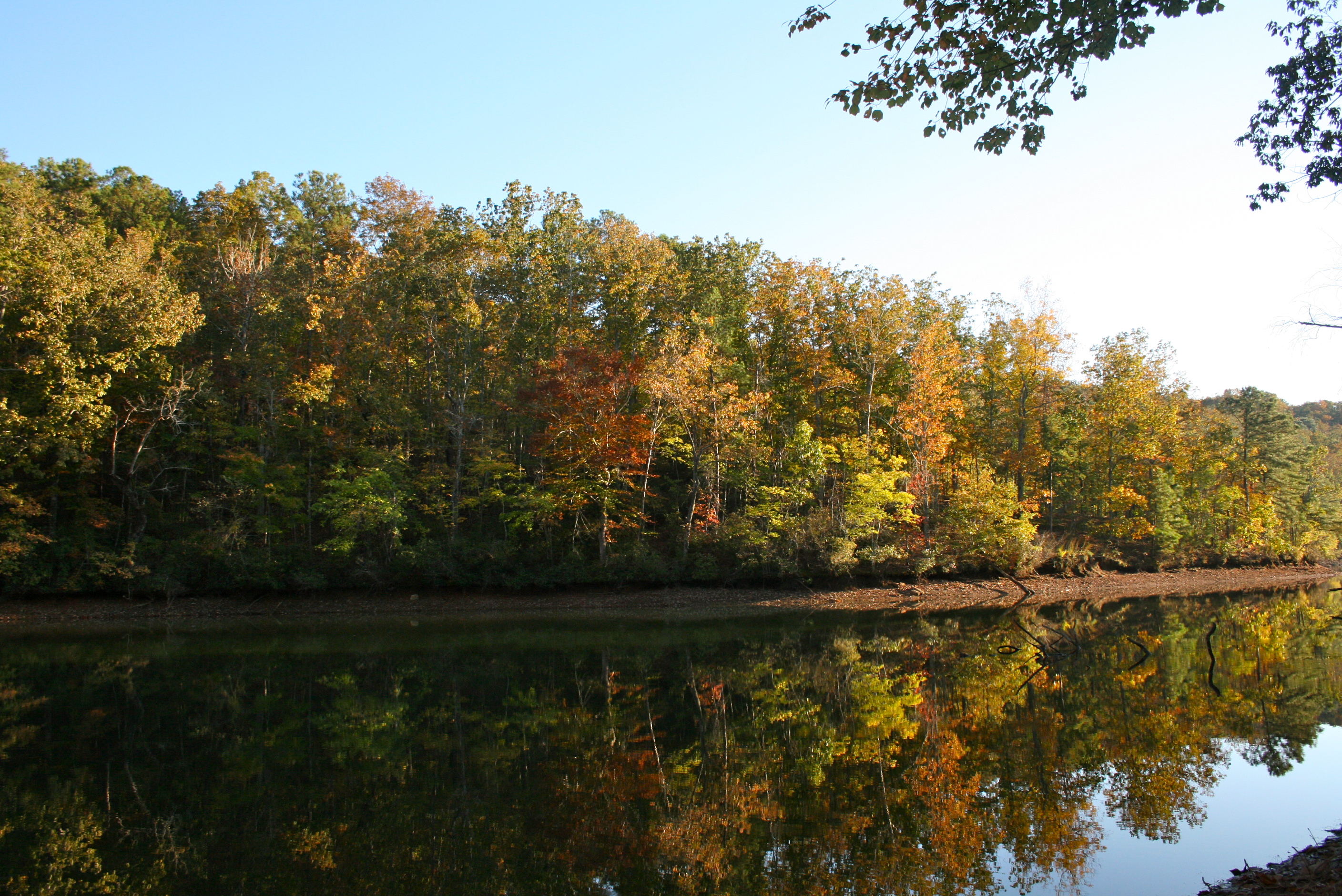 Are Lake Martin waterfront real estate sales seasonal? That's a question I hear a lot this time of year.
It's a pretty natural question, I think. If you own waterfront property on Lake Martin, you might be wondering whether or not to put it on the market now, or wait until the spring when the weather and the sales heat back up.
Or, if you are considering buying a home or a lot on Lake Martin, you could possibly be thinking that everything goes on sale after Labor Day.
To start with the buying side question, the answer is no. There is not huge price drop that happens after Labor Day. It just doesn't happen. A studied the numbers on this a few years ago and found that the sale to list price ratio does not change when the temp goes down.  See this link. This myth persists, though. But it is bunk.
What about on the selling side? Are there so few sales on Lake Martin in the cold months that you're better off to wait until the Spring?
I don't think so.
Some sellers might worry that they will have a higher Days On Market statistic in the Spring if they don't sell. I polled a few of my fellow agents and they agree with me:
It's better to have it on the market and have a few higher days on market. Nobody pays much attention to that piece of data. In our market it doesn't mean a seller is desperate, it usually means they are stubborn on price.
Think about it – if it's not on the market, agents (like me) can't advertise it. They can't put it in the MLS. No one knows about it. It definitely won't sell in that scenario.
Do you need help with Lake Martin real estate this fall? I would love to help out. I am a full time agent here at Lake Martin. Please call me at the number at the top of the screen or contact me here.
126 O'Daniel Point is a classic Lake Martin waterfront home in every sense of the word. Nestled among soaring trees, this three bed, two bath home is on a flat lot with a beautiful view. So many Lake Martin homes offer a great views, but you have to negotiate stairs or a long walk. Not so at 126 O'Daniel Point. Stroll easily back and forth, the home is a few flat steps away.
Located on the popular Kowaliga Bay area, the home is mere minutes from Kowaliga, Russell Crossroads, and Willow Point. By water, it's close to Chimney Rock, and so many other fun locations.
From the street entrance, you enter into the living room with vaulted ceilings and tons of room, and the kitchen nearby ensures everyone stays involved. The home is all on one story, so there's no need to hike up and down steps. Every room is accessible – the guest bedrooms and bath, the master suite, and all living room areas, No stairs!
The kitchen was updated in 2009 and features granite counter tops, stainless appliances, a deep sink, an island, and a great view of the water. The master suite also overlooks the water. The vaulted ceilings give the room lots of space, and sitting by the built in shelving can be a spot to relax, work, or just read a good book.
Outside, a huge screened porch offers a large area for more living. It's a great place for outside meals, games, or just observing the beauty of the lake. The porch overlooks the Tallassee Slough area of Kowaliga, just off the big water. It's the best of both worlds – seeing big water but not having traffic speed by just yards from your dock. When it's time to boat, your covered boat lift has it ready to go. This home has so much to offer – great view, Kowaliga location, a neat home on a flat, wooded lot. Schedule your showing today!
For more information, CLICK HERE for the listing page for this property.
Or, just call me, John Coley, directly at 334 221 5862 or contact me here. I would love to show you all this home has to offer!
Happy Friday and Congratulations!! You just saved $10,000 on Lot 61, Phase II of The Ridge!
We just dropped the price on Lot 61, Phase II of the Ridge. It's an awesome waterfront lot on Lake Martin. Just think of it, you didn't have to lift a finger and you saved $10,000. The price has been reduced to $229,000 from $239,000. CLICK HERE for more info on the lot.
Lot 61, Phase II is on Eagle Ridge in one of Lake Martin's most prestigious neighborhoods: The Ridge!
Waterfront lot and home sales are beating last year by 26% on Lake Martin, and 2014 was a record year. Now is the time to take advantage of a great new price on this  wonderful lot!
Call John Coley at 334 221 5862 or john (at ) lakemartinvoice (dot) com.
More Info: The Ridge in Lake Martin
A Lake Martin Leased Lot waterfront home is becoming an increasingly rare bird in our real estate market.
If you're new to searching the Lake Martin MLS, you might have noticed a field in the information sheet that looks like this: Deeded: Deeded or Deeded: Leased. This is shorthand. If we had more room, it would probably look like: Is This Lot Deeded or Leased? and then have the answer either Deeded or Leased.
What is a leased lot home on Lake Martin?
A fair question. It's a home where the seller is owns and is selling the improvements only, but they don't own the land underneath it. They lease the land, usually from Alabama Power. Historically leased lot homes are less than 10% of overall sales. For more information, see the Leased Lot category of my blog.
Why are leased lot homes becoming more rare on Lake Martin?
About two or three years ago, Alabama Power began selling some of the homeowners the lots which they lease. Mind you, this was not Alabama Power opening up new lots to lease or sell, this was them contacting homeowners on existing leased lots, and saying, in essence, "hey, do you want to buy this lot at $X?" Because of this (relatively) new phenomenon, we Lake Martin agents are seeing fewer waterfront leased lot homes for sale on the market. Those that are on the market usually have an option to buy the lot. Often, you'll see this noted in the (super secret) Agent Notes section of the Lake Martin MLS.
Recently, I had a buyer ask me about how one goes about purchasing a leased lot home with an option to buy the lot.
His Q: Is being able to secure purchase of the lot a reasonable contingency on a contract for the house? Would both transactions be handled together at one closing and with one mortgage or would they have to be separate?
My Answer:
"Excellent questions, I have closed a couple this way:
1.) That's an absolutely reasonable contingency. In fact, I as your agent would insist on such a contingency, broadly worded like "contingent upon buyer's obtaining an acceptable contract with Alabama Property company to purchase Lot X for $yyy,yyy and acceptable review of all lease documents." The idea here is that if you can't buy it for what you want, you're out of there.
2.) closing at one time is doable. I have had one where technically it was two closings but they happened at the same time, where you sat down at the table and signed a bunch of docs to buy the lot first and then a bunch of docs to buy them all together. But it felt like one closing. I can recommend lenders around Lake Martin that are used to this concept. I would not recommend getting lenders from out of town because they have a hard time wrapping their heads around the concept. No slight against them, it is admittedly a weird concept and if I hadn't seen it at Lake Martin I would know nothing of it myself. In fact, growing up here I didn't know anything about it, it wasn't until I started selling real estate that I learned about it.
FYI here's everything I have ever written about leased lots: Leased
It's a little outdated because of the above but it hopefully gives you a decent background.
Do you have any questions about Lake Martin real estate?  If so, please email me with this form or : info (at) lakemartinvoice (dot) com!
The headline on AL.com reads "Lake Martin Sales Have Slipped 2 Percent." Should we be worried?
We shouldn't be panicking quite yet. This number came from the Alabama Center for Real Estate. They do a great job at accumulating and reporting real estate market reports for the entire state of Alabama. That particular study was looking at the entire area of Lake Martin which includes off water property. If you dig into the details in their report, you'll see that the Lake Martin waterfront home sales are actually pretty much the same as April 2014.
In April 2014, 25 waterfront homes were sold on the Lake Martin MLS*, this includes all brokerages, all real estate agents. This year, in April 2015, we also sold 25 waterfront homes, so we are dead even with last year from a monthly standpoint.
If we look at the cumulative sales from the whole year in 2015, in the Lake Martin MLS*, we sold 87 waterfront homes. Throughout 2014 in the Lake Martin MLS, we sold 72 waterfront homes, and 2014 was a record year. So far, we are tracking ahead of last year in sales by over 20%.
Now, if the Lake Martin waterfront market starts seeing months lose to the prior year and we see that cumulative total go down and we start tracking behind last year, then there might be reason to worry. But so far, we are doing great this year!
If you have any questions, please contact John Coley with Lake Martin Voice Realty at 334 221 5862 or emailing directly at john (at) lakemartinvoice (dot) com.
**************************************
Copyright notice – the above, and every other post on this blog, is the property of John Coley, Broker, Lake Martin Voice Realty. Appraisers may use my information in their appraisals without charge or asking, but please give me credit by citing me, my company name and title, and website address of http://lakemartinvoice.com.  If anyone else would like to use this information, please contact me here and ask. I probably will let you do it, just please ask!
(*)Disclaimers: All of the above info was taken from the Lake Martin Area Association of Realtors Multiple Listing Service. Accuracy is not guaranteed but deemed reliable. The above does not include sales by   FSBOs or developers that sell privately and not through the MLS. But, I do think that the above represents a very large majority of all waterfront sales on Lake Martin, Alabama.
Waterfront Lake Martin home for sale in the Real Island / Little Kowaliga area
Do you long for an escape from work? From city life? Are you looking for a real departure?
Do you find yourself remembering when cabins were cabins, not extensions of pretension? When dirt roads led to gold, not away from it? Then 236 Delilah Lane on Lake Martin could be the perfect place for you to come away and put your phone on Do Not Disturb.
Nestled in a modest hill in the woods, its close to home in Little Kowaliga or Real Island area of Lake Martin. Because its bordered on one side by 38 acres of forest, you'll soon forget the world of instant notifications and expectations.
The home comes fully furnished and decorated by two renowned architects who captured the spirit of the cottage. It's a place to experience Lake Martin in a tangible way, and experience a lifestyle that doesn't take itself too seriously.
Upstairs the wood ceilings, wood burning fire place, and galley kitchen support the main bedroom and bathroom. Downstairs the guest bedrooms share a bathroom and are only 3 steps from the water at Lake Martin.
Go for a boat ride or stay here and paddle to cast a fly against the lake shore. You can lounge on the swing and read on the screened in porch. If you know the difference between a buzzing phone and the call of the cicada, or if you'd like to learn, please come see this home. Keep your phone on, but only if you want to.
For more information about this home, CLICK HERE.
Or, just call me, John Coley, directly at 334 221 5862 or contact me here. I would love to show you all this home has to offer!
We have dropped the price on 38 Antler Road, a four bedroom, three bathroom waterfront home on the east side of Lake Martin.
This home is one of my favorites, as it has really nice appointments, yet remains a fun, accessible lake house. It's located toward the end of County Road 34 on the Dadeville side of Lake Martin, so it's centrally located on the water. Check out the video above, or CLICK HERE for complete information on the home.
Or, just call me, John Coley, directly at 334 221 5862 or contact me here. I would love to show you all this home has to offer!