Rarely do I feel like I live a life that would be featured in Garden and Gun magazine.  Somehow, when they feature folks that harvest herbs from their own yards, they come off as locavore specialists, whereas I feel sort of cheap.  These experts create handcrafted bird houses with wood from reclaimed Amish barns;  I buy mine at Wal-Mart.
The one time I felt as special as they are was when some friends invited us to eat al fresco at their Lake Martin home.  Both the husband and the wife are artists per se, who also know how to cook and entertain.  Eating outside on the deck at night at their Lake Martin home felt purposeful and special.  At our cabin we only eat outside when there are too many people, or when someone has burned something in the oven.
This picture, taken from the upper deck of 102 Grandview Lane, says "Dinner Party"  to me.  You've got the shady, secluded, tree house atmosphere, and then there's the view of Willow Point across the water . . . some places just invite you in.  I can see friends gathering in late afternoon, and lingering here well into the evening.  Throw in a fire pit or one of those chiminea things and you have a favorite autumn hangout.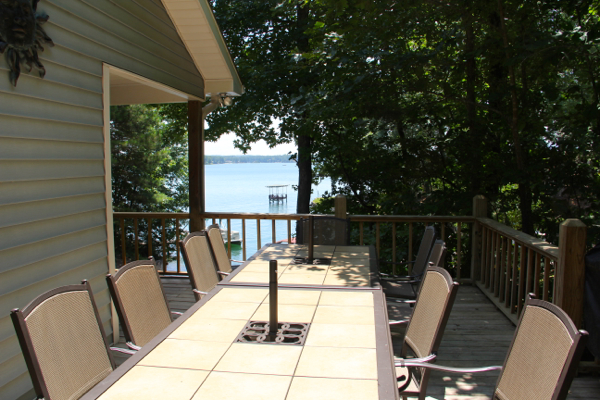 This house is a great buy for the Parker Creek area.  Deeded homes in this price range – in this area – are usually what I call match stickers (aka most people would burn it down or tear it down), but this four bedroom, two bath home is a tooth brusher (as in . . . move in ready, just bring your toothbrush).
Take a peek at the rest of the photos and listing info for 102 Grandview Lane by clicking here.
And click here to watch the VIDEO TOUR of the entire property.
Give me a call (334) 221-5862, or click here to contact me if you'd like to know more about this home, or any property in the Lake Martin MLS. 
If I had to summarize an entire Lake Martin property with one image, which photo would I choose?  That's a question I think about a lot.  Images matter with online marketing, and telling the "story" of a home via pictures is important.
Example:  This picture below was taken from the dock of one of my listings, 35 Sterling View Drive, and you can see out into the big waters of Kowaliga Bay.  It's funny that here, in one of the busiest parts of Lake Martin, it feels secluded and calm.  35 Sterling View Drive is within walking distance of Castaway Island and Anchor Bay Marina – there's plenty of life in these parts.  But this slough is like a little refuge.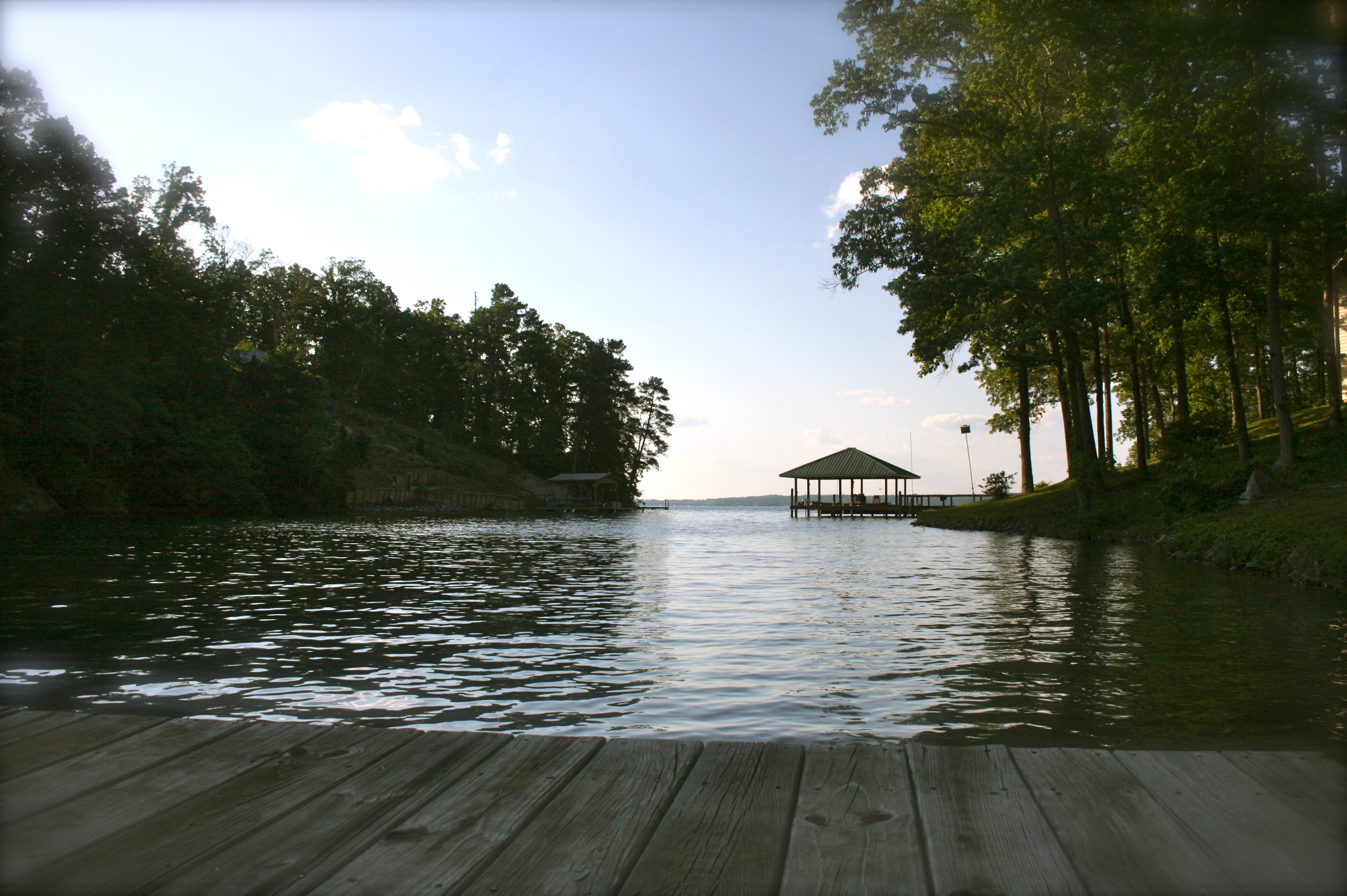 If this is the kind of refuge you're looking for, and you want to know more, CLICK HERE for the rest of the photos of 35 Sterling View Drive, plus all the MLS listing information.
CLICK HERE to view the full motion VIDEO TOUR.
I'd love to help you find your perfect piece of Lake Martin – be it calm and secluded, or right in the middle of the social scene.  Give me a call at (334) 221-5862 or click here to contact me via email.
I have a client who has narrowed his search down to two Lake Martin waterfront homes his family likes.  This is great!  But because this is Lake Martin real estate, deciding between the two homes is proving to be tough.  A quick MLS property search in any price range will confirm that shopping for Lake Martin homes is not like comparing apples to apples.  There are so many variables to consider, that even 2 homes next door to each other can have radically different qualities (water depth, house condition, waterfront footage, view, etc.)
It boils down to the simple question: "Why do you want a lake house?"  That sounds obvious, but really thinking about their expectations for a lake home forces buyers to make choices:  Where is the best location for them?  How will they use it?  What do they like to do at the lake? Why are they even buying one in the first place?
The video below is of Lake Martin Voice Realty clients, John and Wendy, who have just closed on their home, and had to make similar decisions.  I think they offer some great advice:
Back to my current client with a choice to make.  Our conversation goes something like this, and it is:
Buyer:  "John, what do you think?  House A or House B?"
John:  "I have been selling long enough to realize that different people have different priorities. I think House A is a good choice if you prioritize newer home construction and the location in the west side of the lake.  I like House B if you prioritize size of waterfront and length of view, or a North Lake / close to Highway 280 location.
If you are undecided about location, my advice is to ask yourself where you would like to be closer by water? Whereas House A might cost you 12 more minutes to drive from Birmingham, it might be only 7 minutes by boat from friends.  Or House B might be 15 minutes faster drive from Birmingham, but 30 minutes from friends by water, but 10 minutes to shopping and restaurants in Alex City.  You just have to ask yourself what you will be doing and how you will be spending your time."
What about you?  What are your priorities?  Why do you want to buy a Lake Martin home?  I'd love to be your realtor and help you think about these question – whether your time frame to purchase is two months or two years.  Give me a call at (334) 221-5862 or click here to contact me. 
The Lake Martin real estate market had a smashing May, tallying 32 waterfront homes sold! This is the highest number of homes sold in six years, since May of 2006.
In this real estate market report I wrote for Lake Magazine, I noted that according to the Lake Martin MLS*, April 2012 had a relatively weak number of waterfront homes sold. I wondered if this was a signal that the Lake martin market was slowing down, or if this is a mere timing thing, setting the table for an explosive May.
It seems the latter was correct. 32 waterfront homes sold in one month is a lot for a little market like Lake Martin. Please note these numbers encompass all brokerages, all agents, in the Lake Martin MLS.
How good is 32?
To help put it into perspective, I looked at each month's sales history since January, 2005. I found that May 2012 was the best home sales month on Lake Martin since 33 was sold in May of 2006. Think of that – the last time we have seen sales like this was in a confirmed seller's market of 2006.
Also, another way to view this month is to ask this question:
Q: Since January of 2005, how many times has the Lake Martin real estate market exceeded 30 waterfront home sales per month?
A: Just six. That's right, over the last 54 months, including the blistering years of 2005 and 2006, Lake Martin has exceeded 30 only six times: May 2012, August 2009, the above mentioned May 2006, and three times in 2005.
I think this proves that April 2012's weak showing of 14 Lake Martin waterfront homes sold was an aberration, a timing issue. Of course, the same could be said about May, but I doubt that is really the case. As I write this, there are 23 home sales pending in the Lake Martin MLS and 17 recorded as sold since June 1. In other words, June is setting up to be a good sales month as well, very likely to beat the prior year's June total of 22 homes sold.
If we step back and look the cumulative total number of waterfront homes sold on Lake Martin so far this year, we see that 93 homes have sold. Once again, this is the best five month start since 2006.
Lake Martin Lot Sales 2012
Lake Martin waterfront lots are also selling well so far in 2012. In May, 10 lots were sold, which was the best since 10 sold in April 2011. Other than last year, we have not seen that many lots sold since 2005.
Supply Side
When I first started blogging about Lake Martin real estate way back in 2007, I always included the numbers of waterfront homes for sale on Lake Martin. Every month I trotted out the supply. But, it got rather tedious so I stopped doing it every month, only mentioning it once per quarter or so. I don't really know why. Maybe it was because it frustrated me to see the number of homes for sale keep rising when the Lake Martin market was in an obvious shift to the buyer's side of the equation. I don't know.
I do think it bears a look now, in light of the sustained sales.  I took a look at the number of waterfront homes for sale on Lake Martin in the last few years. It has been dropping quite a bit. If we use the month of May as an example, we see that in May of 2009 there were 589 homes for sale on the MLS. May of 2010 saw it drop to 492, then drop to 476 in 2011. In May of 2012 it was only 411. That is a 30% decrease in supply in three years. True, that percentage fluctuates based on which month you consider. It also is true that many more condos were for sale back then, but I looked at the condo effect in this post and it wasn't all that big an influence in sales.
If supply stays low and sales continue on this trend, could 2012 be a year of actual price increases?  I'm not willing to go out on that limb.  Yet.
Related Posts:
Lake Martin Lot Sales 2011
Lake Martin Real Estate Sales 2011 – Year In Review
Lake Martin Real Estate Sales 2010 – Lot Sales
Lake Martin Real Estate Sales 2010
Lake Martin Real Estate Sales 2009 – Year In Review
Lake Martin Real Estate Sales 2008 – Year In Review
Lake Martin Real Estate Sales 2007 – Year In Review
All Lake Martin Market Reports

(*)Disclaimers: All of the above info was taken from the Lake Martin Area Association of Realtors Multiple Listing Service. Accuracy is not guaranteed but deemed reliable. The above does not include sales by   FSBOs or developers that sell privately and not through the MLS. But, I do think that the above represents a very large majority of all waterfront sales on Lake Martin, Alabama.
I need some help!
What do you call the middle face in this picture? Sort of smiley? I know the one on the left is a big smiley face, and I guess we can call the one to the right a frowny face. I just have no clue what to call the middle one and it is affecting me. Why?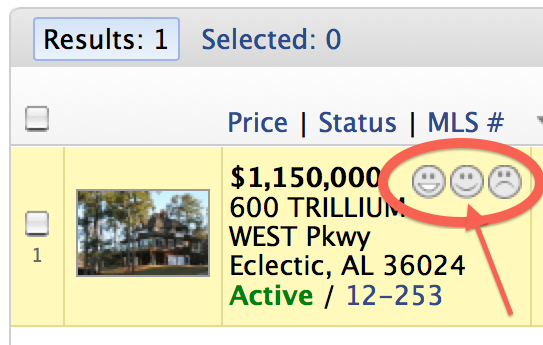 These faces are a feedback tool within the Lake Martin MLS.  People who are searching for waterfront homes, lots, or condos for sale on Lake Martin can use this feedback system by creating themselves a Portal. You create a Portal on the MLS by clicking "Save" on a search, after you check a particular listing, or if you click on one of these faces to give feedback. Then you are asked to register some info and create a Portal. The big smiley face puts your selection in a Listing Cart called "Favorites." The middle one is "Possibilities" and the frowny is "Rejects."
Why would you want to do that? I can think of a few reasons:
1.  My buyers love this feature. There is safety in numbers. You know, the old "many have enjoyed this, you will, too!" line.
2.  Registering allows you to save your favorites without searching again and again each time you log on to search the Lake Martin MLS.  It saves you huge amounts of time, plus your spouse can log on also and see the same info.
3.  Don't worry, your info comes only to me!  This may or may not be a comfort, but this live feed to the homes and lots for sale is provided by me, so only I see your email address or any other contact info you provide.  I don't spam and no one else will have it.
4.  It saves a lot of time when/if you are ready to buy, even if it's 6 months later.  I can find the current examples of your past favorites and get a good idea of what you like and what you don't like.
Like I've said many times before, the Lake Martin MLS is the #1 source for the most accurate, up-to-date information on homes for sale on the lake.  If you're not sure how to use it effectively, I'll give you the 5 minute lesson:
If I can help you, please call me at (334) 221-5862, email me at info @ lakemartinvoice .com, or CLICK HERE to contact me.  I can help you with any property in the Lake Martin MLS, regardless of which realtor has it listed.
There are a lot of fun things to do at Lake Martin. Each summer seems to bring a new spot to visit or a new sport to enjoy on the water. But there is no doubt about it – one of the most popular things to do is ride in the boat and look at waterfront homes.
Maybe you don't want to actually go in them, maybe you're just curious. Or maybe you really are considering buying, but just not this weekend. I can help. Just let me know where you will be staying on the lake, or what part of the lake you plan to visit, and I can make you a Home Tour map!
That way, as you drive around and see for sale signs on docks or on the street, you can check the list to get the sales info. Contact me my filling out this form or calling me at 334-221-5862 and I will be glad to help you make a map.
Not ready to talk to a cheesy ole realtor like me? I don't blame you. Check out this How To video where I coach you on making your own map. If you do decide to do it, and see something you like, please let me know. I can help you with any property that is for sale, no matter who has it listed. The seller pays my commission so it doesn't cost you a dime more to let me help you.
Have fun, and I hope to see you on the lake!
Kenneth and Melinda are looking around for a waterfront home on Lake Martin, and I am honored that they selected me to help them. A couple of weeks ago they were at the lake and we were looking around when Kenneth went into an unsolicited testimonial about the my Lake Martin home search – aka MLS search.
I can't take all of the credit, FBS Data Systems runs our system, called FlexMLS. In my opinion there is no finer software solution or way to search for homes and lots. FlexMLS is an outstanding product that is very responsive, customizable, and relevant to the way that consumers would like to search.
Please take a minute to watch this video, where Kenneth explains how he started his Lake Martin home search with a couple of hundred potentially confusing possibilities, then whittled it to a managable twelve, then zeroed in on the five or six he wanted to see.
He searched on his desktop mostly, but then was able to save and transfer his favorites to his smart phone.  We even zoom in and Kenneth shows you how to do it on his phone. The great thing is that my website, Lake Martin Voice, and Lake Martin's FlexMLS system automatically recognizes if you're using a mobile phone and tailors the experience for you. Kenneth was able to find two more homes that he wanted to see while we were at the lake.
Would you like to start your own search for a waterfront home or lot at Lake Martin? Click here or above on the Property Search button and get started. Once there, click on a smiley face and it will allow you to save your favorites.  Don't worry, the registration only comes to me, no spam.
Thanks again and way to go, Flex!!!!
Lake Martin, Alabama, waterfront home sales continue the hot streak of 2011 by posting 43 homes sold in the first quarter of 2012.
I studied the Lake Martin MLS* to see how the home sales have been in the first three months of the year. Personally, this is the best January, February, and March that I have ever had, praise the Lord. But I wondered if my experience was atypical. Generally, Lake Martin home sales are coolest in the cool months, so what was the rest of the market doing?
A quick look at the numbers in the Lake Martin MLS, which includes all agents, all Lake Martin real estate brokerages, shows that in January of 2012, 12 waterfront homes were sold, in February of 2012 it was 11, and 20 homes were sold in March of 2012 for a total of 43. This number was the best since 2007's 43 and almost equaled 2006's 46.
Lake Martin Real Estate Trends for 2012
What does this mean? Is this brisk pace a good omen for Lake Martin sales in 2012? It's too early to tell, I think. If you look at 2007, which had an equally good start, the drought and the real estate bubble bursting combined to crash the market that year. However, in 2006, a great first quarter signaled a great, but declining, sales market. We just won't know until we have more data.
But the good news is that one thing is sure – this strong quarter shows us that the sales momentum from 2011 has continued.
Lake Martin Waterfront Foreclosures Update For 2012
The other day Jessica from the Alex City Outlook called me to interview me about foreclosures in the Lake Martin area. She asked me if I felt that foreclosures were increasing, decreasing, or staying the same. My first instinct was to say that they have stayed steady, based on this post where I detailed foreclosure trends for the last three years.
However, I looked at the numbers just in case, and was surprised.
Of the 43 waterfront homes sold through the Lake Martin MLS in the first three months of this year, 13 were listed as foreclosures. That's 30%! Way over the 7% in each of 2009, 2010, and 2011. What does this mean? Is this finally the "huge flood of foreclosures" that we have been hearing about?
I don't think so. I think it is merely pent up supply and a coincidence that they all fell in the same quarter. I base that opinion on the fact that there are only 12 other waterfront homes listed as foreclosures that are for sale right now out of 379 total homes for sale. That's only 3% of the supply.
Wait a minute, you might say. Maybe the foreclosures are selling at a higher proportionate rate. Maybe they are the better deals and will be sold first, thereby skewing the market down.
Perhaps, you might be right. But I think we still need more data to be sure. Remember, the first two months of the year historically are some of our lowest sales totals. It doesn't pay to draw too many conclusions.
Let's be happy for a strong three months of sales on Lake Martin, but let's reserve prognostication until we have a few more months under our belts. And since we don't wear belts much around here, I guess I should say the elastic band on our swim suits.
Related Posts:
Lake Martin Lot Sales 2011
Lake Martin Real Estate Sales 2011 – Year In Review
Lake Martin Real Estate Sales 2010 – Lot Sales
Lake Martin Real Estate Sales 2010
Lake Martin Real Estate Sales 2009 – Year In Review
Lake Martin Real Estate Sales 2008 – Year In Review
Lake Martin Real Estate Sales 2007 – Year In Review
All Lake Martin Market Reports

(*)Disclaimers: All of the above info was taken from the Lake Martin Area Association of Realtors Multiple Listing Service. Accuracy is not guaranteed but deemed reliable. The above does not include sales by   FSBOs or developers that sell privately and not through the MLS. But, I do think that the above represents a very large majority of all waterfront sales on Lake Martin, Alabama.
Aliant Bank is auctioning the Water's Edge neighborhood on Lake Martin.  It's going off tomorrow at 1 PM at the end of Coosa 20.  PLEASE NOTE IT IS A NON-ABSOLUTE AUCTION.  This means they have a reserve price, if the winner is too low, THEY DON'T HAVE TO SELL.
Water's Edge, formerly known as Eagle Point, was a proposed waterfront development on the Big Kowaliga section of Lake Martin.  It was (by my unscientific estimation) one of the largest, if not the largest, waterfront loan in Aliant's history. It is located at the end of Coosa County Road 20, directly across the water from the old Veazey's Marina near Willow Point.
Aliant loaned the money to real estate developers that tried to market it as Eagle Point on Lake Martin, but the bank ended up taking that land back, and now has hired auctioneer JP King Auction Company to auction off the whole shebang.
Should My Second Grader Bid On It?
My second grade son has a little savings account with Aliant Bank.  You know the type – you go in with them to open it up, it's all cute, the ladies in the bank give him lollipops and what not.  When he gets $10 for his birthday, I have tried to encourage savings by telling him I will match whatever he deposits.  We call it my 401 "J."
He's not very old, so he hasn't had many birthdays. No matter, because Aliant, or at least J.P. King, thinks he has enough bling to swing at the auction.  Yes, they sent an auction flyer directly to him in the mail.
What??
Yes, they are marketing to my second grader.  Do they really expect him to bid for lots that are worth, in total, at least a couple million dollars?
I am sure they don't. Obviously, they sent it to all account holders if they are sending it to a minor with about $34 in his account.
But it does draw one into questioning the manner that Aliant thinks this property will sell, and the advertising used to get it done.
Will this auction be a success for Aliant?  Will they sell all of the lots and homes in a non absolute auction, without neighborhood covenants and restrictions (maybe they will be present at auction, I don't know), with minimal advertising strategy, virtually zero web presence, and minimal effort to garner referrals from Lake Martin realtors?
I have no clue.  We will see, though.
JP King Auction Company Puts Broker Registered Buyers At A Disadvantage
Because I am a glutton for punishment, blissfully disregarding the "fool me twice shame on me" principle, I have been registering people for this auction.  Don't contact me now, it's too late.  JP King requires that broker registrations be turned in yesterday.  If you are just now reading this and want to bid, you'd best contact JP King Auction Company directly here.  Good luck.
So why do I think that JP King puts broker registered buyers at a disadvantage?  Because they pressure buyers to declare an opening bid when they fill out the registration form.
That's right. Any real estate broker that helps a buyer register has to fill out a blank that says "Opening Bid." I think this is antithetical to the whole auction concept.  The reason buyers like auctions is (they feel at least) they start low and go high.  JP King wasn't forcing the buyers they register to make an opening bid.  So why require it of ones that us brokers register?  And what buyer in their right mind would toss out an opening bid, a week before the auction, without any neighborhood covenants, deeds, and restrictions?  And what real estate broker would encourage a high opening bid if they care one whit about their reputation or their buyer?
JP King's answer to this was: this is how we calculate the Broker Referral Fee.  For this auction, they offered to pay the broker (e.g., me) 2% of the opening bid and 1% of any amount above it.  See —> trying to get brokers to pump up prices.  Again, I feel this is antithetical and just downright dumb.  My policy was to disclose all of this to the buyers.  It didn't matter to the buyers because in this auction they are paying no buyer's premium (aka commission) like they do in most every other auction, and I do applaud JP King and Aliant for that aspect. When I registered my buyers, we defeated this by entering a nominal amount like $50 in the opening bid amount.  I cleared this with JP King ahead of time, but when we turned the registrations in, I was told by a very nice JP King representative that "(the) VP (of JP King) just cannot go to the seller with such a low opening bid" even though they had already approved that.
I dug deeper into JP King's registration packet and found a clause that said we could leave the Opening Bid amount blank.  When I pressed this point, the very nice rep said "yes, that's OK."  I countered with, "so you would rather us leave it blank, which is in effect an opening bid of zero, than to put in something like $10?" She: "yes."  Therefore we left it blank.
My point at telling this story is to illustrate my opinion of the extreme pain in the neck it is as a real estate broker to register someone to bid on this auction at Lake Martin.  Maybe other JP King auctions are different.  Maybe in other markets and other locations, their Broker Registration process is smooth, easy, nice, and encouraging to brokers.  But I can say that in my experience with the auction by Aliant at Water's Edge, it was a huge pain in the neck.  Information flowed like molasses. I started quizzing JP King for auction information the second they made this public, and I found that quite often I was getting info later than people that called them directly.  I also was discouraged by their flip flop on the Opening Bid concept. Principally, the fact that they make it so hard and pressure the broker to pressure the buyer for a high opening bid, I feel that, in this particular case and this particular auction, JP King Auction Company put broker registered buyers at a disadvantage.
Do you think they tell potential sellers this?  Do you think, when the VPs of JP King are on the phone or in a meeting and trying to close a potential seller on hiring them, that they tell sellers what a great relationship they have with the local real estate brokers?  And how everyone will flood in to register all their buyers?  Hogwash, I say, if my experience was typical.  Then again, maybe this was an anomaly.  Maybe all of their other auctions are daisies and tulips.
Sour Grapes?
"This is all just sour grapes, John, because you had two of these homes listed before. You're just an auction hater because you are a greedy, slimy, real estate broker," you might say.  Maybe you're right on all cases of that statement.  I am human, and therefore by definition a flawed, fallen sinner.  When I think back a couple or three years ago and remember the dreams we all had to resurrect Eagle Point into Water's Edge, and now to see it like it is, I can't help but pine for how well it could have gone.  I don't hate auctions.  I just don't like any seller not getting the best service.  I think this auction has a lot of hurdles to hop (no one knows the covenants and restrictions ahead of time, will these apply to off water lots, when will roads be done, limited inspections, limited information, it might rain) but I wish them the best.
I am not a Democrat, I am not a Republican.  I am a capitalist in almost the purest sense of the word.  I am for freedom and the American way. If this works for Aliant, more power to them, I say.  The market has spoken.
More Information about Water's Edge At Lake Martin
I have written extensively about Water's Edge in the past and also taken tons of video. PLEASE KEEP IN MIND that these are old posts from when I had the homes listed, so the pricing etc. NO LONGER APPLIES:
Aliant Bank Auctioning Water's Edge Development On Lake Martin
Does Ceiling Color Keep Away Bugs?
Water's Edge Featured In Lake Magazine
Lake Martin Seawall Construction
Lake Martin waterfront home sales finished 2011 in style, selling 207 waterfront residences on the entire lake.
This total gives Lake Martin the highest home sales since 235 were sold in 2006.  That's not bad once you think about it.  We posted the highest sales in five years.  The statistics I quote are taken from Lake Martin Area Association of Realtors' MLS*, and represent all real estate agents, all brokerages, over the entire lake.
The significance of this strong year of home sales cannot be understated for Lake Martin. I have said it many times here on this blog, but it bears repeating: the Lake Martin waterfront real estate market is at least three and a half years past its bottom.  Since July of 2008, everything has been uphill with regards to numbers of homes sold.
Lake Martin Waterfront Home Sales By Month
If you would like the source data for the chart above, here below are all waterfront home, condo, and town home sales on Lake Martin, broken down by month:
Below please find a line chart showing the same data for Lake Martin homes sold, I just removed 2005 through 2007 since I was getting too many lines on my chart and it was becoming hard for me to read.  I feel that 2008 is an appropriate year with which to start this chart since it was the bottom.
I think it is also notable that 2011 is the year that the market once again broke the 200 homes sold barrier.  This is the first time we have broken 200 since 2006. Back then, Lake Martin was still firmly in the sales boom, although numbers of waterfront homes sold were dropping, prices were still rising.  We didn't quite realize that it was turning down.  Those trying to sell their Lake Martin homes should have gotten out then if they wanted to perfectly time the market.
This year, I think that Lake Martin is in just as pivotal a year. Sales increased by about 6%, but I think that prices still have not risen at all.  I think that may change in 2012.
Lake Martin Waterfront Home Pricing Trends
I only look at prices of homes sold once a year on Lake Martin. This is because we have such a small number of homes sold, relative to large metro markets. It doesn't make sense to look at it monthly because two or three abnormal homes can skew it too much. You sometimes see a 100% increase or decrease from month to month. Too volatile. Similarly, I do not track Lake Martin home prices by calendar quarter because we are a seasonal, second home or vacation home market. Check out the monthly sales chart above and you can see that the bulk of home sales happen in warm months.
I attempt to solve our small market problem by breaking the homes sold into categories, in increments of $100,000 to start with, and then observing what percentage of the total sales that each $100k band represents.
Without further ado:
I think the above chart shows very clearly, and confirms my gut's suspicion, that waterfront home, town home, and condo prices did not decrease on Lake Martin in 2011. They held steady with 2010 and 2009. While some sellers may interpret this as bad news (no sales increase) I think they should count their blessings.
At least there was no dip or decrease in prices. I would be shocked if there were. After all, Lake Martin is in a rising sales environment and has been for years.
So What?
So what does this chart mean?  I think it means that once again, as in 2009 and 2010, the largest percentage of homes sold on Lake Martin were in the $200,000 – $299,999 range.  Right at 25% of the waterfront home sold in 2009, 2010, and 2011 sold in that range.
If we had seen the entire bell curve shift forward towards the blue line of 2008, we could say (in my opinion) that we have evidence of price increases. But it didn't.
I am tempted to say a price increase shift is starting in the way the $300k – $399k and $400k and $499k bands are bulging out a bit, straining in the chute, if you will.  2011 had a lot more sales in the 400s than did 2010, but the prior year beat 2011 in the 300s. I will call it a draw.
Why do I think there is a chance that we might see price increases in 2012?  Because the home sales results keep chipping away at inventory. At the end of December, there were about 359 waterfront homes and condos for sale, after 207 sales in 12 months or a ratio of 1.73.  Sure, December is the lowest listing period. But in December 2010 that number was 394 / 195 = 2.02.
Sellers – please hear me out.  It is NOT time to raise prices like it was 2006.  I am just saying that I can see the easing of downward pressure if sales continue.
Please stay tuned, I plan to write a lot more about 2011 Waterfront real estate sales on Lake Martin.
Related Posts:

Lake Martin Real Estate Sales 2010 – Lot Sales
Lake Martin Real Estate Sales 2010
Lake Martin Real Estate Sales 2009 – Year In Review
Lake Martin Real Estate Sales 2008 – Year In Review
Lake Martin Real Estate Sales 2007 – Year In Review
All Lake Martin Market Reports

(*)Disclaimers: All of the above info was taken from the Lake Martin Area Association of Realtors Multiple Listing Service. Accuracy is not guaranteed but deemed reliable. The above does not include sales by   FSBOs or developers that sell privately and not through the MLS. But, I do think that the above represents a very large majority of all waterfront sales on Lake Martin, Alabama.