Right now is prime hiking time around Lake Martin.
We've had a really hot and dry autumn, but the temperatures are finally getting right to hit the trails. The other day we Coleys headed to one of the CRATA trails.  It's the Deadening Alpine Trail.
It sounds pretty severe but it's actually a really nice hike. The trailhead and parking area is located just west of the entrance to The Harbor subdivision on Overlook Road. The trail transitions from a red clay and pine tree stand to a deciduous forest with mountain laurel and rhododendron that makes you realize you're on the southern end of the Appalachian Mountain Range.
The trail takes you up and over a ridge that you have seen a million times by boat if you have visited Chimney and Acapulco Rocks. In fact, the coolest part of the hike is when you hit some big boulders that are pretty high up from the water that look straight across to Lake Martin's most infamous landmark. You can hang out on the rocks and get some selfies, or try and squeeze through the Needle's Eye!
We just fooled around on those rocks for a while and then hiked back in time to catch some football on TV. It was lots of fun.
If you'd like to learn more about Cherokee Alpine Ridge Trails, click here for their website. They are a great nonprofit that maintains many miles of trails around Lake Martin.
If I can help you look for waterfront real estate in The Harbor, or anywhere else, please call me at the number on the top of this screen or CONTACT ME HERE.
Mr. Daniel Powell, a spokesman with the Alabama Black Bear Alliance (ABBA), will be the guest speaker.  ABBA's goal is to "…work cooperatively and voluntarily for the conservation of the black bear in Alabama through research, education, and habitat management."  Mr. Powell lives in Washington County where there is a sizable population of the black bear.
According to Mr. Powell, black bears are expanding their territory into central Alabama.  It is important for us to have as much information as possible about the expansion of the black bear and its impact in the communities near Lake Martin.
Red Hill Community Center google map
Click here to read a story published in the Alex City Outlook from June of this year about black bears sighted in the Lake Martin area.
With several local sightings around the Lake Martin area recently, this sounds like a good meeting for us folks around the Lake to attend.
I have seen a few black bears in the wild in my lifetime. The first time I ever saw one, I was working in Yellowstone National Park one summer after my freshman year in college. I wasn't too impressed by black bears back then. I think it was because: 1.) I was too young and too dumb to have proper reverence and 2.) I was extremely scared of grizzlies, and maybe black bears paled in comparison.
I also have seen some in the Great Smoky Mountain National Park when trout fishing with my friends Ian and Charity Rutter at R&R Fly Fishing. Maybe I was old enough to appreciate them, or maybe the Rutters did a good job of explaining the bear's part in the ecosystem to me, but I was fascinated to see them.
It fires me up that there's a decent possibility that black bears will return to the Lake Martin area. They were once an apex predator around here, like the striped bass in the water. Let's hope and pray that we humans handle the bears' return in a responsible way.
I took my first official working boat trip a few weeks ago, right in the middle of the "greening" phase of spring at Lake Martin.  Everything is that vibrant, exciting green, and the sky is that clear bright blue – it's beautiful.
From the boat, I took the pictures below of a great lot I have listed for sale in the Smith Mountain area, Lot 4 Phase 2 Smith Mountain Drive.  I love this lot because of it's unique location.
The future owners of this lot will have a true year-round Lake Martin home.  In the summer, hop in the boat enjoy all the traditional fun and sun activities.  In the fall, winter and spring, get outside on the Smith Mountain trails.   This lot is within walking distance to some of the most awesome hiking trails in our area.  Outdoor activity during all seasons, just outside of the doorstep.  And the future owners can bring their own builder and design this doorstep, too!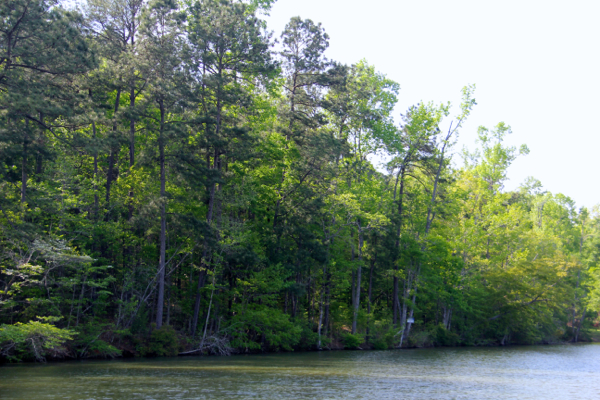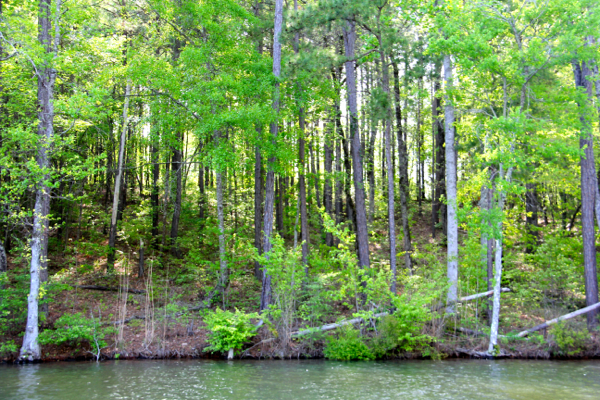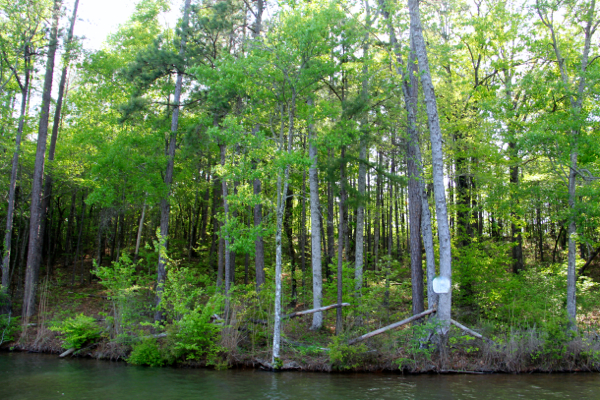 For all of the listing info on this lot, click here.  If you have any questions, or would like to know more about Lake Martin lots and real estate in general, give me a call at 334 221 5862, or email me at john at lakemartinvoice dot com.
If you're not able to be here in person, rest assured that spring has come to Lake Martin and it is beautiful.  It doesn't feel quite as spring-y as I write this post today (April 15, 47 degrees) as it did last week when I took these pictures, but summer will be here soon, no matter.  And it is still beautiful!
I took the pictures below near the Russell Forest Trails.  Hiking is a great spring activity at Lake Martin, and there are really good trails all around the lake.  The Russell Forest Trails allow horses and bikes, as do the trails at Wind Creek State Park.  If you're looking for more of an Appalachian Mountain hiking experience, try some the the Cherokee Ridge Alpine Trail Association's trails on the eastern and southern sides of the lake.  These include high, woodsy paths and waterfront trails.  I've written about the Chimney Rock and Little Smith Mountain trails several times.
If spring has Lake Martin real estate on your mind, give me a call.  I'd love to talk to you about the homes, lots, condos and town homes that are nestled over our 770 miles of shoreline.  Call 334 221  5862 or click here to contact me.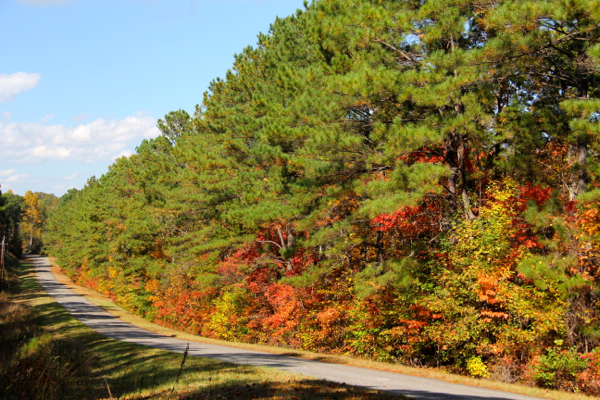 Happy Fall from Lake Martin!
I was driving near Irwin Shoals last Friday – an area considered by many to be the northern most point of Lake Martin – and I took these pictures so you can see the fall colors that are bursting all over the Lake Martin area.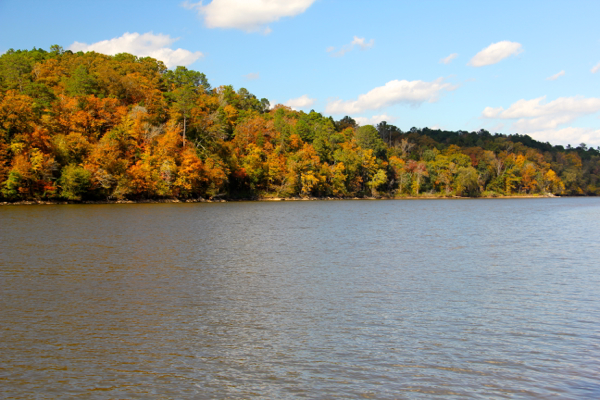 If you've never spent much time at the lake during the fall and winter, let me encourage you to make it a priority.  It's peaceful, it's beautiful,  and there are lots of outdoor things to do (see my hiking links at the end of this post).  Fall is a great time to be at Lake Martin.
In the real estate world, buyers are still out there looking for waterfront property.  History tells us that most Novembers and Decembers don't have many home sales – people are just busy with the holidays, I guess. That being said, I'm about to have a new listing in the Jackson's Gap area, and have had two other Lake Martin homeowners request CMAs today.
If you're thinking about buying a waterfront property, give me a call and let's discuss the year round of appeal of Lake Martin.  If you're thinking about selling, let's talk about ways to use your time wisely and get your home ready to market, either now or in the spring.
For a taste of the outdoor fun at Lake Martin in the fall:
Little Smith Mountain Hiking Trail at Lake Martin
All Trails App Maps the Cherokee Ridge Alpine Trails on Lake Martin
Deadening Alpine Trail on Lake Martin
 If you're not on the water at Lake Martin, hiking is another activity that's a lot of fun.  I've posted several times on the Cherokee Ridge Alpine Trail Association's (CRATA) hiking trails that branch off of the Scenic Overlook on the south side of the lake.  CRATA is responsible for the explosion is quality hiking trails at the lake – these are not the wide red-clay and gravel hiking trails (that are more like roads) that you find on the western side of the lake.  These are amazing alpine trails that instantly transport you to real mountain hiking vistas, combined with large swaths of waterfront footage.
My family hiked the Chimney Rock Loop over spring break, and as we were leaving, we ran into CRATA guru, Jimmy Lanier.  Mr. Lanier told us about a new trail they were currently constructing on Smith Mountain (eastern side of Lake Martin).  There is already a Smith Mountain Alpine Trail that begins at the base of Smith Mountains and ascends to the Smith Mountain Fire Tower.  If you haven't climbed the restored Smith Mountain fire tower, put it on you 2013 Lake Martin To-Do List.  The views are incredible.
Mr. Lanier said that CRATA is creating another new trail there – The Little Smith Mountain Trail – and volunteers were needed to, literally, pave the way.  Two weeks later I spent the morning with a group of volunteers digging out a portion of this new trail.  The trail's route was already marked, so we used the yellow tools you see in a picture below to dig up the ground and make the trail flat and hike-able.  It's not a technical job, but there is a little artistry involved.  The other volunteers knew what they were doing and helped me refine my craft – although I was a good bit slower than the rest of the crowd.
I'm not sure if this new trail is open to the public yet, but when it does open, I'm there.  For more info on hiking at Lake Martin, go to CRATA's website.  They have some beautiful pictures they've taken along their trails, histories of these trails, and info for hikers wanting to check them out in person.
Our crew heading out to dig: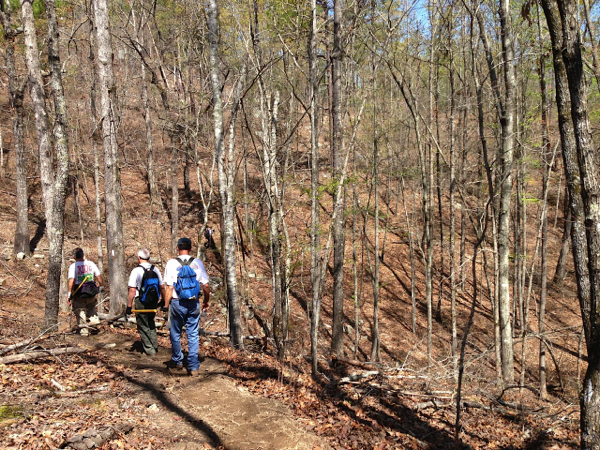 These are the tools we used to dig the trails: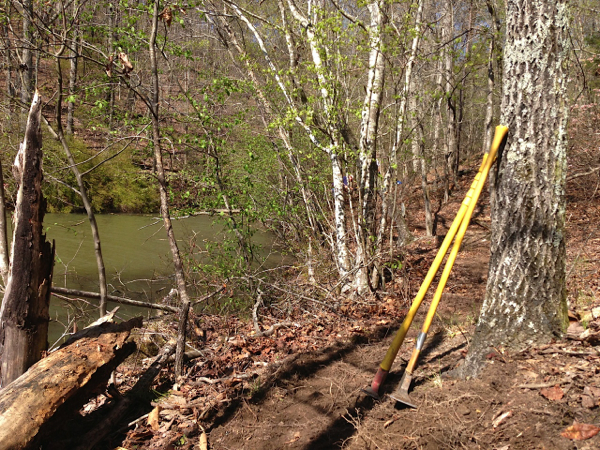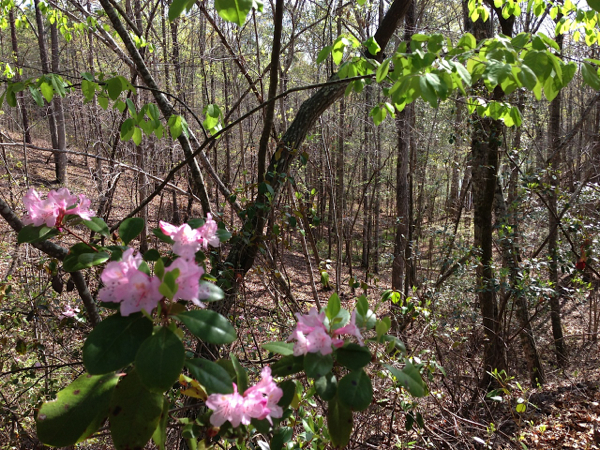 I'm not a professional trail blazer, just a Lake Martin realtor who likes to hike, so I'd love for you to call me with questions about waterfront real estate.  (334( 221-5862)
Around Lake Martin, if I can't be in a boat, put me on a hiking trail.
The cooler months at Lake Martin are perfect for hiking.  We've got lots of elevation here, and I never miss an opportunity to remind my kids that Lake Martin is at the southern tip of the Appalachian Mountains.  These trails include great views from high points, and woodsy paths that take you right down to the water.
If you want more info on hiking the Cherokee Ridge system of trails at Lake Martin, go to CRATA.org.  This is the Cherokee Ridge Alpine Trail Association's website, and they're the folks who maintain these trails.  Please don't call me – I am but a realtor who likes to hike.
I also wanted to review and plug a cool smartphone app that I downloaded from AllTrails.com.  AllTrails is a database for thousands of trails across the U.S., plus it allows you to map and save your own trails, and view and rate trails that other hikers have entered. FYI –  I hiked the Chimney Rock Loop trail and here's what the app recorded: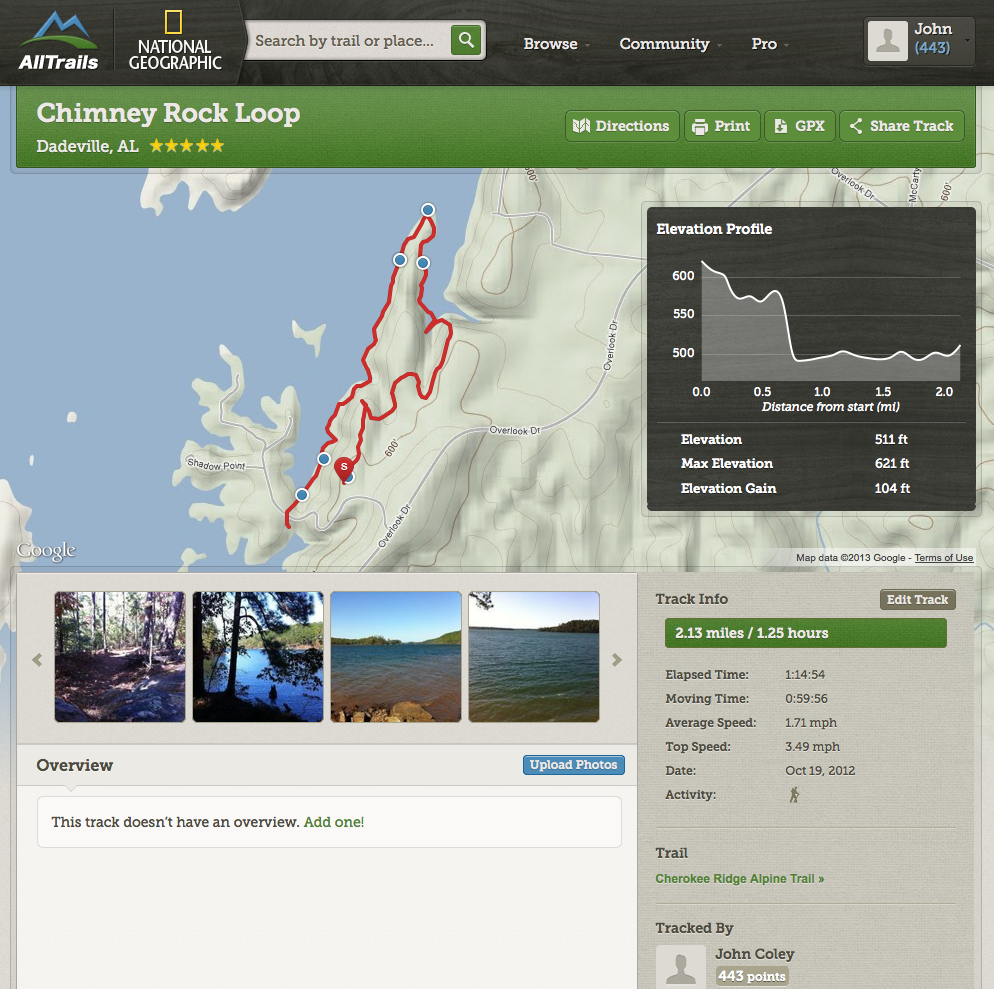 Pretty cool!  I hope to enter more trails and share them with fellow Lake Martin hikers.  If you get out there, try the AllTrails app and let us know where you've been!  A comprehensive record of Lake Martin trail hikes would be a useful tool for hikers, plus it would be a great marketing tool for businesses looking to attract new visitors to the area.
If you see a great Lake Martin property for sale while on your hike, give me a call at (334) 221-5862 or click here to contact me and put me to work.  I'd love to be your realtor, and I'd love to help you find your Lake Martin home.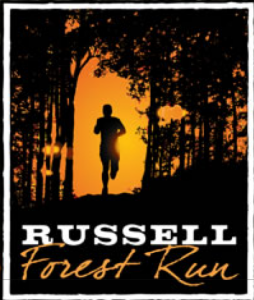 Attention runners (and walkers):  Click here to register for the 2nd Annual Lake Martin Russell Forest Run on Saturday, February 26, 2011!  If you haven't explored the new Russell Forest Trails yet, this is a great way to experience a part of this 20,000+ acre trail system that lies a little north of Kowaliga Bridge, off of Highway 63.  It's also a good reason to make a winter trip to Lake Martin.
I had a good time running the 10K last year, so I'm signing up again. The registration website describes the terrain as "gently rolling," but since I am used to training on some pretty flat ground, it was more than gently rolling to me.  And a little chilly.  But definitely a fun time.  There is a 5K option this year, and you can always walk if you don't like running.  Oh – and the shirts they gave out were that cool, athletic "breathable" kind, – a step up from yet another cotton t shirt (for 10K runners only).  Maybe they'll do that again.
I'm looking for runners and walkers to join the Lake Martin Voice Realty team, and I'd love for you to sign up with us when you register.
Here's a quick video clip from last year's post-party
I recently filmed a hike my family took on some of these trails.  To get a sneak peek at the roads you'll run, check it out:
Looking forward to seeing you there!
We have had a lot of beautiful clear fall weather this year at Lake Martin. Recently I was driving back from checking on a home for sale in The Village when I decided to stop and snap some pics of the fall colors.
If you would like to see waterfront homes and lots for sale right now in The Village area, CLICK HERE to go to my Village Neighborhood page. I have a report that shows every waterfront home and lot for sale – by all agents, all brokerages, on Lake Martin. It pulls from the Lake Martin MLS so it will be current no matter when you visit the page.
The Village is a subdivision off of Highway 50 on Lake Martin. It is very close to Chimney Rock and Acapulco Rock and Martin Dam. So as I was driving back to my office, I passed right by the Overlook, which also serves as the trail head for Lake Martin's Cherokee Ridge Trail system.
Since it was such a pretty day I decided to stop at the Overlook and get some pics of the fall colors, maybe even the famous landmarks of Chimney Rock and Acapulco Rock.  I figured it would take a quick 30 minutes.
I ended up taking a couple of hours, mainly because I went the wrong way on the Chimney Rock Loop Trail.
As usual I missed a couple of pics of hawks. But this turtle could not escape my speed photography:
I probably need to get a polarized filter or something that will help out with the color balance:
Chimney and Acapulco Rocks look lonely in the fall:
This boater breaks the silence:
In the end, I was too far away from Chimney and Acapulco Rocks to get decent pictures, even with my long lens. But it was a really fun hike, and the leaves were just right.
Click here for the entire set of pics on Flickr
To continue the post I did yesterday on Lake Martin's  Deadening Alpine Trail, I wanted to include these photos of the Cherokee Ridge Trail.
The Cherokee Ridge Trail is also maintained by the (duh) Cherokee Ridge Alpine Trail Association.  Its trailhead is on the Scenic Overlook, on Overlook Drive off of Highway 50, just east of Martin Dam.  It's kind of near Ghost Hollow and Whiskey Ridge if you know where they are.
The Scenic Overlook offers stupendous views of Lake Martin, looking west, all the way to Kowaliga Bridge, with a little bit of a vision to the south (Martin Dam) and the northeast towards Chimney Rock. If you ever want to get a sense of the VASTness of Lake Martin, head here.  Take a picnic, there are lots of little tables and lots of paved parking.  From there you can drive down to Martin Dam (if the road is open) and check out the Dam close up.
The Cherokee Ridge Trail is actually a system of trails. There are 3 that can be accessed here, The Cherokee Ridge Alpine Loop, The Chimney Rock, and the Kowaliga Bay Trails.  Depending on how you hike it, you can take a 1 mile up to 7 mile hike.
The trailhead is similar to the one on Deadening Alpine Trail in that you have a little sign in box and can borrow a staff if desired. Be sure to sign in so that they have an accurate count of visitors.
As on all trails, please be careful and proceed at your own risk. This particular trail gives spectacular views, especially in the winter and fall when the leaves are changing colors or have no leaves so you can really see the water.
Related Post: