When ready to buy a Lake Martin home, Randy and Jennifer did their homework. Let the house hunting begin!  They researched, looked, and researched some more.  They took advantage of a key tool that I give to my buyers – a constantly updated list of every potential dream home – emailed right to their phones.
When their dream home hit the market, they knew they had to move fast.  In a seller's market, speed is critical for the buyer.  But you don't want to rush into anything!
By receiving custom curated search results, and by walking through a few homes, Randy and Jennifer were ready to move with informed confidence when their time came.  They got my email alert on Sunday, we saw the home on Monday and we were under contract by Tuesday.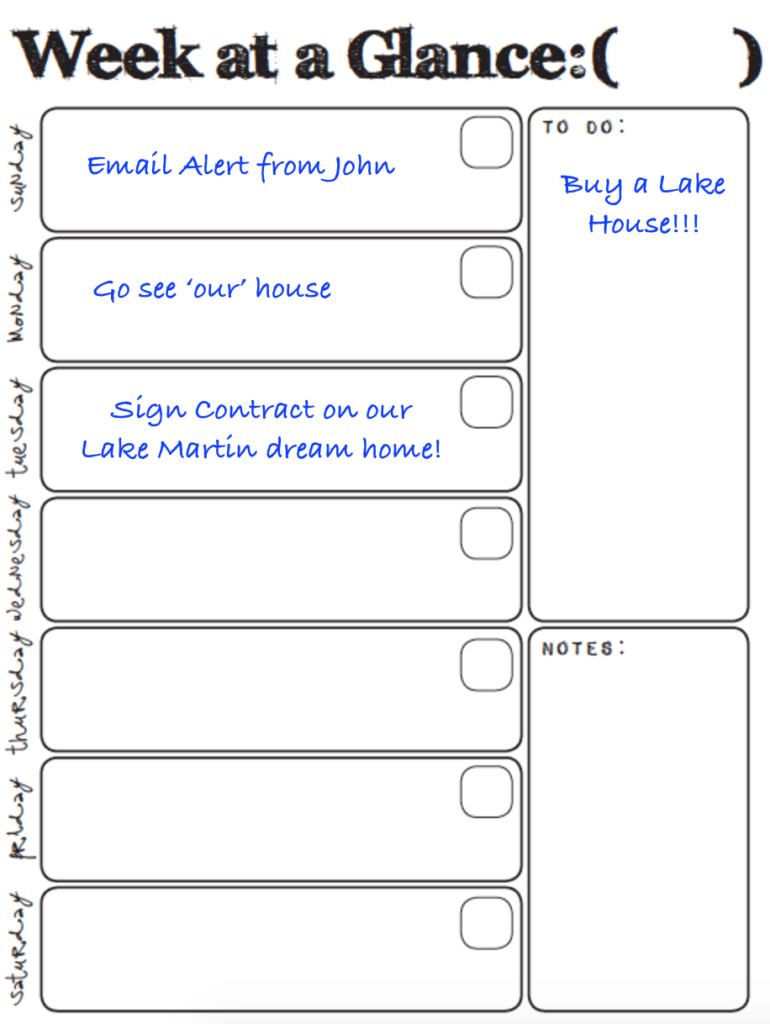 Cheers to Randy and Jennifer on securing their Lake Martin dream home!
Buying a home is exciting and can sometimes be overwhelming but with the right agent  you can find your dream home too! As your agent I would love to talk to you about how I can help you find your home on Lake Martin by using this key tool – giving you the latest and most accurate list of homes that fit your 'must-haves'!
Please call or text me at the number at the top of this page or contact me Here.
What are the forgotten items of Lake Martin home construction?
If I am building a home at Lake Martin, how is it different than building where I am from?

I hear these questions a lot. I am not a contractor, not even close. I am a simple real estate agent here at Lake Martin. But by the nature of being here, and selling here, I do hear quite a bit about the construction process. When waterfront lot owners or potential buyers ask me these types of questions, I always say:
It's pretty much the same except for a few big things.
That sounds pretty vague, but allow me a big of an explanation. Many times lot buyers come to Lake Martin with a construction cost in their head of $x per square foot. Maybe that's what they built their home for, or maybe they saw some tract home builder advertise for it.
Per square foot construction quotes can sometimes be pretty tricky. Even builders will tell you that because of differing finishes and quality.
But here at Lake Martin, I can think of at least four factors that you really need to consider when budgeting your home construction. After you read these items and watch my videos, if you have more technical questions, feel free to call me at the number at the top of the page, or contact me here. I will be glad to recommend reputable builders here at Lake Martin.
Dock:
A nice covered dock with floating dock and boat lift can easily cost $50k, but it's money well spent. Divide that money into the square footage of your home and you can see how it will wreck the stat. You will probably want a boat lift unless your neighborhood doesn't allow it or it will block your or a neighbor's view. And speaking of views – one of the tradeoffs of big views is that it usually means big waves. Big waves can potentially beat up your boat, and the best way to solve that is a boat lift. Don't scrimp on the dock, you will wish you did it right later. It's better to get the dock guys to make it right when they are there, the quality subcontractors are hard to schedule. Trust me – you will want a specialist here. Just because your cousin's second grade best friends pen pal has built a few tree houses doesn't mean he knows how to handle the forces present in a dock- water, wind, weather, and waves will always present special challenges. Here's a quick video I did about docks on Lake Martin:
Seawall:
Seawalls are also very important on Lake Martin. Remember – the dirt is the most expensive part of the investment. Don't let erosion wash money into the lake. As a side note, I have no idea why we call them seawalls here and at the ocean they call them bulkheads. No matter what you call them, as a lot buyer, you need to pay attention to the existence and condition of the seawall. If there is none, ask yourself, what kind will this eventually need? Are there neighborhood restrictions? What are my tastes? Rip rap? Wooden? Concrete? How tall does it need to be? This is another area that you don't want to go cheap. Read more about seawall construction HERE or watch the below video.
Foundation:
This is a guess but I would say that the majority of lots on Lake Martin will not need a crazy foundation. But some might. If the waterfront lot you are considering is super steep, you need to ask a builder about the potential of an expensive foundation. If it does, it may require a lot of money in concrete.
Septic:
The vast majority of homes on Lake Martin are on septic systems to handle their waste. There are some exceptions like Stillwaters and The Ridge where they have a private septic system that handles the entire neighborhood. The septic guys tell me that 90% of septic systems on the lake now require a pump to get far enough away from the water. This is because recent building codes require the septic tank and the septic field lines to be away from the lake, the home, and other lot lines. Septic systems vary greatly in price, depending on the size of the homes and how far away the field lines are from the home. Septic contractors tell me most systems are around $15k on septic system with a pump vs $7k on a gravity fed one.
Related Content:
CLICK HERE to learn more about seawall construction
CLICK HERE to learn more about boat lifts and docks
There's been a lot of talk lately about the new "Russell Cabins at the Lake."  These are new cabins within the The Ridge development that are supposed to channel the simple feel and nostalgia of Russell rental cabins, but will be deeded homes that you'll own and not rent.  Basically, it is Russell Lands' solution to people who have asked, "Can I buy my Russell Cabin?"  They are in the $800-$1m price range.   The homes will be on the Kowaliga Bay part of Lake Martin, and are only a small part of The Ridge's total development.
If you would like to see waterfront homes and lots for sale right now in The Ridge, CLICK HERE to go to my Ridge Neighborhood page. I have a report that shows every waterfront home and lot for sale – by all agents, all brokerages, on Lake Martin. It pulls from the Lake Martin MLS so it will be current no matter when you visit the page.
The Ridge is a huge waterfront development in the middle of Lake Martin, AL.  Like most newer developments, The Ridge has all kinds of neighborhood amenities like sidewalks, a clubhouse and pool, beach area, tennis courts, hiking trails, etc.  It is home to The Ridge Marina, and was developed by Russell Lands, a company that builds high end neighborhoods on Lake Martin.
The Ridge has an Alexander City address, and has all the city utilities you would expect. By car it's convenient to some of the more city-fied, hip shopping and eating spots like Catherine's Market and SpringHouse, so if you forget your gluten-free brownie mix, you're in luck. By water, The Ridge is in the center of Lake Martin – Chimney and Acapulco rocks are right around the corner.
Lots vary, of course, because this is Lake Martin.  Some lots in The Ridge are steep and rocky with huge deep water views.  Some are further back in a slough and are more quiet and gently sloping.  Basically, you're paying for the location on the lake, the strict architectural review of structures, the list of approved builders, the sense of exclusivity, and the neighborhood amenities. If this fits your style, The Ridge might be a good match.
There's also a townhouse community called The Ledges at The Ridge within this neighborhood that offers waterfront town homes.
If you have questions about The Ridge, or want to know more about a specific home for sale in The Ridge, give me a call at (334) 221-5862, or click on this page for my live feed of homes for sale in the MLS in The Ridge .    I can talk about and show any waterfront home in the Lake Martin MLS, regardless of who has it listed.
Trillium on Lake Martin is a Russell Lands development on the west side of the lake.  The first homes in Trillium were built around 1989, making it a well established community of high-end homes on large, wooded lots.
If you would like to see waterfront homes and lots for sale right now in Trillium, CLICK HERE to go to my Trillium Neighborhood page. I have a report that shows every waterfront home and lot for sale – by all agents, all brokerages, on Lake Martin. It pulls from the Lake Martin MLS so it will be current no matter when you visit the page.
Trillium is always a popular spot for lakeside sight-seeing. If you're new to the lake, or if you like to look at homes while you boat ride, Trillium's a great development to ride by.  Another reason Trillium is popular on the boat tour scene is that it's on a popular stretch of Lake Martin: the area between Kowaliga Marina and Real Island Marina.  This is a major thoroughfare on the southwest part of the lake (also known as Little Kowaliga).
Click here to see a lot that's currently for sale in Trillium.
At Lake Martin Voice Realty, we can help you with any property for sale in the Lake Martin MLS, including homes and lots in Trillium. Give us a call and put us to work.
Related Post:
Little Kowaliga area on Lake Martin

The December issue of Lake Magazine spotlights the homes for sale at Water's Edge – click on the previous link and surf to it or check out page 25 in the online reader version here.
Lake Magazine Editor Katie Cole wrote the article and Kenneth Boone supplied the pictures, as expected.
It is a really nice article, mainly covering the genesis of Water's Edge at Lake Martin. Water's Edge was called Eagle Point by the original developer, who put in the road, the lots, the private septic system, and some landscaping. But the only home construction was one spec home and two slabs. Aliant Bank foreclosed on the entire development, except for the spec home. They were left with over 2,000 feet of undeveloped shoreline, a Lake Martin rarity.
They also had two slabs of concrete – foundations for planned homes. I was really honored to be brought in on the early planning stages with Aliant Bank, along with architect Bryan Jones and builder Wade Wilmeth. After looking at the project as a whole, it was evident that today's market would be unlikely to produce a developer, investor or speculator to buy the whole shebang at once. As rare as it is to have this much undeveloped shoreline on Lake Martin, and in a popular, big water view area to boot, we just didn't see it happening very soon. The foundation slabs had sat dormant for almost two years.
The decision was made to go ahead and finish and sell the two homes, to get some momentum going for the lot sales. The problem was that the slabs were designed for larger homes that frankly would not sell in today's market. Enter Bryan Jones. Bryan had the tough job of coming up with a smaller design that would sell at a more modest price point – only 1/2 of the original developer's plans. Bryan hit a home run – the homes at Water's Edge take advantage of the huge view, overcome the hill slope with layout, and incorporate cool "lakey" design features that let you know it was thought of as a lake home.
That is how Water's Edge comes to offer a seeming paradox – two homes that are technically foreclosures, since a bank owns them. But they are brand spanking new – designed and built from the slab up. Many times when I show foreclosed waterfront Lake Martin homes, the buyers are a but turned off by the condition of them. Many of them need more than TLC, they need TNT. Not so at Water's Edge. Nice and shiney. Scrubby dubby.  Wade went above and beyond the call of duty on the building side, using his Lake Martin home construction experience to add in quality and finish.
Price Drop!
In celebration of the completion of the homes, we have dropped the price of Lot 1 to $549,000 and Lot 2 to $529,000. Both homes have 3 bedrooms and 3.5 baths. The only difference is that Lot 1 has about 700 +/- more square feet in an 75% finished top floor that could be a huge bedroom.
Would you like more info? See Lot 1 Water's Edge Lake Martin here and Lot 2 Water's Edge Lake Martin here, or you can call me at 334 221 5862.
Looking For Undeveloped Land?
If you are interested in the more than 2,000 linear feet of undeveloped, prime Lake Martin waterfront, please also give me a call at 334 221 5862. Most of the rest of Lake Martin is owned by Russell Lands or Alabama Power. It is extremely rare to see this much contiguous land for sale, much less on such a popular area, with huge, huge views. We have already drawn up several possible development ideas, so we can help you run feasibility studies quickly and for little or no cost.
Stay Tuned For More Video
Much of the undeveloped land at Water's Edge consists of a tree covered peninsula that looks for miles over Big Kowaliga section of Lake Martin. This part of the development has not had a seawall of any kind for many years. Naturally, a lot of land was lost by erosion. Local concrete contractor Henderson & Coker has been hired to fix it. It will be the longest wall, on the biggest water, that I have ever witnessed. Maybe they have done longer, bigger walls over in the Ridge, but I wasn't around to watch.
Friday I went down and taped some footage of them pouring the footings. I plan to tape each phase of the wall's construction, should make for some cool footage. Stay tuned!
Other Great articles in December's Issue
Also, don't miss these other really cool article from Lake Magazine's December issue:
How to Choose a Boat – folks who know me know that I am saving up to buy a Sea Ray Sundeck. I think I have made my mind up on the selection, but this article really got me thinking..
and
Smith Mountain Tower – this is a huge opportunity to help the Lake Martin community, become a part of restoring a landmark!
The Lake Martin real estate market shook off a 24 month slump by posting 22 waterfront home sales in May 2009 through the MLS.
This is the highest recorded number of lake home sales since May of 2007 when 23 were sold.
This should be welcome news to sellers of lake front property, who saw sales sputter on Lake Martin in April. This rally brings 2009 total sales to 53, slightly ahead of 2008's May to date total of 50.
Could this be a return to normalcy for the Lake, and for luxury second home markets as a whole?
It certainly is encouraging to see the current month trounce the same month last year. Year to year improvements on units sold are seen by many analysts as a critical sign of real estate recovery, and it is a statistic that I am hyper focused on for Lake Martin.
The Bad News (Or Good News To Buyers)
One thing that sellers did not like to see was the total number of waterfront homes for sale in the Lake Martin MLS ROSE AGAIN this month to a total of 555. I can't find another month on record that had this many for sale. This dubious honor will no doubt keep the balance of supply and demand in the favor of buyers, for at least several months.
A Look Ahead
I am not ready to call the bottom yet.  I would like to see at least three or four months in a row of slayings like this. One interesting figure is that, as of this writing, there are 34 water front homes pending in the Lake Martin MLS.
How many of these will close in June? Some are short sales and are taking a long time during the due diligence phase.  Some are not short sales or foreclosures and will close in July anyway.
Right now, praise God, I have been busier than ever.  I have 5 homes under contract and probably 1 will close in June.  My point is, in June 2008, only 7 sold on the entire Lake.
Therefore we have a good chance that if even half of current pending sales close in June 2009, Lake Martin sales will trounce June 2008.
Hey buyers – are you going to wait around and let all the good ones get picked over? Why not give me a call and let me point you to the best deals at 350k, 450k, 550k, and beyond?
To the reader – what do you think about this rally? Is this bull market cyclical or secular?  Are you ready to call the bottom? Why or why not?  Please leave a comment or reply below.
For Every Post I Have Written On Sales Statistics, See:
Lake Martin Market Statistics Category
(*)Disclaimers: All of the above info was taken from the Lake Martin Area Association of Realtors Multiple Listing Service. Accuracy is not guaranteed but deemed reliable. The above does not include sales by FSBOs or developers that sell privately and not through the MLS. But, I do think that the above represents a very large majority of all sales on Lake Martin.
After several consecutive months of meeting or beating prior year's sales, waterfront homes sold on Lake Martin dropped in April 2009 to 9 total, 7 fewer than were sold in April 2008.
When I wrote about the number of Lake Martin homes sold in the first quarter of 2009 in this post, I commented that there were many homes with the status of pending, meaning that they were under contract to sell.  I thought that if all those closed, we would easily beat April of 2008.  But apparently many of those are still under contract.  Maybe this means that May 2009 will trounce May 2008, because at this writing there are 28 pending and in May 2008 there were only 14 homes that closed. Granted, I am sure that some may be homes under construction, or condos with long due diligence phases.  I do think that Lake Martin (like almost all other markets) is experiencing longer times between contract agreement and closing.  Lenders (more specifically their underwriters) are requiring more and more red tape and documents during the process, so it is taking longer to close.
Here is the chart showing monthly waterfront sales on Lake Martin.  You can see the drop in April 2009:
Once you add them up cumulatively, you can see that 2009 is already behind 2008.
We will have to wait and see if Lake Martin has a surge of sales in May to make up for the stall in April.  Please keep in mind, these statistics are for the entire Lake Martin MLS, all realtors, all brokerages. Here is a look at the numbers only:
Obviously a big part of the equation is the amount of waterfront homes and condos for sale, aka Active Listings.  Take a look at this graph of the total waterfront listings in the Lake Martin MLS, starting in 2007:
You can see that in December 2007 and January 2008, the listings bottomed out at about 341, and then rose from there.  It looks like we also found a bottom in December 2008 and January 2009, but at 421, which was a 23% increase from prior year.  Will we continue to see more homes come on the market in 2009?  Personally I do not think we will see as many homes come on the market in 2009 because as I stated in this post covering first quarter 2009 sales, there are virtually no new spec homes being built right now. Sure, there are a few here and there, but I don't think they will be a big effect.  Look at the huge leap from January to May 2008.  We didn't see that this year, but we ended up in the same place.  My biggest question with supply is if we will have fewer new spec homes on the market, will they be replaced by Lake Martin foreclosures, short sales, and lender REO?
Looking Deeper
Since the late spring is such a crucial time in the Lake Martin real estate market, let's take a deeper look at the numbers and answer some general questions like:
1.   Of all the homes for sale right now on Lake Martin, how many are homes, how many are condos, and what is the price breakdown?
2.  What is the price breakdown of homes and condos that have sold in 2009 so far?
3.  What about Lake Martin waterfront lots for sale?
1. Lake Martin Homes and Condos For Sale Right Now
If you check the Lake Martin MLS, there are 851 residences for sale right now.  559 of those are waterfront.  557 are on Lake Martin.  Of that 557, 158 are listed as condos or town homes.  7 are mobile homes.  So that leaves 392 single family homes that are on the water.  I think that is overstated, as I have seen many condos that are incorrectly designated as homes, but for now I will work with these.
Of the 392, only 23 are on leased lots.
The price breakdown of the 392 homes for sale on Lake Martin is:
2.Sold Homes and Condos
Here is how that same chart looks if we apply it to the 31 homes that have sold through April 30, 2009:
3. Lake Martin Waterfront Lots Breakdown
At this writing, if you run a search in the Lake Martin MLS, and you select "Waterfront" = Y, you find that there are 162 lots for sale.   If you look more closely, you find that four of those are on Yates Lake, seven on Lake Tallassee, one on Lake Jordan, and seven are on private lakes or "other."  If we are focusing only on Lake Martin, that leaves 143 lots for sale on Lake Martin.  Here is the price breakdown:
In short, we have an big oversupply of lots for sale.  To put it into perspective, look at it beside the sales and inventory statistics, as of April 2009:
You read that right, yes, only 3 lots have sold through the MLS on the entire lake so far this year.  2008 was the same story.  It is interesting to note that in May 2008 7 sold, the equivalent of 20 months of inventory, which is approaching a balanced market condition.  It tells me that the market has the potential, in spurts, to act normal. So what's holding it back? Price, I think.  Sellers, especially lot sellers, need to take a long hard look at price because they have 3 times the relative amount of competition than do home or condo sellers.
APPLICATION
If you made it this far, you have to be wondering, what does this all mean to me?
Buyers– If you are interested in buying property on Lake Martin right now, the biggest problem you will have will be sorting through all of the noise.  Yes, there are good deals out there, and yes there are still some overpriced dogs.  When your perfect spot comes available, will you be ready?  Call me, I can help you find your dream home or lot!
Sellers: Do not despair, you CAN still sell in this environment, but it requires extraordinary effort from you and your agent.  Call me, I can help you address these 3 crucial aspects of selling: 1.) pricing, 2.) staging, and 3.) marketing.
Related Posts:
Lake Martin Sales – 2008 Year In Review
Lake Martin Sales – 2007 Year In Review
Or for every post I have done on the subject:
Lake Martin Market Statistics Category
(*)Disclaimers: All of the above info was taken from the Lake Martin Area Association of Realtors Multiple Listing Service. Accuracy is not guaranteed but deemed reliable. The above does not include sales by FSBOs or developers that sell privately and not through the MLS. But, I do think that the above represents a very large majority of all sales on Lake Martin.
Will you be at Lake Martin this Saturday, May 16, 2009, and enjoy touring waterfront homes on Lake Martin?
Then you may be interested in the Third Annual Lake Martin Tour of Homes. Proceeds from the tour will benefit Children's Harbor. Children's Harbor serves seriously ill children and their families at the Family Center at Children's Hospital in Birmingham and at Lake Martin, which is just south of Kowaliga Bridge on Highway 63
Last year the tour was of homes in Trillium. This year the tour will visit four homes in The Ridge designed by architects Bill Ingram and Bobby McAlpine.
The tours will begin at The Ridge Club from 10 a.m. to 3 p.m.
Tickets are $25 in advance and can be purchased in Alexander City at MacDavid & Company, Cloud Nine, The Shoppes of Queens Attic, and Catherine's Market. Tickets will also be available the day of the tour at the Ridge Club.
To learn more about Children's Harbor, an extremely worthy cause, visit www.childrensharbor.com.
To continue the post I did yesterday on Lake Martin's  Deadening Alpine Trail, I wanted to include these photos of the Cherokee Ridge Trail.
The Cherokee Ridge Trail is also maintained by the (duh) Cherokee Ridge Alpine Trail Association.  Its trailhead is on the Scenic Overlook, on Overlook Drive off of Highway 50, just east of Martin Dam.  It's kind of near Ghost Hollow and Whiskey Ridge if you know where they are.
The Scenic Overlook offers stupendous views of Lake Martin, looking west, all the way to Kowaliga Bridge, with a little bit of a vision to the south (Martin Dam) and the northeast towards Chimney Rock. If you ever want to get a sense of the VASTness of Lake Martin, head here.  Take a picnic, there are lots of little tables and lots of paved parking.  From there you can drive down to Martin Dam (if the road is open) and check out the Dam close up.
The Cherokee Ridge Trail is actually a system of trails. There are 3 that can be accessed here, The Cherokee Ridge Alpine Loop, The Chimney Rock, and the Kowaliga Bay Trails.  Depending on how you hike it, you can take a 1 mile up to 7 mile hike.
The trailhead is similar to the one on Deadening Alpine Trail in that you have a little sign in box and can borrow a staff if desired. Be sure to sign in so that they have an accurate count of visitors.
As on all trails, please be careful and proceed at your own risk. This particular trail gives spectacular views, especially in the winter and fall when the leaves are changing colors or have no leaves so you can really see the water.
Related Post: