Is a waterfront construction project on Lake Martin any different than one in the city?  I wasn't sure, so I asked Doug Fuhrman, owner of Southern Traditions Construction, and lead man on this Real Island renovation project we've been following.  I was hoping there would be some exciting insider scoop I could offer my readers, but Doug's response was,  "Not really."
Ha!
OK.  So since construction is construction, no matter where you are, let me offer some real estate tips based on my experience selling homes on Lake Martin.  While these things may seem painfully obvious, you'd be surprised by what some folks do to their waterfront homes:
1) Windows and doors:
You are at Lake Martin to enjoy the water, even if you never dip your toes in it.  You need to see it.  And even better if you can see it from lots of places inside a home.  Why stick a tiny window in a great room when you can use a big one?  Seems pretty obvious to me, but you'd be surprised.  No buyer ever says, "I liked the house, but there was just too much view of the lake from the home."
It's hard to tell from the angle of this picture below, but across the front of the great room (back wall of the new covered porch) is a wall of glass.  New sliding doors have replaced a set of smaller windows, and the new bedroom addition on the right has wall to wall windows (minus space on the left for a closet, and the far right for the new master bath).  This is not fancy architecture; it's just putting more of the lake in front of your eyes.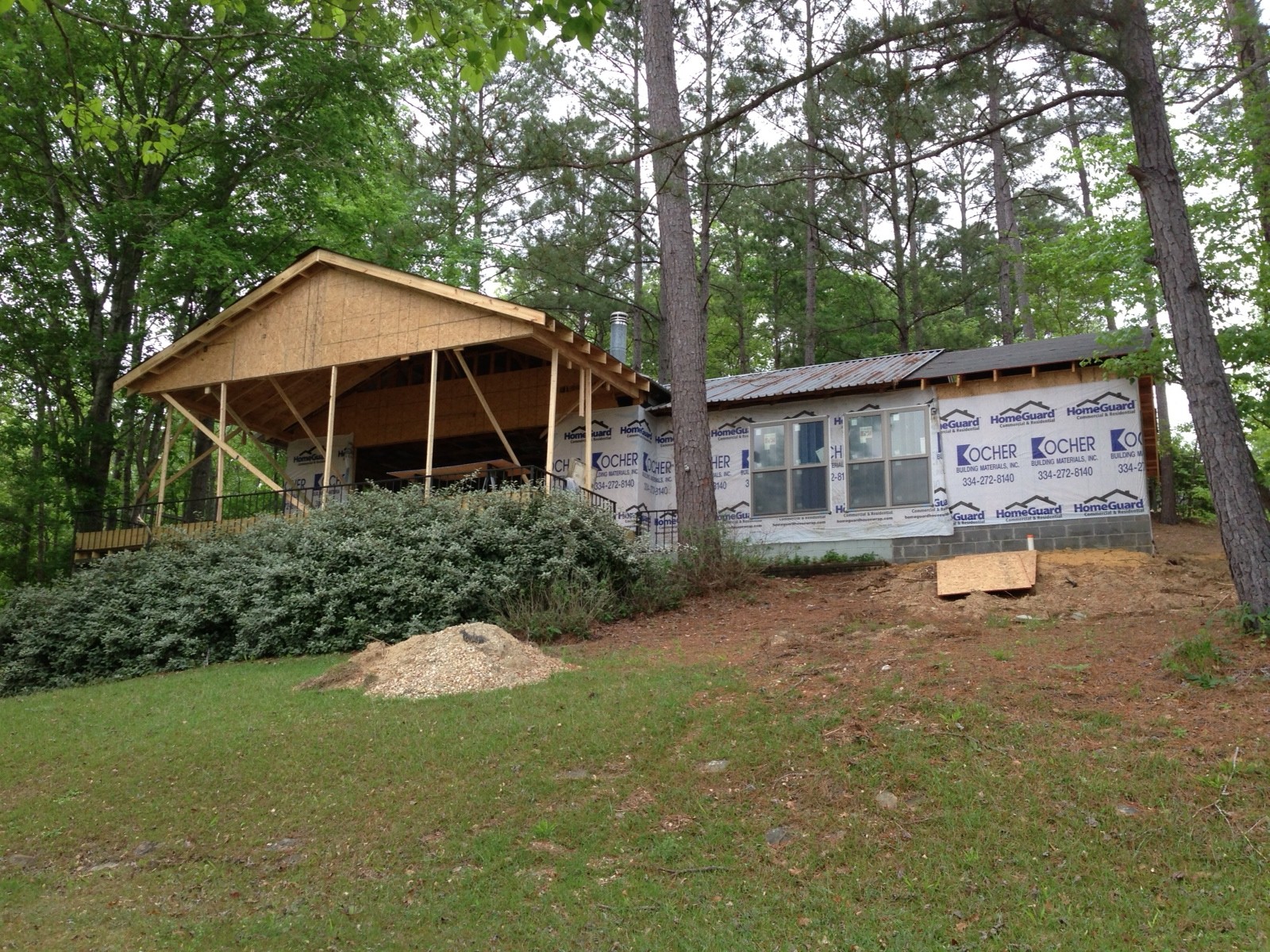 Before: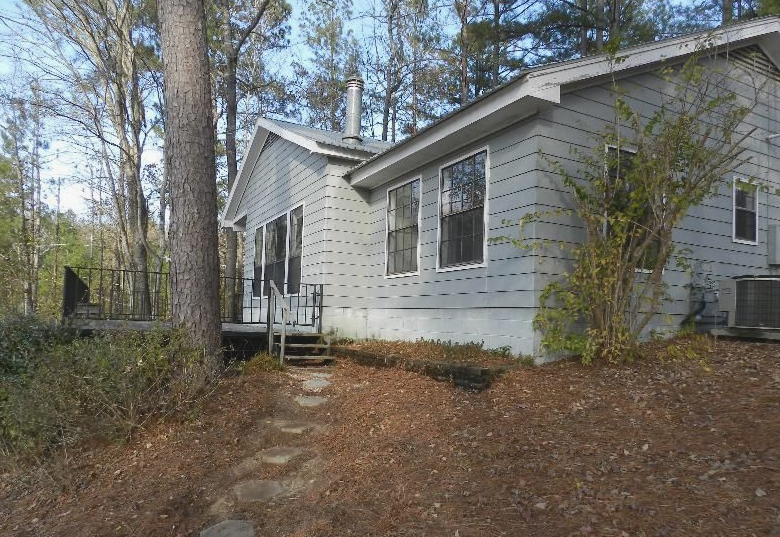 2) Covered outdoor living space
It gets warm here.  It also gets sunny.  And every now and then it rains.  The picture above is a great example of an outdoor space that is OK, but how much more use would it get if it had a roof?  The new owners of this home agree, and are creating a covered space that will be comfortable all day long – rain or shine.  Again, no buyer has ever said, "The inside of the house was great, but I don't want that huge screened porch."
3)  Access to the water
Make it easy to get from the house to the water.  A few years ago I sold a $500k waterfront home that literally had no way to get to the water (other than climbing over a wall and scrambling down a very long hill).  This was one of the first issues the new owners corrected, and imagine how much easier it is to enjoy Lake Martin!  Make it a priority to have the fewest steps possible to get from the inside of the home to the dock, and if the only way to the water does not cut through the master bedroom, even better.
In the process of rethinking this Real Island home, Lee and Amelia decided to add sliding glass doors to the front of the home where there was no lake access before, plus keep the side entry for folks coming in from the street.  Simple and efficient, and with a eye toward the lake.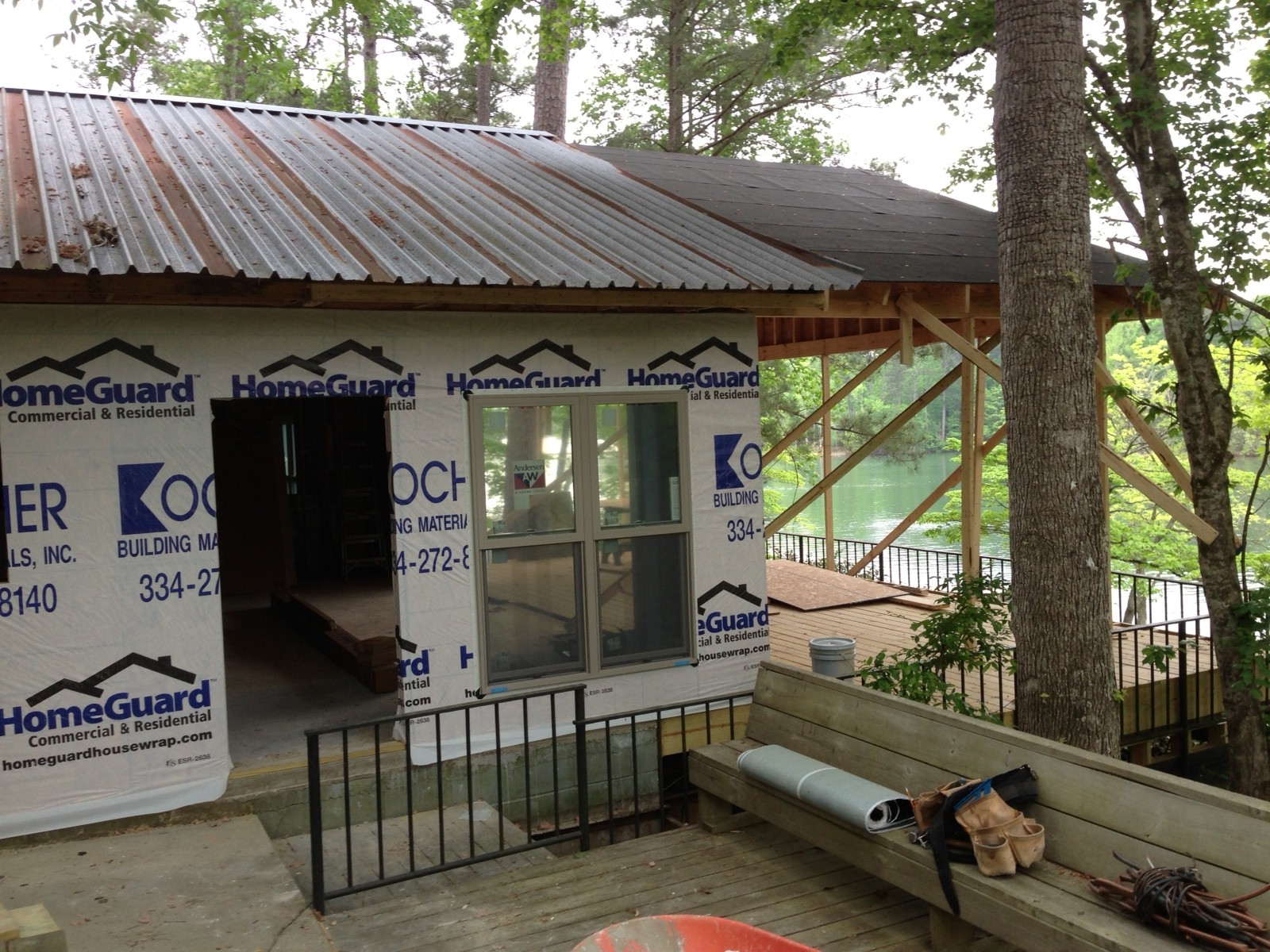 If you're looking for a home in the Real Island / Little Kowaliga area, check out my Little Kowaliga Neighborhood page.  You'll find all kinds of info on this part of Lake Martin, and most importantly, you'll find a live feed from the MLS with all homes that are currently for sale in this area.
If you have ANY questions about Lake Martin real estate, give me a call at (334) 221-5862 or click here to email me.  My job is help people buy and sell homes, and I serve the Lake Martin area 100% of the time.
If you have construction questions, however, I am not your guy.  Give Doug Fuhrman from Southern Traditions Construction a call at (334) 531-3914 or email him at [email protected], and he'll be happy to share his years of construction wisdom with you.
There's no turning back – renovations on this waterfront Lake Martin home in Real Island are well underway.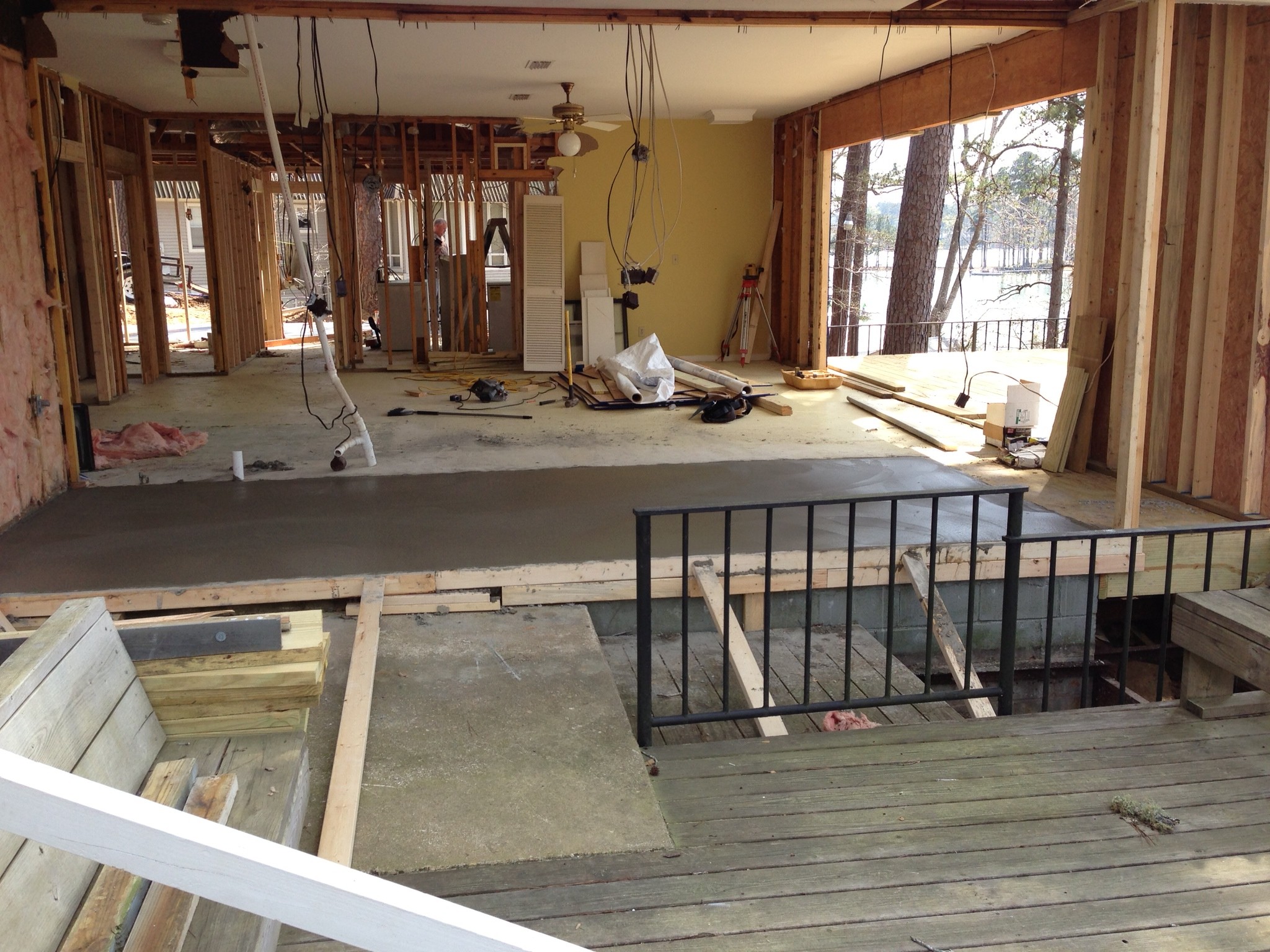 (For the first installment in this series, CLICK HERE for Real Island Renovation Begins)
If you love home projects, these pictures will make you excited.  If you're not the project type, then you're feeling a little anxious.  But Lee and Amelia loved this Real Island lot, and knew right away they would update the home before moving in.
Great view of Lake Martin, by the way!
It is very common to see this kind of radical renovation on the western side of Lake Martin. The Little Kowaliga / Real Island area is one of the older parts of Lake Martin, and thus has slowly populated over time to include tiny cabins that are next to million dollar homes.  Generally speaking, the lots in this area are a little bigger, more wooded, and less sloping, and the feel is more rural. (Of course I can always find the exception to that statement.) AND, there are really no undeveloped lots left.  When you see new construction on a waterfront lot in Little Kowaliga, odds are that person has torn down an old cabin or mobile home.
Contractor Doug Fuhrman of Southern Traditions Construction helped Lee and Amelia rethink the floor plan of the existing cabin, adding only about 400 square feet to the overall footprint, but moving things around to make the home work better.
For example, by bumping out the bedroom side of the home, they were able to expand the third bedroom and bathroom, and add a master bathroom: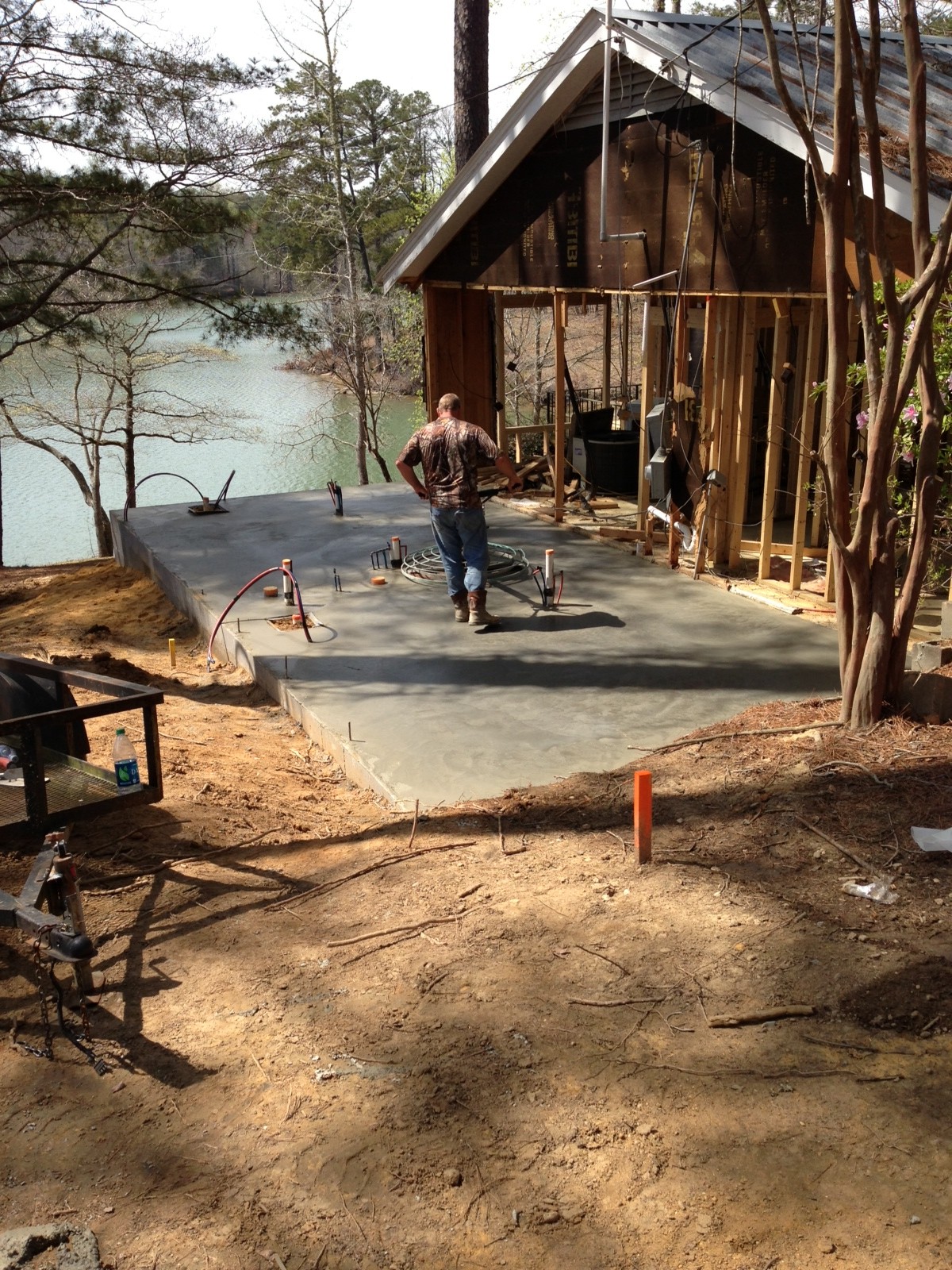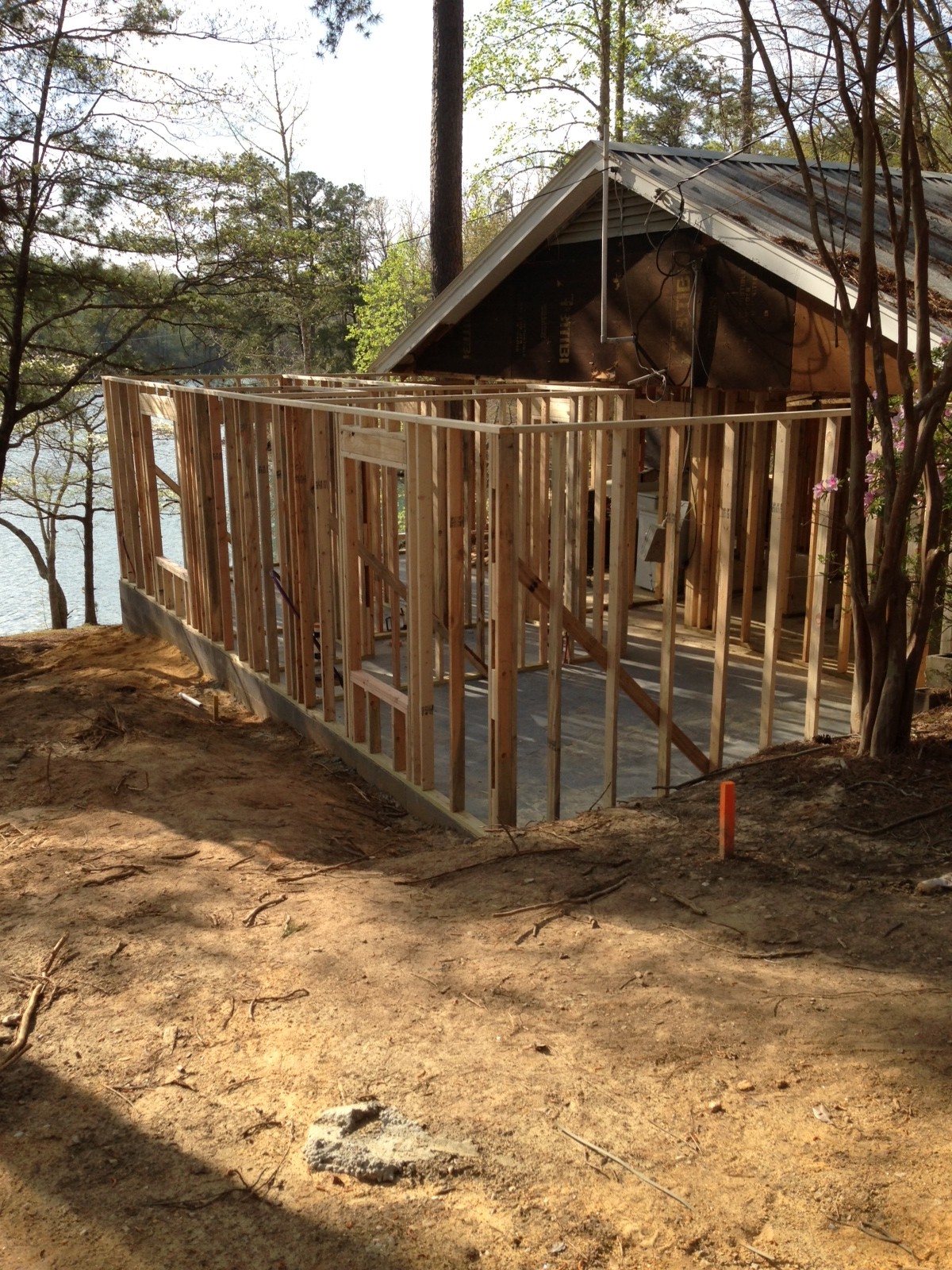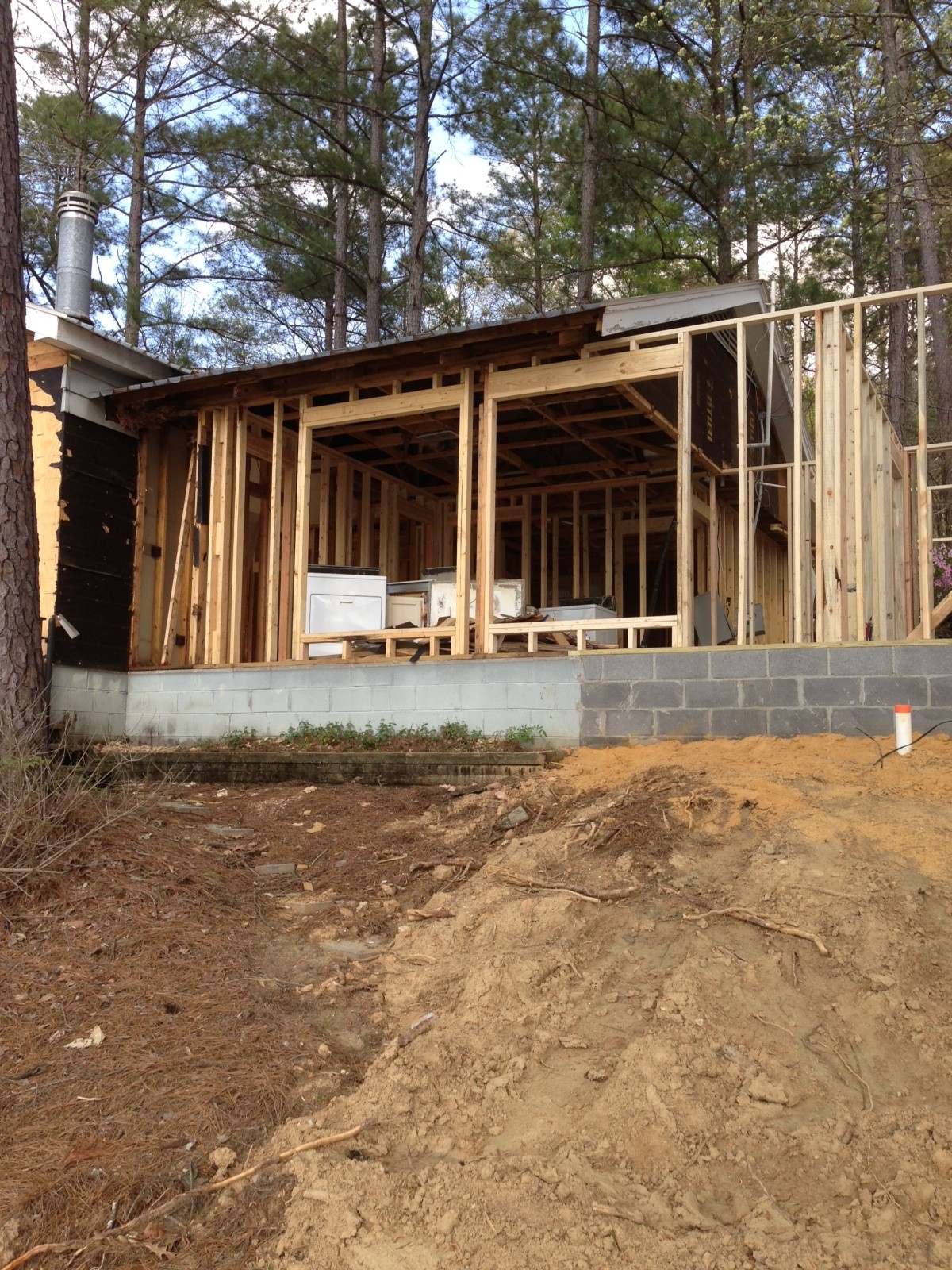 The homeowners knew they wanted to be in this area, and knew their budget, so renovation makes sense.  But for those of you who are not looking for a construction project, there are also new homes to be found on Lake Martin – both in and out of official developments.  For example,  in April 2013 Alabama Property Company released twenty nine new lots in Emerald Shores on the eastern side of the lake, you'll see new construction there.  Russell Lands is always building new homes in their various neighborhoods, and there are even a few flippers around, though not nearly as many as in 2007.
A Lake Martin realtor can cut through the hundreds of MLS listings and quickly identify homes that are move-in ready, or tear down opportunities.  I'd love to help you out with your Lake Martin search, so call me at (334) 221-5862, or CLICK HERE to contact me.
Ok, so the Little Kowaliga area is not technically a neighborhood; rather it is a geographic area of waterfront homes on Lake Martin.  It's a way to talk about that branch of Lake Martin on the west side of the lake, north of Kowaliga Bridge, and around the corner west of Sinclair's and Kowaliga Marina.  Some people that grew up here or have had cabins on Lake Martin for 40 years may even argue with me for calling it Little Kowaliga.  Lots of people refer to this area as the Real Island area, because Real Island Marina is the oldest marina in this area.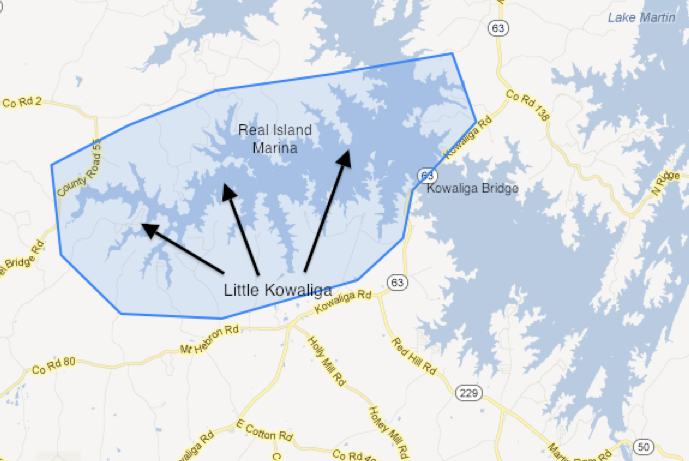 If you would like to see waterfront homes and lots for sale right now in the Little Kowaliga area, CLICK HERE to go to my Little Kowaliga Neighborhood page. I have a report that shows every waterfront home and lot for sale – by all agents, all brokerages, on Lake Martin. It pulls from the Lake Martin MLS so it will be current no matter when you visit the page.

The reason it's called Little Kowaliga is because Little Kowaliga Creek once ran here before the lake was created by Martin Dam.  It is close to Montgomery, and traditionally a lot of Montgomery families have had cabins in this area.
There aren't really any formal neighborhoods in Little Kowaliga – no gated entrances with formal signs, no neighborhood pools, etc.  Most waterfront homes in this area are located off of county roads.  This is a section of Lake Martin where you can have a trailer next to a two million dollar home.  It is similar to Parker Creek in that there are really no undeveloped lots left.  When you see new construction on a waterfront lot in Little Kowaliga, odds are that person has torn down an old cabin or mobile home.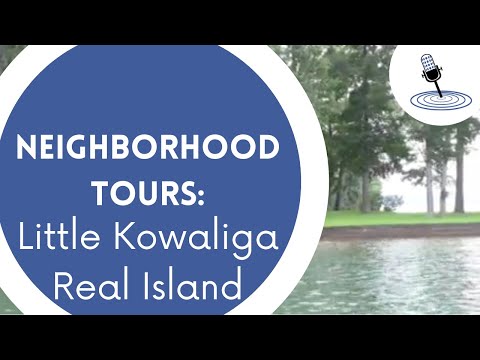 Driving directions and addresses can be wacky in this area.  The county line separating Elmore and Coosa counties runs through Little Kowaliga, so you can have homes in the town of Equality that can be in either Elmore or Coosa County.  As you drive the road on the north side of Little Kowaliga, road signs can switch from Elmore County to Coosa County, and then back again.  Google Maps and GPS's still haven't figured out many of the streets, so it pays to combine them with a good physical map of Lake Martin, and good directions from a homeowner.  Hancel Road, for example, is a road that runs in and out of both counties, and is spelled 3 or 4 different ways by street signs, Google, the MLS, and GPS's.
If you're looking for the "lake cabin at the end of the dirt road" experience, the Little Kowaliga area might be a good fit.  To see homes currently for sale in the Little Kowaliga area, CLICK HERE.  I'd love to help you find your Lake Martin home – in Little Kowaliga or anywhere on Lake Martin. Remember, I can help you with any property in the Lake Martin MLS, and it doesn't cost the buyer a dime to have a realtor help you with your research and purchase.  The sellers pay my commission. 
If I can help, give me a call at (334) 221-5862, or email me by CLICKING HERE.
As a Realtor on Lake Martin, I get to walk through a lot of cool lake homes. A really fun part of the job is seeing how people decorate their lake homes.
Recently I sold a home in the Little Kowaliga area of Lake Martin off of Kamp Kiwanis Road. The sellers had a lot of really unique, lake-y decorating ideas. One of them was a pair of Adirondack style chairs that they made using old wooden skis.
It looks to me like you need about 3 pair and half (or a slalom ski) to do one chair. I think you might as well make two chairs while you're at it, using 5 pairs.
The basic setup is:
1. One pair (cut in half) for the legs.
2. The second pair for the armrests and the outside backrest slats.
3. The middle or longer slat in the backrest comes from a slalom, or if you're making 2, on of the armrests from the other chair.
The rest of the wood on the chair (like the seat slats, one behind the backrest, and some support underneath) come from regular wood.
The big stress points are held together with little bolts. The rest are little wood screws, and I'm sure they added glue.
When you're done, you may be left with one or two end pieces of a ski. Don't throw them away – make a wine rack from them:
If you have some old wooden skis laying around that you don't want, let me know. I want to try this!
Rick and Emily are new Lake Martin waterfront homeowners, and because I helped them with their purchase, I know how much time and thought they put into finding just the right Lake Martin home.
They finally settled on a property in the Little Kowaliga area of Lake Martin – it's a huge area on the west side of the lake that's bordered by Elmore County Road 80 to the south, State Highway 63 to east,  AL Highway 9 to the west, and Coosa County Road 2 to the north.  So why did they choose the Little Kowaliga area?   I'll let them tell you . . .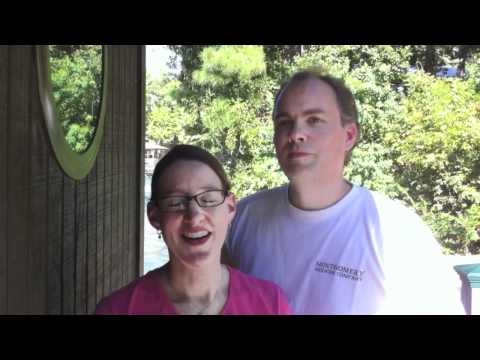 Thanks for you help, Rick and Emily!  Enjoy your home!