Does Lake Martin Area Association of Realtors (LMAAR) have ALL the listings for Lake Martin or are there some listed through realtors that are not on that site?
Several months ago I had a potential client ask me the question – "Where are Lake Martin homes listed for sale?" He told me that he and his wife were constantly looking (more looking than anything) for a home to purchase at Lake Martin. They checked the LMAAR website several times a month to look.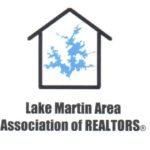 LMAAR has 99.5% of all properties that actually sell on the Lake.  If you look on the Montgomery Area Association of Realtors (MAAR) website you'll see 10 to 20 at any given moment but all of them are also listed on LMAAR.  Occasionally there will one on MAAR that is not on LMAAR, thus my < 100% number.  All of the agents that are serious and full time about Lake Martin (like me) live and breath the LMAAR MLS.
To help my clients I can set up an account on my LMAAR MLS feed.  Click here for the link.  It is not public and no one else will see it.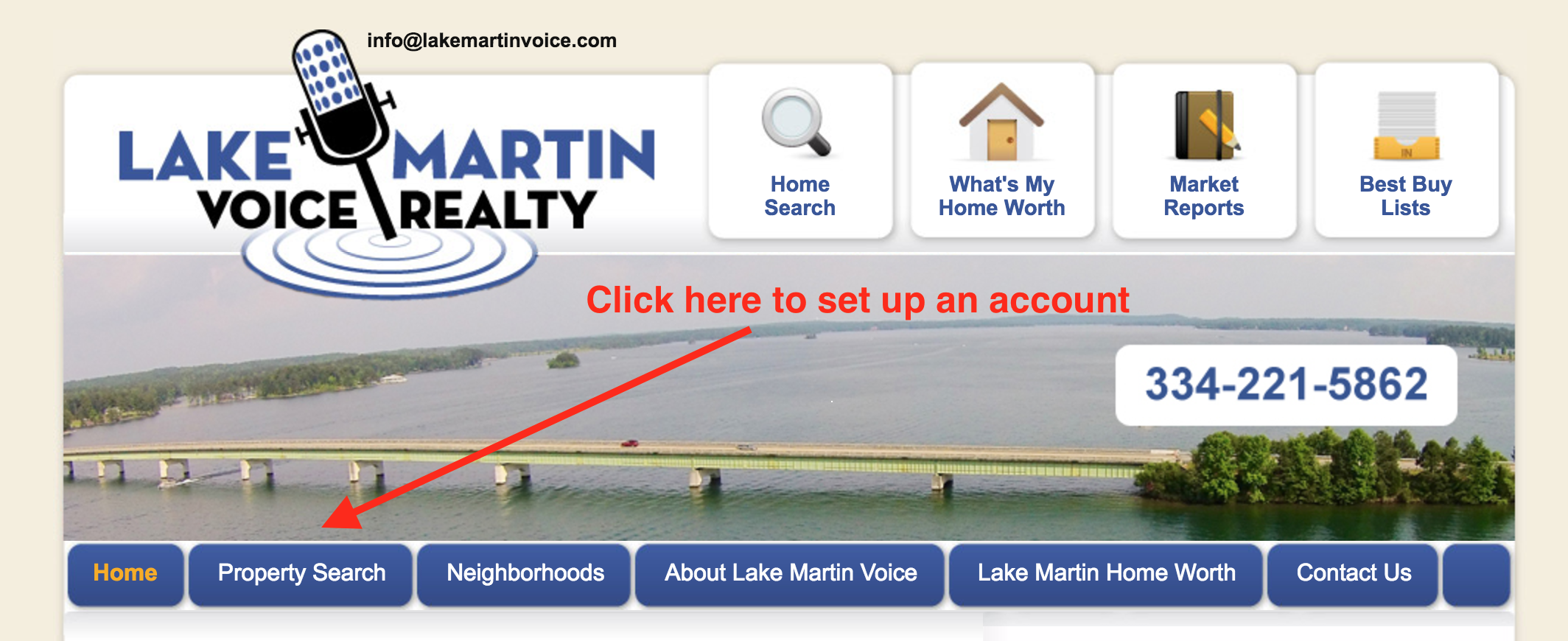 Setting up your account will help you save the properties you have seen and share feedback with your spouse.  It can also be set up to auto alert you by email when something pops up in your area and price range.  If you aren't interested in registering, no sweat, but some folks like to be alerted so they don't miss anything, and properties in some Lake areas are going fast these days.
My name is John Coley and I would love to help you find your Lake Martin home.  Give me a call at 334-221-5862 or contact me here or email me at [email protected].

Q:  Thank you for all of the email updates for homes for sale around Lake Martin.  I see one I like- but it says "Pending" by the home's info. What does Pending (Y) mean on your website?
A:  For my website, (Lake Martin Voice.com) – I pull all of my information from the Lake Martin MLS. Regardless of what bloated sites like Zillow will try and tell you, the Lake Martin MLS is the most accurate and updated database for waterfront property here at Lake Martin. This is because it is made up of the real estate agents and brokerages here.
One of the fields of data we have is "Status." When you see the Status = Active, that means that the waterfront lot or home is currently for sale. When you see Status = Pending, it means that the property is under contract.  There has been an offer, and that offer was accepted, and the parties are working towards closing.
Typically, the time that a home is 'pending' is about five or six weeks to allow for the buyers to do their due diligence, such as the lending process, any inspections, surveys, etc.
Incidentally, once the sale has finalized and closed, the status is changed to "Closed" and it will be removed from the website.  This is because, according to our Lake Martin MLS rules, sold properties are not allowed to be on public facing websites. Sold information is only visible to Lake Martin MLS members, so if you would like info on a sold property, please CONTACT ME HERE and I can help you with that.
This post is directed to Lake Martin waterfront property buyers – don't waste your time with Zillow, Trulia, Homes.com, Realtor.com and their ilk (ZTR). They are terribly inaccurate.
This post is also to potential sellers of Lake Martin waterfront property. Don't insist on having your home "featured" there. They stink, it's a false hope, and they don't generate good leads. It's like wanting to be advertised on a billboard inside a smelly, run down indoor mall. Why would you bother?
If you want the most reliable, most accurate, most timely Lake Martin waterfront real estate information, search our local Lake Martin Area MLS.  Period.
3rd party syndicator sites like Zillow, Trulia, Homes.com and even Realtor.com rank high on some internet real estate searches for Lake Martin. But does that make them truly helpful for buyers and sellers?  If you're not familiar with how these websites work, they try to be the MLS for the entire nation by getting content (listings of homes for sale) for free from agents, and then turning around and charging the same agents to advertise on their site in a circular, almost extortive calculation.  I don't want to supply the rope and then pay the hangman, so I don't advertise on any of these syndicators.
Plus, at Lake Martin, these sites just don't work.  They merely cause confusion. They pull most of their info from County tax records, and since we are in a rural area, the info is not that pure, and our counties don't report sales data.
Let me show you a quick example.  I did a Google search for one of Lake Martin Voice Realty's new listings, 44 Fairwinds Circle in Windermere.   (This home is an awesome 6 bedroom, 4 bath, 4,457 sq foot home with custom hardwood floors and mill work throughout.  It was built in 2007 and is listed for $649k.) Google's search results had Trulia, Zillow, Realtor.com and Homes.com all making the coveted first page of search results.  They must have it going on, right?
But you tell me if any of this information is helpful . . .
Here's what I found on Trulia: According to Trulia, 44 Fairwinds Circle is a  ZERO BEDROOM – 2 bathroom, 1,665 sq ft home with wood siding. Hey home buyer  – can I interest you in this ZERO BEDROOM home? Awesome ! Yes! Sign me up!!!!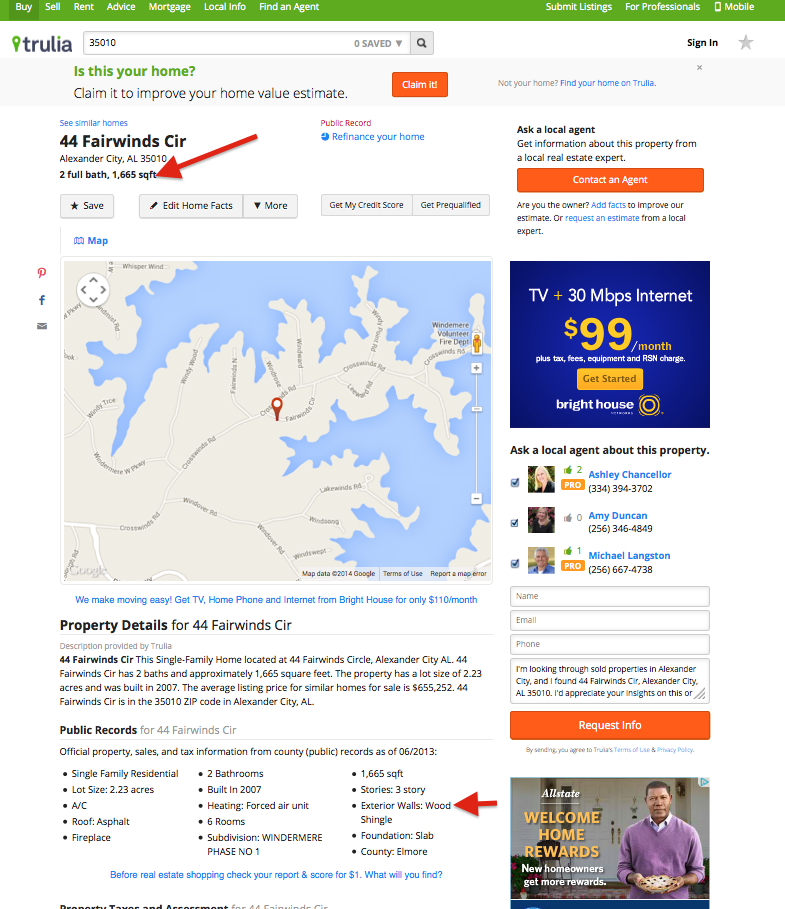 Here's Zillow:  if you trust Zillow, you would be led to believe that 44 Fairwinds Circle is a 1,665 sq ft home with unknown floor coverings, and a "Zestimate" of $595, 130. Here, Zillow carries along the ZERO BEDROOM concept that apparently is sweeping the nation. Wow! How cool! How Techy! How totally cutting edge that they are able to sit up in Oregon or wherever they are and tell us all how much a ZERO BEDROOM home costs in Windermere.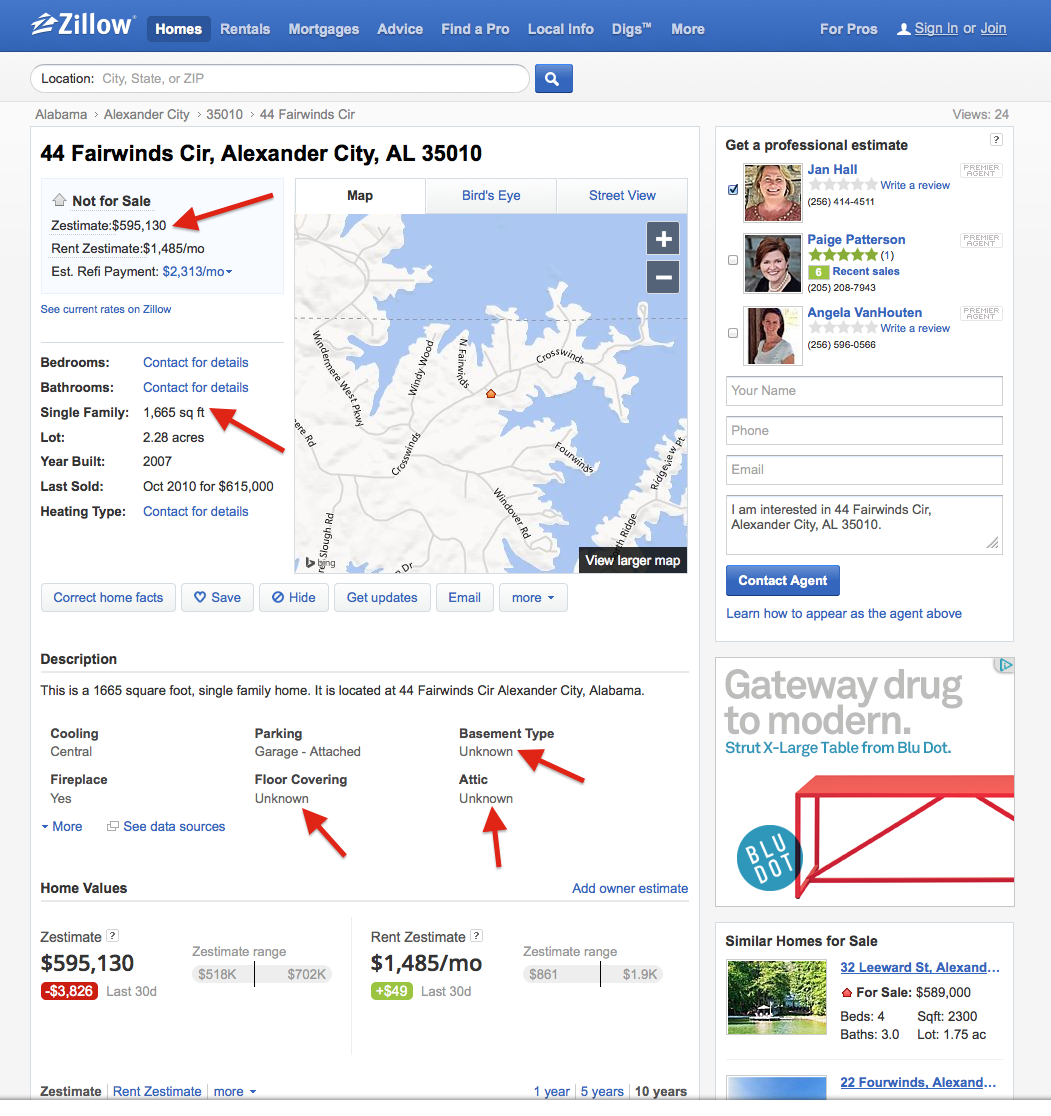 And here's Homes.com:  The same 2 bath, 1,665 sq ft home for around $711,500.  ZERO BEDROOMS, of course.  And why not pay $116,370 more? If you would like to pay $711k, I won't hold you back. A zero bedroom home is priceless. You should know that by now.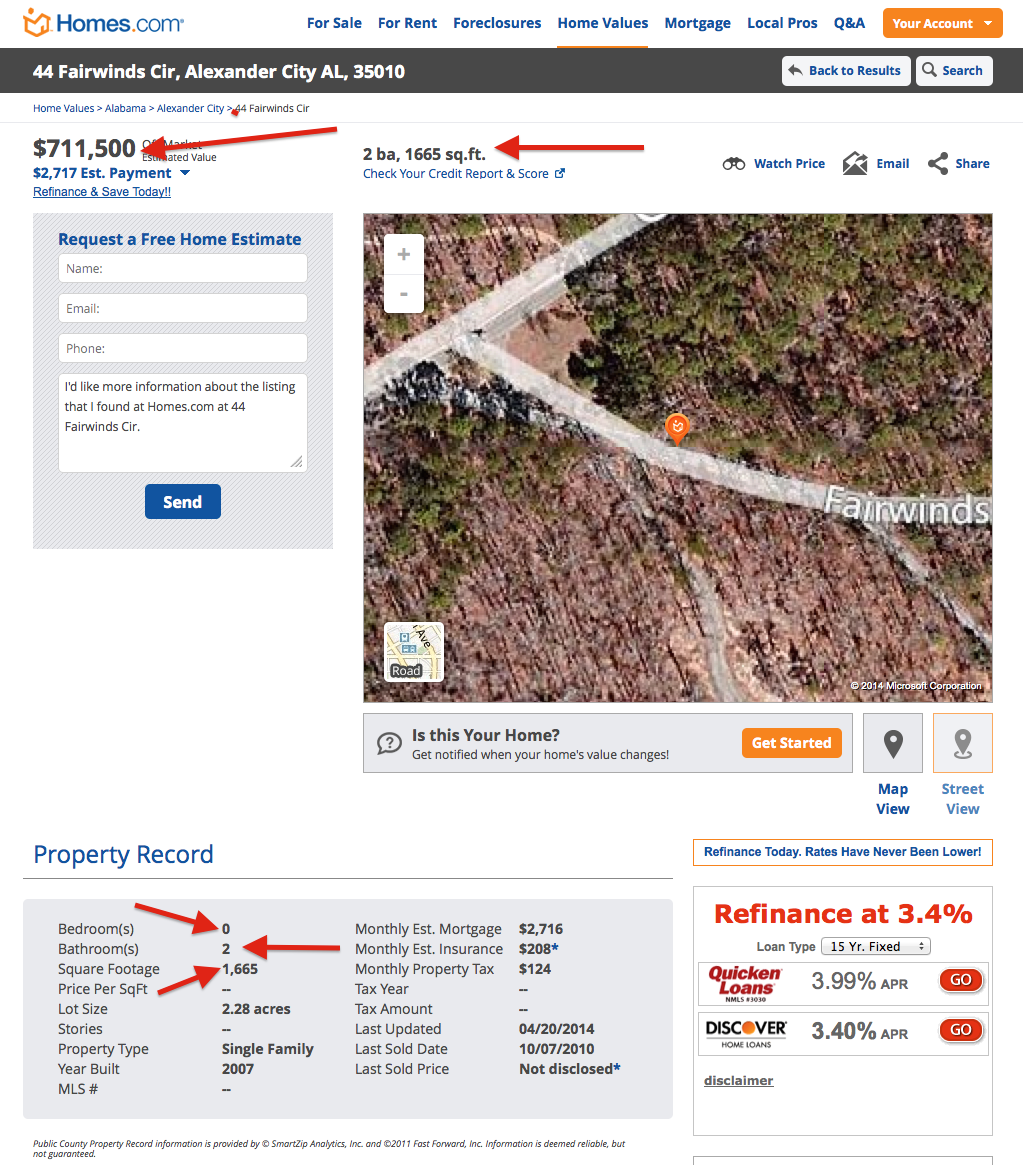 And even Realtor.com can't get it straight:  44 Fairwinds Circle is listed as 4A Fairwinds Circle (the lot number) with 4,728 sq ft built in 2008.  If you look at all of these pages, notice how little space is devoted to actual data on the home versus ads for internet service, moo.com (??) and Blu dot. The thing that especially galls me about Realtor.com is that it is owned by the National Association of Realtors. Yes. You would think that this site would try and do a good job to be accurate, and then not turn around and extort advertising dollars by playing one agent off of another in a cruel, Leone-esque Mexican Standoff, – > ("What, Agent A, don't you want to be listed as The Awesome Agent for this zip code? Well you 'd better pony your money up because Agent B is bidding against you. Agent B – you'd better pay us because Agents A and C are vying for your coveted spot. ") Does that add value to the process? Also, Realtor.com only allows a few precious photos to be displayed unless you pay them to advertise. Check it out: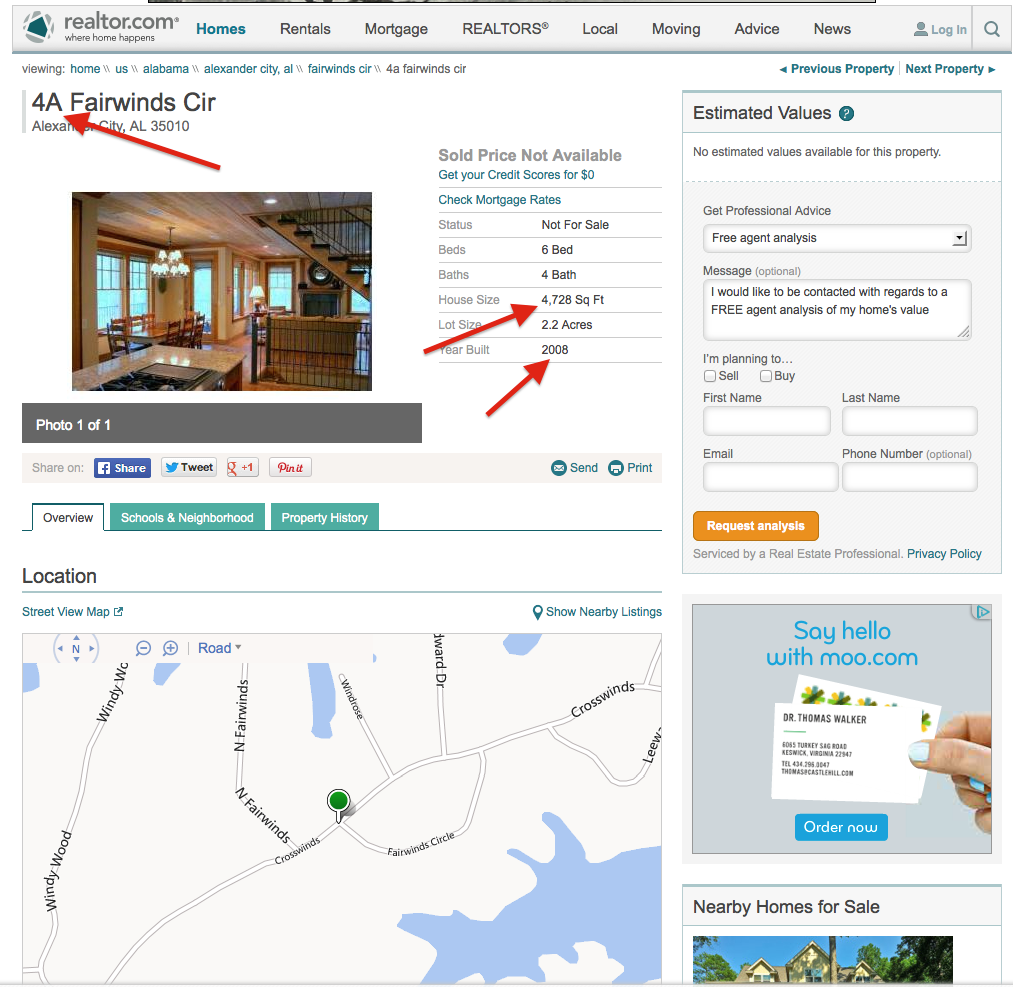 Are you finding these sites helpful, or are they adding confusion to the search?  I know the small detail on these screenshots may be hard to read, but what you'll find is virtually the same incorrect information about the home on all of these websites.  A home with zero bedrooms and two bathrooms for $711,500k?  Does that make any sense?
Contrast that with the information found inside the Lake Martin MLS. 
Most local Multiple Listing Services are closed services, meaning they are not searchable by Internet search engines.  Our Lake Martin MLS is no exception, and contains only firsthand data on properties entered by the listing agents themselves. (And if we want to continue working, we'd better get it right.)  Local agents know the homes and have spoken extensively with the owners.  There is no "noise" from 3rd party syndicators to sift through, and you know exactly whom to call if you want to know more.
Here's the screen shot for 44 Fairwinds as it appears in the MLS search.  The text is going to be hard to read here because there is so much information on the page, and it may look a little basic because it's missing the huge ads for mortgage providers and the ginormous google map. But, I agree with Forrest Gump's mama, pretty is as pretty does. If the so-called information that currently resides on ZTR sites is shiny and glitzy, does it matter that it's so inaccurate as to be useless? You bet. I will take basic and correct any day. Granted, the MLS info is only as correct as the agent that enters it. But at least in the Lake Martin MLS you are getting the info from the direct source, and with its full complement of ALL the pictures, video, and related media: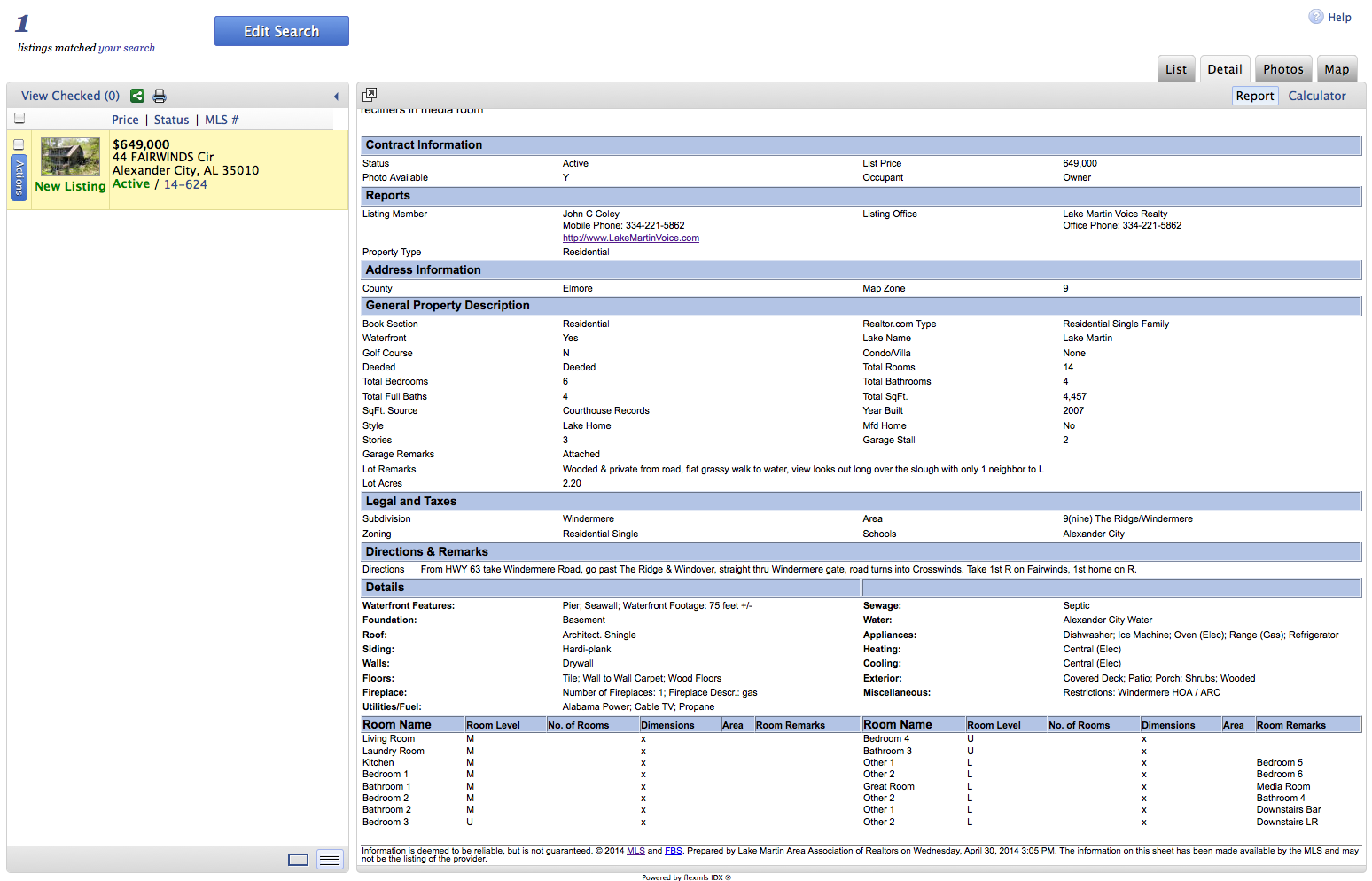 Our Lake Martin MLS entry for 44 Fairwinds Circle contains the data above, plus access to 93 photos of the property, our VIDEO TOUR of the property, and a map.  It's thorough, it's complete, and it is the most current information available.
So save yourself time and confusion:  search for Lake Martin real estate on the Lake Martin MLS.  Realtors have great incentive to display quality information for their listings.  And if you need more info, call a local realtor.  And if you're calling a local, realtor, I'd love for you to call me.  John Coley  334  221 5862  or john (at) lake martin voice (dot) com.
Will I Ever Eat My Words And Pay ZTR?
Quite possibly. I can envision I day where I will be forced to pay Zillow, Trulia, and / or Realtor.com for the privilege of participating in a Mexican Standoff with other agents at Lake Martin. I know plenty of agents that I respect highly that are in other markets around the nation that do. Sadly, they must pay the hangmen and supply the rope, and they grit their teeth when they pay them each month because they know it's not worth it and it benefits neither buyers nor sellers. So, I will never say never. But I can say, right now, while I am still beating or competing well with the third party syndicators, I will not.
Want more info on this subject, and proof that big brokerages in big markets are sick of ZTR as well? See this video: Abbott Realty  They are in San Diego, and figured this out in 2012. Since then, there have been more brokerages and MLSs to opt out of ZTR than opt in.
If you are interested in waterfront homes, lots, or condos for sale on Lake Martin, you might like the latest feature of LakeMartinVoice.com.
I have added a new feature called "New Listings On Lake Martin." See the right hand column of my blog, just below the top. There is a little plugin there that brings you the very newest homes, lots and condos on the market here at Lake Martin. In some real estate markets, this is called a "Hot Sheet." So I guess I could have called it the Lake Martin Hot Sheet. Nevertheless, it's a quick way to check what's new on the market here at Lake Martin.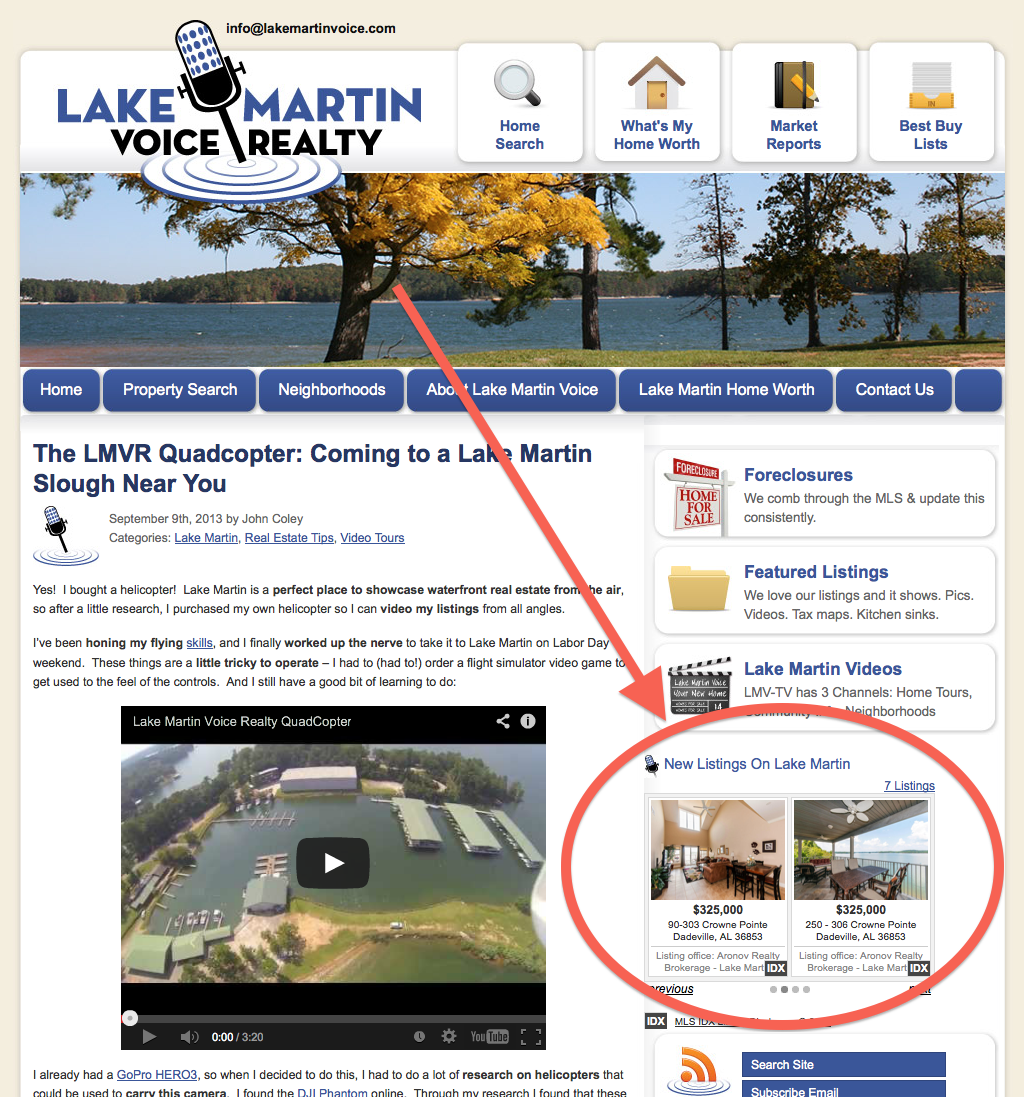 My goal is to have absolutely, positively, the best website and tools for searching the Lake Martin real estate market. I feel very blessed that this site continues to be number one in traffic, usage, and most Google searches for Lake Martin property. I will continue to tinker and experiment with new features like this to try and stay number one. If you have any suggestions or ways I can improve, please email at info at lakemartinvoice.com.
FAQ about New Listings On Lake Martin
Are these only your listings? No, this list comes from the Lake Martin MLS, so that includes every single agent on Lake Martin, every single brokerage. It doesn't matter who has it listed, I can help you with it.
How often is it updated? It pulls about the last seven days of new listings from the Lake Martin MLS. So, if you haven't checked it in about a week, you may have missed some. You may want to click here to search the Lake Martin MLS to see everything.
What if I want more info on a home? Just click on its thumbnail and a new page, with that listing's complete info will appear.
What if I request info through your site, or give feedback by clicking a smiley face? The system will ask you to register by giving your name and email address. That's so I can have a way to reach you and answer your request. Don't worry, your info only comes to me.
What is your spam policy? Don't worry, I hate spam more than you do. In fact, I spend a lot of time and money to keep my site as virus and spam free as possible. I work way too hard to gain your trust to then turn around and spam you.
Is this list waterfront property only on Lake Martin? Yes, this is a search that looks at three fields in the Lake Martin MLS: Waterfront = Yes, Lake Name = Lake Martin, and Age = < 7 Days. If you click on the Property Search button under the main picture, it will show you every single active listing in our MLS, waterfront or not. To view waterfront only on that page, click on the waterfront field and select "Yes."
If you see anything you like, or want to talk Lake Martin real estate in general, I'd love to talk to you.  Give me a call at (334) 221-5862, email me at [email protected], or click here to contact me.  Thanks!
Ok, so the Little Kowaliga area is not technically a neighborhood; rather it is a geographic area of waterfront homes on Lake Martin.  It's a way to talk about that branch of Lake Martin on the west side of the lake, north of Kowaliga Bridge, and around the corner west of Sinclair's and Kowaliga Marina.  Some people that grew up here or have had cabins on Lake Martin for 40 years may even argue with me for calling it Little Kowaliga.  Lots of people refer to this area as the Real Island area, because Real Island Marina is the oldest marina in this area.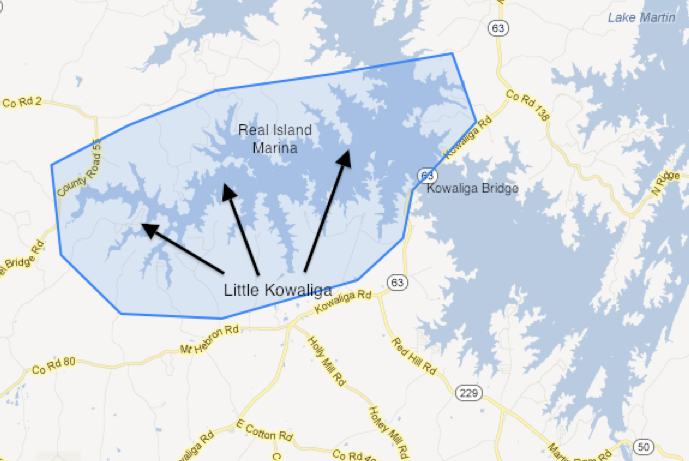 If you would like to see waterfront homes and lots for sale right now in the Little Kowaliga area, CLICK HERE to go to my Little Kowaliga Neighborhood page. I have a report that shows every waterfront home and lot for sale – by all agents, all brokerages, on Lake Martin. It pulls from the Lake Martin MLS so it will be current no matter when you visit the page.

The reason it's called Little Kowaliga is because Little Kowaliga Creek once ran here before the lake was created by Martin Dam.  It is close to Montgomery, and traditionally a lot of Montgomery families have had cabins in this area.
There aren't really any formal neighborhoods in Little Kowaliga – no gated entrances with formal signs, no neighborhood pools, etc.  Most waterfront homes in this area are located off of county roads.  This is a section of Lake Martin where you can have a trailer next to a two million dollar home.  It is similar to Parker Creek in that there are really no undeveloped lots left.  When you see new construction on a waterfront lot in Little Kowaliga, odds are that person has torn down an old cabin or mobile home.
Driving directions and addresses can be wacky in this area.  The county line separating Elmore and Coosa counties runs through Little Kowaliga, so you can have homes in the town of Equality that can be in either Elmore or Coosa County.  As you drive the road on the north side of Little Kowaliga, road signs can switch from Elmore County to Coosa County, and then back again.  Google Maps and GPS's still haven't figured out many of the streets, so it pays to combine them with a good physical map of Lake Martin, and good directions from a homeowner.  Hancel Road, for example, is a road that runs in and out of both counties, and is spelled 3 or 4 different ways by street signs, Google, the MLS, and GPS's.
If you're looking for the "lake cabin at the end of the dirt road" experience, the Little Kowaliga area might be a good fit.  To see homes currently for sale in the Little Kowaliga area, CLICK HERE.  I'd love to help you find your Lake Martin home – in Little Kowaliga or anywhere on Lake Martin. Remember, I can help you with any property in the Lake Martin MLS, and it doesn't cost the buyer a dime to have a realtor help you with your research and purchase.  The sellers pay my commission. 
If I can help, give me a call at (334) 221-5862, or email me by CLICKING HERE.
I need some help!
What do you call the middle face in this picture? Sort of smiley? I know the one on the left is a big smiley face, and I guess we can call the one to the right a frowny face. I just have no clue what to call the middle one and it is affecting me. Why?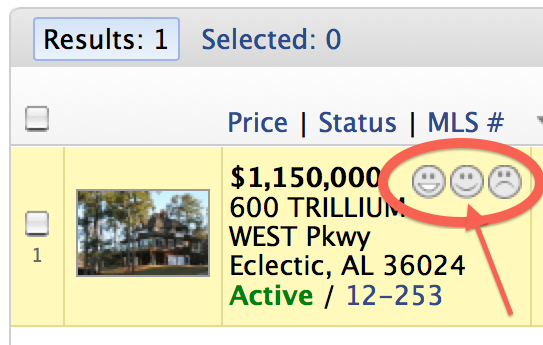 These faces are a feedback tool within the Lake Martin MLS.  People who are searching for waterfront homes, lots, or condos for sale on Lake Martin can use this feedback system by creating themselves a Portal. You create a Portal on the MLS by clicking "Save" on a search, after you check a particular listing, or if you click on one of these faces to give feedback. Then you are asked to register some info and create a Portal. The big smiley face puts your selection in a Listing Cart called "Favorites." The middle one is "Possibilities" and the frowny is "Rejects."
Why would you want to do that? I can think of a few reasons:
1.  My buyers love this feature. There is safety in numbers. You know, the old "many have enjoyed this, you will, too!" line.
2.  Registering allows you to save your favorites without searching again and again each time you log on to search the Lake Martin MLS.  It saves you huge amounts of time, plus your spouse can log on also and see the same info.
3.  Don't worry, your info comes only to me!  This may or may not be a comfort, but this live feed to the homes and lots for sale is provided by me, so only I see your email address or any other contact info you provide.  I don't spam and no one else will have it.
4.  It saves a lot of time when/if you are ready to buy, even if it's 6 months later.  I can find the current examples of your past favorites and get a good idea of what you like and what you don't like.
Like I've said many times before, the Lake Martin MLS is the #1 source for the most accurate, up-to-date information on homes for sale on the lake.  If you're not sure how to use it effectively, I'll give you the 5 minute lesson:
If I can help you, please call me at (334) 221-5862, email me at info @ lakemartinvoice .com, or CLICK HERE to contact me.  I can help you with any property in the Lake Martin MLS, regardless of which realtor has it listed.
I'm watching you.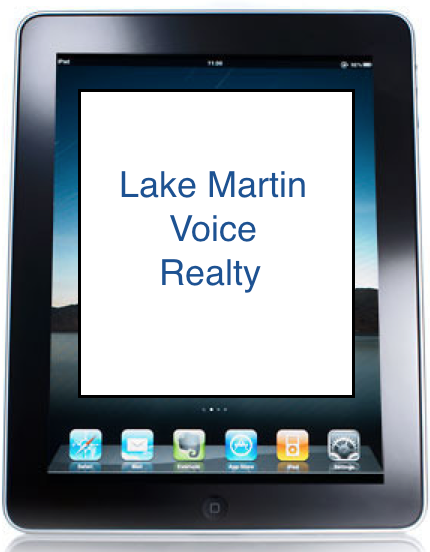 Well, not really. As the owner of Lake Martin Voice website, I am able to see in general how many people read the pages, where they click, how long they stay on the site, etc.
One really cool thing I noticed the other day was that I am getting quite a bit of traffic from people using mobile devices. In fact, about 20% of my traffic is from some type of mobile device. By a huge margin, the most popular device people use on my site is the iPad.
I suppose it's from people sitting at home and surfing the web on their iPads. I can't imagine that too many people with cell plans on their iPads are riding around Lake Martin looking.
These big numbers made me wonder what the iPad experience is for my readers, so I got mine out and played around with it.
I found that my site handles is quite well. The pictures and videos work and look great. The only thing I had to change was how the Lake Martin MLS displays on an iPad. If you click to "Home Search" or "Property Search" link to look for homes or lots, you will be given a choice. The MLS feed will ask you if you want the Full Site or the Mobile Site.  It's my recommendation that you use the Mobile Site.  It is a little easier to navigate, and it frames the home pictures and videos really nicely.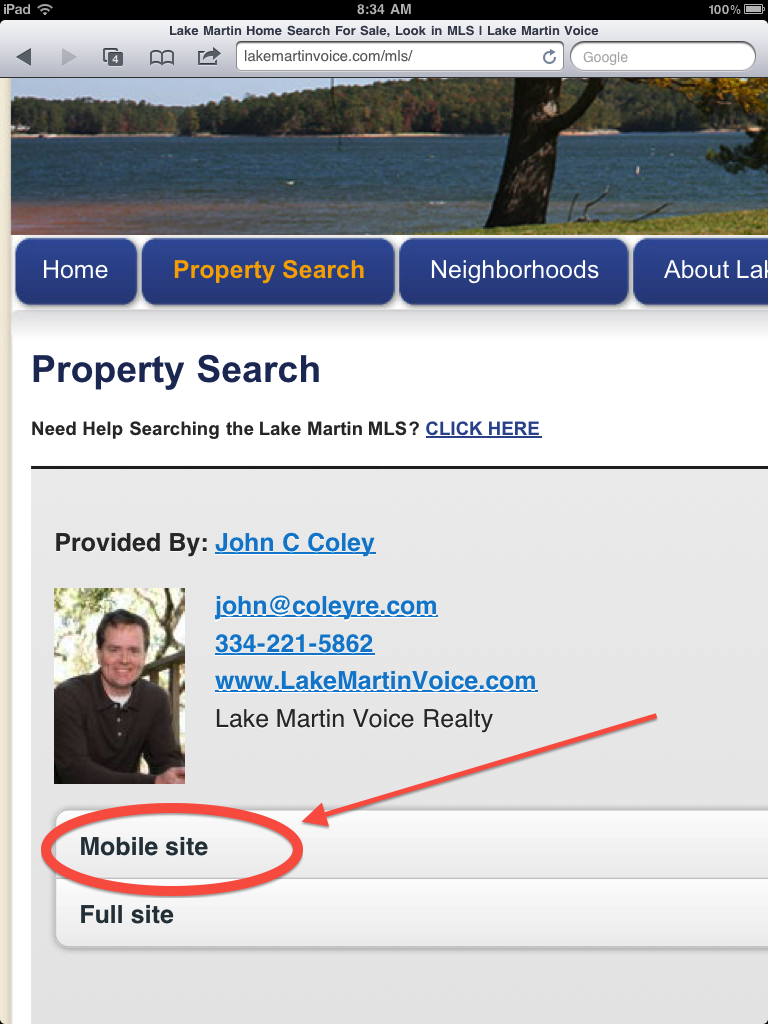 So whether you're sitting in your living room on a iPad, at work or home on a desktop, or reading this on your phone, we thank you for dropping by. It's our aim to be not only the most helpful website and brokerage in the Lake Martin area, but also to be at the leading edge of real estate technology in the entire nation. If you have any suggestions on how we can get better, please let us know by using this form to contact us or email us at info @ LakeMartinVoice . Com.
Thanks!
There are a lot of fun things to do at Lake Martin. Each summer seems to bring a new spot to visit or a new sport to enjoy on the water. But there is no doubt about it – one of the most popular things to do is ride in the boat and look at waterfront homes.
Maybe you don't want to actually go in them, maybe you're just curious. Or maybe you really are considering buying, but just not this weekend. I can help. Just let me know where you will be staying on the lake, or what part of the lake you plan to visit, and I can make you a Home Tour map!
That way, as you drive around and see for sale signs on docks or on the street, you can check the list to get the sales info. Contact me my filling out this form or calling me at 334-221-5862 and I will be glad to help you make a map.
Not ready to talk to a cheesy ole realtor like me? I don't blame you. Check out this How To video where I coach you on making your own map. If you do decide to do it, and see something you like, please let me know. I can help you with any property that is for sale, no matter who has it listed. The seller pays my commission so it doesn't cost you a dime more to let me help you.
Have fun, and I hope to see you on the lake!
My blog, Lake Martin Voice,  exists because you want to buy or sell Lake Martin real estate.  The homes in the Lake Martin MLS are the stars of the show.  So my goal is to get you to these homes.  I made the following tutorial to help you navigate our MLS.  Give me 5 minutes, and I'll show you how I do it.
The Lake Martin Area MLS is without a doubt the #1 source for the most accurate, up to date information on homes for sale on the lake.  It is a treasure trove of real estate data, and in my opinion, it's one of only 2 online resources you need (the second being my website, for obvious reasons).  Big aggregator sites like Trulia, Zillow, and Realtor.com are notoriously inaccurate, out of date, and at times, plain wrong, especially in a rural area like Lake Martin.  (For more about the problems with 3rd party syndicator websites, CLICK HERE.)
Our local Realtors, on the other hand, feed our MLS, and unlike the syndicators, our local MLS allows unlimited pictures and video for every listing.
My goal is to give you as much information as possible.  The syndicators' goal is to extract as much advertising dollars as possible.  That's not evil, per se, but you just need to know that.
When you you need more information about a property, or want to talk about Lake Martin real estate, give me a call at (334) 221-5862.  My job is to help you.  I'm honored to do it.
Usually I don't write much about national real estate issues.  I just don't feel like I am an expert, plus, there are always places to get that kind of news. Fox News, WSJ, MSNBC, I am not.  There is enough going on here in the Lake Martin real estate market to keep me busy.
So please allow this exception to that rule. Last month I read an interesting article in the Wall Street Journal by Geoffrey Fowler and Angus Loten entitled "Old Watchdog Needs New Web Tricks."  It's about the Better Business Bureau's shrinking membership and relatively ineffective feedback techniques (to wit, Yelp.com gets seven time their web traffic.) I separated the article from the normal recycling and vowed to write a blog post about it.  A month later, here we are.
While I was reading it, I couldn't help but mentally substitute the NAR (National Association of Realtors) every time I read BBB.  From my perspective, the NAR is all but useless.  Their educational efforts are second rate, there are much better conferences and webinars out there for next to free.  Despite their feel good advertising, real estate agents continue to be perceived as less than hard working and trustworthy.  Lobbying lawmakers is their only success story, but I strongly disagreed with their nanny state lobbying efforts during the 2008 "bank collapse."  I continue to respectfully disagree with their constant cries for government subsidies and tax incentives for home ownership.  How can we oppose subsidies to one industry and call for them in ours, and still take ourselves seriously? Alas.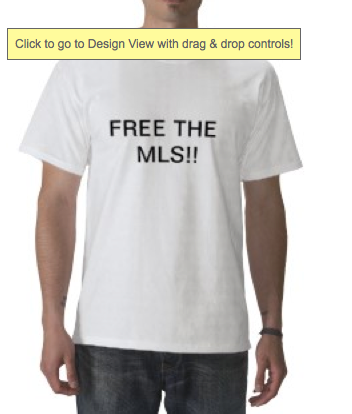 I was reminded of this long overdue post when I was in Atlanta at a tech conference last week called RETSO.  RETSO is a great example of why NAR and the state associations need to be out of the professional education business.  Conferences like RETSO give me enough material and inspiration to last more than a year. They are cheaper, not subsidized by any dues, and way more relevant.  (Sidebar – I didn't get Continuing Education credit because the Alabama Association of Realtors doesn't recognize it.)
Anyway, at that conference, a fellow named Rob Hahn was speaking about the future of the NAR and state associations. He made the point that these days a significant portion of Realtors are dissatisfied with these associations and are only members because we have to be to get access to the MLS.  He called for the MLS and the Associations to be separated, to allow people a choice of being a member of one, another, or both.
I clapped loudly.  One or two other people in the crowd of 300 timidly joined my applause.
Mr. Hahn then went on to make the point that a smaller NAR would be better, because all the members would want to be there, instead of being forced to be there to have access to the MLS.  He made the example of the NRA, a passionate group that is all about lobbying.  Maybe he's right. I do know that separating out the MLS is a great idea.  I say, so what if NAR loses members?  Should that be our goal, to have a large membership base?
Or is the goal to be great servants to people who need help with real estate?  That's my goal.
Let's say NAR has 2 million members, and then increases in one year to 4 million. How does that help me help a buyer more effectively? Am I automatically a 100% better listing agent because of it?  Please.
Here, here, Mr. Hahn.  Free the MLS, I say. Maybe I should make T shirts.  No offense to the NAR or its many members.  Who knows, if they shaped up, maybe I would join in on their new journey.  Until then, they would be welcome to continue going to conferences to hear Regis and Lou Holtz and Lionel Richie teach them about real estate.