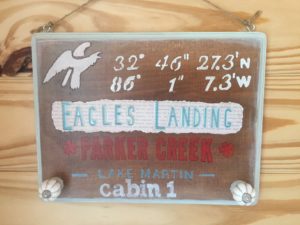 Did you know that the tiny house, big living lifestyle had arrived at Lake Martin? Well it has – at least in the form of rental cabins at Parker Creek!
Herb Winches, founder and developer of Eagles Landing at Lake Martin (and restaurant – The Landing at Parker Creek) saw the need to have a place to "stay in style and play outdoors."
Each of the 3 cabins are fully furnished with all the modern conveniences of home. They each feature a 13 ft. vaulted ceiling and a screened in porch that faces the lake. The master bedroom includes a queen size bed (no climbing to a loft bedroom here).  Stacked bunk beds are in the hallway.
A free boat slip is provided during your stay. And you can enjoy a great beach and large swimming area too! The cabins are 550 sq. ft. and are great for relaxing and enjoying all that Lake Martin has to offer with family or friends.
For more information click here for the Eagles Landing at Lake Martin website or call 205-598-8922.
See for yourself – I think you will agree tiny homes = big fun!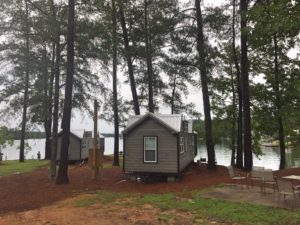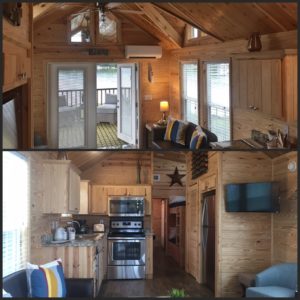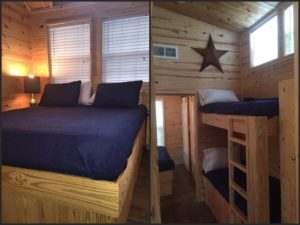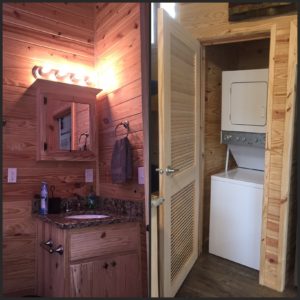 Part two of my Lake Martin Remodel in Parker Creek covers its interior transformation.
In a previous blog post I showed you before and after pictures of the changes made to the exterior of the home, the boat house and dock for this property in the Parker Creek area. (For the earlier post CLICK HERE  for Lake Martin Remodel in Parker Creek).
Now look carefully at the before and after pictures of the interior – no more "wood" paneling, popcorn ceilings and wall to wall carpeting everywhere. I have wood paneling at my lake house and the best I could do was merely paint over it. I am not sure how the home owners did it, but they somehow floated some sheetrock mud over the grooves in the paneling, or something. Whatever they did, the results look incredible. I thought they had pulled out the paneling and installed sheetrock.
They also tackled the popcorn ceilings. Popcorn ceilings are not all that uncommon at Parker Creek because when that area of Lake Martin was developed over the 1960s, 70s and 80s, popcorn ceilings were popular. The problem is that they are messy to remove. These homeowners removed the popcorn, right down to slick sheetrock, then painted it. Look at the difference!
The interior makeover is awesome. It was made brighter with new lighting, fresh paint, and updated interior finishes. The kitchen and bathroom countertops were replaced and tile backsplashes were added. All of the interior doors were replaced including closet doors. But enough of my talking about it – see for yourself!
I am happy to help you look for your own fixer-upper or move-in ready home in Parker Creek or anywhere on Lake Martin. Give me a call at the number at the top of the page or contact me here.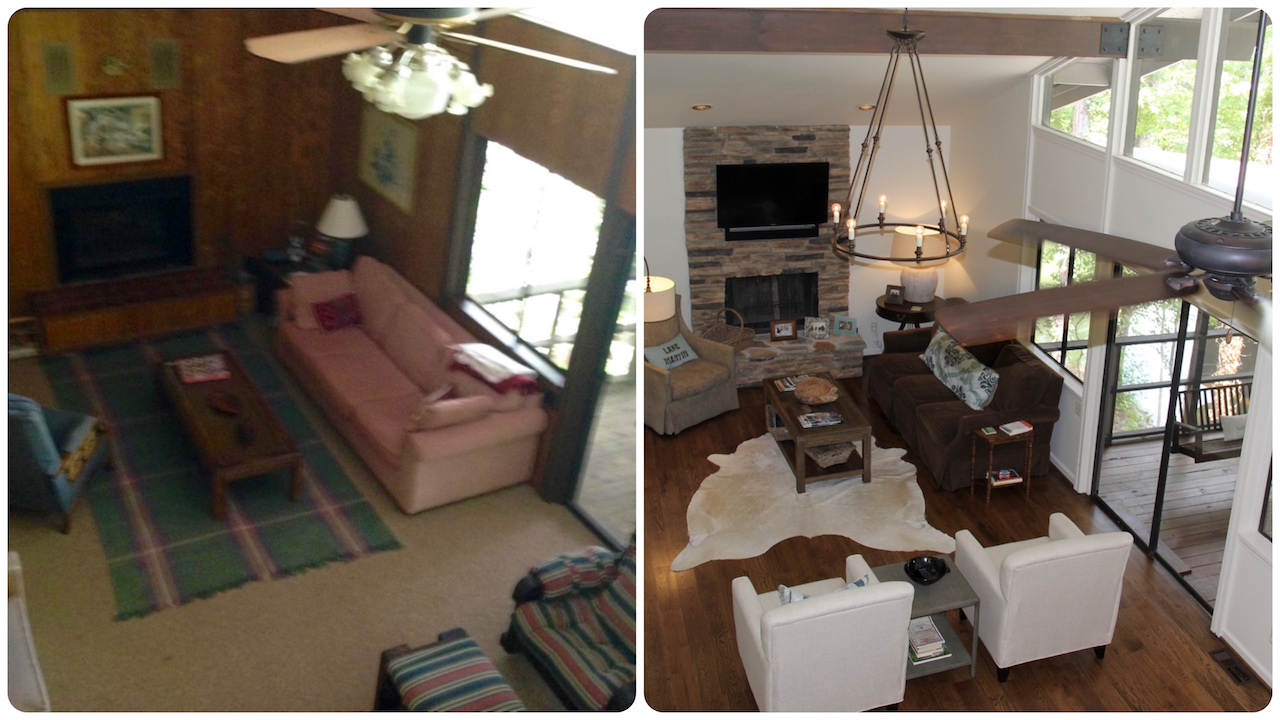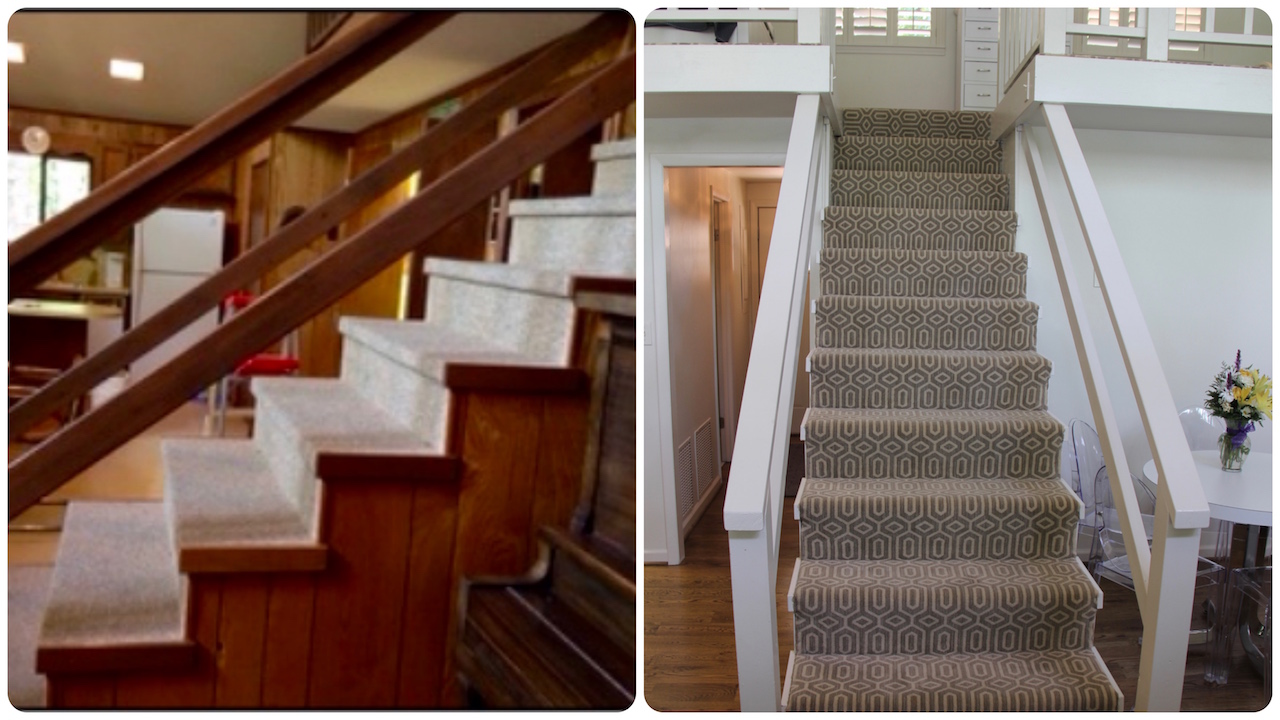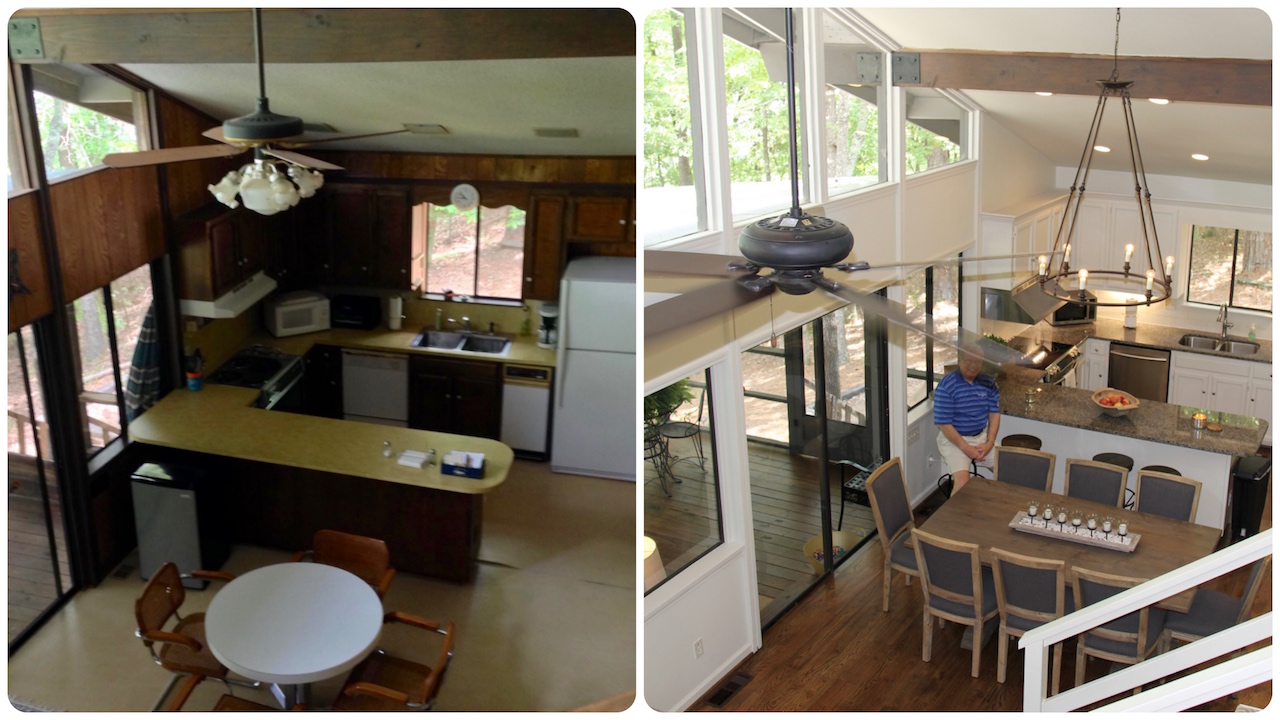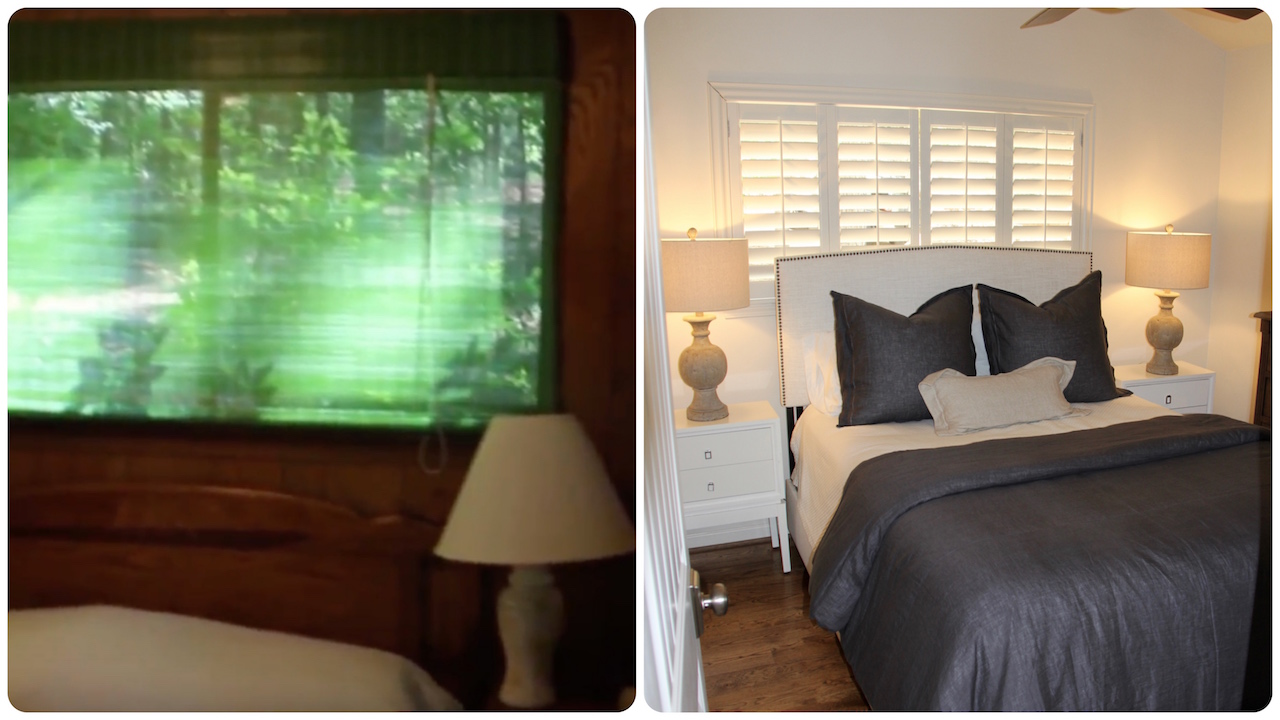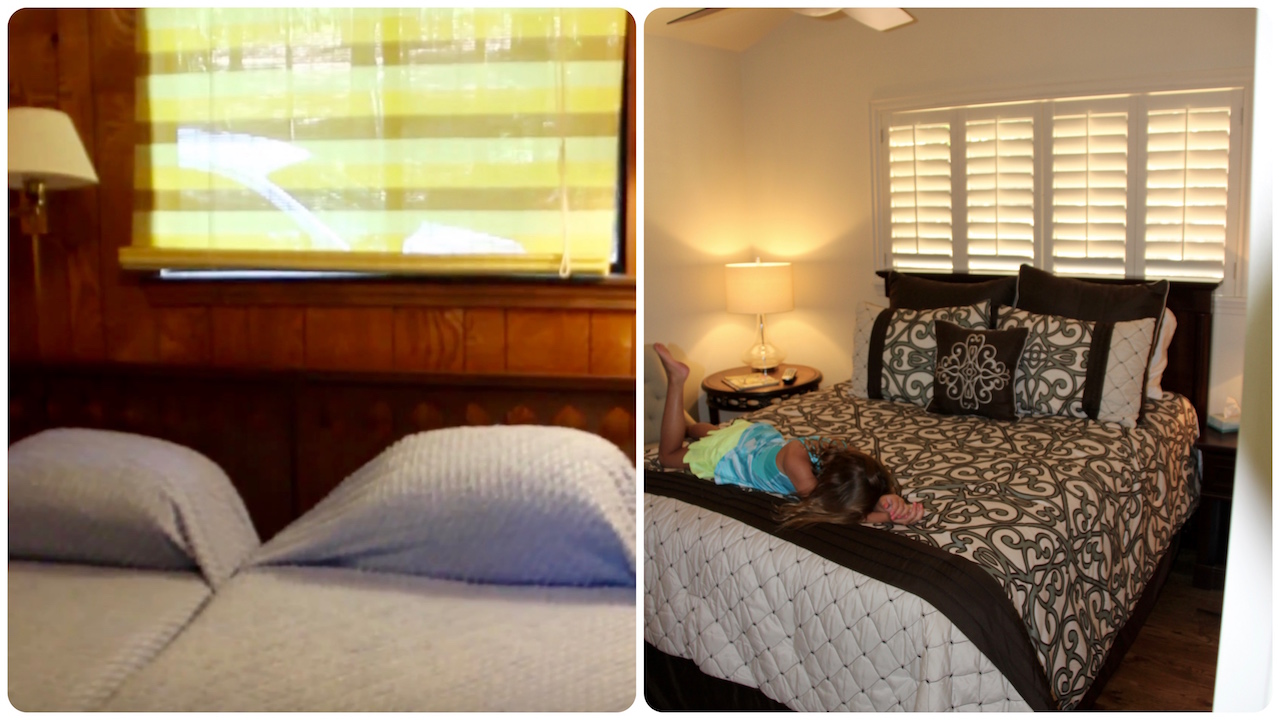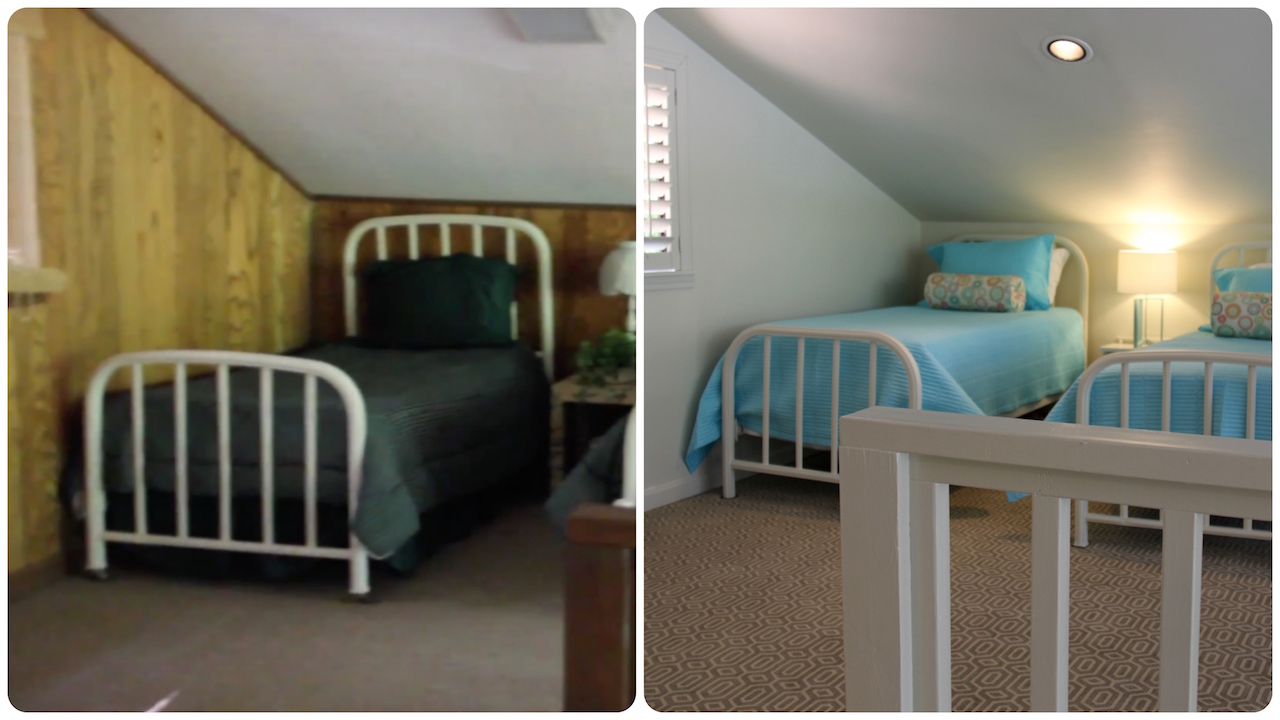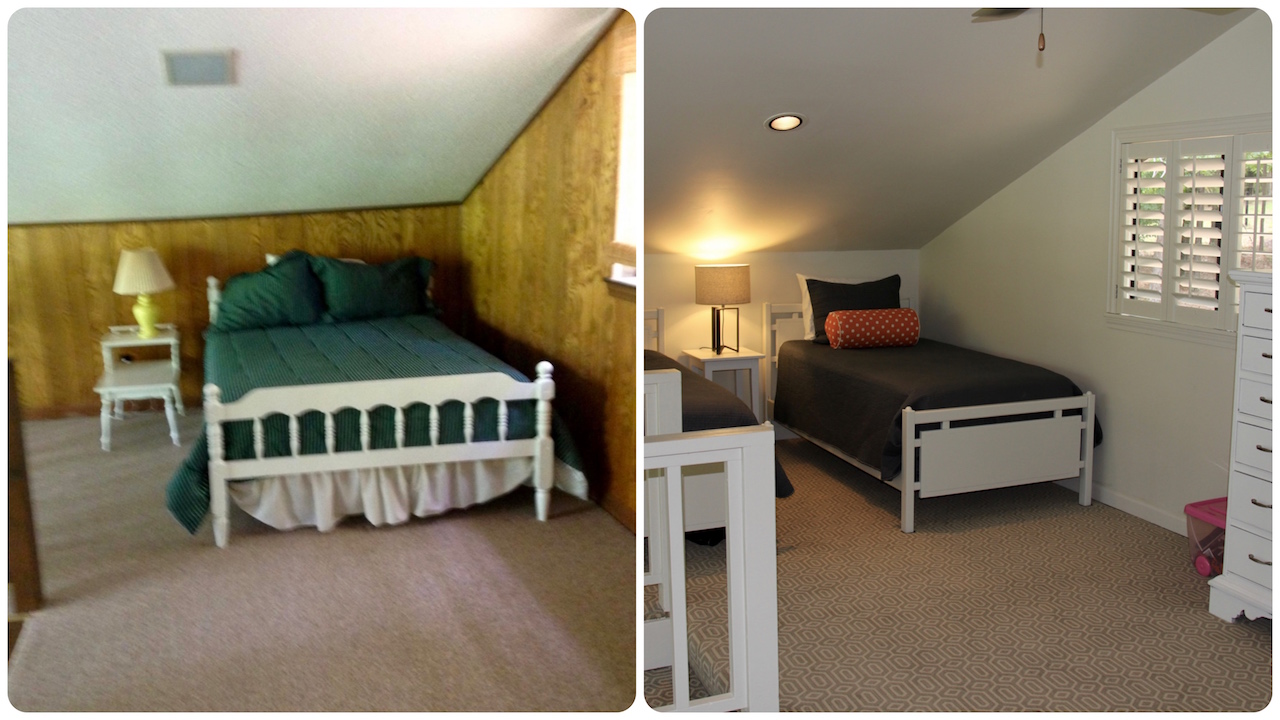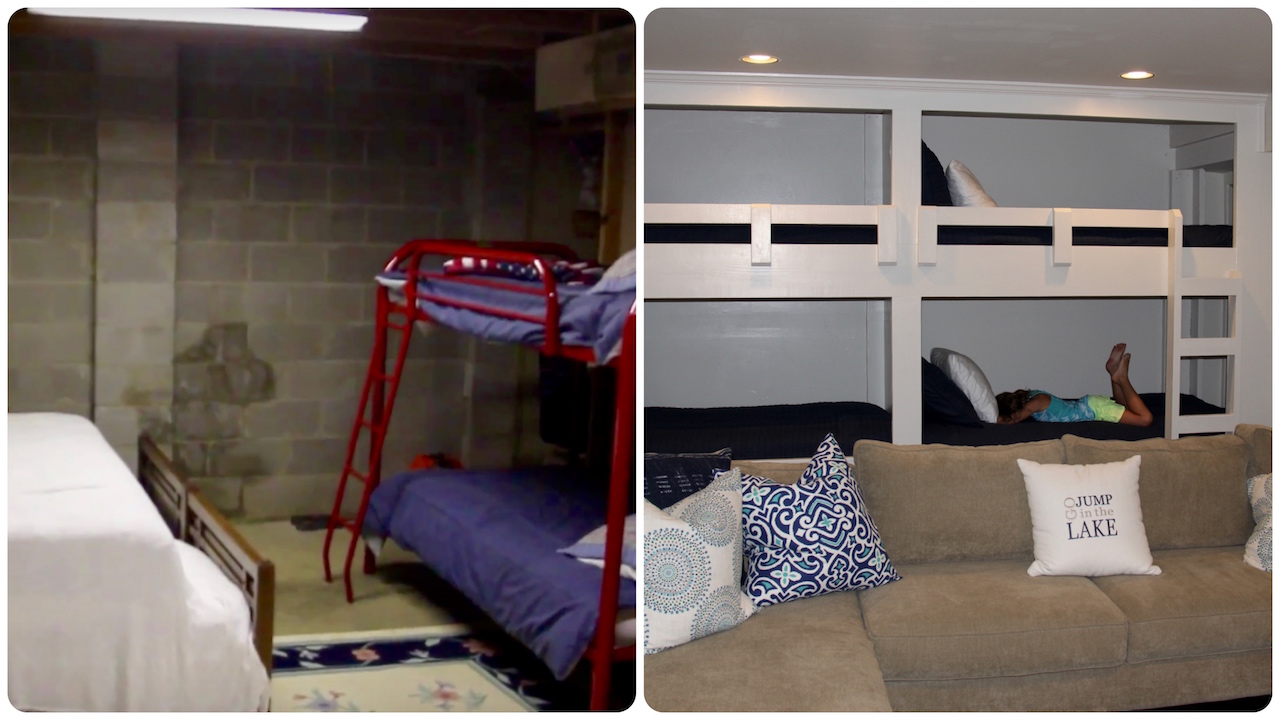 Come have some great family fun at the Cornhole Tournament being held at The Landing at Parker Creek – Lake Martin on Labor Day Monday, September 5th at Noon!
No entry free!
Cash prizes awarded per team!  1st place – $200, 2nd place $100, 3rd place $50!
What? You've never played cornhole? Just learn a few cornhole terms and you will be yelling "Let's toss some!" before you know it.  For starters a slider is when the bean bag (or bag filled with corn) slides into the hole.  A swish is when the bag lands straight into the hole.  A Sally is a toss made a little too short – it lands on the ground before reaching the actual board.  And an Eddie the Eagle is when the bag goes beyond the board without hitting the board.  Oops.
Let me end on this note – like Herb Winches, owner of The Landing and longtime Birmingham sportscaster likes to say, "Hit 'em straight!"
Google Maps location for The Landing at Parker Creek
The new restaurant here on Lake Martin, The Landing at Parker Creek, just opened! I decided to go down and video the area, take a look in the video below. PLEASE NOTE: The Landing's # is (205)410-6190!! Please don't call me unless you want me to try and sell you some real estate!!
The restaurant has a unique, casual setup with areas to eat, drink, and even play yard games like cornhole, ring toss, and ladder toss. There are 21 new boat slips, so visitors can come by boat or car to enjoy the food and fun atmosphere.
To see more about this new restaurant: check out their website at www.thelandingatparkercreek.com and their Facebook page HERE. 
Located at 486 Parker Creek Marina Road, Equality, AL 36026
Phone: (205)410-6190
As you might guess from its address, The Landing at Parker Creek is located next to Parker Creek Marina. It is already a great addition to the Parker Creek area and Lake Martin as a whole. I am excited about eating there for years to come!
If you would like to see waterfront lots and homes for sale in Parker Creek, CLICK HERE for my Parker Creek Neighborhood page. It has a live MLS feed so it's always up to date!
If you want to keep up with new restaurants in the area, or just find a new place to grab a bite to eat, check out our "Eats" tab on the Lake Martin Voice Realty App.
The Lake Martin Voice app is available in the Apple App Store and on Google Play for Androids.
Click here for more information about our app!
My Saturday was spent with a fun couple from Georgia, showing them Lake Martin waterfront homes for sale in Parker Creek.  Around lunchtime, we had an hour break in between showings and I was starving.  But with only an hour to spare, our lunch options were limited: bottled water and peanut buter crackers at the Parker Creek Marina were the best we could do.  And I was thankful for those.
Fast forward a year to next summer, same situation, except I plan to have lunch with my clients at Parker Creek Marina's new restaurant.  That's right – Parker Creek Marina is opening a restaurant in 2015, and I think it's a great addition for the west side of the Lake Martin.  Below is a picture I took of their plan.  It's on a bulletin board inside the ship's store, so it's available for everyone to check out.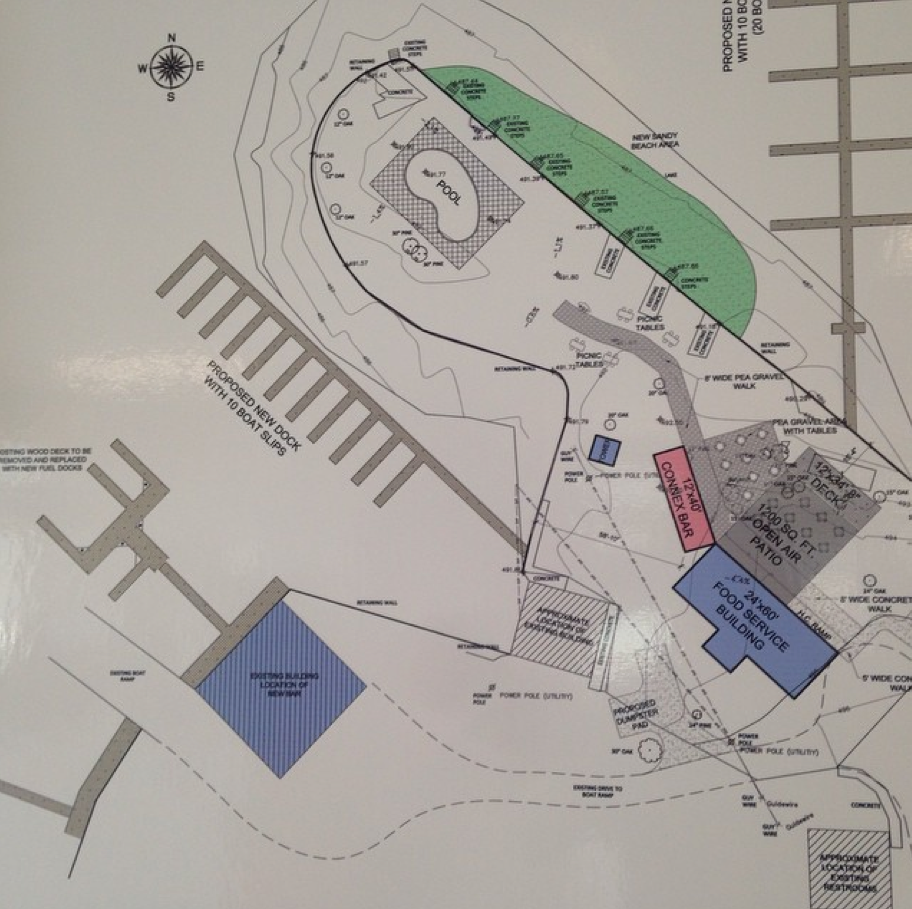 The back story on this restaurant has to do with the elusive Parker Creek food boat I've been searching for.  There were plans for a food boat (like Nibblers Float Thru Grill near Blue Creek), but the marina was told it had to install new septic in order to run this boat and be up to code.  They decided if they had to have new septic, they might as well have a permanent restaurant on their premises.  Parker Creek is such a popular area of the lake, and there just aren't many restaurants close by.  I hope they have wild success, and I will gladly swap in my bottled water and crackers for whatever fare they decide to serve.
If you're looking for a waterfront home in Parker Creek, the addition of this restaurant makes this area even more attractive. Give me a call and let's talk Lake Martin real estate. I'm a full time agent at Lake Martin, and 100% of my realtor time is devoted to helping clients buy and sell property here.  I can help you with any listing in the Lake Martin MLS, regardless of who has it listed.  I'd love to help you, too.
If you're looking to buy waterfront real estate, that means you probably want a boat.  And if you have a boat, you probably need some gas.  When showing Lake Martin waterfront homes, I often get these questions, "Where is the nearest marina?" " How do you get there by land?" and "How do you get there by water?" If you're looking for waterfront homes for sale in the Parker Creek area, then take a look at what Parker Creek Marina has to offer:
I've heard all about this food boat that is operating out of Lake Martin's Parker Creek Marina.  I haven't seen it yet, so I thought I'd drop by.  I went during the week, so the marina was closed and I didn't learn anything about the food boat.  But it was a pretty day and it gave me a chance to video their new dock.
I don't know exactly what Parker Creek has in store for next summer, but something's going on.  If you have any updates, let me know.
If you're looking to buy Lake Martin waterfront real estate in the Parker Creek area, check out my Parker Creek Neighborhood page.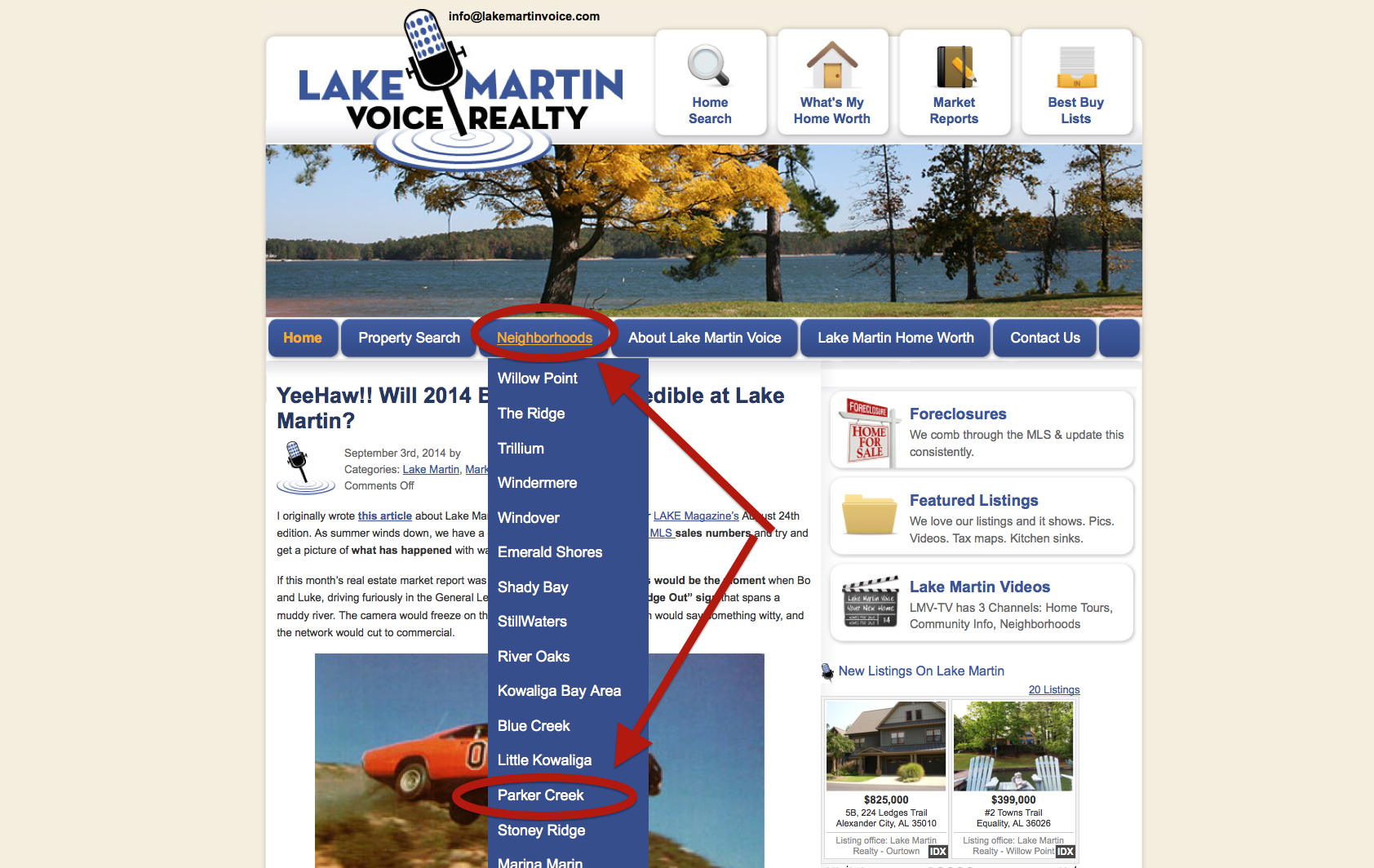 Lake Martin is huge, and it can feel overwhelming to search the entire lake for a home.   I created these Neighborhood pages to simplify the process.  If you know exactly where you want to be on the lake, quickly skim the live feed of current homes for sale in that area.  If you're not sure where you'd like to buy, use these pages to learn about Lake Martin in manageable chunks.  Each Neighborhood page has a video tour, a history of the area, a map showing boundaries, and most importantly, a live MLS feed of homes and lots currently for sale.  These are not just my listings – these are all listings from all agents and brokerages.
And if you see something you like, or you want help sifting through the info, give me a call and let's talk Lake Martin real estate.  334 221  5862.  I'd love to work with you!
Kids like Lake Martin.  They like waterfront homes on Lake Martin.  And they are naturals at giving their testimonials on video – no coaching necessary.
This video below was sent to me by my buyers, the new owners of a lake house in Parker Creek.  Their daughter volunteered to give their family's testimonial for me, and I think she does a great job.  Most adults cringe when asked to be in front of a camera, even if it is just my iPhone.  The fact that some agree to do it, I hope, is proof that they valued my help in the transaction.  But a kid?  Why didn't I think of this before?
And on the flip side, I'll bring back this video from 2010, where a mom (and friend of our family) talks about why she, as a parent, loves Lake Martin. There's a lot of wisdom in what she says – see if you agree:
So – if you're looking for a way to bond with your kids, try Lake Martin.  As a full time Lake Martin real estate agent, I'm happy to hook you up with a home or lot here.
Sometimes a Lake Martin waterfront purchase is all about the lot.  Sometimes it's all about the home.  In this case, for my buyers, it was all about where to put their three teenage boys plus their friends.  Two summers ago, Kent and Andrea found a cabin with a large wooded lot and a great view of Parker Creek near Parker Creek Marina.  The cabin was cute, but they really needed a little more room . . .
If you're looking for a home on the west side of Lake Martin (Kowaliga Bay, Little Kowaliga / Real Island, Parker Creek), you'll find a good number of older cabins that are dated or don't have a modern, open flow.  Some of these cabins have been added onto over the years and are a little wonky.  But if you like the lot and the view, I urge buyers to be open minded about the home – that is the one factor you can change.  Sometimes buyers have a hard time visualizing a remodeled home while standing in the midst of fake paneling and little choppy rooms, hence my recent efforts to share some recent renovations and give buyers inspiration.
I drove by Kent and Andrea's house in my boat last week and took a few pictures.  They graciously said I could share them with you, to give you a taste for what a remodel or facelift can do for an older lake home.  They expanded the home, adding living and sleeping space, but did not stray far from the original footprint.  The result is a fun home with modern conveniences and room for all the guys:
Pre Renovation View from the Water: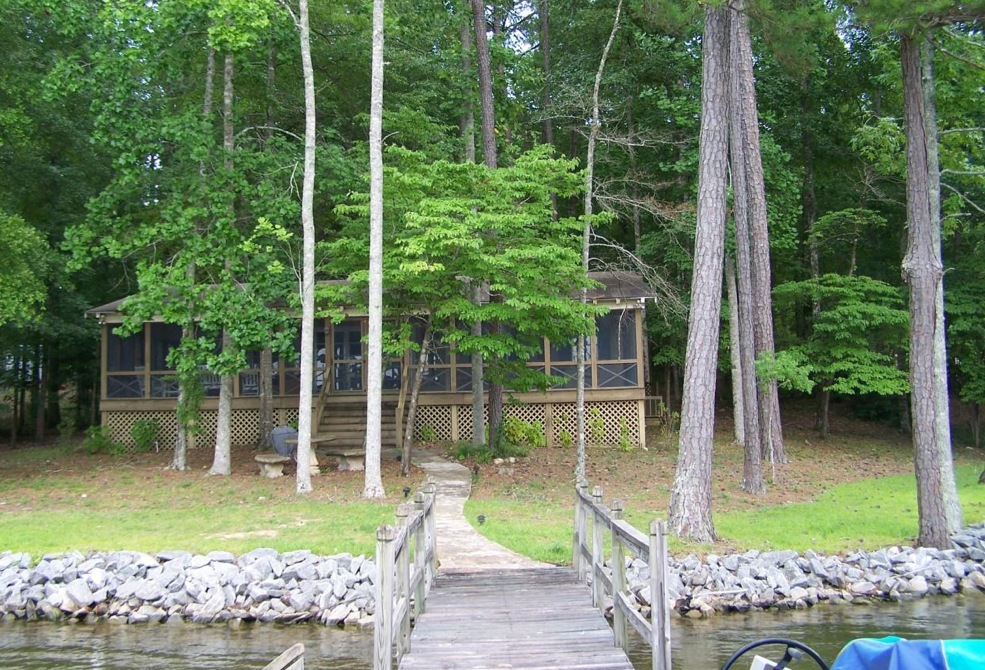 Post Renovation Water View: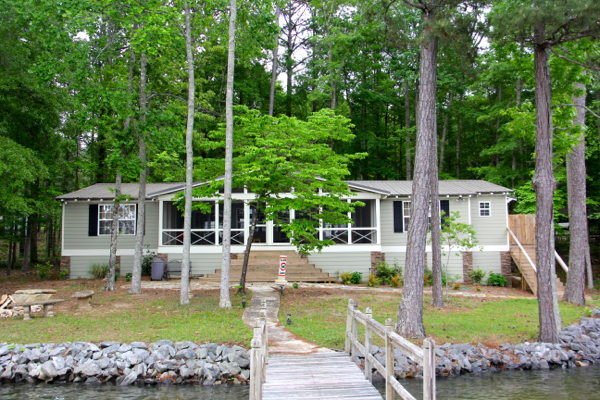 Pre Renovation Street Side of the Home: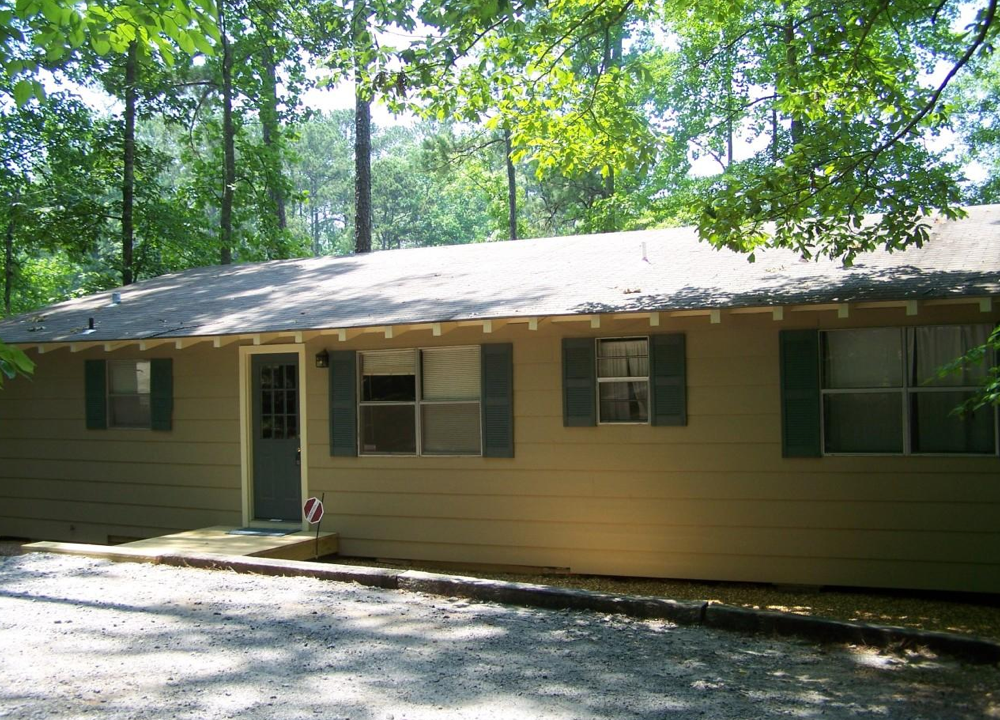 Post Renovation Street Side of the Home: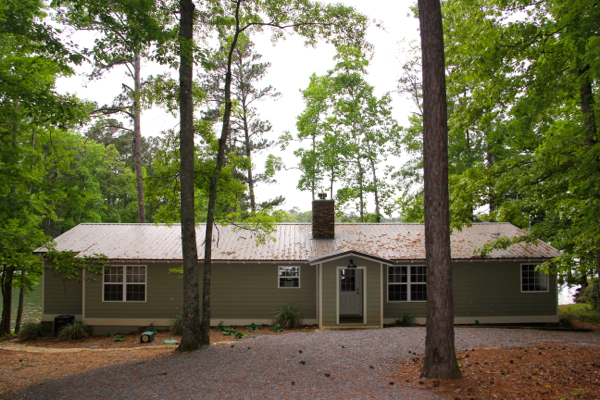 So how do you know how much money to put into a Lake Martin renovation?
Think about the LOT first.  You don't want to overbuild, so consider things like water depth, view, privacy, etc.  On a lot like this, with a view like theirs, Kent and Andrea could not really overbuild.  It's an awesome lot.  In the back of a tight slough without year round water, however, buyers need to be conservative.
If you're looking for a home in the Parker Creek area, check out my Parker Creek Neighborhood Page.  Here you'll find all kinds of info on this part of Lake Martin, and most importantly, you'll find a live MLS listing all the homes that are currently for sale in Parker Creek.  I have Neighborhood Pages for most of the neighborhoods on Lake Martin, and they're a great resource to utilize when house hunting.
If you've been searching the MLS and are feeling frustrated with the homes you see, give me a call.  I can help you pinpoint the homes in your price range with most potential.  That's my job.  My number is (334) 221-5862, or you can click here to email me.  I'd love to be your realtor.
Related Posts:
Lake Martin Dream Renovation in Parker Creek
Real Island Renovation Part Two: Peeling Off the 1980's
Rarely do I feel like I live a life that would be featured in Garden and Gun magazine.  Somehow, when they feature folks that harvest herbs from their own yards, they come off as locavore specialists, whereas I feel sort of cheap.  These experts create handcrafted bird houses with wood from reclaimed Amish barns;  I buy mine at Wal-Mart.
The one time I felt as special as they are was when some friends invited us to eat al fresco at their Lake Martin home.  Both the husband and the wife are artists per se, who also know how to cook and entertain.  Eating outside on the deck at night at their Lake Martin home felt purposeful and special.  At our cabin we only eat outside when there are too many people, or when someone has burned something in the oven.
This picture, taken from the upper deck of 102 Grandview Lane, says "Dinner Party"  to me.  You've got the shady, secluded, tree house atmosphere, and then there's the view of Willow Point across the water . . . some places just invite you in.  I can see friends gathering in late afternoon, and lingering here well into the evening.  Throw in a fire pit or one of those chiminea things and you have a favorite autumn hangout.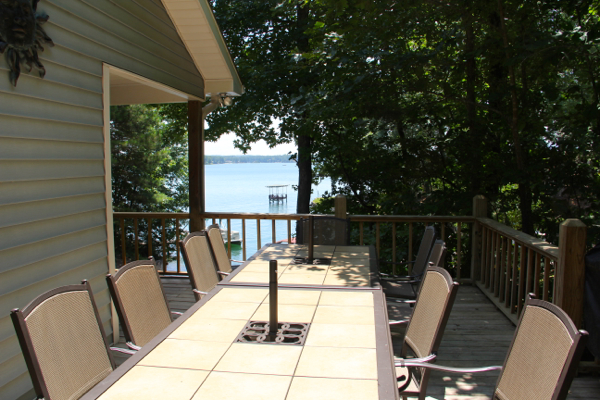 This house is a great buy for the Parker Creek area.  Deeded homes in this price range – in this area – are usually what I call match stickers (aka most people would burn it down or tear it down), but this four bedroom, two bath home is a tooth brusher (as in . . . move in ready, just bring your toothbrush).
Take a peek at the rest of the photos and listing info for 102 Grandview Lane by clicking here.
And click here to watch the VIDEO TOUR of the entire property.
Give me a call (334) 221-5862, or click here to contact me if you'd like to know more about this home, or any property in the Lake Martin MLS. 
When searching for waterfront homes in the Lake Martin MLS, you are bound to come across one of the areas on Lake Martin called Parker Creek.  Parker Creek is not a formal neighborhood – it describes a very large area located on the northwest side of Lake Martin.  It is in Coosa County, Alabama, and accessed by Coosa County roads.  It gets its name from, you guessed it, Parker Creek, that once flowed into Big Kowaliga Creek before Martin Dam was constructed.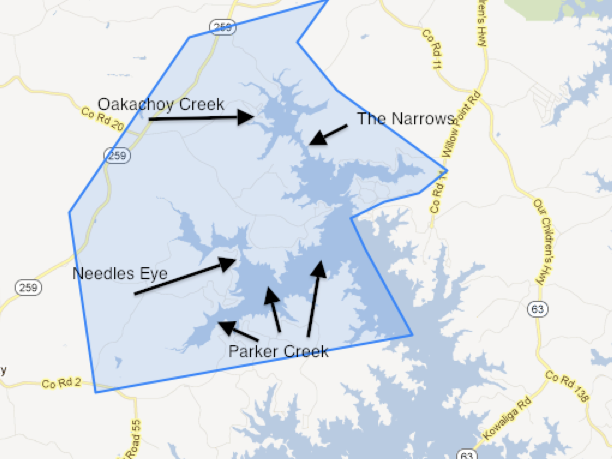 If you would like to see waterfront homes and lots for sale right now in the Parker Creek area, CLICK HERE to go to my Parker Creek Neighborhood page. I have a report that shows every waterfront home and lot for sale – by all agents, all brokerages, on Lake Martin. It pulls from the Lake Martin MLS so it will be current no matter when you visit the page.
Now, what you see in the map above includes a lot more than Parker Creek.  When you use my website to search the MLS for current homes for sale in Parker Creek, you'll notice I've also included Oakachoy Creek past the Narrows, The Needles Eye, and Pitchford Hollow. My fellow locals, especially, will call me crazy for including these micro-areas in a Parker Creek search. I agree, they are not technically on Parker Creek, but they are close enough. And I can't break these searches into every tiny slough and hollow or I would have a million Neighborhood Pages for Lake Martin. Basically this search catches every waterfront home and lot that is north of Sand Island and not in Willow Point. If you are relatively new to Lake Martin, you won't care about this trivia. Sticklers, please forgive me and see the above map.
As one of the older areas that were developed on Lake Martin, you'll see large homes with character, and smaller homes built with fun on the lake in mind. This is because most of this land was once owned by Alabama Power who leased the land to homeowners who then built their own improvements.  This program lasted from the 1950s to 1970s and resulted in a lot of little fish camp, rustic style homes. Then Alabama Power, over the course of many years, started selling each homeowner the lots underneath their waterfront homes. The Parker Creek area saw a renaissance of building as more people invested more heavily into their homes.
Parker Creek  has slowly populated over time to include tiny cabins that are next to million dollar homes. There are no official neighborhoods here, but there are lots of small, winding county roads, both paved and dirt. Generally speaking, the lots in this area are a little bigger, more wooded, and less sloping, and the feel is more rural. (Of course I can always find the exception to that statement.)
Parker Creek Marina is located on the south side of the Parker Creek and has a gas dock, dry boat storage, ship's store, and service facility. It's independently owned, and is perfect for boat owners and their needs. Many people from the Little Kowaliga / Real Island area also use Parker Creek Marina since it's so close to them by car.
Just like any waterfront home, lot, or condo on Lake Martin, I can help you with it, regardless of who has it listed. I would love to be your real estate agent. CLICK HERE to contact me, or you can email me (info @ lakemartinvoice . com), or you can call me at (334) 221-5862.