Is a waterfront construction project on Lake Martin any different than one in the city?  I wasn't sure, so I asked Doug Fuhrman, owner of Southern Traditions Construction, and lead man on this Real Island renovation project we've been following.  I was hoping there would be some exciting insider scoop I could offer my readers, but Doug's response was,  "Not really."
Ha!
OK.  So since construction is construction, no matter where you are, let me offer some real estate tips based on my experience selling homes on Lake Martin.  While these things may seem painfully obvious, you'd be surprised by what some folks do to their waterfront homes:
1) Windows and doors:
You are at Lake Martin to enjoy the water, even if you never dip your toes in it.  You need to see it.  And even better if you can see it from lots of places inside a home.  Why stick a tiny window in a great room when you can use a big one?  Seems pretty obvious to me, but you'd be surprised.  No buyer ever says, "I liked the house, but there was just too much view of the lake from the home."
It's hard to tell from the angle of this picture below, but across the front of the great room (back wall of the new covered porch) is a wall of glass.  New sliding doors have replaced a set of smaller windows, and the new bedroom addition on the right has wall to wall windows (minus space on the left for a closet, and the far right for the new master bath).  This is not fancy architecture; it's just putting more of the lake in front of your eyes.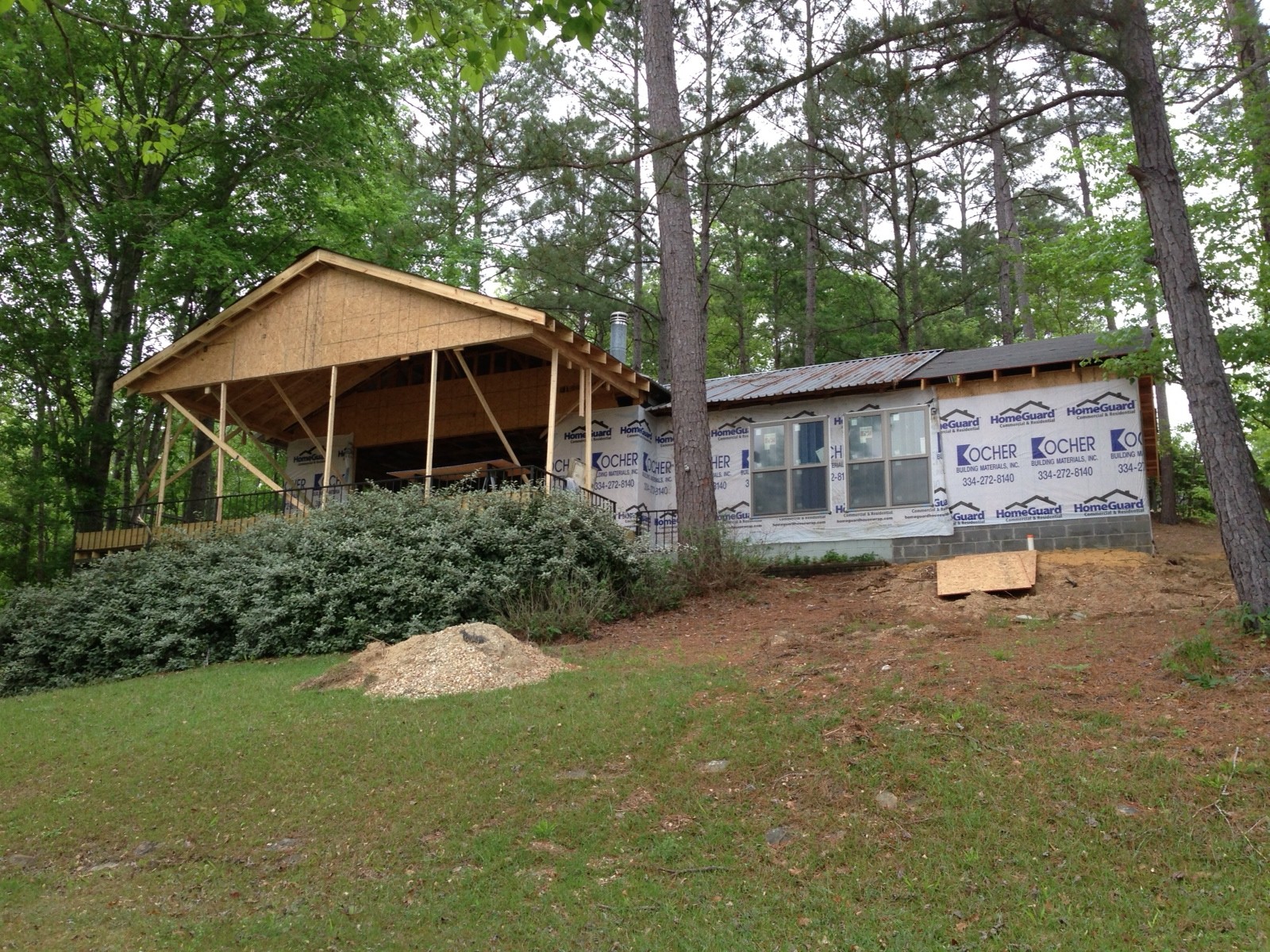 Before: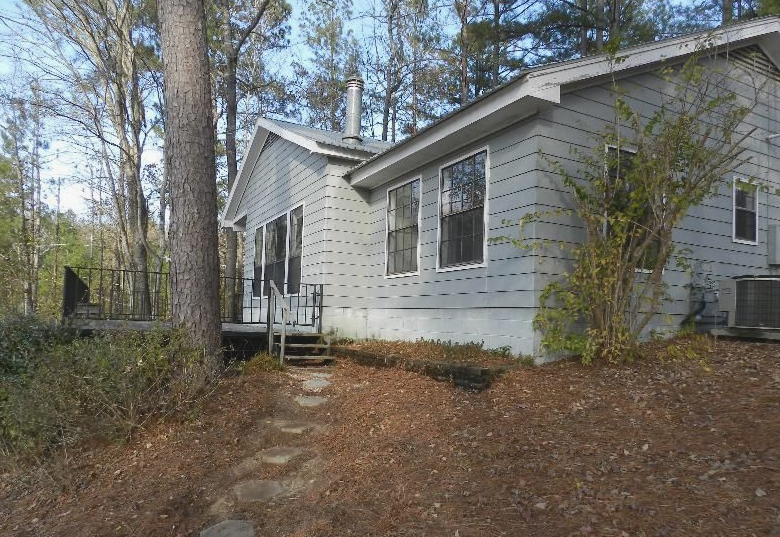 2) Covered outdoor living space
It gets warm here.  It also gets sunny.  And every now and then it rains.  The picture above is a great example of an outdoor space that is OK, but how much more use would it get if it had a roof?  The new owners of this home agree, and are creating a covered space that will be comfortable all day long – rain or shine.  Again, no buyer has ever said, "The inside of the house was great, but I don't want that huge screened porch."
3)  Access to the water
Make it easy to get from the house to the water.  A few years ago I sold a $500k waterfront home that literally had no way to get to the water (other than climbing over a wall and scrambling down a very long hill).  This was one of the first issues the new owners corrected, and imagine how much easier it is to enjoy Lake Martin!  Make it a priority to have the fewest steps possible to get from the inside of the home to the dock, and if the only way to the water does not cut through the master bedroom, even better.
In the process of rethinking this Real Island home, Lee and Amelia decided to add sliding glass doors to the front of the home where there was no lake access before, plus keep the side entry for folks coming in from the street.  Simple and efficient, and with a eye toward the lake.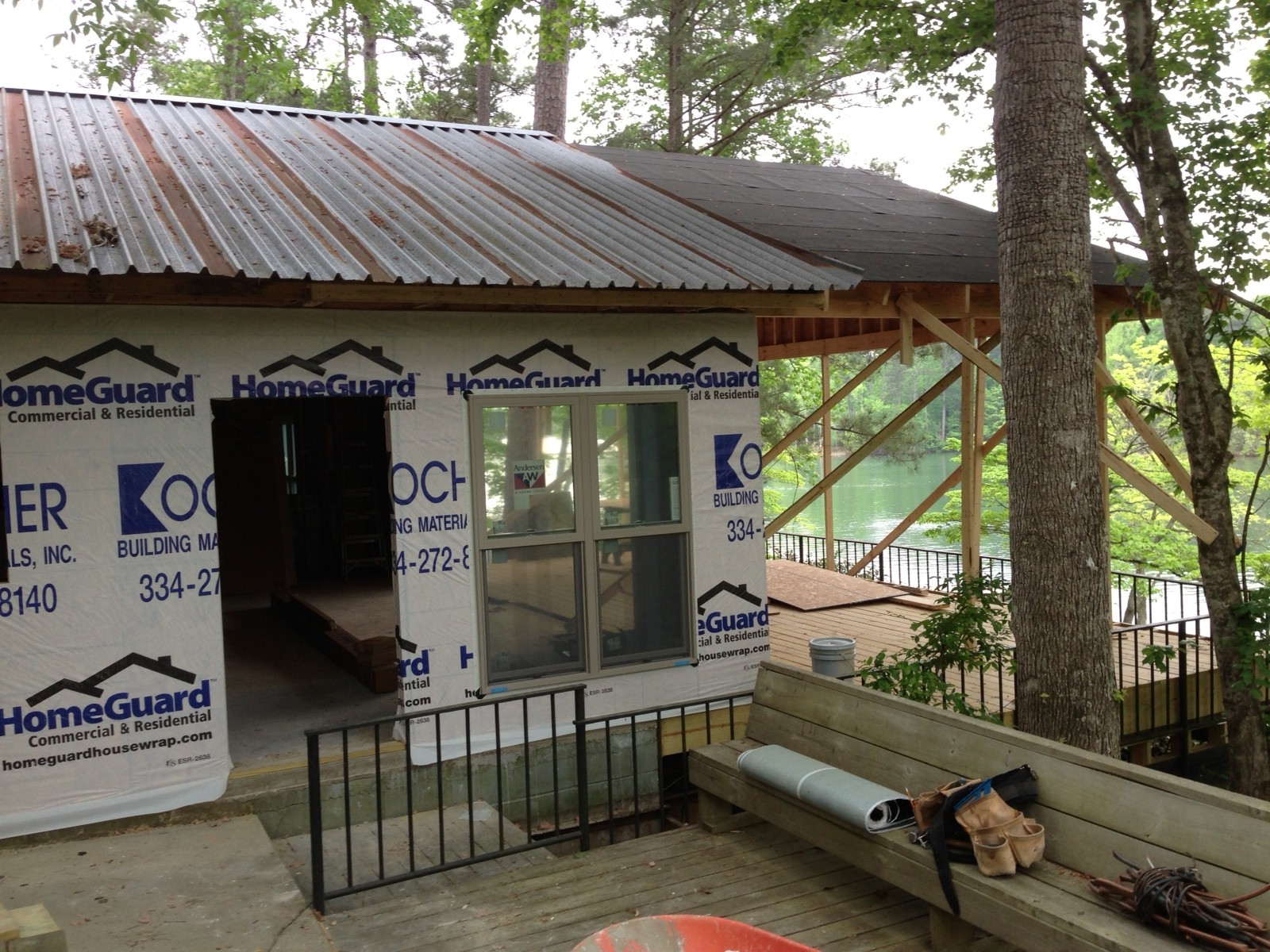 If you're looking for a home in the Real Island / Little Kowaliga area, check out my Little Kowaliga Neighborhood page.  You'll find all kinds of info on this part of Lake Martin, and most importantly, you'll find a live feed from the MLS with all homes that are currently for sale in this area.
If you have ANY questions about Lake Martin real estate, give me a call at (334) 221-5862 or click here to email me.  My job is help people buy and sell homes, and I serve the Lake Martin area 100% of the time.
If you have construction questions, however, I am not your guy.  Give Doug Fuhrman from Southern Traditions Construction a call at (334) 531-3914 or email him at [email protected], and he'll be happy to share his years of construction wisdom with you.
There's no turning back – renovations on this waterfront Lake Martin home in Real Island are well underway.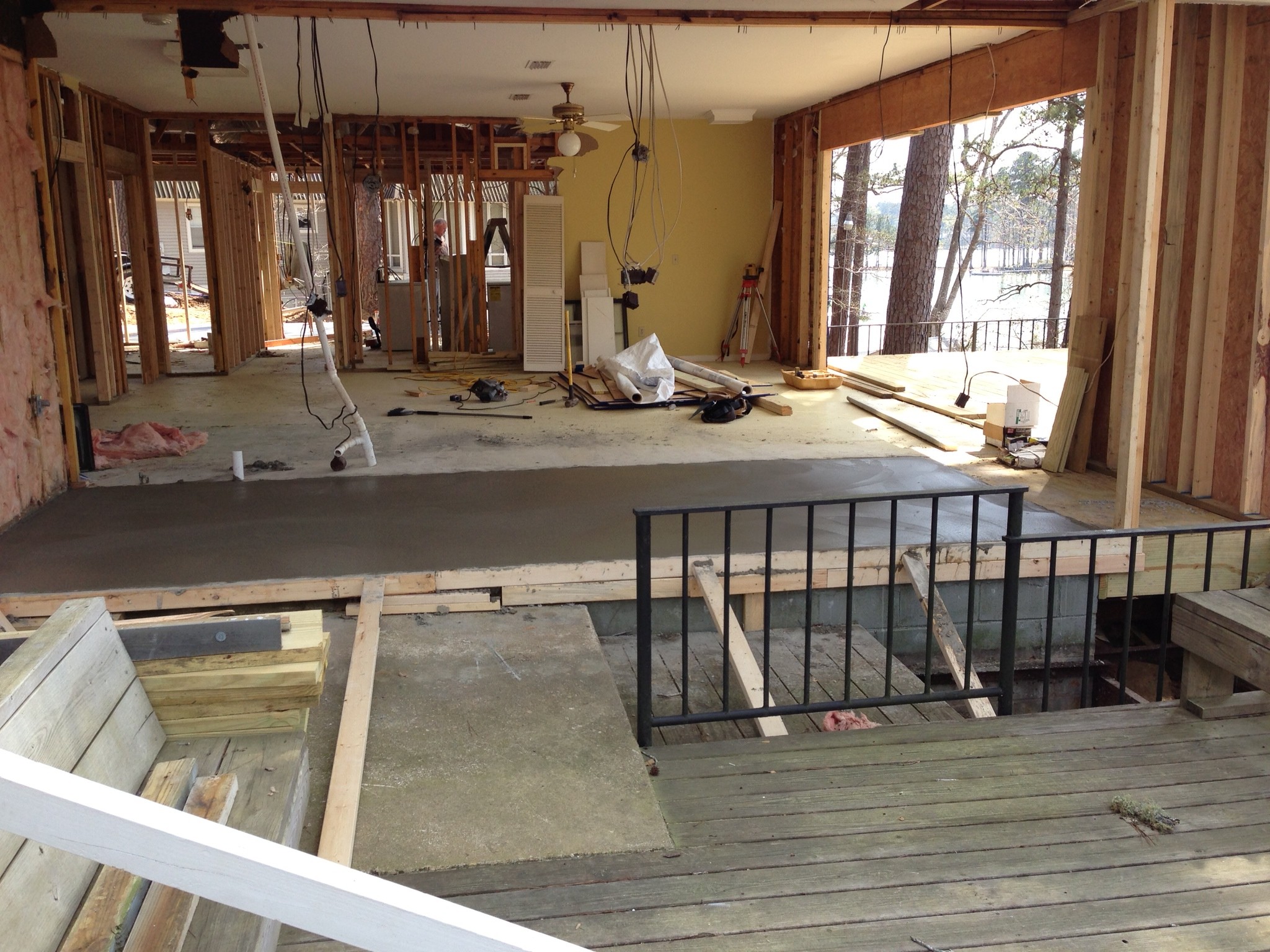 (For the first installment in this series, CLICK HERE for Real Island Renovation Begins)
If you love home projects, these pictures will make you excited.  If you're not the project type, then you're feeling a little anxious.  But Lee and Amelia loved this Real Island lot, and knew right away they would update the home before moving in.
Great view of Lake Martin, by the way!
It is very common to see this kind of radical renovation on the western side of Lake Martin. The Little Kowaliga / Real Island area is one of the older parts of Lake Martin, and thus has slowly populated over time to include tiny cabins that are next to million dollar homes.  Generally speaking, the lots in this area are a little bigger, more wooded, and less sloping, and the feel is more rural. (Of course I can always find the exception to that statement.) AND, there are really no undeveloped lots left.  When you see new construction on a waterfront lot in Little Kowaliga, odds are that person has torn down an old cabin or mobile home.
Contractor Doug Fuhrman of Southern Traditions Construction helped Lee and Amelia rethink the floor plan of the existing cabin, adding only about 400 square feet to the overall footprint, but moving things around to make the home work better.
For example, by bumping out the bedroom side of the home, they were able to expand the third bedroom and bathroom, and add a master bathroom: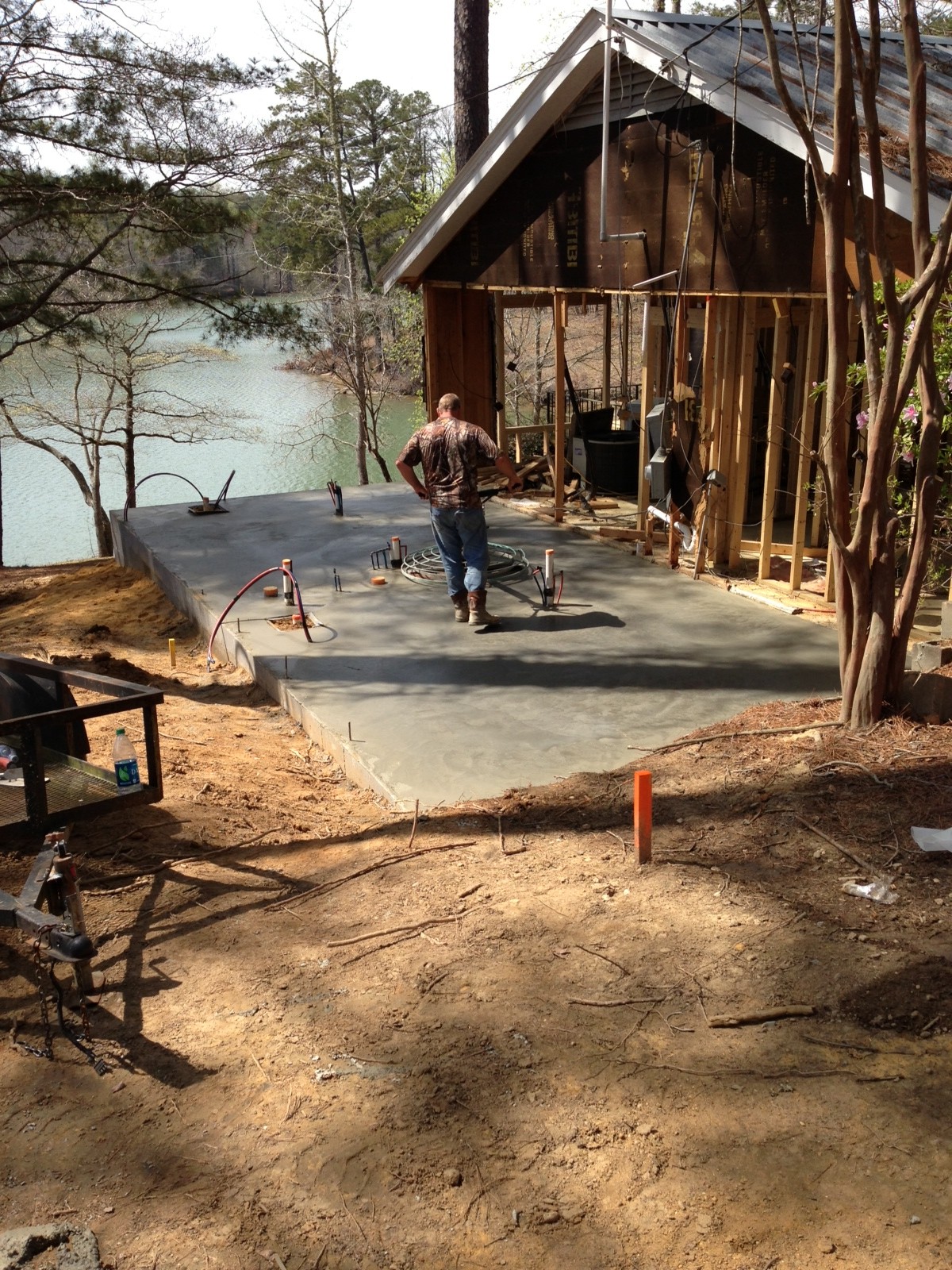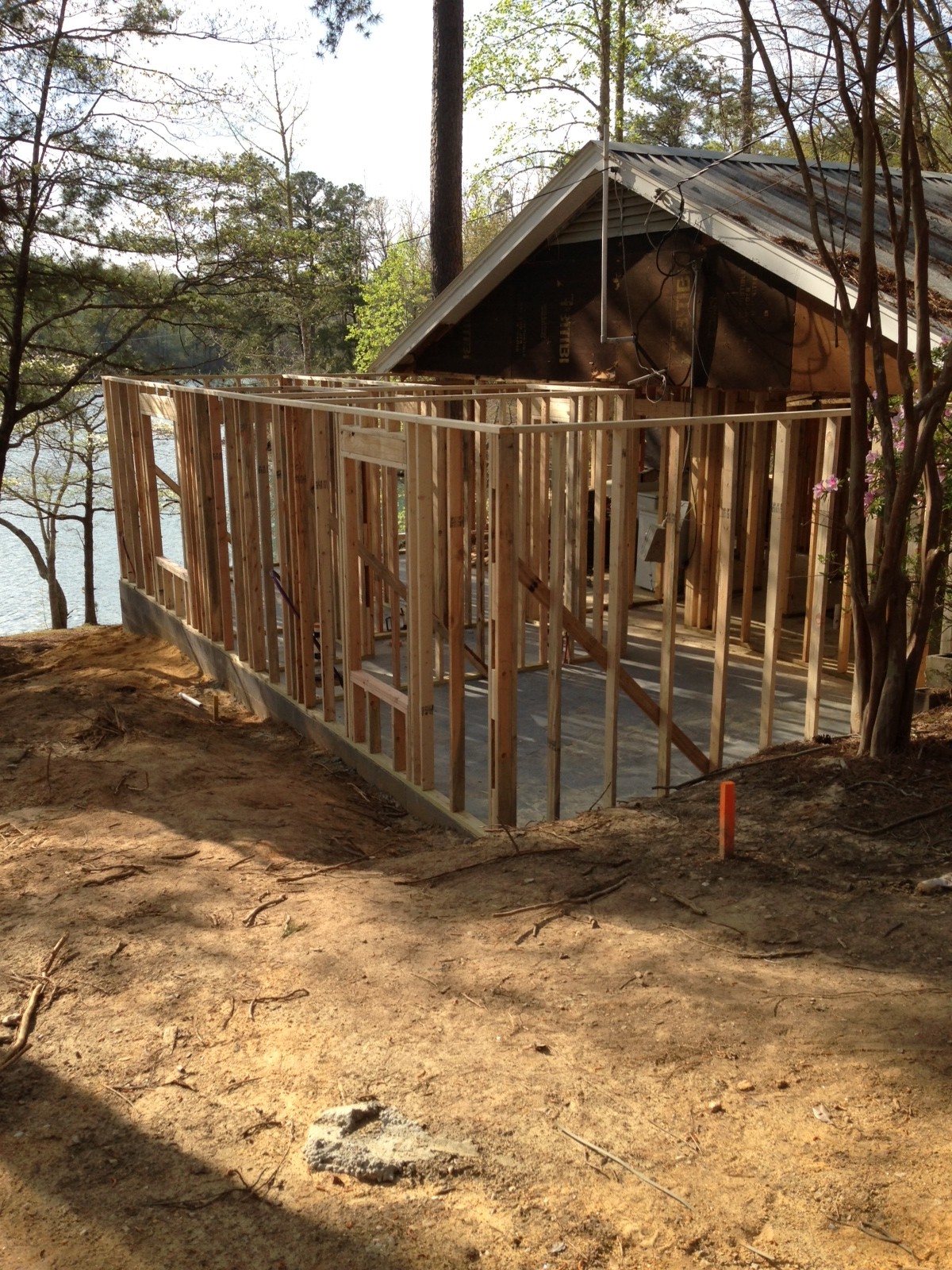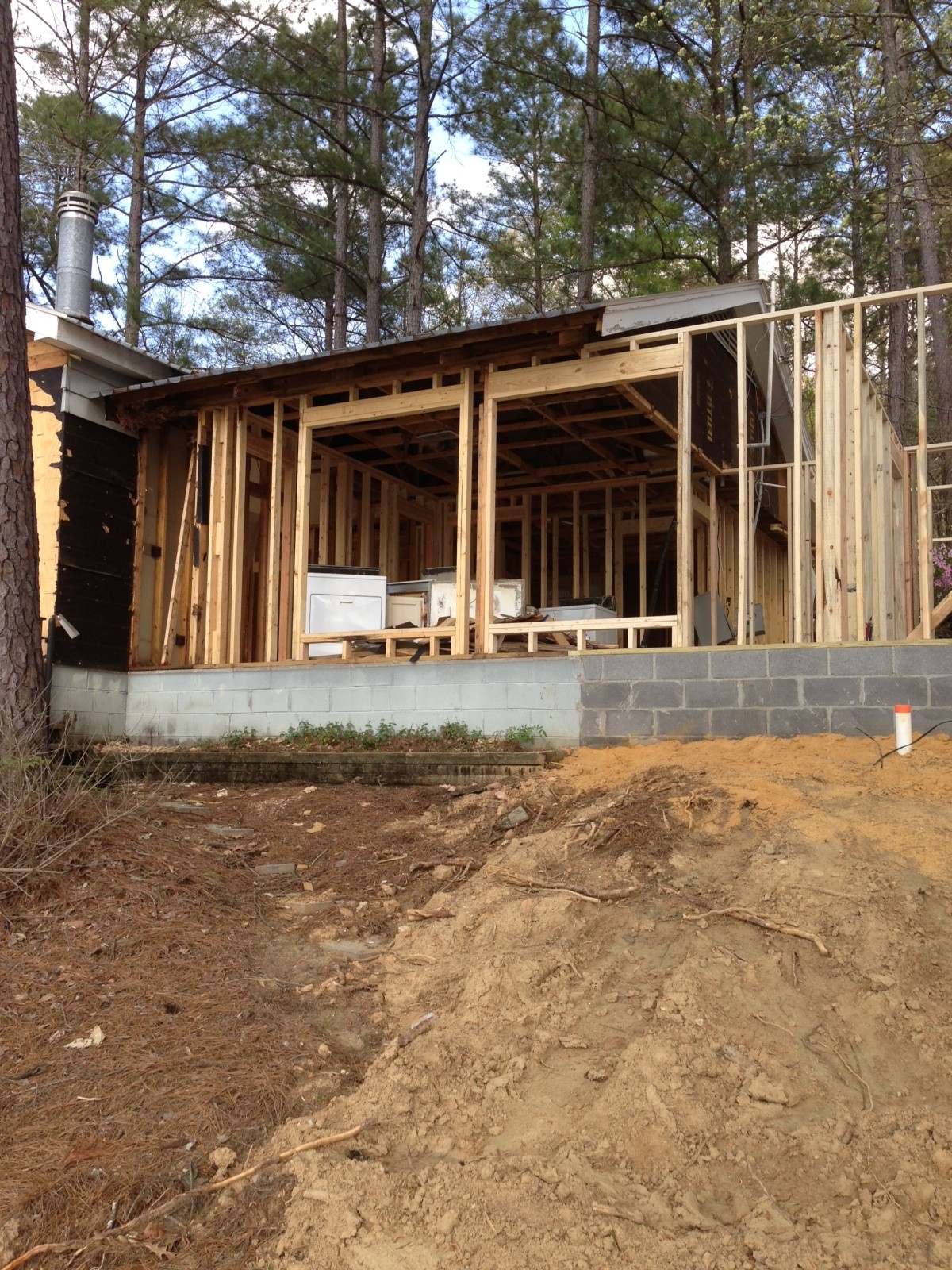 The homeowners knew they wanted to be in this area, and knew their budget, so renovation makes sense.  But for those of you who are not looking for a construction project, there are also new homes to be found on Lake Martin – both in and out of official developments.  For example,  in April 2013 Alabama Property Company released twenty nine new lots in Emerald Shores on the eastern side of the lake, you'll see new construction there.  Russell Lands is always building new homes in their various neighborhoods, and there are even a few flippers around, though not nearly as many as in 2007.
A Lake Martin realtor can cut through the hundreds of MLS listings and quickly identify homes that are move-in ready, or tear down opportunities.  I'd love to help you out with your Lake Martin search, so call me at (334) 221-5862, or CLICK HERE to contact me.
It's hard to beat a Lake Martin sunset.  I've been experimenting with this time lapse app on my iPhone, and the other week I recorded some pretty skies over Emerald Shores.  The video below is the sunset view from Lot 18, a 1.26 acre lot with +/- 321 feet of shoreline that is still available for sale.  For all the listing information on Lot 18, CLICK HERE.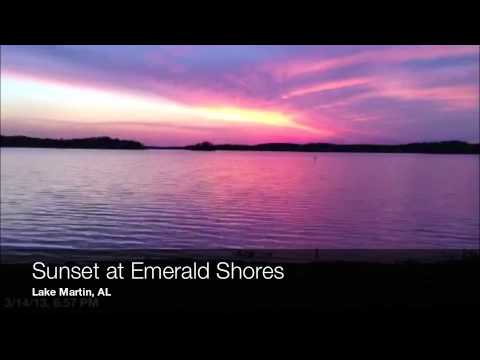 Here's an Emerald Shores SALES UPDATE, too.
As of April 23, seventeen of the twenty-nine lots that were released for sale by Alabama Property Company are under contract.  Two additional lots are in negotiations.  In thirty-eight days, sixty-five percent of the lots offered have gone under contract or are being negotiated (we at Lake Martin Voice Realty joyfully listed these lots on March 16, 2013).   These are strong sales numbers, especially when you look in the Lake Martin MLS and consider that in the entire year of 2012, a total of 38 lots waterfront lots were sold on Lake Martin, by all agents, all brokerages, everywhere.
Like I've said before, if you're interested in one of these lots, NOW is the time to call me.  They're moving quickly, but there are still some beautiful lots available.
Lot 18, featured in the time lapse video above, is a great example. It's flat, wooded, and private.  Alabama Property Co. has already installed a rip rap seawall, and that wall is included in the sales price. It's also a flexible lot;  there is a variety of ways to place and orient a home on this lot.  Check out the pictures below: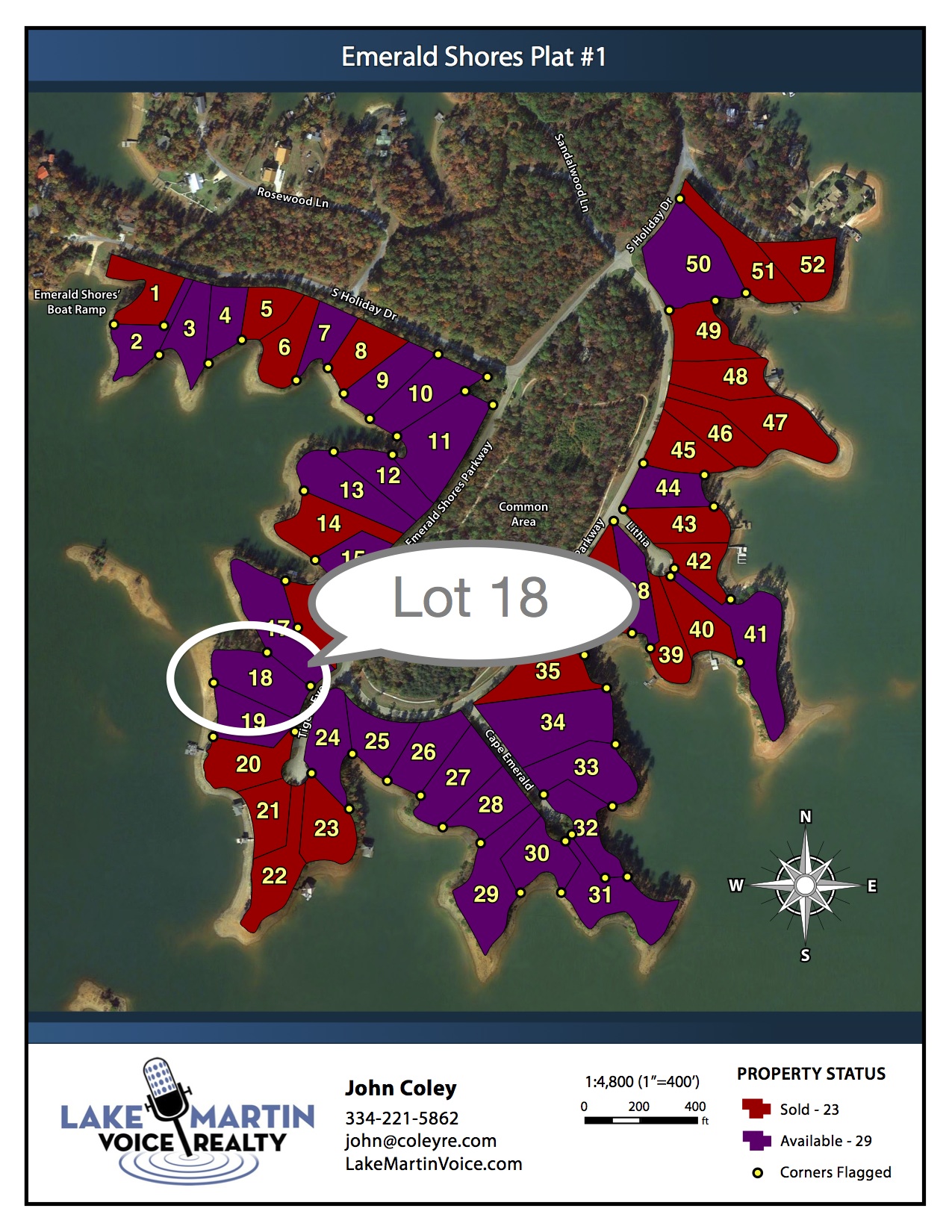 I also really like the lots on either side of Lot 18 – Lot 17 and Lot 19.   Big views.  Pretty sunsets.
For more information, give me a call at (334) 221-5862, or CLICK HERE to email me.  Lake Martin Voice Realty is the listing company, so we can answer all your questions.
Downton Abbey Fan Disclaimer:  I know Mr. Carson is a butler, not a waiter.  But the essence of Mr. Carson is what I'm after here, so please bear with me . . .

The mark of any good service industry pro is knowing when to step in, and knowing when to back off. Make no mistake, a good real estate agent has a lot in common with a good waiter. If I were the head broker of some huge real estate shoppe I would scour restaurants or other service industry places and recruit good waiters to be my agents.
They both know the inventory, know what they personally like, and also know how to help people find what they like. I am not the pushy type. I would rather set up someone and give them the tools to search, and then step in when they need an opinion on an area or a decision they have to make with their lake home.
I want to arm them with good information and I try to do that with neighborhood pages, custom searches, blog posts, and area info. I want them to feel well equipped to browse them menu, but to know that I am right there. I want to find the right balance of service through empowerment, and service through direct advice.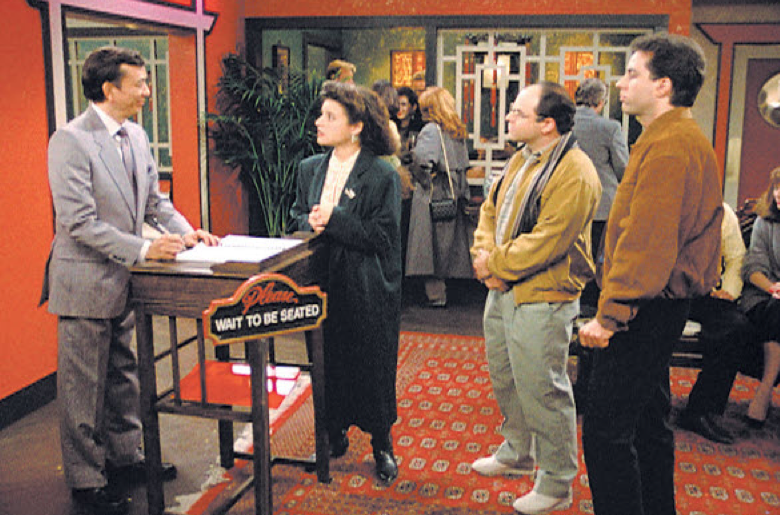 Isn't that what you like in a good waiter or waitress? Or stockbroker, for that matter? Sometimes we just want to hang out at the table for 10 minutes and talk because we haven't had a date night in three months. Leave us alone. Let us causally peruse the menu. Sometimes we are on a schedule and just need to get some food now.  A good waiter or waitress knows the difference, knows when to step in, monitors your progress without you feeling stalked. That's really all I want to do as your Lake Martin agent.
It's as simple as that. Mine is a position of service. Yes, I feel I have some technical real estate expertise and I feel I have lots of knowledge about the menu, and more critically, about what is NOT on the menu and what other people have ordered in the past. Agents need to listen more than they talk.
But when you boil it down, I think a good real estate agent, at Lake Martin or anywhere else, should have a servant heart.  Allow me to be the Mr. Carson of Lake Martin real estate.
I used to think Lake Martin Voice Realty was pushing the forefront in real estate video until I saw the video below of a property in Napa from Realty World's Christine Dwiggins.  Wow!
Sure, they had a huge budget and hired actors and a production company. But can't I do the same thing in a small volunteer way?
Aren't there some of my friends that would volunteer to be in my listing videos? Or local aspiring actors to tap?  So I guess the real title of this post should be, "Do my friends love me enough to act in my real estate videos?"
These are the type of videos I'm impressed with.  The production quality is great. There are a lot of agents nationwide that are working very hard to give their clients serious exposure.  I saw an interview with Christine Wiggins about this Napa video, and she said they filmed for 16 hours to get all the shots they needed.  And that was just the filming.
So I'm trying to learn from people like Christine.  Even though I'm the only Lake Martin Realtor who currently creates video tours for all listings, I can still improve.  I've been using video since 2007, and while some of those early clips make me cringe, I had to start somewhere.  See these 2 videos, both of the same home I sold in 2007, and again in 2012.  My narrator had clearly not discovered coffee in the  first version.  I'd like to think there has been some growth in all aspects of production.  But in 2007, the idea of a video tour seemed revolutionary.
2012 Video Tour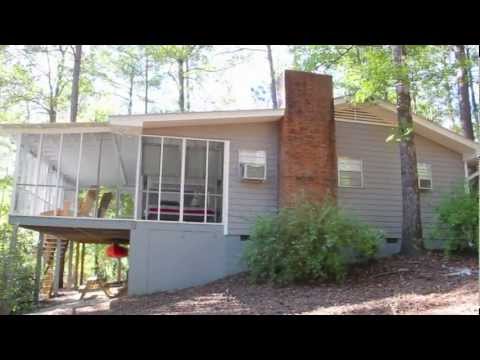 2007 Video Tour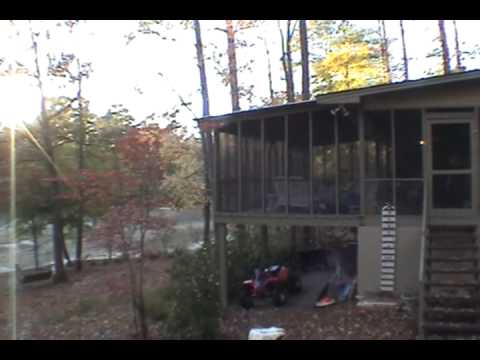 Sure, it's more work, but I truly believe video tours tell a more complete story of a property.
So who's in for the acting gig?  Comment below and let me know if you're available.  I pay in Lake Martin Crazy gear, but your exposure will hopefully be tremendous.  Just this past month (Dec. 26 – Jan. 24), my YouTube viewers spent 2, 363 minutes watching my real estate videos.  That is pretty strong for what is considered an off season for Lake Martin real estate.
If you'd like to see your property get exposure like this, give me a call at (334) 221-5862 or CLICK HERE to contact me and let's talk about marketing your Lake Martin home. 
Lake Martin Voice Realty is excited to team up with Alabama Power and offer 29 new deeded waterfront lots for sale in Emerald Shores. 
Emerald Shores is a waterfront neighborhood on the eastern shores of Lake Martin. These are big, wooded lots surrounded by the big water of Blue Creek.  They're part of an already established neighborhood (entrance signs, roads paved, utilities, boat ramp, common area trails), and they're close to all the east side Lake Martin restaurants, marinas, and landmarks.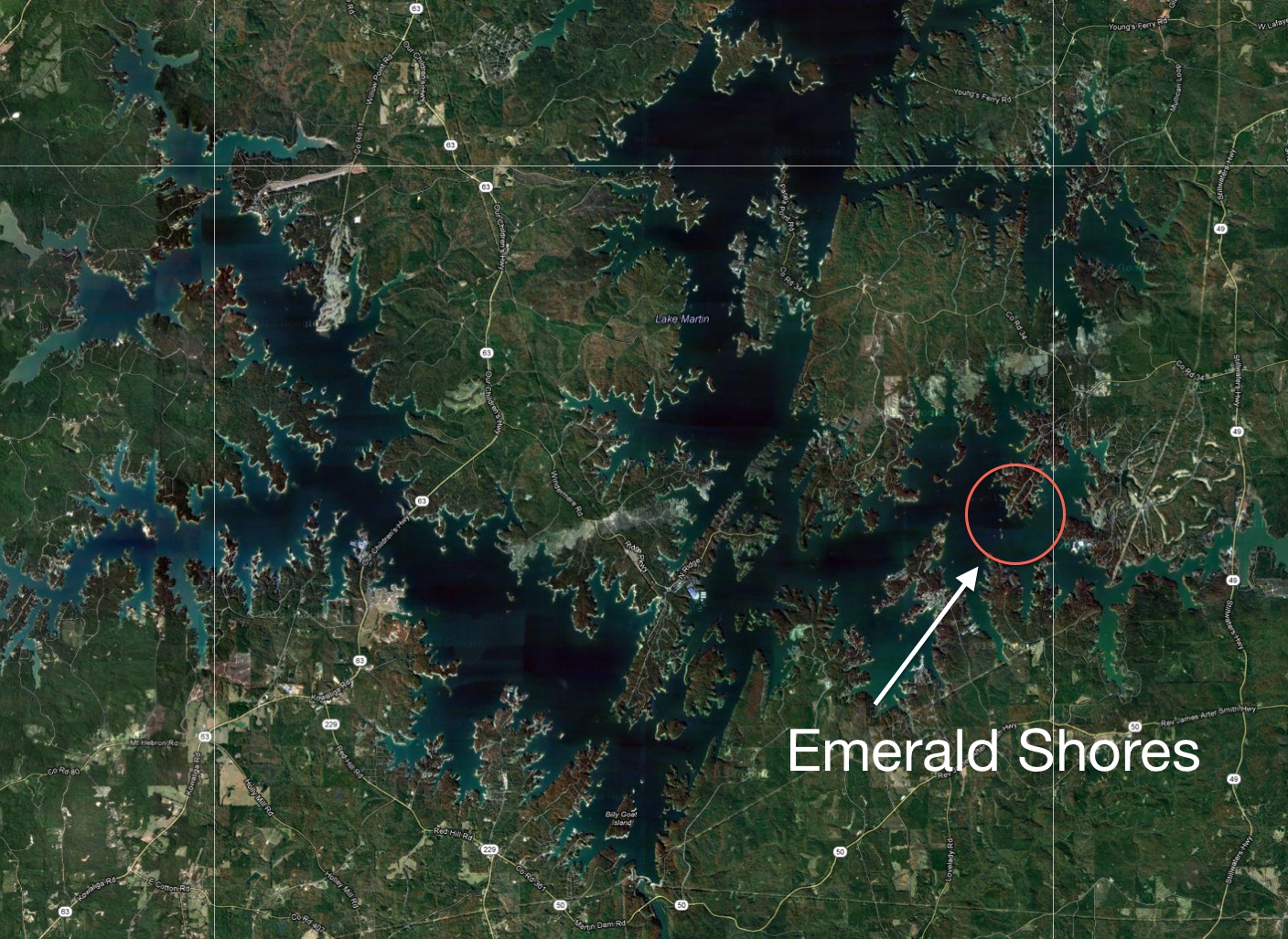 Lake Martin Voice Realty is proud to be the Listing Agency!
The first phase of Emerald Shores began in 2004.  17 lots were sold at that time, then six after that, and now 29 more are available.  There's a lot of choice for buyers here: lots range in size from 0.6 to almost 2 acres, and waterfront footage ranges from 115 feet to over 1,000 feet of shoreline per lot.  At the center of Emerald Shores is a 17 acre wooded common area with a paved walking trail.  A neighborhood boat ramp makes it convenient to launch your boat.
Another big perk for many buyers:  covered boat docks are allowed in Emerald Shores.  That's a big deal on Lake Martin.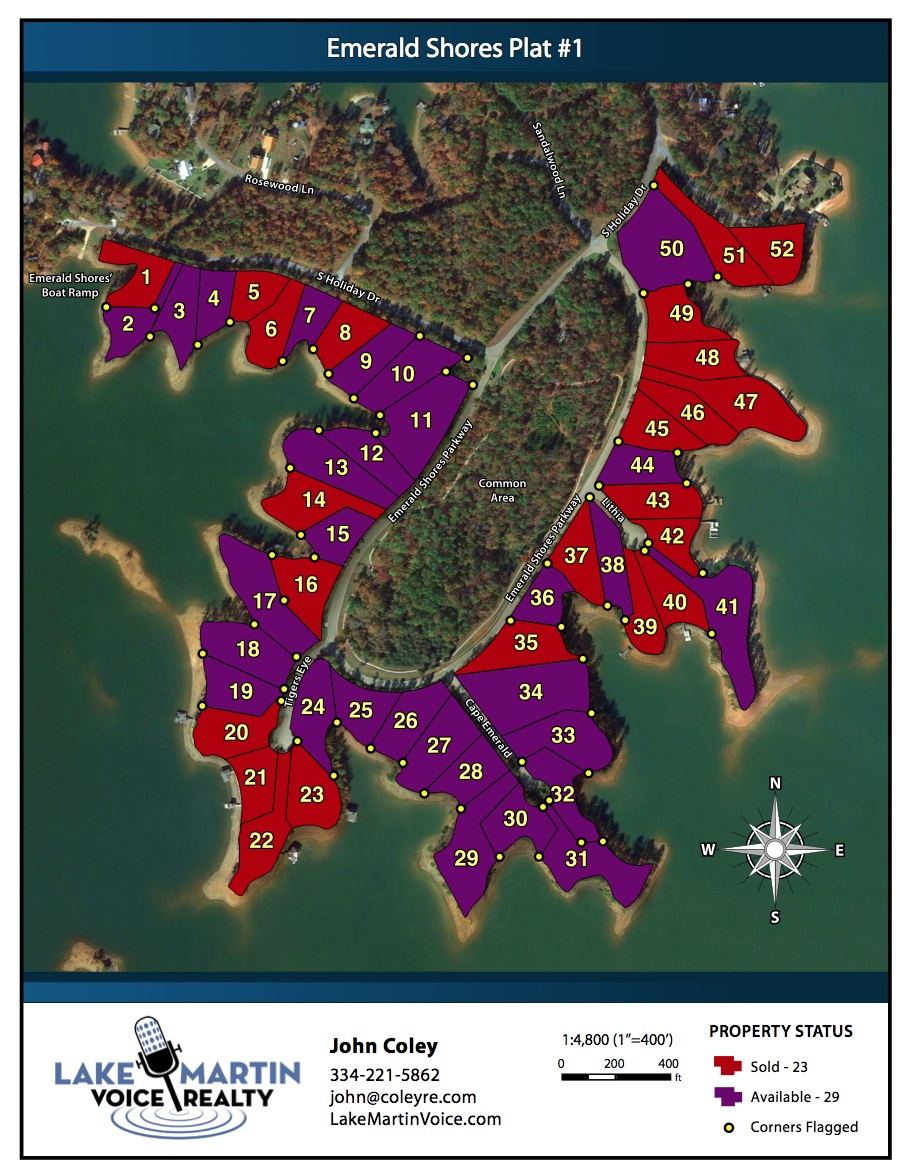 For more information on these deeded lots, CLICK HERE, or give us a call at (334) 221-5862.  We have plat maps, tax maps, photos, a video tour – everything you need to learn the lay of the land.
Emerald Shores is on the east side of Lake Martin, so it is convenient to Atlanta, Auburn, I-85, and Highway 280.  By car, take Highway 49 and turn onto Highway 34.  Turn left onto Win Blu. At the stop sign, turn left onto Holiday Drive.  Take 1st right onto South Holiday.  Follow all the way to Emerald Shores entrance.  By boat, it's on the north side of Blue Creek as you drive toward StillWaters.
For a quick video introduction to Emerald Shores, click below: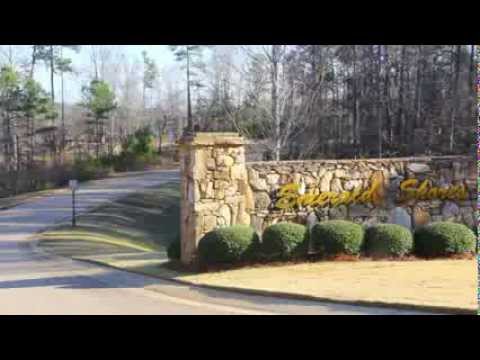 And for a video tour of the Blue Creek area, click below: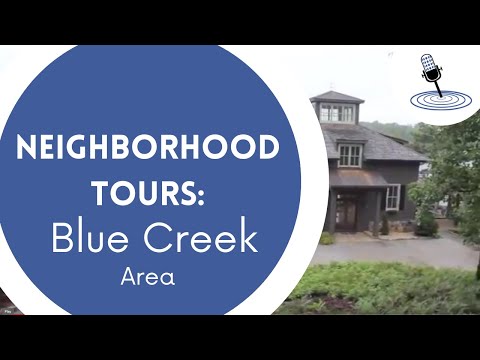 I spotted these pics on Lindsey Harris' Twitter feed, and thought they were super cool. I don't get to see Lake Martin from this vantage point very often.
Her cousin, Eric, took Lindsey and a friend for a Sunday afternoon joyride over Lake Martin in his plane.  I always want to know what kind of camera people use, and Lindsey said she used her Canon t3i to take the pictures.  She graciously said I could share them with you.
Can you spot some Lake Martin landmarks?  If you have any cool pictures of Lake Martin from above or below the water, send them to me and I'd love to post them.  Or, if you have them on a site like Flickr, here's a link to my Flickr account.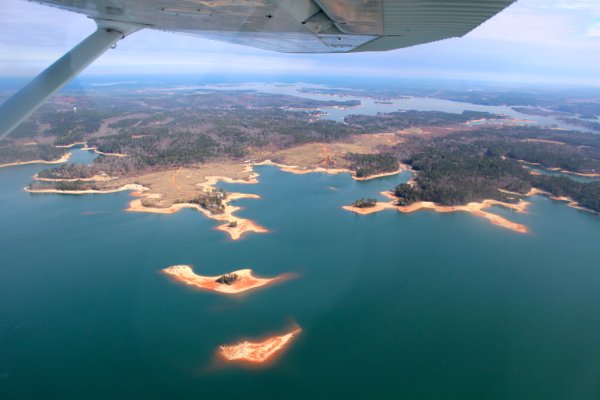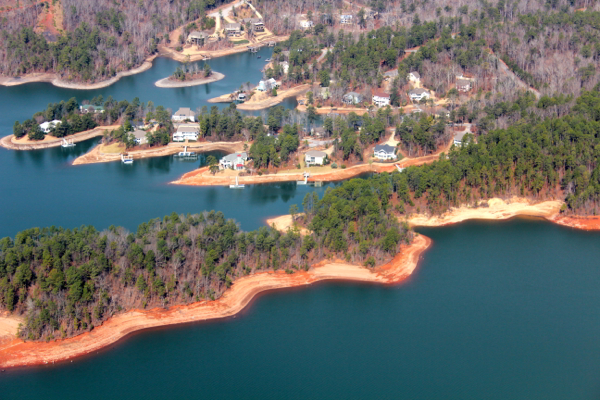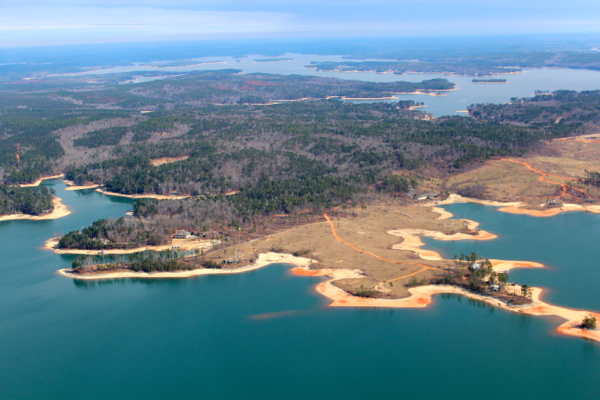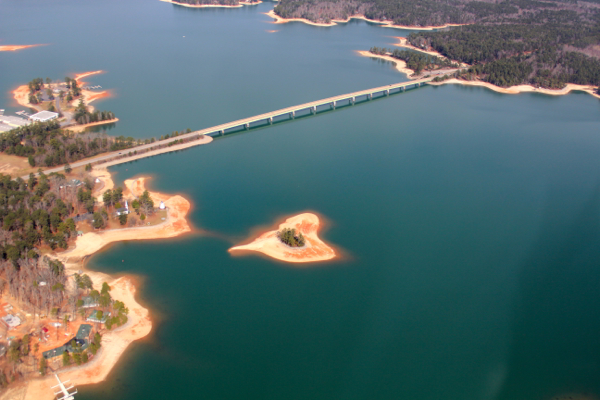 If you're interested in Lake Martin real estate, give me a call at (33st4) 221-5862, or CLICK HERE to contact me via email.  It doesn't matter is you're in the earliest stages of dreaming about a future lake home, or if you're ready to buy in the next week -  I work with people for weeks, months, and often years.  Give me a call and put me to work!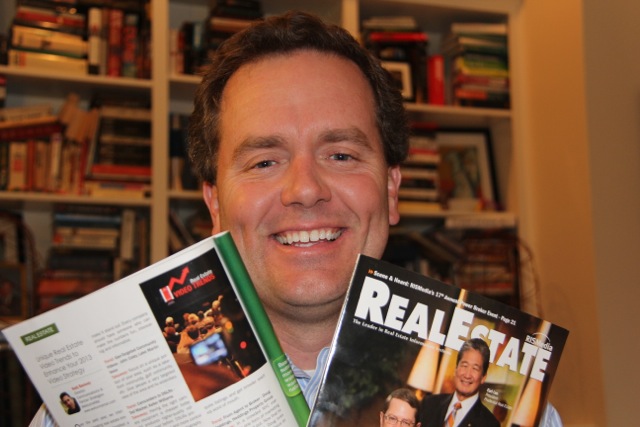 I was honored to be recognized by RISMedia's Real Estate magazine as one of twelve trend setting brokers from around the nation who use video in a unique way to help people with real estate.
Rudy Bachraty wrote, "we interviewed leading real estate brokers and brands and identified a number of unique real estate video trends occurring in our industry. Here are the key takeaways."
I am so flattered to be included in this group! Most are from large metro areas like NYC, so it is exciting to me to be in the same breath as this crowd.  The article appeared in their magazine's December 2012 issue and also online here.
The National Association of Realtors estimates it has about 1.2 million members. Of those 1.2 million, it is estimated that only about 1%, or 12,000 agents across the country, are using video to market real estate. This number hasn't really increased in the three or so years I have seen people talk about it. Why? I have no idea, because I think that video is such a no brainer in real estate.
It's hard to write a blog post like this without sounding like I am boasting, so please don't take it that way. I really am shocked that, out of all the agents in the nation, Rudy was kind enough to include me as an example among agents and brokerages that I watch on HGTV and read about in the WSJ. Really I see this as a victory for Lake Martin, which, in comparison, is such a tiny second home waterfront market.
I would like to thank my clients, friends, family, blog readers and video viewers for coming up with great questions about Lake Martin. I started using online video to answer questions, and it continues to be a driving force behind all of my marketing.
The best part about being included as one of the top 12 trend setters in real estate video is that it has called my attention to brokers that are doing such a better job than I am. I encourage you to click on the article link above, and check out the list. There are some really talented folks there, and I am motivated by their excellence. I realize I am merely hitting the record button on most of my videos, so I plan to get much better at this in the future.
In the meantime, please visit my video page on this site. I break my videos into three categories or channels: 1. Home Tours, 2. Neighborhood Tours, and 3. Community Info. Click the thumbnail pictures to make each of them play in the main space, and click the little arrows in each player to scroll to more.
If you have any suggestions for me on what to video or how to do it better, please contact me and let me know!  Thanks!
Related Posts:
Real Estate Video Trends: John Coley and Geo-Targeted Waterfront Community Videos
Creating a Real Estate Niche with John Coley
John Coley Teaching Real Estate Video Class at REtechSouth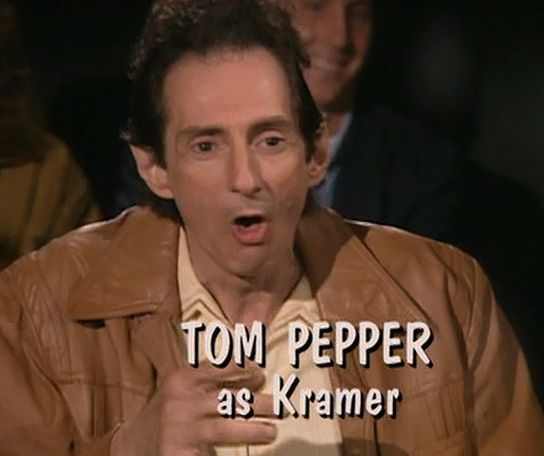 Lake Martin waterfront home sales look a lot like 2006. That may catch you by surprise if you follow the real estate market merely in general and think that every market is suffering right now. Other real estate markets around the country my still be reeling, but not for lakefront property sold at Lake Martin, Alabama.
November 2012 waterfront home sales on Lake Martin show us that right now our market is a lot closer to 2006 than 2011.
November 2012 Shows Strong Sales
Lake Martin had a good November and a great October in waterfront real estate sales. The number of homes sold during October was 21, which was the best October since 2005. November posted a good sales amount of 10, equaling many months as the best since 2006.
The above chart shows that 2012 has consistently beat the prior years in almost every month this year. I pulled these sales numbers from the Lake Martin Area Association of Realtors' MLS* on December 10.
2012 Year to Date Waterfront Home Sales
Through November, 222 waterfront homes have been sold through the Lake Martin MLS. A quick glace at the below chart, which gives you the cumulative results, easily shows you that 2012 has been the best market since 2008. In fact, if I had gone back far enough, you could see that it was the best since 2006.
Please see the below property sales results for Lake Martin in numerical form. I went back to show, month by month, how the banner years of 2005 and 2006 looked.
If we see a typical December sales amount of say, five homes, that will put Lake Martin at 227 for the year. Very nice.
When compared to last year's total homes sold of 207, we see that the estimated 227 would be 9.6% above last year. If we look at our estimation versus 2006′s actual total of 235, the eight homes' difference computes to 3.4% below that year.
That's why I am saying that 2012′s real estate market on Lake Martin resembles 2006 much more closely than it does 2011. That should be good news for people looking for a confirmation of a comeback, and even those who recognize our market's comeback yet fear a backslide, or double dip.
Never Is a Strong Word
When the real estate market around the nation was going through the correction in 2007 and 2008, it always rankled me to hear people, from the so-called experts to the armchair economists, proclaim that real estate values had "never fallen this fast." Even more irritating to me is when folks say "sales will never get back to where they were at the peak."
"Incorrect," I say very simply, "incorrect."
Never is a strong word and you had better have a lot of proof when you use it. It is very foolish, in my opinion, to utter sweeping macroeconomic statements like "the real estate market will never get back to where it was in the peak." If this people meant the numbers of homes sold, well, I can tell you by pointing at the numbers, we are equal (materially) with 2006 right now. Value wise, we are still below the prices that were paid back then, but it's only a matter of time, at this pace, that we will catch up.
I might note, I was equally critical of the bullish statements in 2005, 2006, and 2007 when people said real estate would "never crash like it did in the 1970s."
There is nothing new under the sun.
Note: Once again I have failed to post my market reports column that I wrote for Lake Magazine. Sorry about that. Here's a link to the report I wrote on Lake Magazine's November 2012 issue where I analyzed home sales statistics through September 30, 2012:
Lake Magazine (for some strange reason) did not publish the graphs I gave them to use in the print edition when they put it on their site. No worries, just refer to those above.
Related Posts:
Debunking The Labor Day Price Drop Myth
July Sales Cool
Lake Martin Lot Sales 2011
Lake Martin Real Estate Sales 2011 – Year In Review
Lake Martin Real Estate Sales 2010 – Lot Sales
Lake Martin Real Estate Sales 2010
Lake Martin Real Estate Sales 2009 – Year In Review
Lake Martin Real Estate Sales 2008 – Year In Review
Lake Martin Real Estate Sales 2007 – Year In Review
All Lake Martin Market Reports

(*)Disclaimers: All of the above info was taken from the Lake Martin Area Association of Realtors Multiple Listing Service. Accuracy is not guaranteed but deemed reliable. The above does not include sales by   FSBOs or developers that sell privately and not through the MLS. But, I do think that the above represents a very large majority of all waterfront sales on Lake Martin, Alabama.
Another favorite image from a LakeMartinVoice active listing  . . . This time it's 600 Trillium West Parkway on Lake Martin.  This is the house I like to call the Garden and Gun home – a great mix of rustic and sophisticated on an awesome lot in Trillium.
We also just happened to have a huge price drop on this home.  We just dropped the price $75,000 to $1,075,000.  Someone will take advantage of this new price and get a great deal on this very cool home.  If it sounds good to you, or anyone you know, please give me a call (334) 221-5862.
This image is the corner glass porch, lakeside, where the view of the sunset over Little Kowaliga is amazing.  I cheated on the single image concept and added the actual sunset picture for you to admire as well.  This unique room is as close as you can get to being outside while still comfortably indoors.  Warm and cozy in the winter, air conditioned and humidity-free in warmer months.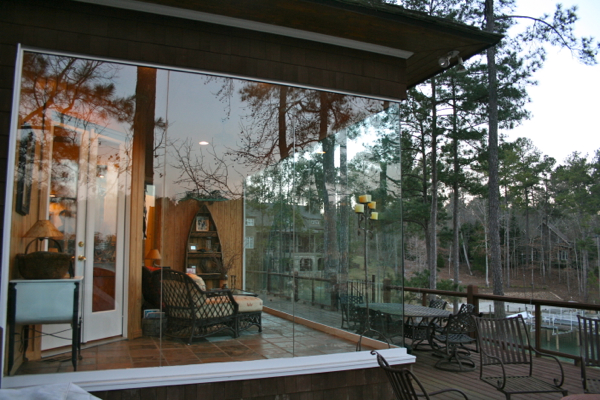 CLICK HERE to see all the pictures and info for this listing, as well as the VIDEO TOUR of the property.
To learn more about Trillium, the Russel Lands gated development that this home is a part of,  CLICK HERE.
If you'd like to know more about Lake Martin real estate, give me a call at (334) 221-5862, or click here to contact me anytime.  I can help you with any property in the Lake Martin MLS, regardless of who has it listed.  I'd love to help you find your sunset view, too.