Allow me to introduce you to Lake Martin's first waterfront Passive House.  It's very likely you will love this Blue Creek area home simply because it is beautiful.  But it's also a cutting edge bastion of energy savings that will use roughly 80% less energy to operate than conventional buildings.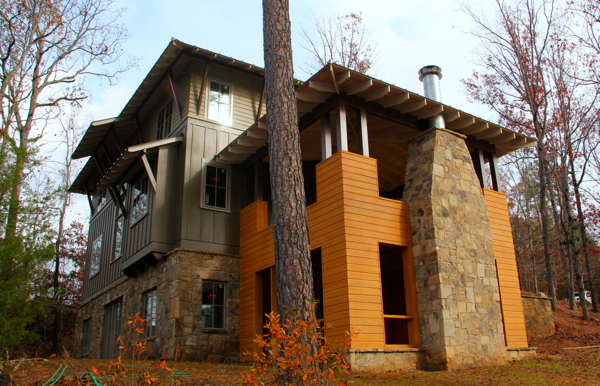 How can this be?  It's a 3 story, almost 4,000 square foot home with huge windows in a hot, Southern climate. There are 5 bedrooms, 4 bathrooms, and two great rooms to heat and cool year round.  Builder Paul Gouin and Architect Bryan Jones are Lake Martin homeowners themselves, and know well the needs and challenges of waterfront living.  What they have created is an awesome melding of science and art – all within steps of the waters of Lake Martin, I may add.
This home is for sale. It can be yours.
I'm the listing agent, so call me (334) 221-5862 or email me ([email protected]) for more information, or CLICK HERE to go to the 205 Old Cemetery Road listing page.  MLS# 13-1168.
So what does Passive House mean?  I'll borrow from Bryan Jones' blog article on the subject. He writes that a passive house has several areas of focus:
A Super Insulated Envelope
Thermal Bridge-Free Detailing
Air-Tight Envelope
Advanced Windows & Doors
Energy Recovery Ventilation (a constant ventilation system instead of a conventional HVAC system that consumes lots of energy)
Efficient Systems (water heaters, appliances, etc.)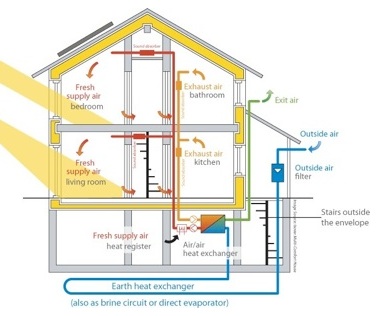 I liked what Bryan had to say about why design like this is interesting to him.  I don't have to be a scientist to appreciate some of the big ideas influencing homes like this:
"What is interesting about Passive House to us?
Pretty houses with real substance – Our passion is designing beautiful site specific lifetime homes for people in context with the surrounding environment.  Sustainability has always been one of our 10 principles that we use to create better homes.  Passive House takes prescriptive sustainability to another level backed by pure building science and performance testing.
Science not a check list – The Passive House design process uses energy modeling of our design and specifications to predict how the design will perform in a particular orientation and climate.  The model returns energy performance data to determine if the house meets Passive House Criteria.  A house designed to meet Passive House Criteria should perform up to 80% better than a typical structure. The process is not clouded by a point system checklist offered by LEED for homes and the  EarthCraft program.
Energy modeling provides data for long term decisions -The Passive House energy model gives us a tool to help our clients make design and material decisions knowing operating cost over time vs. the initial construction cost.
Measured results – Passive House designs uses a 3rd party passive house RATER to perform testing during construction and at project commissioning.  We can verify for our clients that the high performance building that they paid for is performing as designed.
Passive survivability – What would happen if your house had no power available?  Designing a home for as low energy usage as possible along with photovoltaic panels means you could potentially run the house "off the grid" if required by inflated energy cost or by necessity."
Construction is nearing completion.
The home is available for showing.  If you have questions, or find this type of construction intriguing, I'd love to talk to you.  If I can't answer all of your questions, I can hook you up with the experts. Give me a call at (334) 221-5862, email me at [email protected], or click here to contact me.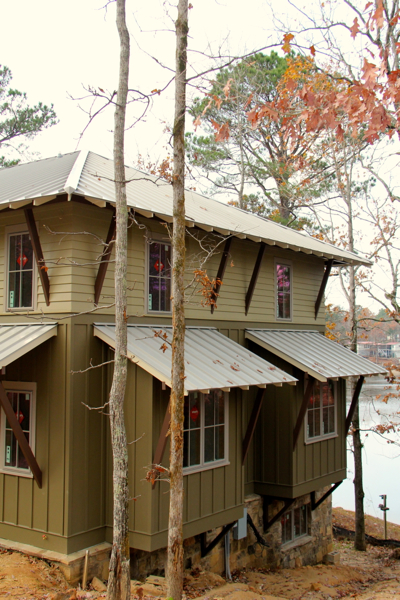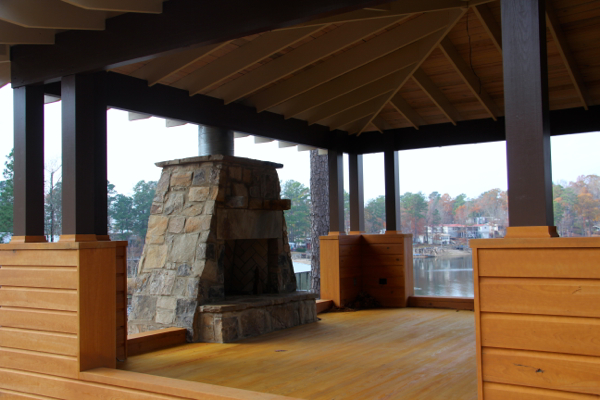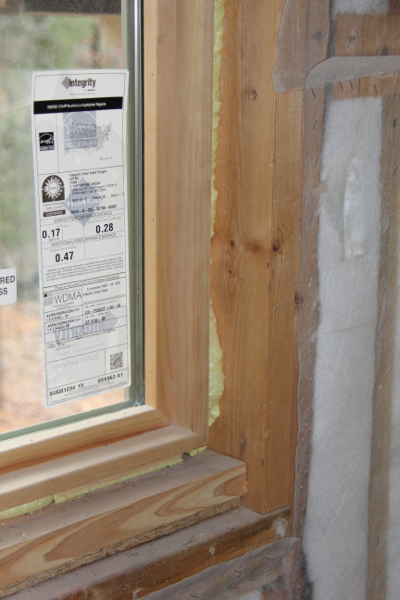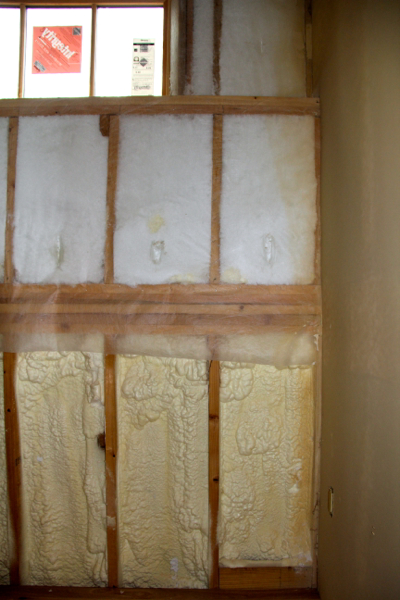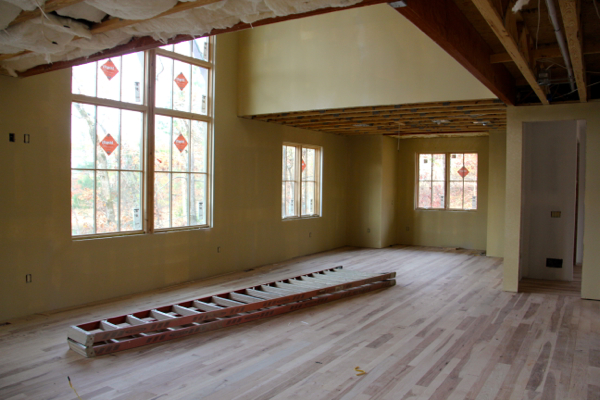 Introductory video for 205 Cemetery Road on Lake Martin:
When my clients, Kane and Emily, found this Lake Martin cabin last summer, they liked the whole package.  The home felt like a lake house, the lot was flat and wooded, there was plenty of shoreline.  It wasn't too much house or too much lot.  It was just right.
And they knew that with a little tweaking, just a little renovation, it could be even better.  It could become "theirs."
They've allowed me to share their before and after pictures of the remodel of their Lake Martin home. These photos show that simple changes like removing carpet can have a big impact.  New sod and covered entry can make a home look new.  Take a look and see how they made a difference by making smart changes during the renovation project.
Outside:
The new porch on the street side of the home is not a huge addition, but adds a more welcoming (and sheltered) spot to enter the home.  The lake side of the home is similar – small additions were made, building on what was already good about the lot.  The docks and sea wall were already there, and so was the hammock between the trees.  But adding new landscaping, a sandy beach area and a fire pit, makes this yard even more liveable, and really personalized to their needs:
Inside:  The Kitchen and Dining Area
Inside, the changes of the redo were simple, but with great effect as well.  The floor plan remains the same, the kitchen and baths have not been radically altered.  But small changes like removing carpet make a big difference:
The Living Room
Here's the living room – it was already in good shape.  Let's face it, in a second home like this on Lake Martin, you're likely to spend a lot of your time hanging out. Kane and Emily realized this, and moved the TV over the fireplace and brought in their own the furniture:
The Master Bedroom
And finally, they removed the carpet in the lakeside master suite and it makes a huge difference!  I really had to look twice at the pictures to make sure this was the same room:
Kane and Emily started out with a great cabin. As a matter of fact, I liked it so much, I showed it to my wife and my dad a couple of years before this. So from ground zero, they had a really nice Lake Martin home. But, by calling this a "simple" renovation, I run the risk of minimizing the amount of thought, effort and resources the new homeowners put into this transformation – perhaps I should say "smart" renovation instead.  Kane and Emily didn't go overboard.  Instead they played up their cabin's strengths.  This is what I mean by "smart" and I think they hit a home run!
If you're looking for a cute cabin with good bones, but you just can't see past the orange shag carpet and faux paneled walls, give me a call 334  221 5862 or email me here.  Let's talk about your dream home, let's discuss what is really essential in a good Lake Martin home  investment (the dirt, the view, the waterfront) and what things can be changed or overlooked for the time being (the choice of counter material, the screened porch that could be bigger).  I'd love to help and I'd love to be your Lake Martin real estate agent.
It's time for the final reveal.  Much like an Extreme Makeover Home episode, Henderson and Coker Contractors have resurrected a Lake Martin seawall that was a complete fail.  This was no minor seawall fail.  This was a seawall that had fallen over into the lake and taken a lot of earth with it – and dirt is dollars in waterfront real estate.  They allowed me to tag along and film the stages of construction, and now that the water is down for the winter months, I can show you the new seawall from the ground on up.
This time of year is great for inspecting and repairing Lake Martin sea walls.  As you can see from the video below, there's a lot more to a seawall than the few feet that are exposed during the summer months.  This is a project for the pros.  The dirt beneath your lake home is the most valuable part of your lake investment, so make sure you protect it with a strong, well built sea wall.
Did you know that sea wall inspections are not typically part of the home buying inspection process?  Buyers should contact a sea wall professional and have a separate inspection completed if they are concerned about the condition of a lake home's seawall.
I can't inspect your seawall, but I can help you with Lake Martin real estate. If you're thinking about buying or selling a Lake Martin home, give me a call and let's talk about all the factors to consider when buying or selling.  I'd love to be your realtor. (334) 221-5862
For Parts 1 and 2 of this series, click on the links below:
Extreme Seawall Failure on Lake Martin: Part 1
Extreme Seawall Failure on Lake Martin Part 2: Rebuilding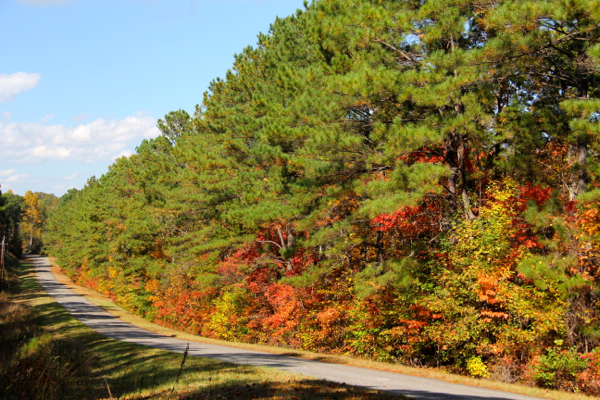 Happy Fall from Lake Martin!
I was driving near Irwin Shoals last Friday – an area considered by many to be the northern most point of Lake Martin – and I took these pictures so you can see the fall colors that are bursting all over the Lake Martin area.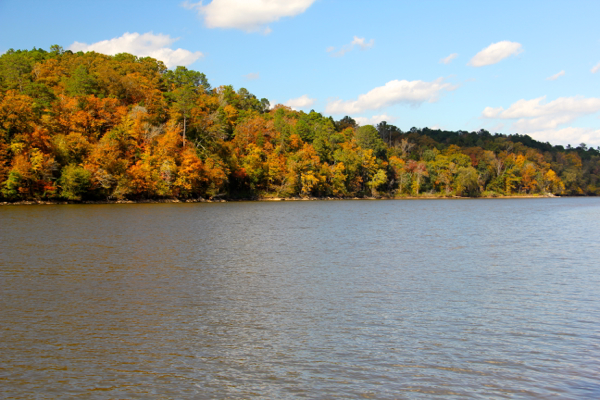 If you've never spent much time at the lake during the fall and winter, let me encourage you to make it a priority.  It's peaceful, it's beautiful,  and there are lots of outdoor things to do (see my hiking links at the end of this post).  Fall is a great time to be at Lake Martin.
In the real estate world, buyers are still out there looking for waterfront property.  History tells us that most Novembers and Decembers don't have many home sales – people are just busy with the holidays, I guess. That being said, I'm about to have a new listing in the Jackson's Gap area, and have had two other Lake Martin homeowners request CMAs today.
If you're thinking about buying a waterfront property, give me a call and let's discuss the year round of appeal of Lake Martin.  If you're thinking about selling, let's talk about ways to use your time wisely and get your home ready to market, either now or in the spring.
For a taste of the outdoor fun at Lake Martin in the fall:
Little Smith Mountain Hiking Trail at Lake Martin
All Trails App Maps the Cherokee Ridge Alpine Trails on Lake Martin
Deadening Alpine Trail on Lake Martin
We here at Lake Martin Voice Realty are professional real estate agents, and know good marketing when we see it. We try to be the best, but we don't mind admitting when we see our fellow Lake Martin agents doing something awesome. Everyone should take a look at the incredible aerial photos posted on Facebook by Toni Adcock of ReMax Around the Lake. Really, this is groundbreaking. If you are reading this post from other spots around the nation, I ask you, are agents in your town going this far? Are they trying this hard? I am telling you, this is impressive:
Toni's husband Phil Adcock took these pictures using a GoPro Camera, mounted on a DJI Phantom quadcopter. Technical assistance and photography consulting was given by Matt Adcock of Del Sol Photography. Toni is the listing agent of 116 Hilyer Road. To contact Toni about this home, go to her website or call her at 256-234-1327.
I am even more impressed by this because I also own a Phantom quadcopter and have been experimenting on flying it for real estate photography and videography. I need a lot more practice with mine before I am ready for the bigtime, as you can see by this wreck I had.
I am convinced that using tools like the Phantom quadcopter will usher in a new level of marketing in real estate. I was inspired several months ago by seeing what some commercial agents are doing with it, and I thought it would be a natural fit for Lake Martin, thus my experimentation. Kudos to Toni and Phil for having the talent and the hard work to get it to a point that it is useful. That kind of dedication is rare in this industry and I think it is so cool to be in a place like Lake Martin where we have so many talented agents that are thinking of creative ways to help out their sellers.
Well done Toni, Phil, Matt, and ReMax Around The Lake!!!!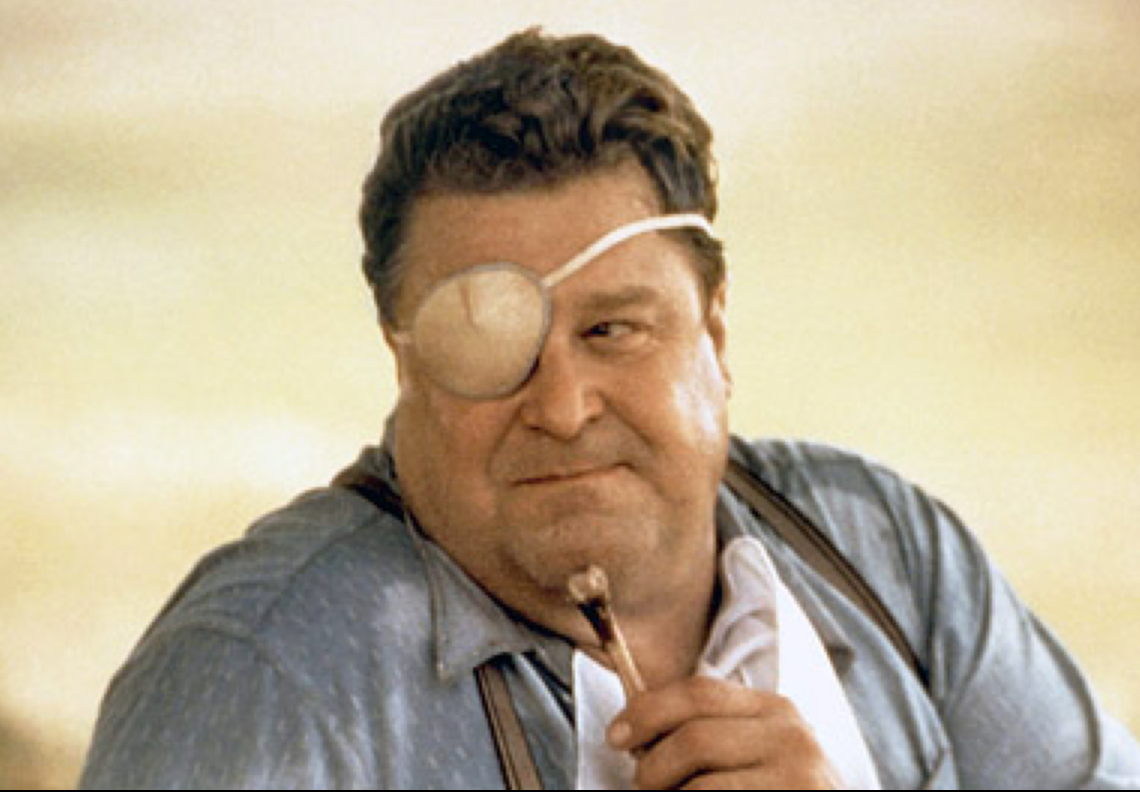 I love the Wall Street Journal. Reading it is one of my favorite pasttimes. They have a regular section now called "Mansions" that covers real estate. On a recent Friday I was intrigued by a front page tease that read "Secrets of Top Brokers." Naturally, as a real estate broker here at Lake Martin, I wanted in on the secrets. I flipped to page M1 and found the article, penned by Lauren Schuker Blum, titled "The Battle For the Big Deal."
I was immediately disappointed.
The article was about the competitive nature of getting high priced listings in places like Malibu, LA, etc. It's bottom line was that these ultra cool brokers have to battle hard to win a $40 million listing. They throw lavish parties and have in-house computer nerds to cultivate top secret databases of high rollers. Wow.
Don't get me wrong, the article was well written and had plenty of pretty pictures. But the usability of these secrets by the average agent or even the average home seller is absolutely zero. (Who is going to spend $10,000 on a VIP house party?)
I guess I should not expect a practical article from a section of the WSJ called "Mansions." I also can't blame them for splashing flashy home pictures (I call it house porn) to catch the eye and entertain. I can't help but wonder, though, what would happen if the WSJ would ask one of their talented writers, perhaps Ms. Blum, to turn their eye to the not so extraordinary. Sure, it's easy to think of crazy ways to promote a home when Presidents have slept there and your potential commission is in the millions. What are the secrets of brokers or agents who actually sell normal homes?
Lake Martin Real Estate Secrets
I can tell you that there are no secrets for the Lake Martin real estate market, or anywhere else for that matter. If you want to sell a waterfront home, lot, or condo, you must pay attention to what I call the Holy Trinity of Real Estate:
Pricing – You absolutely must price your home correctly. Yes, the market here at Lake Martin has rebounded since its low in 2008. But I don't think we have evidence of price increases. Check my market reports and see if you agree. As a Lake Martin seller, you must price your home within 5% or 10% of what the market likes, or it will sit there. Buyers expect deals, research extensively, and can walk away. "I will price mine a little high. You can't go up but you can always come down" you might say. I say – you can't come down if you don't get an offer. You won't get an offer if you are priced too high to begin with.
Marketing – You or your agent must market your Lake Martin home aggressively. A sign in the yard won't do it anymore. Three fuzzy pictures in the MLS? Please. You have to have a full court press of well done pictures, full motion video, scads of backup information, just to stay in the conversation. You have to have a supercharged website to break through the noise and get found. In online marketing today, pretty is as pretty does. If people can't Google it and find it, it might as well not exist. The old realtor trick of putting scant info out there so the buyer will call the agent and the agent will "sell them" on the home – is dead. Here is a modern truth – NO ONE WANTS TO TALK TO REAL ESTATE AGENTS – including me. They only call the agent on the last resort. Buyers research and research online so they don't have to ask the agent, whom they perceive is cheesy and just out to say whatever. As an agent, I must realize that and earn trust by putting as much info online as possible. Another truth – put the marketing focus on the property. Not the agent.
Staging – Staging is getting your home looking good to sell. Clean it up. Paint. Replace the rotten wood. Declutter. Depersonalize. Get all that junk out of the way that detracts from the view. People are here for Lake Martin. Don't distract from that with petty repairable.
Are you considering selling your Lake Martin home, lot, condo, or some other property? We would love the chance to talk to you about it. We can get it done. We have the knowledge and experience to price it accurately. No other agency on Lake Martin, no matter how big, can even come close to our online marketing. The huge amount of traffic to this website are facts, not idle boasts. We can also help you stage your home to sell.
How to get started? Request a Comparable Market Analysis here or email us at info at lakemartinvoice dot com. Or call me at 334 221 5862!
Lake Martin developer, Russell Lands, is expanding in Phase III of The Ridge.  They've had plans to do this for a while, but the old Dixie Sailing Club occupied part of that area designated for Phase III.  When Lake Martin's real estate market picked up, Dixie Sailing Club's location was moved to a new location in Young's Basin.  Once the club was moved, the signs were clear for everyone that Russell Lands felt optomistic about the future of waterfront real estate and Phase III in The Ridge.
On Columbus Day, I was out on the boat doing market research – by that I mean my family was taking our the last tube ride of the year on a beautiful, sunny, October Monday.  I saw some smoke billowing up from the old Dixie Sailing Club area near Chimney Rock, so I drove closer to check it out.  Russell Lands had their heavy equipment out, tearing down and burning the old Sailing Club cabins.  Check out the picture and video below of the house-less docks, the burn pile, and the big machines.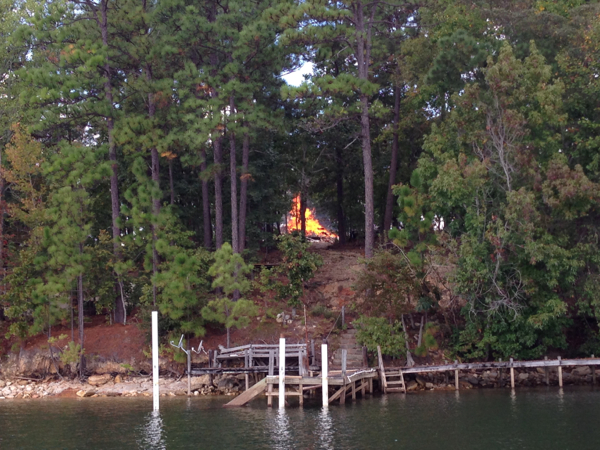 The Ridge is a huge , gated development that is centrally located on Lake Martin.  I just helped a family close a house last week in Phase III of The Ridge.  I love that area – some of the lots and homes in Phase III have views of Kowaliga Bay, and others have views toward the Chimney Rock area. It's close to The Ridge Marina, and all home owners have access to The Ridge amenities like the clubhouse, tennis courts, pool, beach club, etc.
If you'd like more info on The Ridge, check out my Neighborhood Page.  Here you'll find a history of the development, map, video tour, PLUS a live feed from the MLS of all homes and lots currently for sale.  I design my Neighborhood Pages to be one-stop-shops for the different developments and geographic areas around Lake Martin.  There are over 700 miles of shoreline at Lake Martin, and I want to make it as quick and easy as possible for you to learn our market.
I wrote about this part of Phase III in my LAKE Magazine column, "Peek into the Big Boys' Mind" (Dec 2012).  To read the entire article, click here.  If you're interested in waterfront real estate on Lake Martin, give me a call and let's talk about why I think the progress on Phase III of The Ridge is good for our entire market.  I sell Lake Martin property exclusively, everyday, and I'd love to be your realtor.  Call me at (334) 221-5862, email me at [email protected], or click here to contact me.  Thanks!
We at Lake Martin Voice Realty were very flattered to learn that the Alabama Center for Real Estate cited this blog as a good resource for market reports focused on Lake Martin waterfront properties only. They linked us in this article on AL.com.
Wow!  Thanks, ACRE!
If you have seen any sort of real estate statistics about Alabama quoted anywhere, chances are that you were reading a report from ACRE. They do a great job assimilating all of the relevant numbers, from all over the state. ACRE is based out of the University of Alabama, and, according to their website, it:
"collects, maintains and analyzes the state's real estate statistics, and is a trusted resource for Alabama real estate research, forecasting, and professional development.."
If you read the article I linked above, you can read how they analyzed the Lake Martin Area as a whole. Those statistics encompass everything sold in our area, waterfront or not. At the end of the article, they say,"For lakefront only figures, here is good resource." They link directly in to our Market Statistics category.
We are super excited to be considered a good resource by ACRE! Thanks again!
If you are interested in waterfront homes, lots, or condos for sale on Lake Martin, you might like the latest feature of LakeMartinVoice.com.
I have added a new feature called "New Listings On Lake Martin." See the right hand column of my blog, just below the top. There is a little plugin there that brings you the very newest homes, lots and condos on the market here at Lake Martin. In some real estate markets, this is called a "Hot Sheet." So I guess I could have called it the Lake Martin Hot Sheet. Nevertheless, it's a quick way to check what's new on the market here at Lake Martin.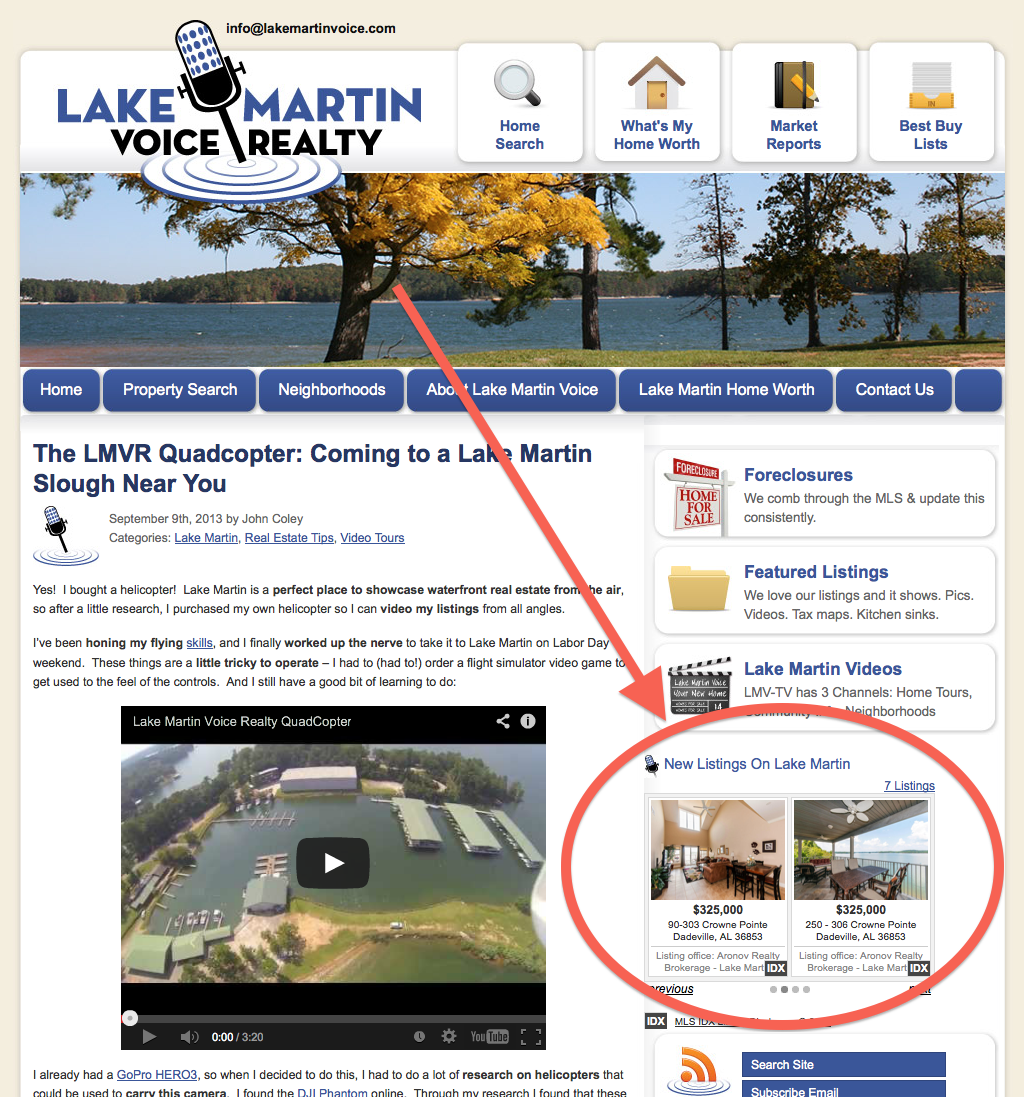 My goal is to have absolutely, positively, the best website and tools for searching the Lake Martin real estate market. I feel very blessed that this site continues to be number one in traffic, usage, and most Google searches for Lake Martin property. I will continue to tinker and experiment with new features like this to try and stay number one. If you have any suggestions or ways I can improve, please email at info at lakemartinvoice.com.
FAQ about New Listings On Lake Martin
Are these only your listings? No, this list comes from the Lake Martin MLS, so that includes every single agent on Lake Martin, every single brokerage. It doesn't matter who has it listed, I can help you with it.
How often is it updated? It pulls about the last seven days of new listings from the Lake Martin MLS. So, if you haven't checked it in about a week, you may have missed some. You may want to click here to search the Lake Martin MLS to see everything.
What if I want more info on a home? Just click on its thumbnail and a new page, with that listing's complete info will appear.
What if I request info through your site, or give feedback by clicking a smiley face? The system will ask you to register by giving your name and email address. That's so I can have a way to reach you and answer your request. Don't worry, your info only comes to me.
What is your spam policy? Don't worry, I hate spam more than you do. In fact, I spend a lot of time and money to keep my site as virus and spam free as possible. I work way too hard to gain your trust to then turn around and spam you.
Is this list waterfront property only on Lake Martin? Yes, this is a search that looks at three fields in the Lake Martin MLS: Waterfront = Yes, Lake Name = Lake Martin, and Age = < 7 Days. If you click on the Property Search button under the main picture, it will show you every single active listing in our MLS, waterfront or not. To view waterfront only on that page, click on the waterfront field and select "Yes."
If you see anything you like, or want to talk Lake Martin real estate in general, I'd love to talk to you.  Give me a call at (334) 221-5862, email me at [email protected], or click here to contact me.  Thanks!
I once embarked on a mission to see how cheaply I could take a brown bag lunch to work.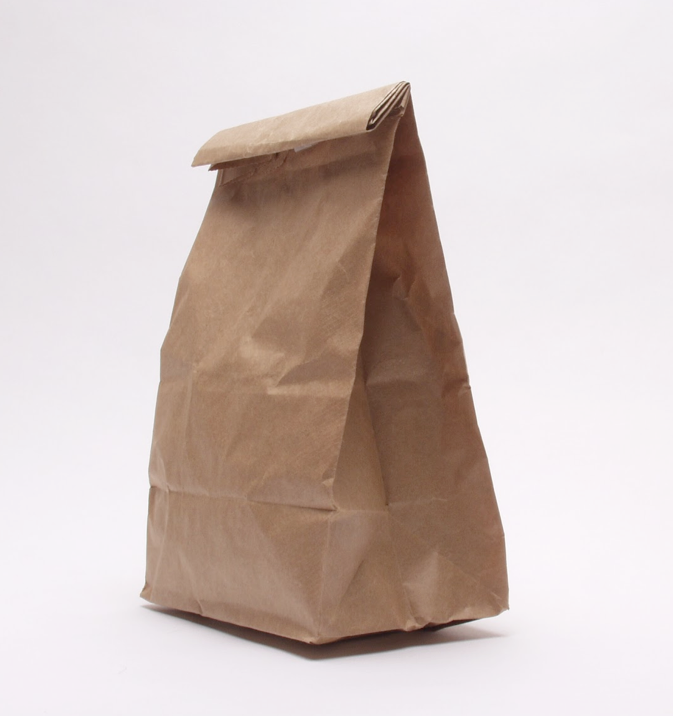 I brought all my accounting skills (I was a controller at the time) and all of my family traditions to bear upon the subject. I used fast food ketchup packets, bought cold cuts in bulk and stalked the "almost stale" bakery section, but I hit a wall at around $1.10 per lunch. Despite way too much thought on the subject, I could not pierce the $1.00 per lunch barrier.
One day, as I bemoaned my plateau to the rest of the office, one of the ladies suggested, "Why not re-use your bags?"
Eureka!
It was so simple. So obvious; yet, so effective. Re-using my bags and other packaging plunged my per-lunch cost to the seventy-cent range.
This leads me to my point for those who are thinking about selling a Lake Martin home. If you are the do-it-yourself type and want to go the for-sale-by-owner route, let me share a couple of Special Weapons and Tactics that we Lake Martin Realtors use. They may appear obvious, but remember the paper bag. Simple solutions can take you to new heights.
First, take your pictures with a wide-angle camera lens. If you have or can borrow an SLR camera, you can buy a wide-angle lens that will make a world of difference. The lens might cost you $500, but remember how much you are asking for your home.
I've read good articles on Houzz saying the opposite is true – use a regular lens and be happy capturing less square footage in the room.  For art's sake, I agree.  But I've found that wide angle lenses work well in some of the funky rooms we find in lake homes.  If I can capture more space in a room with the wide angle lens, I'm going to do it.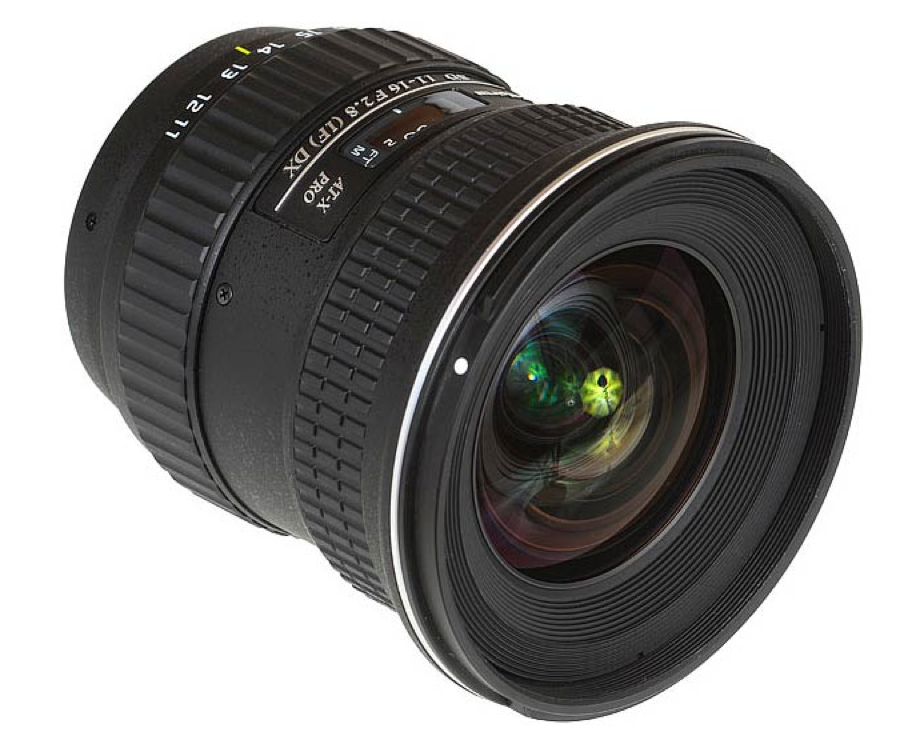 Bottom line, I'm neither an artsy nor accurate photographer and continue to try and learn.  If there's anyone in the Lake Martin area who is a budding photographer and would like to practice photographing homes, let's talk.  I'll give you the credit, and you could help me up my photography game.
If you don't have an SLR, and all you have is the camera on your smart phone, at least spend $50 for a wide-angle lens to put over it. Yes, no matter what kind of iPhone or Android phone you have, you can order a case to clip over it that will allow you to shoot wide angles. This is critical, because when people look at homes online, the pictures are a major way they weed out the tares from the wheat. Good quality photos can make or break your success.
Perspective is everything on home photos. Pictures look so good in magazines because professional photographers use different perspectives to present the best features of the room. Inside, a stepladder lets you point down into the room, as opposed to shooting flat across it. Try shooting some of your pictures from waist level, or from the height of a light switch on the wall.   Combine with a wide-angle lens and note the difference.
To get a nicer picture of the exterior of your home from the lake, use a taller ladder on your pier. When selling a lake home, the lakeside photo is the most important. Most Lake Martin homes are at least five feet above the dock; from dock level, you often are shooting the house at a weird, unflattering angle. Get a tall ladder and set it up on the dock; the results will be much better.
Once you master these special weapons and tactics of Lake Martin Realtors, you can move on to others, like finding a new you-just-can't-miss-it home.
If this sounds like a lot of hassle and you'd rather have a professional do the marketing work for you, give me a call at (334) 221-5862.  You can also email me at [email protected] or click here to contact me.  I'd love to help you!