In the November issue of Lake Magazine – Lake Martin Edition –  Nikki Reeves sent out an email to interview local real estate agents. The topic was the 20th anniversary of the founding of the Lake Martin Area Association of Realtors (LMAAR).  She also interviewed the past presidents of LMAAR about the past, present, and future of the Lake Martin real estate area.  You can click on the above link to read the other folks' quotes.
Of course, I am never shy about supplying my honest thoughts.  I sent an email to Nikki with the below. The part that she used is the underlined part.  After reading the article, I can see why she didn't use the other parts of my quotes.  They wouldn't have fit in with the tenor and tack of the others.
Here's the text of my email:
Nikki-
some thoughts on LMAAR's 20th anniversary:
PAST:
"It's a funny coincidence that 20 years ago, as LMAAR was formed, the U.S. was in the middle of a different bank bailout – the Savings and Loan Crisis. It roiled the credit industry and hammered real estate, making a lot of people panic and expect the worst and wonder if real estate would ever 'come back.' Well, it did.  Except for a slowdown in the late 90s, real estate roared until 2005 or so."
PRESENT:
"Hunger is a powerful motivator."
FUTURE:
"I think the real estate slowdown and the subsequent credit market implosion and bailout has dealt our industry a well deserved hit in reputation and credibility. This is a big issue and there's a lot of blame to go around: realtors, buyers, sellers, lenders, appraisers, Freddie, Fannie, and bureaucrats, to name a few.  Realtors can't solve it by themselves, but we can start by sweeping our own porch – being honest, transparent, hardworking, and useful.  The public mostly considers us simpletons at best and dishonest at worst. The only way to change that is to be worthy of respect, one deal at a time."
or if you want a more Lake Martin economic focused quote:
"I think in the short term it will still be a buyer's market.  There is just so much supply out there right now.  In the long term, or greater than 2 years, Lake Martin will continue to give you an outstanding return on your investment. Just compare us to other second home markets that are more mature, like Highlands, NC for example, or a fixed supply place like Kiawah Island, SC.  Our waterfront real estate prices will keep on appreciating at a higher rate than anything else.  Hopefully the surrounding towns like Alex City, Dadeville, and Eclectic can parlay that into regional growth through support businesses."
If you get a chance, please go to the Lake Martin Mag online or read the hard copy.  They do such a great job, and the November issue is no exception.  As a history and science nerd, I particularly enjoyed the articles about Tecumseh and the Tallapoosa Darter.
Related Posts:
My Ode In Praise Of The Window Unit
Lake Mag Interview: The Uncensored Director's Cut
John Coley Featured In Birmingham News Article On Vacation Homes
If I drive directly to my office from home, I never glimpse Lake Martin. So sometimes (read Mondays) when I am headed to the office, and need some inspiration or a reminder about what I am really doing, I drive to Kowaliga Bridge, take in the view, and turn around refreshed.  Today it was really helpful, especially after hearing so much bad news lately about the real estate industry.
If you talk to families that have owned or rented Lake Martin homes for a long time, you will never hear them say, "boy we enjoyed the lake house, except for the late 1970s' oil crisis" or "golly, the failure of the savings and loan banks in 1987 really screwed up my weekends at Lake Martin."  Nope.
Instead I hear comments like "that lake house has been the only place I can really relax" or "my favorite pictures of our kids were the ones we took on the dock…"  Somehow, during WWII, Korean War, Bay of Pigs, Vietnam War, oil quotas, 19% rates, S&L Crisis, Tech Bubble, Y2K Crisis, 9/11, Iraq …. somehow people still like their lake homes.
I am not suggesting that buying a home on Lake Martin will make you a happy person. There's only one way to that kind of peace. And I am not trying to belittle today's market woes or equate the Y2K panic to the Bay of Pigs. I am only saying that, well, I don't really know what I am trying to say.
Maybe all I am saying is that here is one thing I KNOW: the skies are stunningly blue today. The wind was whipping down south from Big Kowaliga, whitecapping its way to break on the shores of Sinclairs-By-The-Sea. The heron that was fishing over in the slough by Kowaliga's Used Boat place was too elusive to photograph. No one was around to see me standing like a tourist on the shore, looking around for a bird whose pecan sized brain was too much for mine. Nothing in the realtor playbook for that one.
To respond to some readers' comments, I thought I would publish a few more statistics from the Lake Martin MLS* waterfront home sales for August 2008.
Before I get into it, let me first caution all readers not to draw broad conclusions about the Lake Martin real estate market from the following two graphs.  I still maintain that looking too deeply into monthly sales statistics may be misleading, since we have such a very small market in terms of number of sales.  It just doesn't make for a very good sampling pool when there are only 20 sales. So again I stress, this is for illustrative purposes only.  Keep in mind that you are only looking at 20 sales, only in the month of August.
The chart below makes a great case study as to why I am loathe to use trend analysis on monthly sales statistics. I am trying to answer the question, what did waterfront homes sell for relative to list price in August on Lake Martin? As you can see, sale number 18 does not have a sold price listed (no blue bar).  So if I were to include that in the average, it would totally mess up the average calculation.  I am sure that the home wasn't give away for free.  For some reason, the seller chose not to list the sales price in the MLS.  It was a home that listed for around $300,000 – so I imagine it sold for around that amount.  But I don't want to guess, so I left it out of the average calculation.  It's a rolling average, so e.g. only the first 10 sales are averaged in #10, then on #11, 11 are averaged, etc.  On the last one, #20, I only average 19 since #18 was zero.
Nevertheless, here we go.  The blue bar is each sale's % of Original List Price divided into sales price.  Original List Price is the list price used when a home was first entered on the Lake Martin MLS.  So if a home was put on the MLS on January 1 for $450,000 – then the list price was reduced on March 1 to $400,000 – then sold on August 15 for $385,000 – the calculation is $385,000 / $450,000.
Here is another chart, attempting to describe the average Days On Market for each waterfront home sold through the Lake Martin MLS in August.  My old statistics professor (RIP) would have a fit looking at this.  The standard deviation is too huge to be useful.  It goes from zero on the low side to a high of 456.  The rolling average ends up at 159.
Days on Market is defined as Date Sold minus Begin Date.  So if a property was sold on August 15, and it was entered on the MLS on July 1, that would equal 46 Days On Market.  Our average, at the end of August, was 159 Days On Market.  Is that close to our average for 2008?  My gut tells me yes, but I have not confirmed that.  So don't take it as gospel.
I may decide to incorporate these types of charts in the future, but as you can see they get tedious when you have to comb through them to weed out sales which do not publish a sales price or some such other datum.
Hey Buyers – I'm talking to you. Yeah you.  If you have even thought about buying Lake Martin real estate in the last 4 years or 4 minutes, I am talking to you.  Would you like to know the top 5 properties out there in your category (lot, home, condo) that are the best value? Why not email me at the address at the top of this page.  Warren Buffet is buying, so you can say you did it because of him.  You will look smart.
Related posts:
More posts on Lake Martin MLS Statistics
(*)Disclaimers: All of the above info was taken from the Lake Martin Area Association of Realtors Multiple Listing Service. Accuracy is not guaranteed but deemed reliable. The above does not include sales by FSBOs or developers that sell privately and not through the MLS. But, I do think that the above represents a very large majority of all sales on Lake Martin.
Many Lake Martin Voice readers may be interested in the results of the auction of the home at 1355 Sturdivant Rd Jacksons Gap, AL 36861. It is a waterfront home.  According to the auctioneer's website, the home has 3 bedrooms, 2 bathrooms, and was built in 1982.
The waterfront home was auctioned off, along with a bunch of other homes (not necessarily in the Lake Martin area), on 9-08-08 in Birmingham.  I didn't go, but intrepid reporter on the scene, slownez, of Lake Martin forum fame, did.
Here is slow's report, I thought that it makes for an interesting read of how these multi home auctions go:
"AL State House & Land Foreclosure Auction. Birmingham, AL 9/8/2008.
Registration started at 5pm at the Sheraton downtown. There were about 100 people there right at 5pm to sign in. Some had pre-registered and they had lines to register as well as to identify yourself as someone who would be bidding on multiple purchases. They checked to make sure you had a cashiers check for $5k and a valid ID and then given a bidders card to hold up at the auction. We went to grab a bite to eat and came back a few minutes after 6pm to find ~500 people already seated for the auction and they were scrambling to bring in more chairs.
The bidding started at 6:30pm with a practice session for those that had never attended. There 90 properties to be sold and the Lake Martin house was #88. I took them 3 hours to reach #88. Most all of the properties had a listed starting bid of $1,000. The house value was listed at what ever the last person paid for it, note this is a lot different from what the house is actually appraised for or worth. The $1k houses took off at $5k bidding and went up. Most of those sold in the $30k to $100k price range. The auctioneer had several helpers in the aisles that you could call over to ask what the current price was and what the next bid price was, the auctioneer was hard to understand at times as he was going so fast. Once you won a bid and the property was declared sold, you were escorted to table to finish the paper work and provide or apply for financing.
You were supposed to be pre-qualified for the auction, however they had both Chase and Countrywide on hand. A lot of properties came back up for bid a 2nd time because the winning bidder failed to qualify for a loan and had no proof of cash reserves to pay for the house. This slowed the whole process down as they re-bid these properties before moving to new ones.

The lake martin house was listed for a starting bid of $159k and a value of $416k. Bidding started at $165k and quickly hit $225k among several bidders. Then it was down to two bidders who drove the price up to the winning bid of $285k in about 20 seconds. Add on the 5% for the auction company and the selling price was ~$300k.
—Slownez"
Thanks Mr. EZ!!
Readers – was anyone else at the auction, and do you have more to add? If so please leave a comment below.  Or maybe you weren't there, but have an opinion on the price or process.  Leave a comment below!
Or, do you have more Lake Martin newsworthy events?  Contact John Coley by phone or email at the top of this page.  We are always on the hunt for great story ideas.
Related Posts:
Guess What? Nothing Happened At Lake Martin Auctions
Lake Martin waterfront sales surged in July.The Lake Martin MLS* shows 15 closed sales in July, up from 7 in June, and 36% greater than July 2007 sales of 11.
Is this the rally point Lake Martin sellers have been praying for? Will this surge carry into August and the fall? Only time will tell.
Buyers of Lake Martin real estate don't need to worry, there are plenty of properties still for sale.  Even though the number of waterfront homes sold rose, so did the "active listings" aka homes that are "For Sale" rose also.  The active listings in July 2008 was 527 as compared to 510 in June 2008.
So as you see, we are still in a buyer's market, at about 35 Months' Inventory on the market (527 divided by 15 sold).  That's a lot. In order to get back to the sellers' market pace, we would need to be selling a lot more than this. 
Another interesting factoid is to look and see at what prices these 15 properties sold.  It looks like the majority was under $599,999, with a fairly large bulk at the $200,000 to $399,999 range.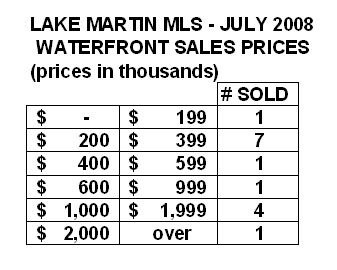 Are you thinking about buying on Lake Martin, and waiting for the right time? Contact me at the phone number at the top of this page, or email me.  I can help you run the numbers, and cut through all of the noise to help you find what's right for you.
What do you think, Reader?  Will this increase be sustained, or is it a flash in the pan? Please comment below in the "Leave a Reply" section.  If you can't see that, then click "Continue" and scroll to the bottom.
(*)Disclaimers: All of the above info was taken from the Lake Martin Area Association of Realtors Multiple Listing Service. Accuracy is not guaranteed but deemed reliable. The above does not include sales by FSBOs or developers that sell privately and not through the MLS. But, I do think that the above represents a very large majority of all sales on Lake Martin.

Related Posts:
Lake Martin Market Statistics Category
A Lake Martin Voice reader submitted these questions to me about the Lake Martin real estate market in general. They were so good that I thought we all would benefit from my attempts to answer. Do you disagree? Then reply below and let me hear about it. The RIQ (reader in question) purchased a Lake Martin waterfront home in 2006. Here are my OPINIONS, for what they are worth, I am neither an appraiser nor soothsayer:
1. We arent looking to sell, but gosh, in this environment, is seems like we just bought at the wrong time. What do you think?

I think that 2006 was the peak of the bull market in Lake Martin waterfront property.
2. Will Lake Martin property values ever come back?
I don't think they have gone anywhere to warrant a "come back." In other words, I don't see evidence that prices have dropped, only evidence that they have ended a scorching run of yearly gains. So if by "come back" you mean will prices someday start going up again? Of course. It's all about supply and demand. In my estimations property values in the period of 2000 – 2006 climbed 30% PER YEAR. No product, not even oil, or bottled water, can sustain that. Since then I think we have had 0% gain for 2 years. Yet, if you average that gain over 8 (2000 – 2008) instead of 6 (2000 – 2006) you still average 22.5% gain per year. I realize you bought in 06, but still you need to know that over the long term (40 years), history has shown us that Lake Martin averages 12 – 15 % per year gain.
3. Do you think our decision on this house will prove to be an œok decision for long term financial objectives?

Don't mean to sound like a smart Alec, but let me know of another investment that has averaged 12 – 15% per year for the last 40 years. I will start selling it instead of Lake Martin real estate. I am too conservative (and cash poor)
of an investor to hop in and out of real estate on the short term. But for the long term, it's hard to beat. Remember, unlike Tampa or Atlanta or whatever, Lake Martin is not growing geographically. Waterfront footage is fixed. Furthermore, practically every inch of undeveloped (450+ miles) shoreline is owned by either Russell Lands or Alabama Power. It's not like you have 100 different landowners or developers that potentially flood the market. I believe that Russell Lands is committed to measured growth. The last thing they want to do is flood the market with supply (which is why I think they have pulled back in the last 18 months). Alabama Power isn't even in the real estate business. About every 5 years they release 15 new lots to lease. On the grand scheme of things, that is not a material amount of supply injection.
4. Do you think we could move our Lake Martin house if we had to?
Absolutely. Even though market wide, the Lake Martin market is still lukewarm, I have been blessed to have sold more real estate so far in 08 than all of 07. That's not bragging because 07 was pretty pitiful. But an interesting point is that about half of the Lake Martin homes that I transacted this year had already been for sale before, some since 06. So did I sprinkle magic dust on their roofs? Did I go to the back yard and bury 6 statues instead of merely 1 statue of St. Whomever, patron saint of the desperate? No. I concentrated on the holy trinity of real estate: pricing, staging, and marketing. In a buyer's market, things are still selling, it just takes a longer time. In 2005, it might take 20 days. in 2008, it might take 100. But it will sell. Sure, there is a lot of stuff on the market that is sitting for over 200 days. But, I am highly confident your home can be sold if properly priced, staged, and marketed. Will you make money? Who knows. I don't know what you paid for it nor what you owe on it. But rest assured, if your goal is simply to "move" it, absolutely it can be done.
Does anyone else have an opinion? Help us all out and comment below. If you can't see the "Leave a Reply" box below, click the "Continue" button then scroll to the bottom.
Recently two auctions were held at waterfront property on Lake Martin. A quick check with each of the auction companies revealed that neither homes sold for the reserved prices. Both remain unsold at post time.
Here's the lowdown:
1. 284 Lakeview Drive – The "Waterfall House" at Willow Point – This auction was held on July 20, 2008. I wrote this post before the auction to spread the word. I haven't talked to anyone that attended, but I spoke to a representative at Albert Burney Auction Company. He said that neither the lot nor the home met the reserved price that day and therefore did not sell at auction. He did say that both properties were available for sale in case anyone was still interested. If you (or someone you know and love) are, let me know.
2. 211 Farm Loop Road – Wind Creek Farms– This auction was held on July 26, 2008, by Deanco Auction Company. It had a published reserve price or minimum bid of $300,000. Apparently that amount was not met because a representative of the company confirmed that it also failed to sell at auction date. Again, if you're still interested, let me know. I went through this home about a year ago (when owned by a previous family) and have tons of pictures.
These recent strikeouts remind me of last summer's Lake Martin auctions. You may remember when another auction company had a big deal where they tried to auction 3 different waterfront homes on the same day. None sold. Contrast that with 2007's auction at Harbor Pointe condos, where they sold about 20 units in one day.
So why are waterfront home auctions not catching on at Lake Martin? Is it:
A. The buyers are reluctant to pay the typical 10% auction commission on top of their bid price?
B. It is too much of a hassle to view the homes at the times appointed by the auctioneers?
C. Sellers are placing too high of reserve prices?
D. Local Realtors are digging defensive trenches around Lake Martin?
E. Buyers are unrepresented (by agents) and therefore uninformed of value?
F. Or a combination?
What do you think, dear reader? If anyone out there has some input, or would at least like to vote on my suggestions, please leave a comment below where it says "Leave A Reply." If you can't see that, hit the Continue button and then you should be able to see it.
I am really curious as to what others might think. As a "professional" (I know, eyes rolling) I might be missing something here, so let me hear some other opinions.
Related Posts:
Register Now For Auction At Willow Point
Results of Harbor Pointe Condo Auction
Is driving all about the steering? No.
Then why should Lake Martin real estate agents think that a transaction is all about him or her? It always puzzles me when real estate agents let their egos become part of the buying and selling process.
It happens all of the time at Lake Martin, as I am sure it happens everywhere. Now, I am not talking about good ole competitive spirit or clean hustle. I am talking about the instances where the agents seem to think that if wasn't for them, the whole transaction wouldn't happen at all.

Here are 4 ways Lake Martin realtors are like power steering:
1. Not essential – people have been selling each other land since the beginning of the deed. I am sure that the first horseless carriage was hard to steer, but possible.
2. But helpful– there's no denying that it's physically easier to drive with power steering, and a good real estate agent, focused on only your needs, should make buying or selling your Lake Martin home easier by doing things like previewing homes, meeting the inspector, finding the right subcontractor, or researching in the courthouse – whatever it takes to make it easier on you.
3. Safer – It's safer going around a curve when you don't have to muscle the wheel by yourself, and a good realtor will point out the possible pitfalls in dealing with Lake Martin real estate. There are plenty of oddities about Lake Martin real estate – valuing your lot, waterfront easements, leased lots vs. deeded lots, just to name a few. Are you prepared to know which questions to ask?
4. More efficient– power steering smooths out all of the minute under and over steering while you drive. The result is a smoother, straighter ride. In the same way, a good real estate agent will help Lake Martin buyers skip the properties they wouldn't like anyway and concentrate their time on the few real possibilities. Similarly, Lake Martin sellers can avoid all of the common mistakes that sellers make when marketing their lake property.
I am far from perfect; in fact I'm just an old chunk of coal. Sure, I can't help but get emotionally and personally involved in a lot of cases. But I constantly remind myself that it's not about me! It's about them! It's my job to help make my clients' experiences fun, safe, and more efficient.
If I can't prove to a Lake Martin buyer or seller that I can't save them time and money, then I can't look them in the eye and expect them to hire me!!

Related articles:
Lake Martin Sellers – Don't Pick This Realtor
5 Mistakes Lake Martin Buyers Make
The article that follows is fine, but it's just old.  The above link will take you to a history of The Ridge, a video tour by car and by boat, PLUS a list current homes for sale in The Ridge.  Much more timely.
From 2008 . . .
I am working with a couple of buyers in The Ridge, a Russell Lands development in Lake Martin. I always get asked lots of questions about the amenities at the Ridge, so I thought I would shoot a video to show some of them.
Basically, if you own a home, a lot, or a town-home in the Ridge, you have the right to access all of the amenities, like the pool, the Ridge Club, the tennis courts, walking trails, boat launch, and Beach Club. The Ridge Marina is public, but of course easily accessed by Ridge owners.
Here is the video:
I should have shot more footage of all the walking trails and sidewalks of the Ridge, a lot of people like to use them. Maybe it's material for a future video.
Properties for sale in The Ledges at The Ridge:
276 Ledges Trail (click here for property description)
here is a video tour of the townhome:
Related Posts:Lake Martin Real Estate Spotlight: The Ridge
Lake Martin Real Estate Spotlight: The Ridge Update
These questions were submitted to me from a Lake Martin Voice reader needing more info on Alabama Power leased lots on Lake Martin.  If you have more questions on this or another subject, please email me or call me (info at top of page) and let me know.  Who knows, maybe your questions will inspire a post like this.
1. Are Lake Martin lot leases standardized?  If so, where can I get a copy of the lease to preview?
Yes in that most all leases on Lake Martin are with Alabama Power. A lease they did 15 years ago might differ very slightly from one they did 2 years ago, but for the most part are the same. Copies – I doubt they would send you an example but as a practical matter I can send you copies – 4 of my listings (see each linked here) are leased lots right now. I can email them to you.
2. Are the expiration terms on all properties the same or do they vary from lot to lot?
The lease expiration and all other terms vary from lot to lot.  Most of them are for 25 years or 30 years total.

3. How does the property tax work on waterfront lot leases?
Alabama Power pays the property tax on the lot, and you pay on the improvements (house, dock, sea wall, etc). On Lake Martin, most of the value in any property is in the waterfront lot, so often the tax on the lot is greater than that on the improvements.

4. Are there any local lenders willing to do loans on leased lot homes?

Yes, plenty. National mortgage companies that have no clue about Lake Martin sometimes bring out the red tape over leases. That's OK, because most of the time a local bank can meet or beat their rates and closing costs, anyway.

5. How has APCO historically acted upon termination of any existing leases on Lake Martin?
Have a lawyer examine each lease, but, in general at lease end they can:
A.) Renew the lease for another 25 or 30 years.
B.) Sell you the lot
C.) Buy the improvements from you at market value, determined by an appraiser.
D.) Let you haul the home etc out of there.

Since my grandad started our company in 1953 we've never heard of them doing C or D. Not to say they never will, but I think it's highly improbable.
Will they sell to you? I think odds are they will renew most of the time.  It seems like once every decade or so they decide to phase out of the Real Estate biz and sell upon renewal. They did it for a stretch in each of the 70s, 80s, and 90s. When they did it was (according to lot owners I've interviewed) at prices that folks were happy to pay.  Who knows what will happen.  I wouldn't bank on it, but I wouldn't let it bother me, either. I think most people look at it like this: if they feel the lot is worth at least $200,000 – it would take a bank payment of $1,200 a month (6% on 30 years) to finance the lot. The leases on my listings are all about $350 a month currently. So if you bank that $850 a month – at lease end you'll have a huge chunk of cash if they sell it to you. Or a big cash nest egg for retirement. Whatever.
Extra Points to those who read these three Bonus Q&As:

1.  What is the highest valued leasehold property on Lake Martin that you're aware of?

Value – depends on your definition of value here.  If asking price = value, right now there are about 16 leased lot homes for sale, lowest asking price is  $319,900 (info here) and highest is like $559,000.  If selling price = value, according to the MLS the highest leased lot home sold was for $489,000.  But I know of several leased lot homes that, if sold, would bring a lot more than that. But to answer the unasked question about appreciation of value – at the end of  2006 I did a study of the MLS for property types that sold multiple times within a 6 year period: lots, condos, deeded homes, leased lot homes.  I found multiple examples where the exact same lot sold, e.g., three times that period, or the exact same leased lot home sold.  I calculated a total gain and divided by number of years between first and last sale.  All property types AVERAGED about 30% gain PER YEAR.  Granted, that was at the end of a huge bull market run.  Over 50 years, most appraisers use the 12% to 15% gain per year factor.  But most importantly, it demonstrated to me that Lake Martin real estate appreciated rather uniformly across all property types (lots, condos, deeded lot homes, leased lot homes).  Sure, there are times when some types do better than others, but in any time frame greater than 4 or 5 years it is my opinion that all will appreciate pretty much uniformly.  It's not a science.  We have small sample groups, but I've seen enough anecdotal evidence to convince me to have that opinion.
2.  How and who do you contact at APCo in order to negotiate lease extensions / renewals / purchase request / etc.?

Alabama Power has a land management office over in Dadeville which houses all of their people that do this, from the real estate leasing folks to the shoreline management (permits to build docks) folks.  Owners of leases talk to them about extensions. Typically they only talk to the owners, and won't discuss hypothetical situations.  For example, if you called them up and said "I am thinking about buying a leased lot home, would you extend the lease" they would probably not talk to you as you are not the owner.  If you get down to an exact home you want to buy, and want more years on the lease, I (as your realtor, of course) would advise you to ask the sellers to make a request for a renewal letter.  Also I would advise that you make the contract contingent upon your favorable review of the lease.  All of them are pretty much the same, so you probably wouldn't find anything that surprises you, but at least you have looked. Request to purchase – they haven't offered any new lots to lease in a few years.  If they do that again, you can get on a list to be notified of the chance to bid for the right to lease them.

3. Will APCo verify expiration date of specific lots on Lake Martin?

I suppose that, if you had one under contract, your realtor (me 🙂 ) could call AL Power with the lease info and get them to independently verify that the seller has given you the current lease to review.  That office of Alabama Power is always swamped with heavy workloads, so I would be surprised if you as a potential buyer called them up if you could get them to respond in a timely way, if at all.  But who knows, maybe they might.  But again, if it were me, I would not do any verifying or extension / renewal talk until I had a property under contract.  It is just too much of a pain to do, you don't want to ask Alabama Power for 4 or 5 favors and only use 1.
Do you have any other questions about Alabama Power lot leases on Lake Martin?  Leave a reply and comment below, and I'll do my best to answer it.  Who knows, maybe someone else has the same question.
Leased Lot Homes For Sale:
For Sale: 145 Captains Road
For Sale: 26 Claytons Lane
For Sale: 207 Paces Trace
For Sale: Pleasure Point Road
Related Post: