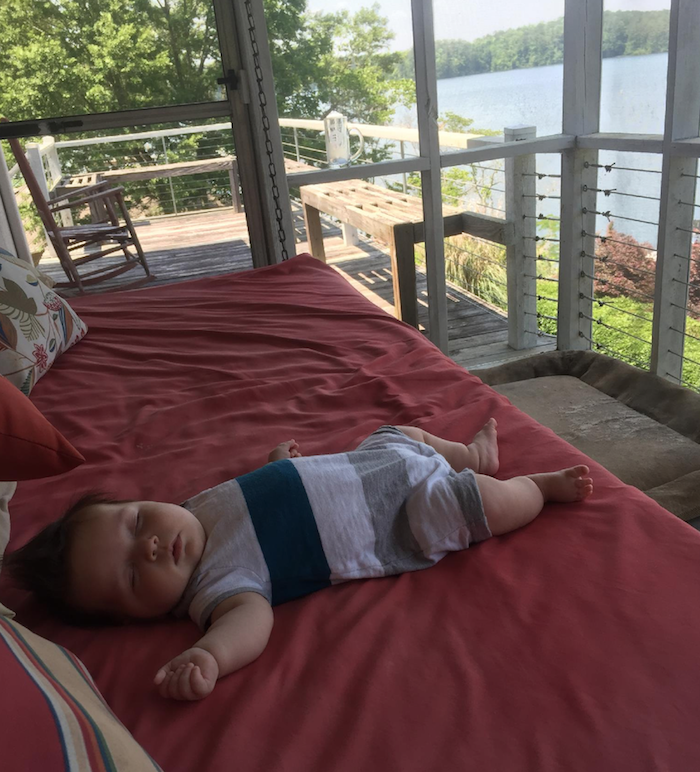 The number one event at Lake Martin on Memorial Day 2016 is napping. Yes, napping.  If you can catch some ZZZZs like this "leetle guy," then go for it.  Time well spent.  For you active types, I have plucked 3 interesting events around the Lake that will serve you well.
 On the way to Smith Marina to enjoy some birthday cake yogurt and celebrate Smitty's 60th birthday (gotta love a guy who throws himself a birthday party like Bilbo Baggins) stop by my new listing at 510 Woodvine Road located in the Parker Creek area.  Doesn't this look like a great location in a quiet area of the Lake?  Lots of room for parking and plenty of privacy.
Then 'round the corner be sure to spend some time at Art on the Lake at Children's Harbor.  This annual art exhibit is always fun with over 50 artists and all kinds of art.
Back out on the Lake, watch for the Dixie Sailing Club McFadden Cup Club Race sailboats.  What a sight!  Next stop – another new listing of mine 40 Cottage Loop at The Village.  Can you imagine spending the weekend here?  No worries with yard work – just enjoy your day relaxing on your porch or taking a dip in the Village pool or lounge at the Village beach.  Or hop in the boat for a short ride to Chimney Rock!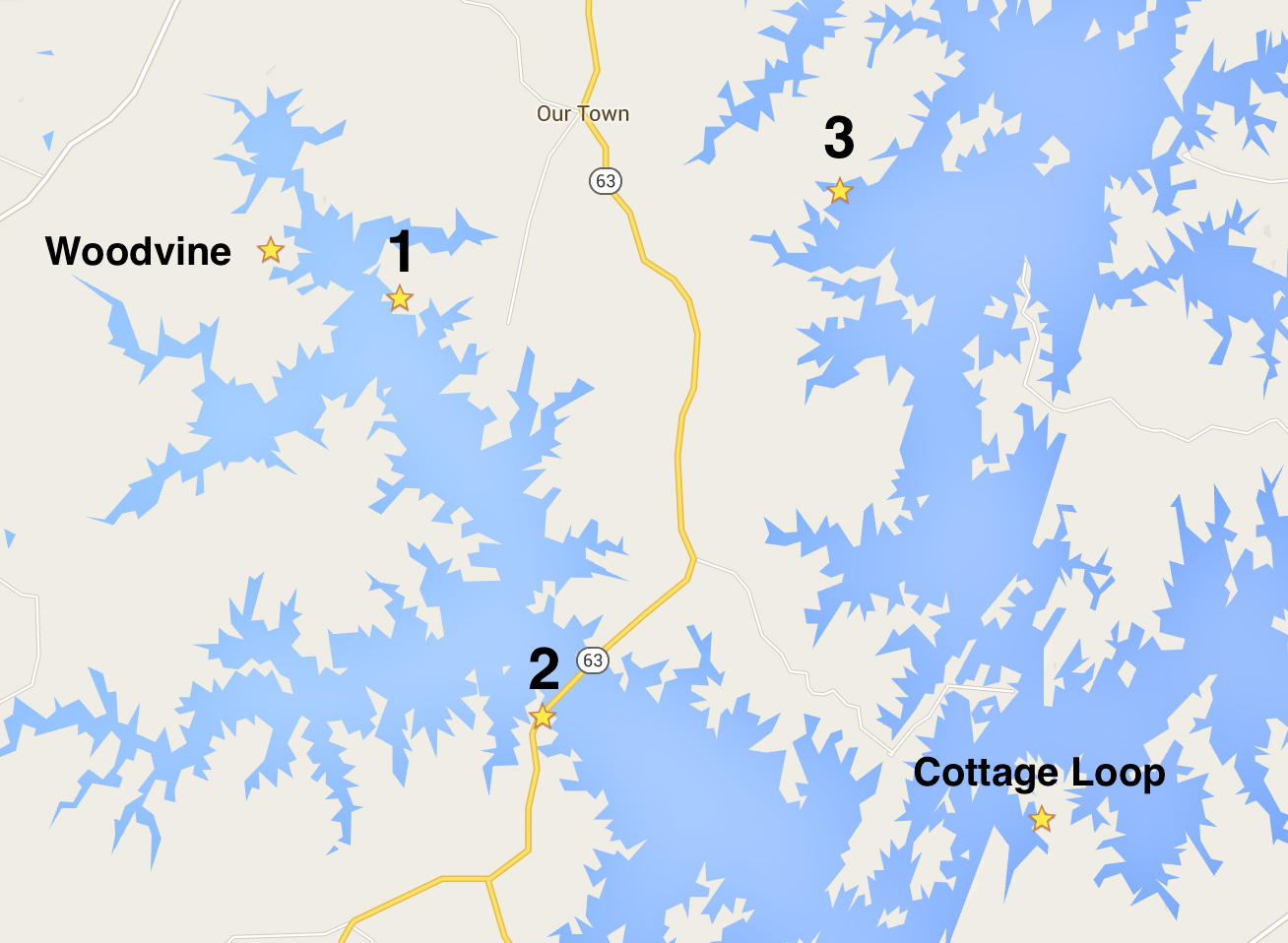 Memorial Day weekend at Lake Martin is all about family fun and kicking off the unofficial start of Summer!  Please take time to remember those who died while serving in the U.S. military but also enjoy plenty of lighthearted time with your family and friends at the Lake!
Interested in keeping up with other events around Lake Martin?  Or are you interested in places to eat, homes and lots for sale, where to shop, marinas around the Lake, places to have fun and more?  Check out the free Lake Martin Voice app!
Have a great Memorial Day weekend at the Lake!  And enjoy that nap!
The "Next Big Thing" in real estate technology is 3D Tours By Matterport. It is a new, breakthrough tool that I think will become indispensable in helping Lake Martin home buyers and sellers.
I know you might be thinking, "Big deal, John. Another cheesy, flashy item that will mesmerize realtors like a cat plays with a ball of yarn: vapidly and without understanding."
I will let the pudding give the proof on this subject. Please click on the 3D tour above for my awesome home that went under contract recently at 236 Delilah Lane. Matterport has made a huge leap in presentation by marrying advances in the 3D camera with software that smooths it out. It looks wonderful and is the closest I have seen to actually walking through a home.
If you are reading this on a smart phone or tablet, so much the better. It looks even nicer on handhelds because you are able to touch the screen. Much more intuitive.
Pretty Is As Pretty Does
Today, successful technology in any field shares two traits: simplicity and helpfulness. In other words, pretty is as pretty does. The Matterport tours do this in spades. You don't need a PhD to use it, and the tours look really nice and actually are helpful.
For Lake Martin home sellers, Matterport Tours give a marketing edge on par with full motion video tours. And like full motion tours, they represent a quantum leap into another level of presentation. What seller would not want this? Show me the Lake Martin homeowner that would tell an agent, "Nah, just go halfway on the marketing. Let's mail this one in."
For buyers looking for Lake Martin waterfront homes, the benefit is as obvious. Today's real estate buyer wants more. More homes to view, and more details about the homes they like. I have not talked to a single buyer that has said, "no thanks, I don't want to use that 3D tour." They appreciate being able to walk through a home and really get a sense of the floor plan – and not get dizzy in the process by staring at some photo stitched, poor excuse for a "Virtual Tour."
It Has Already Sold A Lake Martin Home.
I have been slowly rolling out these 3D tours on all of my listings. I wanted to take them one at a time to make sure I understand the process and how best to serve my clients and customers. Despite its infancy in my marketing quiver, I have already sold a home directly because of the 3D tour. I was on one side of Lake Martin showing a couple one home and they asked me if anything else was available. Because I had a 3D tour up and ready on one of my listings, they were able to view it quickly and confirm that they wanted to tour it physically. I wrote up an offer after their trip!
Lake Martin 3D Home Tours FAQ
How can I get a 3D Tour for my Lake Martin home? I can give you a free Comparable Market analysis for your lake home. Just contact me through this form or call me at the number at the top of the screen. I can come by your lake home and let you know what I think its likely sales point will be, and how I would use 3D tours to help sell it.
What do 3D tours cost? – Nothing. Right now, I am paying for the 3D tours' filming and hosting for as long as you list your Lake Martin home with me. Who knows, maybe one day I will have to go with an a la carte situation, but right now your 3D Tour is part of the many other marketing efforts I perform on behalf of all of my Lake Martin waterfront homes.
Are you giving up on videos or photos? No. Photos will still be a big part of real estate marketing, mainly because MLSs are set up with them as a prime cog. And they do a great job in pointing out prime angles or features. Videos- they are here to stay as well.  I do think Matterport 3D tours are better at giving a person a walk through feel, but videos are better at hitting key features and mixing in things like location shots. Plus, until Matterport figures out how to put a 3D camera on a quadcopter, "aerial camera" shots will still be a huge part of my marketing here at Lake Martin Voice Realty. In other words, gone are the days of "either / or" marketing. Today's seller deserves the very best of everything, and buyers want all the information we can throw at them.
Do I need special googles or glasses to view the tours? No. Just start clicking and turning. If you're on a laptop or desktop, use your arrow buttons. If on a smart phone or pad, just touch the screen!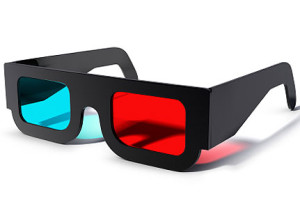 Will 3D Tours replace Open Houses? I think the internet replaced open houses a decade ago. Bringing the listing to life with a 3D tour lets you tour from anywhere, anytime.  It is like attending an always open – open house (minus the crowd and cookies).
The difference between 3D tours and virtual tours? Virtual tours allow you to do a 360° pan from a single point in the room but 3D tours let you move around in the room and from room to room.
As a real estate agent I want to have the latest real estate marketing technology and Matterport is a company that offers this great new tool. Interested in seeing the floor plan? Matterport offers a complete layout of the house and offers homebuyers the ability to move thru the property and see it from every angle.
May I help you sell your Lake Martin waterfront property? Please call or text me at the number at the top of the page or contact me through this form.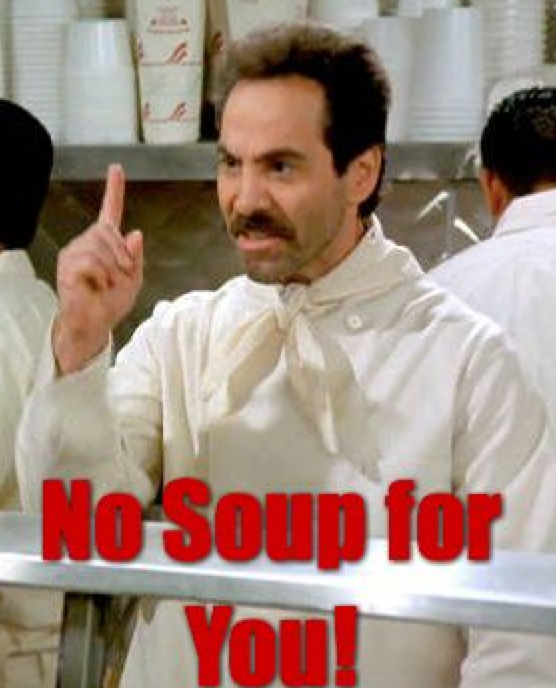 There are not many waterfront foreclosures right now in the Lake Martin market. I haven't run the numbers yet, but my feeling is that they peaked in 2009 or so. However, my Lake Martin Foreclosure list is still extremely popular with my readers and my real estate clients. I get a fair amount of folks who are only curious, but I also connect with people that end up buying later. Since I try and followup with everyone, I spend a decent amount of time explaining that buying a foreclosed home, on the water, at Lake Martin these days is a long shot. (Yes, there are plenty of good deals that are not foreclosures).
When I was setting up some waterfront homes to see tomorrow, I ran across a home on the MLS's Hot Sheet – I was initially interested because the house looked nice from the outside and it looked to be on a flat lot with a good view of Lake Martin. It was a foreclosure to boot- despite my generalities above.
I called the agent to show it, and he said, "you can't show that one. I haven't even been inside of it."
Huh?
Apparently there are people still in it and they are objecting to the sale. Agents can't show it. Buyers can't walk through it. You can enter a bid online, cash only, please sir.
OK.
If this one sells it will be one for the record books, sportsfans.
Can I help you find your dream Lake Martin home or lot? Contact me here or call me at the number at the top of the page.
Please download by FREE LAKE MARTIN VOICE APP before you call, or I will be so sad….

I am really honored to be a regular columnist for Lake Magazine.  They asked me to write about the future of Lake Martin and the new Federal Energy Regulatory Commission (FERC) license.  To read the article on their site Click Here, or feel free to read:

The wait is over.  We knew it was coming. That was made clear back in April of 2015, but until we got the real copy of the FERC license in our (digital) hands, we did not dare strut too much. Now we know the reality – for the next 30 years, as long as the Lord God sends enough rain, Lake Martin will only drop 7 feet in the winter as opposed to 10. Plus, we will have a chance to keep the tub full until Oct. 15 instead of pulling the plug after Labor Day.
We at Lake Martin can now settle back and confidently plan how the next 30 years will be. 30 years! That's practically a generation. I think the best way to consider this new license is to think about its long-term effects – effects that will come to bloom and blossom over a generation. As I have written previously, the new rule curve will only serve to improve Lake Martin and therefore our entire community and economy. This help, I think, seems pretty obvious to anyone that scans the new license.   For an article from the Alabama Power Company Shorelines blog about the new license click here.
As I review the new FERC license, the first thing to grab my attention was a mention of those previous. The original one for Martin Dam started in 1923 and lasted 50 years. The next period was a 40-year license that started in 1973. So we are starting only our third license. Martin Dam 3.0. When you put it like that, it makes the lake seem pretty young, but in reality, radical change has come here since the start of our last license in 1973.
Looking at the big picture, I would say that the biggest change agent since 1973 was the development of private property. Prior to 1973, there weren't many places on Lake Martin where you could own your own lot and home. Think about it – Russell Lands, the lake's largest private landowner and developer, had only recently started Willow Point, its first venture. Alabama Power, the other big landowner, had sold very few, if any, lots. In the 1970s, if you had a cabin on Lake Martin, most likely it was the short-term rental of an Old Testament Russell Cabin or you owned your home but leased the lot from Alabama Power.
When you're a renter, or at least a quasi-renter, there is little or no economic incentive to improve it.
As ownership spread in the 1980s and 1990s, so did the by products of ownership – stores, phone lines, garbage service and Internet. In the 2000s, it just kept going to include issues like environmental advocacy. Do you care as much about the water quality of a place that you rent casually? Or do you really start paying attention when you are an owner?
What new factor will play a big role in the next 30 years? It is hard for me to say. If I were forced to guess I would say it will be the rise of the Lake Martin investor. An investor can be someone that rents the property 100 percent of the time, or maybe a minority of the time. Yes, there are some owners that rent their properties out right now, but not that many when you compare us to the beach, etc. Why?
I think it is because of the relative novelty of the Lake Martin home ownership support industry. I don't think this is an actual term, so I will try to define what I am saying.
As uptown as Lake Martin has become in the last 15 years, we are still in our infancy of companies that help one own a home, condo or lot here. Remember that about 80 percent of waterfront homeowners are not living here full time. In other second home markets, like the beach or the mountains, there are plenty of companies that will do more than just come by and cut your grass. There are entire businesses dedicated to concierge services, such as checking on your home's condition every couple of weeks, or helping you light your hot water heater's pilot light, or filling your kitchen full of groceries so you don't have to shop before you come. Sure, these services might cost a bit, but for many people it will ease some of the worries of owning a second home that's three hours from their primary residence.
When something is easier to own, it creates more demand. More demand helps prices. Higher purchase prices mean more people will also want to rent from you. It's easier to rent your home when you have a concierge company that can help you winterize it when you need to, or change a bulb, or replace a sofa.
Will concierge companies totally change Lake Martin and usher in a significant number of Lake Martin investors? Who knows what will happen. But I do think that as Lake Martin becomes more popular in the next 30 years, we certainly will see more of them. And, I think that Lake Martin's competitiveness versus other second home markets will be largely determined by support industries and the like. Just as the rise of the homeowner was a huge influence on the second license period, the rise of the investor could well be a big factor in the third.
And by the way, for those that might be worried about over development ruining Lake Martin, take heart. There are oodles of restrictions that the new license puts on Alabama Power. Even if the power company were not committed to responsible stewardship of Lake Martin (which it is), the new license is very specific about the use of about every inch of our waterfront.
Whether you are a renter, owner, investor, worker, boater or just a fan of Lake Martin, the next 30 years will be fun. Lord willing, I can't wait to see how it will unfold!
Happy Plug Day 2016 Lake Martin!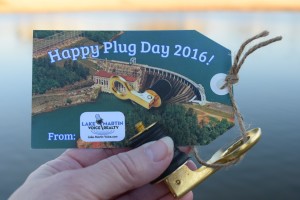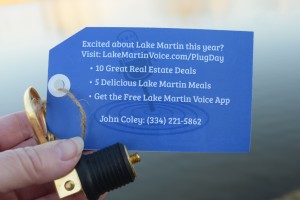 Plug Day on Lake Martin is when we celebrate the annual rising of the water towards full pool. In 2016, that day is March 1.
Question from John Q. Cynic: Is it a tad silly to celebrate when the water starts coming up? I mean, given all of the important issues in the world today, should we really take time out to cheer the annual, repetitive raising of one lake in central Alabama?
To the inquisitor, I respond, "Lighten up, Francis."
Sure, the water comes up every year, and, with one extreme drought exception, stays up until well into the fall. And sure, we fans of Lake Martin have no real control over it. But it's still fun to celebrate.
And to all the Eeyores out there that can't have a little fun, that can't be happy at witnessing one of the first signs of the spring, I say, I am sad for you on the inside. Have you tasted not the joy of warm water and warm weather? Is your heart so encrusted with malaise,  your eyes so jaded that you see not the spark of renewal that is Spring?
For the vast majority rest of us who give three cheers on Plug Day, we say a collective "Yee-Haw!" We are happy that Lake Martin is on the way up to full pool.
Looking around nationally, some real estate blogs and the agents who who write them are so serious they sound like a Warren Buffet annual report. Other agents are so in-your-face aggressive that I'd be scared to ride in the same car with them. Still other realtors come across as so dippy, fluffy, and bland that I'd wonder if they have any thoughts beyond how awesome their latest glamor shot looks.
Since I sell real estate in a second home market here at Lake Martin, I try to be informative, but I also realize that Lake Martin is mostly about fun. Pretty much all about spending time with your family and friends. S'mores. Cannonballs. Preacher's Seats. Escaping the occasional horse fly. Barbecuing ribs. The smearing of sunblock. Sunset selfies. Ribbon sandwiches. Falling asleep on the boat.  Smacking each other with those foam noodles. Falling asleep in the hammock and burning the hamburgers.
My role as a real estate agent here is to help people find their happy place, or help people sell it when the time is (regretfully) right. That's it. It's that simple.
Happy Plug Day, Lake Martin!
Lake Martin had its best year ever for waterfront real estate sales in 2015.  Sales were better in 2015 than in the big real estate days of 2005. Please take a look at this market report for the Lake Martin waterfront real estate market. I shot this video in January with preliminary numbers, but they held true:
The Lake Martin real estate market report for 2015 reflects record numbers of waterfront homes sold and waterfront lots sold.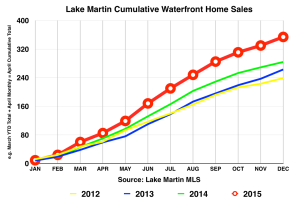 As you can see in the above chart waterfront home sales in the Lake Martin area were 24% ahead of the previous high in 2014 – with 360 sales in 2015.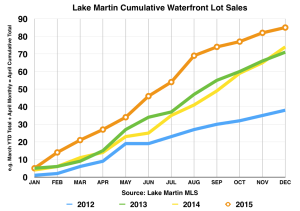 And looking at the chart above waterfront lot sales were 15% ahead of 2014 – with 85 sales in 2015.
Keep in mind, these numbers are compiled from the Lake Martin Area Association of Realtors' Multiple Listing Service*.
The bottom line for Lake Martin waterfront real estate sales in 2015:

The bottom line is that we had a fantastic year here at Lake Martin. If you have been reading this blog or my column on AL.com, you know that all of 2015 has been outstanding. It really was just a matter of how great it was going to be.
Any time that any real estate market beats the prior year in number of sold units, that's a great year. We have been doing this in the waterfront segment of Lake Martin since 2008, with no signs of slowing down.
What, if any, were the disappointments in the Lake Martin real estate market in 2015?
I had hoped for the "Triple Crown" – that is, 1.) Top year number of waterfront homes sold, 2.) top year of number of waterfront lots sold, and 3.) increase in waterfront home prices. While we definitely had the top number of waterfront homes sold on Lake Martin, and also an increase in pricing, we did not have the top year in number of lot sales. It' snot like we had a bad year in lot sales. 85 sales is nothing to sneeze at, but it did not best the previous record of in 2005.
What about the future? Won't the election hurt sales at Lake Martin? Or China's economic slowdown? Or [insert your favorite doom and gloom item here]?
I think the Lake Martin waterfront real estate market is set up for another wonderful year in 2016. I don't pay attention to macro-economic trends and I darn sure don't listen to the so-called NAR economists. I watch the local numbers. As long as we are beating the prior year, I am not calling an end to this bull market. Beating the same month from the prior year is per se an increasing market.
For example, as great as 2015 was here at Lake Martin, please note that 9 waterfront homes were sold in January of 2015. Compare that with 12 sold in January 2016. As a market, we have already sold as many waterfront homes in the first 17 days of February 2016 than we did in the entire month of February 2015.
In other words, 2015 was hot, but 2016 is starting hotter!!
When it slows down, trust me, I will be the first one to call it. I am not afraid to point out that the emperor has no clothes. But until then, don't worry about the price of tea in China because it apparently is not affecting Lake Martin real estate.
If you have any questions, please contact John Coley with Lake Martin Voice Realty at 334 221 5862 or emailing directly at john (at) lakemartinvoice (dot) com.
**************************************
Copyright notice – the above, and every other post on this blog, is the property of John Coley, Broker, Lake Martin Voice Realty. Appraisers may use my information in their appraisals without charge or asking, but please give me credit by citing me, my company name and title, and website address of http://lakemartinvoice.com.  If anyone else would like to use this information, please contact me here and ask. I probably will let you do it, just please ask!
(*)Disclaimers: All of the above info was taken from the Lake Martin Area Association of RealtorsMultiple Listing Service. Accuracy is not guaranteed but deemed reliable. The above does not include sales by   FSBOs or developers that sell privately and not through the MLS. But, I do think that the above represents a very large majority of all waterfront sales on Lake Martin, Alabama.
Welcome Paige Patterson – our newest agent at Lake Martin Voice Realty!
Paige's number is 205.616.8046 and email is Paige (at) PaigePatterson (dot) com.
Maybe you already know her from the Love Lake Martin online show or saw her recently on the "Good Morning Lake Martin" TV show or follow her on her Love Lake Martin Facebook page or her YouTube Channel …regardless, you will know she loves the Lake.
I think the best way to follow Paige is to get connected with her website Paige Patterson.com
Paige, her husband Brian, and their sons enjoy living at Lake Martin.  Paige has been enjoying the Lake Martin lake life for over 25 years and looks forward to helping you enjoy the Lake too.
I really am honored that Paige would join my brokerage, but I must confess – I am super late in posting this!! Paige has actually been with us since last summer!! I feel terrible that it has taken me this long to post something. But please do not let that diminish how excited John Christenberry and I are to have her as part of the team at Lake Martin Voice Realty. In her few short months here she has proven herself to be an experienced, energetic, and inspiring agent.  She's been selling at Lake Martin for a few years now, having come from a successful stint as an agent in Birmingham. All told, she has had her license since 2004.
Paige is a fun, creative person and I look forward to continuing to work with her. In just these few months, I have been amazed at a few things about Paige. First of all, she got Christenberry and I in gear to have goal setting meetings. I realize that high-protein real estate agents are supposed to have rigorous goals, so please don't judge when I say that I have never done that. Or, let me rephrase – in the past I had made goals for myself every year, but I did not go through the process very thoroughly. I had a general idea, but that was about it. Paige was instrumental in walking us through the steps to plan out our goals (professional, personal, spiritual, etc) for 2016. So thanks for that, Paige!
Also, I cannot for the life of me figure out how she gets people on camera so easily on her Love Lake Martin series of videos. How does she do it? Most every time I whip out my phone or Canon 60D, people duck for cover. Paige has a real talent for getting people to talk about Lake Martin – homeowners, business owners, neighbors and friends. That is a huge help to potential waterfront home buyers, because they can hear from "real" people having "real" experiences here. It's one thing to hear us agents babble, but quite another to listen to testimonials from the Lake Martin community.
Well done, Paige! Again, as broker / owner of Lake Martin Voice Realty, I am super excited about the future of our company with Paige aboard.
Call Paige at 205-616-8046 and visit her website at www.paigepatterson.com.
A very high percentage of waterfront homes on Lake Martin are on a septic system.
As a full time real estate agent at Lake Martin, I have learned that the septic system is one of the most important things to consider when buying a home here.
While I am not a professional in this field, I thought I would attempt to summarize the process of building and installing a new or repairing an old septic system, septic tank, or septic field line around Lake Martin.
Get an engineer to design a system – The engineer must make sure you know where all of the lot lines are, and the proper setbacks from those lines. They also must perform a percolation test to understand your lot's absorption rate. Once the system is designed I am pretty sure the County Health department must approve it on paper before you can proceed.
Get a septic installer to quote the cost of the system – As with any construction project, if you are installing a septic system on Lake Martin it's always a good idea to get an estimate from a few different reputable area contractors.
Install the system – The good contractors are usually very busy, so it might take a month for you to get one out to your house.
The County reinspects – After installation, the County Health Department comes out and reinspects the system to make sure you have built it according to design and code.
If you need references for Lake Martin area engineers, surveyors, and septic installers, I will be glad to provide them. Every case is different so please take my advice and be sure to get quotes specific to your home and lot. Don't just rely on a quote your neighbor or cousin received three years ago. Get specific.
At this writing, new septic system and septic lines are being installed at one of my listings at 236 Delilah Lane. I took the chance to shoot the above video to illustrate the process.
The septic guys around Lake Martin tell me that about 90% of the systems installed are pumped systems. This means the waste will be pumped from the septic tank to the septic field lines, which are basically a system of PVC pipes that allow the water to filter down into the ground. You can't have a lot of vegetation near the field lines, because you don't want roots to clog up your system. You will see in the video how they are clearing out some of the trees near where the field lines will go.
To trace the system as a whole, the waste is sent from your house to the septic tank. If the tank is uphill from your house, it goes to a pump chamber, then to your main tank. From there, if the field lines are uphill also (and they probably will be), it hits another pump chamber and then it goes to the field lines where it settles out into the soil.
If you have a question about septic tanks, please do not call me!!! I am just a real estate agent. If you have an issues or questions, you should consult with an engineer who designs septic systems.
If you have any questions about waterfront real estate on Lake Martin, you can contact me by calling me at the number at the top of the page or feel free email me! 
For other important things to consider when buying or building a home, CLICK HERE.
As the Lake Martin real estate market heats up, so do those that try and FSBO their waterfront home. I get it.
FSBO stands for "For Sale By Owner" – pronounced "FIZZ-bo" by the cognoscenti. Every market has their fair share and Lake Martin is no exception. As conditions shift into seller market status, it stands to reason that we will see more FSBOs. In fact, I usually counsel my more marketing savvy sellers to try selling it by themselves first. If you can call a few neighbors and friends and sell the home yourself, more power to you. Get a good idea of market value and a good real estate lawyer and you might pull it off.
The above note was sent to me by a buyer couple that I helped look around Lake Martin for a couple of summers. That's pretty normal – most second home buyers take a while to look since it's such a big decision.
Anyway, I showed this couple a variety of homes in different locations. I helped them get an idea of the market, and helped them sharpen their ideas about what they would need. They were pretty educated on Lake Martin real estate to begin with, since one of them is from here and they used to have a Russell cabin. So I wasn't guiding newbies, more like assisting grad students.
Their story had a happy ending! They ended up buying a home directly from a seller, a FSBO. I was really happy for them. They ended up writing me a sweet note and were quite nice about the whole thing. They were actually worried I would be upset! Ha!! Far from it!!
I was just glad to know they ended up with their Lake Martin dream home. Once I saw the home they bought, I couldn't blame them! It is perfect for them!
Since they wrote the note, my family and I have spent quite a few hours hanging out at their lake home, grilling out, wake surfing, and just relaxing. It has been great!
It's folks like them that make my "job" a lot of fun, and I am truly happy for them.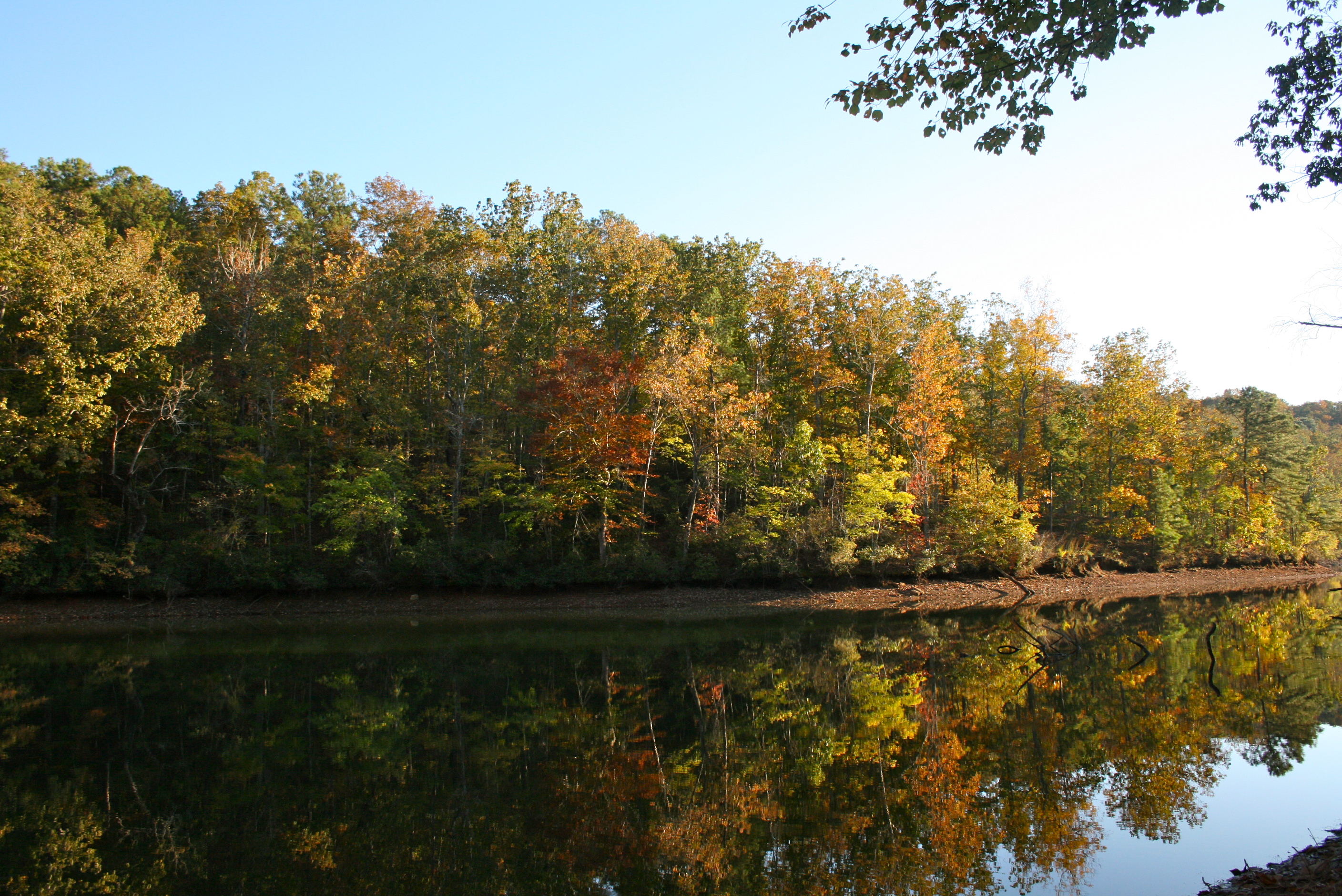 Are Lake Martin waterfront real estate sales seasonal? That's a question I hear a lot this time of year.
It's a pretty natural question, I think. If you own waterfront property on Lake Martin, you might be wondering whether or not to put it on the market now, or wait until the spring when the weather and the sales heat back up.
Or, if you are considering buying a home or a lot on Lake Martin, you could possibly be thinking that everything goes on sale after Labor Day.
To start with the buying side question, the answer is no. There is not huge price drop that happens after Labor Day. It just doesn't happen. A studied the numbers on this a few years ago and found that the sale to list price ratio does not change when the temp goes down.  See this link. This myth persists, though. But it is bunk.
What about on the selling side? Are there so few sales on Lake Martin in the cold months that you're better off to wait until the Spring?
I don't think so.
Some sellers might worry that they will have a higher Days On Market statistic in the Spring if they don't sell. I polled a few of my fellow agents and they agree with me:
It's better to have it on the market and have a few higher days on market. Nobody pays much attention to that piece of data. In our market it doesn't mean a seller is desperate, it usually means they are stubborn on price.
Think about it – if it's not on the market, agents (like me) can't advertise it. They can't put it in the MLS. No one knows about it. It definitely won't sell in that scenario.
Do you need help with Lake Martin real estate this fall? I would love to help out. I am a full time agent here at Lake Martin. Please call me at the number at the top of the screen or contact me here.