Check out this cool, outdoor living area in my newest listing – a waterfront home for sale at 570 Wake Robin, Eclectic – Lake Martin!
Built right on the beach area of this home in Trillium, the rustic outdoor area is like having another living room to enjoy year round.  The beautiful stone fireplace makes a great gathering spot for family and friends.
Entertain and relax here – watch the game on TV, enjoy a cold beverage from the built in cooler or just boat watch and enjoy the sunsets – your choice, your retreat.  Enjoy.
For more info on 570 Wake Robin CLICK HERE.
Do you have a waterfront property you are considering selling on Lake Martin?
Please let me talk to you about how I can help you.  We put the best of today's useful technology to work for you – reaching buyers in a multitude of ways: the web, social media, email, and good ol' word of mouth.
Contact me HERE or call me directly at the number at the top of this page.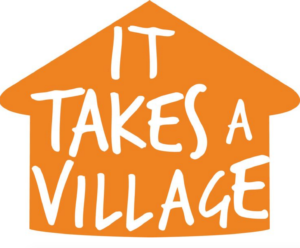 Note: I originally published this article in my monthly column in Lake Magazine.  I am proud to write about Lake Martin Real Estate for Lake Magazine.
It truly takes a village of people to help buyers purchase a home here at Lake Martin.
Sure, you might be tempted to think that the only people involved are real estate agents and lenders.  While they are a great idea, agents and lenders are not necessary.  I will say that, according to the National Association of Realtors, 87 percent of buyers used Realtors last year to help them in their purchases.  Since I am an agent, this recommendation won't surprise you, but I do think a great agent more than pays for himself or herself.  Choose one wisely.
Your agent should also be able to help you find additional people to assist in your purchase.  An effective agent should have the contact information of the below folks ready at a moment's notice.
A first person you might need is a good general contractor or GC.  A GC's advice can give you the data you need to be confident about your decision to negotiate with the seller and get a written contract.  You may need them to walk through the home on which you have selected to make an offer if there are big repair items, but please do not drag the GC around to every single home you view.  You want them to actually return your call when it really counts.
One of the first things to do after you have a written contract is to think about the land on which the home sits.  Before you even get to the house, it is a good idea to hire a surveyor.
When you consider that most of the value of a waterfront home is in the dirt, it's a good idea to get data on that dirt.  A surveyor can help.  Some buyers elect to go pretty light here and only ask the surveyor to "mark the corners."  This means simply finding each point of the property line and putting up some sort of marker.
Another option, albeit more expensive, is to get a complete survey of the property and its improvements.  At the end of this operation, you would be handed (or emailed) a survey that shows the home, the dock, the driveway and just about anything else that is on the lot.  A drawing like this can be extremely useful for future expansions but also could be helpful in case your neighbors get – shall we say – liberal with the placement of their yard art.
Most buyers are attuned to the fact that a home inspector is a critical part of the process. Make sure the one you hire after you are under contract is certified.
My personal theory on home negotiation is not to use the inspector as a way to nickel and dime the seller into having to repair every little scratch on the home; remember, most of the time the value of a Lake Martin home is in the lot anyway.  It's just my opinion, but even though I like an inspector to point out every blemish, I am just looking for the big things.  I am mainly concerned about the expensive systems or potential repairs.  I think buyers should approach inspections with the mindset of priority, ranking the repairs according to their preferences.
Contrastingly, some aggressive buyers in our current seller's market are forgoing a home inspection.  The mindset of these buyers is that they want to make their offers more attractive to the sellers, thus beating out any potential competing offers, since the purchase is not subject to an inspection.  If you choose that route, be careful, and be sure you understand all the risks.
A septic inspector is also a very important person, and this inspection also should be set up after the contract is signed.  A septic inspector is needed because of two factors: 1) most home inspectors will not include the septic system in the scope of the home inspection; and 2) almost every single home on Lake Martin is on a septic system.
Many of the septic tanks were built in a time when there was no building code in effect.  In fact, the only time the word 'code' came up back then was to describe the Lake's temperature in January.  Septic inspections are not a must for every purchase, but a buyer would be wise to at least consider it.
Next comes a termite inspector, who is usually paid by the seller, but that's negotiable.  This is a totally separate inspection, done by a pest control professional.
Usually a termite inspector issues a Wood Infestation Report, or a WIR.  A WIR will tell you if, on the particular day and time inspected, the home had active or previous infestations of termites, powder post beetles and/or wood-decaying fungi.
Many people I talk to think this is a bond that guarantees against the cost of future infestation. It is not the same thing.  If you want a termite bond, negotiate for it.  A WIR is only a snapshot of that day.
Also, unless the house is brand new, I would expect previous infestation.  Most waterfront homes on Lake Martin are older and have battled the humidity of the South.  This usually yields some sort of previous infestation.  Don't let this freak you out unless the damage is so great that your home inspector is concerned.
An active infestation, however, is a showstopper.  You had better get those nasties out of there before you buy the house.
A dock person is another lake-specific professional that might not translate to your hometown.  Every Lake Martin home is different, but this could potentially be an expensive repair or an important part of a planned renovation.
If the home you like has a dock that only needs a few top boards replaced, then it is no problem. Your solution could be a carpenter if the job is that light; however, if the dock is about to fall in, or if illegal foam has been used on the floating dock, you need to get the advice of a contractor that specializes in dock construction.  A regular home inspection does not usually cover the dock or seawall; so don't rely on it here.  Get a specialist to review the situation.
Similarly, you might need to get a dock contractor's advice if you plan a big expansion.  What if your planned expansion would run afoul of dock regulations?  Is that a deal breaker for you? Then you had better include that in your negotiations with the seller.
Selecting a good attorney is often the last choice made in the purchase process, but that does not mean it is an unimportant one.
First of all, pick someone that is a good explainer.  I have been selling real estate on Lake Martin for more than 10 years, and I still learn something new at each closing.  When you have questions about something as important and expensive as a home purchase, it helps to have a good teacher on your side instead of a person that just spouts legal jargon.
Another critical point in selecting an attorney is his or her local title search expertise.  Just because your cousin Vinny is awesome at health care law in New Jersey doesn't mean he is good at searching title at Lake Martin.  Our lake counties are rural areas (thank the Lord), and the title chain often includes some cornbread and collards stains.  The local title agents know the twists and turns of the local courthouses.  Pick a good one and trust the one you pick, but get the title insurance anyway because no one is perfect.
I may have left a few villagers out, but hopefully, I have named most of them.
Yes, Christmas in July! Where did Santa deliver Ken and Sara's gift?  – Lake Martin of course!
Guess what Santa brought Ken and Sara for Christmas last year? Hint-it is much, much bigger than a bread box. (Spoiler alert – a new house at Lake Martin, Alabama!!)  Watch the video above to see how excited they were about their present.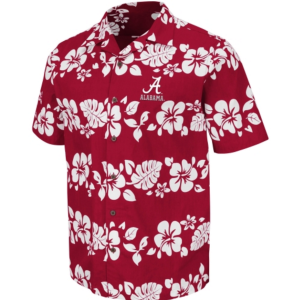 Not everyone can receive a University of Alabama Game Day Hawaiian shirt for Christmas (and surely not everyone wants one) but you can find your Lake Martin home with Lake Martin Voice Realty!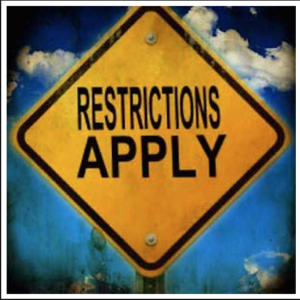 Note: I originally published this article in my monthly column in Lake Magazine. I also published it on my column on al.com – where I am proud to write about Lake Martin Real Estate for AL.com.
Bob and Susie Q. Buyer have found a way to buy a Lake Martin waterfront home that will pay for itself!
It's easy money, they think.
They have done their due diligence (i.e. watch HGTV) and are ready to make their move. They have found the perfect little Lake Martin waterfront cabin. It's on a beautiful lot with 500 feet of waterfront. When they noticed that house is crammed over to one side of the lot, it gave Bob and Susie Q. their idea. They buy the home, cut the lot in half, sell the lot, and pay for their entire purchase.
They can't miss, right?
I can think of two reasons they will.
Firstly, they might need to consider that HGTV is carried on the cable networks of Charter, Com-Link Inc. and Dish here at little 'ole Lake Martin. In other words, we know how to flip (and flop) here, too. If a deal is that much of a layup, it will likely be scooped up by Adam Smith's Invisible Hand way before it comes on their radar up there in the big city.
Secondly, the biggest reason is that the lot is restricted. Well, I should say that there is a 98% chance it is restricted and therefore they cannot split the lot. The seller is selling the lot subject to the same deed restrictions which they bought, and at Lake Martin, that means you can't split it, among other things.
Yes, there are some needles in the haystack here and there. But, the last time I looked for a buyer, I reviewed the 100 or so waterfront lots for sale on the lake and only found two or three that were truly unrestricted.
If you are unfamiliar with deed restrictions, think about the neighborhood where you live just outside of Gotham. Most neighborhoods have their own set of rules about what kind of home you can build. They might also have rules that state the minimum size a home can be, how close it can be placed to the lot lines, the materials used, or any number of things.
Still other neighborhoods have "Architectural Review Boards" which is a committee of residents tasked with making sure all new construction fits the Homeowner Association's guidelines.  These are all "deed restrictions" because they are part of the deed when you bought your house.
I hear from buyers all the time that let me know that they want a waterfront lot that is, in their words, "unrestricted." When they mention that, I always ask them if they plan to split the lot or build two homes on a lot. Usually, they say no. Most of the time buyers think unrestricted refers to controls like architectural review committees.
They don't want anyone telling them what color paint to use on their deck.
This also comes up when people want to be able to park their RV on the lot for a few years before they build their home. Or, they even might want to park the RV during the precious few months of home construction. Most formal neighborhoods and county road plats at Lake Martin have restrictions against this.
Other buyers might like to put a manufactured home on the lot, and keep it like that as long as possible. Again, it's equally difficult to find a lot that would allow this.
Does that mean all restrictions are bad? If your neighbor split his lot into 30 parts and plans to sell them all to the highest bidders, would you be excited about it?
The point here is that each lot buyer must not go around making assumptions. Don't assume that all restrictions are "bad," or that any restrictions are "good." One must behold any deed restrictions with one's own eye and decide beauty.
How does one do that?
You verify before you buy.
After that, it's too late. Therefore, a buyer with concerns about when can be done on the lot should include a contingency in the real estate contract to say something like "this offer is subject to buyer's favorable review of all deed restrictions" or something like that. The buyer should consult an attorney to make absolutely sure.
I am not a lawyer, but experience here at Lake Martin has pretty much taught me to never assume.  But, if I had to guess, I would say that Bob and Susie Q. Buyer won't be able to split that lot.
I will take a 98% chance any day of the week!
Kevin Eason has been the General Manager of the StillWaters Residential Association for several years now.  Kevin is extremely competent and helpful, and the neighborhood has benefited from his expertise.  Recently I sent Kevin an email, asking him some general questions about StillWaters.  In the course of selling waterfront real estate around Lake Martin, I get asked for information I don't have, and it is really nice to have someone like Kevin to lean on for good answers.  I am extremely grateful for his advice below!  The best way to reach Kevin directly is to call him at his office at 256-825-2990 or see the equally informative StillWaters Residential Association website here: StillWaters RA.
If you would like more info on my site on StillWaters, see the page here.  It includes a live, ever-updated list of every waterfront home for sale and every lot for sale inside StillWaters.  There is also a video tour!
Q: How many total acres are inside StillWaters?  How much of that is waterfront?
A: StillWaters is approximately 2,400 acres and we have 23 miles of private roads.
I do not know how much is waterfront but we have several miles of waterfront.
Q: How many homes are in StillWaters?
A: There are 1,815 property owners in StillWaters. 1,056 residential units, this includes single family homes, condos, and villas. There are 568 single family homes and 488 condos/villas. We also have 14 timeshare units that are not included in the total number of units. During the busy season we have 14 new guests, mostly families, check into the timeshares every Friday.
Q: How many unimproved lots?
A:There are currently 759 vacant lots; however, a few lots are very large and could be subdivided into several more building lots.
Q: What is the breakdown on waterfront lots vs. interior lots that are unimproved?
A: I do not have a breakdown of waterfront to interior lots. I can tell you there are only 14 vacant waterfront lots left, a few are listed for sale by their owners.
Q: What do the homeowner association dues cover?
A: The SWRA annual dues include the maintenance of the private roads, gates, pool, tennis courts, park, and other common areas.
Q: What percentage of your residents are permanent?
A: We think we have approximately 600 permanent residents. This is difficult to determine because a portion of our residents live in StillWaters six months out of the year and then somewhere else the rest of the year. There are 954 registered voters inside StillWaters.
Q: What frequent questions do you get from new or prospective owners?
A: The most frequently asked question by new interior owners concerns access to the water. The marina has plenty of boat slips for rent and you can pay an annual fee to use the boat ramp. We do not have a beach or other access for owners. The most frequently asked question overall is where can I rent more storage space.
Q: And lastly, how are the sales in StillWaters?
A: We had 157 properties sell in StillWaters in 2015, 136 sold in 2014, and 132 sold in 2013.
If you see anything you like in the list above, click on the picture, then click on the star beside it on the MLS list, register, and the MLS will automatically notify me.  Or, you can contact me through this form, you can email me ([email protected]), or you can call me at (334) 221-5862.
Is it hard to buy a Lake Martin home from far away?
Our waterfront real estate market here at Lake Martin is a second home market. In fact, Alabama Power estimates that about 80% of waterfront homes here are second homes.  Since we are in a rural area here in central Alabama, we get a lot of buyers that are coming from greater than two hours away.  Vacation home buyers are typically a more real estate savvy bunch – they have been around the block.  They don't have first time jitters, but there are still a lot of questions to be answered.
That's one of the fun things about selling real estate here at Lake Martin.  As an agent, I am getting people that are coming down to the lake to fulfill a dream or just have some fun.  Nevertheless, buying any home can have its stressful moments.  Add to that fact that most people are buying from a distance, and sometimes the questions can be overwhelming to say the least.  You can't just take off during your lunch hour to see a home or meet a home inspector.
Please take a second to watch George and Lea in the above video – they will explain their experience with long distance home buying.
I try to make the process as easy as possible by utilizing the latest tech. Click here to read my recent blog post on 3D Tours. Watching home tours on video, text messages, emails, phone calls, research, lots of negotiations, inspections, – buying a home can be a time consuming process.  I am willing to do anything I can to help my clients feel great about their purchase.  Sometimes I get my best ideas from them, so if you know any, give me a call at the number at the top of this page or contact me through this form. Thanks!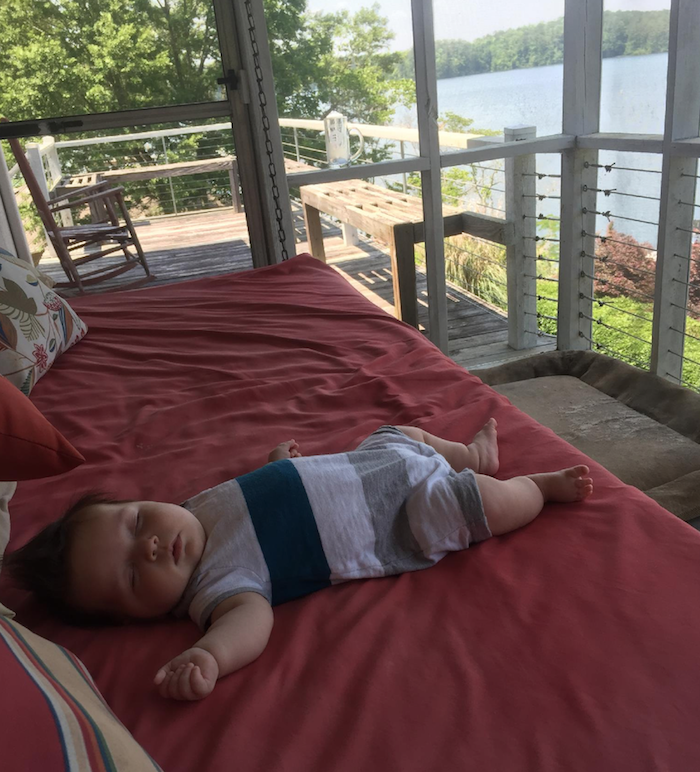 The number one event at Lake Martin on Memorial Day 2016 is napping. Yes, napping.  If you can catch some ZZZZs like this "leetle guy," then go for it.  Time well spent.  For you active types, I have plucked 3 interesting events around the Lake that will serve you well.
 On the way to Smith Marina to enjoy some birthday cake yogurt and celebrate Smitty's 60th birthday (gotta love a guy who throws himself a birthday party like Bilbo Baggins) stop by my new listing at 510 Woodvine Road located in the Parker Creek area.  Doesn't this look like a great location in a quiet area of the Lake?  Lots of room for parking and plenty of privacy.
Then 'round the corner be sure to spend some time at Art on the Lake at Children's Harbor.  This annual art exhibit is always fun with over 50 artists and all kinds of art.
Back out on the Lake, watch for the Dixie Sailing Club McFadden Cup Club Race sailboats.  What a sight!  Next stop – another new listing of mine 40 Cottage Loop at The Village.  Can you imagine spending the weekend here?  No worries with yard work – just enjoy your day relaxing on your porch or taking a dip in the Village pool or lounge at the Village beach.  Or hop in the boat for a short ride to Chimney Rock!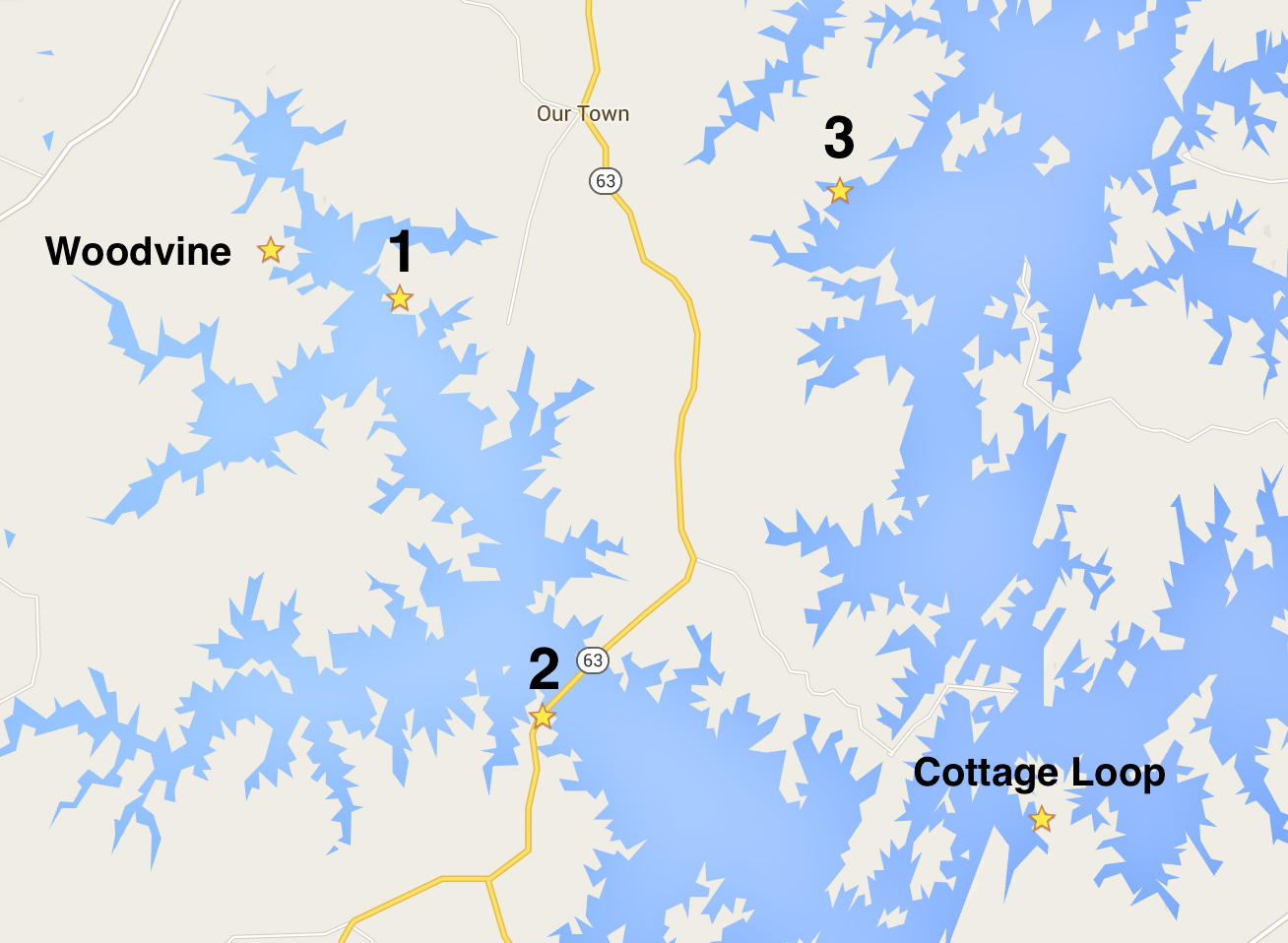 Memorial Day weekend at Lake Martin is all about family fun and kicking off the unofficial start of Summer!  Please take time to remember those who died while serving in the U.S. military but also enjoy plenty of lighthearted time with your family and friends at the Lake!
Interested in keeping up with other events around Lake Martin?  Or are you interested in places to eat, homes and lots for sale, where to shop, marinas around the Lake, places to have fun and more?  Check out the free Lake Martin Voice app!
Have a great Memorial Day weekend at the Lake!  And enjoy that nap!
The "Next Big Thing" in real estate technology is 3D Tours By Matterport. It is a new, breakthrough tool that I think will become indispensable in helping Lake Martin home buyers and sellers.
I know you might be thinking, "Big deal, John. Another cheesy, flashy item that will mesmerize realtors like a cat plays with a ball of yarn: vapidly and without understanding."
I will let the pudding give the proof on this subject. Please click on the 3D tour above for my awesome home that went under contract recently at 236 Delilah Lane. Matterport has made a huge leap in presentation by marrying advances in the 3D camera with software that smooths it out. It looks wonderful and is the closest I have seen to actually walking through a home.
If you are reading this on a smart phone or tablet, so much the better. It looks even nicer on handhelds because you are able to touch the screen. Much more intuitive.
Pretty Is As Pretty Does
Today, successful technology in any field shares two traits: simplicity and helpfulness. In other words, pretty is as pretty does. The Matterport tours do this in spades. You don't need a PhD to use it, and the tours look really nice and actually are helpful.
For Lake Martin home sellers, Matterport Tours give a marketing edge on par with full motion video tours. And like full motion tours, they represent a quantum leap into another level of presentation. What seller would not want this? Show me the Lake Martin homeowner that would tell an agent, "Nah, just go halfway on the marketing. Let's mail this one in."
For buyers looking for Lake Martin waterfront homes, the benefit is as obvious. Today's real estate buyer wants more. More homes to view, and more details about the homes they like. I have not talked to a single buyer that has said, "no thanks, I don't want to use that 3D tour." They appreciate being able to walk through a home and really get a sense of the floor plan – and not get dizzy in the process by staring at some photo stitched, poor excuse for a "Virtual Tour."
It Has Already Sold A Lake Martin Home.
I have been slowly rolling out these 3D tours on all of my listings. I wanted to take them one at a time to make sure I understand the process and how best to serve my clients and customers. Despite its infancy in my marketing quiver, I have already sold a home directly because of the 3D tour. I was on one side of Lake Martin showing a couple one home and they asked me if anything else was available. Because I had a 3D tour up and ready on one of my listings, they were able to view it quickly and confirm that they wanted to tour it physically. I wrote up an offer after their trip!
Lake Martin 3D Home Tours FAQ
How can I get a 3D Tour for my Lake Martin home? I can give you a free Comparable Market analysis for your lake home. Just contact me through this form or call me at the number at the top of the screen. I can come by your lake home and let you know what I think its likely sales point will be, and how I would use 3D tours to help sell it.
What do 3D tours cost? – Nothing. Right now, I am paying for the 3D tours' filming and hosting for as long as you list your Lake Martin home with me. Who knows, maybe one day I will have to go with an a la carte situation, but right now your 3D Tour is part of the many other marketing efforts I perform on behalf of all of my Lake Martin waterfront homes.
Are you giving up on videos or photos? No. Photos will still be a big part of real estate marketing, mainly because MLSs are set up with them as a prime cog. And they do a great job in pointing out prime angles or features. Videos- they are here to stay as well.  I do think Matterport 3D tours are better at giving a person a walk through feel, but videos are better at hitting key features and mixing in things like location shots. Plus, until Matterport figures out how to put a 3D camera on a quadcopter, "aerial camera" shots will still be a huge part of my marketing here at Lake Martin Voice Realty. In other words, gone are the days of "either / or" marketing. Today's seller deserves the very best of everything, and buyers want all the information we can throw at them.
Do I need special googles or glasses to view the tours? No. Just start clicking and turning. If you're on a laptop or desktop, use your arrow buttons. If on a smart phone or pad, just touch the screen!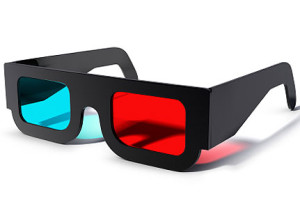 Will 3D Tours replace Open Houses? I think the internet replaced open houses a decade ago. Bringing the listing to life with a 3D tour lets you tour from anywhere, anytime.  It is like attending an always open – open house (minus the crowd and cookies).
The difference between 3D tours and virtual tours? Virtual tours allow you to do a 360° pan from a single point in the room but 3D tours let you move around in the room and from room to room.
As a real estate agent I want to have the latest real estate marketing technology and Matterport is a company that offers this great new tool. Interested in seeing the floor plan? Matterport offers a complete layout of the house and offers homebuyers the ability to move thru the property and see it from every angle.
May I help you sell your Lake Martin waterfront property? Please call or text me at the number at the top of the page or contact me through this form.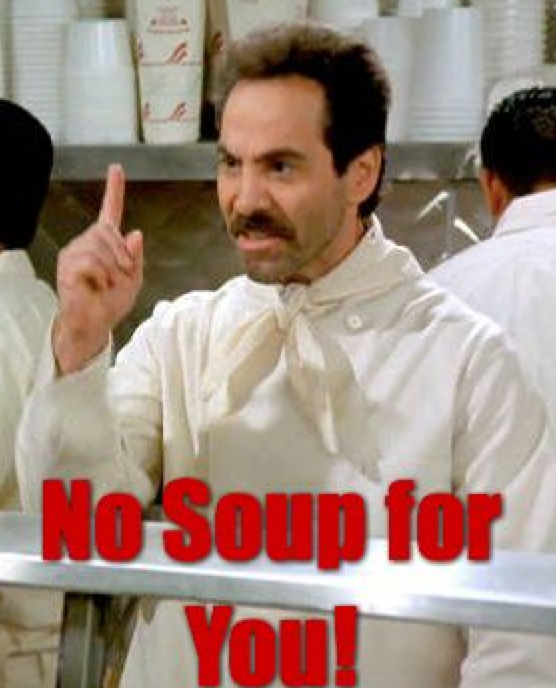 There are not many waterfront foreclosures right now in the Lake Martin market. I haven't run the numbers yet, but my feeling is that they peaked in 2009 or so. However, my Lake Martin Foreclosure list is still extremely popular with my readers and my real estate clients. I get a fair amount of folks who are only curious, but I also connect with people that end up buying later. Since I try and followup with everyone, I spend a decent amount of time explaining that buying a foreclosed home, on the water, at Lake Martin these days is a long shot. (Yes, there are plenty of good deals that are not foreclosures).
When I was setting up some waterfront homes to see tomorrow, I ran across a home on the MLS's Hot Sheet – I was initially interested because the house looked nice from the outside and it looked to be on a flat lot with a good view of Lake Martin. It was a foreclosure to boot- despite my generalities above.
I called the agent to show it, and he said, "you can't show that one. I haven't even been inside of it."
Huh?
Apparently there are people still in it and they are objecting to the sale. Agents can't show it. Buyers can't walk through it. You can enter a bid online, cash only, please sir.
OK.
If this one sells it will be one for the record books, sportsfans.
Can I help you find your dream Lake Martin home or lot? Contact me here or call me at the number at the top of the page.
Please download by FREE LAKE MARTIN VOICE APP before you call, or I will be so sad….

I am really honored to be a regular columnist for Lake Magazine.  They asked me to write about the future of Lake Martin and the new Federal Energy Regulatory Commission (FERC) license.  To read the article on their site Click Here, or feel free to read:

The wait is over.  We knew it was coming. That was made clear back in April of 2015, but until we got the real copy of the FERC license in our (digital) hands, we did not dare strut too much. Now we know the reality – for the next 30 years, as long as the Lord God sends enough rain, Lake Martin will only drop 7 feet in the winter as opposed to 10. Plus, we will have a chance to keep the tub full until Oct. 15 instead of pulling the plug after Labor Day.
We at Lake Martin can now settle back and confidently plan how the next 30 years will be. 30 years! That's practically a generation. I think the best way to consider this new license is to think about its long-term effects – effects that will come to bloom and blossom over a generation. As I have written previously, the new rule curve will only serve to improve Lake Martin and therefore our entire community and economy. This help, I think, seems pretty obvious to anyone that scans the new license.   For an article from the Alabama Power Company Shorelines blog about the new license click here.
As I review the new FERC license, the first thing to grab my attention was a mention of those previous. The original one for Martin Dam started in 1923 and lasted 50 years. The next period was a 40-year license that started in 1973. So we are starting only our third license. Martin Dam 3.0. When you put it like that, it makes the lake seem pretty young, but in reality, radical change has come here since the start of our last license in 1973.
Looking at the big picture, I would say that the biggest change agent since 1973 was the development of private property. Prior to 1973, there weren't many places on Lake Martin where you could own your own lot and home. Think about it – Russell Lands, the lake's largest private landowner and developer, had only recently started Willow Point, its first venture. Alabama Power, the other big landowner, had sold very few, if any, lots. In the 1970s, if you had a cabin on Lake Martin, most likely it was the short-term rental of an Old Testament Russell Cabin or you owned your home but leased the lot from Alabama Power.
When you're a renter, or at least a quasi-renter, there is little or no economic incentive to improve it.
As ownership spread in the 1980s and 1990s, so did the by products of ownership – stores, phone lines, garbage service and Internet. In the 2000s, it just kept going to include issues like environmental advocacy. Do you care as much about the water quality of a place that you rent casually? Or do you really start paying attention when you are an owner?
What new factor will play a big role in the next 30 years? It is hard for me to say. If I were forced to guess I would say it will be the rise of the Lake Martin investor. An investor can be someone that rents the property 100 percent of the time, or maybe a minority of the time. Yes, there are some owners that rent their properties out right now, but not that many when you compare us to the beach, etc. Why?
I think it is because of the relative novelty of the Lake Martin home ownership support industry. I don't think this is an actual term, so I will try to define what I am saying.
As uptown as Lake Martin has become in the last 15 years, we are still in our infancy of companies that help one own a home, condo or lot here. Remember that about 80 percent of waterfront homeowners are not living here full time. In other second home markets, like the beach or the mountains, there are plenty of companies that will do more than just come by and cut your grass. There are entire businesses dedicated to concierge services, such as checking on your home's condition every couple of weeks, or helping you light your hot water heater's pilot light, or filling your kitchen full of groceries so you don't have to shop before you come. Sure, these services might cost a bit, but for many people it will ease some of the worries of owning a second home that's three hours from their primary residence.
When something is easier to own, it creates more demand. More demand helps prices. Higher purchase prices mean more people will also want to rent from you. It's easier to rent your home when you have a concierge company that can help you winterize it when you need to, or change a bulb, or replace a sofa.
Will concierge companies totally change Lake Martin and usher in a significant number of Lake Martin investors? Who knows what will happen. But I do think that as Lake Martin becomes more popular in the next 30 years, we certainly will see more of them. And, I think that Lake Martin's competitiveness versus other second home markets will be largely determined by support industries and the like. Just as the rise of the homeowner was a huge influence on the second license period, the rise of the investor could well be a big factor in the third.
And by the way, for those that might be worried about over development ruining Lake Martin, take heart. There are oodles of restrictions that the new license puts on Alabama Power. Even if the power company were not committed to responsible stewardship of Lake Martin (which it is), the new license is very specific about the use of about every inch of our waterfront.
Whether you are a renter, owner, investor, worker, boater or just a fan of Lake Martin, the next 30 years will be fun. Lord willing, I can't wait to see how it will unfold!