We have dropped the price on 38 Antler Road, a four bedroom, three bathroom waterfront home on the east side of Lake Martin.
This home is one of my favorites, as it has really nice appointments, yet remains a fun, accessible lake house. It's located toward the end of County Road 34 on the Dadeville side of Lake Martin, so it's centrally located on the water. Check out the video above, or CLICK HERE for complete information on the home.
Or, just call me, John Coley, directly at 334 221 5862 or contact me here. I would love to show you all this home has to offer!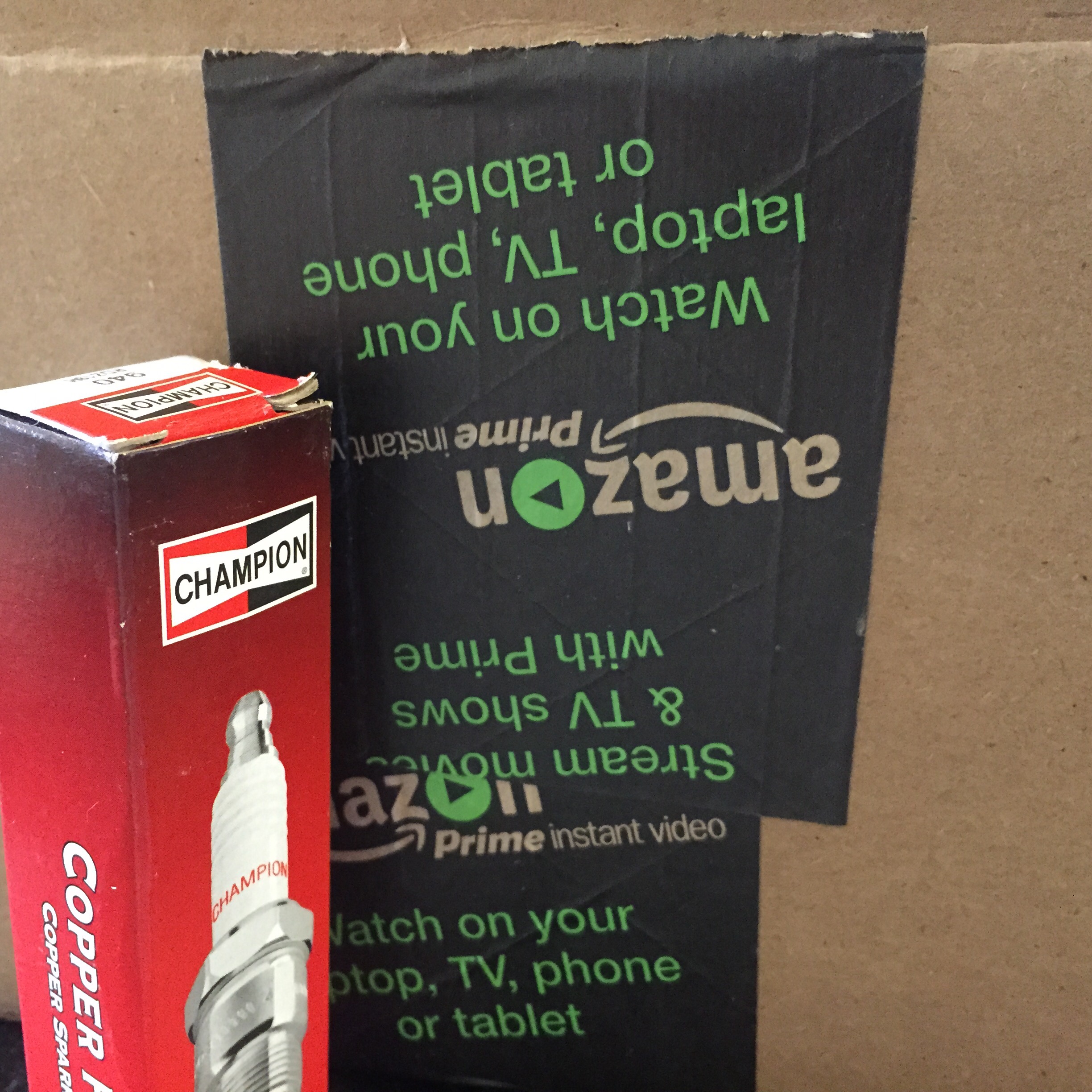 Saturday afternoon I spent the day running around town getting supplies to tune up my yard equipment. I know – super exciting… I am a stone cold gangster.
When I got done shopping, I realized that none of the stores I visited had two items- a specific hanger for my weed eater and an obscure spark plug sized just for it. No worries. I fired up my Amazon app, ordered them, and went about my bidness.
They were sitting on my doorstep at ten am Monday, less than 36 hours later.
I know my story is not unique. In fact, it's pretty common. But I still get awe struck sometimes when I consider how Amazon has totally changed the game in e commerce, and how that bleeds over to almost everything else. We consumers didn't start out demanding random spark plugs in less than two days. Amazon's excellence made it happen though, and now I confess disappointment when other vendors can't deliver like that.
Contrast that with this recent LA Times article I read about Zillow. Basically, their estimates stink and their home search tool is misleading and inaccurate.
So why do consumers keep using them? Why are we so demanding about shipping times on the latest Brotherband book but so accepting about a company that feeds us such terrible real estate data? I talk to buyers all the time that quote a zestimate to me and ask why it's so high or low. Invariably they admit "oh yeah Zillow is terrible in my hometown." So why use it for Lake Martin? Why use it for anywhere?
Aren't you tired of the expired listings that look active? Aren't you distrustful of their estimates? Can't you see the futility of a website that says a house has 1,665 square feet but no bedrooms? Does the appetite for mediocrity in real estate know no bottom? Who knows, one day I might have to shift my approach and become Mr. Zillow. Maybe they will have decent data and maybe it will be the best place to connect to consumers, and I will have lost this philosophical position because the market has spoken. When that day arrives, look out. I will be its biggest cheerleader. But right now the most popular site we use to look for $5 spark plugs is better than the one for $250,000 homes. Does that make any sense?

As for me, I'm trying to revamp my entire website. Really, I guess, my entire business model. Today's consumer demands fast, accurate info delivered on multilateral platforms. That's it. They demand Amazon Prime level service from real estate agents. I strive towards that, not anything else. I am sure I will fall far short of that standard, but I'd rather fail doing that than drown in the legion of average.
Lake Martin had its best year ever for waterfront real estate sales in 2014. This year's real estate market report reflects record numbers of waterfront homes sold and waterfront lots sold.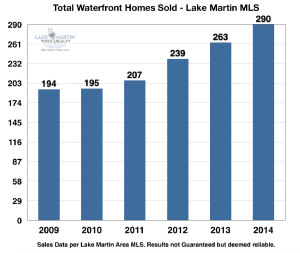 Close readers of my prior market reports for Lake Martin will note that the previous record year for home sales was 2005. In that year, 285 waterfront homes, townhomes, and condos were sold in the Lake Martin MLS(*). It remained the high water mark as sales started to slide the very next year, bottoming with a miserable 137 waterfront homes  sold in 2008.
Do you remember 2008? I do. In 2007 we had no rain. In 2008 we saw few home sales.
Thankfully, the Lord God provided rain and lack of supply combined for the Lake Martin market to bounce back in 2009. As you can see on the above chart, the lake had 194 sales in 2009, a full 42% spike in one year.
Why do I go over these old numbers when I am supposed to be talking about 2014?
Because I think it is worthy to remember how everyone – ( well – almost everyone, see my point #3 to buyers in this report from 2008) – back then said "things will NEVER get back to the old days. We will NEVER see Lake Martin sell like 2005 again." Wrongo. Incorrect. I heard the naysayers back then and I still hear someone say that at least once a month now.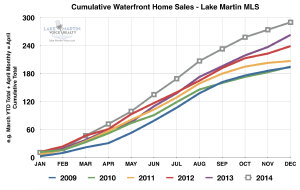 Here is proof positive that you should never say never.  Seriously. Go back to my Lake Martin market reports in 2008 here and look at it.
Lake Martin Waterfront Lot Sales
You also might remember that 2013 was a huge year for waterfront lot sales here on Lake Martin. Did we repeat that feat in 2014? Yes.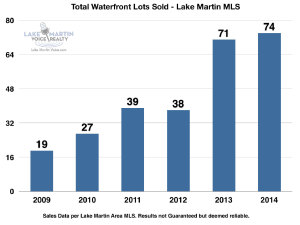 Unbelievably, waterfront lot sales were higher in 2014 on Lake Martin than 2013. One might be tempted to conclude that this is only because Alabama Power Company, a private utility and major waterfront landowner, decided to sell a bunch of lots in both years. However, even if you remove the 23 lots Alabama Power sold in 2014 through the MLS, it would still leave 51 lots sold, which is way better than 2012. Similarly, in 2013 only 17 of these waterfront lots sold were from Alabama Power. Remove those, and the record still stands.
FAQ About My 2014 Lake Martin Real Estate Market Report
1.) What prices do in 2014 on waterfront homes? I will cover Lake Martin's pricing trends in a later post. But my quick answer is that I did not see a huge price jump. I will detail this in the future.  Please stay tuned.
2.) If we beat 2005 for the best year ever, I guess that means now we will start sliding again? Not necessarily. I calls them as I sees them. When sales start slumping and losing to the prior year, I will be the first to say it. But not before then. Mark my words, in a free market, everything has a cycle. Yes, Lake Martin will experience another contraction some time in the future, just not now. Right now we are booming. Also, since I strongly believe that price follows sales, I don't think we can call a peak until we see upward price movement.
3.) What do you do in real life? I am not a blogger or writer by trade. I am a humble real estate agent here at Lake Martin. I write these market reports and other items to try and be helpful. If I may help you buy or sell something here at Lake Martin, please contact me by clicking here. I would love to be of assistance.
Related Posts About Lake Martin Real Estate Market Reports:
Lake Martin 2012 Waterfront Market Report
Lake Martin 2013 Waterfront Market Report
All Lake Martin Waterfront Market Reports
Copyright notice – the above, and every other post on this blog, is the property of John Coley, Broker, Lake Martin Voice Realty. Appraisers may use my information in their appraisals without charge or asking, but please give me credit by citing me, my company name and title, and website address of http://lakemartinvoice.com.  If anyone else would like to use this information, please contact me here and ask. I probably will let you do it, just please ask!
(*)Disclaimers: All of the above info was taken from the Lake Martin Area Association of Realtors Multiple Listing Service. Accuracy is not guaranteed but deemed reliable. The above does not include sales by   FSBOs or developers that sell privately and not through the MLS. But, I do think that the above represents a very large majority of all waterfront sales on Lake Martin, Alabama.

Editor's Note: This post was written entirely by Mac as part of his "Career Day" for school. He shadowed me all day to get an idea of what it might be like to sell waterfront real estate at Lake Martin. I am so honored that he would chose me! He was truly hands on, writing the below post and also producing, scripting, and editing the above video. I think he has a future in sales!
Mac's Tips For Kids At Lake Martin
A lot of kids do not realize how fun Lake Martin is, but being a kid I can tell you a lot. I have a few reasons why I love Lake Martin.
One of the reasons I love Lake Martin is the amount of freedom you have. The opportunities are abundant. You can shoot fireworks off your peer on the Fourth of July. Another thing I'm looking forward to is I just turned fourteen so I will be getting my Boater's License. My parents will soon let me ride the wave-runner to some of my friends houses.
The second thing I love about Lake Martin are the activities. You can do anything from wake boarding to going to a concert. Lake Martin provides you with pros from SMG Wake to teach us kids how to wakeboard, show us new tricks and teach us how to wakesurf. There are also paddle board races at local marinas and at Children's Harbor. One of the special things that I do is take my Eno and hang it up outside between some pine trees and take a nap or read a book.
The final reason I love lake Martin is my friends. At Lake Martin my friends that have a lake homes tend to be close so it only takes about ten to fifteen minutes to get to their lake house. This might be different for some people it just depends where you are on Lake Martin.
All in all Lake Martin is a really awesome place to be. There are great restaurants with delicious food, and you do not have to worry about any dangerous marine life. I love it there and plan to go every summer, and if you experience the beautiful Lake Martin yourself you will to.
At Lake Martin Voice Realty, we are big believers in real estate video. At this point, that almost goes without saying. We've been posting (hopefully) helpful videos about Lake Martin real estate and area info since about 2008. Some of these videos, though, are not for the public.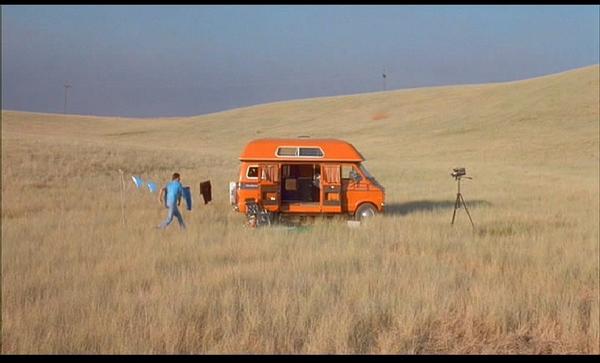 I just posted a video to my YouTube channel that is not public. In fact, it is only aimed at four people.
Don't feel sad, you can get one made for you, too. This Lake Martin video was made for two couples that went in together and allowed me to help them find their lake home. Due to work and kiddo restraints, they were all not able to make it to the "walkthrough" before closing. You are probably familiar with walkthroughs in your hometown – it's where the buyer walks through the home, making sure everything is ok before closing, and perhaps – if they're nice – the seller is there to let them know about the quirks, tips, and tricks of the home. Here at Lake Martin that also includes things like: How to winterize the landscape irrigation? How to treat the boat lift when the water goes down? Who's the best neighbor to call if you need a tool?

So, no, you can't watch my latest video. I made it by following around the seller and asking him questions. I uploaded it to YouTube and sent the Unlisted link to the buyers. It's about fifteen minutes long, and hopefully will be of use to them for years to come. There is no extra charge for this, it is just how we roll up in here.
If you would like to watch all of the rest of the videos on Lake Martin that we've made since 2008, please CLICK HERE for my YouTube channel or here for a summary page and player on my blog.
If there are any questions you may have, please contact me and let me know. Thanks!
Lake Martin Voice seeks to be the number one resource for all things about Lake Martin real estate.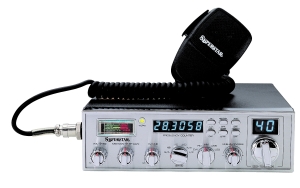 We realize that a huge whallop of our readers do so from their mobile devices, be they iPhones, iPads, Androids, whatevers. We want Lake Martin Voice to be the number one resource for real estate on Lake Martin. Period. Therefore we want your mobile experience to be the best, too. Recently we installed a new tool to help with that. For the nerdy interested, it's WP Touch, a WordPress plugin.
Anyway, we have some flexibility on how our menus and pages are displayed, so if you have any feedback we would love to hear it.
Specifically:
Do you like using the home search tool?
Is the home search easy to get to?
Once you're on the home search, do you like it? What can improve?
What is hard to do?
What is easy to do?
Anything you would like added to the menus or pages?
If you have any feedback you can fill out this contact form or email me at john at lakemartinvoice dot com.
Thanks!
Waterfront home for sale in Trillium at 550 Longpine!
I am so proud to offer 550 Longpine in Trillium for sale! This beautiful waterfront home is the kind of house I got into real estate to sell! Not just because it is (clearly) a luxury home, but because this home really embodies the best of the Lake Martin experience.
This is what struck me the first time I drove up to 550 Longpine: as a real estate agent, you never really know what to expect. Many homes in Trillium are very nice, but because they were built in a different era, let's say, you see a lot of million plus dollar homes that need updating. This is not the case here. From the driveway, I could see the timber / wood / stone features that carry throughout the home. To me, this home is a perfect combination of nice finishes and accessibility. This home feels fun. It feels like family.
When I talked with the owner, this theme continued. He confirmed to me that the areas like the huge greatroom, spacious kitchen, and covered back deck "act as funnels" to draw your family together when they spend time at Lake Martin.
Inside, the heart pine floors contrast with the stone work in the greatroom and granite in the kitchen to give you elegance that doesn't feel like a an untouchable museum. It also has three bedrooms upstairs to accommodate guests.
And the lot – awesome! It has a rare combination of being flat, yet has deep water at the dock. Most of the time on Lake Martin if you want year 'round water, you have to trade off by having a steep rappel to your dock. Not so at 550 Longpine. Here you have an easy stroll over flagstone sidewalks to a deep water dock complete with a boat lift and boat ramp!
Maybe I ahve gushed too much here, but I would love to etell you more about 550 Longpine. Check this page for more info or contact me here!
One of the subjects that stretches my empathy to a breaking point is when someone chooses to buy waterfront property on a lake other than Lake Martin.
Now, let me just put out the disclaimer that I understand intellectually that there are other nice lakes here in the United States. In theory, my brain accepts the academic concept that not all people would choose to be on Lake Martin; however, I must admit a high level of flabbergast when I am told by a buyer that they have decided to find a home on a lake besides Lake Martin.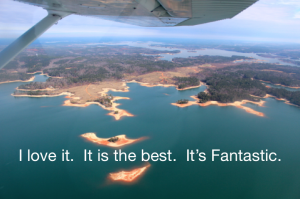 When it comes down to it, especially if the person has visited our fair lake and seen all we have to offer, how could they possibly walk away?
I will say that it does not happen very often.
Maybe it's because buyers that are really fired up about other lakes just don't call Lake Martin real estate agents. But in my line of work, I do speak to a lot of people that are looking to buy waterfront property on a warm, Southern lake, and therefore considering many. I can tell you that nine times out of 10, those who buy, end up selecting Lake Martin. Again, I understand this is merely anecdotal.
Still, it bugs me that anyone would select anything besides the obvious choice. To gain a little more insight, I talked to a couple of other Lake Martin real estate agents.  India Davis at Lake Martin Realty's Willow Point office agreed with me that the losses are few and far between.  "We have more amenities that these other lakes – more things to do, more restaurants, and that kind of thing. Plus, people really like the size of the lake, so you don't feel crowded like some of the tiny, narrow lakes in other areas," she said.
India felt that those who did choose other lakes did not make their decision based on anything other than price or convenience.  "Some buyers might feel that they can get what they want for a lower price. Or other buyers might choose a lake that is closer to their primary home. Those are about the only reasons I see people buying elsewhere."
I agree with India. I find that for most buyers, the unspoiled beauty of Lake Martin and all of the things to do here trumps other lakes in this part of the nation.
If someone goes to another lake, price and proximity to their primary home seem to be a big factor; however, I also see so many people that come to Lake Martin who literally drive right by other lakes in order to come here.  This is a mindset that I can appreciate!
Furthermore, our overall lower cost of living is a real attraction to people nationwide. I recently had a call from a retiree that was in Oklahoma. He was researching the best lakes in the South with the lowest cost of living, and Lake Martin was tops on his list.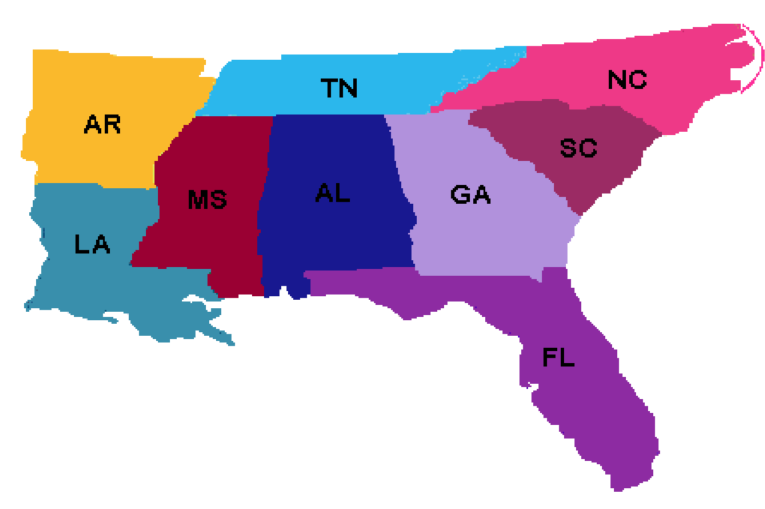 I also talked with Gordon Pickler at Designer Homes Realty Lake Martin, LLC. Gordon pointed out that the convenience of Lake Martin to population centers contributed to how it has been developed over the years.  "In the 1970s, the northwest side of the lake attracted Birmingham folks, and Montgomery families tended to the southern side. For the last 20 years, the east side of the lake has seen a huge influence from Georgia. People from Georgia, especially, are used to what I call 'commuter lakes.' Those are lakes where the homes treat the lake as an afterthought. At Lake Martin, the waterside of the home is the most important. When people see that and realize how relatively undeveloped we still are, they love it." Gordon quipped.  Gordon makes a lot of sense to me.
Try as I might, I still can't really understand someone not choosing Lake Martin. I mean no offense to any other lakes, but we are so blessed to have Lake Martin in our backyard.
To quote my dad who likes to paraphrase Dizzy Dean: "It ain't braggin if it's the truth."
I originally wrote this article about Lake Martin waterfront real estate sales for LAKE Magazine's August 24th edition. As summer winds down, we have a chance to look at the Lake Martin MLS sales numbers and try and get a picture of what has happened with waterfront sales so far this year . . .
If this month's real estate market report was a Dukes of Hazzard episode, this would be the moment when Bo and Luke, driving furiously in the General Lee, round a curve and spot a "Bridge Out" sign that spans a muddy river. The camera would freeze on their expressions of "uh oh." Waylon would say something witty, and the network would cut to commercial.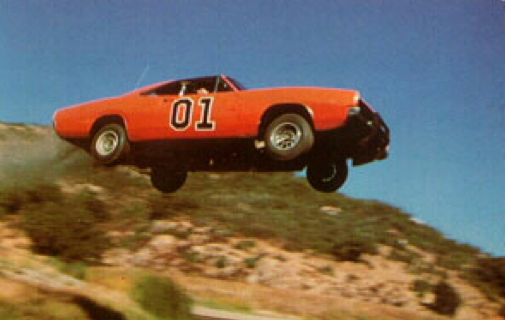 The question in the viewer's mind: Will this be great? Or mind blowing?
With Roscoe in hot pursuit, there is little doubt that the Dukes would jump the creek and escape.  But, there's a slim chance that the car might roll three times while Luke shoots a dynamite-laden arrow at a falling tree, saving some innocent bystanders in its path. Incredible!
We would still be amazed if they merely jumped the creek.
We find ourselves in a similar spot this month as we review the Lake Martin real estate market reports.
I examined the Lake Martin Multiple Listings Service (MLS) waterfront home sales for Jan. 1, 2014, through July 31, 2014. These results include all agents in the area but none from private sales between individuals or developers.
After reviewing the numbers, I have no doubt that the Lake Martin area is going to have a great year. But will it be incredible? Will we see the most homes sold since the record year of 2005?
The careful reader will recall that last year, in 2013, we were asking the same questions ("Lake Martin Lots Selling Hot in 2013").  Through the end of July in 2013 there were 138 homes sold. That year did not end up beating the record of 2005, but it came close while trouncing the second place effort of 2006.  If we fast forward to the present, we see that through July 31, 2014, 168 homes have been sold, or 22 percent above 2013. We are tracking above last year, which was the second best year on record. Not bad.
But what if we look at how many waterfront homes were sold at this same point in 2005? Through July 31, all agents, all brokerages in 2005 sold 178 homes on the MLS, which is about 6 percent greater than this year.  We are not on a winning pace, but we are close. We are stalking the leader and coming down the stretch.
What about waterfront lots?
The year 2013 was a record breaker for waterfront lots sold on the Lake Martin MLS. For the entire year, area agents combined sold 71 lots, whipping the previous record of 55 in 2005 and almost doubling the prior year of 38 in 2012.
Are Lake Martin waterfront lot sales still hot in 2014?  In a word, yes.
The year 2014 is tracking just behind 2013. Through July 31 last year, we had sold 37 waterfront lots in the Lake Martin MLS. At the same date this year, 34 had been sold. I think that a difference of only three is not much to worry about, statistically, so it's safe to say we are on pace with last year.  At any rate, we have all but guaranteed that 2014's lot sales total will best 2012 and 2011.  I also think it is safe to say that this year will beat 2005.
So we return to the original question: Will 2014 be great, or will it be incredible?  We will know in a few months. My guess is that, on the home sales front, we will come really close to 284 waterfront homes sold but will not beat it.  There are 60 homes under contract at this writing, but not enough inventory, I think, to beat the record. Similarly, I think Lake Martin will see very close to 71 lot sales, but not materially more.
Don't be disappointed if Luke doesn't fire a dynamite-tipped arrow, we still will have had a great year if sales approach those numbers.
Kids like Lake Martin.  They like waterfront homes on Lake Martin.  And they are naturals at giving their testimonials on video – no coaching necessary.
This video below was sent to me by my buyers, the new owners of a lake house in Parker Creek.  Their daughter volunteered to give their family's testimonial for me, and I think she does a great job.  Most adults cringe when asked to be in front of a camera, even if it is just my iPhone.  The fact that some agree to do it, I hope, is proof that they valued my help in the transaction.  But a kid?  Why didn't I think of this before?
And on the flip side, I'll bring back this video from 2010, where a mom (and friend of our family) talks about why she, as a parent, loves Lake Martin. There's a lot of wisdom in what she says – see if you agree:
So – if you're looking for a way to bond with your kids, try Lake Martin.  As a full time Lake Martin real estate agent, I'm happy to hook you up with a home or lot here.