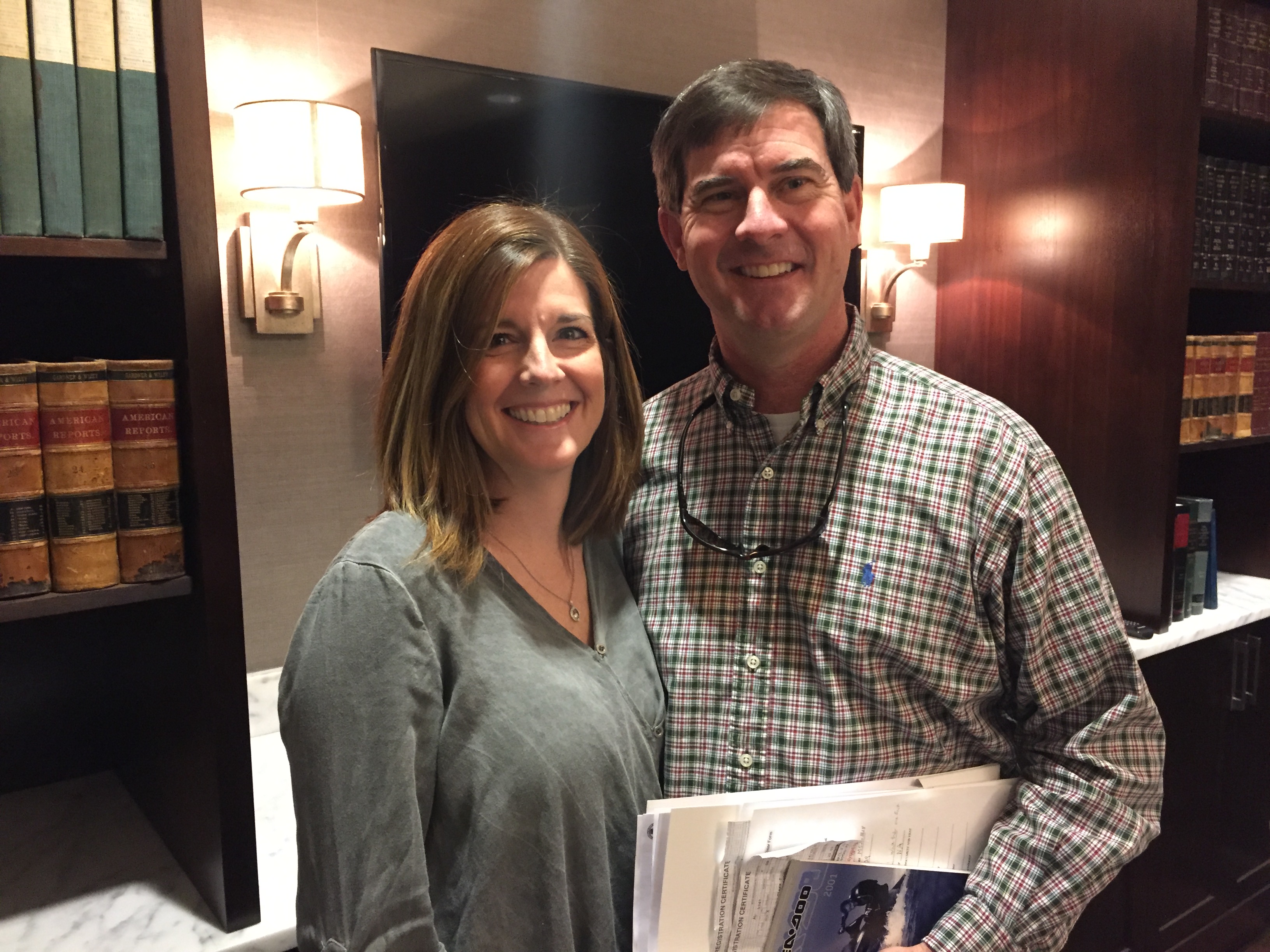 Not long ago I sold a waterfront home in the Real Island area of Lake Martin to Mike and Michelle. Like many couples, they had been dreaming about owning a home at Lake Martin for a long time.
This will be their first summer at Lake Martin in their new home. I couldn't wait to see how they were enjoying it so far.  So I checked with them earlier in May and here is their response:
"We are thoroughly enjoying our lake house! We hosted our school's track team this past Saturday for their end of the year party. We had about 50 people there for the afternoon, and it was a blast! This holiday weekend we will have some close friends staying with us.We are having fun making it our own, and creating special memories! Thanks for checking on us!"
I am happy to help you make your dream of owning a home at Lake Martin come true too! But here is a warning – be prepared to be the most popular mom and dad around the school when it comes time to host the team!
Can I help you find your dream Lake Martin home or lot? Contact me here or call me at the number at the top of the page.
Waterfront Lake Martin home for sale in the Real Island / Little Kowaliga area
Do you long for an escape from work? From city life? Are you looking for a real departure?
Do you find yourself remembering when cabins were cabins, not extensions of pretension? When dirt roads led to gold, not away from it? Then 236 Delilah Lane on Lake Martin could be the perfect place for you to come away and put your phone on Do Not Disturb.
Nestled in a modest hill in the woods, its close to home in Little Kowaliga or Real Island area of Lake Martin. Because its bordered on one side by 38 acres of forest, you'll soon forget the world of instant notifications and expectations.
The home comes fully furnished and decorated by two renowned architects who captured the spirit of the cottage. It's a place to experience Lake Martin in a tangible way, and experience a lifestyle that doesn't take itself too seriously.
Upstairs the wood ceilings, wood burning fire place, and galley kitchen support the main bedroom and bathroom. Downstairs the guest bedrooms share a bathroom and are only 3 steps from the water at Lake Martin.
Go for a boat ride or stay here and paddle to cast a fly against the lake shore. You can lounge on the swing and read on the screened in porch. If you know the difference between a buzzing phone and the call of the cicada, or if you'd like to learn, please come see this home. Keep your phone on, but only if you want to.
For more information about this home, CLICK HERE.
Or, just call me, John Coley, directly at 334 221 5862 or contact me here. I would love to show you all this home has to offer!
Lake Martin home remodels are common in the Little Kowaliga / Real Island area.  It's an older – and very popular – part of the lake, so many of the homes have been there for years.  We last visited Lee and Amelia's Little Kowaliga cabin renovation in May.  Doug Fuhrman of Southern Traditions Construction has since put the finishing touches on the home, and a lot of summer fun has already been had.
I think it's a great example of a smart renovation – They made the existing square footage make more sense, and they added living space where it matters most: waterfront.  The bricks and sticks of a lake home pale in value when compared to the dirt beneath them, so this couple first got the lot they wanted, and then created the home they needed.  I dropped by last week to check things out:
BEFORE renovation, lakeside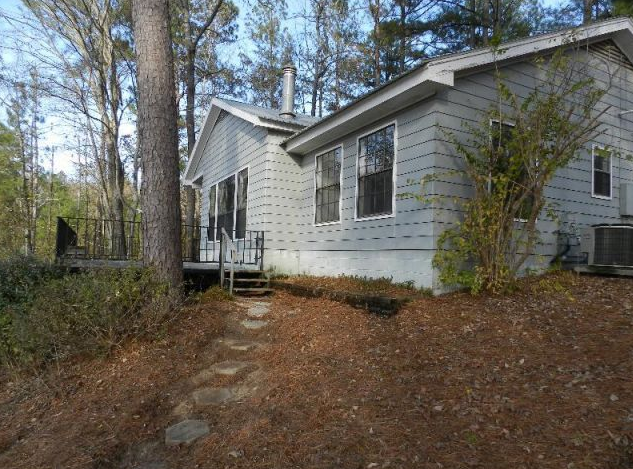 AFTER: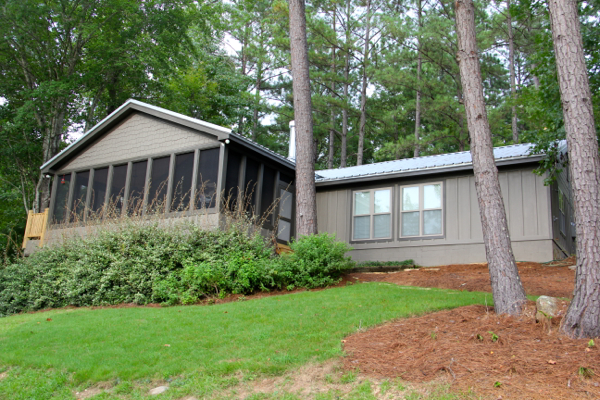 Enclosing the lakeside deck with a screened porch was a no-brainer.  They added lots of waterfront living space that can be used almost year round.  For those of you wanting to know what adds value to a lake home, it's not the closets.  It's usable waterfront space.  I've never had a buyer object to a large screened porch.  Ever.
BEFORE picture of the 1980's kitchen: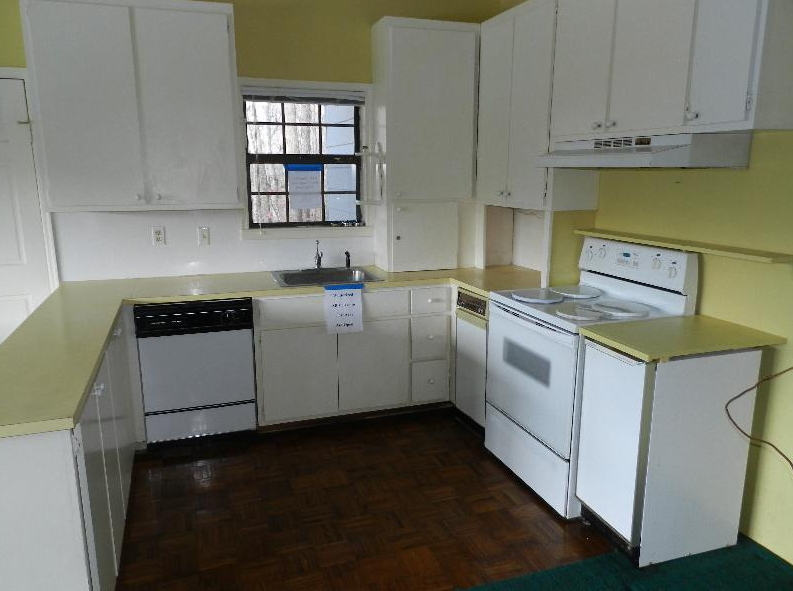 AFTER: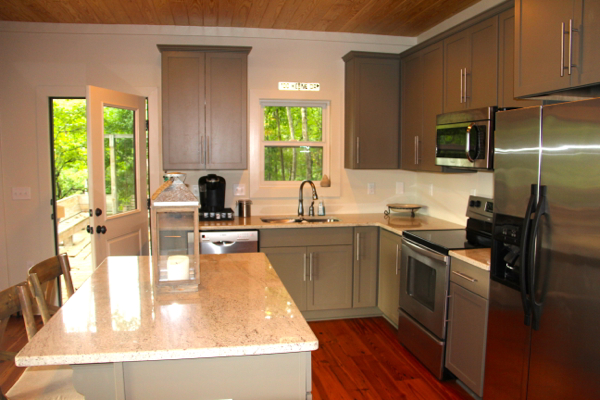 Amelia updated everything in the kitchen, keeping the layout of the appliances the same.  They swapped out the peninsula for an island, and gained a little more room to move about the kitchen.  The floors, the windows, the walls – all new and fresh.
BEFORE – The main living area with no lakeside access and the deck outside: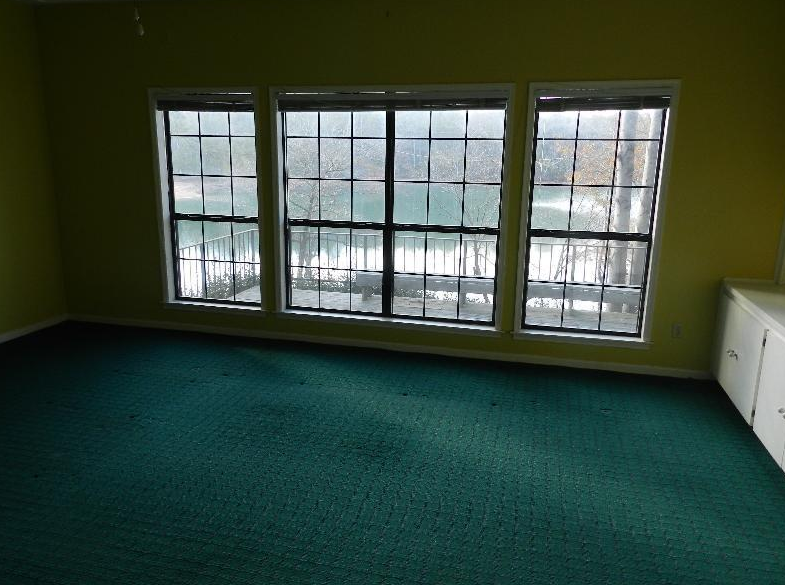 AFTER: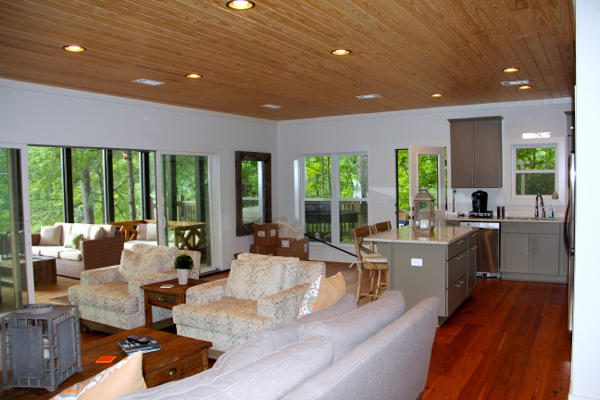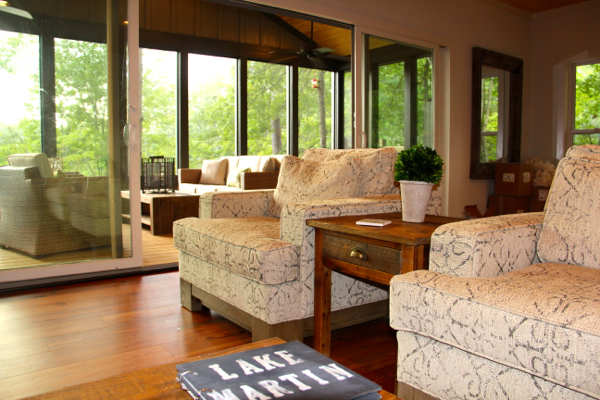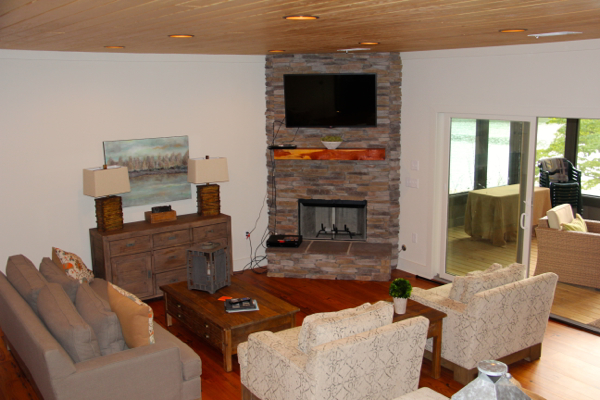 The old lakeside windows went out, and new sliding glass doors went in.  The screened porch replaced the old deck, and Viola! Room for everyone with a view of Lake Martin.
BEFORE, the home had two bathrooms, but they were awkward and outdated (and pink):
AFTER:
They had some fun with these bathrooms, and for those that are wondering, that is wood grain tile at the base of the shower.  Pretty neat.
BEFORE picture of a bedroom with the familiar green carpet: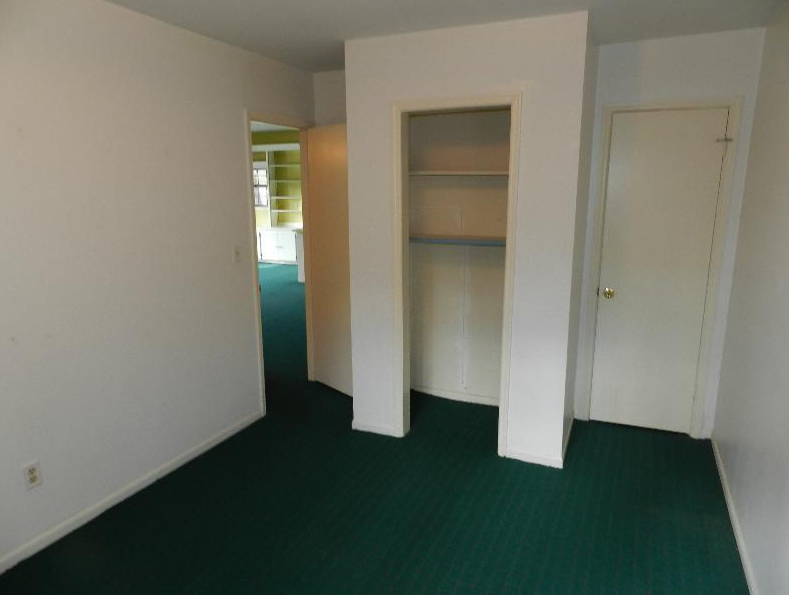 AFTER: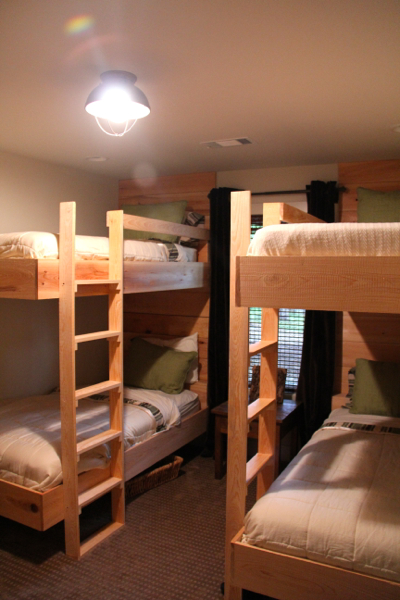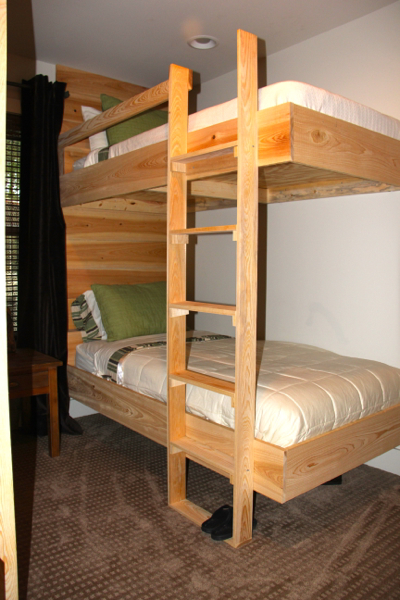 The bedrooms have all been freshened up with new carpet, lighting, windows, etc.  These built in bunk beds have space underneath for stowing luggage and whatever else their three sons and their buddies might bring to the lake.  In the future they may add drawers for concealed storage.
BEFORE, the side entrance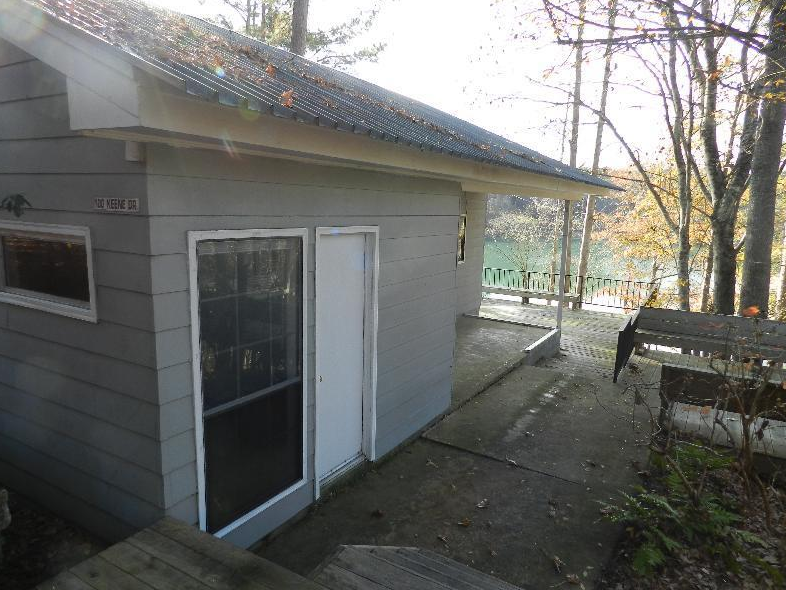 AFTER: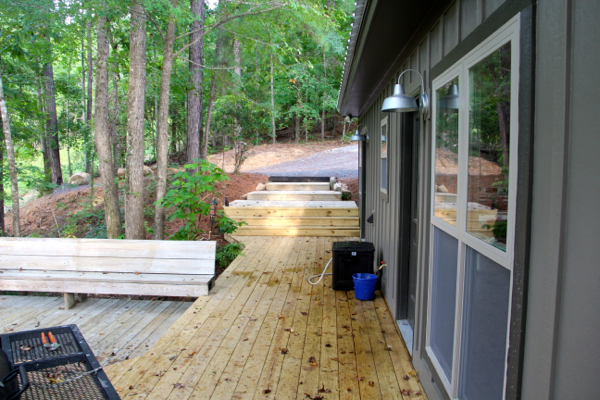 The tiny (and not very useful) covered side porch by the entrance of the house was enclosed and became part of the new living area.  New decking replaced the old concrete slab entrance, and everything feels shiny and new.
My thanks to Lee and Amelia, and to Doug Fuhrman at Southern Traditions Construction for letting us follow this renovation.  So it's a fresh start for this lake address, and now the Lake Martin fun continues . . .
If you're a buyer who is looking for a Lake Martin cabin to renovate, give me a call, and I'll help you find a property that makes sense for your vision and your budget.  I can help you find the right combination of lot and home, just like I did for Lee and Amelia.  Give me a call at (334) 221-5862, email me at [email protected], or click here to contact me.  
Previous Posts in this series:
Real Island Renovation Part II:  Peeling off the 1980s
Is a waterfront construction project on Lake Martin any different than one in the city?  I wasn't sure, so I asked Doug Fuhrman, owner of Southern Traditions Construction, and lead man on this Real Island renovation project we've been following.  I was hoping there would be some exciting insider scoop I could offer my readers, but Doug's response was,  "Not really."
Ha!
OK.  So since construction is construction, no matter where you are, let me offer some real estate tips based on my experience selling homes on Lake Martin.  While these things may seem painfully obvious, you'd be surprised by what some folks do to their waterfront homes:
1) Windows and doors:
You are at Lake Martin to enjoy the water, even if you never dip your toes in it.  You need to see it.  And even better if you can see it from lots of places inside a home.  Why stick a tiny window in a great room when you can use a big one?  Seems pretty obvious to me, but you'd be surprised.  No buyer ever says, "I liked the house, but there was just too much view of the lake from the home."
It's hard to tell from the angle of this picture below, but across the front of the great room (back wall of the new covered porch) is a wall of glass.  New sliding doors have replaced a set of smaller windows, and the new bedroom addition on the right has wall to wall windows (minus space on the left for a closet, and the far right for the new master bath).  This is not fancy architecture; it's just putting more of the lake in front of your eyes.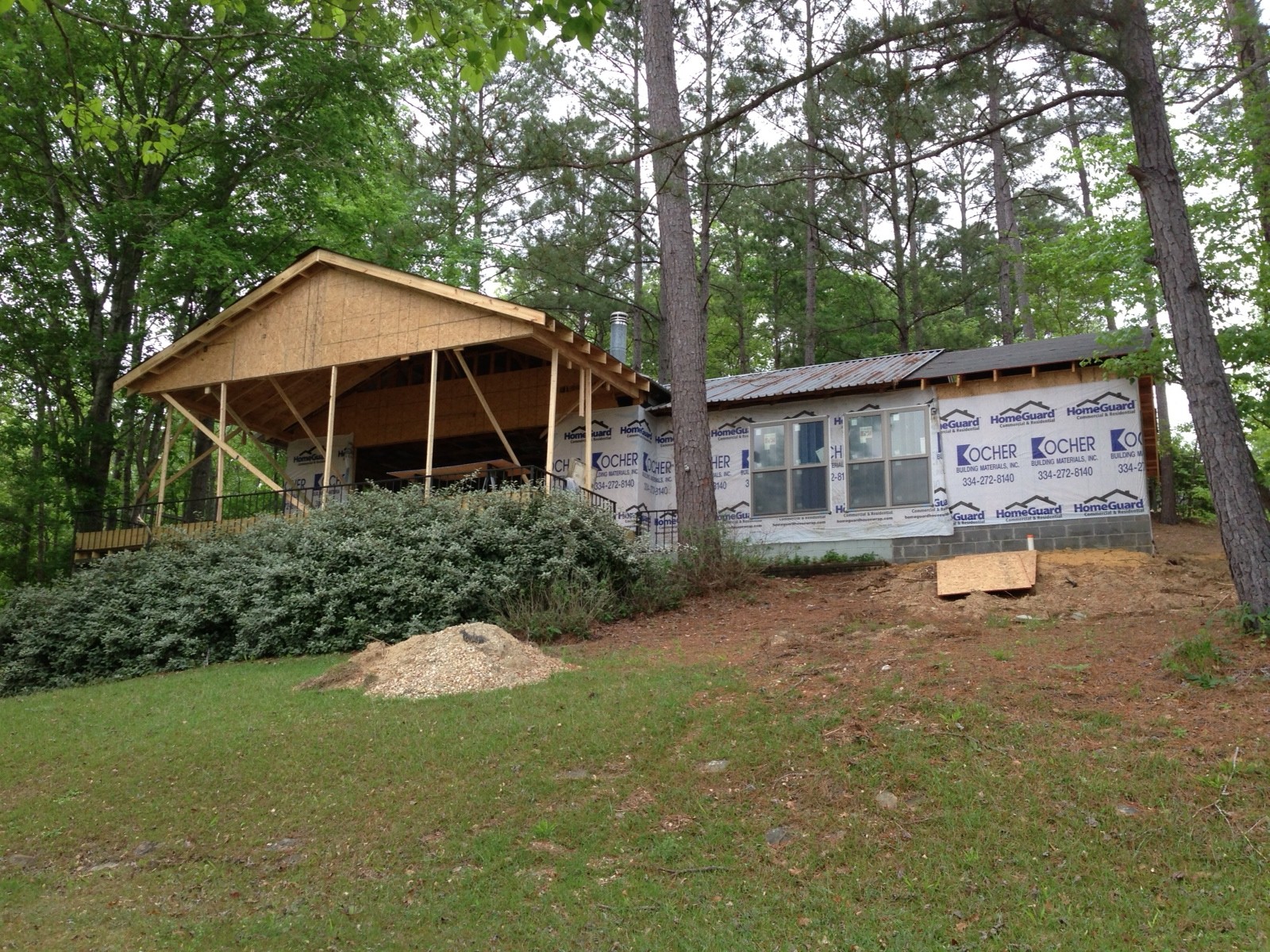 Before: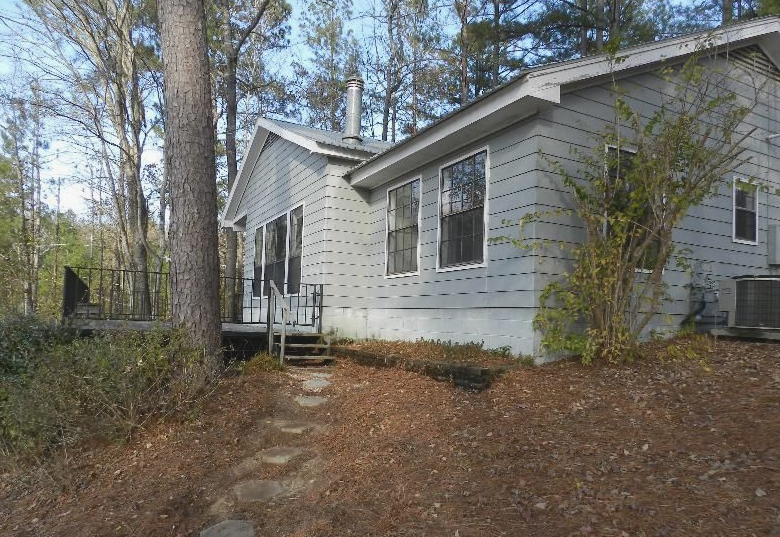 2) Covered outdoor living space
It gets warm here.  It also gets sunny.  And every now and then it rains.  The picture above is a great example of an outdoor space that is OK, but how much more use would it get if it had a roof?  The new owners of this home agree, and are creating a covered space that will be comfortable all day long – rain or shine.  Again, no buyer has ever said, "The inside of the house was great, but I don't want that huge screened porch."
3)  Access to the water
Make it easy to get from the house to the water.  A few years ago I sold a $500k waterfront home that literally had no way to get to the water (other than climbing over a wall and scrambling down a very long hill).  This was one of the first issues the new owners corrected, and imagine how much easier it is to enjoy Lake Martin!  Make it a priority to have the fewest steps possible to get from the inside of the home to the dock, and if the only way to the water does not cut through the master bedroom, even better.
In the process of rethinking this Real Island home, Lee and Amelia decided to add sliding glass doors to the front of the home where there was no lake access before, plus keep the side entry for folks coming in from the street.  Simple and efficient, and with a eye toward the lake.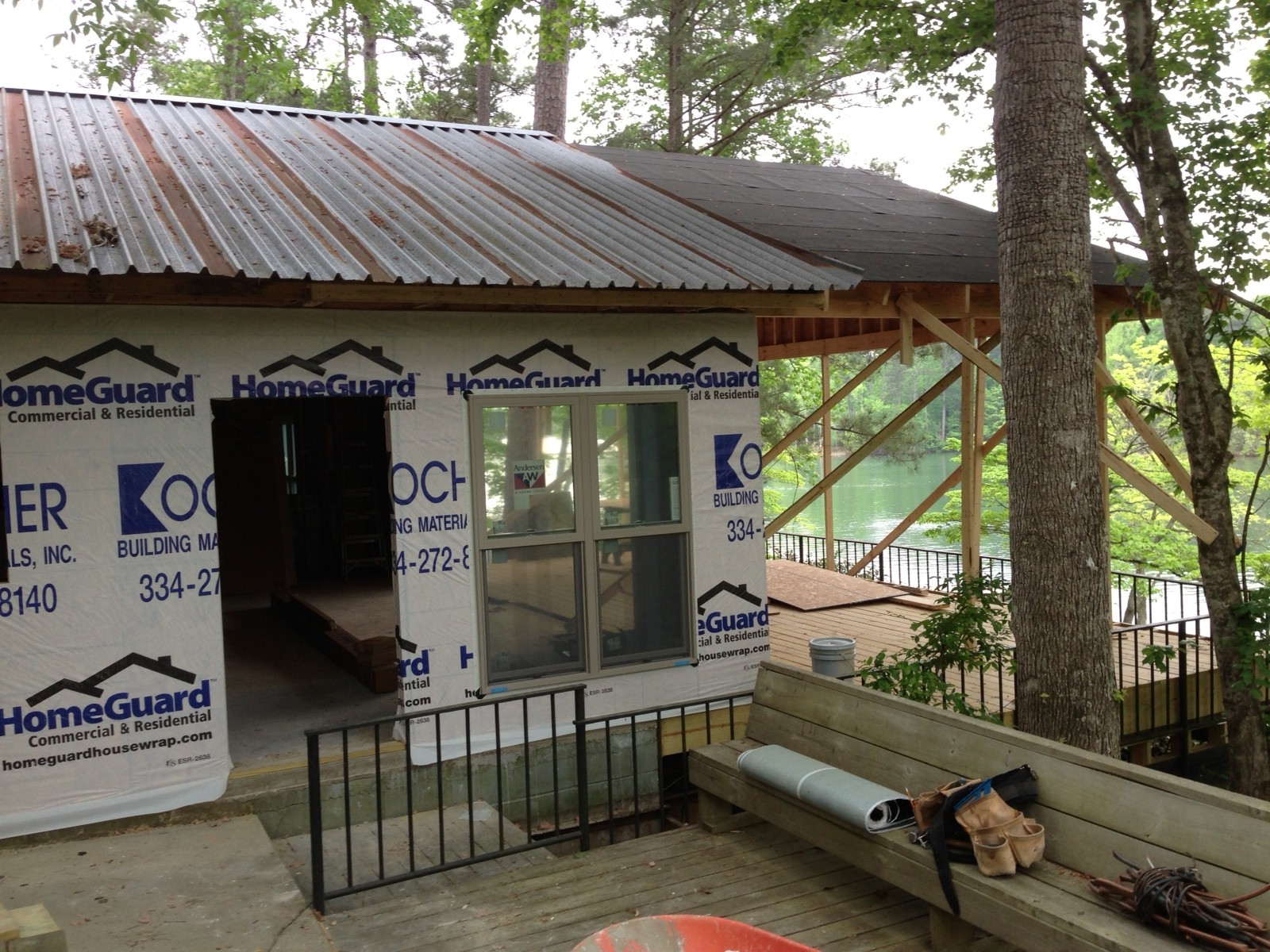 If you're looking for a home in the Real Island / Little Kowaliga area, check out my Little Kowaliga Neighborhood page.  You'll find all kinds of info on this part of Lake Martin, and most importantly, you'll find a live feed from the MLS with all homes that are currently for sale in this area.
If you have ANY questions about Lake Martin real estate, give me a call at (334) 221-5862 or click here to email me.  My job is help people buy and sell homes, and I serve the Lake Martin area 100% of the time.
If you have construction questions, however, I am not your guy.  Give Doug Fuhrman from Southern Traditions Construction a call at (334) 531-3914 or email him at [email protected], and he'll be happy to share his years of construction wisdom with you.
There's no turning back – renovations on this waterfront Lake Martin home in Real Island are well underway.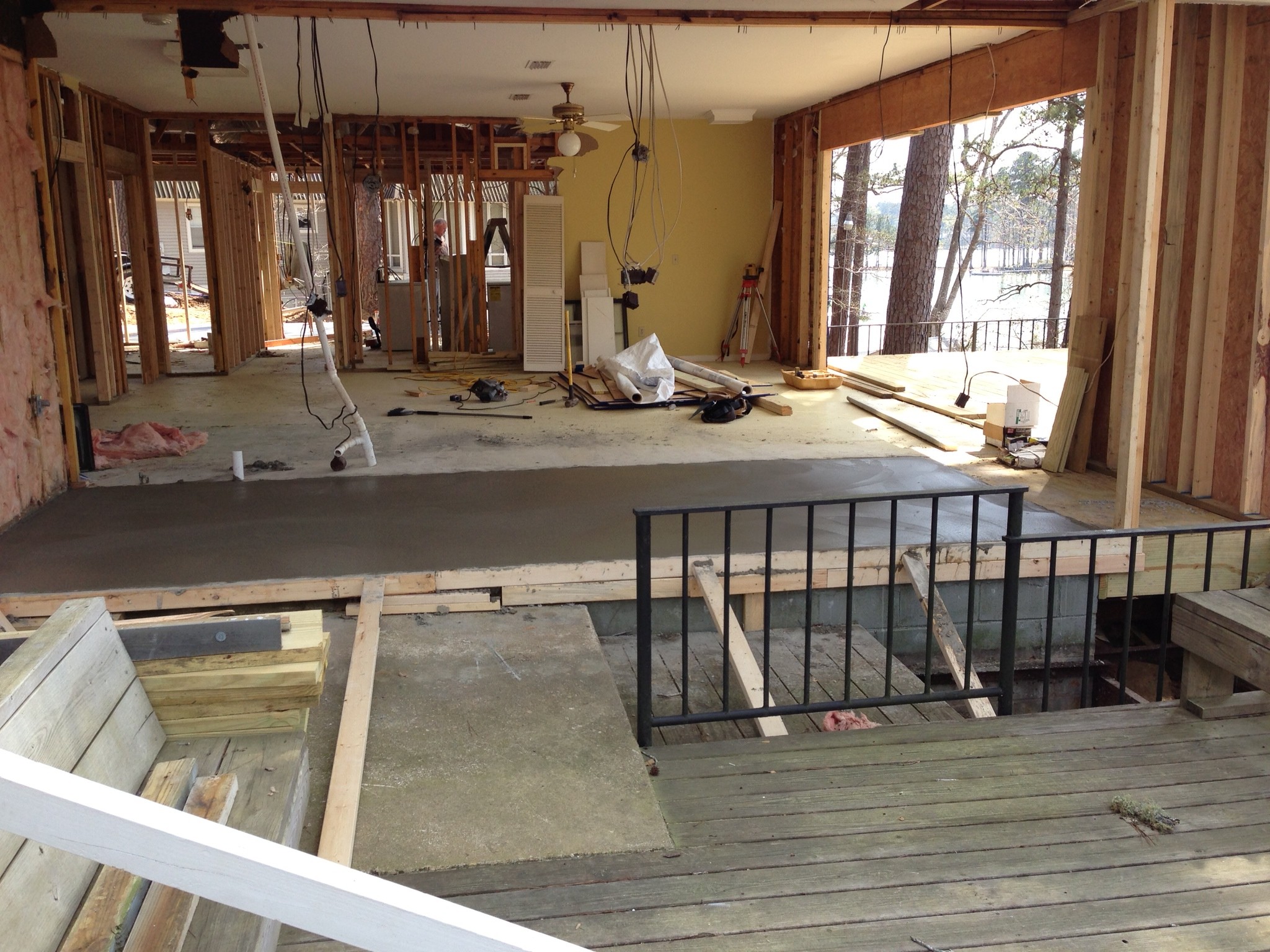 (For the first installment in this series, CLICK HERE for Real Island Renovation Begins)
If you love home projects, these pictures will make you excited.  If you're not the project type, then you're feeling a little anxious.  But Lee and Amelia loved this Real Island lot, and knew right away they would update the home before moving in.
Great view of Lake Martin, by the way!
It is very common to see this kind of radical renovation on the western side of Lake Martin. The Little Kowaliga / Real Island area is one of the older parts of Lake Martin, and thus has slowly populated over time to include tiny cabins that are next to million dollar homes.  Generally speaking, the lots in this area are a little bigger, more wooded, and less sloping, and the feel is more rural. (Of course I can always find the exception to that statement.) AND, there are really no undeveloped lots left.  When you see new construction on a waterfront lot in Little Kowaliga, odds are that person has torn down an old cabin or mobile home.
Contractor Doug Fuhrman of Southern Traditions Construction helped Lee and Amelia rethink the floor plan of the existing cabin, adding only about 400 square feet to the overall footprint, but moving things around to make the home work better.
For example, by bumping out the bedroom side of the home, they were able to expand the third bedroom and bathroom, and add a master bathroom: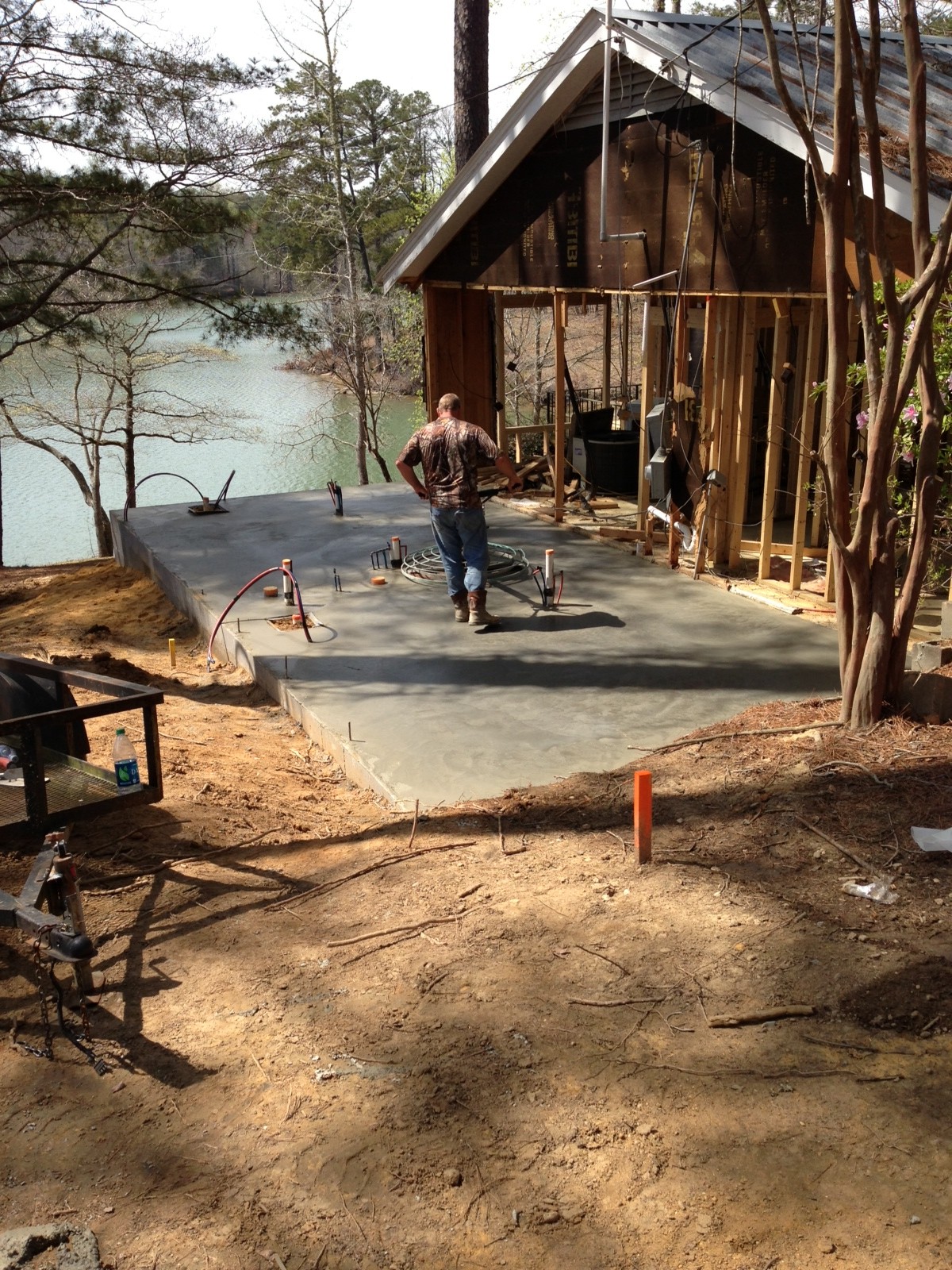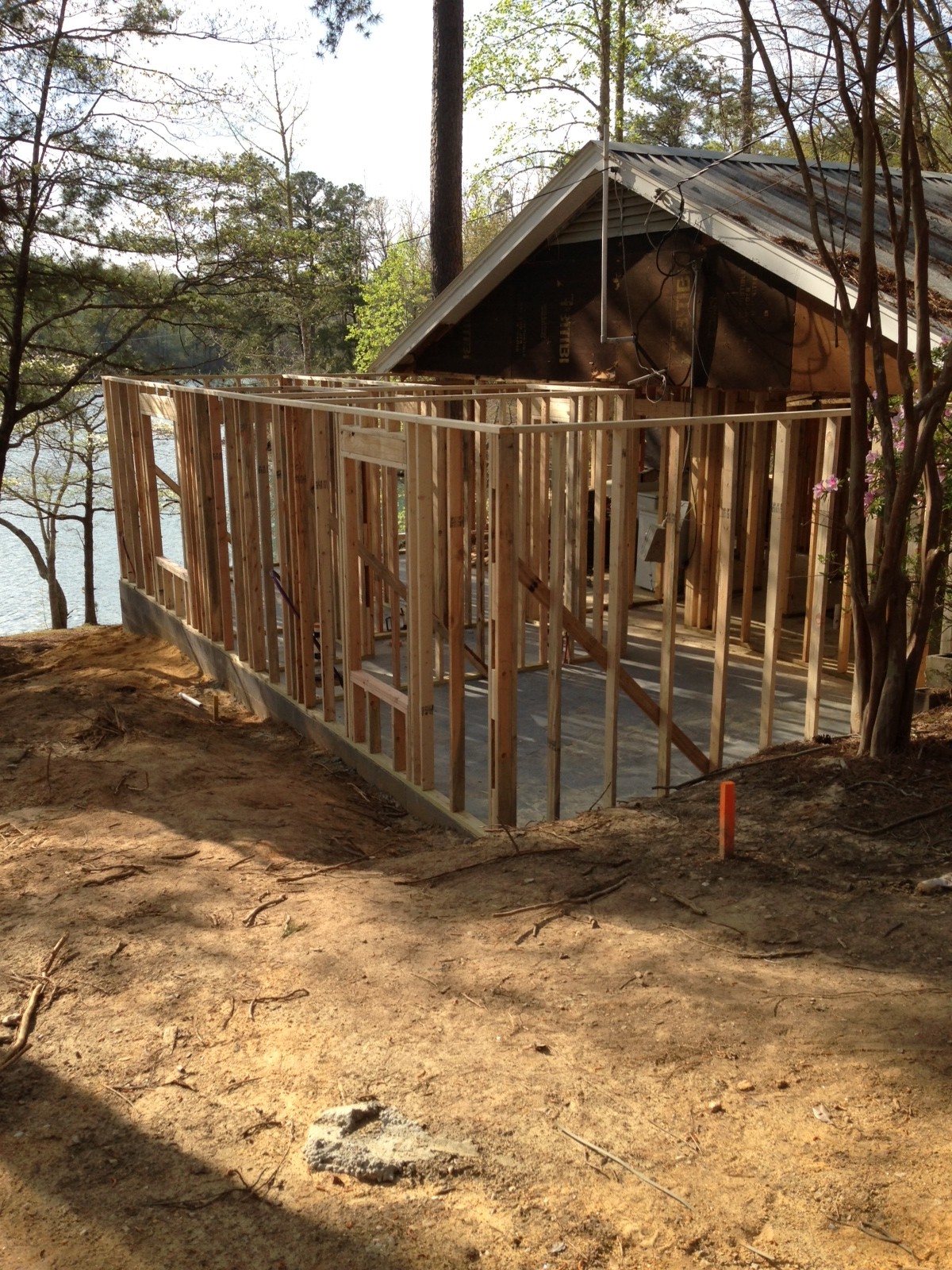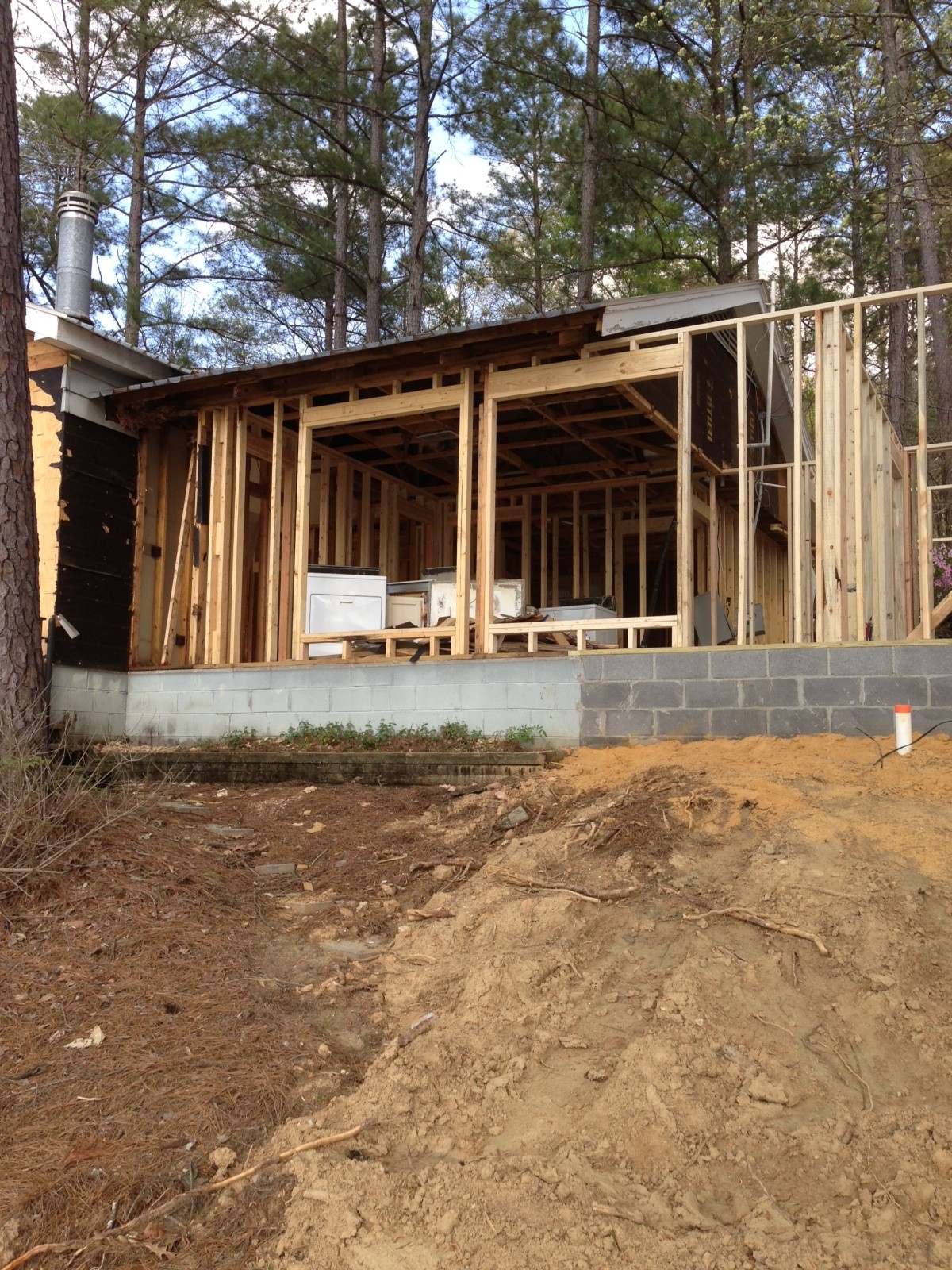 The homeowners knew they wanted to be in this area, and knew their budget, so renovation makes sense.  But for those of you who are not looking for a construction project, there are also new homes to be found on Lake Martin – both in and out of official developments.  For example,  in April 2013 Alabama Property Company released twenty nine new lots in Emerald Shores on the eastern side of the lake, you'll see new construction there.  Russell Lands is always building new homes in their various neighborhoods, and there are even a few flippers around, though not nearly as many as in 2007.
A Lake Martin realtor can cut through the hundreds of MLS listings and quickly identify homes that are move-in ready, or tear down opportunities.  I'd love to help you out with your Lake Martin search, so call me at (334) 221-5862, or CLICK HERE to contact me.
This Real Island / Little Kowaliga waterfront home renovation is for all of you HGTV lovers out there . . .
My clients, Lee and Amelia, are new owners of this lake home that sits on an amazing lot in the Real Island area.  The lot is awesome, and they had been house hunting long enough to know that the value of a Lake Martin property is in the dirt, so they jumped on it.  Even though the home was not exactly what they'd had in mind . . .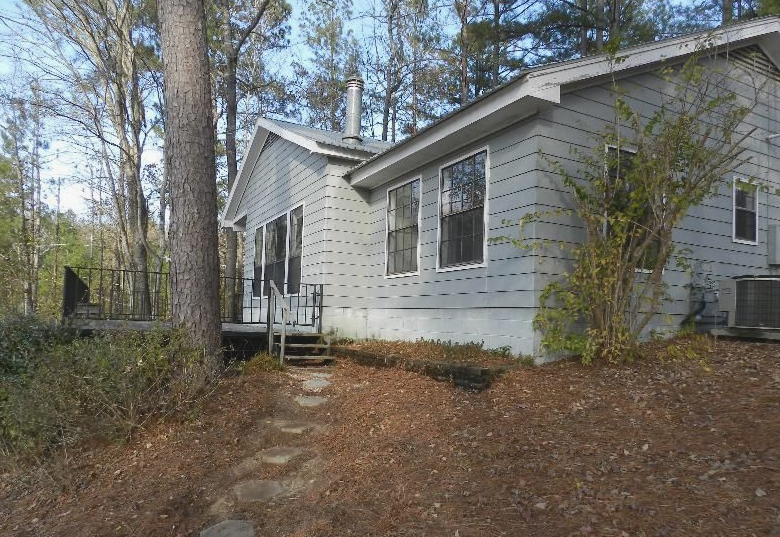 The house was built in 1980 and is pretty rough around the edges – 33 years of use and not much updating.
It's a three bed / two bath home already, but the floor plan is a little wonky, and the space could be used much more efficiently.  As part of the renovation plan, Amelia wants to keep as much of the original footprint, while bumping out a little here and there to make room for her family of five, plus their friends and extended family.
I think this renovation is smart.  At the lake, the home is primarily used for sleeping and eating.  These homeowners are making the most of the space for these activities, and the final product will be clean, spacious, updated, and functional.  But they are also remembering that the value of the home is in the dirt, and they're not going overboard on things that, ultimately, do not add a lot of value to their investment.  This is going to be a fun house.
With the help of Southern Traditons Construction's, Doug Fuhrman ([email protected]), this home is about to be gutted and transformed it into an updated, functional, vacation home. Stay tuned to see what choices are made along the way, and for the big reveal at the end.
If you're interested in the Real Island / Little Kowaliga area of Lake Martin, check out our Little Kowaliga Neighborhood Page.   Here you'll find everything you need to know about this popular part of the lake – a history of the area, video tour, maps, and most importantly, a live feed from the Lake Martin MLS showing homes that are currently for sale in the area.
If you're on the lookout for a good deal on a home at Lake Martin, give me a call at (334) 221-5862, or CLICK HERE to contact me and let's talk waterfront real estate.  I'd love to be your Realtor.
"Southern Charm" is the perfect description of our Lake Martin waterfront listing at 10 Boulware Drive in Equality.  It's also the title of LAKE Magazine's recent article about the house, detailing its unique "Southern sensibility."  As usual, Kenneth Boone's photography is amazing, and the story by Katie Cole gives a great "history" of the home (built in 1993). Our thanks to both of them for putting out such a quality Lake Martin resource.
The 4,245 square foot home sits on 3.9 acres of Real Island waterfront (that's 440 feet of shoreline), and was modeled after George Washington's Mount Vernon estate.  With 5 bedrooms and 5 1/2 baths, it's perfect for a large family, or a multi-generational family.  If you'd like to know more about this home, check out the links below.  You can also contact us through this website, or give us a call at 334 221 5862.
Video Tour of 10 Boulware Drive on Lake Martin
Video of Waterfall Feature at 10 Boulware Drive on Lake Martin
Winter at Lake Martin means the lake level gets drawn down. It gives us a chance to work on our docks, at least. It also sometimes means you get some rare wildlife spottings.
Check out these pictures of a bald eagle that was fishing in the Little Kowaliga area of Lake Martin. My fellow Lake Martin Voice Realty agent John Christenberry was over near Real Island Marina and saw this one capture a big bass.
The eagle dropped it on the shore, flew around a little bit, then came back to it.
Taking off here
Now he's almost gone..
Do you have any wildlife photos from around Lake Martin? Email us at info at lakemartinvoice dot com. Or, feel free to add them to the I Love Lake Martin Alabama page on Flickr or to our Facebook page.
If you have a Lake Martin house in the Little Kowaliga area, you are well aware that Little Steel Bridge Road aka Elmore County Road 55 is closed. If you are heading to the Real Island or Parker Creek areas of Lake Martin, and are coming from the south, be aware that you must detour. Keep going north on highway 9, when you hit downtown Equality, take Coosa County Road 2 east.
I have a home for sale near Real Island, and was heading over there last Friday. I took that chance to snap these pictures. I came away with a few observations:
a.) Little Steel Bridge is steel no longer. Mostly concrete with some steel girders thrown in for good measure (read engineering).
b.) It's going to take a while to complete. Get used to the detour.
c.) Will they change the name of the road? Unlikely.
Lake Martin's Sand Island has been battered by erosion and losing real estate for many years. Alabama's 80 year record drought exposed a land bridge and afforded area developer Russell Lands an opportunity to drive to it and make repairs.
I rode out there on Friday, December 14, 2007. It was pretty weird to be able to drive to an island that I have ridden past in a boat hundreds of times. I shot some video to show the repairs that Russell Lands did to stave off erosion. They created a sea wall made of rip rap similar to those found on many Lake Martin waterfront homes. To make the video play below, click on it, then click on the Play arrow in the center.
Click here for the direct link to Youtube.
Sorry for those dark corners. I used the wrong lens. FYI, if you're thinking about driving out there, don't bother. The road is blocked by a couple of sturdy, locked gates. Plus, it's deer hunting season, and the area is heavily hunted.
My sincere thanks and Kudos go out to Russell Lands for repairing this famous Lake Martin / Kowaliga area landmark. They deserve a lot of credit for using this crazy drought as a chance to do some good.
Also many thanks to my friend and Salvaging Mentor Larry Bain of Lake Martin Dock Company for the ride out there.