It is no secret that I love to fish for striped bass at Lake Martin.  And I am always looking to improve my game.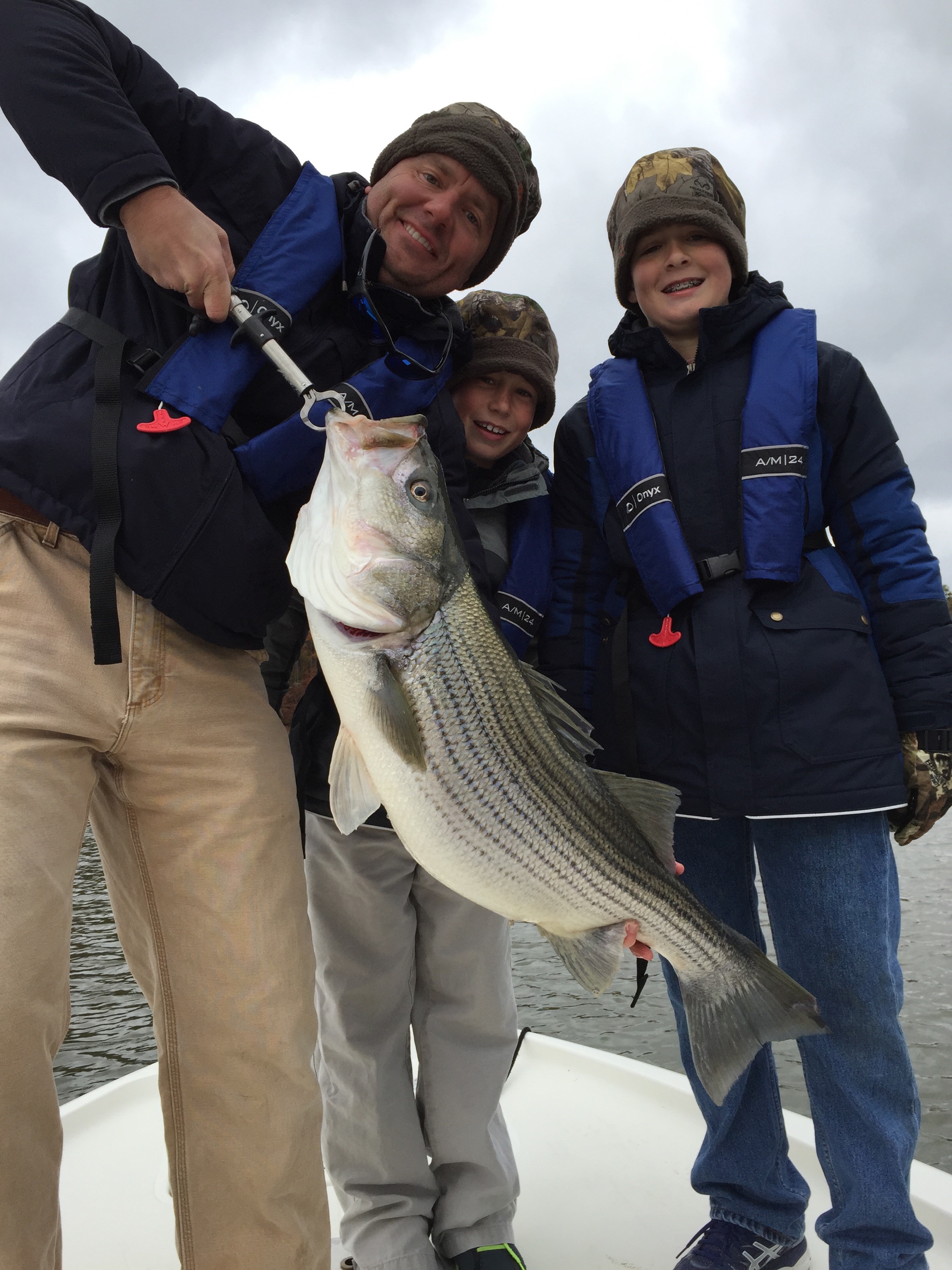 This picture from a few years ago was taken here at Lake Martin in the Fall and yes it was chilly. Here it is March and it is time for a March report from David Hare.
I always pay attention to David Hare's striped bass reports. David is the owner and head guide at Alex City Guide Service.
Please see his report for March below. Also pay attention to the Striped Bass Class (bet you can't say that fast without laughing). The class is March 25 – it is a great opportunity to get some help with catching striper.  Click here for more information about the class.
I also pay close attention to David's Facebook page.
If you have any questions, please contact David directly at:
Alex City Guide Service
Captain David Hare
256-401-3089
[email protected]
Lake Martin Striped Bass March Report, by Captain David Hare
Sitting here on 2/08/17 trying to give you a March report! Well I'm going to tell you what should be happening based on past years of guiding here and living on this lake.
March is a month that you could find stripers on most any part of the lake, however some of my favorite places in March are in the creek channels for example: (but not limited to) Elkhatchee, Blue Creek, Big Sandy, and others. Creeks do not hold all the stripe by any means but for me they produce very well. The next several weeks (12-14 weeks) you can have lots of fun fishing creeks for trophy size stripers. In fact a couple years back on March 13th one of our guides boated a record 52 lb. 'er at the mouth of a creek channel. That same day we had several fish in the 30 to 40 lb. range. That being said – March produces monsters.
I know, I know I haven't told you what to fish with or how? It's no secret that we (Alex City Guide Service) specialize in live bait fishing which for most people is a very challenging way to fish due to catching shad and not to even mention being able to keep them alive, so what you can do is go out and catch you some bream on a hook and line, keep them alive and go right then and fish them on planer boards in these areas. Take your time and your patience and work creek areas and you just might be surprised at what you catch.
Say that sounds like a lot of work, time and trouble? Well that's when you just pick up the phone and call me to book a trip of a lifetime. We are considered the go to guide service on Lake Martin and year after year we entertain thousands of clients and produce some of the best catches in the South.
Now for you anglers that want to learn techniques to be able to catch stripers on most any striper lake we have a seminar here locally on March 25, 2017. This seminar is going to focus on live and artificial baits, locating fish, planer boarding, downlines, trolling, tackle, rigs and rigging, gear, electronics training and more ….. Pro's Capt. Cefus McRae of Nuts & Bolts of Fishing, Capt. Mack Farr of the popular Capt. Mack Umbrella Rigs and Tackle, and myself – Capt. David Hare, owner and guide of Alex City Guide Service on Lake Martin are going to be giving presentations. This seminar is a must for the novice and an eye opener for the most advanced striper fisherman. It starts at 9:00 a.m. and ends at 3:00 p.m. Lunch is included and there will be door prize drawings. It's a no brainer when you get all this at only a $75.00 admission fee. For reservations and more info contact Capt. Cefus McRae by logging on to Nuts & Bolts of Fishing 2017 Seminar Series. Seminar will be rain or shine inside the Alexander City SportPlex Cabin. 

Until next time tight lines!
Capt. David Hare
256-401-3089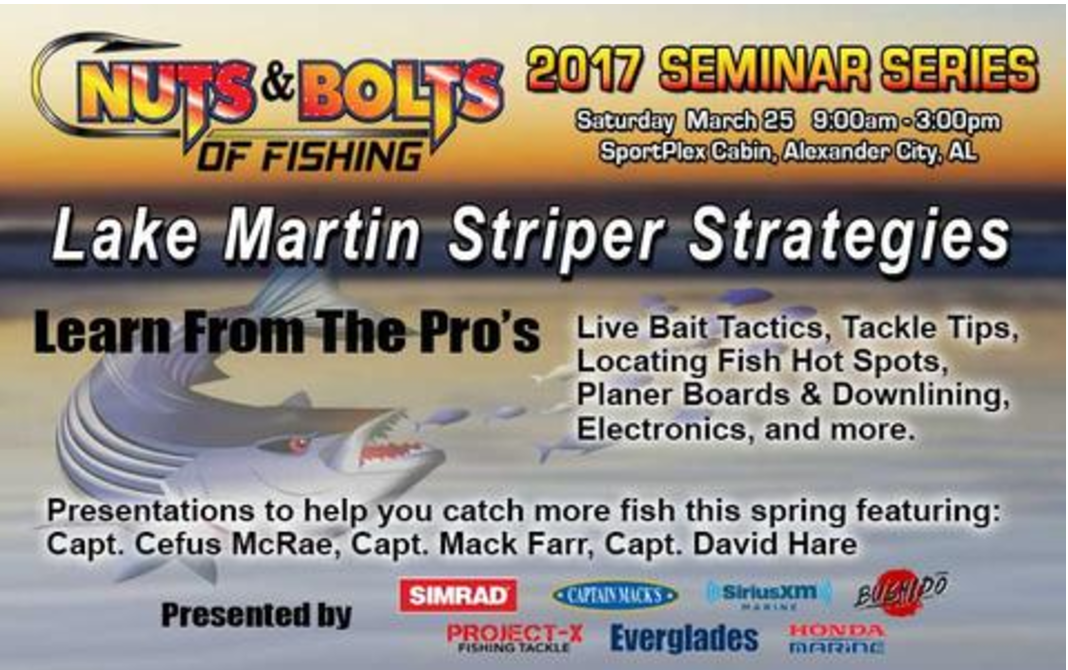 September is a magical month here at Lake Martin. I love it. The water is still pretty warm, but the nights are cool. Not even the oldest of codgers complain about boat traffic, because there is none. One other factor gets me really fired up about Lake Martin life in the fall: striped bass fishing!
I'm on a continuing quest to figure out how to reliably catch striped bass on my fly rod here at Lake Martin. I have learned a lot over the past few years, mostly by error. One huge thing I have learned is that step one is to find the fish. That may sound pretty simple, but to me it is the biggest element of the game.
That's why I always pay attention to David Hare's striped bass reports. David is the owner and head guide at Alex City Guide Service. Although he is primarily a bait fisherman, no one on the Lake knows the striped bass patterns better than he does.
Please see his report for October below.
I also pay close attention to David's Facebook page.
If any reader out there has some good tips for me to catch them on my fly rod, please let me know!!
9/12/16
Water Level 487.8 ( full pool 491.00)
Surface Temp / 84º–89º
Clarity / Very Clear
As predicted September on Lake Martin was awesome. Both day and night trips were producing numbers of stripers. Of course your better quality stripers were and will always continue to be caught on live bait. We still occasionally do get a trophy on artificial baits trolling. At press time we (
Alex City Guide Service
) have boated numerous trophy stripers this month including several in the 30 + lb. range.  With the Lake record being 52 lbs. (which was caught by Alex City Guide Service) and this year's Lake record so far being 45 lbs. (which I am proud to say also was caught by us) – all were caught on live bait in which we specialize in and it continues to keep us on the map for
one of the best trophy striper lakes in the country.
October will be (if the past holds true) another awesome numbers game. There will be lots of stripers and bass caught this month with the water temps cooling down. Not only will you be able to catch these fish trolling  and live baiting, you will also be able to catch some on top schooling.
Remember October is a transition time and you're most likely to find fish most anywhere on the Lake.
No matter what species you enjoy targeting you can normally have a good time in October.
If you don't know Lake Martin or you just had rather hire a guide to increase your chances of a fun day on the water then give us a call at
256-401-3089
and we will take care of the rest.
Until next tight lines !
Capt David Hare
When the weather gets cold on Lake Martin, the striped bass fishing heats up!
Last November I happened to be up near the Irwin Shoals area of Lake Martin, where the Tallapoosa River sort of becomes the lake. Low and behold I saw my friend David Hare there, trolling for stripes around Jaybird Landing. I happened to have my "aerial camera" with me so I sent it out to get a few clips of David and his clients.
David is a super nice guy, and you won't find a more knowledgeable guide on Lake Martin when it comes to striped bass. Contact Alex City Guide Service at 256-401-3089 for more information or visit their website here: http://www.alexcityguideservice.com/
I will say this, too, about David. He cares about Lake Martin and the surrounding area. He's from here and lives on the lake and fishes it just about every day of the year. He does not breeze in from another city with flashy marketing yet no substance. You are not going to find him doing stuff like "guides" Michael Perry and James Blanks – who were cited for introducing illegal bait fish into Smith Lake.
It totally blows my mind that people that hold themselves out as guides would (allegedly) break the law like this and introduce an invasive species like blueback herring. Folks from the state Department of Natural Resources say they have also found blueback herring in Lake Martin. I pray that they don't take hold.
Henry Cowen – a guide par excellence and a nationally recognized expert in freshwater striped bass, told me personally that the illegal blueback herring was the worst thing to ever happen to Lake Lanier.
In my constant pursuit to learn how to catch the striped bass on the fly rod on Lake Martin, I have been fortunate enough to go fishing with a few guides this fall. I will write about all of this later.
But one thing continues to be reinforced to me – if you are considering hiring a fishing guide on Lake Martin, or anywhere for that matter, be sure to do your homework. Make sure you're not giving your hard earned money to some ya-hoo.
Lake Martin, Alabama has awesome striped bass fishing in the fall.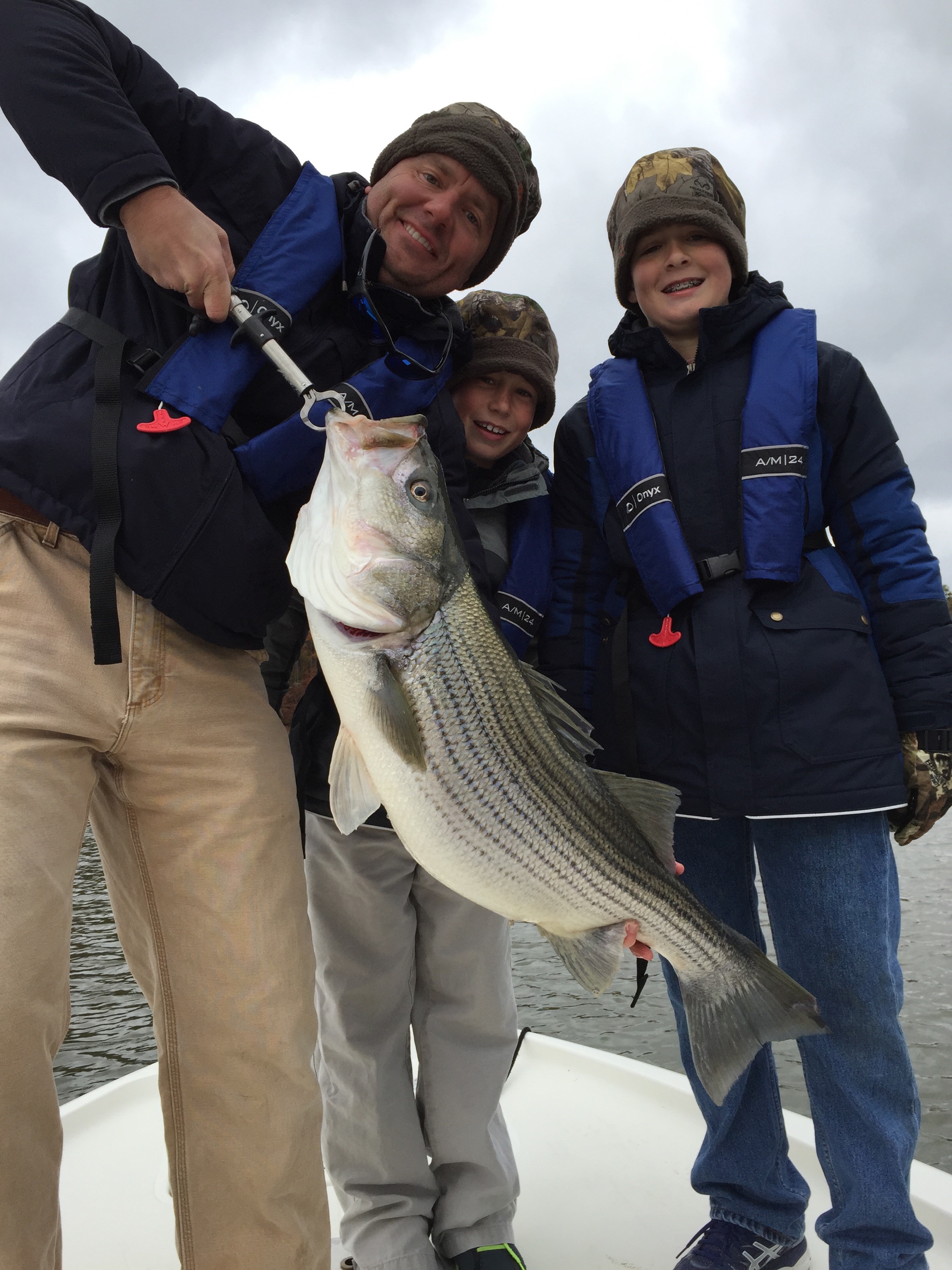 Here at Lake Martin we are proud to be one of the best freshwater fisheries for the Striped Bass in the USA. Fall is one of the best times to fish for them since the water temperatures cool down and the big boys come up from the depths. Above is a picture of a nice striper that one of my sons caught this time last year. We had a cold snap in the middle of last October and it was chilly, but the fishing was awesome!!
I continue to try and crack the code on how to reliably catch striped bass on Lake Martin with my fly rod. If anyone out there has any tips- please contact me here or call at the number at the top of the page and let me know!!
I recently found this article that gives some really good tips for fly fishing for saltwater stripes on inland lakes. Here's another one (featuring none other than Dave Whitlock) that gives a plug for Lake Martin: Fly Fisherman Magazine. I also have discovered a ton of great fly tiers online – like Brandon Bailes of Panther Branch Bugs.
One great tip I have seen online is to hook up with and learn from the local guides, no matter their fishing method. The above saltwater striped bass was caught when I was being guided by David Hare of Alex City Guide Service. David fishes with bait most of the time, but he has an unparalleled knowledge of the stripers on Lake Martin. Therefore, I pay close attention to what he says! Here are his two most recent Lake Martin Striped Bass fishing reports. They tell you what to expect when fishing in November, and then October (because I was too slow to post it last month). If you have any questions, please contact David directly at:
Alex City Guide Service
Captain David Hare
256-401-3089
[email protected]
Lake Martin Striped Bass November Report, By David Hare
Date Written: October 13, 2015
Water Levels 487.15 (490.00 full pool)
Clarity / Clear to very clear
Surface Temp: 70* – 74*
November starts my favorite time for big, big stripers! In fact for the next 8 months the day trips will be awesome!!!!! With water temps cooling down I will be focusing on the biggest of the big stripers by spending most of my time in shallower areas of Lake Martin, then the creek channels, and for sure not overlooking the river channel. Each day I will prepare my bait well with different size baits but making sure I load some of my largest shad I have.
Every year around this time I read articles that some say the bite slows down in the winter because of the fish's metabolism! Well maybe for some but for the fish that I target (trophy stripers) my action and bites actually seem to get much better. It seems to never fail that we keep our taxidermist plenty of work through out the winter.
If you have trouble with boating stripers just try your luck with much bigger baits including much bigger artificial baits. Again, don't rely on all big bait but as I fish 6 rods or baits at a time I will always have at least 4 of the 6 loaded with bigger size baits.
Until next time get off that couch and get on the water for a big fish!
As always call me for your trip of a lifetime.
Lake Martin Striped Bass October Report, By David Hare
Date Written: September 11, 2015
Water Level: 488.3 (full pool 490.00)
Very Clear on lower end to clear on upper end
Surface Temp 82*-85.5*
Sitting here on my deck next to the water, there's a nice breeze coming across the water and feeling early fall in the air. Dressed with a long sleeve shirt on which actually feels good and makes me want to start my fall fishing pattern but I know I actually have several more days before the water temps get me or I should say get the fish in the fall pattern. By the time you're reading this hopefully water temps have fallen and the stripers have once again started that transition to a new feeding pattern on Lake Martin. Every October, I burn more gas than any other month of the year just staying on these fast moving creatures. Each day can be a different location for catching so I always tell my clients patience as always is the key to landing these monsters and October can definitely test even the most patient fisherman. However, don't worry! We still come to the docks most days with great catches just a little more gas burned, a little more patience used up and several more baits used up.
Do not overlook any area of the lake this month when fishing, this is one month you are liable to catch a striper anywhere and anytime of the day and yes night too! That's right, not all stripers are going to switch to the day bite at the same time so if you're a night owl get out there and boat yourself a night time monster!
All of our bass guides are excited because they say fall bass fishing is awesome here on Lake Martin and produces some very large bags of spotted bass. They will be spending a lot of time in the mouths of creeks in search of the amazing fish. Break out your spinner baits and go see what you can put in your boat. Be prepared for that monster strike from a striper while doing this because, yes, Lake Martin striped bass will blow up on a spinner bait. Just 3 years ago I was talking to a bass fisherman that had boated a 42 pound striper on a spinner bait that morning near the Wind Creek boat ramp area.
For you laid back fisherman that don't care what bites as long as something is pulling on the line I would suggest trolling some crank baits that run several different depths. By doing this trolling method you are liable to catch big stripe, white bass, crappie and yes, spotted bass! If I didn't have a umbrella rig I would go purchase a couple to put out while I was trolling. Better yet, put one big rig and one Alabama rig out (much smaller) at the same time to increase your chances, I think you will be pleased at the results. In October, the best trolling speeds is 2.5 mph to 3.5 mph.
As always folks, wear a PFD (life jacket), show respect for fellow fishermen, and be a defensive driver. Constantly watch out for other boaters and for sure this time of year the shallow spots that you do not have in the summer.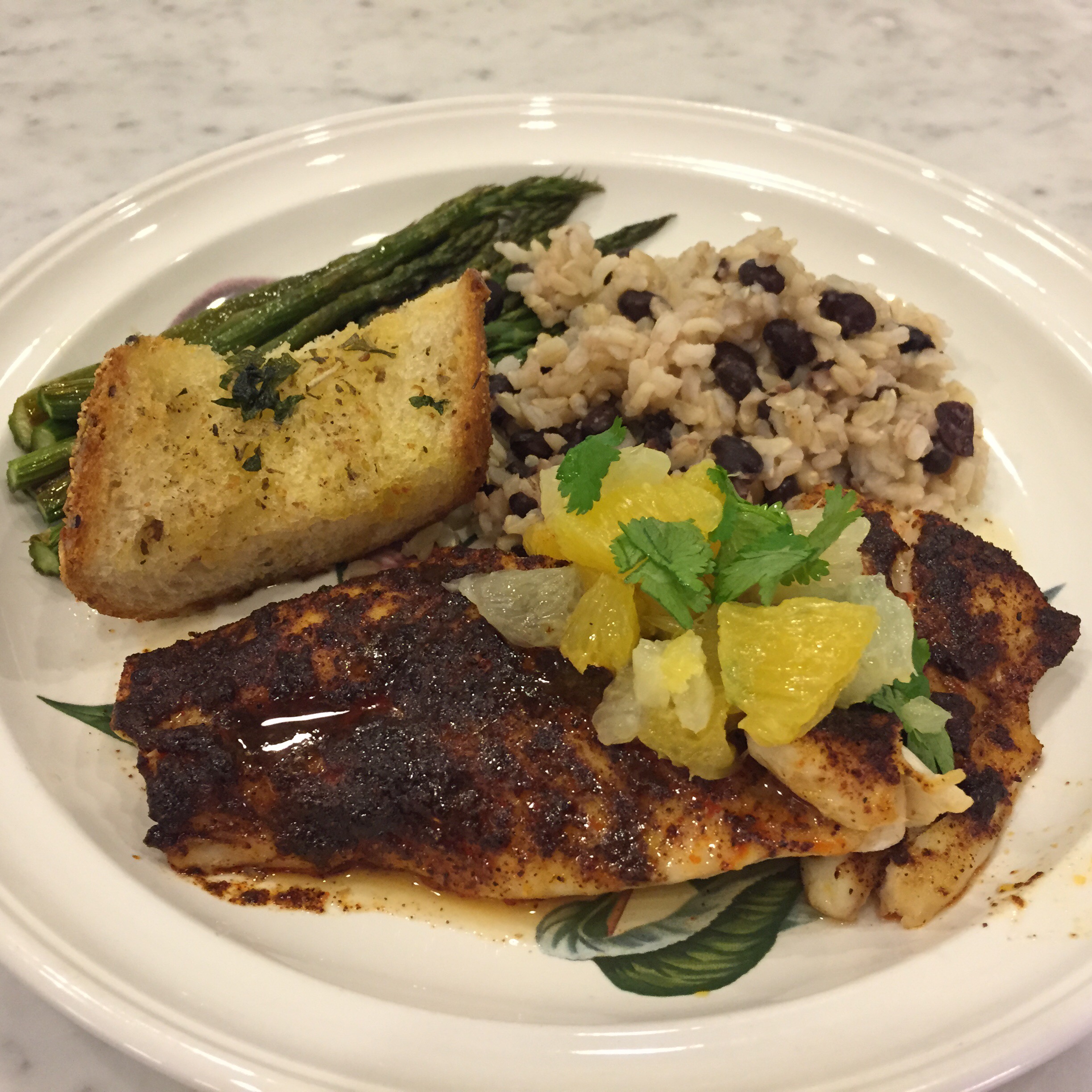 My family is all about that bass.
Striped Bass, that is. No tilapia.
It might be too cold to fish on Lake Martin today (16 degrees) but it's not too cold to eat fish. We caught these striped bass back in November on a fishing trip with David Hare with Alex City Guide Service. It was a mere 38 degrees that day, and thanks to David, we slayed 'em.
We fileted them and have had them twice, and both times they were excellent. The first batch we cooked a day after we caught them. We blackened them in the cast iron skillet and they were awesome. This particular batch we froze in a Ziplock bag water after thoroughly cleaning them. We thawed them out and then broiled them in the oven.
My sons helped out, their job was prep the fish. They just put salt, pepper, and chili powder on them. That's it! My wife made the fresh fruit top – she cut out sections of oranges, grapefruit, and sprinkled in cilantro. It was really good!
One of the hugest part of our latest Lake Martin fishing adventures is that it has converted my wife into a wild game eater, just based on its pure organic nature. It doesn't get any more "real food" than eating a wild animal. No preservatives, no nothing. Now, I would not say she is making her own rabbit hash or roasting wild boars over the spit, but for her, eating something we caught is a big step.
It helps that the fish tastes incredible and is easy to prep!
In continuing my quest to catch a Lake Martin striped bass on my fly rod – on purpose – I offer this following video.  In it, guide David Hare of Alex City Guide Service gives advice to people like me who are crazy enough to try it.
I say crazy enough to try it, not because fly fishing for stripers around here is death-defying.  I say it because after I've seen David catch them on live bait, I'm probably a fool to try this.
David is admittedly not a fly fisherman, but he is an expert on striped bass at Lake Martin.  That's why I figured it would be profitable for me to ask him these questions.  Hopefully they are helpful to you, too, and if you have any tips for me on fishing for striped bass in Lake Martin, or any other fresh water lake in the South for that matter, please comment below.  I would appreciate it.
Like I've said before, if you have any questions, please do not call me.  You will get a lot of dumb answers.  Please contact David directly at (256) 401-3089  or via their Facebook page.
If you didn't catch Parts 1 and 2 of David's interview, here are their links:
In Search of Striped Bass , Part 1
In Search of Striped Bass, Part 2
Here we talk about bait.  In any kind of fishing that I know, the first question everyone asks is, "What are they biting?"  Whether you chase trout in Townsend or bonefish in Belize, that's what you want to know.  It is no different here for striped bass fishing on Lake Martin.
Here David Hare of Alex City Guide Service talks about exactly what kind of bait he uses to score big stripers out of Lake Martin.  First of all,  he makes it clear that in his experience, he thinks live bait is the way to consistently catch big fish.  He doesn't use just any live bait – he throws shad, suckers, and other bait fish out there of gargantuan size.  These things are so big that I would be proud to catch them on purpose.
Because many of these bait fish are not native to Lake Martin, David often travels up to 50 miles away to cast net for them.  Once back at Lake Martin, he has an intricate system of live wells to keep them alive, fishy, and frisky for long periods of time.  Talking about this with David has opened my eyes to a whole new world of fishing that is truly a hybrid of the spotted bass fishing I did growing up and the fishing done by our salty neighbors to the south. 
Hope you enjoy this video of the David talking about the bait he uses for striper fishing on Lake Martin.  If you have any questions, please do not call me.  You will get a lot of dumb answers.  Please contact David directly at (256) 401-3089  or via their Facebook page.
If you didn't catch the first installment of David's interview, here it is:  In Search of Striped Bass , Part 1