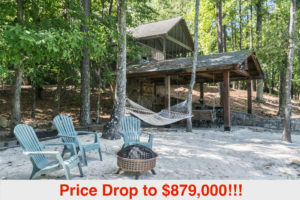 This Lake Martin waterfront home for sale in the Trillium neighborhood has just had a price drop!
570 Wake Robin is a large, upscale home, 4 bedrooms, 3 1/2 baths, with an open floor plan, quality craftsmanship and breathtaking views from the 2 story living room and screened in porch. The private, heavily wooded lot slopes gently to the Lake in a deep water cove. Nice beach area with spectacular outdoor living space to enjoy year round!
New price of $879,000!
Take a full video tour below! (click play arrow) 


Check out this cool, outdoor living area in my newest listing – a waterfront home for sale at 570 Wake Robin, Eclectic – Lake Martin!
Built right on the beach area of this home in Trillium, the rustic outdoor area is like having another living room to enjoy year round.  The beautiful stone fireplace makes a great gathering spot for family and friends.
Entertain and relax here – watch the game on TV, enjoy a cold beverage from the built in cooler or just boat watch and enjoy the sunsets – your choice, your retreat.  Enjoy.
For more info on 570 Wake Robin CLICK HERE.
Do you have a waterfront property you are considering selling on Lake Martin?
Please let me talk to you about how I can help you.  We put the best of today's useful technology to work for you – reaching buyers in a multitude of ways: the web, social media, email, and good ol' word of mouth.
Contact me HERE or call me directly at the number at the top of this page.
Waterfront home for sale in Trillium at 550 Longpine!
I am so proud to offer 550 Longpine in Trillium for sale! This beautiful waterfront home is the kind of house I got into real estate to sell! Not just because it is (clearly) a luxury home, but because this home really embodies the best of the Lake Martin experience.
This is what struck me the first time I drove up to 550 Longpine: as a real estate agent, you never really know what to expect. Many homes in Trillium are very nice, but because they were built in a different era, let's say, you see a lot of million plus dollar homes that need updating. This is not the case here. From the driveway, I could see the timber / wood / stone features that carry throughout the home. To me, this home is a perfect combination of nice finishes and accessibility. This home feels fun. It feels like family.
When I talked with the owner, this theme continued. He confirmed to me that the areas like the huge greatroom, spacious kitchen, and covered back deck "act as funnels" to draw your family together when they spend time at Lake Martin.
Inside, the heart pine floors contrast with the stone work in the greatroom and granite in the kitchen to give you elegance that doesn't feel like a an untouchable museum. It also has three bedrooms upstairs to accommodate guests.
And the lot – awesome! It has a rare combination of being flat, yet has deep water at the dock. Most of the time on Lake Martin if you want year 'round water, you have to trade off by having a steep rappel to your dock. Not so at 550 Longpine. Here you have an easy stroll over flagstone sidewalks to a deep water dock complete with a boat lift and boat ramp!
Maybe I ahve gushed too much here, but I would love to etell you more about 550 Longpine. Check this page for more info or contact me here!
Another favorite image from a LakeMartinVoice active listing  . . . This time it's 600 Trillium West Parkway on Lake Martin.  This is the house I like to call the Garden and Gun home – a great mix of rustic and sophisticated on an awesome lot in Trillium.
We also just happened to have a huge price drop on this home.  We just dropped the price $75,000 to $1,075,000.  Someone will take advantage of this new price and get a great deal on this very cool home.  If it sounds good to you, or anyone you know, please give me a call (334) 221-5862.
This image is the corner glass porch, lakeside, where the view of the sunset over Little Kowaliga is amazing.  I cheated on the single image concept and added the actual sunset picture for you to admire as well.  This unique room is as close as you can get to being outside while still comfortably indoors.  Warm and cozy in the winter, air conditioned and humidity-free in warmer months.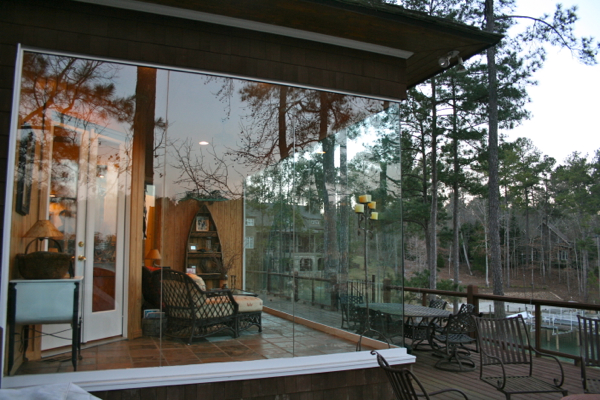 CLICK HERE to see all the pictures and info for this listing, as well as the VIDEO TOUR of the property.
To learn more about Trillium, the Russel Lands gated development that this home is a part of,  CLICK HERE.
If you'd like to know more about Lake Martin real estate, give me a call at (334) 221-5862, or click here to contact me anytime.  I can help you with any property in the Lake Martin MLS, regardless of who has it listed.  I'd love to help you find your sunset view, too.
A quick update on the Lake Martin area tornado damage:  I started out yesterday (April 28, 2011) by riding a 4 wheeler around the Lake Martin Amphitheater area and into Children's Harbor.  Several of the Russell cabins to the east of there are now totally gone.  Some had  been removed by Russell Lands before the storm, and they were planning on selling the lots there.  But now it's pretty much leveled on that side of the slough.
Then we got in the boat, took shots of the Cocktail Slough, then went around to Windermere.  Windjammer Road, etc. seemed to be hit the hardest.  Oddly enough, there were 2 water patrol guys in that slough, one of which pulled us over and said they were watching for looting, and asked our business in the slough.
Next we went over into Blue Creek.  I heard on WSFA that Stillwaters was hit,  but it looked almost unscathed from the water.  The tornado really went north of there, where Rush Road and Sims Road turn off of Impy Road off of 34.  Mind blowing.
For everyone who has called asking about our cabin, it's fine – thanks for asking.  Three of my fellow Lake Martin Realtors have lost their homes, but they are ok. There were fatalities in the greater Lake Martin area, and our prayers go out to those who have lost property, but even more importantly, lives.
For more images of the tornado's aftermath at Lake Martin:
Lake Martin Voice Photos on Flickr
Lake Martin Dock Company Photos
Trillium, one of Russell Lands' more mature Lake Martin developments, is located just west of Kowaliga Marina.  Along with Willow Point and The Ridge, Trillium has some of the more high end homes on Lake Martin.
If you would like to see waterfront homes and lots for sale right now in Trillium, CLICK HERE to go to my Trillium Neighborhood page. I have a report that shows every waterfront home and lot for sale – by all agents, all brokerages, on Lake Martin. It pulls from the Lake Martin MLS so it will be current no matter when you visit the page.
Trillium was one of Russell Lands' first neighborhoods that were completed in different phases.  The first homes were built there around 1989.  One element that was new to Lake Martin at the time was Russell Lands' use of causeway construction.
Years of erosion on Lake Martin had made islands out of former peninsula.  Russell Lands poured a lot of money in the construction of causeways to bring paved roads and utilities, thereby rescuing millions of dollars of real estate.  I can remember one such "island" on the first phase.  It was divided into four huge lots and priced at $250,000 each.  It was laughingly dubbed "million dollar island" by hordes of us skeptical locals.  We pondered "what fool would pay that much for one lot?" Eighteen years later, that amount will barely buy you any sort of waterfront lot, much less a showcase one like those on the points at Trillium.  Turns out that we were the fools for not realizing the demand that would spur a long bull run for Lake Martin property.  Lots like those would now cost you 10 times that amount if you could buy them at all.
By my unofficial count, there are 213 waterfront lots in all of Trillium.  As of this writing, there are 8 homes and 4 lots for sale in Trillium in the Lake Martin MLS.  If you would like any information on them, give me a call or email me.
Amenities:
Trillium does not have a clubhouse.  It does have a guardhouse protecting the lone entry, but I have never seen a guard there.  I suppose they could put someone there in the future if they wanted.
Because Trillium doesn't have a clubhouse, it does not have any related things like a pool or workout center or anything.  They do have some walking trails that are cut through the non-waterfront woods.
Lot types:
Waterfront lots in Trillium are flat.  Just as many of the lots in The Ridge (link) are sloped, Trillium's overall topography almost guarantees that each one of its lots are flat.
Generally, the lots are also big (for Lake Martin) and deep, sitting far back from the roadways.  Trillium's lots are also well covered with tall, mature pines.
There are no interior lots or homes.  All homes in Trillium are waterfront.  Who knows, maybe one day Russell Lands will sell off the interior land.  Right now, they have retained fairly large sections of woods in between the phases to give Trillium a beautiful, woodsy, private feel.
Factoids:
Back in the heyday of "Russell cabins" Mrs. Edith Russell used to have a couple of cabins at the end of Pine Point.  Apparently she was a fan of the trillium, a pretty, symbolic wildflower native to this part of Alabama.  Hence the name of the subdivision and its types the names of many of its streets: Wake Robin, Nodding, Grandiflorium, Underwood, Catesby, and Narrowleaf.