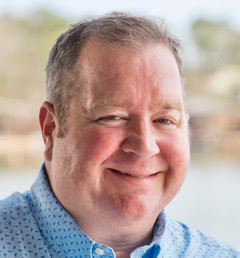 Brian Dodson
Contact Brian Dodson at 205-616-7355 or [email protected].
Originally from Georgia, Brian and his family moved to Lake Martin about 10 years ago. He has two sons Barrett and Brice and a dog, Camp. His sons are his pride and joy and he enjoys his time with them immensely.
The past three years Brian spent selling Talisi Cove for Harris Doyle Homes. Talisi Cove is a 54 home community that has stunning views of Kowaliga Bay. With only a few homes left to finish building, it was time to move his license to a trusted and proven company. Brian had worked with John Coley on numerous transactions and John's personality, ethics and overall outlook on real estate and life is who he wanted to be associated with. Brian has always taken pride in his character and the way he treats people. He says "you never know the next person you meet may have an impact on your life."
Brian's hobbies include watching his boys play sports, fishing, hunting and just about anything water related. He is a graduate of The University of South Alabama in Mobile where he was a member of the Pi Kappa Alpha fraternity. He is a member of the Church of the Highlands and an active member of the Dream Team. Brian's goal is to help anyone interested in purchasing a home. Regardless if you are a first time homebuyer or buying a second or third vacation home - he is here to help. "I will treat everyone with respect and honesty. I will go above and beyond to help in any way I can."
Contact Brian Dodson at 205-616-7355 or [email protected].