So you own a waterfront home, condo, town home, raw land, or lot in the Lake Martin area, and you are wondering what it might be worth?
We offer two services:
1) A "ballpark value"  – we don't need to come to the home, we chat over the phone for a few minutes and we calculate a general value.
2) Comparable Market Analysis – (CMA) We come to the home, tour it, and give the exact value we would suggest if you were to put it on the market.
Both services are free and no obligation! If selling is not a good fit for you, no worries!
Here's more info on each: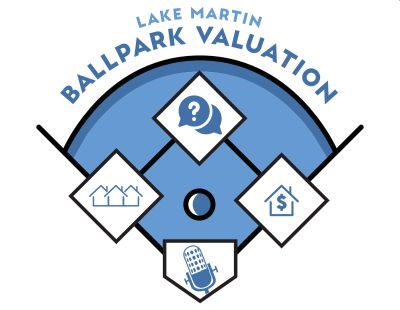 1. Ballpark Value
If you're just curious, our FREE "Ballpark Value" might be just the thing for you!
If you give me:
some time, no need to meet at the lake
a max of 30 minutes on the phone / Zoom / Facetime
general info about the property
What you will get:
Ballpark Value
Considerations – things you need to think about if you sell that are specific to your property
3 Comparable sales – waterfront properties that sold that are like yours
Ready to get started? Click here to begin.

2. Comparable Market Analysis – (CMA)   Would you like a little more accurate estimation?
Great!   We can accomodate your needs and schedule. We will need to schedule a visit to your property.
Just give us a little info below to help us start: