We are so excited to bring to Lake Martin the 2012 Castaway Island Paddle Board Race!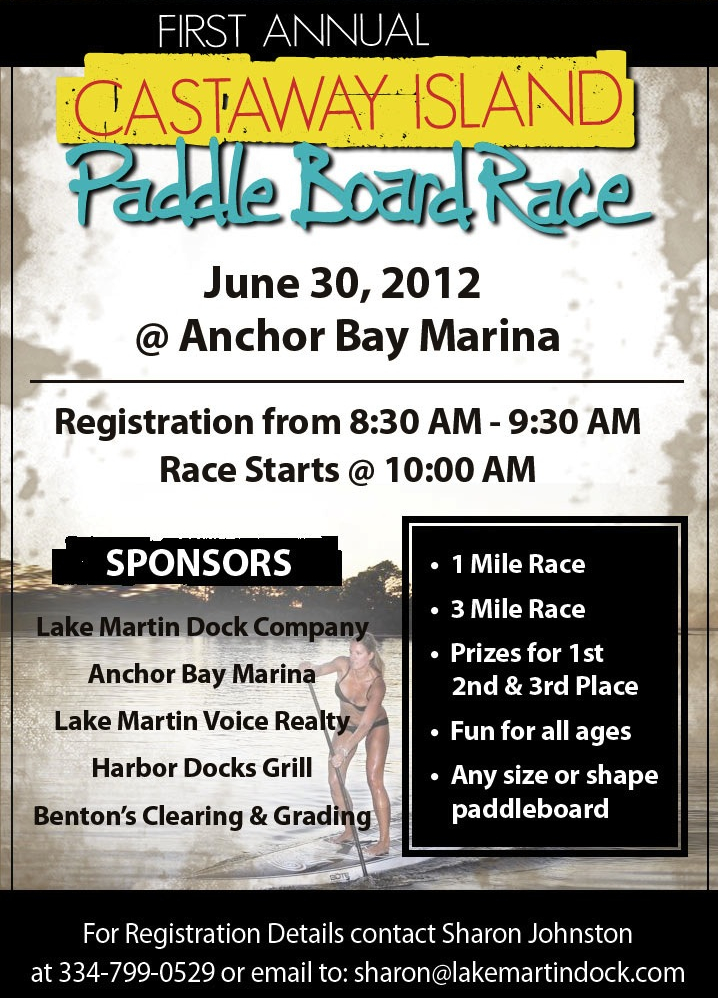 Date:   Saturday, June 30, 2012
Time: Registration 8:30 – 9:30 AM – Racing Starts at 10 AM
Where: Anchor Bay Marina, Lake Martin
Address: 2001 Castaway Island Road, Eclectic, Alabama 36024 GOOGLE MAP TO ANCHOR BAY
Cost:   FREE!!
How To Register:
We have several ways to register:
1.FILL OUT THE FORM BELOW to pre-register online. You still need to show up at 9 to check in and sign the hard copy.
2. Drop by Anchor Bay Marina or Lake Martin Dock Company and fill out a form.
3. Come early on race day – about 8:30 AM – and fill out a form there.  Or, you can download this PDF copy and bring it with you.
What to bring? Your own paddle board (it doesn't matter what kind or shape), paddle, and PFD (aka life jacket, required by AL Marine Police). Also bring your own water, snacks, other water safety equipment, etc.
Castaway Island Paddle Board Race Pre Registration Form