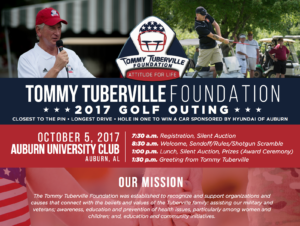 I just got a call from Jim Nichols and wanted to give you a heads up on a great event coming up soon – the 4th annual Tommy Tuberville Foundation Golf Tournament being held on Thursday, October 5, 2017 at the Auburn University Club in Auburn, Alabama.
The Auburn University Club is a beautiful 18-hole championship golf course over 225 acres of rolling hills and woodlands and surrounds the 25 acre Yarbrough Lake. Click here for a Google map.
The Tommy Tuberville Foundation was established to recognize and support organizations and causes that are important to the Tuberville family such as assisting our military and veterans. "Giving back and helping our wounded veterans is something I have always wanted to do to show my sincere appreciation for our military and their selfless service all while carrying on the legacy of my Dad," says Coach Tuberville. Charles Tuberville, Coach T's father, served with distinction in WWII earning five Bronze Stars and a Purple Heart.
The funds raised in this tournament will help build homes for members of our military who are recipients of the Purple Heart Medal.
If spending the day with Coach T and other supporters of the Foundation playing golf on a course in Auburn sounds like something you would enjoy, contact Jim Nichols at [email protected] or call 352-801-8686 for more information.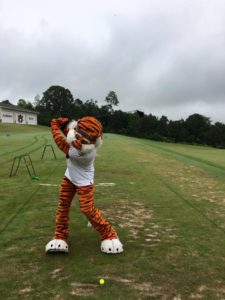 And remember, you never know who you may see on the greens – War Eagle!